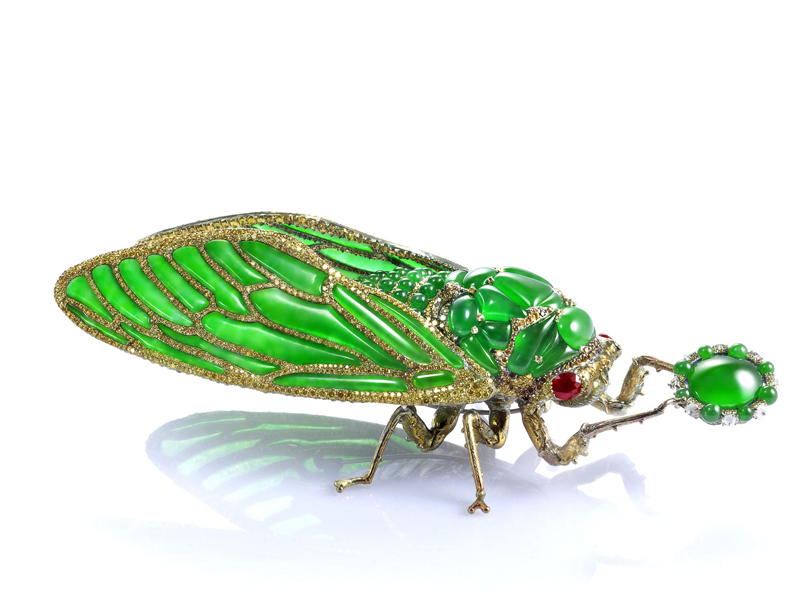 In the fine jewelry realm, Amanda Triossi is a well-known jewelry historian who has worked at Sotheby's and Bulgari during her prolific and multifaceted career. In this interview, we take the opportunity to talk about her fascination with and dedication to the history of fine jewelry. Although Amanda works in a field parallel to contemporary art jewelry, her commitment to jewelry education and dissemination marks her as a kindred spirit to AJF.
Olivia Shih: You are an established jewelry historian, author, curator, lecturer, and consultant. What led you to such a rich and varied career?
Amanda Triossi: It might sound obvious, but the driving force behind my various and varied jewelry-related activities has always been my love for jewels. I never set out specifically to be either a jewelry historian, an author, a curator, a lecturer, or a consultant to luxury brands. These activities presented themselves in time, and, in a way, grew organically with my experience. Ultimately I am interested in furthering my knowledge and understanding in all aspects that relate to jewelry, and sharing this with others is what I like. The fun of this monothematic but varied career is that I am always challenged, I am always facing something new, but at the same time it is always jewelry!
What was your experience like, working at Sotheby's, the world's fourth oldest auction house, and at Bulgari, an Italian jewelry and luxury brand founded in 1884?
Amanda Triossi: In 1986, after finishing my degree in art history at Cambridge, I arrived at Sotheby's jewelry department to begin an unpaid internship. At the very outset I was upset that all my peers, who had joined banks, were earning vast sums of money, while I was just stuffing envelopes and making tea. Very soon, however, I realized that I was in the best possible place: Not only was I exposed to a vast range of superb museum-quality jewels that I could closely examine, touch, and study, and of course try on, but I was also in place together with great experts from whom I could learn. My experience at Sotheby's and the caliber of people could not have been better.
Bulgari was also a long and very interesting experience. I was involved with the company for 21 years (from 1994 until 2015). It was particularly exciting as I had the opportunity to set up and create everything from scratch: the corporate archives, the first books on Bulgari, the heritage collection (the company's retrospective collection not for sale), and of course buying back major Bulgari jewels, among these for example iconic Bulgari jewels from Elizabeth Taylor's collection.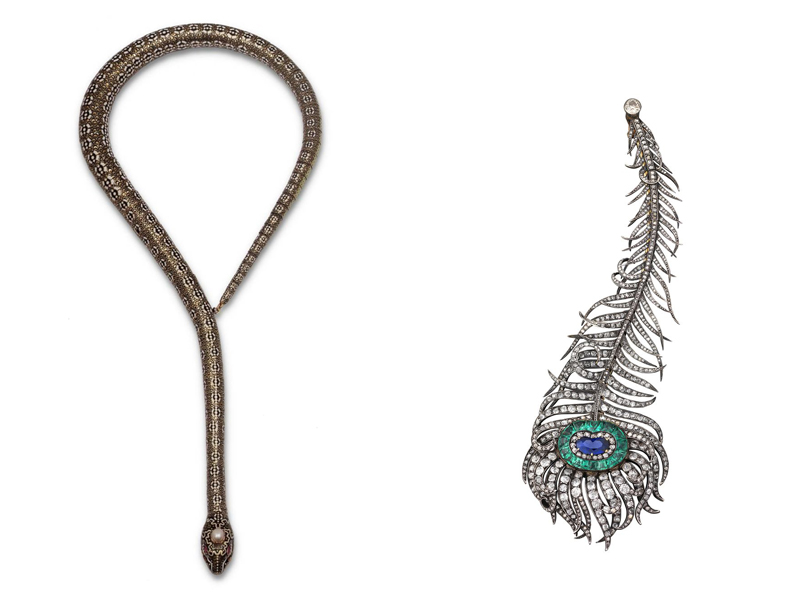 Why did you decide to launch your intensive class, "Understanding Jewellery with Amanda Triossi," in 1992? Did you see a gap in the education of Western jewelry design?
Amanda Triossi: The idea of devoting an intensive one-month course entirely to the study of Western jewelry design presented itself when I started lecturing sporadically at Sotheby's Institute for other art-related courses. Every time I finished my lectures, a couple of students would come up to me to ask where they could learn more about jewels from a historical and design point of view. I soon realized that there were no such courses at the time: One could learn about gems, about jewelry making, about designing, but there was no institution providing formal education on how to recognize, for example, a jewel designed in the 1820s versus one designed in the 1880s. This is what spurred me to set up "Understanding Jewellery with Amanda Triossi." It was a success and extremely rewarding. I soon discovered that by educating, one can easily help people to widen their horizons of appreciation. For example, a person who only loves diamond solitaire rings, if educated, can learn to appreciate and ultimately even love ancient engraved gemstones.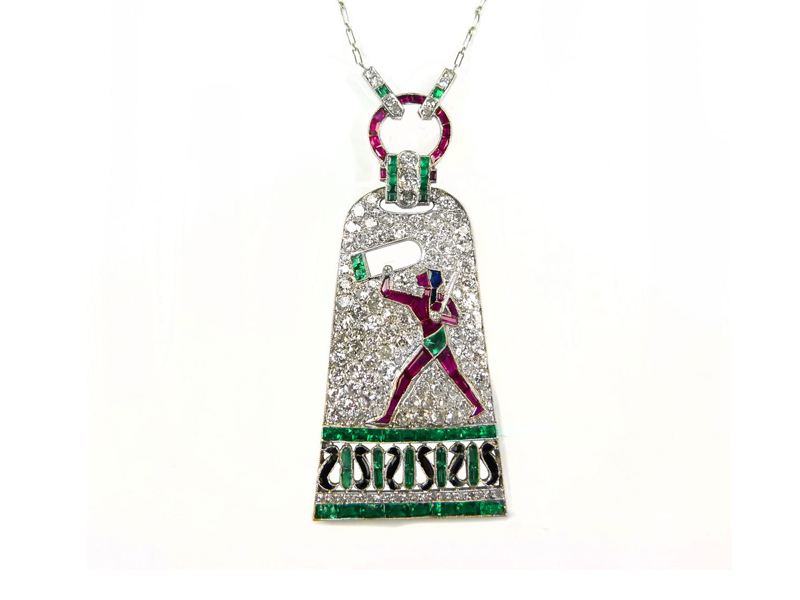 Art Jewelry Forum is an organization dedicated to art jewelry, which is typically made by artists with training in jewelry and whose practices challenge conventional definitions of jewelry. How do you see art jewelry in relation to the history of Western jewelry design?
Amanda Triossi: Honestly, I need to be educated in respect to art jewelry. It is a field I am vastly ignorant about, and I hope that Martine Newby (from Didier Ltd) will be able to enlighten me during our day at Masterpiece. My experience has mainly been confined to the realm of high-end jewelry so it would be very presumptuous for me to answer your question. Sometimes I have questioned artists who have succeeded in other areas of the arts and then turned their hand to jewelry. I have found this "arrogant": Jewelry requires so much specific knowledge and expertise that even the most successful painter, architect, or sculptor might not be able to grasp the essence of jewelry.
If you had to pick one single piece of jewelry, any piece, for your own collection, what would it be? What makes it exceptional in your eyes?
Amanda Triossi: I find your question hard to answer, as my taste is eclectic: I am drawn to many jewels from very ancient to very contemporary. I think it would be easier for me to answer what I definitely would not pick: a D Flawless 2-carat princess or radiant-cut diamond solitaire ring, which sums up everything I do not care for. It is small, clinical, cold, and standardized. I am currently drawn to large, bold, and clean shapes. I think this is probably quite typical Italian taste … which is not surprising given that this is what I am. A recent acquisition is a Vhernier Aladino ring in yellow gold with a domed rock crystal and gray mother-of-pearl doublet. It is smooth, rounded, and seamless, and ultimately for me a great pleasure to wear. I was happy to discover that its shimmering gray perfectly complements my 1970 Giò Caroli steel and gold necklace.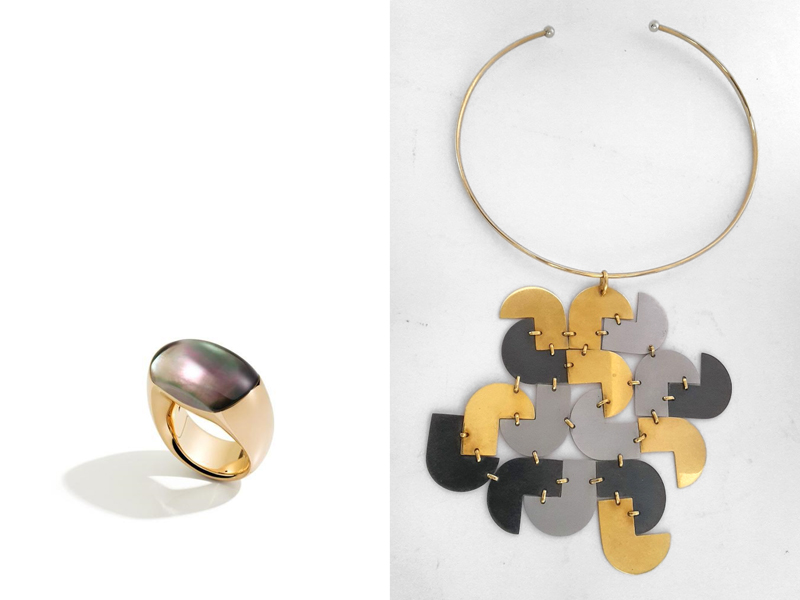 You will be presenting a one-day seminar alongside the Masterpiece London art and antiques fair. Could you talk briefly about what Masterpiece is?
Amanda Triossi: The day at Masterpiece will begin with an explanation of a selection of items on show at the fair—I can assure you that just selecting a few has been a challenge, given the extraordinary range and quality on offer. This session will be followed by conversations with exhibitors: some are designers and some are extraordinary experts in their respective fields. For example, Martine Newby of Didier Ltd, with her 20 years of experience, will be able to illustrate how the market for work by jewelry artists has evolved with time.
Your seminar, titled "Glittering Objects and Brilliant People," will highlight the jewelry pieces at Masterpiece and the people behind them. What inspired you to take this approach? And could you tell us more about the seminar?
Amanda Triossi: I find that any experience is enhanced by education and knowledge, everything is fascinating and interesting provided one understands why. Given the level and range of jewels at Masterpiece, it seemed to me and my partner, Karen Stone Talwar of Adventures in Arts, to be a missed opportunity if the jewels were not explained. What I would like to achieve during the seminar is to explain some jewels and expose participants to the brilliant people behind them. Some participants may have a specific knowledge in one area of jewelry but may benefit from learning about a category of jewelry they have never been exposed to; others might not be aware of who is behind the scenes, and how behind each and every jewel there is either a great expert who has found and vetted the jewel, or a designer/manufacturer that has created it from scratch. "Glittering Objects and Brilliant People" will provide a privileged setting to get to know such special people and their work.
Since 2009, you've curated several major retrospective exhibitions for Bulgari, including one at the de Young Museum in San Francisco. Could you explain your thought process in curating these exhibitions?
Amanda Triossi: I believe a curator has the task to tell a story in the best possible way by entertaining, enthusing, and of course educating the public. During the process of telling the Bulgari story, I felt like a film director trying to cast the best actors for the script. I had to search for the jewels, at times chase after them, and then select them. To resolve the dilemma of editing I always asked myself which object would perform best to make a specific point or illustrate a particular feature which I considered important for the story. I am thrilled I was able to present the Bulgari story in museums and institutions worldwide; now I am ready to bring to life another script!
Could you describe a day in your life as a jewelry historian, author, curator, lecturer, and consultant?
Amanda Triossi: This is a particularly difficult question as my days are very varied and there is not much of a routine. I am happiest when there is a portion of jewelry in them but, alas, sometimes they are spent at the vet, paying bills, and dealing with leaks … not to mention the supermarket.
Have you read, seen, or heard anything that excites you lately?
Amanda Triossi: The book Gut: The Inside Story of Our Body's Most Underrated Organ is fascinating and has shown me how miraculous the functioning of the human body is, and ultimately how ignorant I am, in spite of owning one.
A few weeks ago, during the trip "Jewels of Russia" with Adventures in Art, I attended in St. Petersburg a superb performance of the ballet Romeo and Juliet. The lavish setting of the Mariinsky Theatre, the music by Prokofiev conducted by Valery Gergiev, the powerful, charismatic dancers with the star Diana Vishneva: It all made me feel immersed in a triumph of "Russian-ness."
Thank you.