United Kingdom
06/24/2010
If you are looking for excellent ceramics you will find lots to admire at the British Crafts Council's COLLECT art fair. But really the reason to go to London in May is the jewelry. Dodging volcanic ash spewing from Iceland, AJF made its first international trip. For many, it was the first time to see the high end craft fair that is now housed in the beautiful light filled rooms of the Saatchi Gallery in West London. Twenty of the thirty six galleries at COLLECT exhibited jewelry, many of them exclusively. To give an idea of what COLLECT feels like I took photos of many of the galleries showing jewelry.
The exhibiting galleries were given a lot of space to display the work, with most of the Saatchi's large rooms having only three stands per room. Some galleries such as Clare Beck at Adrian Sassoon (not pictured) built a room within a room to show small precious objects such as Giovanni Corvaja's gold fur pieces. The Scottish Gallery had a pavilion with silver work and a single rare piece of jewelry by Peter Chang (sold). But most galleries took a minimal (sometimes austere) stance with display. Galerie Marzee's awesome collection was shown in an enormous double row of steel and glass tables that required glass installer suction handles in order to remove the pieces. This provided great drama when looking at work and admirable upper body strength in the sales staff.
 A few of the galleries displayed mini-exhibitions of a single artist such as Wendy Ramshaw at Lesley Craze Gallery, Kevin Coates at Ruthin Craft Centre and Iris Eichenberg's wonderful pink pieces at Galerie Louise Smit. Rome-based Alternatives Gallery showed an especially strong group including terrific jewelry and objects by Fabrizio Tridenti.
Two of the oldest jewelry galleries showed why they are at the top of the field with Galerie Ra (established in 1976) from Amsterdam showing beautiful new pieces by New Zealander Warwick Freeman made of laminated slabs of precious colored stones and also a great selection of international artists. Electrum Gallery (established 1971) had a large stand with established artists such as Gerda Flockinger, Charlotte de Syllas and Bryan Illsley and colorful paper work by youngish Angela O'Kelly.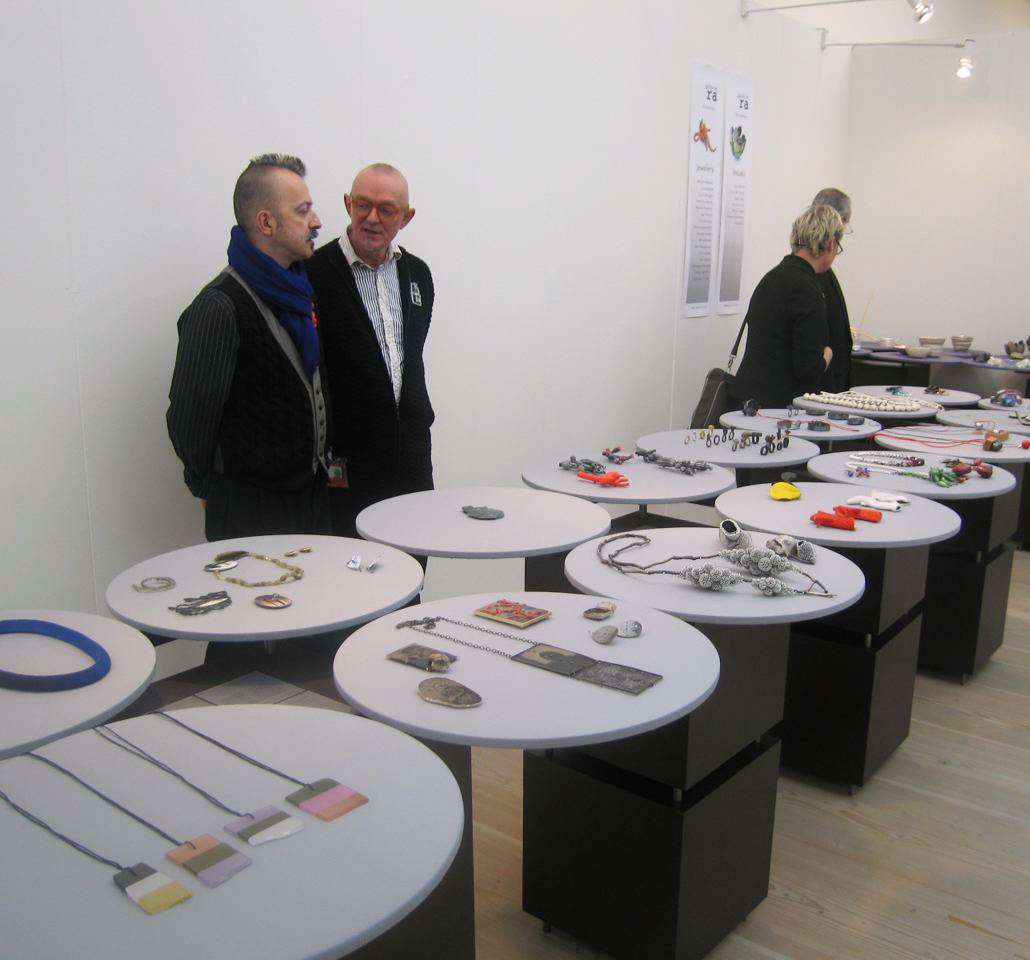 Two of the newer galleries were Galerie S O from Switzerland (and also a great new space in London) and Amsterdam based Galerie Rob Koudijs. Koudijs showed an installation by Alexander Blank called The Gathering of beautiful (and large!) black lacquered brooches of stylized animal heads. Galerie S O, in a minimal and elegant display, showed a combination of jewelry and objects. There were good challenging pieces by Bernard Schobinger and Manuel Vilhena as well as new work by silversmith Simone ten Hompel and metalsmith bad boy David Clarke. There were also a few non-gallery organizations exhibiting at COLLECT. Craft Scotland showed all craft media with strong jewelry by Stacey Bentley, Leah Black and Misun Won. Cockpit Arts, who house two large artist studio centers in London, featured good work by studio members Ruth Tomlinson and Kelvin Berk.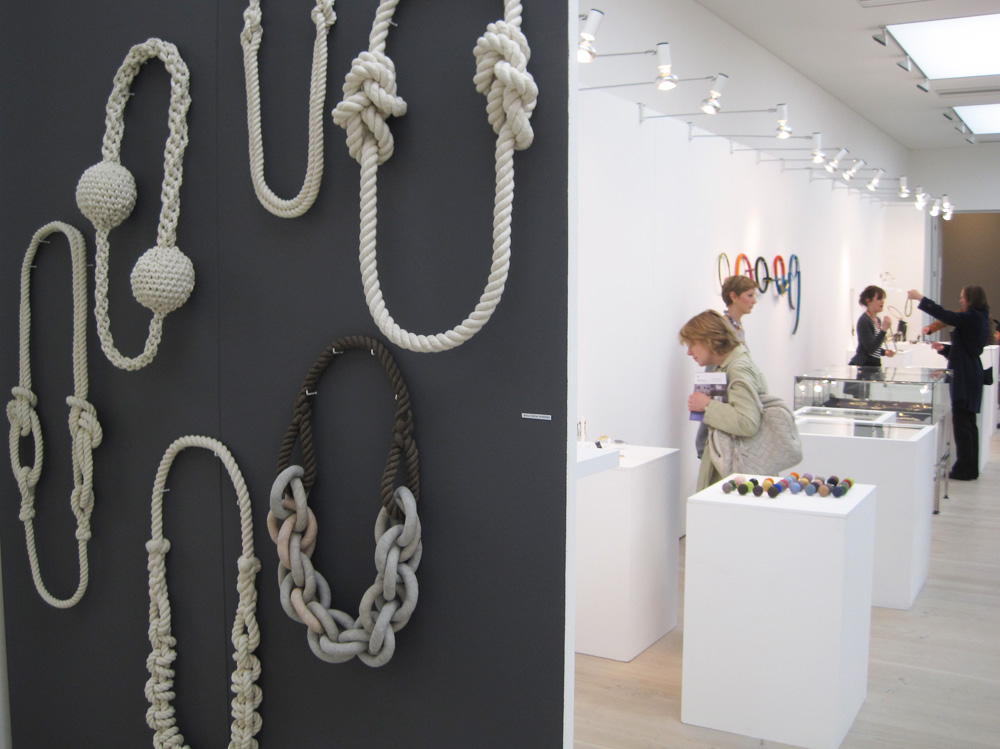 In contrast to the prevailing modernist architecture of most of the stands at COLLECT, Galerie Sofie Lachaert built a witty (and all very white) display of wooden tables and wall mounted dress shirts in boxes with the jewelry neatly displayed on well starched white shirts. Mostly jewelry, Lachaert featured terrific work by David Bielander, Flora Vagi, John Iversen and Giampaolo Babetto and many others. Rosemarie Jager had a long table with a casually displayed array of ceramic and metal cups and vessels looking like the most amazing jumble sale ever. It was a fresh contrast to the everything-is-very-precious-object-on-plinth mentality of most of COLLECT. She had amazing new pieces from Bettina Dittelmann and Annamaria Zanella. Norwegian Galleri Format showed some of the most adventurous jewelry at the fair in the work of Anna Talbot, Hedda Bjerkeli and Elise Hatlø. Format also exhibited intriguing ceramics by Heidi Bjørgan.
It was hard to see all the great work at COLLECT. Even going every day of the run of the fair there was lots to miss. The galleries exhibiting jewelry moved things around and pulled new pieces from drawers so that the stands seemed to have new things you wanted each time you passed by. Add to this the many artists that attended COLLECT, it was a rich and exhausting experience. If you haven't been, you should go. If you have been, I'll see you there next year!