There was a lovely chill in the air as the AJF London trip got off to an appropriate start with a tea and scones event at the traditional Draycott Hotel. Most of the participants had not been to the COLLECT fair before, so we asked Liesbeth den Besten, a writer and curator from Amsterdam to give a talk about the galleries and jewelers we were about to meet. She had done her research well and not only talked about what we might see, but also showed a number of pieces of jewelry that we actually saw at the show.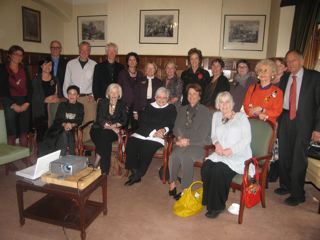 Then we were on to Tom's Kitchen for dinner in a large private room. We were joined by a British couple Jacqueline and Jonathon Gestetner, who livened up the evening by asking us questions about the group and about our collections. It was a dinner filled with laughter and important transatlantic exchange, and by the end of the evening we were all completely worn out.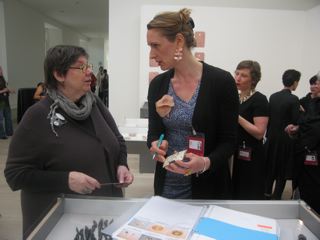 Back at the Saatchi Gallery, Mark Lyman and Anne Mesko from SOFA, the American equivalent of COLLECT, arranged a classy cocktail reception to announce their new grant. The first ever New Voices Grant for International Decorative Arts and Design Discourse was given to AJF. It was the first grant we have ever received and we were honored to be recognized. As AJF chair, I had the pleasure of announcing that Damian Skinner would receive this £3500 award to come to COLLECT next year to review the work on display and report back in the fall at SOFA Chicago. The rest of the evening was free.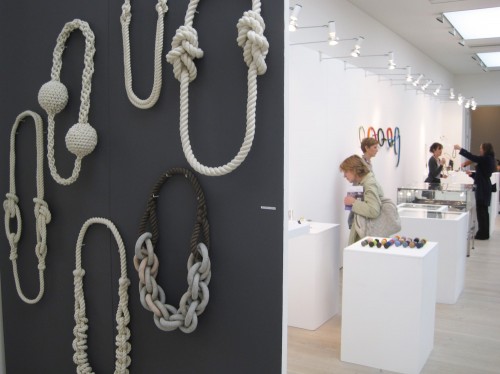 Then we went downstairs to the shop where there were many temptations made by some of the 350 makers who belong to CAA, as well as a grouping of necklaces and bracelets by David Watkins. David and Wendy, our new best friends, were there as well. It was important for some of the group to be able to try on these to see what they looked like and how they felt. The new book about Wendy and David called David Watkins, Wendy Ramshaw: A Life's Partnership by Graham Hughes was also there for purchase and autographs.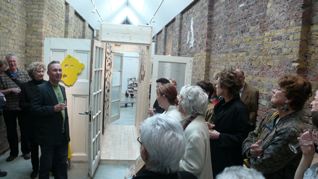 We ended the trip with a lovely dinner at Whitechapel Gallery dining room. It was a fantastic meal to end a fantastic and stimulating trip.