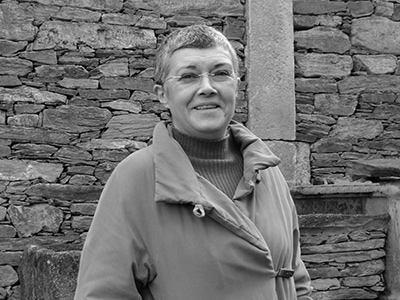 Ana Campos is a jewelry designer and lecturer. She was the director of the Jewelry BA Art course and the coordinator of the Jewelry Design Post-graduation course at ESAD – Academy of Art and Design, in Matosinhos, Portugal. She lectured there on jewelry projects, jewelry history, and jewelry art and design. She has curated jewelry events—exhibitions, symposiums, and conferences—in Portugal and abroad. She participates as a guest in events such as these and researches contemporary jewelry art.
Campos graduated with a degree in communication design from Fine Arte Faculty, University of Porto. She studied jewelry design at Ar.Co, in Lisbon, and later at the Massana School, in Barcelona, with a scholarship from the Calouste Gulbenkian Foundation. Her post-graduate study in intercultural relations at the Open University in Porto led to a master's degree in visual anthropology. Her dissertation is entitled 
Cel i Mar, Ramón Puig ator num Novo Cenário da Joalharia
 (
Sky and Sea: Ramón Puig, Actor in the New Jewellery Scenario).
 She finished her PhD in philosophy at UAB (Autonomous University of Barcelona). Her thesis is entitled 
La Joyería Contemporánea como Arte, Um Estudio Filosófico (Contemporary Jewellery as Art, A Philosophical Study).