A chance meeting with Bob Ebendorf at Penland and my penchant for his work has led to an ongoing, pen-pal relationship. It has been amazing to me that such a casual relationship could grow into a satisfying friendship based on spirited discussions of the scope of contemporary jewelry.
So it was with a mix of expectation and trepidation that we accepted an invitation to visit him at East Carolina University, meet his fellow faculty and students and see his most recent exhibition at the Imperial Centre in Rocky Mount, NC.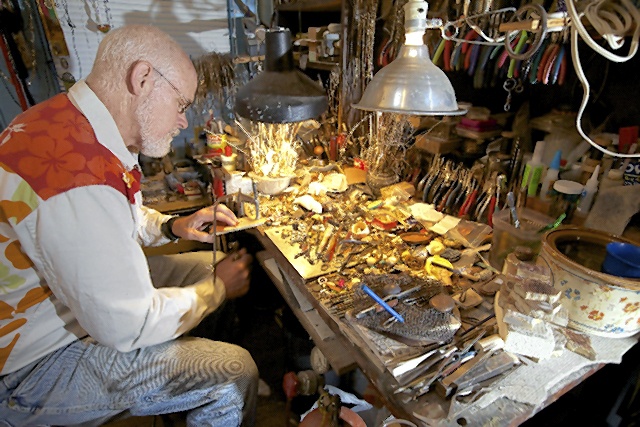 Dinner and jewelry conversation with School of Arts and Design Chair Linda Darty, and Bob capped the evening. Linda had just been awarded the ECU Faculty Lifetime Achievement Award for Excellence in Research and Creative Activity, so we were able to join in celebrating her achievements.
Saturday brought the short drive to Rocky Mount to see "Past and Present: a Continual Journey" at the Imperial Centre for the Arts and Sciences. The Centre is a beautifully restored and redesigned tobacco warehouse. Bob's exhibition was shown in two of their spacious minimalist galleries. Although not arranged chronologically, the 80 brooches, necklaces and objects represented the full spectrum of Ebendorf's mature work. All were from his private collection, so well-documented, extraordinary work lay alongside rarely seen examples representative of fifty years of jewelry making. It was truly a treat for the jewelry lover. The exhibit is to continue to May 17, 2009. A visit to the other gallery spaces in the Centre treated us to a juried show of Carolina crafts, a one-person show of sculpture and one of painting.
Dinner with ECU metals faculty and MFA students at the home of assistant professor Tim Lazure completed our art jewelry weekend. The weekend was filled with all things jewelry, a delicious treat for any AJF member. The ECU metals facilities are state-of-the-art, and if the student work we experienced is any indication, the educational experience at ECU is rich indeed. We were impressed with the quality, craftsmanship, and unique vision of each student's work. Importantly, none of the student work was a simple tweak of jewelry by their professors.
My pen-pal relationship with Bob has grown because of this visit. Bob has just been asked to extend his tenure as Belk Distinguished Professor for another five years. I look forward to what those five years will add to his body of work and to art-jewelry scholarship.