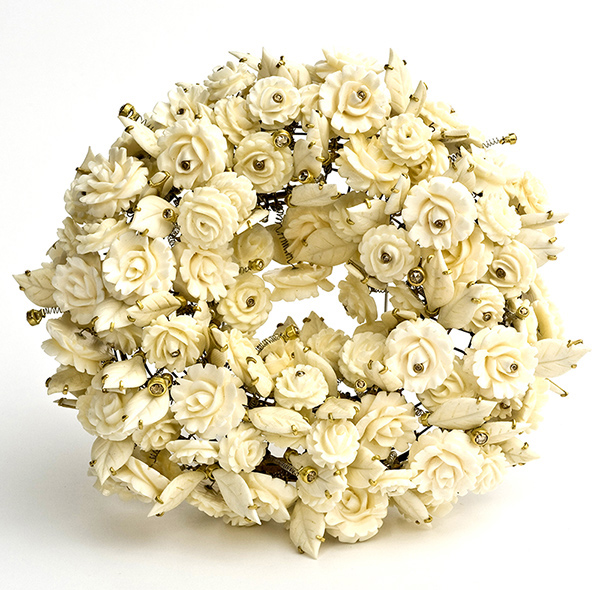 The recent work of contemporary art jewelers such as Brigitte Adolph, Melanie Bilenker, Lola Brooks, Gesine Hackenberg, Anna Lorich, Mary Pearse, Monika Strasser and Renee Zettle-Sterling underscores the link, inherited or not, between past and present and establishes a framework for investigating the role of jewelry as a conveyor of personal, social and cultural meaning. Often these endeavors include, sometimes more implicitly than explicitly, a reconsideration of ornament both in form and content. This exploration of decorative elements as linked to society and culture is happening across media. Even within contemporary art jewelry, there are multiple paths of investigation concerning history and ornament. Those mentioned in this article implicitly address ornament while others, such as Anya Kivarkis, Uli Rapp, Constanze Schreiber and emiko oye, represent those explicitly exploring the links between historical forms of jewelry, luxury, social status and wealth. This essay identifies only a few of the contemporary art jewelers who are engaging with the past, their past. Rather than offer a definitive answer as to why there is a trend to make jewelry that explores the world in this way, I attempt to draw attention to some of those making significant work in this direction and encourage further contemplation of both the artists themselves and the larger idea as a whole.
In 2008 Lola Brooks said: 'My historical reference points are perhaps oxymoronic; the death obsessed and sentimental Victorians and the optimistic creative vigor and largesse of 20th century costume jewels.' As this quote underscores, the Victorian era (1837-1901) set a tone for imbuing objects with personal meaning that remains attractive today. Many types of jewelry were fashionable, but those that seem to most exemplify the period in a historical capacity are those that embody a certain type of romanticism namely, hair and mourning jewelry, inscribed engagement rings and jewelry made with jet (the black gemstone that was popular for its beauty and worn for fashion as well as mourning).
With an overabundance of so-called sentimental icons such as vintage ivory roses, champagne-cut diamonds and stainless steel bows in her latest brooches and neckpieces, Brooks challenges the idea that certain 'signifiers' can no longer hold any real meaning and reworks the vocabulary to offer pieces that are a celebration of material and content, no longer 'saccharine clichés of beauty, sentiment, perfection and the feminine.'
Melanie Bilenker draws on the intimacy evoked with hair jewelry by memorializing her personal private moments, scenes of daily life such as cooking at a stove, relaxing in a bath or portraits of hands and feet out of her own hair.
Mary Pearse's recent brooches of plastic, steel, silver and precious stones have primarily been compositions in white ruminations on the idea of loss and odes to Victorian jewelry that marked the passage of time and served as 'memorials' to loved ones.
While not specifically addressing personal family connections, Brooks, Bilenker and Pearse engage with subject matter that is linked to the idea of things personal part of this extends from the fact that they create jewelry meant to be kept close, worn on the body, yet this is not the only connection. They turn intangible memories, bonds and emotions into tangible objects further linking an intimate object with intimate ideas.
Simultaneously, jewelers such as Brigitte Adolph and Anna Lorich are tackling the potentially raw and sticky subject matter of their families. Adolph and Lorich refer specifically to their families as inspiration, but they also represent a larger segment of contemporary practice that is reinvigorating (perhaps a better term is re-appreciating) historical textile techniques within jewelry, interior design and sculpture and installation. Their use of such techniques and methods metaphorically links them to their bloodline family, but also connects them to so many others who recognize the value of such practices and the way they can immediately both reference (perhaps nostalgically or sentimentally) the past and establish connections between people.
Long interested in antique lace and embroidery, Brigitte Adolph transforms family heirlooms of lace and stitching into gold and silver 'lace' jewels. Visually deceptive, her earrings and necklaces look like fragments of lace in thread but are of silver and white and yellow gold
– they are brand new objects that keep her connected to her past, that evoke personal memories of her home and that offer the same personal 'potential' to many a wearer or viewer. Anna Lorich uses family images and objects as source material for intensely embroidered rings, sweetly stitched portrait brooches and narrative drawings. She bluntly states that her jewelry is about feelings and that she plays with 'notions of a family narrative, tradition, generation and ancestry.'
Considering the jewelry of Adolph and Lorich also takes us quickly to ideas of the domestic
– the connection to textile handcraft in their work, as well as the intimacy evoked suggests private contemplations in domestic spaces. The 'domestic' conversation is a multilayered one that seems to be constantly in flux, tied to ideas about certain kinds of objects, conceptions of gender and notions of comfort, the decorative, the sentimental and the familiar. Interested in how 'both the home and the objects in it retain enormous memorial weight,' Renee Zettle-Sterling creates brooches of vintage fabrics, beading and silver for her Objects of Sentiment series. She replaces gemstones with materials of different value
– historical, cultural and personal. Soft and sweet, her pieces are simultaneously familiar and unfamiliar, with stitching and little beads and things we would like to keep close but reconstructed in a way that makes them seem a little alien.
Monika Strasser's series of Schattenbroschen (shadow brooches) are made of the handles of cutlery (inherited from her family) and she presents them in, as she puts it, 'nostalgic looking baroque cases' that contain stitched shadows. While they formally approach connections to the sentimental in a very different way than Lorich or Adolph, they are steeped in family memory. A
s Strasser states, 'You can't run away from your family history, just as you can't shake off your shadow either.'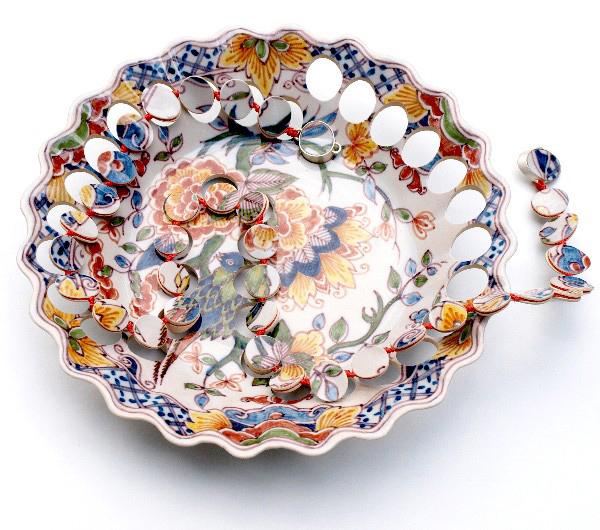 Rather than seeing sentiment or nostalgia as content to be avoided, these jewelers represent an embrace of the past and a willingness to challenge and explore meaning complicated by the idea of personal history and emotion. They are a few of those extending their investigations of jewelry in this decoration
– a pursuit full of potential. Even though this contemporary jewelry is echoing, reconfiguring or recontextualizing history, it does not ring false or forced. The element of the human condition that gives this work so rich a framework is a connection that links the intimate to the public, the personal to the cultural.