Cindi Strauss recently completed the five-year project of creating the Ornament as Art exhibit and catalog, which showcases the avant-garde jewelry from the Helen Williams Drutt collection. She holds a bachelor's degree in art history from Hamilton College and master's degree in the history of decorative arts from Cooper-Hewitt/Parsons School of Design. She has been with MFAH since 1994. In 2008, Jane Shannon talked to Strauss about her work, her wish list and her advice for collectors.
Jane Shannon: Once the Museum of Fine Art, Houston, reached a formal agreement with Helen Drutt, what process did you go through to curate the exhibit of her collection? What books or catalogs were especially helpful? Who did you interview?
Cindi Strauss: First and foremost, Helen was an amazing guide. I spoke with her in depth about the pieces and the artists for a number of years, and she was generous with her time in answering questions. She helped the museum build its library and she made sure we had key research resources including specific exhibition catalogs, such as Ornamenta I and the landmark 1971 Nuremburg exhibition, Schmuck und Gerat. She also helped us build our library of catalogs on individual artists, like Emmy Van Leersum, Peter Chang, Georg Dobler, Stanley Lechtzin, Olaf Skoogfors, David Watkins, Wendy Ramshaw and many others.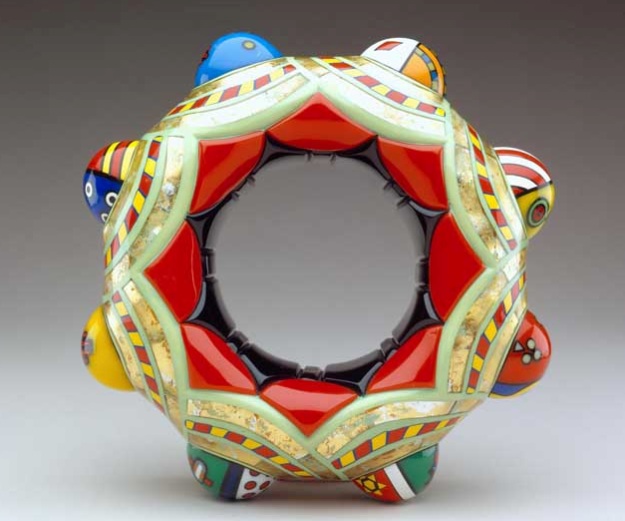 Because this field is still relatively new, this was an incredible opportunity to do primary research and to get to know the artists. It's a remarkable luxury and it's so important to engage the artists and then step back and analyze what you're seeing from an art historical and curatorial point of view, along with what you learned from the artists.
Can you share what you think are the most important facts all museum curators of decorative arts should know about contemporary art jewelry?
Most important, I would stress the fact that contemporary jewelry shares so much with art in all media in terms of aesthetics, techniques and intellectual exploration. It is not a field that can be pigeonholed by its function. There's a very rich dialogue between jewelry and other objects. Decorative arts curators should keep their eyes open to that and be willing to explore these relationships.
As a result of serving as curator for this exhibit, which was a five-year project, how did the experience change you?
Here's what I wrote in my article about this very subject in Metalsmith, v.27, n.5. 'My time with jewelry has literally changed the way I look at decorative arts and design and, in a broader sense, at art itself. My vocabulary has changed, as has the way that I approach objects… My time with contemporary jewelry, while far from over, has altered my personal and professional landscape in ways that I am just beginning to understand. It has, I am proud to say, made me a better curator.'
What and who is on the MFAH's jewelry wish list?
The museum's jewelry collection will grow in two ways. First, Helen continues to make gifts and help us acquire works that will receive her collection designation. It is really important to the MFAH that her collection continues to be a living, breathing document of her extraordinary eye. In addition, we're also acquiring jewelry that will be part of the general decorative arts collection. So I know that Helen has a wish list of pieces and artists that she would like to see added to the collection and I also have a wish list. They often overlap as you can imagine. Right now, for the artists not already in the collection, I am really interested in the work of Friedrich Becker, Iris Eichenberg, Iris Bodemer, Anya Kivarkis, Sondra Sherman, Ted Noten, Katja Prins, Andrea Wagner, Bettina Speckner, Christiane Forster, Annamaria Zanella, Stefano Marchetti, Helen Britton and Vera Siemund, among many others!
What recommendations do you have for AJF collectors to help them select the best museum for their collection or for individual pieces in their collection?
When you have collection of some size, you really need to understand the institution that you're considering from a number of different perspectives. Certain questions need to be answered: Who is the curator in charge of that area? What is his or her interest level and/or commitment to the material? (Remembering that just because a curator does not know a lot about the material does not necessarily mean that they will not commit to learning about it
. Look at me!) How do your pieces fit in with the museum's larger collection and future plans? You'll want to take a full tour, look at storage, meet the staff that would be taking care of your collection
– you really want to understand the larger institution. Do a lot of homework online about the institution. Look at their annual report. Visit their exhibitions and see how they display objects. Make appointments to get to know the curator and get answers to all the questions you might have. It's your opportunity and responsibility to do due diligence. Of course, to do all of that if you're giving one or two pieces is overkill, but it's an important path to take if you're talking about making a sizeable donation. Even if your gift will be one or two pieces, before you give the work, make sure it's something that's really wanted and that it will add to that institution's collection.
As a collector, you can look at placing your collection with one institution, or making a number of gifts to different institutions where the work you own will augment collections. Ultimately, you want to make sure that your collection ends up in a good home and that the work has an impact on that home on some level.