Have you ever checked out the Françoise van den Bosch Collection? In order to do so, you don't even have to visit the Stedelijk Museum in Amsterdam, where it's housed. The foundation that built the collection has put every piece of jewelry on its website. A grid of pictures appears
on the screen, in seemingly random order. You scroll down; text appears only when you hover the cursor over a photo.
A small gold cube, on every side of it an eye with an identical safety pin hanging from it. The title says 6 x a Brooch. Which side would you choose to pin this brooch on your clothing? This small piece was made by an artist called Kimmo Heikkilä.
Nearby is a picture of a piece by a young Helen Britton, a brooch titled Garden of Infinity. Small shells and glass and plastic "gems" are mounted on a silver lemniscate, the symbol for infinity. The baroque shape of this piece is reminiscent of the popular classic bow brooch.
From there the eye might wander toward a brooch made in 1976 by Françoise van den Bosch. Now this one is anything but precious jewelry. It was made by hammering a piece of square metal tube. Then, by pinching both ends together, the flattened tube was transformed into a horizontally ribbed little cushion. It's polished beautifully, which puts the result into the "jewelry" category. The pin is definitely not the main part of this brooch. Jewelry like this can act as an independent object.
With Jing He, a few photos on, things are different. Another brooch, this one made from an ordinary kitchen spoon, folded steel and plastic. Jing explored how ready-mades (even a pointy branch on a tree) can make a connection with the body as Potential Pins.
Apart from brooches, you can also skip to rings, bracelets, etc. By then, you might be wondering how these pieces of jewelry ended up together. The answer lies in the early 70s. One of the revolutionary Dutch jewelry designers in those days was Françoise van den Bosch. At a young age, she became successful with her free-spirited work, which was shown in the United States in a traveling group exhibition along with jewelry by Emmy van Leersum and Gijs Bakker, among others. Françoise had ditched conventional gold- and silversmithing and experimented with industrial metal tubes and rods. She played with the materials and learned how nickel silver, stainless steel, brass, and aluminum behaved under her hammer. As a member of the Bond van Opstandige Edelsmeden (Union of Rebellious Jewellers), she tried to move handmade jewelry away from its crafty atmosphere and into the world of fine art. She also dreamt of making a well-designed piece of jewelry that, as a multiple, would be affordable for everybody.
Three years after she died—suddenly, at only 33 years of age—the foundation carrying her name was established. The core of its collection was already there: work by Françoise, plus the geometric abstract pieces she had swapped with artist friends like Suzanne Esser, Gijs Bakker, Marion Herbst, and Ruudt Peters.
Additionally, work by either young talent or award winners is added to the collection; a jury chooses the winner of the bi-annual Françoise van den Bosch Foundation Award, which by now has become an international hall of fame of innovators in contemporary jewelry. Again and again consecutive board members and independent jury members have discussed and chosen work that could represent new directions in contemporary jewelry. At the same time, their choices have been inevitably influenced by the zeitgeist. In this collection, which has been steadily expanding for almost 40 years, you can detect pendular movements. After the days when pieces of jewelry could stand free as "objects" came the rediscovery of the body. After the exploration of ordinary everyday materials came the abundant return of precious metals.
Back in the day, Françoise abandoned gold and silver because of their old-fashioned, bourgeois image. These days, for some, gold and silver have acquired yet another meaning, one of exploitation and environmental damage. Ivory, gemstones, coral, plastic, blood diamonds—almost each material has its dark side. This makes picking a material a message in itself, more so now than ever before. A recent addition to the collection was a shoulder brooch from the series Parrot Devotees, by Marion Delarue, made from absolutely beautiful feathers sourced from ordinary fowl raised for meat plants. Marion is concerned about the luxury industry causing the extinction of animals. But she tells other stories as well, about Jean Cocteau's parrot, and how we always feel the need to pretend to be prettier than we are. Social commentary, carried out in Chinese feather marquetry—with this ode to a craft she throws you off the scent once again. It brings to mind another work in the collection, made 30 years earlier by Otto Künzli, and also meant to be worn on the shoulder (which is a coincidence, because shoulder pieces aren't very common). When Mickey Mouse Was Born is a combination of an egg of Columbus and Mickey Mouse.
In contrast to these two fascinating pieces, which both hold several narratives, the pillow brooches by Françoise are just what they are. What's more, Françoise presented them as neutral objects, and all she mentioned about their origin was that she enjoyed working with hard metals like industrial tube. Of course, most jewelry lovers would agree that a piece of jewelry must be able to hold its own. Form, technique, wearability, material, color—many factors can contribute to its power, even before the observer has read or heard about the concept behind it. From that perspective, the anonymous pictures on the foundation's website are a big plus. The viewer's first impression isn't clouded by texts and labels. In a time when a message sometimes seems to be forced upon a piece of jewelry, isn't that a pleasant approach?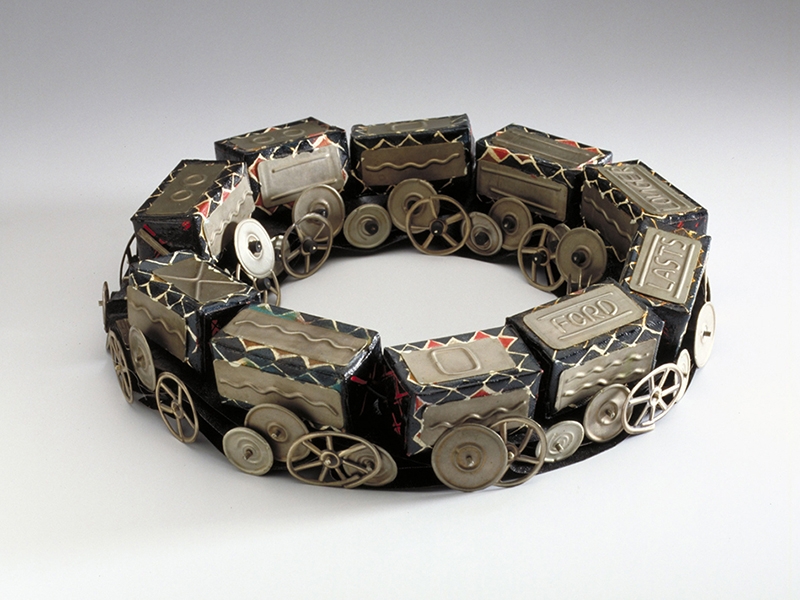 Gradually, the practice of using jewelry as a means to openly express the personal or political has become more widespread. In 1987, award winner Esther Knobel, from Israel, did so for the discerning viewer: Her necklace, a little tin train, is about the Holocaust, and the text on it, "Ford lasts longer," refers to the anti-Semitism of Henry Ford and countless people after him. Lin Cheung, who's English and won the award in 2018, has a less covert approach. Delayed Reactions is a series of emoji buttons cut from lapis lazuli in the colors of the European flag. Tiny stars form a Slightly Sad face, which is a direct response to the announcement of Brexit. Lin's smiley doesn't seem to have much in common with Françoise's iconic two-piece black-and-white aluminum bracelet. The bracelet looks smooth and cool, but its two parts require an intimate act; to function as a bracelet, they need the arm of the wearer. Lin says she recognizes this in Françoise's work: The human touch, by fingers or hand, turns a piece of jewelry into jewelry.
The award winner before Lin Cheung was Marc Monzó, from Barcelona. His clear-cut designs and attention to execution seem to share the introvert DNA of work by Françoise. And, something else they have in common, his delicate jewelry is made in small editions. There is a significant difference, though. Marc is the art director of a Spanish jewelry brand, Misui. Noon Passama, another artist who has some works in the Françoise van den Bosch Collection, also combines her uncommissioned work with designing for this company. Not too long ago, some people would have considered a combination like this as bowing to commerce. Remember, Françoise's generation was fighting to get away from both the jewelry trade and crafts. Maybe the recognition by galleries and museums, once it was accomplished by the rebel jewelry makers, remained the main norm for too long. Nowadays, people are less dismissive of artists who also put their design talents to use in related sectors. It's another example of the revolutions taking place now—concealed and not as urgent as in the 70s. In a few decades' time, we'll know whose side history was on. It will be reflected in the Françoise van den Bosch Collection. Visit it here.