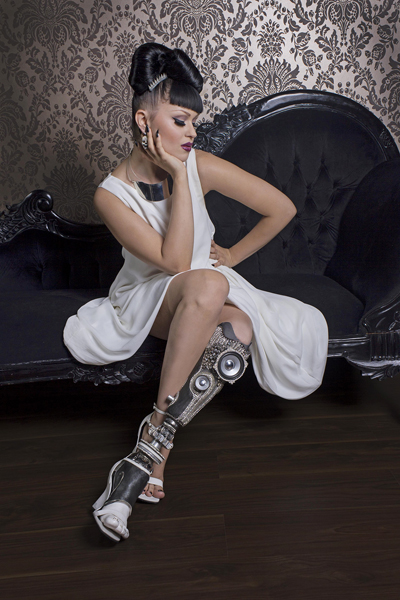 A new article format was launched in January 2014. This series, called "One on One," consists of 500-word analyses of specific works that lend themselves to in-depth study. One review is published every month.
"One on One" is a form of testing area. We believe that the field of contemporary jewelry will benefit from developing its own analytical tools—as different from, say, the tools used to analyze design, art, or customary craft—and we want to use the series to test how specific pieces of jewelry can be looked at, decoded, and interpreted.
We are happy to publish our third installment, by historian Liesbeth den Besten.
The thing is studded with jewels, radiant diamonds all around. It looks like an industrial, machine-age apparatus, with screws and other technical parts, while it glitters like a Cartier necklace. It is somewhere in between a futuristic weapon and an impressive ornate accessory. But this is not a weapon, or a necklace. This is a limb, wearable on the stump of an amputated leg. This bespoke leg is the ultimate prosthetic and the ultimate jewel at the same time. The astonishing object is made to show off, as a real object of desire, making others jealous. Its brilliance and cheek is a bit imposing, as it makes the wearer powerful and the viewer feel ordinary.
A leg as a decorative item epitomizes every aspect of jewelry: personal value and symbolic values, notwithstanding the fact that the sparkling stones are no real diamond carats. In jewelry, it's the message that counts, not the investment alone. This body-extension is able to heal the loss of the wearer, transforming her perceived stigma (an amputee) into a bling statement of empowerment. Maybe it triggers man's imagination, to win this woman (or to be won by her), to unveil the woman's real nakedness, and to submit to her powers. Yes, it definitely has a sexual attraction as well.
Stereo Leg is made by a designer, Sophie De Oliveira Barata, from London. After studying special effects for film and TV at London Arts University, De Oliveira Barata became a prosthetics maker. She made realistic-looking limbs, imitating every bodily aspect from toes and fingers to little hairs, veins, and uneven spots on the skin. After making bespoke prosthetics for eight years, in 2011 she started The Alternative Limb Project. Now, she works on commissions with private clients, as a jeweler-goldsmith would. She discusses every detail of the piece to be made in order to conform to the wishes and fantasies of the client and to her own imagination: shape, material, and special effects. Her particular background, associated with the skills of different craft and technical specialists, means that pretty much everything is possible.
There are only a few people who need and can afford a leg as a unique accessory that underlines one's identity. De Oliveira Barata found an interesting client in singer/songwriter and performing artist Viktoria Modesta Moskalova, who voluntarily had her leg amputated when she was 19, weary of spending too much time in hospitals because of damaged nerves in her left leg since birth. Viktoria calls the leg "bionic," and this is the right expression for the effect it produces. Wearing the Stereo Leg, (wo)man and machine, clothing, make-up, haircut, jewelry, and fully functioning artificial limb are fused in perfect harmony. The bejewelled leg turns her into a mutant power woman. Viktoria wore a Crystallized Leg when performing as the Ice Queen at the London 2012 Paralympic closing ceremony.
See more astonishing legs and arms at The Alternative Limb Project.