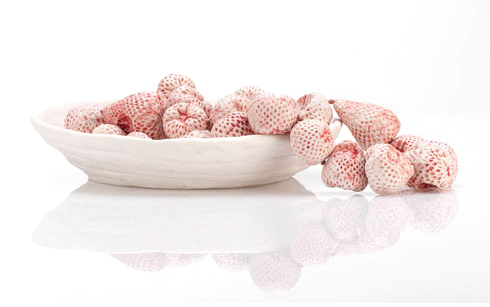 Susan Cummins: Can you tell us the story of how you became interested in making jewelry?
Nina Sajet: Jewelry has always been a part of my life. When I was a little girl, I loved to play with beads, making necklaces, bracelets, earrings, and rings. During my studies at the Art Academy in Arnhem in the Netherlands in the product design department, I learned a lot about different materials and techniques and the way to create a product from an idea, and slowly I rediscovered the old feeling of pleasure of making jewelry pieces.
Did your father, Philip Sajet, influence you to follow in his footsteps?
Nina Sajet: As a daughter in an artistic family, I feel privileged because from an early age I was able to learned about art and design. We went to openings, visited museums, looked at art and design books, or listened to music. My parents' friends were artists, too, so there was always a very artistic atmosphere that stimulated my imagination.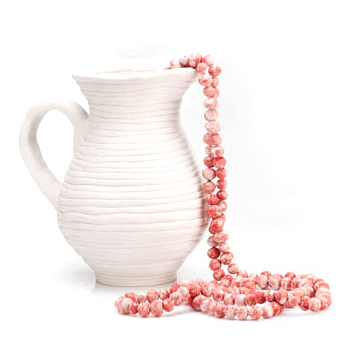 Nina Sajet: During my study, the two elements of jewelry and ceramic came together. I learned how to make molds of plaster, which were used in the ceramic industries. But instead of using it for this purpose, I chose to use them as elements in my pieces. The possibilities of creating something in clay and decorating the surfaces are limitless for me.
Even before this series called Still Life, which features fruits and food, you were using these as models for your work. Do you love to eat, or do you just love the forms of food?
Nina Sajet: Nature has always been a big inspiration for me. Nature is the perfect designer. Every element has its function. I see beauty in each living thing, in its color, relief, and form. I like to use these forms as starting points for new creations. And besides, the love of cooking delicious Italian meals and enjoying them with my friends comes from my Italian roots!
Can you explain your interest in Dutch still-life painting?
Nina Sajet: The aspect of nature displayed in those paintings is, for me, a source of inspiration. The mystic beauty of flowers at the very end of their blossoming, overripe fruit, and honeycombed vegetables led to this series of jewels. Using the single color red draws attention to the structure and form of the fruit. The jewels are presented in simple pots and scales made of porcelain, which is a reference to the painted still life of old.
The Netherlands is probably one if the most energetic places in the world when it comes to jewelry makers, events, galleries, and teaching. How do you feel about living in the middle of all this?
Nina Sajet: That's true! The Netherlands is full of creativity and possibilities. I feel very lucky to be able to go to events, openings, or lectures, and to have the possibility to talk to colleagues about new ideas and collaborate with them. I think the Netherlands offers students and jewelry makers many possibilities of enriching their personal development, as well as the chance to visit important galleries in this country.
Nina Sajet: Because the Netherlands has a lot of good art academies, I have been lucky to get to know young artists through internships. Most of them are studying design and ceramics. I find it a great pleasure to teach them what I do and what I know, and I keep following their development. One of them is Nina Pus. During her internship, she was studying design at the Art Academy St. Joost in Breda, Netherlands. During her internship, we had such a good and fruitful time. In fact, it was so good that we decided to make a project together.
What have you seen, heard, or read recently that you would like to share with us?
Nina Sajet: I can tell you a story about a tender old man I keep visiting each Friday. He has lived in the same house his whole life. It is a very big house, and he lived there together with his family. A few years ago his wife passed away, so now he lives alone in this very large place. This house is full of memories, of his life, her life, and their life together. He was a violinist and she a piano teacher. Every time I go there, I find a new treasure. Sometimes it is something his wife made, a hooked rug or ceramic cup.
The walls are covered with books since she loved to read, so every week I come home with the joy of discovering a new book. The last one was The City of Beasts written by Isabel Allende. This man and his house, they mean a lot to me.
Thank you.