Art Jewelry Forum is pleased to share the news that members of our community find noteworthy. Providing a place to share interesting news is one way AJF is celebrating our 20th anniversary. Is something missing? The success of this compilation of compelling events, exhibitions, and items of interest to the jewelry community depends on YOUR participation.
If you're a member of AJF, you can add news and ideas to the monthly report by going here. If you aren't a member, but would like to become one, join AJF by making a donation.
ANNOUNCEMENT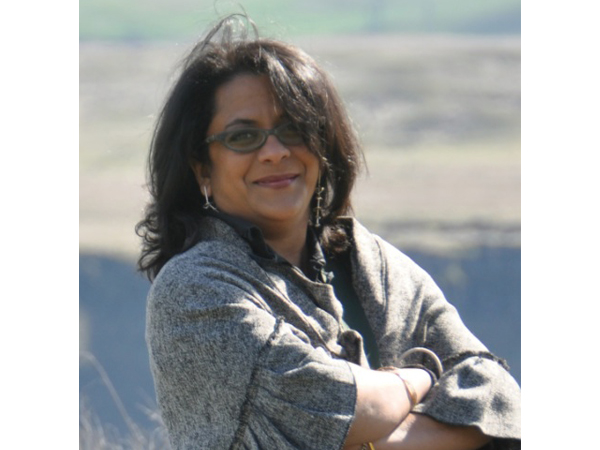 Warren Wilson College announces the launch of a revolutionary new master's program in craft studies. Led by Namita Gupta Wiggers, the program will follow the low-residency model originated by the college's MFA program for writers. Five residencies and four directed-study semesters are required to complete the degree.
Wiggers is currently finalizing the program's curriculum and working to secure a roster of faculty from multiple disciplines that serve and intersect craft history and making. The professors' expertise will include art history, studio practice, material and cultural studies, anthropology, design, and curatorial studies. This planned variety of faculty will allow students to engage in critical study and also experience different interdisciplinary configurations over the course of their program. To receive information on program developments and admission requirements, email [email protected].
---
ANNOUNCEMENT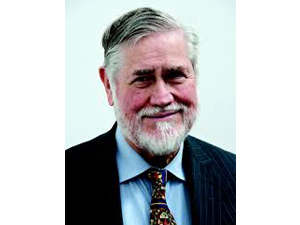 Director of Fuller Craft Museum steps down—Jonathan L. Fairbanks, a decorative arts and sculpture expert who over the past six decades has worked as a curator, historian, writer, administrator, and artist, announced recently that he is stepping down as director of the Fuller Craft Museum in Brockton.
---
MUSEUM EXHIBITION

On view from November 17, 2017 through May 28, 2018, The Jewelry of Ideas: The Susan Grant Lewin Collection is an exhibition of avant-garde jewelry design from the late 20th century up through the present day. Featuring nearly 150 brooches, necklaces, bracelets, and rings created by designers from Europe, Asia, Australia, and North America, Jewelry of Ideas will illuminate the radical conceptual and material developments in jewelry design that have transformed the field.
Jewelry of Ideas: Gifts from the Susan Grant Lewin Collection is made possible in part by the Rotasa Fund, the Society of North American Goldsmiths (SNAG), Gallery Loupe, Sienna Patti, William P. Short III, in memory of Nancy Jean Fulop Short, Helen W. Drutt English, Kim and Al Eiber, and Ornamentum Gallery.
---
MUSEUM EVENT
An opening reception, exhibition viewing, and book signing on November 16 at the Cooper Hewitt with collector Susan Grant Lewin and contemporary jewelry scholar Ursula Ilse Neuman, who will discuss works on view in Jewelry of Ideas: Gifts from the Susan Grant Lewin Collection.
Find out how to register at this link.
---
MUSEUM EVENT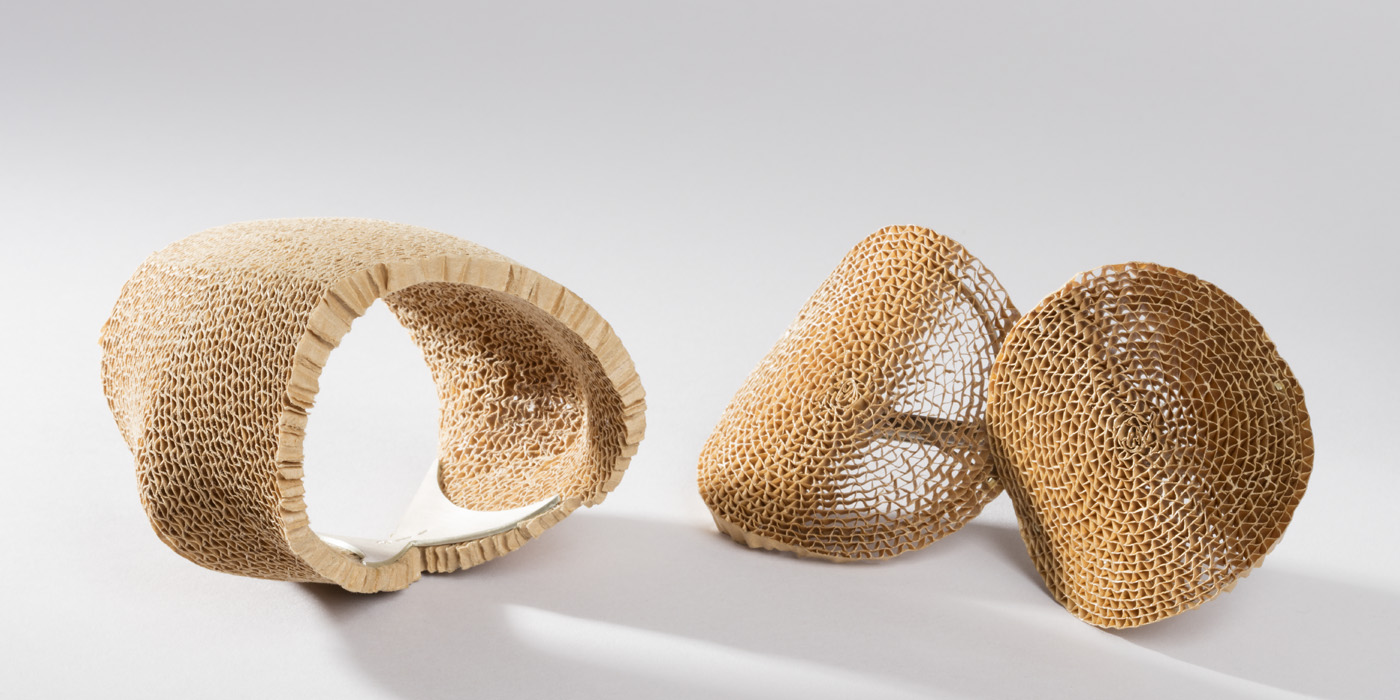 The Cooper Hewitt, Smithsonian Design Museum and the 92nd Street Y present a discussion over afternoon tea on December 12, 2017, from 3–4:30 p.m. Attendees can enjoy an insider's perspective of The Jewelry of Ideas: The Susan Grant Lewin Collection, joining with collectors to discuss their views on collecting and the state of contemporary jewelry today. Find out how to register at this link.
---
MUSEUM WORKSHOP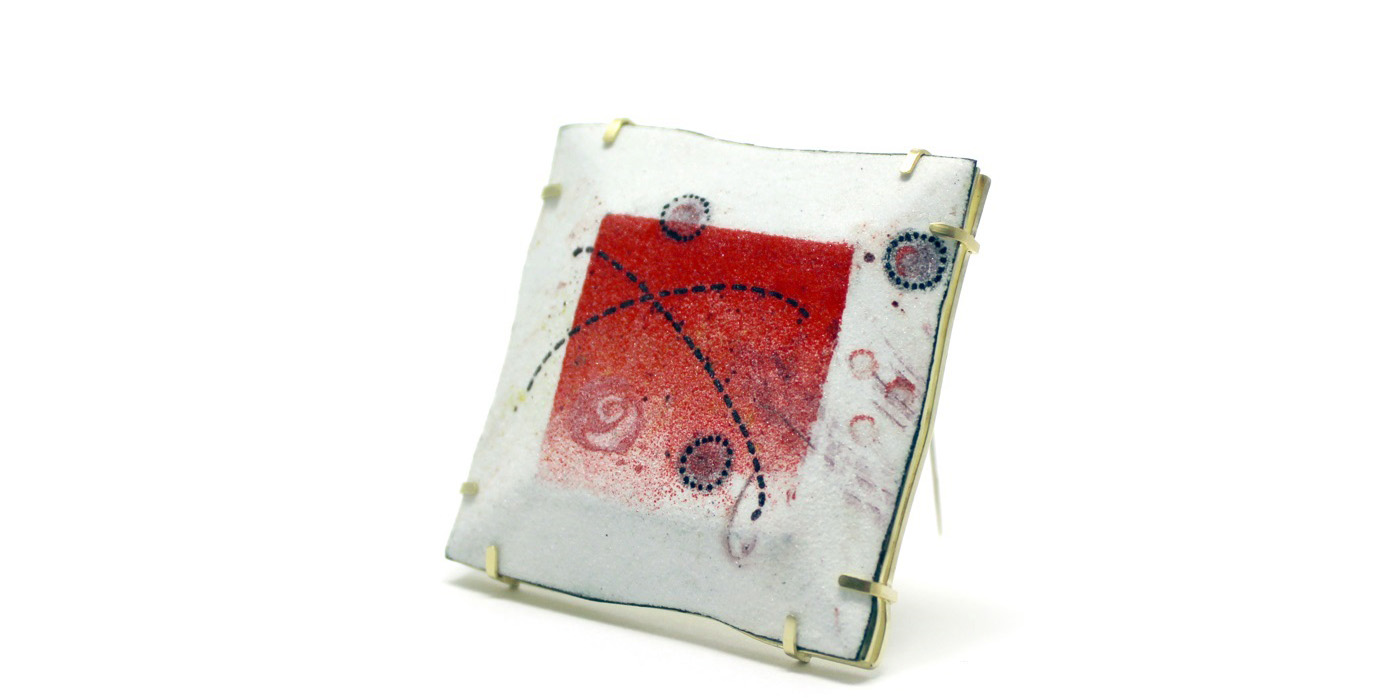 In conjunction with the major gift of contemporary jewelry from Susan Grant Lewin to the Cooper Hewitt, Smithsonian Design Museum, including Jaime Bennett's work, join the world renowned enamelist for an advanced workshop on enamel layering techniques and sgraffito–a form of decoration made by scratching through a surface to reveal a lower layer of a contrasting color.
Jamie Bennett is professor emeritus in the State University of New York at New Paltz metal/jewelry program. His work is in the permanent collections of the Metropolitan Museum of Art, New York; the Victoria and Albert Museum, London; the Musée des ArtsDecoratifs, Paris; the Hermitage Museum in St. Petersburg, Russia; and more. One of the world's preeminent enamelists, Jamie's work is known for its innovative use of color and deep engagement of material and process. Please note: The workshop will take place on Saturday, November 18, 2017 at 92 Y's Jewelry Workshop Studio. Register at this link.
---
SYMPOSIUM – LECTURE
From Bombshells to Bling: Jewels of the 1940s and 1950s is the title of the next meeting of the Los Angeles chapter of the Gemological Institute of America's alumni event on September 14, 2017. Gina D'Onofrio, a graduate gemologist and master gemologist appraiser, will explore the dramatic changes in jewelry from WWII to the 1950s. Alumni, industry friends, students, and interested parties are welcome.
New Challenges. Creating Opportunities is the title of the Gemological Institute of America's 2018 symposium on October 7–9, 2018, in Carlsbad, California. The symposium offers expert presentations, panel sessions, and networking opportunities, and unites scientists and business leaders to meet the challenges facing the gem and jewelry industry today.
---
JEWELRY EVENT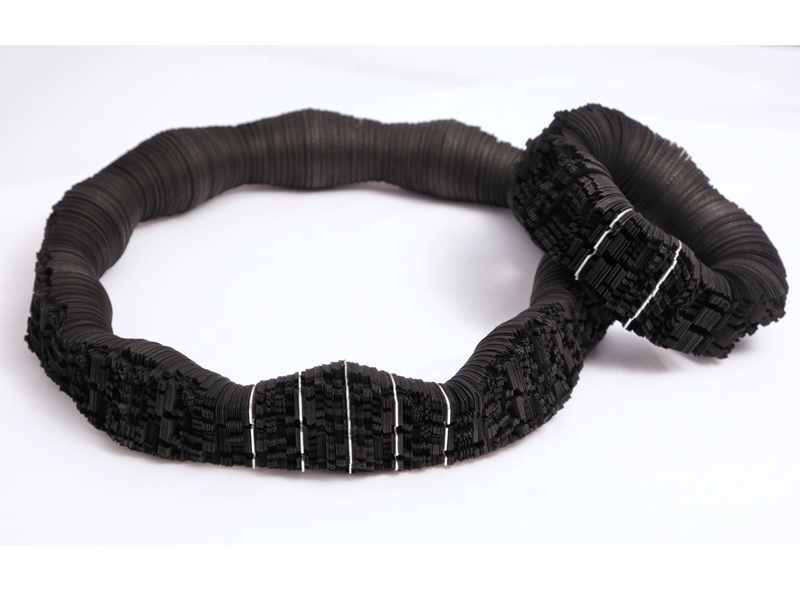 In the spirit of (R)evolution, Patina Gallery in Santa Fe created an event in July where the passion of opera collided with the excitement of groundbreaking jewelry and the tech revolution. The inspiration for the evening was Steve Jobs, and the Patina event coincided with the world premiere of The (R)evolution of Steve Jobs at the Santa Fe Opera. David Zimmerman, the opera company's designer of wigs and makeup, produced a theatrical reveal of jewelry, fashion, and performance.
The jewelry exhibition, co-curated by Allison Barnett and Ivy Ross, was titled Crafted Visions: The Tension of Opposites. It included 13 world-renowned makers who created pieces that reached beyond traditional boundaries, exploring new technologies to produce extraordinary pieces that were clean, disruptive, and sexy to the touch.
Mason Bates, the composer of the opera, attended, as did acclaimed photojournalist Doug Menuez, whose Fearless Genius photography exhibition, also on display during the event, covered the critical years of Jobs's exile from Apple.
---
AWARD
The Saul Bell Design Award 2017 goes to Jason Baide. Reserved for designers 22 years of age or younger, this category places no limitation on media used and requires only that the finished piece be wearable jewelry adornment and fabricated by the entrant. There is also an interview with Baide on the website.
---
PODCAST/VIDEO
Perceived Value is a self-produced podcast during which Sarah Rachel Brown interviews artists about their careers, personal lives, failures, and accomplishments, and asks the question: How do you make it all happen? They say money can't buy you happiness, but you sure do need it to pay for materials and studio space!
Sarah Rachel Brown is the host and producer of Perceived Value and an AJF Ambassador. She currently lives in Philadelphia, PA, where she holds down a full-time day job and hustles as a contemporary jeweler on nights and weekends.
---
JEWELRY IN THE NEWS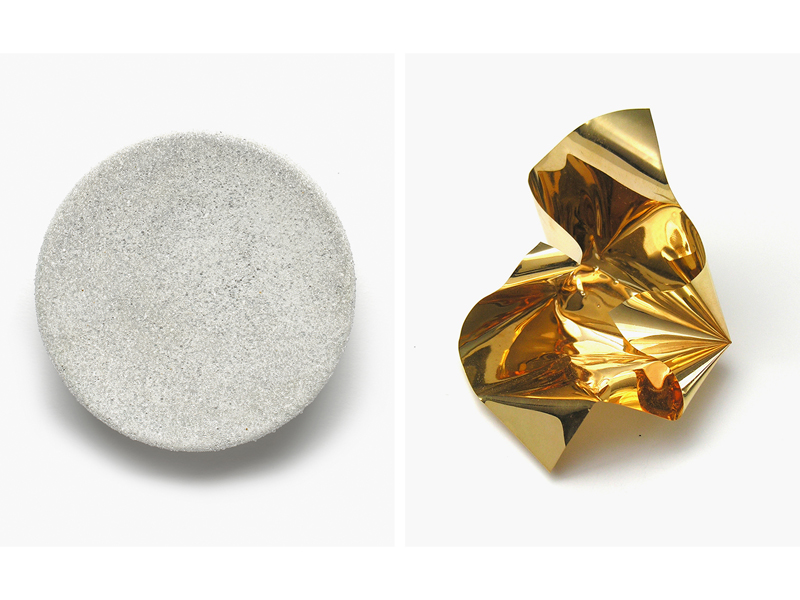 Wallpaper covered a recent jewelry exhibition from the British Crafts Council. "Jewellery functions on many levels—as adornment, as statement, as art," opines Annabelle Campbell, head of exhibitions and collections at the Crafts Council. "It exists at a blurry intersection." The exhibition, I Am Here: Portable Art, Wearable Objects, sits at this crossroads. Narrating the story of contemporary art jewelry, it draws from works held in collections by the Crafts Council, Middlesbrough Institute of Modern Art, Galerie Marzee, Gallery S O, and Pangolin London.
---
JEWELRY IN THE NEWS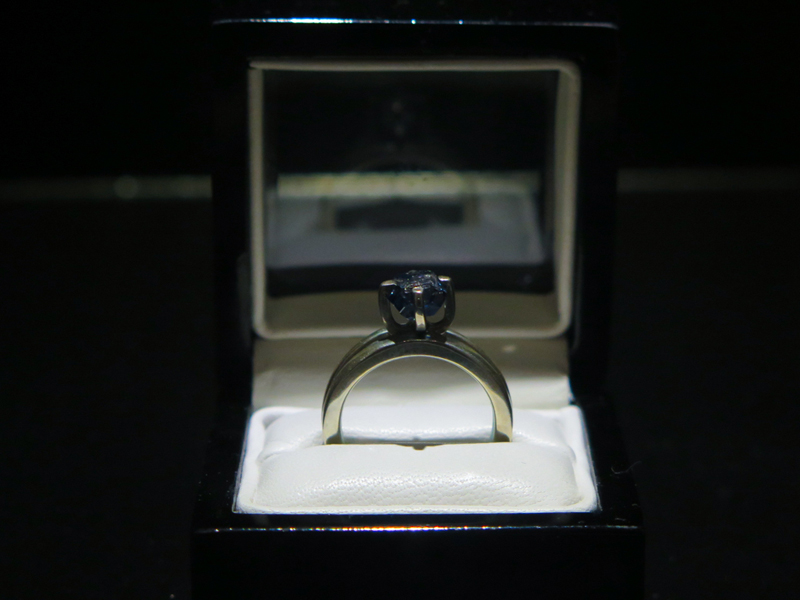 A long saga has developed out of Jill Magid's most controversial and highly publicized project yet. Magid unearthed the ashes of famed Mexican architect Luis Barragán to have a diamond made from his remains, and offered the stone, set in an engagement ring, to the woman who controls his professional archives. The ring was offered in exchange for the woman to return his archives to Mexico.
---
JEWELRY IN THE NEWS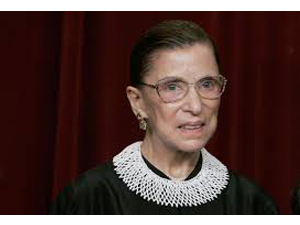 Were you aware that Ruth Bader Ginsburg wears different collars with her judicial robes to indicate her opinions of the proceedings? A group called Dissent Pins has capitalized on this by making a small piece of jewelry replicating this collar. There is an interview with Katie Couric on Yahoo news that shows not only the dissent collar but the others she wears to signal other feelings. The Dissent Pin group gives 50% of their profits to three worthy organizations.
---
JEWELRY IN THE NEWS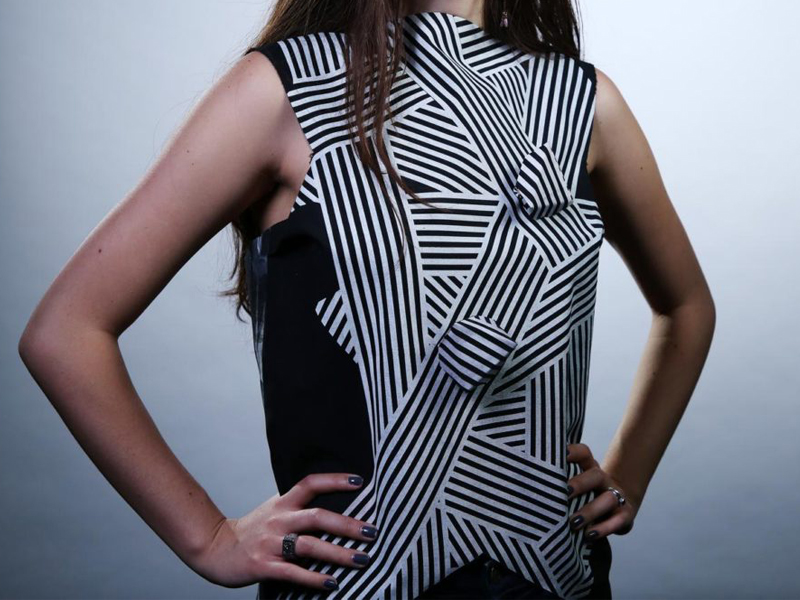 Would you wear jewelry that moves? That's the central question behind MIT Media Lab PhD student Cindy Hsin-Liu Kao's research project Kino. MIT's new "living" jewelry pieces are creepy robot beetles for your clothes. Tech jewelry is on the move.
JEWELRY IN THE NEWS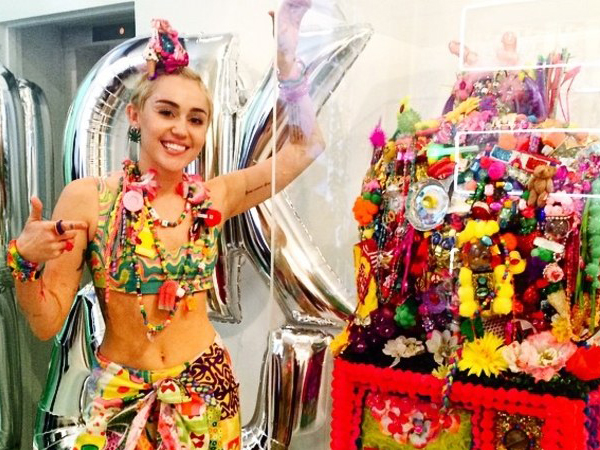 Did you know that Miley Cyrus had a show with Jeffrey Deitch in Art Basel in 2014, showing her jewelry? Wow, it's amazing what stardom can do! This article in W shows her lack of knowledge about the art world … dumb and dumber. At the time of her earlier works, many of which consisted of miscellaneous items like joints and sex toys that fans would throw to her onstage, she said, "I had a bunch of f—ing junk and s—, and so instead of letting it be junk and s—, I turned it into something that made me happy. To some people, it was just me gluing some things together. To me, it made me not a f—-ing pop star dumbass." Brilliant.
---
OBITUARY
Daphne Farago, 1924–2017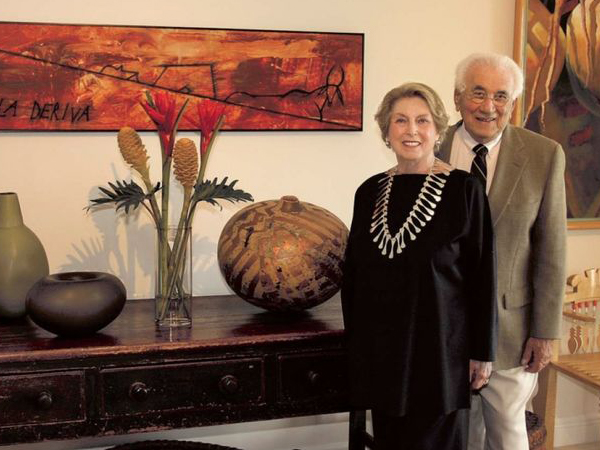 It is with great sadness that we learned about the very recent passing of Daphne Farago. We first met Daphne in the 1980s when Stephen Score, the well-known antiques dealer, introduced her to Mobilia Gallery in the quest for beautifully crafted contemporary art objects. It was the beginning of a very long friendship and collaboration.
One of the great contemporary craft collectors and patrons, Daphne passionately sought and purchased only the very best works by artists in textiles, glass, ceramics, jewelry, and furniture. She always welcomed suggestions and was eager to look at new work. We fondly remember spending many Sundays and Mondays driving down to the Farago home in Little Compton with a car packed full of artwork. Many hours were spent discussing the work and finally walking around the house with Daphne looking for the perfect spot to place the next acquisition. Her husband, Peter, was always in the background commenting about the art with a great sense of humor.
Daphne was named one of the top 100 art collectors in the world by Art News Magazine. Three separate donations of her extensive collection were made in 2007, 2011, and 2013 to the Museum of Fine Arts, Boston (MFA), including more than 600 pieces of studio jewelry and 120 textiles and baskets by the late Ed Rossbach and his wife Katherine Westphal. Concurrently, Daphne established the Farago Lecture on Jewelry series at the MFA, a yearly event focusing on art jewelry presentations by leaders in the field. Selections from the Farago collection can currently be seen in various galleries throughout the MFA, including the Farago Gallery. We will miss Daphne dearly, but take comfort in knowing that the pieces she loved and lived with are in a special home and will be enjoyed by future generations.
—Libby and JoAnne Cooper, Mobilia Gallery
---
OBITUARY
Nel Linssen, 1937–2017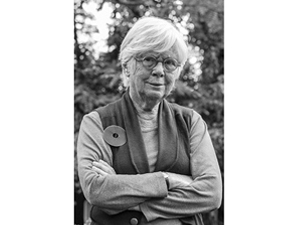 It is with deep sadness that we bid farewell to Nel Linssen, who passed away on August 1 at the age of 80. Nel was one of the most innovative, respected, and accomplished contemporary jewelers of the past 50 years and will be fondly remembered by all. Students, in particular, were always received with warmth and generosity by Nel at Galerie Marzee and at her home in Nijmegen. I remember my first visit to that beautiful house as a highlight of my career. Nel's iconic paper jewelry is seen on necks and arms all over Melbourne, and in this way we'll hold her memory close.
—Katie Scott, Gallery Funaki
---