Art Jewelry Forum's extensive network of international
gallery supporters
is dedicated to celebrating and showing art jewelry. On Offer is a monthly series that allows AJF galleries to showcase a piece that they've personally selected to tempt and inspire you. Please contact the gallery directly for inquiries. Enjoy!
MUSEUM WORTHY
Facèré Jewelry Art Gallery—Kat Cole finds meaning through observing the places she has lived. Her work reflects the unique qualities of an urban landscape—from the color and surface of steel and concrete structures to the marks of time and use. The urban landscape becomes an intimate experience when worn on the body. Her enameled steel jewelry pieces, such as the bib necklace Boundary Lines Color Landscape, vibrate with the life of the city. Cole uses the environmental structures of places she has lived as inspiration for the materials, forms, color, and surface quality of her work. Buildings, roads, and urban detritus blend, becoming landscapes filled with memories and stories, past and present.
Cole is a studio artist in Dallas, TX. She received her MFA at East Carolina University and her BFA from Virginia Commonwealth University. Her international exhibits include Schmuck 2014 and 2015 in Munich, Germany. Nationally, her work is included in the permanent collections of the Museum of Arts and Design in New York City and the Museum of Fine Arts, Houston, in Texas.
RETAIL: US$2,365
CONTACT: Madeline Courtney
---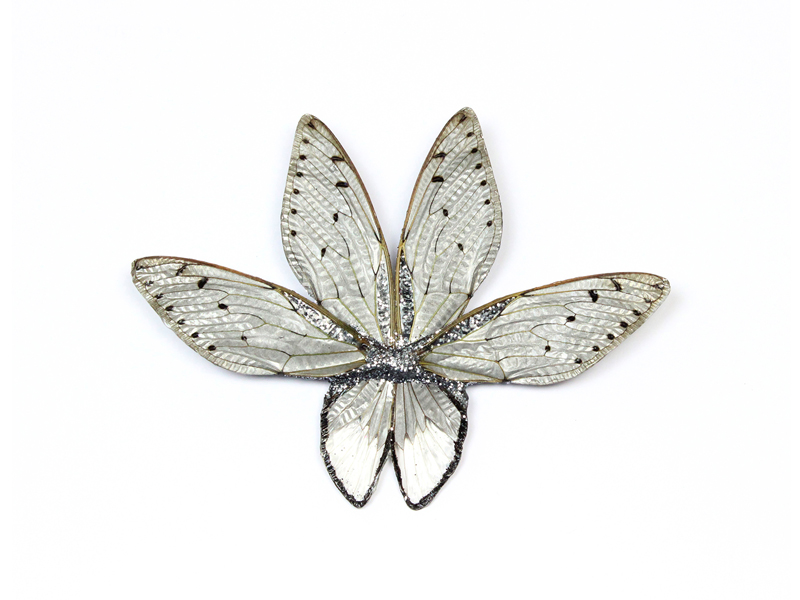 Galerie Noel Guyomarc'h—Born in Stockholm, Sweden, Märta Mattsson has studied jewelry art at HDK-School of Design and Crafts, in Gothenburg; Hiko Mizuno College of Jewelry, in Tokyo; Rhode Island School of Design, in Providence; and the Royal College of Art, in London. A recipient of many awards, Märta has exhibited her work internationally, and she is included in many museum collections. Märta's work is based on the tension that exists between attraction and repulsion.
She says, "In the 18th century, many new breeds of animals and plants were discovered and it was the main era of cabinets of curiosities. People collected rarities because it gave them the feeling of being in the presence of something extraordinary and marvelous. The cabinets of curiosities were not meant to sympathize with the creatures on display, only marvel over their oddity. In a world where not many new and exotic breeds are [being] discovered, I use dead creatures in my pieces to evoke wonder. The creatures are transformed and reborn, given a new life as objects of astonishment."
RETAIL: €1,300
CONTACT: Noel Guyomarc'h
---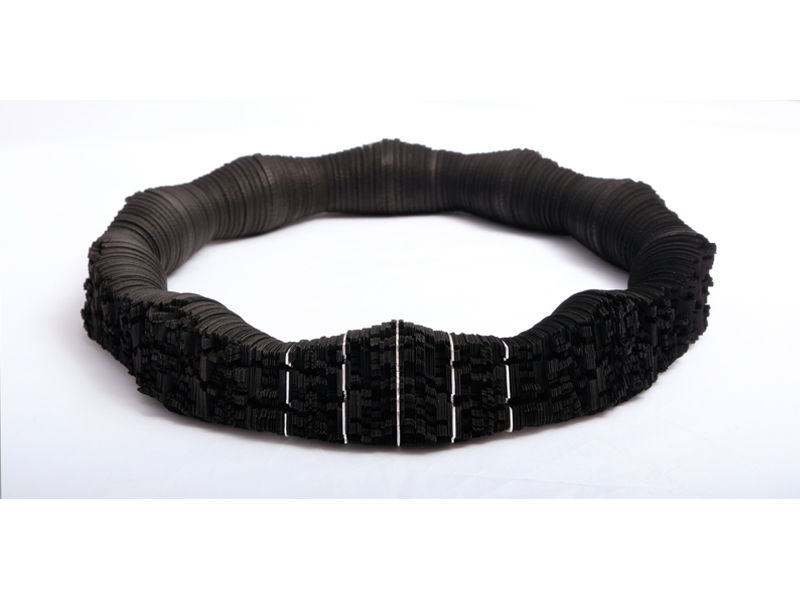 Patina Gallery—Genevieve Howard, a Dublin jewelry designer, drew inspiration for the piece Symphonic Fusion from Mason Bates's original score for (R)evolution of Steve Jobs, the Santa Fe Opera's world premiere enthusiastically received in July 2017. The shapes created in the jewelry echo the musical movement of Bates's original composition. Bates gave Howard exclusive access to his score in order for her to create a unique piece for the exhibition Crafted Visions: The Tension of Opposites. Howard began the necklace by taking scores of music and hand drawing graphic notations based on the music. She redrew the graphic shapes on a CAD computer program to finalize the necklace pattern. The computer files were programmed into a laser cutter. The individual shapes were cut from Japanese linen paper, and Howard assembled slivers of fine silver and paper by hand to create the necklace. The graphic shapes in the jewelry mirror the musical sequence of each original musical score.
RETAIL: US$4,800
CONTACT: Linda Childers
---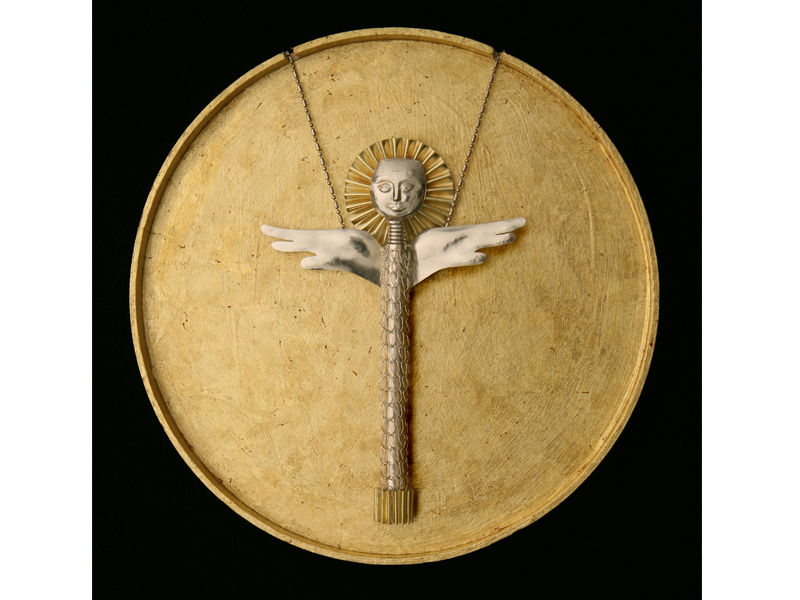 Taboo Studio —Arline Fisch describes this piece, called Silver Angel:
"This project was begun in 1999 to learn about the role of female saints and to honor them by creating wearable pendant forms in silver with accents of gold and copper. Thus far, 14 pendants have been completed. They are accompanied by two angels. Each pendant is centered in a gilded panel.
I wanted to make an appropriate setting for each pendant when not being worn, and after many design ideas I settled on a simple gilded rectangle. The columnar elements on the sides and the arch across the top are suggestive of religious icons, which often use architectural settings.
Each pendant is centered in its golden niche with the necessary chains drawn to the back of the panel for display on a wall. The chains are easily detached from the panel when the pendant is to be worn."
RETAIL: US$2,000
CONTACT: Jane Groover
---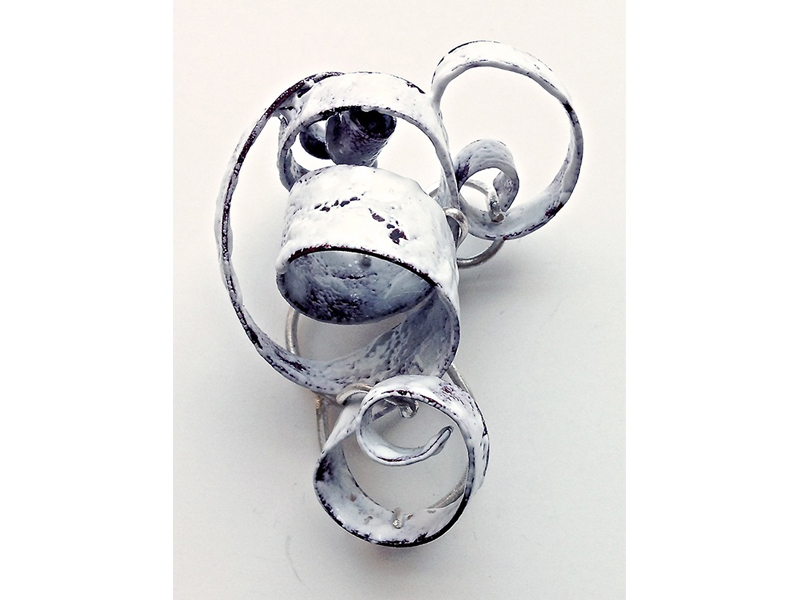 Yun Gee Park Studio & Gallery—This work, entitled Desert Snow Swirl, is a brooch from Valerie Mitchell's Force Field series. Masterfully created from silver, copper, and vitreous enamel, it captures the raw and powerful beauty of the Western desert. It was chosen for The Enamelist Society's Alchemy 4 exhibit and is currently on display at Arrowmont School of Arts and Craft. It will continue on to other exhibits, but will be available to collectors at the finish of its exhibition tour.
RETAIL: Price upon request
CONTACT: Scott Duerstock
---
ESTABLISHED ARTIST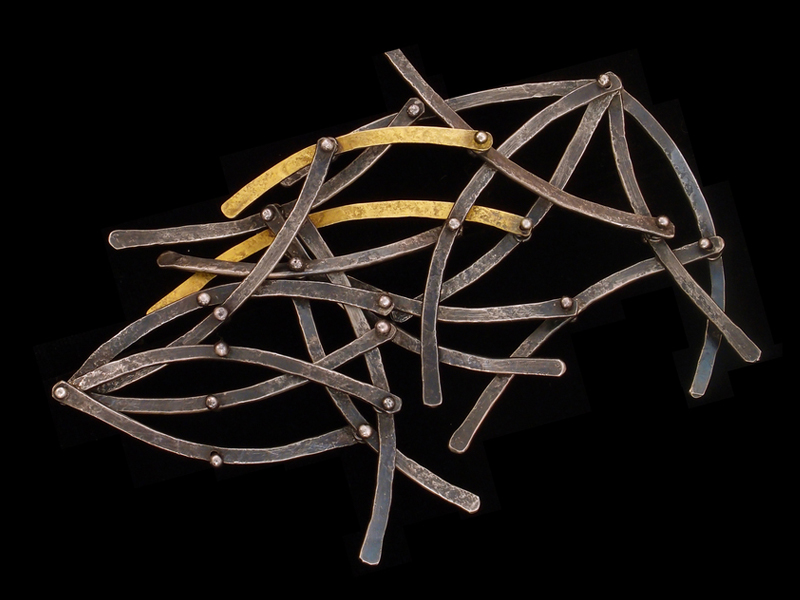 De Novo Fine Contemporary Jewelry—In this kinetic pin by Biba Schutz, each rivet that holds the metal elements together also offers a place for the metal elements to rotate and move. You can arrange this pin into an endless number of shapes. It has two pin stems on the back so you can place it on your clothing in any arrangement you like. It's almost like wearing a drawing that you get to re-create each time you put it on. We love the playful nature of this brooch.
RETAIL: US$900
CONTACT: Cherry LeBrun
---
Four—This work by Mia Maljojoki provides a direct and spontaneous expression. At first glance, the pieces might seem random, but the composition is balanced and carefully planned. Well-directed but unpredictable processes are refined with intuition and long artistic experience. Maljojoki combines strong colors and shapes with an elegance that creates harmony in a bold chaos. This piece, made of porcelain, color and gold glazing, acrylic pigment, cotton, and lace, has a strong connection to traditional craft, but with a playful freedom that turns it into a piece of contemporary art.
RETAIL: SEK 10,000
CONTACT: Karin Roy Andersson
---
Galerie LA Joaillerie par Mazlo—After the fall of Troy, Aeneas finds refuge in Carthage where he lives an intense passion with Queen Dido.
But the Olympian gods have other plans for Aeneas: He must leave Dido to fulfill his destiny and to found Rome. Devastated, Dido kills herself with the sword left by her lover …
This one-of-a-kind ring by Robert Mazlo is an interpretation of the vanitas genre—a reminder of the vanity of power—which can be identified through the weapons that are its usual attributes: bronze arrow and trilliant-cut topaz evoking the shape of a shield. Not to mention the ring itself, which is a traditional symbol of wealth and power.
More broadly, this ring refers to the ambiguity of the metalwork. In ancient mythology, the god of fire or god of blacksmiths, who is the ancestor of all metalworking crafts, is regarded as the inventor of tools and weapons. He is thus an agent of life and beauty (through agriculture, craft, and the arts) but also of war and death.
In the story of Dido and Aeneas, the attraction of power prevails on the power of love.
This ring was created on the occasion of the Le Divin (é)Moi exhibition.
RETAIL: Price upon request
CONTACT: Céline Robin
---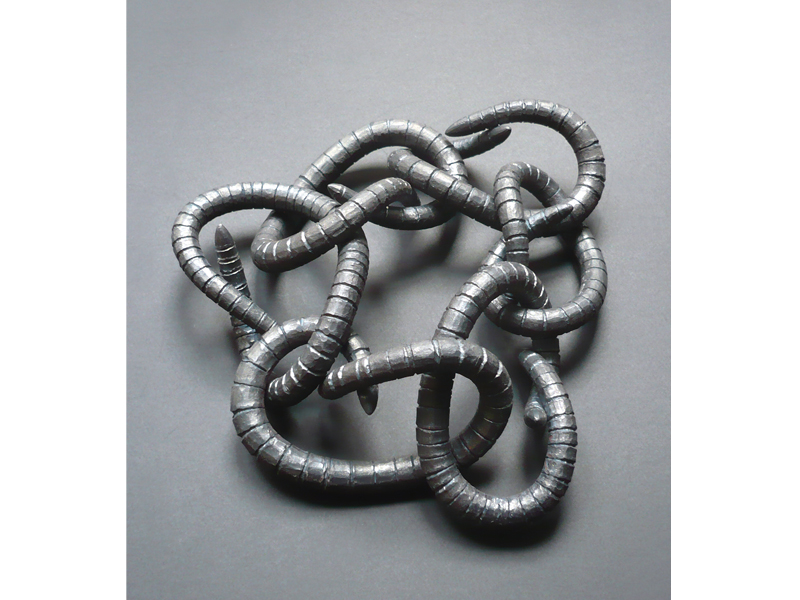 Gallery S O—Sophie Hanagarth infuses wrought iron with a distinct tactile quality, a sense of movement and tenderness. Her work is at once archaic and organic, intimidating and sexy, feisty and humorous, ostensibly alluding to a Celtic torc, a handcuff, or … a pretzel biscuit. We love her ability to defy dichotomies in a playful and spontaneous way.
Hanagarth was awarded two of the most prestigious awards in the field of artistic jewelry: the Herbert Hofmann Preis, in 2011, and the Françoise van den Bosch Award, in 2014. Her work is part of various collections, including the Musée des Arts Décoratifs and the Achat du Fonds National d'Art Contemporain in Paris, France; CODA Museum in Apeldoorn, Netherlands; Schmuckmuseum Pforzheim; the Museum für Kunst und Gewerbe, Hamburg, Germany; and the Museum of Fine Arts, Houston.
RETAIL: Price upon request
CONTACT: Felix Flury
---
Ornamentum —Continuing in her noteworthy style of Reinventing Nature, Terhi Tolvanen creates exquisite wearable artworks. Her latest work, the necklace Tree Factory, does not disappoint. Tolvanen composes a rhythm of rectangular forms. Quartz stones with both faceted and natural surfaces are set in concrete, hinting at Brutalist architecture and contrasting with the natural curved wood branch upon which they are placed … growing from the wood in an asymmetric yet orderly pattern.
RETAIL: US$9,600
CONTACT: Stefan Friedemann
---
MID-CAREER ARTIST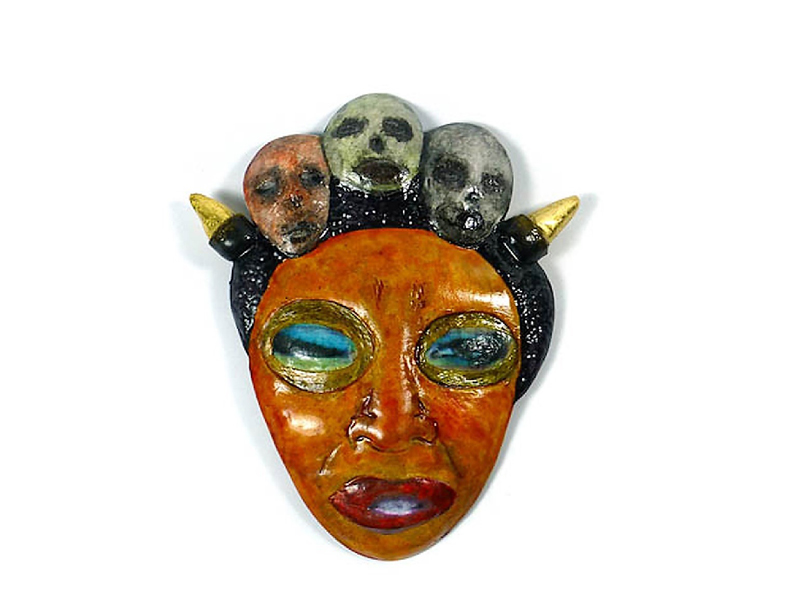 Galerie Katrin Eitner—The brooch High Priestress is a typical example of the work of German jewelry artist Kathrin Borst. She combines contemporary jewelry with the art of collage, typically using body parts such as eyes and mouths from printed magazines. It's well worthwhile to take a peek at the back sides of her brooches and necklaces, which are worked out in detail as well.
Borst is a 2010 graduate of the jewelry class of Burg Giebichenstein University of Art and Design Halle.
RETAIL: €1,400
CONTACT: Katrin Eitner
---
Slavik Gallery—The ingenuity of Salima Thakker's pieces only becomes clear the moment they are worn and follow the movement of body, arm, or hand. The diversity of techniques she uses to translate her ideas gives life to her jewelry. Unit constructions, elemental actions, deforming, and distorting are some other means to add vitality and tension to her work. Where some pieces are tactile and rough, others are dynamic, soft, and more approachable.
RETAIL: €4,900
CONTACT: Renate Slavik
---
EMERGING ARTIST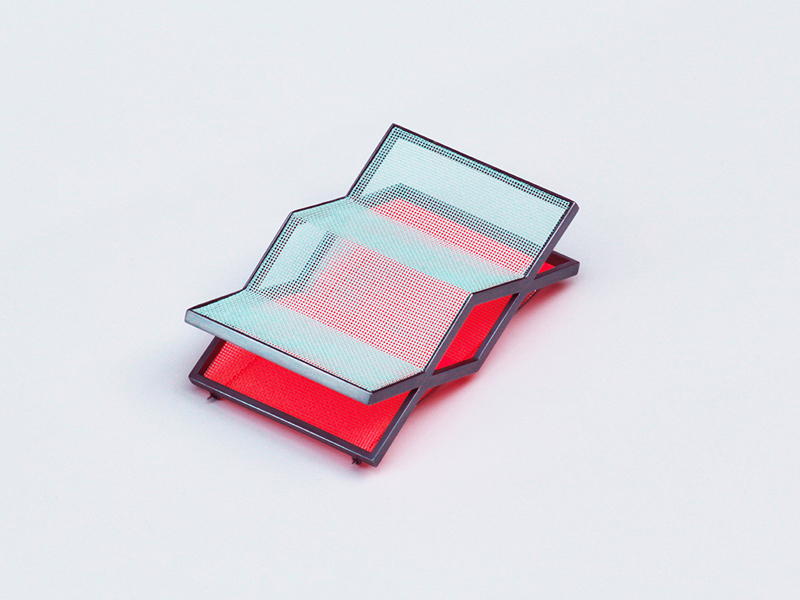 Gallery Funaki—This light, beautifully made brooch is one of the newest pieces in Berlin-based maker Thanh-Truc Nguyen's ongoing investigation into moiré effects and technical structure in jewelry. Nguyen is a precise, sophisticated maker whose first solo exhibition, INTERFERENZ, was presented at Funaki this year.
RETAIL: AUS$1,900
CONTACT: Katie Scott
---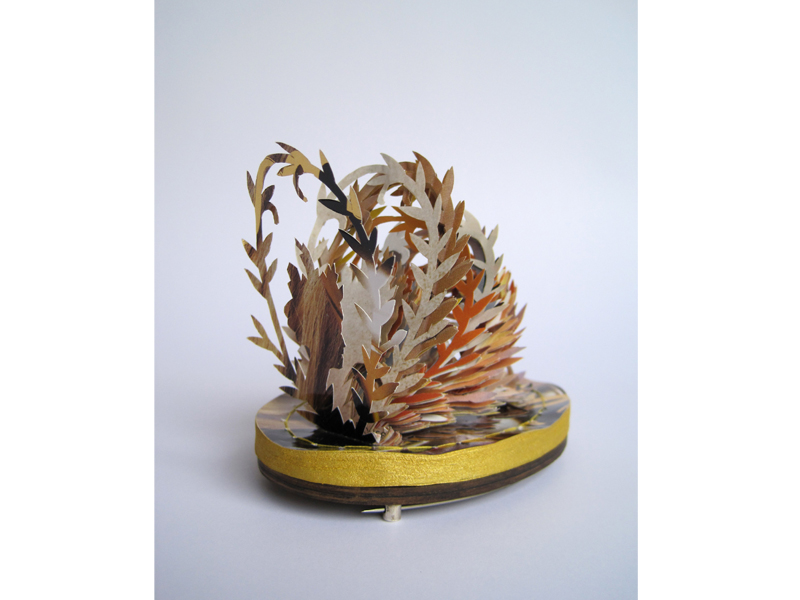 The Gallery at Reinstein Ross—An accomplished jeweler, Tatiana Warenichová studied fashion at the Royal Academy of Fine Arts in Antwerp, Belgium. It was there that she started using fashion magazines, which were readily available in the studio. Her interest in fairy tales led her to create three-dimensional wearable sculptures made from recycled fashion magazines. The artist employs different paper techniques, including cutting and binding, to make pop-up brooches. Each brooch, made of reclaimed paper, is paired with wood and silver. Warenichová has participated in numerous exhibitions across Europe, including the prestigious CODA Paper Art Show at CODA Museum in Apeldoorn, Netherlands, in 2013, and the International Graduate Show at Gallery Marzee, Nijmegen, Netherlands.
RETAIL: US$1,100
CONTACT: Bella Neyman
---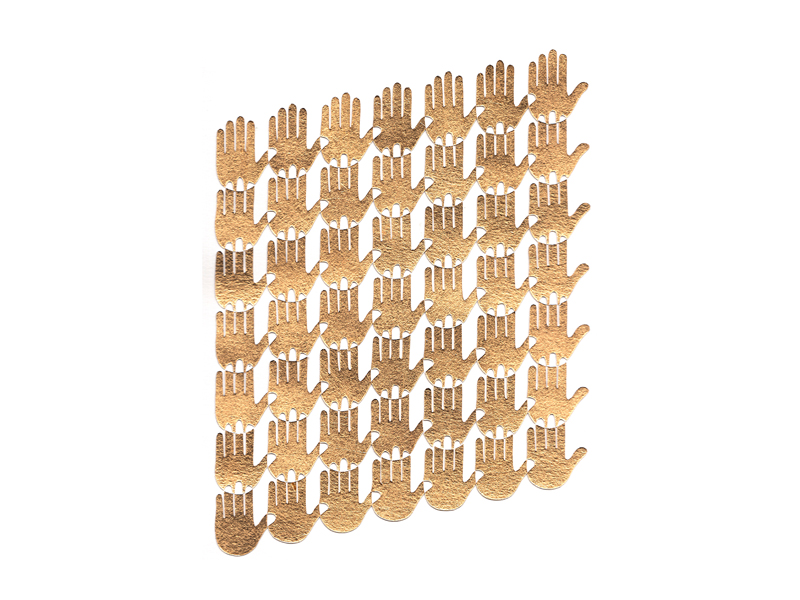 In the Gallery at Brooklyn Metal Works—In Amelia Toelke's recent body of work, she continues to explore the various paths of human communication. Using faux gold leaf on paper, she cuts and pastes a common symbol of communication—the high-five emoji—into captivating mosaics that play with negative space. These abstractions of the original symbol draw you in with their familiar forms and tease your mind with their intricate overlaps, intersections, and connections.
Toelke playfully examines the succinctness of emojis and their ability to perform more accurately than language. She says, "Emojis are wonderful things. Sitting quietly at our fingertips, they express that which cannot be said in words alone. They add emotion, humor, and sometimes-cryptic meaning to our flat, digital words. Through visually representing an action or physical expression, they capture something incommunicable no matter how many words, exclamations, question marks, or dot, dot, dots we type."
RETAIL: US$600
CONTACT: Brian Weissman
---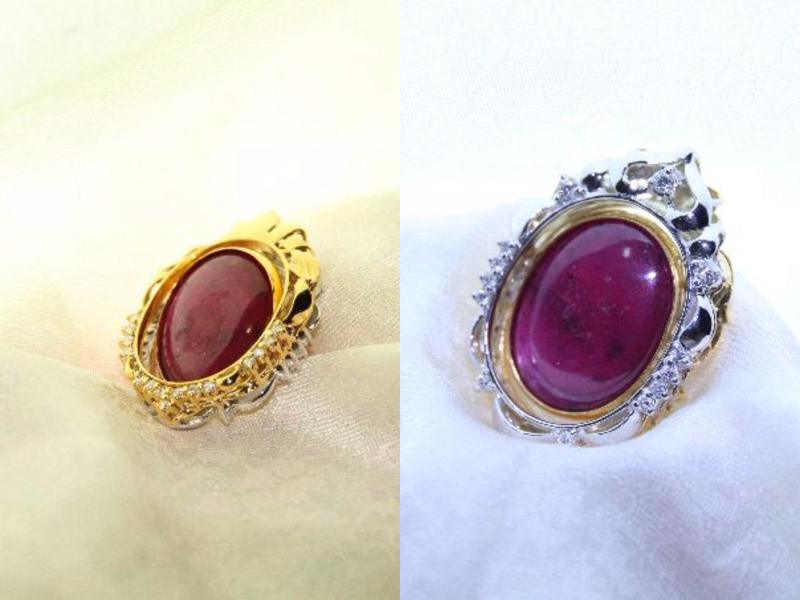 Koumei Art Gallery—Either side of this pendant design by designer Emily Zhu and gold artisan Totok Gievhon is influenced by Indonesian floral batik pattern. While the design uniquely complements the star ruby, the true highlight of the piece shows the level of mastery of the artisan. Totok Gievohn combines two different patterns of pendant symmetrically while giving enough room for the ruby's star to glimmer while being worn.
RETAIL: IDR 750,000,000
CONTACT: Eko Sukoco
---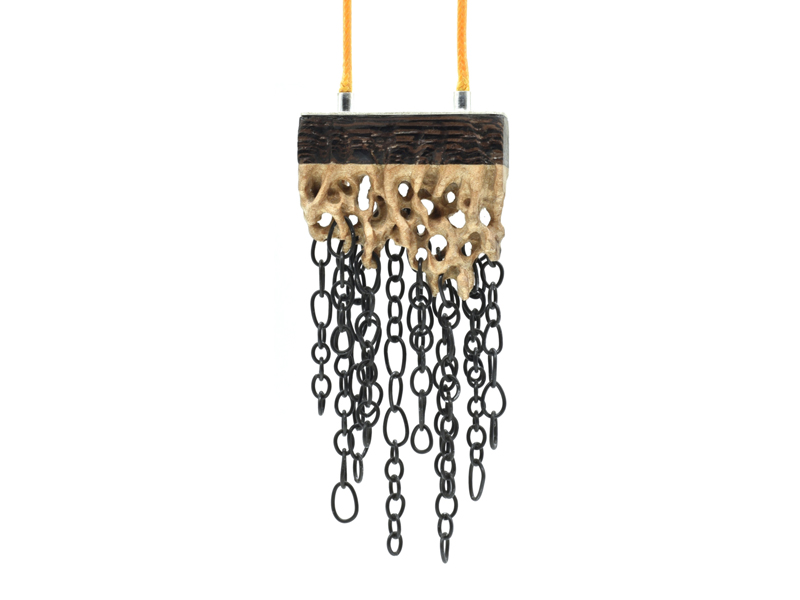 L. A. Pai Gallery—Ho Ching Chan is from the Nova Scotia College of Art and Design and is one of only five finalists in our 14th National Jewellery Student Competition. Growing up, Ho Ching had the opportunity to interact with different professions in the jewelry field. She saw how goldsmiths work, learned how to inspect a piece of jewelry, and how to grade the characteristics of diamonds and gems. During her first encounter with wood and metal when she was 13, she grew fond of hand fabrication. She was awarded a scholarship for her jewelry and metal class in high school, and her interest in jewelry grew. Today, she continues her passion with jewelry through the creative process of using alternative materials.
RETAIL: CAN$580
CONTACT: Lisa A. Pai
---
GALLERY CHOICE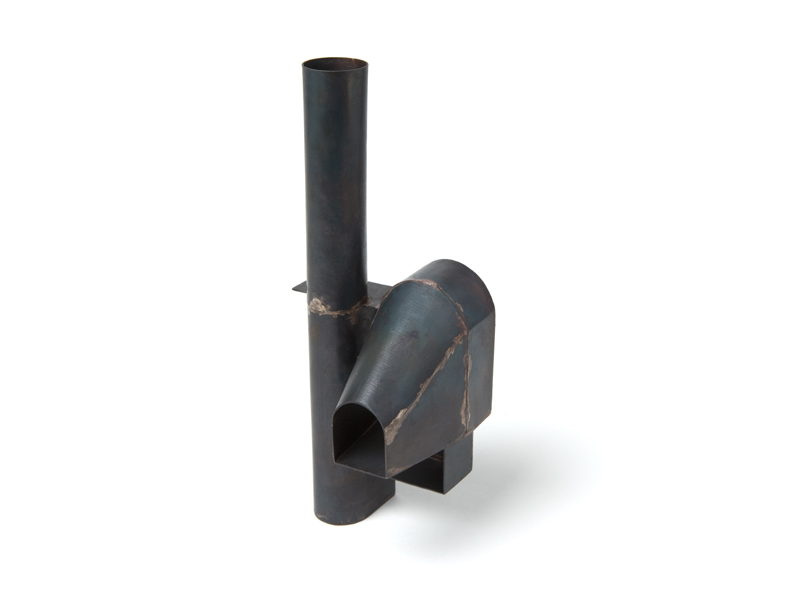 galerie beyond—Here's how Paul Adie describes part of his working process: "Black and white, open and closed, here and there.
The more I think about opposites, the more I am pushed into thinking about what exists between both points. Where is the boundary? Is it possible to pinpoint where light becomes dark, where right becomes wrong? I am trying to answer these questions by making."
RETAIL: €790
CONTACT: Rene Darmont
---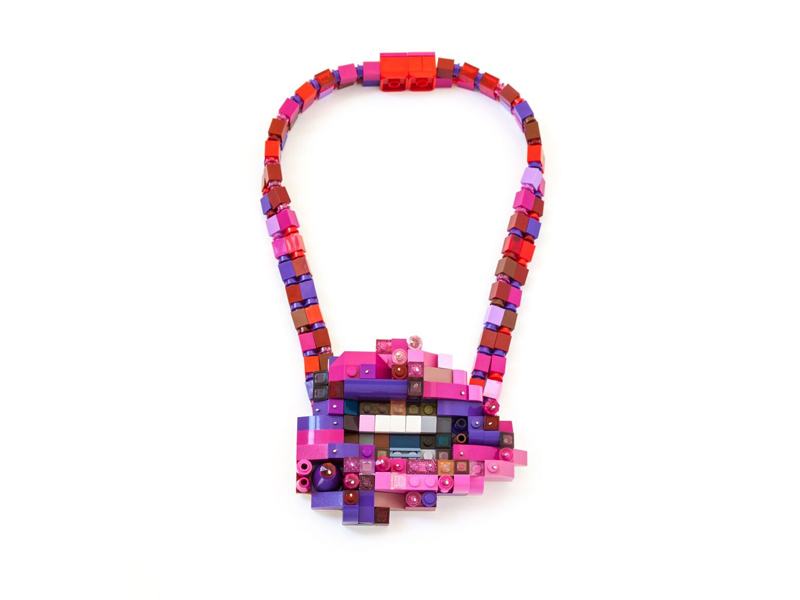 Gallery Loupe—emiko oye explains her inspiration for this neckpiece from her Killing Moon series:
"My inner New Wave/Post-Punk Romantic, Hedwig & The Angry Inch groupie, and Salvador Dalí/Luis Buñuel Surrealist merged to create the Under the Killing Moon series of convertible lips made from repurposed LEGO®. Surrounded by images from glam glitter W Magazine fashion stories and Dalí's jeweled Ruby Lips, there came an urge to fill a wall with off-kilter lips, as if candidly capturing the range of desire—from coy to seductive, melancholy to violent. Wanting to push my artistic outer limits led me to revisit Buñuel's first Surrealist film in collaboration with Dalí, Un Chien Andalou (1929), not only for its challenging visuals, but for its theme (as described by Buñuel), 'to present the straight and pure "conduct" of someone who continues to pursue love despite wretched humanitarian ideals, patriotism, and the other poor mechanisms of reality.'
Upon close inspection, the lips appear Neo-Impressionistic and abstract, but when viewed from afar, the image clarifies—much like love in its first stages, where true perspective is gained only with distance from it. Wear the lips around your neck to be in the 'throes of passion,' then put them on the wall to admire, reminisce, and reflect."
RETAIL: US$950
CONTACT: Eileen David
---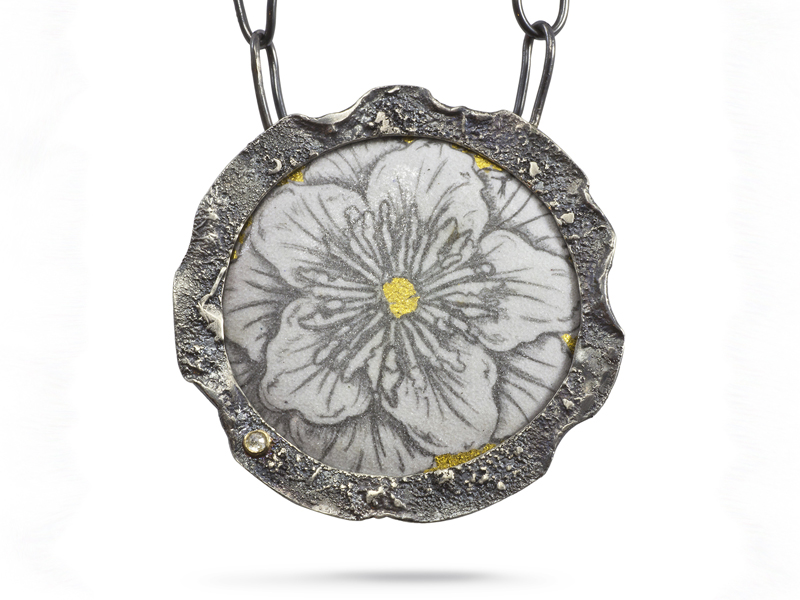 Lillstreet Gallery—Nicolette Absil's one-of-a-kind pendant of an herbaceous peony is hand-illustrated on vitreous enamel, accented with a rose-cut diamond, and set in sterling silver on a handmade chain. Nicolette received a BFA from Rowan University. She is an award-winning, full-time enamelist and studio jeweler who exhibits her work nationally at fine craft shows and galleries. Nicolette's work has been featured in publications such as Art Jewelry magazine and the Philadelphia Inquirer. She is an alumni resident artist of Touchstone Center for Crafts. Nicolette was named a second-place winner for the Saul Bell Award in the enamel category in 2017.
Her work focuses on process and using enameling—the ancient art of fusing glass to metal—in a more contemporary manner. Nature serving as her inspiration, Nicolette illustrates serene and delicate imagery that she fuses into enamel and then sets into hand-fabricated settings. Recently, she has been working with multiples and repeating forms, as well as exploring the life cycles of flowers, capturing different stages of their existence.
RETAIL: US$1,250
CONTACT: Nora McCarthy
---