Art Jewelry Forum is pleased to share the news that members of our community find noteworthy. Is something missing? The success of this compilation of compelling events, exhibitions, and items of interest to the jewelry community depends on YOUR participation. If you're a member of AJF, you can add news and ideas to the monthly report by going here. If you aren't a member, but would like to become one, join AJF by making a donation. Listings gathered with assistance from Carrie Yodanis.
 AJF LIVE
Did you miss our most recent AJF Live with 1st Lisbon Contemporary Jewellery Biennial? We post all the recordings on our website, so you can watch (or rewatch) anytime. See it here.
EXHIBITIONS
Find exhibitions and shows on the dedicated page on our website.
FROM OUR MEMBERS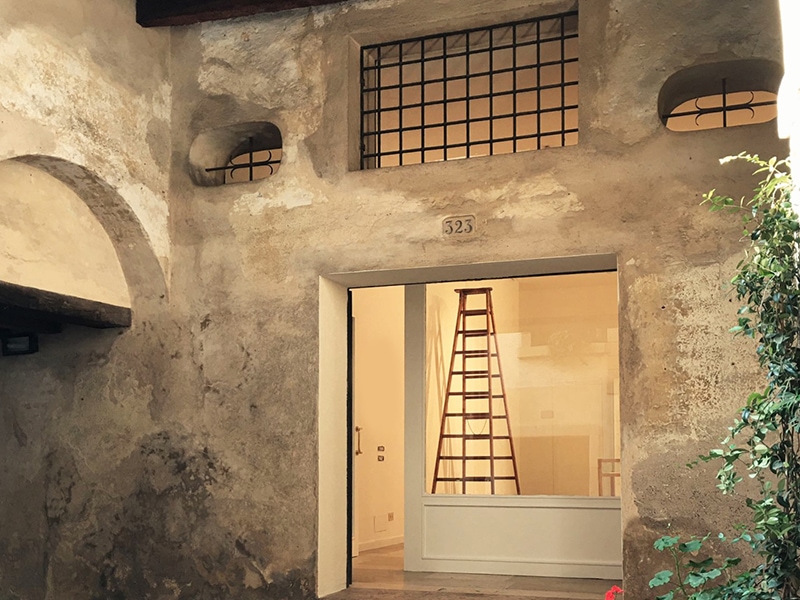 THEREZA PEDROSA GALLERY HAS NEW DIGS
Thereza Pedrosa Gallery is moving a few doors down from its original address at via Canova 332 to a new space at via Canova 323. "The numbers are so similar that they're almost confusing!" says gallery co-owner Thereza Pedrosa. Remodeling is furiously in progress at the moment. The doors open September 25, 2021.
METAL MUSEUM AUCTION NEXT MONTH
In conjunction with its annual fundraiser, Repair Days, the Metal Museum is hosting a live auction and virtual silent auction October 19–23, 2021. Beautiful, handmade works by metal artists from across the country will be available for bidding. All funds raised during this event will support Museum programs throughout the year. Items are available for preview on October 1; attendees can register online here. The live auction is in-person and requires a ticket to bid. The silent auction is online and no purchase is required.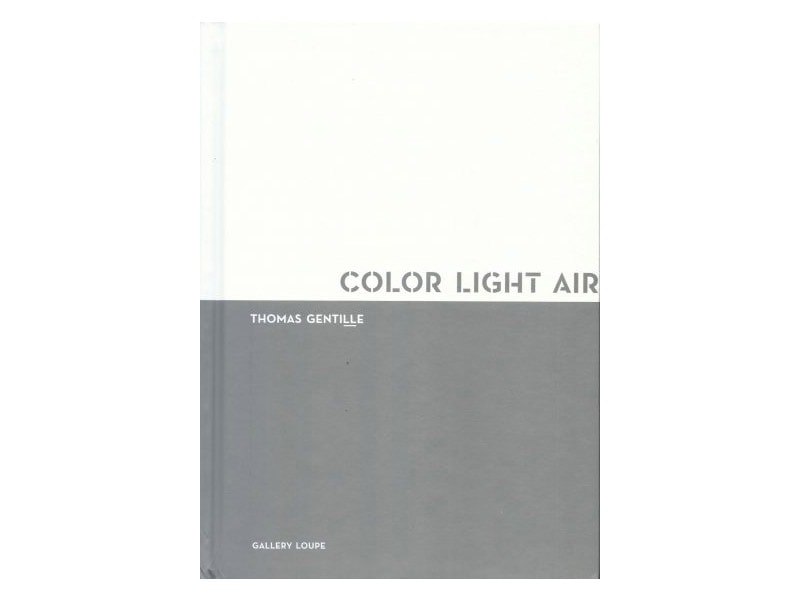 NEW BOOK FROM GALLERY LOUPE
The new book Color Light Air: Thomas Gentille accompanies the eponymous 2018 exhibition at Gallery Loupe. All the works are presented in full color and actual size. Includes a preface by Patti Bleicher, Loupe's director; a conversation between Gentille and Lindsay Pollock; an essay by Julie Metzdorf reprinted from Art Aurea; and a list of Gentille's awards, solo exhibitions, and works in public collections. Gentille contributed several writings and photographs, along with the overall design of the publication. 184 pages.
INTERESTING LINKS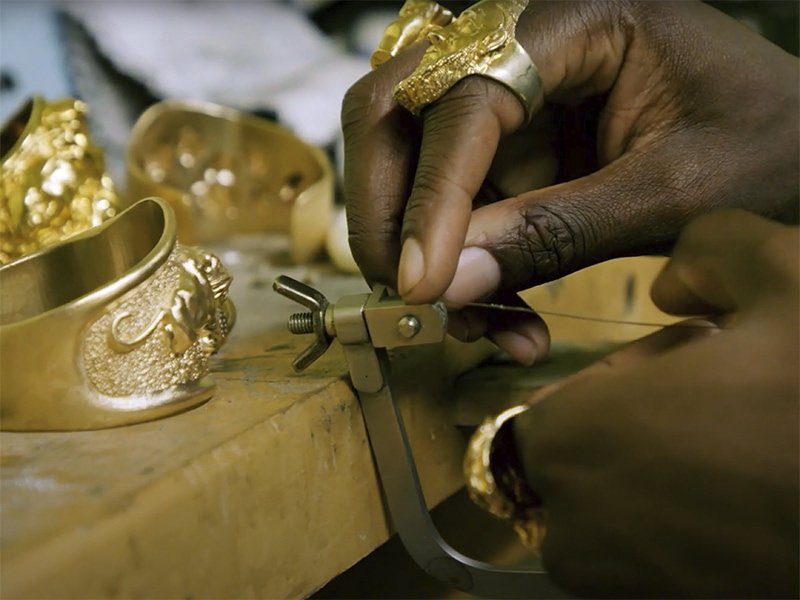 BRILLIANT & BLACK—AUCTION CATALOG, VIDEO, AND MORE
Sotheby's has posted its catalog for its Brilliant & Black exhibition. See it here. One of the headline acts in the Brilliant and Black selling exhibition has to be the In Bloom ring by Los Angeles–based designer Maggi Simpkins, says JCK. Read the article to see the ring in the process of fabrication. Also check out the newly released video Stepping into Your Power with Johnny Nelson.
Site Non Specific is a collaboration between the textile and jewelry designers Naama Levit and Hilla Shapira—an installation, performance, and video documentation that present jewelry, clothing, and textile design. Examining notions of utilitarian objects, the jacket and jewelry pieces designed for attachment and detachment suggest endless options of relationships with objects. Produced in collaboration with Brooklyn Metal Works, Brooklyn, NY, US. Watch the video.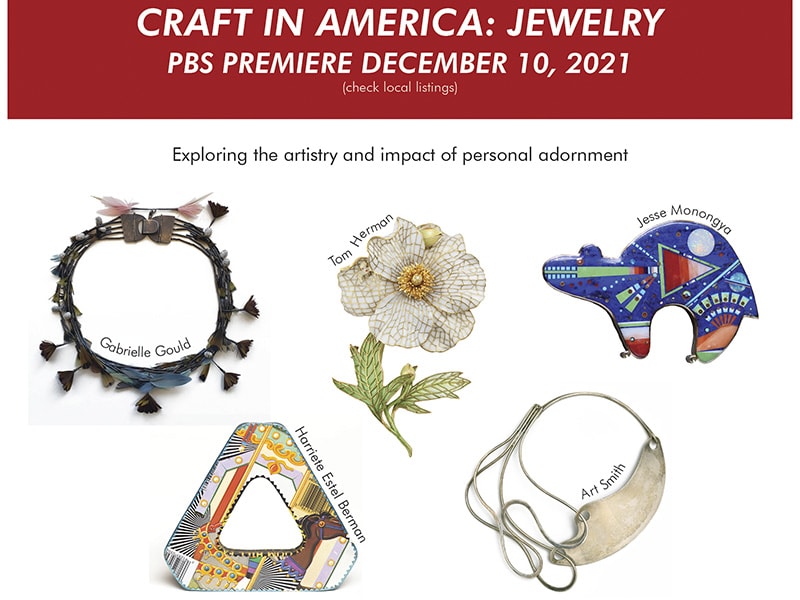 TV PROGRAM TO AIR IN DECEMBER
Craft in America's Jewelry explores the artistry and impact of personal adornment, introducing viewers to the vast scope of this form of human expression. Featuring Tom Herman, Harriete Estel Berman, Art Smith, Gabrielle Gould, and Jesse Monongya. It may have an early digital release—we'll keep you posted!
ARTICLES FROM GARLAND
Garland recently published two featurettes on jewelers. Keri-Mei Zagrobelna writes about Frances Stachl, a New Zealander whose Hōroi O Ringaringa (Wash Your Hands) ring responds to the pandemic and explores the cultural nuances through language and interpretation; learn more. And check out Vicki Mason's new jewelry series that explores the wattle blossom here.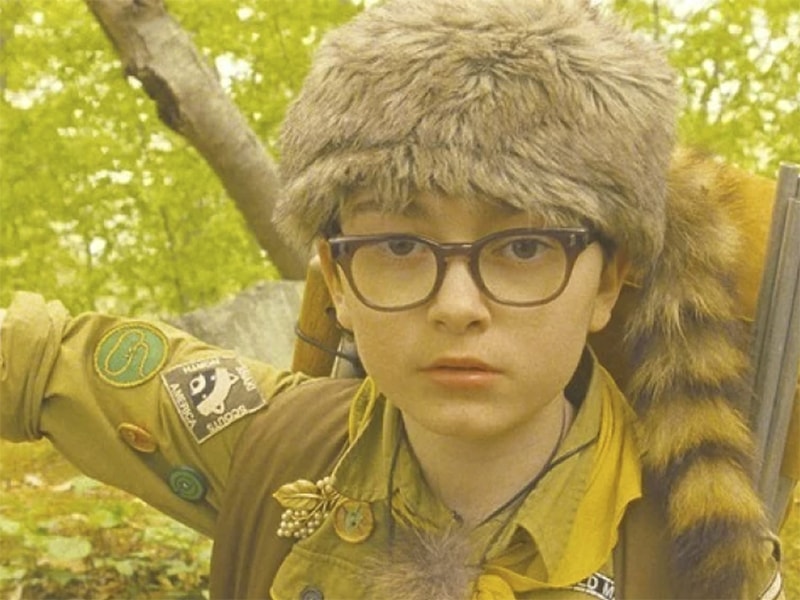 ANALYZING WES ANDERSON'S USE OF JEWELRY
Wes Anderson at Cannes for the screening of The French Dispatch—which this AJF staffer is dying to see when it finally, finally opens in October—prompted Marion Fasel, the founder of The Adventurine, to consider the director's use of jewelry in his films. "The jewelry thread weaves throughout several productions," she says, "like [his] other signatures"—symmetrical sets, stories told in chapters, etc. Check out her findings.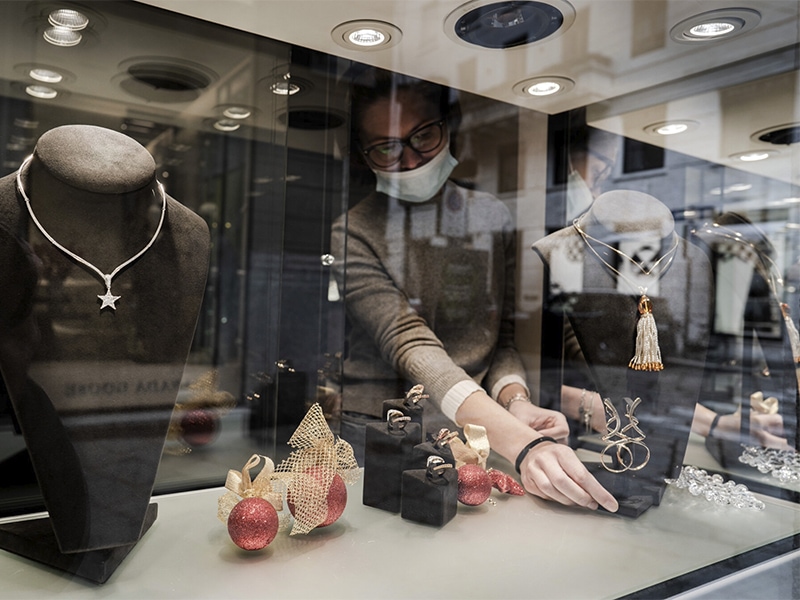 YET ANOTHER REASON WHY ART JEWELRY IS BETTER
The demand for ever-more luxurious jewelry isn't waning, but a lack of inventory, as well as shipping delays and labor shortages, are forecast for this fall, with price increases sure to follow.
YOWZA! INDIAN WEDDING JEWELRY
Tania Kottoor shares the ceremonies, traditions, and spectacular jewelry of her Indian-Catholic Wedding. On NYCJW's blog, Future Heirloom.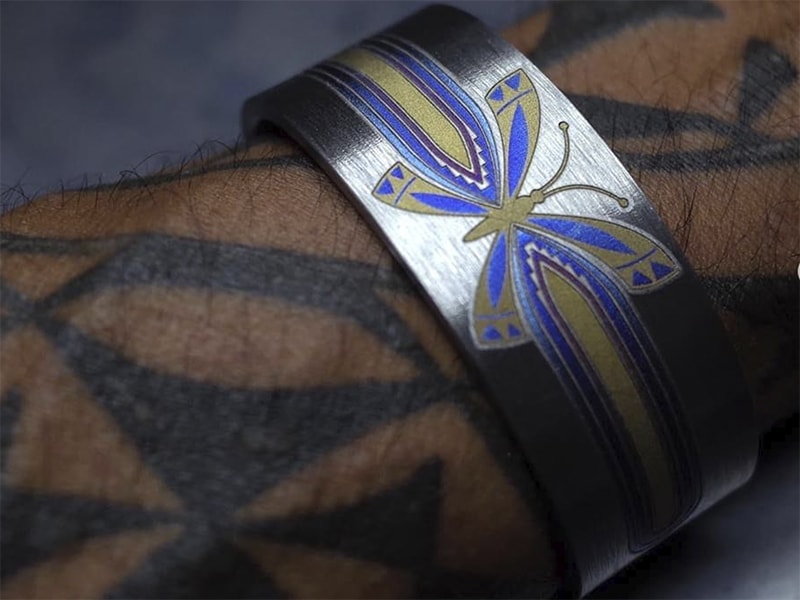 INDIAN MARKET GETS MASS MEDIA COVERAGE
Vogue reported on 15 artists to watch for at this year's Indian Market, including jewelers Pat Pruitt, Robin Waynee, and Keri Ataumbi. Read the article.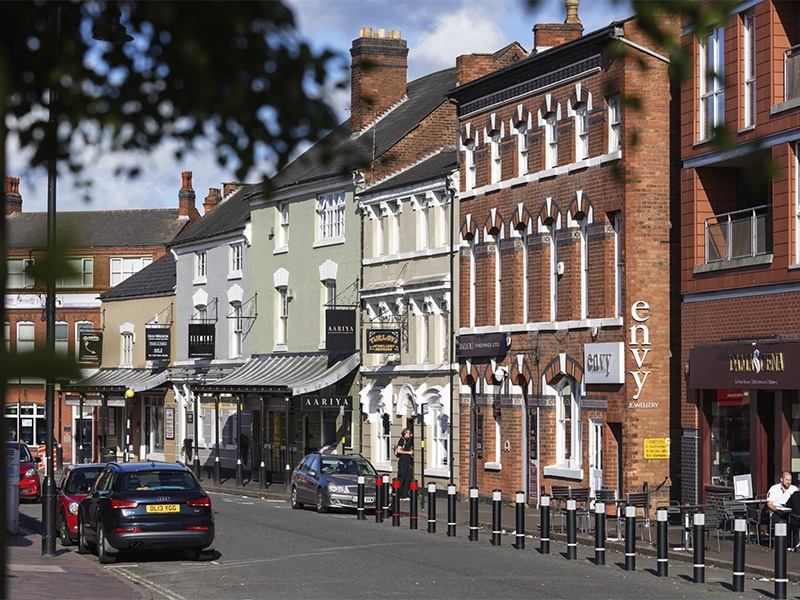 SURPRISING NEWS: GENTRIFICATION THREATENS (JEWELRY) ARTISTS
In Birmingham, UK, jewelers—who have worked in the Jewelry Quarter since the 18th century and continue to make 40 percent of British jewelry—worry that gentrification will push them out. Read the story.
SCRUTINIZING CELEBRITY JEWELRY …
Frank Ocean fans are going nuts over a million-dollar necklace from his new jewelry line, Homer. But why are so many pop stars doing everything but releasing new music? Could it be, the Atlantic asks, that pop stars are, on some level, just influencers with brands to monetize?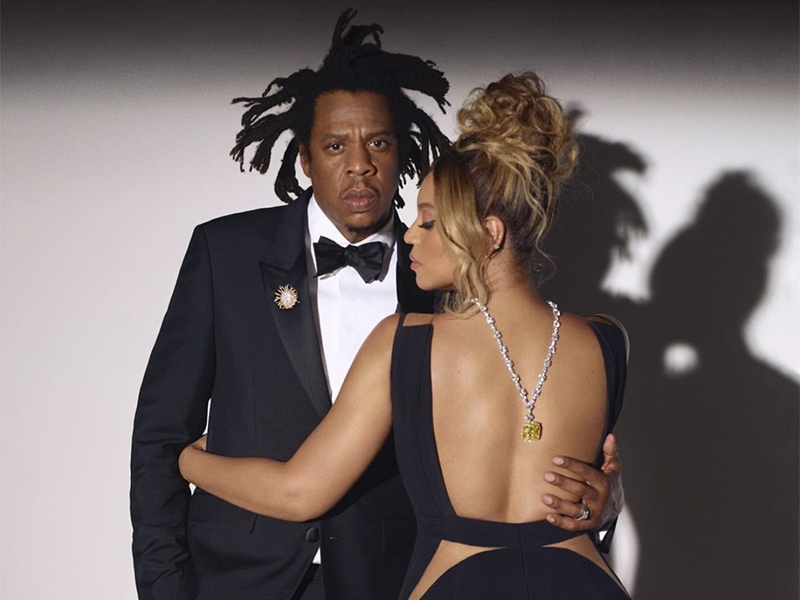 … AND THE DIAMOND INDUSTRY
In Tiffany & Co.'s new ad campaign, "About Love," featuring Beyoncé and Jay-Z, Beyoncé becomes the first Black woman to wear the 128.54-carat Tiffany Diamond since its discovery in 1877. As part of the partnership, Tiffany & Co. will donate $2 million to scholarships and internship programs at Historically Black Colleges and Universities. But the ad has prompted criticism about a longstanding truth—that the whole diamond industry is hugely suspect.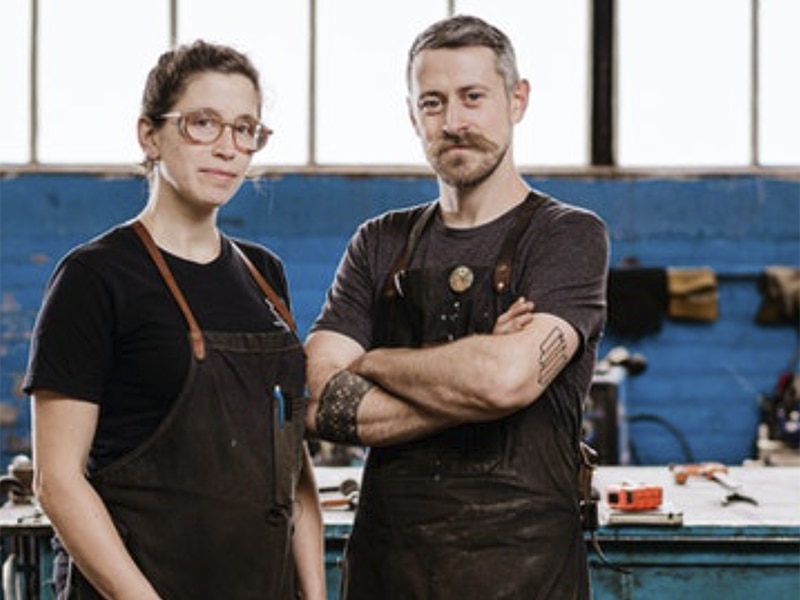 METALSMITHS FEATURED IN AMERICAN CRAFT'S THE QUEUE
Read the interview with Amy Weiks and Gabriel Craig.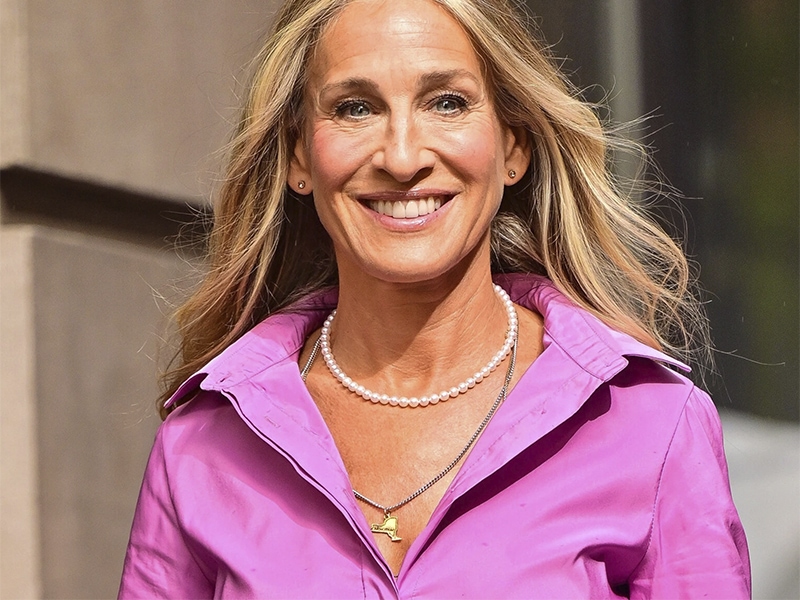 WHAT WILL THE NEW CARRIE NECKLACE BE?
In the original Sex and the City, Carrie wore a gold necklace displaying her name in flowing script that became one of the TV show's enduring product links. Jewelry designers working with the reboot of the series hope their creations have a chance to become an iconic part of the program. Find out whose jewelry might be in the running in the New York Times.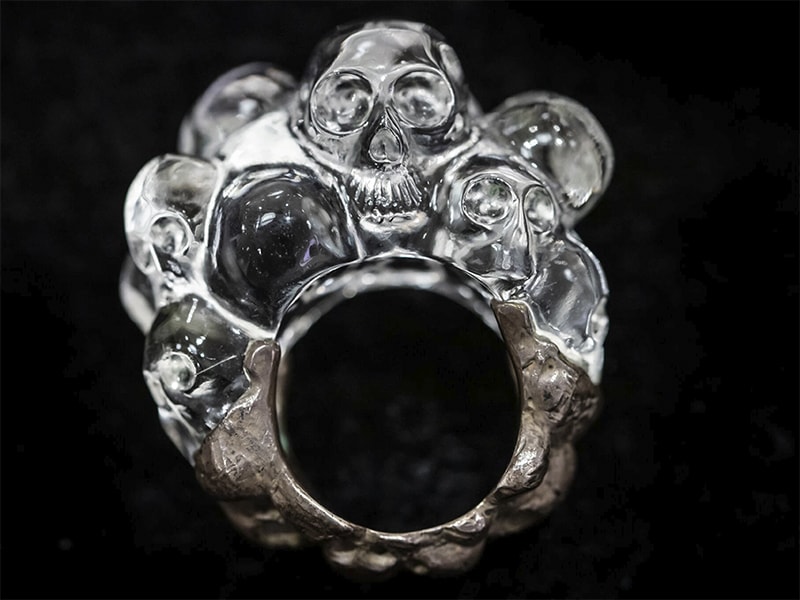 CHECK OUT KOFU, JAPAN'S JEWELRY CENTER
In Kofu, the capital of the Yamanashi prefecture, you'll find 1,000 jewelry-related companies, a signature gem-cutting technique, the Yamanashi Jewelry Museum, the Yamanashi Prefectural Jewelry Art College, and rock crystals, rock crystals, rock crystals.
JESSICA CALDERWOOD GETS THE SPOTLIGHT
Colossal featured Jessica Calderwood in an August article. "A focus on mixed media is at the center of Calderwood's broad body of work, which spans metalsmithing, jewelry, and wall-based ceramics, and many of her projects blend materials like enamel, porcelain, polymer clay, and felted wool to further evoke craft forms."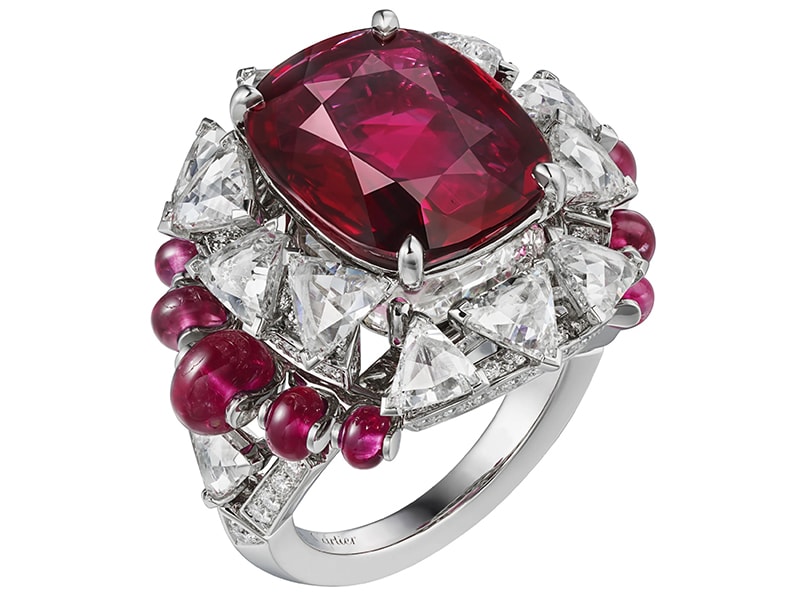 FIRST WORLD PROBLEMS
What do you do when one gem isn't enough? (Oh, boy, what a trouble to have…) Stack them, one on top of the other, for a maximalist and striking effect. The New York Times looks at the trend in stacked gems.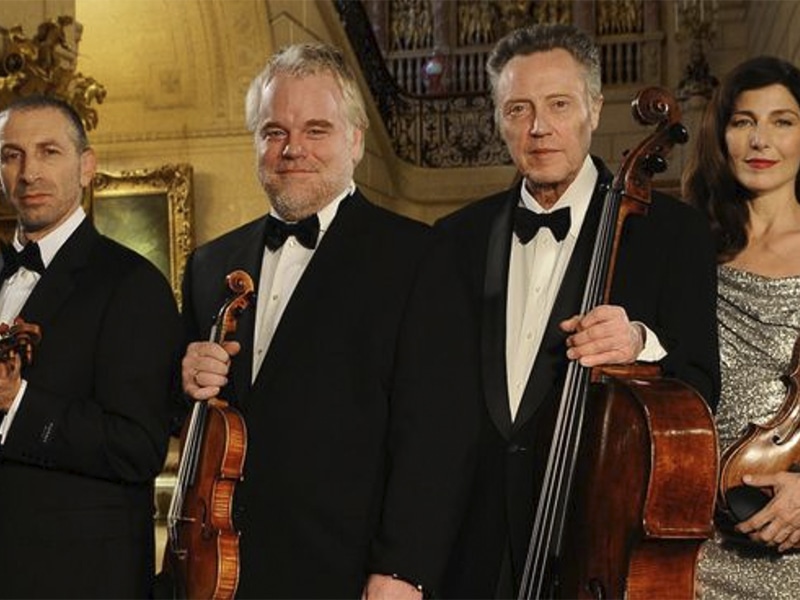 MOVIE RECOMMENDATION
Nichka Marobin tells AJF, "Due to the pandemic, I'm not going to the cinema like I used to, but I have a huge collection of movies for all occasions and for each mood.
I recently watched A Late Quartet (in Italian, Una Fragile Armonia), directed by Yarom Zilberman, and I also would suggest all the movies with the great French actor Fabrice Luchini, and, of course, Star Wars!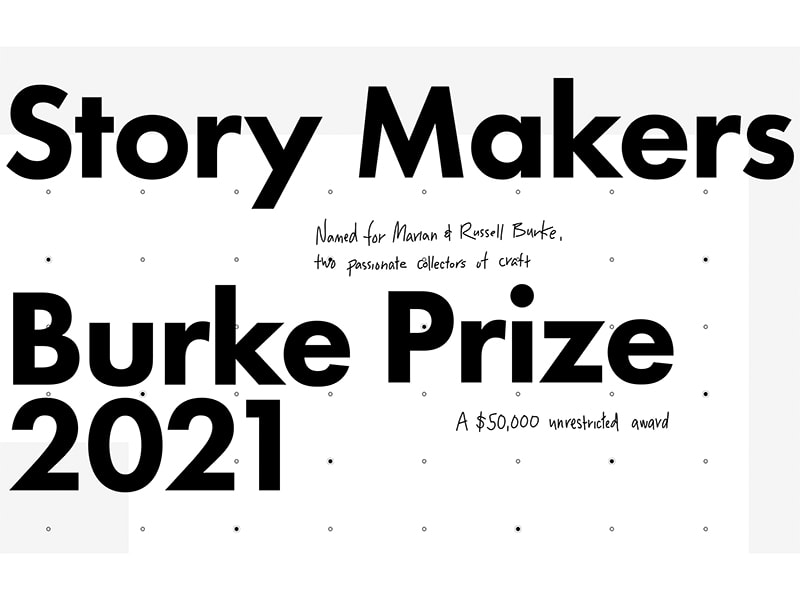 PRIZE FINALISTS ANNOUNCED
See the finalists for the Museum of Arts and Design $50,000 2021 Burke Prize, which honors excellence in contemporary craft. The winner will be announced on October 21, 2021. Whaaaaa? No jewelry artists?!!
ARE YOU GOOD AT CROSSWORD PUZZLES?
Can you solve the August 30, 2021, New Yorker crossword clue for 36 Across? "Jewelry typically not worn in cold weather." Eight letters, starts with a T. … "Tummy chains," the ones worn with bikinis? Too many letters!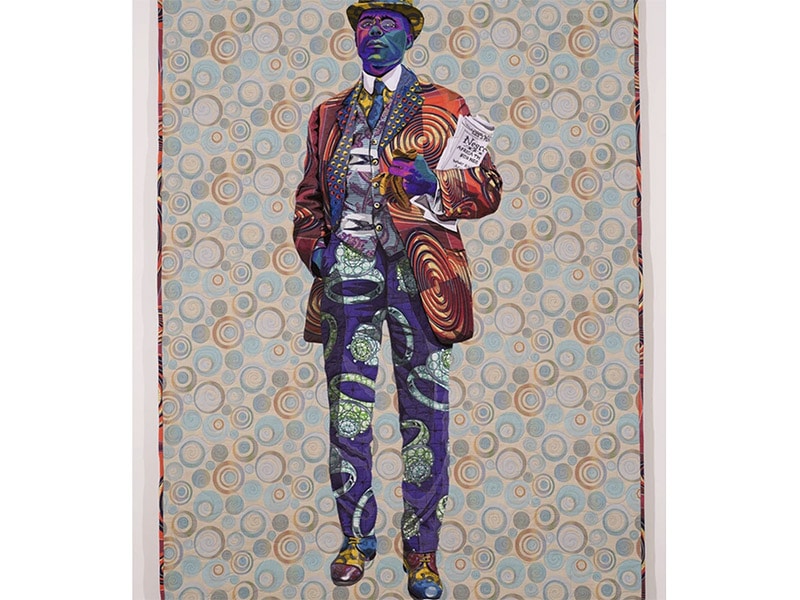 SHINE ON, YOU CRAZY DIAMOND QUILTER
Did you spot the groovy jewelry-print trousers worn by a figure in the Bisa Butler quilt on the cover of the latest American Craft magazine?! Read the article and check out Butler's website. (The image at left isn't the cover in question but it features a man wearing pants in a similar print.)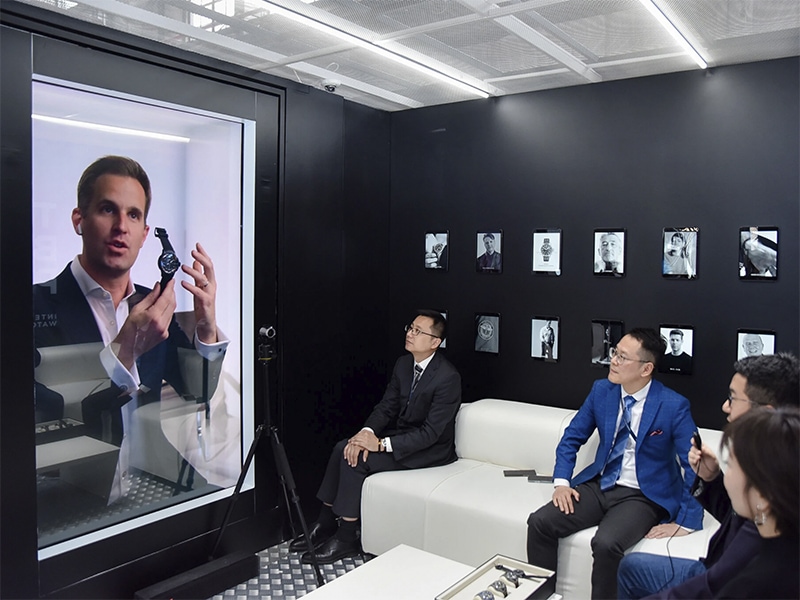 WHO NEEDS ZOOM?
Christoph Grainger-Herr, chief executive of the Swiss watch brand IWC, appeared at the  Watches and Wonders luxury fair in Shanghai and took meetings with clients without ever leaving Switzerland—because he attended as a hologram. Read the story in the New York Times.
PAGES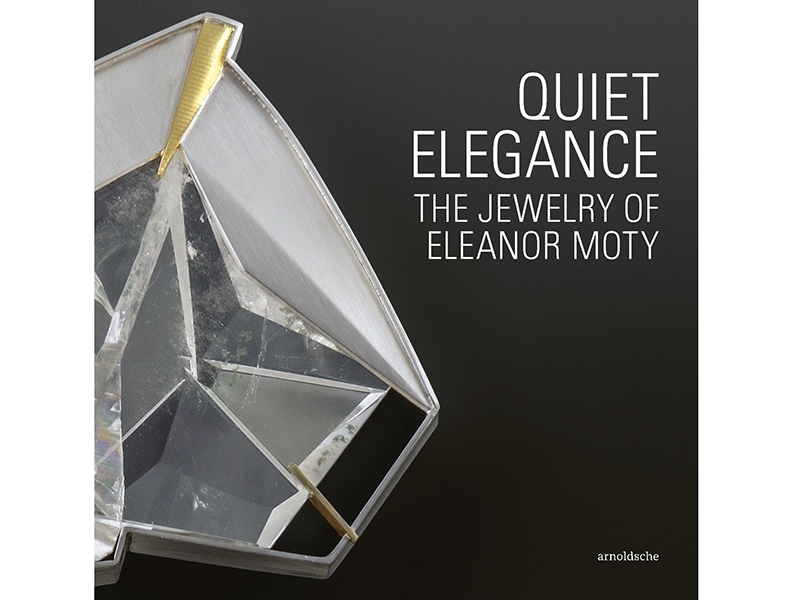 MONOGRAPH
Quiet Elegance: The Jewelry of Eleanor Moty. Moty is regarded as one of the most distinguished proponents of contemporary American studio jewelry. Her experiments with photoetching and electroforming attracted attention in the 60s and 70s. Mid-career, she shifted to abstract works whose designs were inspired by the natural inclusions within the nonprecious gems used in their fabrication. This monograph provides a richly illustrated overview from her beginnings to the present. Purchase signed copies from the Racine Art Museum store for US$65 plus shipping.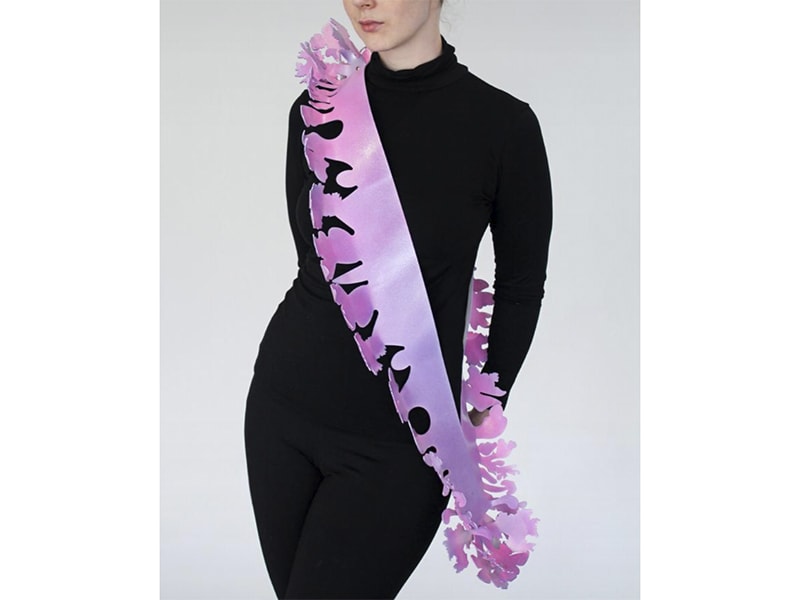 EXHIBITION CATALOG
The catalog for Goldsmith '20, which took place June 23­–July 24, 2021, is online. The work of over 30 international and local metalsmiths reveals the innovative techniques and individual directions through which today's metalsmiths have found room to explore, all while paying tribute to SNAG's first ever exhibition, Goldsmith '70.
OBITUARY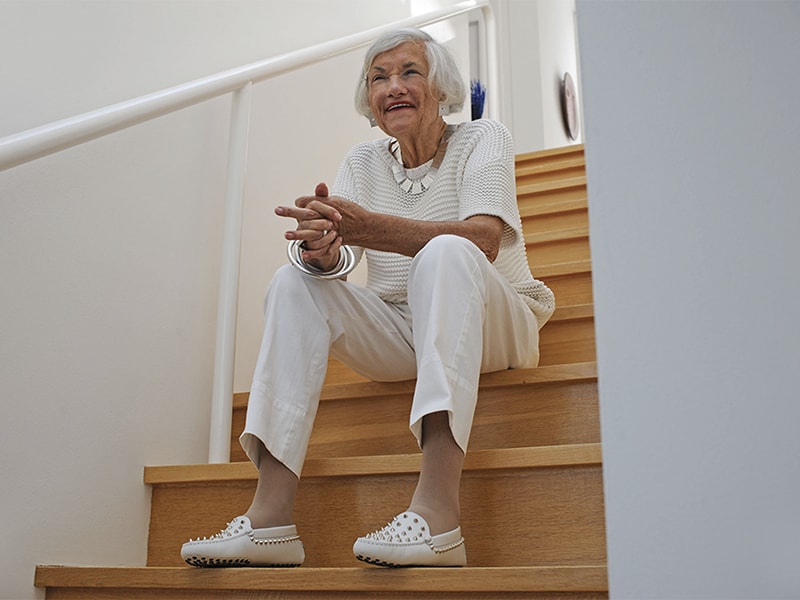 PIONEERING CRAFTS COLLECTOR DIES
Sandy Grotta  and her husband began collecting in 1957. By the 80s, they lived in house by architect Richard Meier that was a complete a work of art. "Sandy dressed the part, too," writes Glenn Adamson in his remembrance in ARTnews. "Often garbed all in white, she was also among the first people to collect contemporary studio jewelry in an ambitious way. She thought nothing of sporting 'wearable sculptures' on an everyday basis." Grotta was a Titanium member of AJF. She was 87.