Art Jewelry Forum is pleased to share the news that members of our community find noteworthy. Is something missing? The success of this compilation of compelling events, exhibitions, and items of interest to the jewelry community depends on YOUR participation.

If you're a member of AJF, you can add news and ideas to the monthly report by going
here
. If you aren't a member, but would like to become one, join AJF by
making a donation
.
ANNOUNCEMENT—WATCH PAST AJF LIVE EVENTS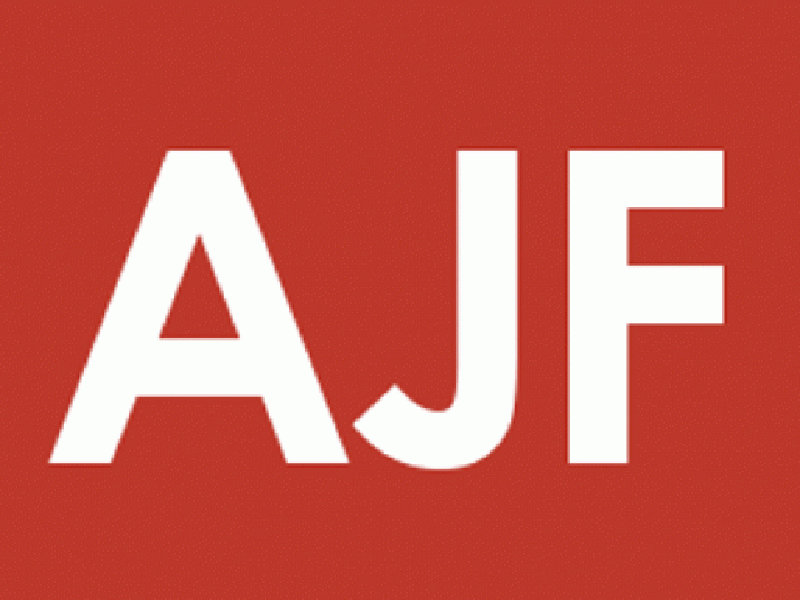 If you were unable to attend any of the 20—20!!!—free AJF Live events we've hosted so far this year on Zoom, you can still watch them. We record them all and post them on our website so you can view them whenever it's convenient. Here's a list, with links to the videos:
ANNOUNCEMENT—PRIZE AWARDED
Peter Bauhuis was honored with the Danner Prize. His work Ketten und Blumen—Chains Chained will be on show at Die Neue Sammlung The Design Museum, in Munich, starting October 15, 2020.
ANNOUNCEMENT—GALLERIES OPEN IN KARLSRUHE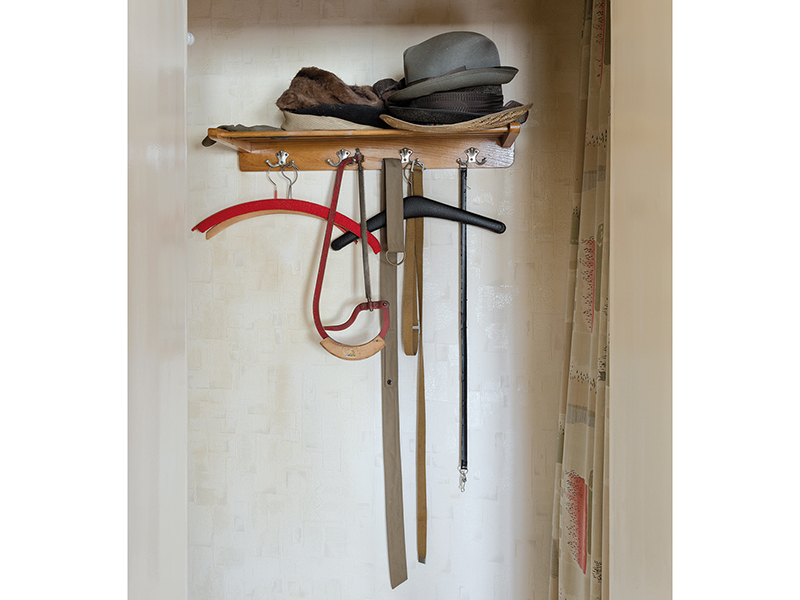 It's open house for the galleries in Karlsruhe, Germany! Every gallery has its own program. The fun will take place the September 19, from 3–8 p.m. At Galerie Spektrum, you'll see the exhibition –haus, from Blaffert&Wamhof. A catalog for this exhibition will be available, with 40 pages and 18 pictures.
ANNOUNCEMENT—NEW SHOP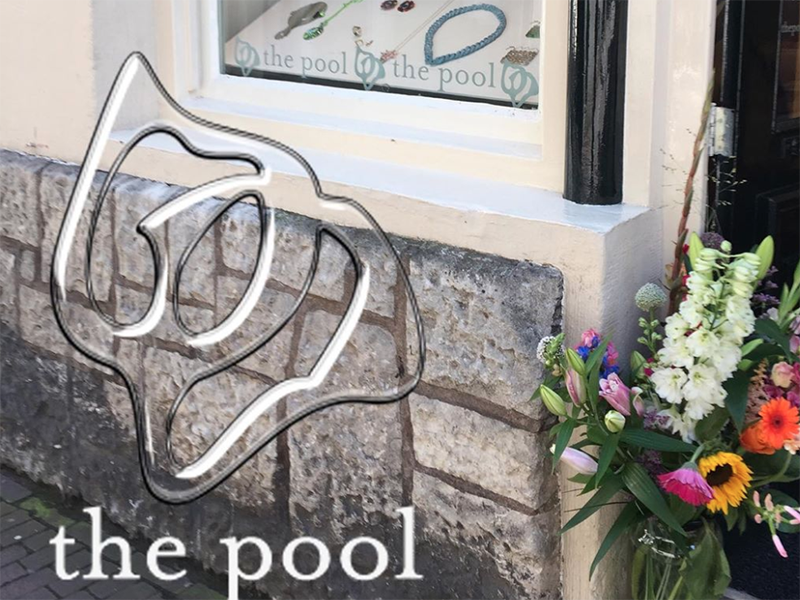 The Pool Amsterdam Jewelry Collective had its soft opening a couple months ago, and plans to hold a grand opening in September. The 15 members showing their work there include Ela Bauer, Paul Derrez, Thea Tolsma, Morgane de Klerk, Margeurite Bones, Floor Mommersteeg, Lindsey Fontijn, Gabriella Mika, Chloe Valorso, Simon Marsiglia, Q Hisashi Shibata, Caroline Bach, Anna Carlgren, Bodo Balazs, and Andrea Wagner. The shop is located at Grimburgwal 4, in the old center of Amsterdam.
ANNOUNCEMENT—JEWELRY EVENT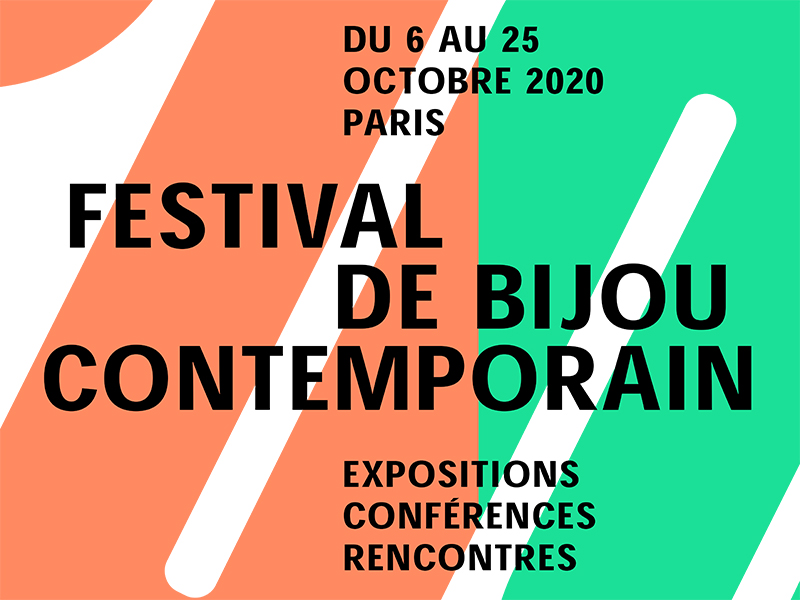 L'association D'un bijou a l'autre has confirmed that Parcours Bijoux 2020 will indeed take place this year, despite COVID. Mark the dates for this series of Paris events devoted to contemporary jewelry design within and beyond France: October 6–25, 2020. Explore the rich variety of this vital aspect of embellishment with jewelry designers, visual artists, photographers, jewelers, experts, and historians, as they reflect on the body and how we adorn it. The Parcours Bijoux website will be updated with a listing of all events at the beginning of September.
ANNOUNCEMENT—JEWELRY EVENT
This disappointing news just in from Dan Pierșinaru, the founder and director of Autor: "After May 15, the state of alert due to the pandemic was extended each new month in Romania. With all uncertainties and restrictive measures, events like Autor are not allowed … Autor is an international platform and its main event is the fair. At Autor we believe that meeting in person is essential, especially for a domain like jewelry. At this moment the possibilities to have the fair in October are not realistic [anymore] and we have no other option than to postpone the fair … We will inform you about the exact dates in 2021 as soon as we know more."
EXHIBITION—GALLERY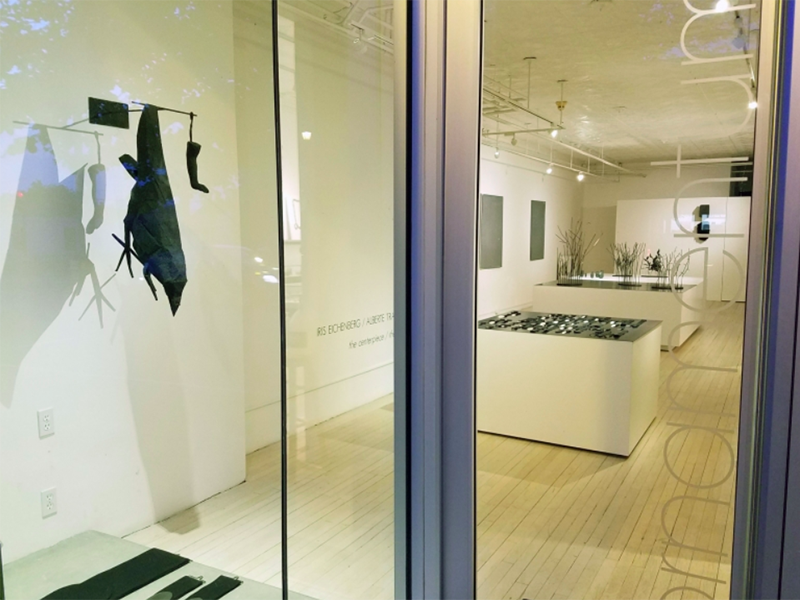 The Centerpiece/The Blank, an exhibition by Iris Eichenberg and Alberte Tranberg, features table and wall sculpture, objects and wearable artworks. Coming from very different places and minds, it seems there is an echo in the works of Eichenberg/Tranberg. Both bodies of work have two components. There are the pieces that sit on the table, the center of attention. Then there are the wall pieces and medals, staring back at you blankly, void of imagery but willing to take on whatever your imagination projects onto them. Eichenberg's Flower Centerpieces are the aftermath of bloom, frozen in time, while Tranberg's handheld vessels gather as a still life, the notion of a weight of sorts. Eichenberg's medals—a selection from an edition of 365—serve to honor others. Tranberg's larger-than-life portraits capture you in reflection as they stare back at you, holding and capturing time, leaving an uneasy space, orbiting like the oval forms repeated in their works. At Ornamentum, in Hudson, NY, US, through October 4, 2020.
EXHIBITION—GALLERY
Galerie Zink, in Waldkirchen, Germany, is hosting a solo exhibition of work by Karl Fritsch called Ruby Gold. "[T]rained as a goldsmith but approaching his objects more as a contemporary artist, he is renowned for his special treatment of materials and forms and for his small daring sculptural works that disregard all conventions of traditional jewelry." The work is being shown in a darkened space on two tables each 46 feet long. For this show, Galerie Zink has teamed up with Arnoldsche Art Publishers to produce a book that gives a detailed view of Fritsch's work (it can be ordered directly from the gallery). Visit the gallery's online viewing room for a preview of the show and a virtual studio visit with Fritsch. September 12–October 18, 2020.
EXHIBITION—GALLERY
Jewelry Edition, started by Kat Cole and Laura Wood in 2012, is a platform for sharing and celebrating contemporary jewelry. The project began as a catalyst to provide emerging jewelers more visibility and as a means to explore new ways of sharing this art form with a diverse audience. Contemporary jewelry is sculpture, fashion, and science, and Jewelry Edition highlights artists who blend these areas to make one-of-a-kind wearable work. Jewelry Edition Volume 5 spans materials including silver, resin, vintage tin types, enamel, powder coat, aluminum, and 3D printed technology. Jewelry is showcased as an art form with the ability to enhance a daily experience. The Volume 5 collection features the work of Amelia Toelke, Aric Verrastro, Jillian Moore, Kat Cole, Laura Wood, Megan McGaffigan, Tanya Crane, and Taylor Zarkades King. At Baltimore Jewelry Center, September 11–October 17, 2020, with an opening reception September 11, 6–9 p.m.
EXHIBITION—GALLERY
An exhibition by Gerd Rothmann, showing his new work, will open on September 10, 2020, at Galerie Biro. Silver fingerprints lie on the body like delicate petals. Rothmann's new works from 2019 and 2020 are like the tender touch of white, yellow, light red, and blue petals that have fallen down on the body as if by chance. These works are completely new, but, as always with Rothmann, they are deeply familiar to us without ever repeating themselves.
EXHIBITION—MUSEUM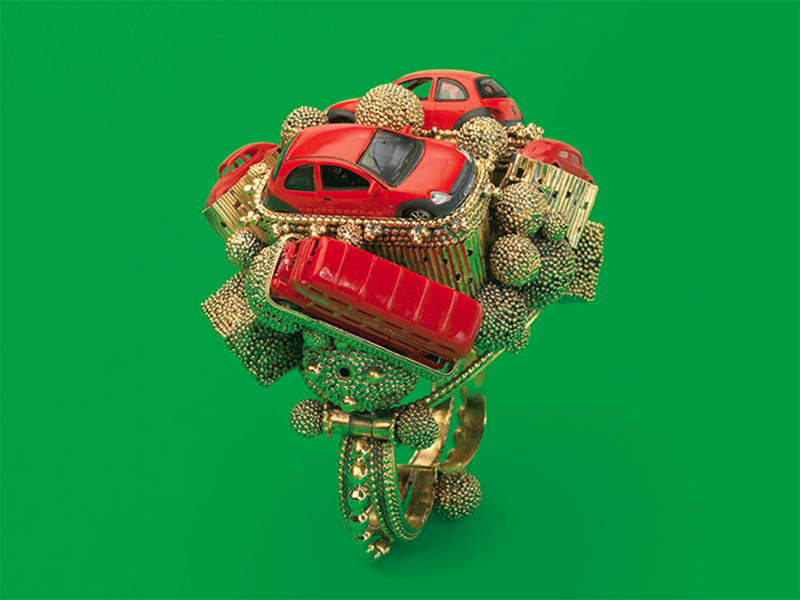 Renowned goldsmith Robert Baines is recognized as a "Living Treasure" in his native Australia and his work has been exhibited and collected internationally throughout his long career. In the intriguing exhibition Robert Baines: Living Treasure and Fabulous Follies, he tells three "jewelry stories," groupings that explore the way in which artistic styles and forms change over time. Baines is also a specialist in the study of archaeometallurgy (ancient jewelry production) and he incorporates ancient techniques into his art and the presented narratives.
At the Sidney and Lois Eskenazi Museum of Art, in Bloomington, IN, in the Featured Exhibition Gallery, Henry Radford Hope Wing, 1st Floor. In celebration of the connections between ancient and modern art that are highlighted in Baines's work, a selection from the Eskenazi Museum's ancient jewelry collection will be on display in an area adjacent to the exhibition, curated by Juliet Graver Istrabadi, Curator of Ancient Art. No closing date given.
EXHIBITION—ONLINE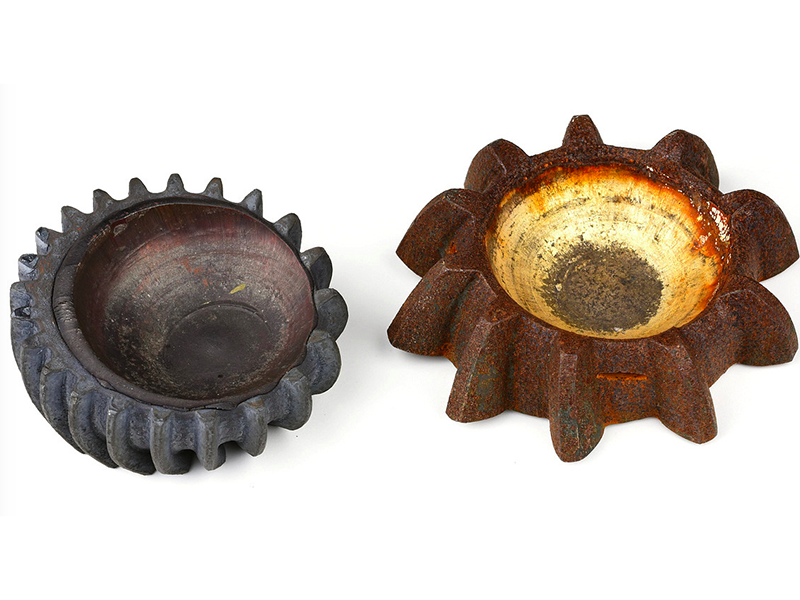 In August, Fingers organized an online exhibition called Smashtrays. In this collaboration between the blacksmith Jon Hall and Karl Fritsch, a piece of either pure silver, copper, or aluminum was fitted into the center hole of a steel cog. A stamp was pressed into the heated metals with a hydraulic press, animating both materials. They moved slowly into each other, brutally smooth, absorbing the other's character.
Artist collaborations bring together different skill sets and ways of seeing the world, and foster synergy. The Smashtrays work builds on a thread of collaborating that Fritsch has with other artists, such as sculptor Francis Upritchard, designer Martino Gamper, and photographer Gavin Hipkins. Alongside the Smashtrays, Fritsch also presents a collection of new jewelry works.
CALL FOR ENTRY—2021 SUSAN BEECH MID-CAREER GRANT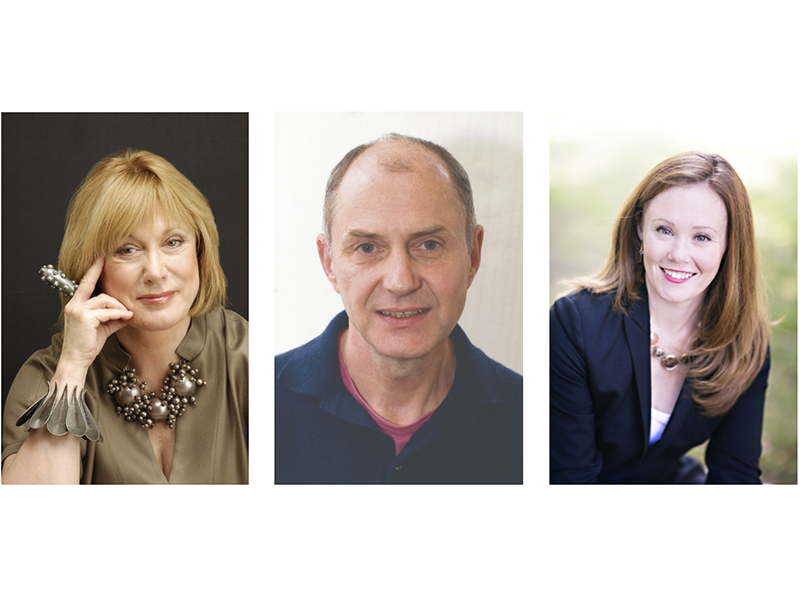 Established by jewelry collector Susan Beech, the objective of this $20,000 grant is to recognize a mid-career artist who has made a substantial contribution to the field of art jewelry. Juried by Susan Beech, Daniel Kruger, and Emily Stoehrer. Applications will be accepted starting November 1, 2020. Deadline: January 10, 2021. Get the guidelines and the link to apply.
CALL FOR ENTRY—EXHIBITION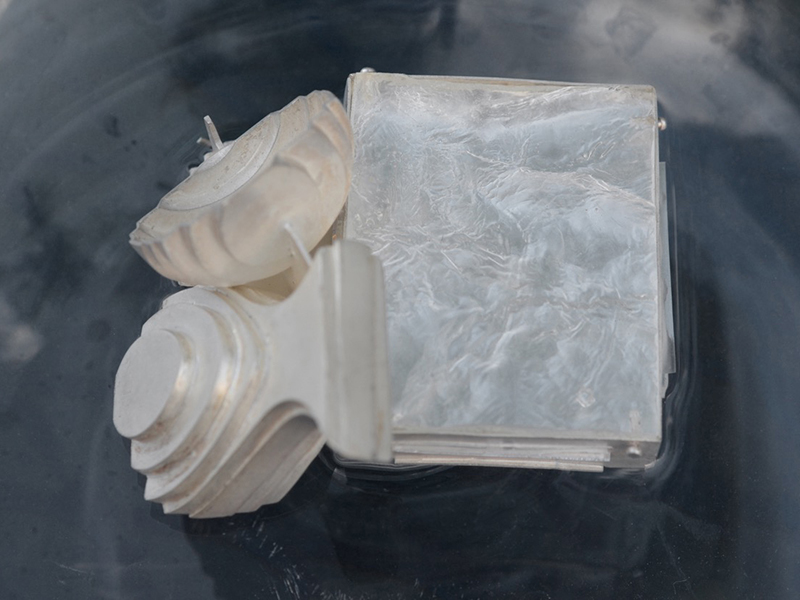 Apply for the upcoming exhibition, Handmade Hacking, at the Baltimore Jewelry Center (BJC). Computer-aided technology is nothing new. Over the past several decades, industry professionals and artists alike have explored and expanded digital technology, developing the tools and materials available to create a visual language built in the virtual sphere. Historically, artists have utilized evolving technologies to create their work, but the hand has always been central to the creation of artwork. With the expansion of computer-assisted design and manufacturing technology in the field of art, a negotiation between traditional and nascent techniques has emerged. When 3D modeling was first introduced within art, the dominant aesthetic omitted the work of the hand and relied solely on digital technologies. As the process has evolved, artists are more interested in integrating the mark of the hand into digitally designed and fabricated work.
For this exhibition call, BJC is interested in these questions: What happens when the maker is interested in using the technology not as an end but as a means to push beyond the software? What happens when the artist moves deftly from handmade to digital and back again, blurring the distinctions between the methods of making? How many stages or degrees of separation might exist from design to outcome? BJC seeks work by artists who are harnessing both technology and handwork to make their work, coming full circle from analog to digital and back. Application deadline: September 4, 2020. Exhibition: October 23–November 27, 2020. Learn more.
CALL FOR ENTRY—COMPETITION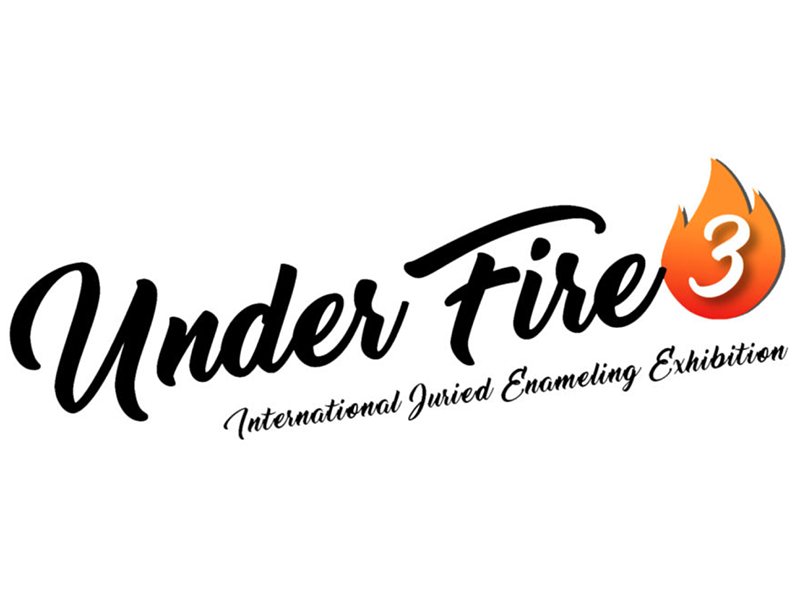 In keeping with its mission to promote the art of vitreous enameling, the Enamel Guild North East is sponsoring an open call for original enamels from around the world. In this online exhibition, called Under Fire 3, the guild seeks works in a broad range of styles to highlight the various approaches to this demanding, ancient medium. Submissions may be jewelry, as well as wall pieces, three-dimensional pieces, decorative work, or utilitarian items, as long as vitreous enamel is a major component and the work was completed within the past three years. Juried by Ruth Ball, Mi-Sook Hur, and Sienna Patti. Entry deadline: September 21, 2020. Get more info.
CALL FOR ENTRY—COMPETITION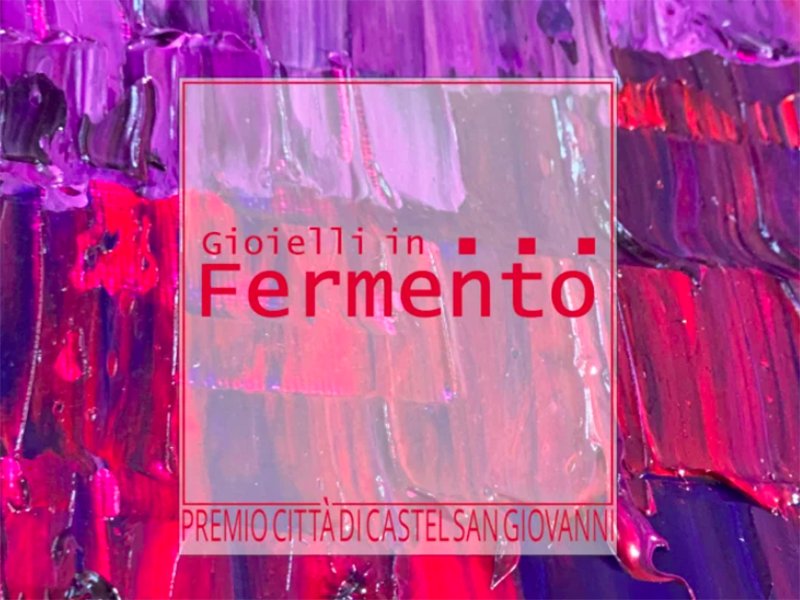 The unprecedented situation of the COVID-19 pandemic has made it impossible for Gioielli in Fermento to plan an international exhibition in the short term, but this has prompted the organization to reformulate the characteristics of the project. The call for entries has been re-opened in order to make a double edition in Spring 2021 possible.
To give emphasis to this anomalous period, Gioielli in Fermento decided to record this transition between what "was" until the explosion of the pandemic, the dangers of contagion, the paralysis of all activities and confinement—called the PRE—and what gives that moment onwards involved rethinking our lives, our reactions, our roles—called the POST. Deadline: January 31, 2021. Learn more.
CALL FOR ENTRY—COMPETITION
Applications for Schmuck and Talente are now being accepted. These special shows at the Internationale Handwerksmesse (IHM), in Munich, are organized for the Gesellschaft für Handwerksmessen (GHM) by the Department for Fairs and Exhibitions of the Handwerkskammer für München und Oberbayern, under the direction of Wolfgang Lösche.
Schmuck was founded in 1959 by Dr. Herbert Hofmann. It's the earliest exhibition on contemporary jewelry worldwide. It has presented the Herbert Hofmann Prize since 1973. Talente was founded in 1980 as an international competition for all areas of craft and design. An international jury selects the winners of the Talente Prize. The deadline to apply for both competitions is October 5, 2020; get more information and the application forms here.
CALL FOR ENTRY—GRANT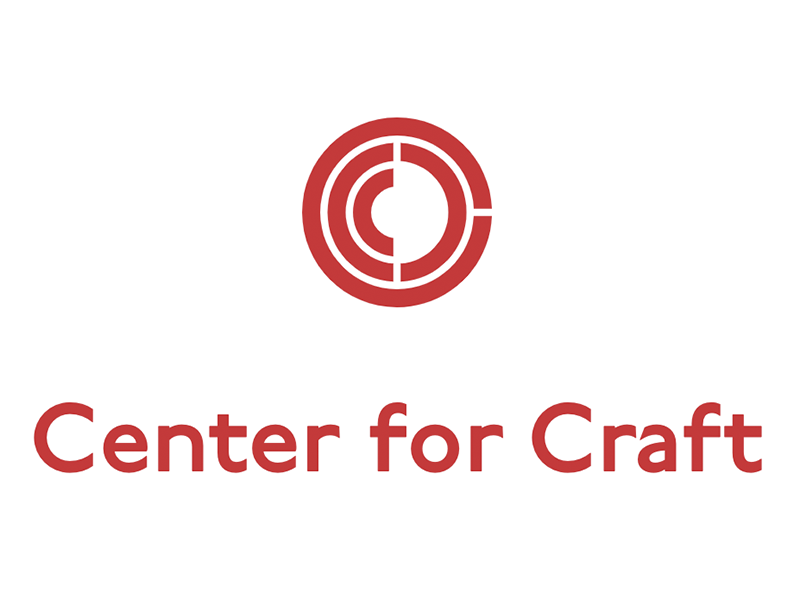 In response to COVID-19, the Center for Craft has established a grant opportunity, the Craft Futures Fund, to support craft educators and communities. Each month until October 2020, the Center is awarding up to six project grants, or $30,000, to craft-based education projects that seed resilience, foster community, and amplify impact. To read more about this grant opportunity, visit the Craft Futures Fund webpage. You must submit an Interest Form by October 1, 2020 to be considered for an invitation to submit an application for the final cycle.
EMPLOYMENT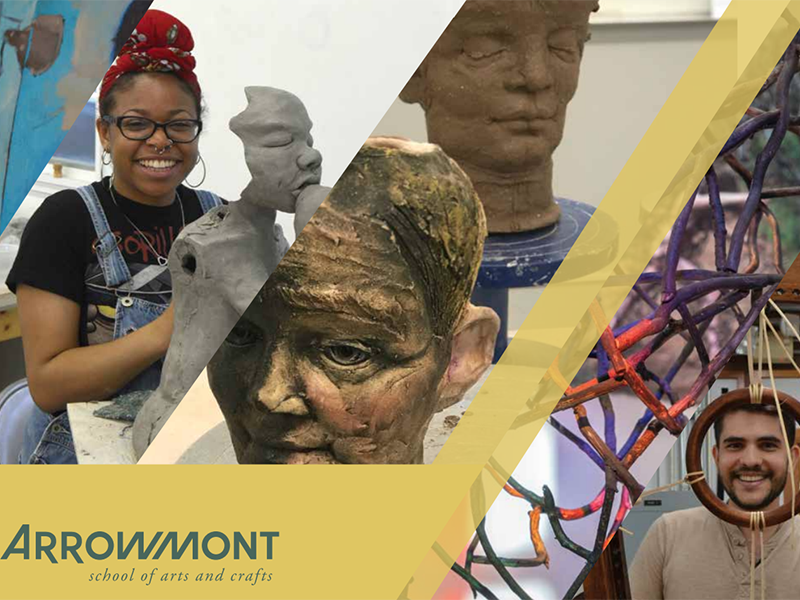 Arrowmont School of Arts and Crafts seeks a visionary leader to serve as its executive director. Working closely with the Board of Governors, the executive director will develop programmatic, financial, and operational policies and establish implementation strategies to achieve organizational goals. The position functions as the primary public spokesperson for the organization. The executive director will lead and manage a professional staff to accomplish measurable outcomes and ensure the success and continued viability of the school. Learn more.
INTERESTING LINK
"Putting a futuristic spin on traditional, tribal references was one of stylist Zerina Akers's approaches when creating the looks for Beyoncé's visual album Black Is King, which celebrates black ancestry and the African diaspora," reports dezeen. "The visual album started as small, one-minute visuals in July 2019, but soon escalated to an 85-minute-long film that brings to life each of the songs on Beyoncé's 2019 album, The Lion King: The Gift, through powerful musical performances and dynamic costumes.
"Each outfit was put together by Beyoncé's stylist, Akers, who has worked with the artist for the last six years. With over 70 different looks, the process became 'like a traveling circus,' the stylist said, as she received a constant stream of merchandise from a mixture of established brands and emerging designers." Read the article and see many of the looks.
INTERESTING LINK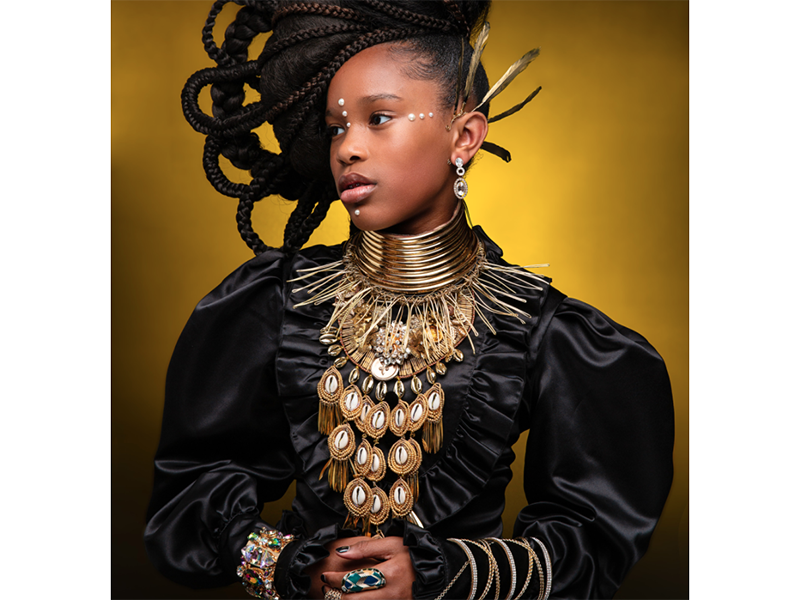 Colossal recently re-featured an older posting showcasing the work of husband-and-wife photo duo Regis and Kahran Bethencourt, who shoot images of kids that "celebrate the beauty, culture, and heritage of afro hairstyles. Often dressed in ornate African-inspired garb, black girl and boy models are crowned with afros, twists, and braids as symbols of strength and grace." The styling includes all kinds of interesting jewelry and adornment.
Another article on the website spotlights masks by Hugh Hayden that are embedded in cast-iron skillets and evoke West African art and cooking traditions of the African diaspora.
INTERESTING LINK
Current Obsession has announced the selections for its Gem Z Talent Accelerator program. It describes these people as the "new generation of radical makers, thinkers, and game changers." The list includes Dovile Bernadisiute, DK, Loki Dolor, Emmie Ray Hubbard, Simon Marsiglia, Rawmisky, Gearry Sun, Hansel Tai, Siobhan Wallace, and Joanette van der Veer. Congratulations! Gem Z will run throughout 2020 and culminate with a showcase at Obsessed! Jewellery Festival 2021. Learn more.
INTERESTING LINK
"I began 2020 with the cusp of an idea and sketchy plan for how to proceed. Working in the studio with repurposed silver I drew out a series of finger rings that spelt the words Make-do," writes Roseanne Bartley in Garland. "A score, I noted at the time of raging bushfires in our state, for acts of resilience and resourcefulness. These signal-rings, as I initially referred to them, were a play upon the archetypal function of the signet ring and the social protocols of jewelry. … Initially, I found making in the here and now of 2020 had a strange and troubling resonance to it, but the SARS-CoV-2 pandemic was about to make the do that humans make that much more complex." Read the essay and see the new series.
INTERESTING LINK
During confinement due to COVID, the first-year Jewelry and Accessories Design students at HEAD – Genève produced one jewel per "home workshop" day with the means and materials they had available at home. Absolutely anything was acceptable in terms of the size of the object, the materials, and the purpose of the object. Some pieces only lasted long enough to photograph, others are made to last over time, but all bear witness to this anxiety-provoking situation with a salutary creativity. View the work.
JEWELRY IN THE NEWS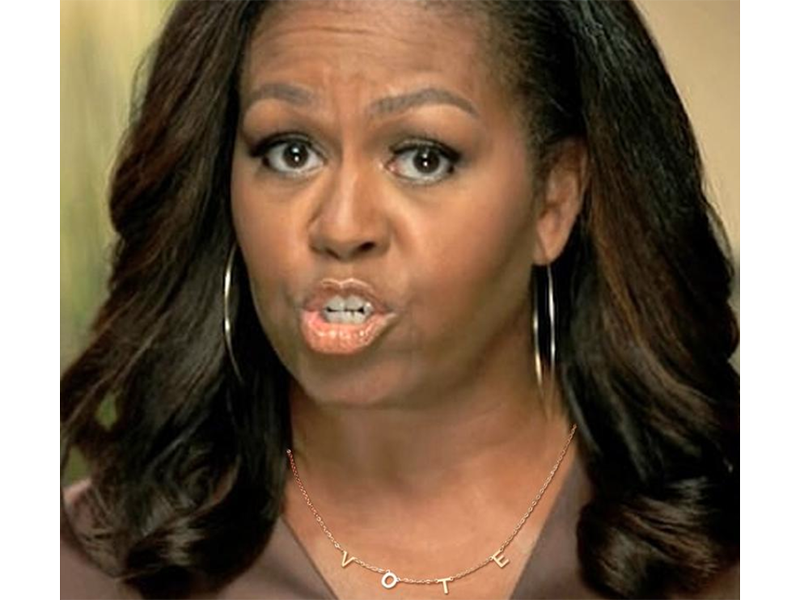 The necklace Michelle Obama wore on August 17, 2020, during the Democratic National Convention, bearing charms exhorting Americans to VOTE, put its designer, Chari Cuthbert, in the spotlight. The necklace went viral, and sales have skyrocketed. Cuthbert wasn't aware "that Michelle Obama would wear her VOTE necklace to speak at the Democratic National Convention that night. She didn't wake up knowing that her jewelry line, BYCHARI, would sell 4,000 pieces (at $295 each) in two days when, on a normal day, her seven-woman team would receive around 200 orders." Read an interview with Cuthbert in the LA Times, and an article about it on CNN. Finally, an essay by Elizabeth Shaw (program leader fine art, head of jewellery and small objects at Griffith University in Australia), published in The Conversation, discusses the power of political jewelry with numerous examples from the 20th century.
JEWELRY IN THE NEWS
Designer Todd Oldham's nephew, Presley Oldham, grew up in his uncle's factory and spent his childhood making jewelry by hand with his grandmother, says a gossipy article from Surface. "Though design and craftsmanship runs deep in his lineage, the aspiring actor had little intention of following suit. … Then the coronavirus happened … Faced with little to no options in his field, Oldham journeyed to Santa Fe, NM, to quarantine with his grandparents, who reintroduced him to the familiar pastime of jewelry-making. It just so happens that Oldham had been sourcing antique freshwater pearls at flea markets in New York and Los Angeles for years, so he began hand-making pearl chokers for friends in his spare time. Their positive feedback … motivated him to launch his namesake jewelry line with a zero-waste mindset at its core." Read the article.
JEWELRY IN THE NEWS
"2020 is officially the year of men wearing pearls," declares Hypebeast in an article that goes on to explain that, "worn by the likes of A$AP Rocky, Pharrell Williams, Billy Porter, Shawn Mendes, and most notably Harry Styles, pearls have become one of the hottest accessories for men to adopt this season. The search term 'men's pearls' has increased by 17% year-on-year following Styles's pearly debut back in December 2019. Searches for similar pieces worn by the singer have increased by 31%." And did you see the multiple strands of pearls dripping off Nicholas Hoult as Peter III of Russia in this year's series The Great? Yowza, sexy!
Hypebeast also covers two new diamond chains commissioned by Drake that honor the late Tupac Shakur. "Each pendant is matched with a 70-carat diamond chain to go along with the half-kilo of gold used in making both the pendants. Priced at US$300,000 per chain, both pieces took a total of five weeks (150 working hours) to make." They were produced by Jason of Beverly Hills.
JEWELRY IN THE NEWS
To underscore what he believes is the absurdity of some oddly shaped congressional districts, Ben Sheehan—who was the head of talent for the humor site Funny or Die until 2016—is selling pendants in the shapes of gerrymandered districts. "We couldn't even make a district in Ohio, OH9, because the jewelry kept breaking," he said in a recent interview with the New York Times, referring to a district 120 miles long connected in one area by a 20-yard-wide bridge. The jewelry was created for the 2018 midterm elections and currently features four districts, but the company is open to producing one-offs of other districts upon inquiry. Sheehan's nonprofit, OMF WTF (which stands for Ohio, Michigan, Georgia, Wisconsin, Texas, Florida), uses humor to promote civic education and explains how the government works to millennials and Gen Z-ers. Sheehan also published a book, OMG WTF Does the Constitution Actually Say, that got shout-outs by Chelsea Handler, Ilana Glazer, and Hillary Clinton. Watch a satirical promotional video, check out the website where the jewelry is sold, and read the interview in the Times.
JEWELRY IN THE NEWS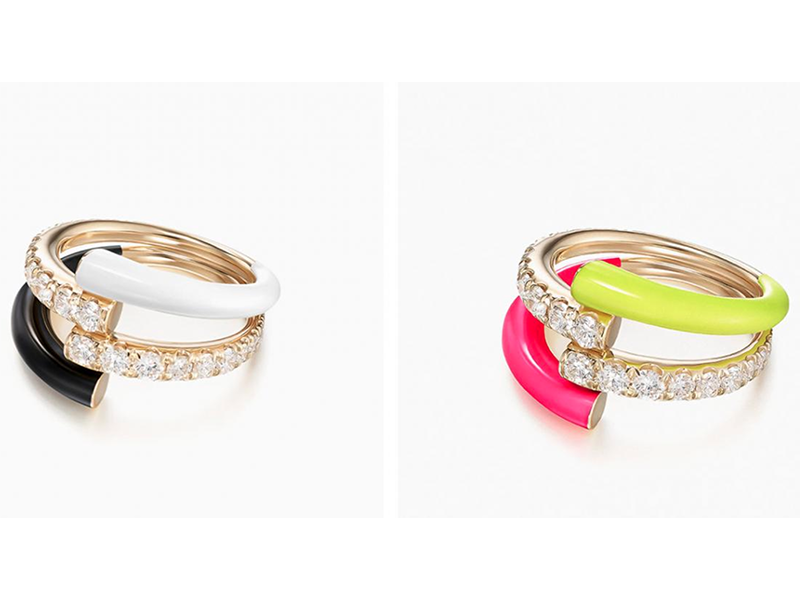 With the COVID lockdowns tapering off (for now), the sales of engagement rings have skyrocketed, says Wallpaper*. "Lockdown, as we have learnt this year, is the ultimate test of endurance for every area in our lives: most notably, in our relationships. Many, it seems, have emerged victorious, with jewelers reporting a spike in engagement ring purchases for those who have enjoyed confinement together in close quarters." The magazine presents curated design-led options, and while many of them embody the tired notion of the diamond ring, a few are interesting.
JEWELRY IN THE NEWS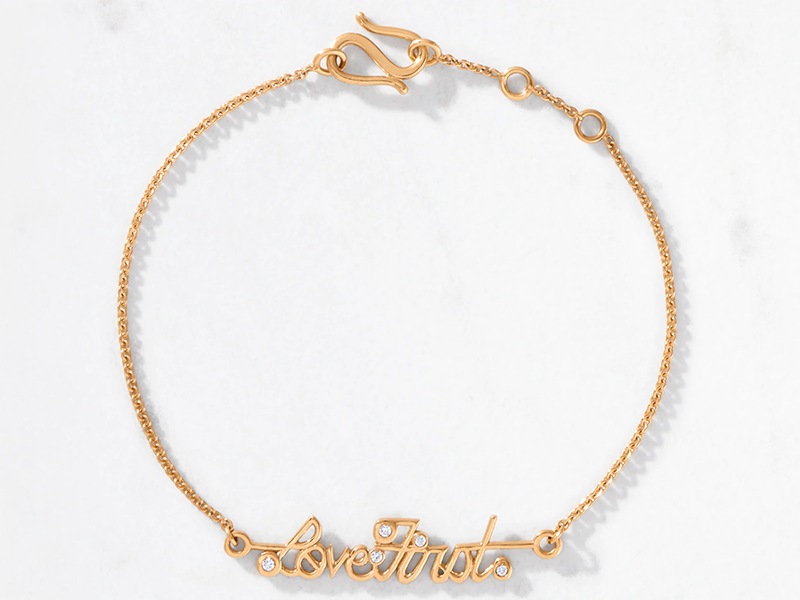 Surface reported on Auvere, a fine jewelry line that produces work in high-karat gold and diamonds. The Script collection, which debuted in July, references the words of F. Scott Fitzgerald and uses the handwriting of the collection's designer, Gina Love.