Art Jewelry Forum is pleased to share the news that members of our community find noteworthy. Is something missing? The success of this compilation of compelling events, exhibitions, and items of interest to the jewelry community depends on your participation.

If you're a member of AJF, you can add news and ideas to the monthly report by going here. If you aren't a member, but would like to become one, join AJF by making a donation.
ANNOUNCEMENT—WATCH PAST AJF LIVE EVENTS

If you were unable to attend any of the two dozen free AJF Live events we've hosted so far this year on Zoom, you can still watch them. We record them all and post them on our website so you can view them whenever it's convenient. Here's a list, with links to the videos:
ANNOUNCEMENT—AWARD
Jewelry artist Bettina Dittlmann won the Danner Prize 2020 for her magnet brooch titled Wohin. "Bettina Dittlmann makes use of magnets in her jewelry objects in order to lend left-over and poor materials such as tinder, iron dust, or iron wire a new form but without creating a final shape," says Angelika Nollert, the director of the Neue Sammlung International Design Museum, in Munich. "This radical commitment to renewal, involvement, and change gives her work a societal and political relevance. In this sense her jewelry is also an invitation to its wearers to actively take on responsibility." A jury of international experts judged the entries for the prize, which awarded a prize of €20,000 this year to mark the 100th anniversary of the Danner Foundation's inception. Honorary prizes went to Otto Baier for his titanium objects Stromboli and Vulkano; to Peter Bauhuis for four of his objects, Skulptur/Kette; to Petra Bittl for her ceramic vessels Paar and Wintergestalt; and to Paul Müller for his delicate candlestick holders.
ANNOUNCEMENT—AWARD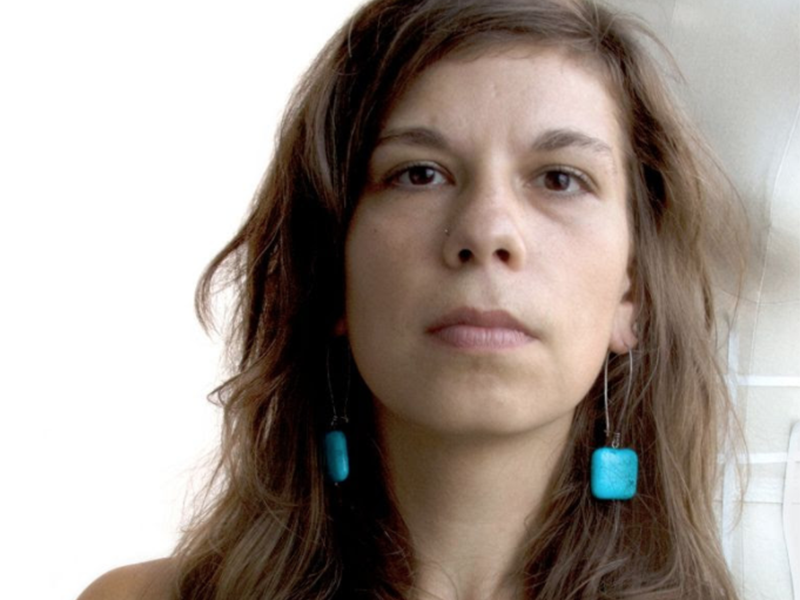 Lauren Kalman was recently announced as the recipient of the 2020 Françoise van den Bosch Award. The jury—comprised of Jo Bloxham, Lin Cheung, Vanessa de Gruijter, Anders Ljungberg, Theo Smeets, and Martijn van Ooststroom—was unanimous in its decision.
Kalman is a maker of objects relating to the body, creating wearable objects as well as performative pieces and installations that expand the concept of body ornamentation. Her practice is a crossover between craft, performance, and visual art. Using the body as a metaphor, she creates visually provocative pieces that challenge what jewelry and body adornment can be. Through her work, she investigates sex, gender, power, and beauty—relevant themes that are bigger than the jewelry discipline alone. Congratulations!!
ANNOUNCEMENT—GALLERY RELOCATES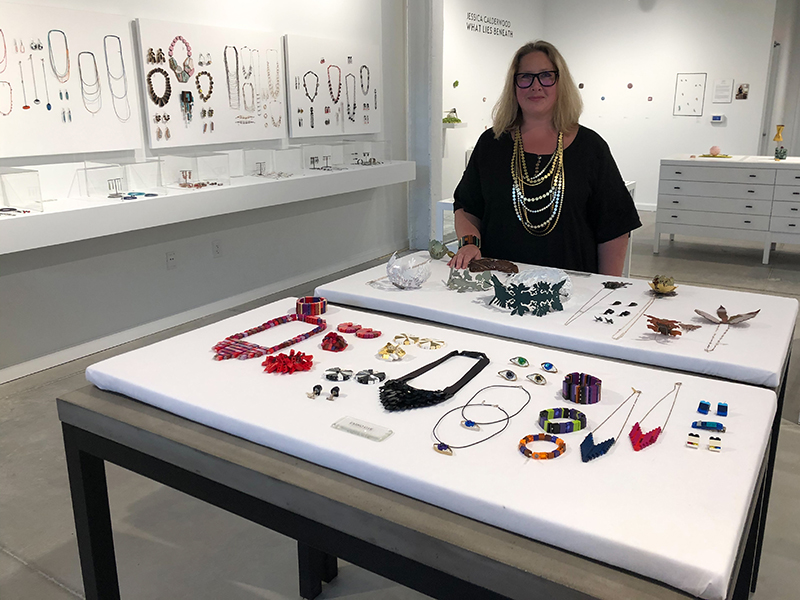 Ombré Gallery is expanding and relocating to the heart of the Over-the-Rhine district, in Cincinnati, at 1429 Vine Street. The gallery is celebrating its relocation and expansion with the opening of Midwest artist Jessica Calderwood's exhibition, What Lies Beneath. Ombré Gallery specializes in exhibiting contemporary art jewelry by more than 70 artists and metalsmiths from around the world. Showcasing limited-edition, handcrafted, and one-of-a-kind wearable art jewelry pieces, the gallery seeks to highlight and juxtapose art, craft, fashion, and design. The conception of Ombré Gallery is the result of owner and director Jenna Shaifer's life-long passion for contemporary art and fashion. She has worked alongside well-respected curators and gallerists at the Smithsonian, in Washington, D.C., the Museum of Arts and Design, in New York City, and the Oakland Museum of California. She has also worked for designers and iconic brands including Donna Karan, Isaac Mizrahi, Polo Ralph Lauren, and Ann Taylor. Shaifer holds a master's in the history of decorative arts from The Smithsonian Associates and Corcoran College of Art + Design, and a BFA in fashion merchandising from Virginia Commonwealth University. Learn more and visit the Ombré's website.
ANNOUNCEMENT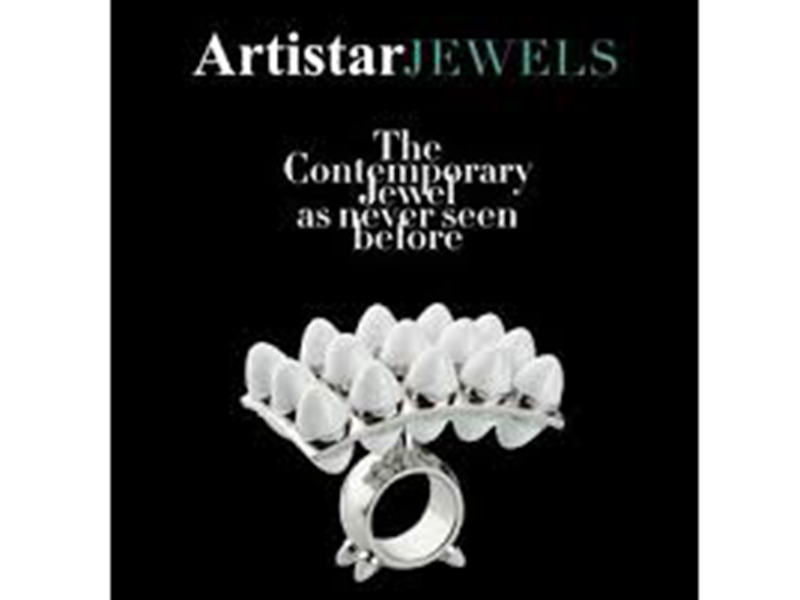 Artistar Jewels, of Milan, Italy, has formed a strategic alliance with Lisa M. Berman, of Sculpture To Wear Gallery, as she officially becomes the first brand ambassador in the US on behalf of the global brand. Founded in 2012, Artistar Jewels is an international project fostering education, craftsmanship, and creativity of jewelry design through exhibitions, conferences, and the publication of its celebrated catalogs, Contemporary Jewelry as Never Seen Before. Artistar is also a sponsor of Milano Jewelry Week 2021. Berman is excited to introduce her long-standing international contacts of artists, gallery owners, creative directors, editors, and curators to support further growth within the global community and to expand the understanding, appreciation, and awareness of the wearability and collectible nature of studio-made contemporary art jewelry. Learn more about partnering.
JEWELRY EVENT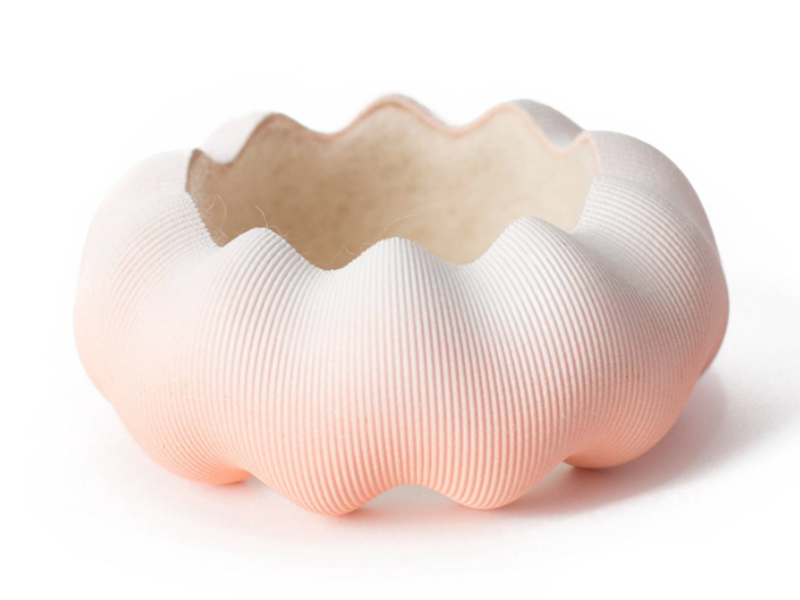 Joya Barcelona is in full swing! The premiere event of artistic jewelry and designer objects of Spain, Joya has served for a dozen years as a space for interaction and debate, and as a meeting point for the art jewelry sector with a program of events, exhibitions, and conferences. Each year has a theme; this edition will focus on the incorporation of new technologies in traditional crafts, although the current global pandemic has made organizers rethink their goals. The format has changed this year, of course. In order to protect exhibitors and the general public, Joya won't hold a fair with a high concentration of attendees. Instead, an exhibition will be held at the Artesania Catalunya (at Banys Nous 11) until November 29, following all sanitary measures. Features more than 150 artists, including schools, collectives, and OFF JOYA events, with which organizers have worked throughout the year in the production of videos, fashion editorials, previews with specialized galleries, online sales, daily communication on social networks, and an auction.
Online opening and awards: Tuesday, October 29, 2020, at 6 p.m., via Instagram Live.
JEWELRY EVENT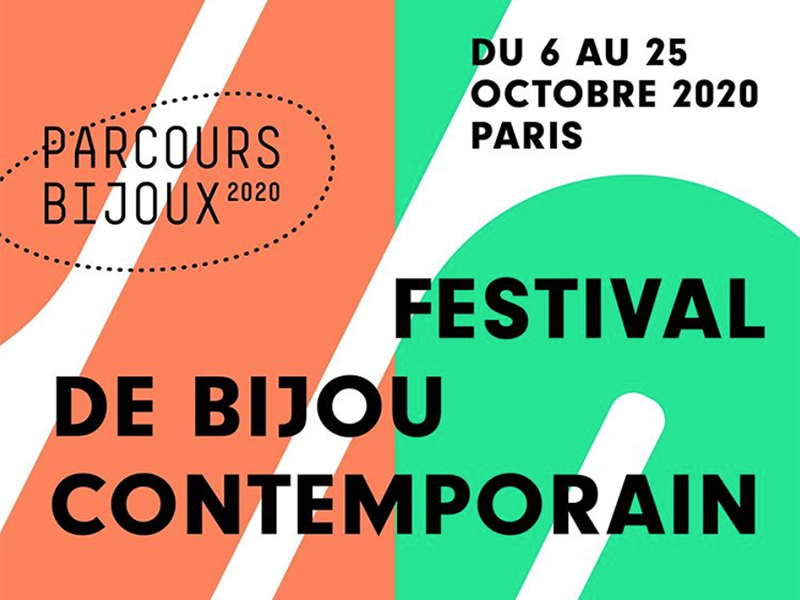 Parcours Bijoux 2020 will take place, October 6–25, 2020. This a series of Paris events devoted to contemporary jewelry design within and beyond France. Here you can explore the rich variety of this vital aspect of embellishment with jewelry designers, visual artists, photographers, jewelers, experts, and historians, as they reflect on the body and how we adorn it. Check the website for listings of events.
MUSEUM EXHIBITION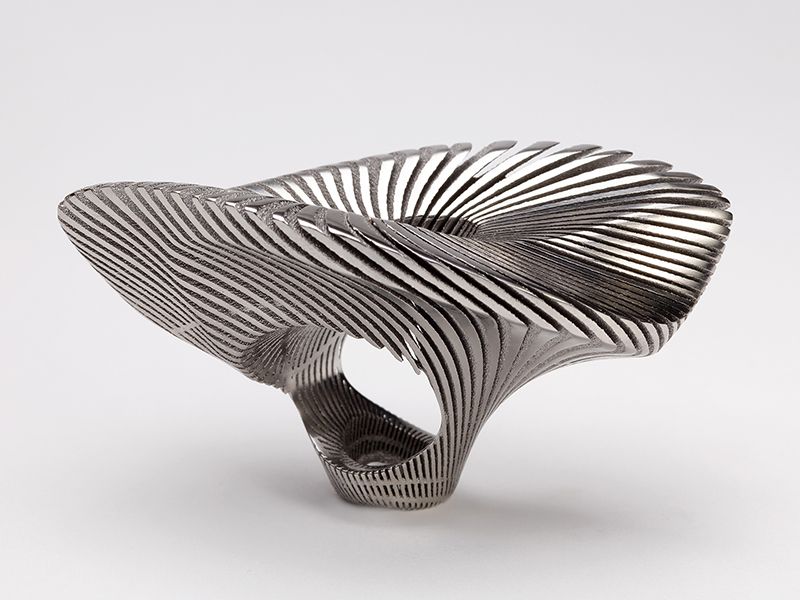 The Musée des Arts Décoratifs, in Paris, will take part in the triannual Parcours Bijoux 2020 series of events and exhibitions by presenting original pieces from jewelry designers Julie Decubber and Stefania Lucchetta. The Collect/Connect: Contemporary Jewellery exhibition reveals the most recent explorations and showcases the formal audacity of contemporary jewelry. Displayed in the Galerie des Bijoux, which offers an unequalled panorama for this field, both artists' creations spring from two very different fields of research, which both address contemporary concerns. At MAD Paris through January 3, 2021.
MUSEUM EXHIBITION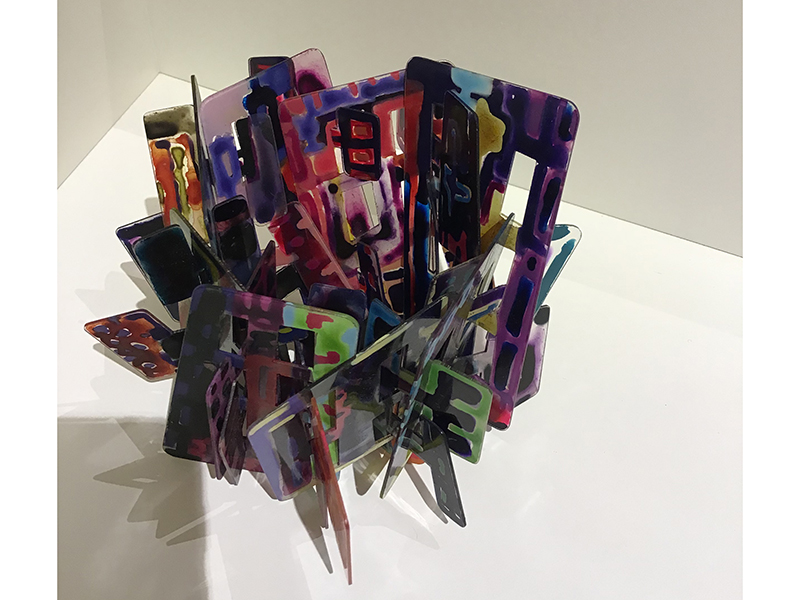 The Dor Museum, in the Spanish village of Sant Julià de Ramis, is holding a temporary exhibition of the jewelry collection of jeweler and former gallerist Pilar Garrigosa. This is the first time Garrigosa has shown her private collection in a museum. The pieces span the 70s through the present, giving a glimpse of national and international artists that have become friends and confidants. Includes works by Giampaolo Babetto, Ramòn Puig Cuyàs, Yasuki Hiramatsu, Daniel Kruger, Ruudt Peters, Nil Linssen, Jiro Kamata, Helen Britton, Vered Kaminski, Carmen Amador, Edith Bellod, and many other artists. Through November 30, 2020.
This museum is a place to check out—it also has permanent collections that include work by the Tom Munsteiner workshop, Amador Braojos, Elsa Perretti, Octavi Sardà, Rosa Bisbe, Pere Ferrandiz, and Antoni Farré.
ART CENTER EXHIBITION
Underpin and Overcoat, a public art installation by artists Amelia Toelke and Andrea Miller, rescales and reimagines political buttons by placing them on and within buildings, exploring the idea of jewelry as signage. Big, bold, and bright, these buttons play with recognizable iconography and symbols to show how adornment can be a tool for communicating our personal and political beliefs. The work aims to help us discuss opposing views, ask questions, and find commonality in shared sentiments. During this critical political season, Underpin and Overcoat enlarges the intersection of jewelry, political history, and social justice on the streets. At the Rochester Contemporary Art Center, through November 30, 2020.
GALLERY EXHIBITION
Jewelry Edition is a platform for sharing and celebrating contemporary jewelry, started by Kat Cole and Laura Wood in 2012. The project began as a catalyst to provide emerging jewelers with more visibility and as a means to explore new ways of sharing this art form with a diverse audience. Contemporary jewelry is sculpture, fashion, and science, and Jewelry Edition highlights artists who blend these areas to make one-of-a-kind wearable work. Jewelry Edition Volume 5 spans materials including silver, resin, vintage tin types, enamel, powder coat, aluminum, and 3D-printed technology. Jewelry is showcased as an art form with the ability to enhance a daily experience. The Volume 5 collection features the work of Amelia Toelke, Aric Verrastro, Jillian Moore, Kat Cole, Laura Wood, Megan McGaffigan, Tanya Crane, and Taylor Zarkades King. At the Baltimore Jewelry Center through October 17, 2020.
GALLERY EXHIBITION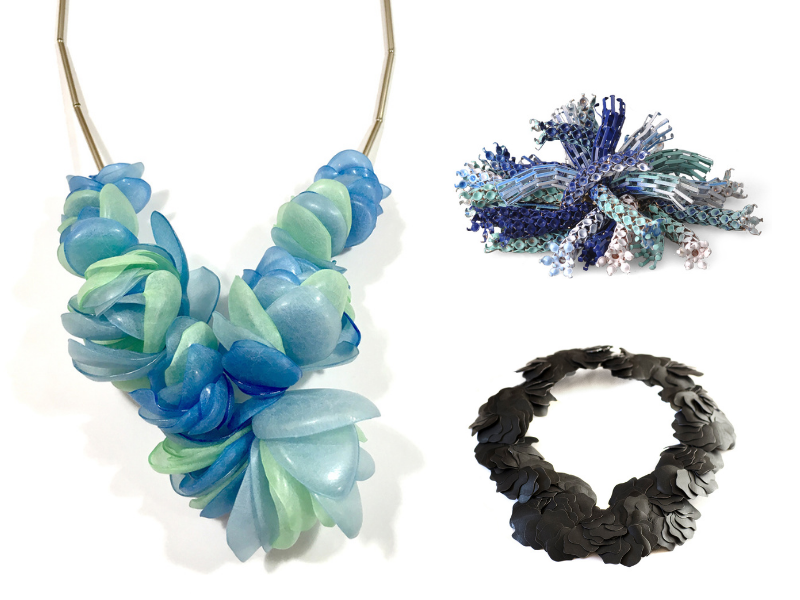 As part of the Parisian Parcours Bijoux event dedicated to contemporary jewelry, Elsa Vanier, in collaboration with T Like Twinkle, has chosen to exhibit jewelry designed to raise public awareness to the state of our oceans. With a huge stream of plastic pollution being bailed into the seas every day, and abandoned nets trapping and killing many marine animals, the oceans are in danger. If urgent, drastic action is not taken by 2050, the ocean could contain more plastic than fish. Five designers from Sweden, Argentina, the UK, and Turkey are challenging the public about this imminent danger by combining precious metals and recycled plastics. It is a magnificent plea for the circular economy and for the environment. They have been joined by eight French contemporary jewelry makers who share this concern. The exhibition will bring together more than 100 works at Galerie Elsa Vanier, from October 8–25, 2020.
GALLERY EXHIBITION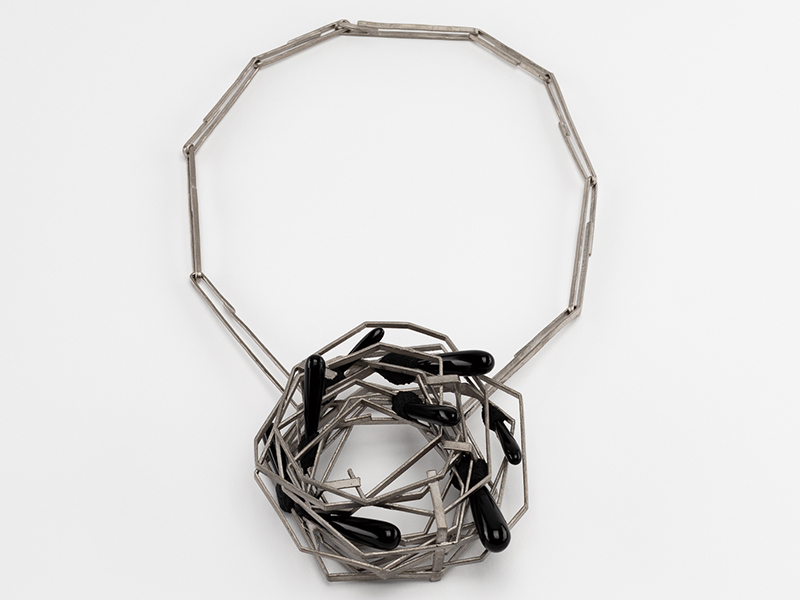 Iris Bodemer: Topography + Construction, this summer's exhibition at Jewelers' Werk Galerie, has been extended until October 15, 2020. "Bodemer is a master at transforming her ideas into powerful pieces of jewelry that don't have too little and don't have too much," says Jade Kerste. "For her latest work, she had new ideas in abundance, so she worked on multiple series simultaneously. All the elements that make Bodemer's work recognizable return in this new series. The work is playful, graphic, and sketch-like, intuitive and detailed. Using old and new materials and techniques, she creates three-dimensional drawings for the three-dimensional surface—the body. The pieces become the wearer's personal sculpture."
GALLERY EXHIBITION
Seen from the perspective of classic jewelry, Ralph Bakker's work is never traditional. Its richness lies in ingenious construction, exquisite coloring, and his attention to detail. He creates pieces that are a joy to wear, never gaudy, never burdened by habits of displaying financial supremacy—actually the very aim of revolutionary jewelry makers half a century ago. To enhance the revelry—to paraphrase a Dutch expression—Bakker has all sorts of skills at his disposal. He excels in applying surface finishes like niello and enamel, so he can finish his pieces with lustrous colors. The many elements that make up his necklaces went in the oven time and again, to provide the silver with dazzling translucent enamels, in subtly contrasting hues. Ralph Bakker: Revelry is on show at Galerie Rob Koudijs through October 24, 2020.
GALLERY EXHIBITION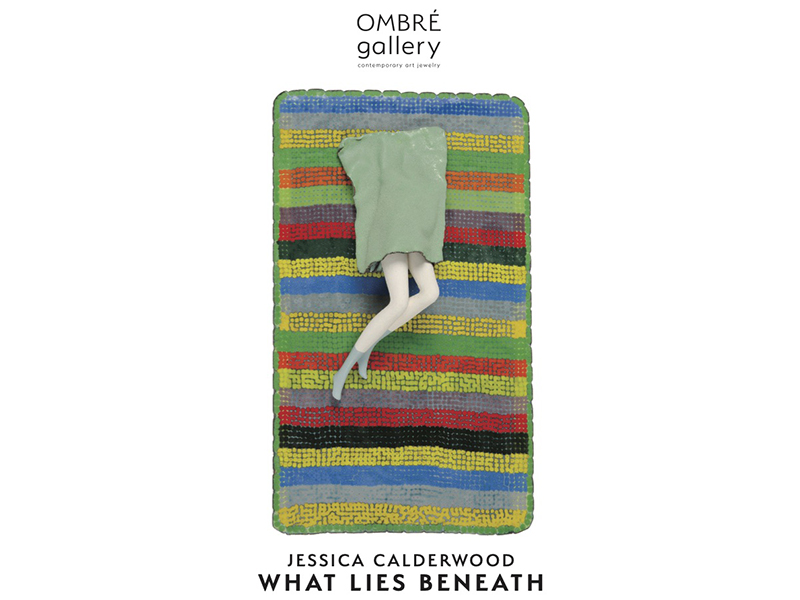 Ombré Gallery, in Cincinatti, OH, US, is celebrating its relocation and expansion with the opening of Midwest artist Jessica Calderwood's exhibition What Lies Beneath. Calderwood, who hails from Cleveland, OH, and is an associate professor of metals and jewelry at Ball State University, in Indiana, is an image-maker and sculptor who works in obscure craft media. Trained as a metalsmith and enamelist, her objects and images make statements about contemporary life. What Lies Beneath uses forms, such as drapery and stylized botanicals, to block out, cover, or hide parts of the human form. The exhibition features sculptures, brooches, and earrings. "Calderwood's work in What Lies Beneath showcases the conceptual relationship and ongoing dialogue of an artist through sculpture and jewelry, and we are thrilled to feature her work in the gallery," says Jenna Shaifer, owner and director of Ombré Gallery. Through October 11, 2020.
GALLERY EXHIBITION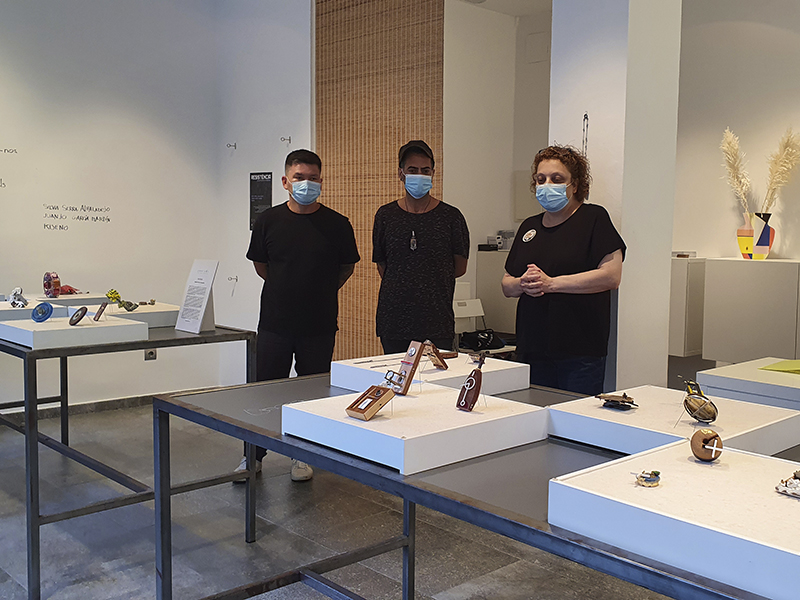 The exhibition Resistencia (Resistance) opened September 17, 2020, at Context Gallery, in the frame of JOYA Barcelona 2020. Three warriors in contemporary jewelry—Kiseno (from Bogotá), Sílvia Serra (Barcelona), and Juanjo Garía (Málaga)—condemn armed violence, the lack of freedom of expression, the refugee crisis, or cruelty toward vulnerable groups and animals.
On the wall, a handwritten text states that the fight is not a matter of arms, but of gestures and empathy toward "the other" and the environment. To the left, on metal tables, rings, earrings, and big brooches made of painted and oxidized silver, screws, and nuts incorporate text. A necklace almost seven meters long, its resin skull-shaped beads numbered in chronological order, is accompanied by a register of names, locations, and dates that each and every Colombian social leader has been killed. The artist is Kiseno.
In the middle, rectangular brooches, pendants, and multicolor micro sculptures in light boxes show a universe of abandonment and cruelty (artist: Juanjo García). On the same table and in drawers to the right, Sílvia Serra shows small framed boards, brooches, and rings made of rubber, gold leaf, plastics, and old wood (the colors and materials reflect shipwreck and banishment), and many crosses. Through October 31, 2020.
EXHIBITION—CLOSING SOON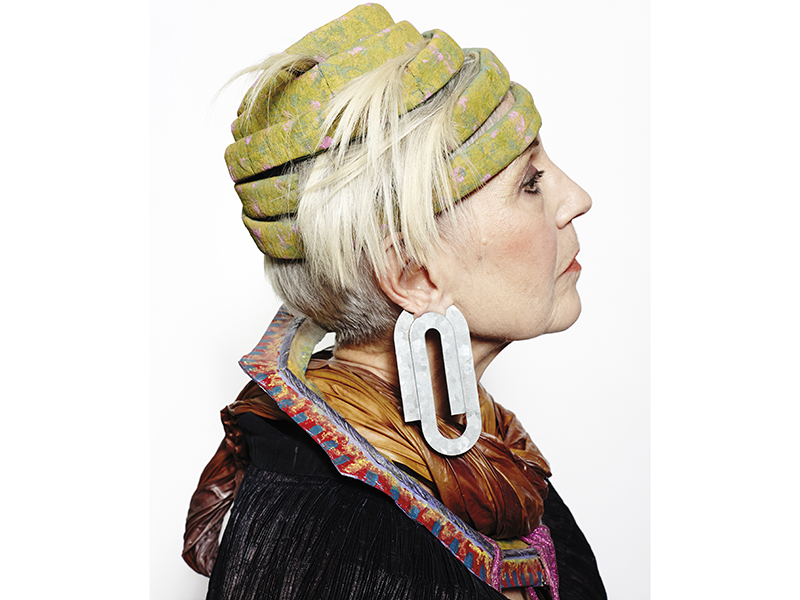 While everyone talks about recycling and sustainability, Debra Rapoport has already established an individual style fashioning new trends on the streets of New York. She uses scrap and various found articles to create colorful, sculptural, and stylish crafts—clothes, hats, and jewelry. Her work is in museum collections, and her Instagram fans relish the unusual, nonconformist style. The exhibition Debra Rapoport—From the Streets of New York displays only a few of Rapoport's creations, instead emphasizing published photos revealing the true use of the artifacts.
Her unique style becomes apparent in this solo display of her work. Independent, creative, and talented, Rapaport challenges conventional ideas about beauty and aging. Her hands transform objects into artifacts for the 21st-century material culture. Unlike most artists, she wears and models what she makes. At the Ilias Lalaounis Jewelry Museum, in Athens, through mid-October.
EXHIBITION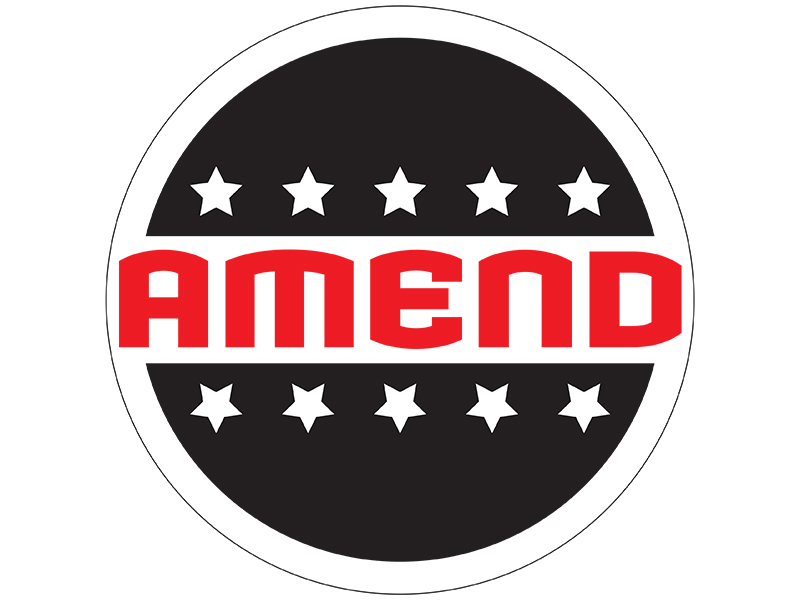 Amend is an online exhibition organized to commemorate the 100th anniversary of the adoption of the 19th Amendment to the US Constitution, giving women suffrage. Of course we are still in the fight for true universal suffrage—this exhibit promotes and supports initiatives that combat voter suppression and expand voting rights, while recognizing the work of the suffragettes. To amend is to make minor changes (in a text) in order to make it fairer, more accurate, or more up-to-date. To amend is to modify (formally), to make better, to improve. To amend is to put right. Curators Kerianne Quick and Jess Tolbert invited 100 female (she/they) identifying jewelers to design a piece of jewelry using the "I Voted" sticker as a jumping off point and charged to interpret it anyway they like. The exhibition will support Black Voters Matter through a financial contribution generated from sales of the work, as well as bring attention to important voting issues through informational posts on the Amend instagram and website. Takes place online October 2–November 2 (the eve of the US election).
CALL FOR ENTRY—2021 SUSAN BEECH MID-CAREER GRANT
Established by jewelry collector Susan Beech, the objective of this $20,000 grant is to recognize a mid-career artist who has made a substantial contribution to the field of art jewelry. Juried by Susan Beech, Daniel Kruger, and Emily Stoehrer. Applications will be accepted starting November 1, 2020. Deadline: January 10, 2021. Get the guidelines and the link to apply.
CALL FOR ENTRY—GET MEDIA ATTENTION!
Hyperallergic is acceptin
g submissions for A View from the Easel, an ongoing series that focuses on the spaces artists work in. You may recall that last year, Rebekah Frank got published (read it here). During the current pandemic, Hyperallergic is asking artists to share their experiences of their studios during quarantine. For example, are you making new kinds of work? Or have you had to adapt your materials in any way? Here's more information to submit.
CALL FOR ENTRY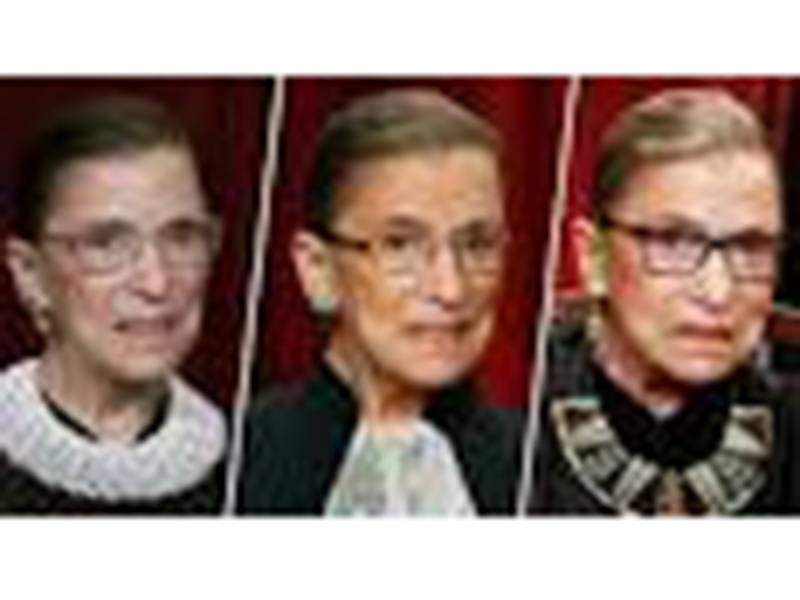 The Collar of Dissent—The Ginsburg Gauntlet exhibition will be an online show of wearable opinion, dissent, or other nonverbal expression ushering a distinct message against the establishment. Justice Ginsberg was known for her jabots that transitioned into "collars of dissent," wearing each one with a deliberate call to action. Equality, justice, and the Great Equalizer. This timely show will be curated by a select compilation of eight "Supreme Curatorial Judges," and of course one seat reserved for RGB; confirmed thus far: Lisa M. Berman, of Sculpture To Wear Gallery; Jayne Herring, human rights activist; Berta Montoya, CFO of U.S. Lifestyle Group. All works will be posted for sale. Thanks to media sponsor U.S. Lifestyle Magazine. Submission fee $25, deadline October 31. Get more information.
CALL FOR ENTRY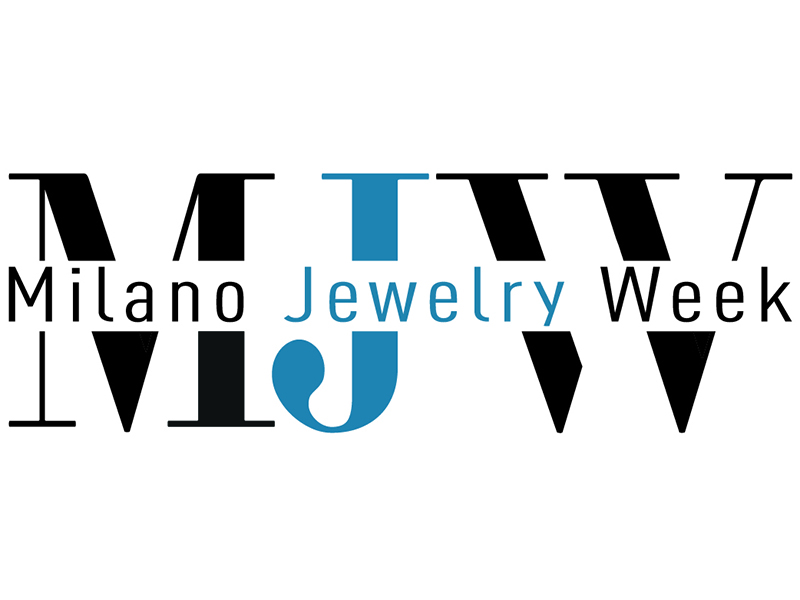 Open call for Milano Jewelry Week! June 3–6, 2021. Are you an artist, student, school, gallery, or jewelry brand? Join the collective exhibition during Milano Jewelry Week. Founded in 2012, Artistar Jewels is a global project fostering the creativity of jewelry design through exhibitions, conferences, and publishing their celebrated catalogs, Contemporary Jewelry as Never Seen Before. They are proud sponsorship partners of Milano Jewelry Week 2021. For more information about ARTISTAR: [email protected] ⠀ #artistarjeweles2021 #aj2021 #contemporaryjewels #milanojewelryweek2021 #mjw2021#mjwdontstop #mjwpreview2020 #milano #jewels #jewelry #gioielli #accessories #bijoux #instajewelry #art #artist #store #brand #fashion #moda #style #design #love #beautiful. Get additional information. Submission form in Italian and in English.
CALL FOR ENTRY—RESIDENCY
The town of Pforzheim, Germany, invites young international designers to the city for three months as part of its scholarship program, "Designers in Residence," which will host three scholarships for a three-month working phase at the EMMA Creative Center. This program is directed at young designers, especially in the areas of jewelry, fashion, accessory, and industrial design. Recipients will have access to fully equipped workshops in the EMMA Creative Center and free accommodations April 1–June 30, 2021. In addition, each will receive a monthly stipend of €1,000 euros, together with travel costs. A special allowance will be available for material costs.
Applicants must have completed studies at a university of applied sciences or university, must not be older than 35 years, or must have completed their studies no longer than two years ago. A proposal for a project that can be implemented during the scholarship must be submitted. Interdisciplinary project proposals are welcome. Language skills in German or English are required. The results of the scholarship will be presented in an exhibition at the EMMA Creative Center, in cooperation with the Design Center Baden-Württemberg, in Stuttgart. Juried by Amelie Marie Gaydoul, Sam Tho Duong, and Stefan Lippert. Applications accepted online only. Website link. Get more information in English. Application deadline: November 15, 2020.
EDUCATION—WORKSHOPS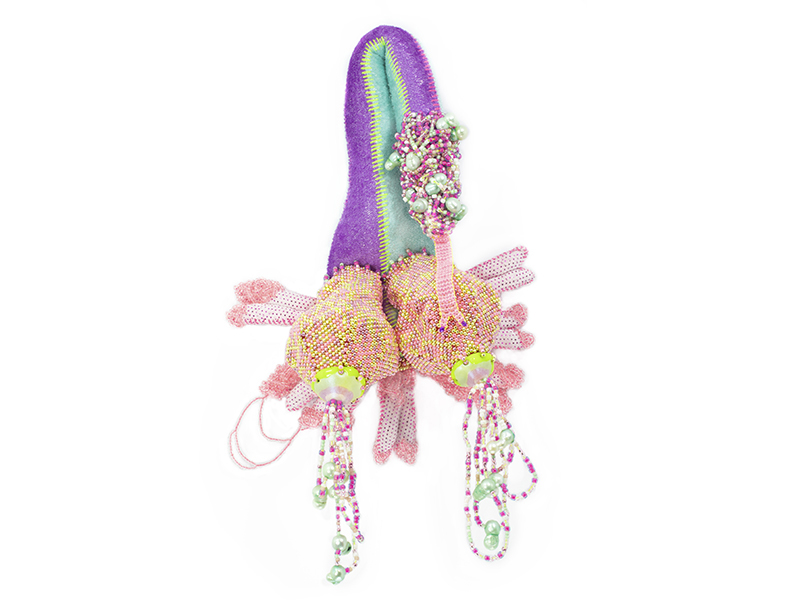 The Baltimore Jewelry Center is holding a number of exciting visiting artist workshops this fall, both in person and online. Join online on November 14 for a dimensional bead embroidery workshop with Breana Ferrara. Or take the Surface Adornment in Steel workshop with Ben Dory in person the same weekend! There's something for every skill level and interest.
INTERESTING LINK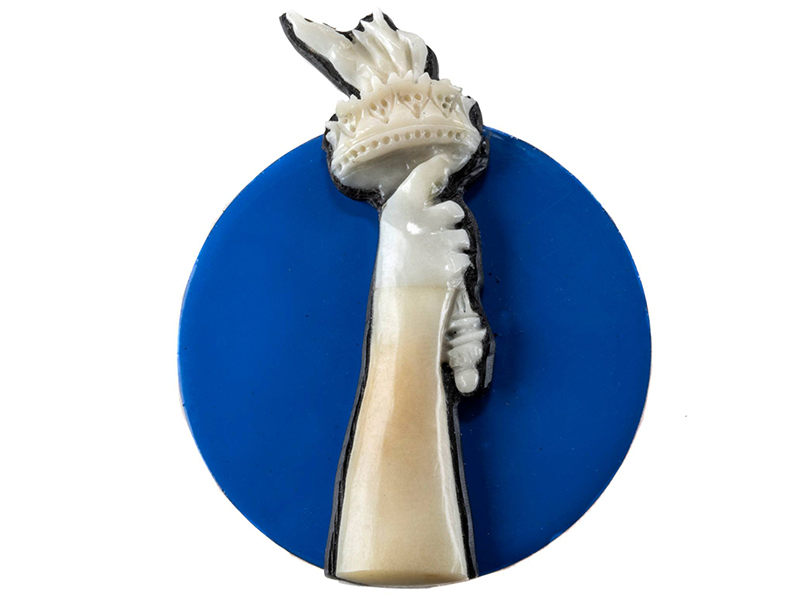 Invented in 1896, the campaign button has been a staple of political life for 125 years. Often hyperbolic and always collectible, buttons showcase the emotions and zeitgeist of the moment. Recently a group of 30 American jewelry artists, including AJF board member John Lemieux Rose, took action to support Get Out the Vote. Using the format of a campaign button, each artist created a powerful wearable statement that responds to this moment in history. The show opened with great success using a live, on-line auction format with opening bids of $100. They have completely sold out. View the buttons.
INTERESTING LINK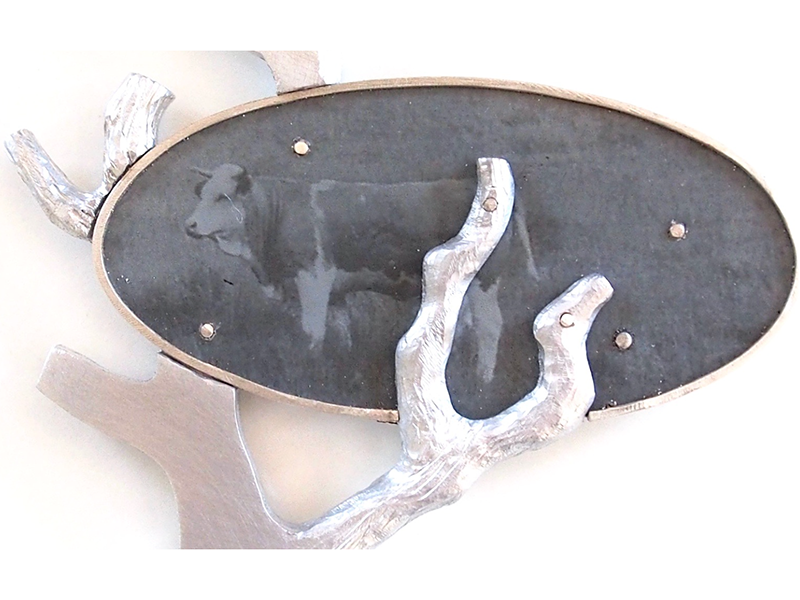 For the fall exhibition at Galerie Rob Koudijs, Bettina Speckner fabricated an abundance of earrings made with semiprecious stones, fossils, and pearls, and complemented by brooches. The gallery has uploaded the entire exhibition, called The Plant in Us, online, accompanied by text that explains more about the work. Speckner's pieces are so poetic and subtle that they almost beg to be scrutinized at close range. The online catalog gives you the opportunity to actually do so. The show will be up until October 24, 2020. See the online catalog.
INTERESTING LINK
Haarlem, in the Netherlands, recently hosted a sturdy jewelry exhibition that was beautifully designed, too, reported Saskia Kolff in SieradenMuze. "Not organized by a museum, but by a number of Haarlem jewelry makers. With ArtWear they were determined to give wider attention to the richness of Dutch jewelry. Their jewelry sample [was] carefully considered, though perhaps a little biased." The show ran from August 8–September 6, 2020. Participating artists: Hilde Foks, Annemiek Steenhuis, Sylvia Blickman, Carla Nuis, Jennifer Hoes, Brigit Daamen, Floor Max, Ted Noten, Ela Bauer, Judith Bloedjes, Dinie Besems, Katja Prins, Paul Derrez, Ruudt Peters, Nhat-vu Dang, Koen Jacobs, Felieke van der Leest, Beppe Kessler, Birgit Laken, Margherita Chinchio, Andrea Wagner, Chequita Nahar, Arianne van der Gaag and Lucy Sarneel. Read the write-up.
INTERESTING LINK
Tis the season for buttons! "From political campaigns to punch lines to keepsakes, the button has packed bits of incredibly rich history into just a few inches. 'It seems like a niche little object, but it really tells a very general American history,' collector and button manufacturer Christen Carter tells Colossal. The wearable item is, in fact, an entry point into the complexities of the past." Carter co-authored Button Power with notable dealer Ted Hake, who has collected buttons for about 60 years.
The book delves into the button's history, spanning its invention in 1896 to contemporary usages. "The button has risen and fallen since its creation and notably surged in the 1960s and 1980s as it was used more widely for countercultural movements and protests. Of course, mainstream efforts from political campaigns, public figures, and large-scale events generally still sought out buttons to share their visions. Many of the slogans and broader undertakings of alternative movements that may have evaded popular narratives, however, also are preserved by the object. 'It's a people's history, too,'" notes Carter, who started the Button Museum, dedicated to revealing American history through pin-back buttons. Read the article.
INTERESTING LINK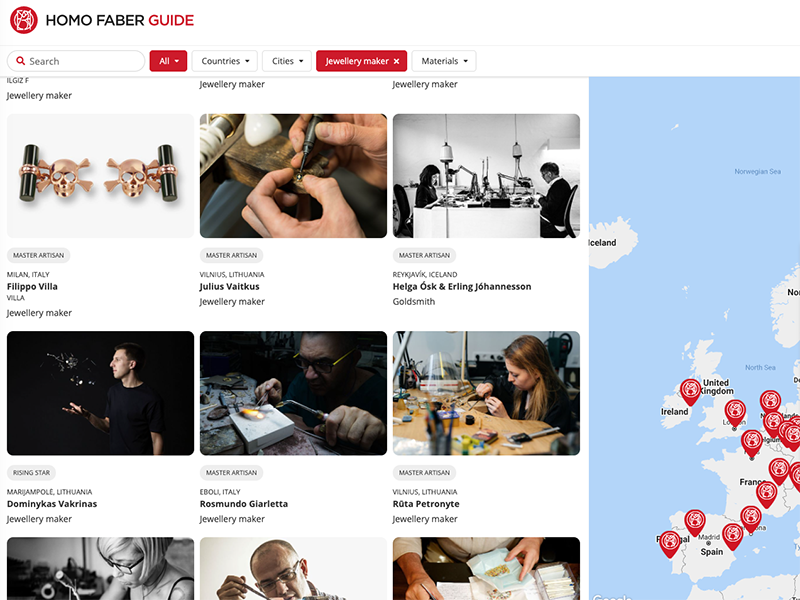 The Michelangelo Foundation has launched the Homo Faber Guide, a digital platform that enables visitors to search for artisans, ateliers, museums, and craft experiences in Europe. The guide aims to give more visibility to artisans while developing a strong European network within the creative industry. The searching system encompasses three categories labeled "discover," "visit," and "experience." Users can browse by country or city, or alternatively by terms such as material, product, or specific craft. In the "discover" section, browsers can find craftspeople, studios, and manufacturers across Europe, from glassblowers in Venice and ceramicists in Stockholm to tapestry weavers in Paris and printmakers in London.
JEWELRY IN THE NEWS
Toward the end of September, MJ Tyson was featured as the designer of the day in Surface magazine! Asked what problem her work solves, she replied, "I see the proliferation of man-made stuff as a sort of fundamental problem. What do we think we are doing accumulating like we'll never die, when in reality most of our possessions will outlive us? Artwork is no exception, so my challenge is to make without making more. My answer to this particular problem is consolidation." Read the full interview.
JEWELRY IN THE NEWS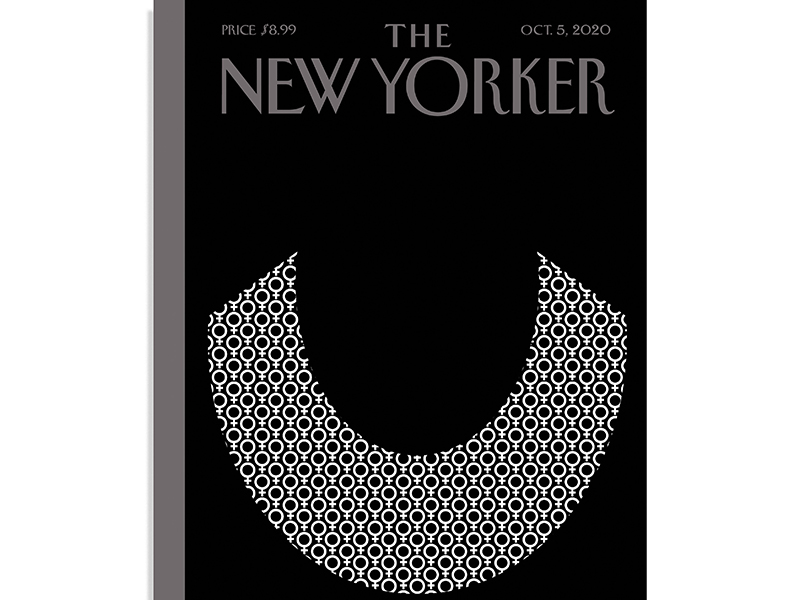 The artist Bob Staake celebrated Ruth Bader Ginsburg, the second woman to be appointed to the US Supreme Court, on the cover of the September 23, 2020, New Yorker magazine. Ginsburg died the previous week at age 87. To commemorate her, Staake said he "'needed to think of a graphic metaphor that embodied Ginsburg's life and legacy.' He wanted something that was 'honest and no-nonsense,' like Ginsburg, and he landed on her lace collar, a symbol not just of Ginsburg but, in Staake's drawing, of women everywhere. Ginsburg spent nearly three decades on the country's highest bench, and five decades as a tireless scholar, teacher, and advocate of equality." Read more about the Supreme Court justice.
JEWELRY IN THE NEWS
More on Justice Ginsberg: "Supreme Court judicial robes don't leave a lot of room for accessorizing, but the most notorious SCOTUS [Supreme Court of the United States] justice never let that stop her from adding flair (and often political statements) to her ensembles. Although she rarely gave interviews, fans picked up notes over the years on what Ruth Bader Ginsburg's collars mean.
Widely recognized for her dissenting opinions as well as her collection of collars (also known as jabots), Ginsburg was a liberal social icon, appearing everywhere from children's 'Superhero Day' costumes to Lego keychains on Etsy. Her famous 'dissent' collar—worn for such occasions as her Hobby Lobby contraception case dissent—has even been made into necklaces and pins." Read the full article on Bustle.
JEWELRY IN THE NEWS
As reported in Dezeen, "jewelry designer Suhani Parekh has created a series of earrings that wrap and clip onto Apple's AirPod headphones to stop them falling out of ears. Parekh, who is creative director of London jewelry company MISHO, came up with the idea to use jewelry to hold wireless headphones in place after her own kept falling out and getting lost. 'These not only keep the pod in place, they can double up as earrings on their own,' MISHO said." Read the full story to see other styles.
JEWELRY IN THE NEWS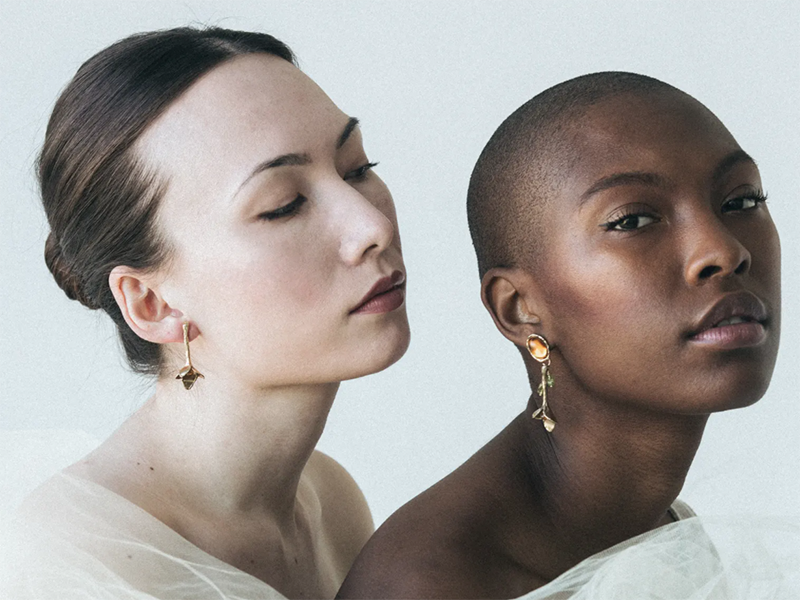 The Guardian ran an article called "10 of the Best Ethical Earrings—In Pictures." "Whether they are recycled, upcycled, or sold with a charity donation, here is our top pick of ethical earrings for those with style—and a clear conscience," says the editor, who maybe could have searched a wee bit harder and longer. See the pieces.
JEWELRY IN THE NEWS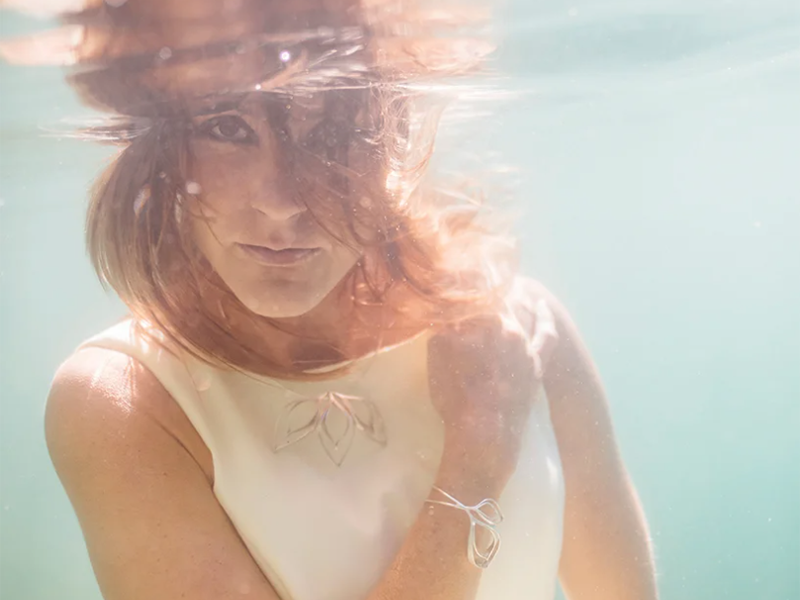 Finnish jewelry brand Anna's Darling collaborated with photographer Elina Manninen and ice diver Johanna Nordblad—one of the pioneers of freediving in Finland, with many national and world records—to create dreamy underwater photos that highlight the beauty of the jewelry pieces and the clear blue waters of Finland. The collaborators cherish their waters passionately and want to show the world the inherent possibilities. See the photos on designboom.
JEWELRY IN THE NEWS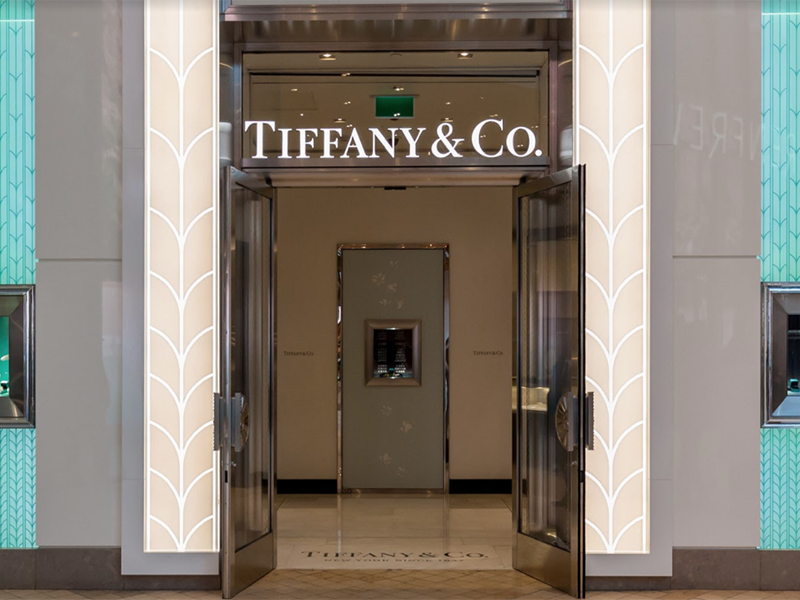 More than nine months after signing a merger agreement, LVMH Moët Hennessy Louis Vuitton has scrapped its acquisition of Tiffany. In a statement, LVMH cited an unusual request from the French minister of foreign affairs to delay the closing, as well as damage caused to the luxury goods sector by the coronavirus pandemic, as reason to call off the deal, which was valued at more than $16 billion—the largest-ever in the luxury sector. As a result, the American jeweler has filed a lawsuit against LVMH in an effort to force the deal through, arguing that the French government's request has no basis in law. Why would the French government intervene? Blame the threat of tariffs on French goods by the U.S. government in response to France's taxes on technology companies, which have hit Silicon Valley giants like Amazon and Google. Learn more in the New York Times.
JEWELRY IN THE NEWS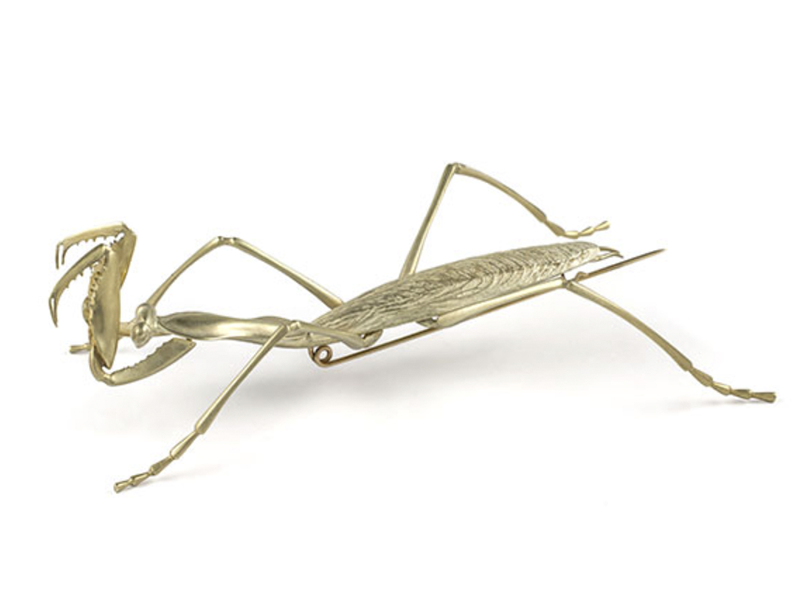 "… Sienna Patti would normally have spent this year participating in fairs and festivals all over the world," writes Amy Elliott for JCK in an article titled Sienna Patti on Collecting Art Jewelry, Celebrating Womenx Designers. "But the pandemic has forced many such events to shift to a virtual platform. The latest of these is a special exhibition staged in conjunction with September's LA Design Festival. Titled Evolved Resolve, the exhibition places three of Patti's jewelry artists—Gabriella Kiss, Mallory Weston, and Kalkidan Hoex—among a gathering of womenx makers curated by Female Design Council founder Lora Appleton." Read the full article.
JEWELRY IN THE NEWS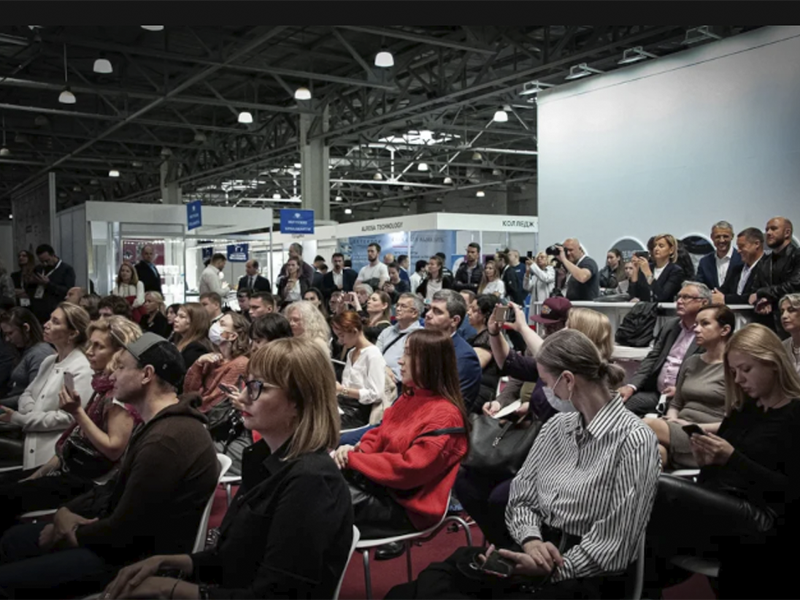 "Russia is not a country associated with art jewelry, yet it's home to talented artists and makers as well as a budding community of collectors. Operating on the fringes of the buzzing contemporary Russian art scene, this emerging market is fueled by art jewelry enthusiasts—most of whom attended a public talk hosted by AJF Ambassador Alyona Yakimovich at the recent J-1 Moscow Jewelry Exhibition-Congress."
As Yakimovich reports to AJF (she's our Russian Ambassador), international gallerists from eight countries joined her Zoom conference "to discuss their curatorial and business approaches, criteria for selecting artists and works, and to advise both seasoned and amateur collectors, as well as emerging art jewelry designers. Particants included Galerie Noel Guyomarc'h (Canada), Patina Gallery (USA), Platina (Sweden), Bilk Gallery (Australia), Galerie Elsa Vanier (France), Atta Gallery (Thailand), OONA Gallery (Germany), and Cynthia Corbett Gallery (England).
A number of recurring themes echoed across the continents: first, most gallery owners have art degrees or artistic backgrounds and thus rely on experience and intuition in selecting works and curating exhibitions. Most agree that running a successful business is their top priority, hence, their main task is to raise the symbolic value of art jewelry pieces by educating clients, coming up with innovative formats for exhibitions and communications both online and offline. In terms of the criteria applied to selecting works, design and recognizable style matter, while size and materials do not. Yet, unsurprisingly, buying or commissioning decisions are often driven by emotions—as voiced by one participant: 'You either love the piece or you don't.'" You can learn more about the new new J-1 Jewelry Exhibition-Congress in this article published by Rough Polished.