Art Jewelry Forum is pleased to share the news that members of our community find noteworthy. Is something missing? The success of this compilation of compelling events, exhibitions, and items of interest to the jewelry community depends on YOUR participation. If you're a member of AJF, you can add news and ideas to the monthly report by going here. If you aren't a member, but would like to become one, join AJF by making a donation. Listings gathered with assistance from Carrie Yodanis.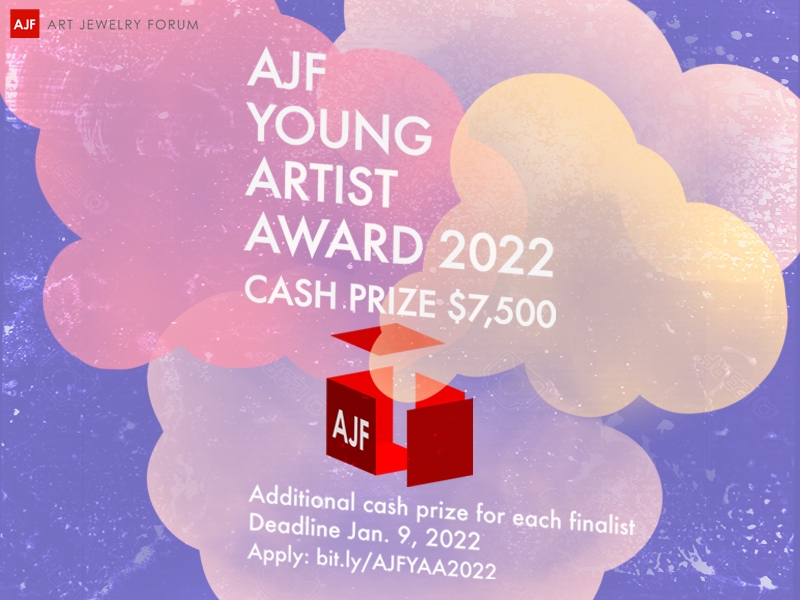 DO YOU SEEK FAME & FORTUNE?
Apply for the biennial AJF Young Artist Award! US$7,500 prize for the winner, US$1,000 for each of four finalists, as well as an exhibition at Schmuck in March 2022. Art jewelers aged 35 and under are invited to apply for this international prize, which acknowledges promise, innovation, and individuality, and advances the careers of rising artists. Get your work in front of the jurors: collector and gallerist Karen Rotenberg, curator Chequita Nahar, and 2020 Young Artist Award winner MJ Tyson. Application deadline: January 9, 2022. Get the guidelines.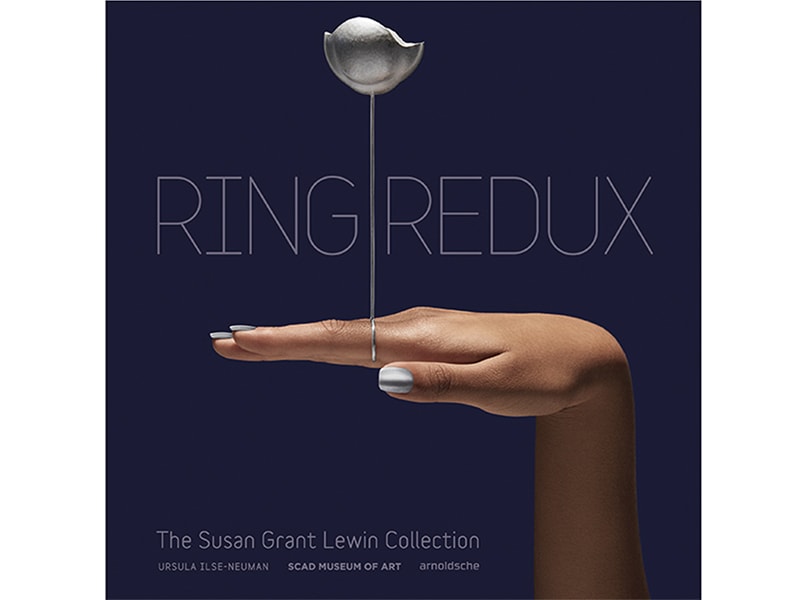 AJF LIVE RECORDING
Did you miss our most recent AJF Live with SCAD Museum of Art's Exhibition Ring Redux: The Susan Grant Lewin Collection.? We post all the recordings on our website. That means you can watch (or rewatch) anytime. See it here.
JEWELRY EXHIBITIONS
Find listings on our dedicated exhibition page.
ANNOUNCEMENTS
INTERESTED IN DEVELOPING YOUR SKILLS IN CRITICAL DISCOURSE?
Critical Discourse is a six-week course for students wanting to develop skills for giving and receiving critical feedback in peer group settings. Students will work on a project of their own design and learn ways of incorporating feedback into their work at the designing, making, and presenting stages of development. At Baltimore Jewelry Center, November 6–December 16, 2021.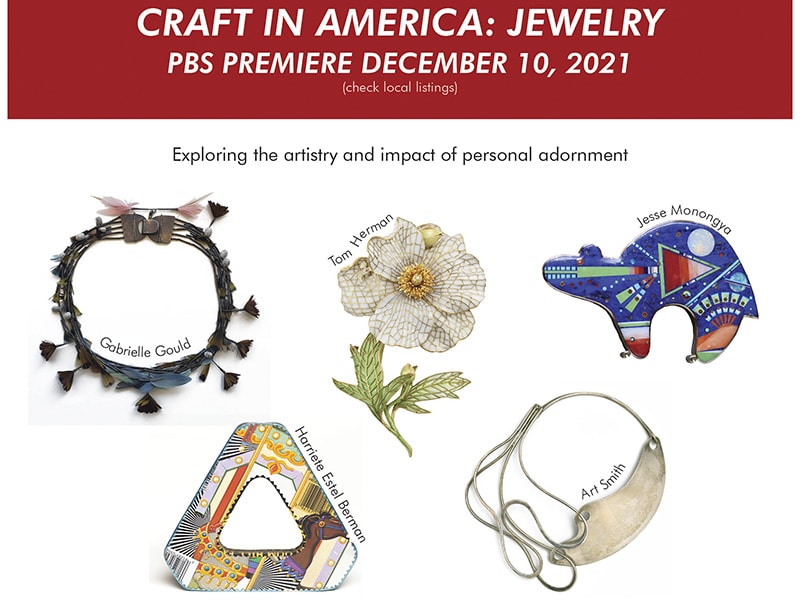 NEW TV PROGRAM AVAILABLE TO STREAM
You can stream Craft in America's Jewelry starting November 4, 2021, on the PBS video app, craftinamerica.org, and pbs.org/craftinamerica. (Or viewers in the US can watch the broadcast on PBS December 10, 2021, at 9 p.m. and 10 p.m.; check local listings.) Features Tom Herman, Harriete Estel Berman, Art Smith, Gabrielle Gould, and Jesse Monongya.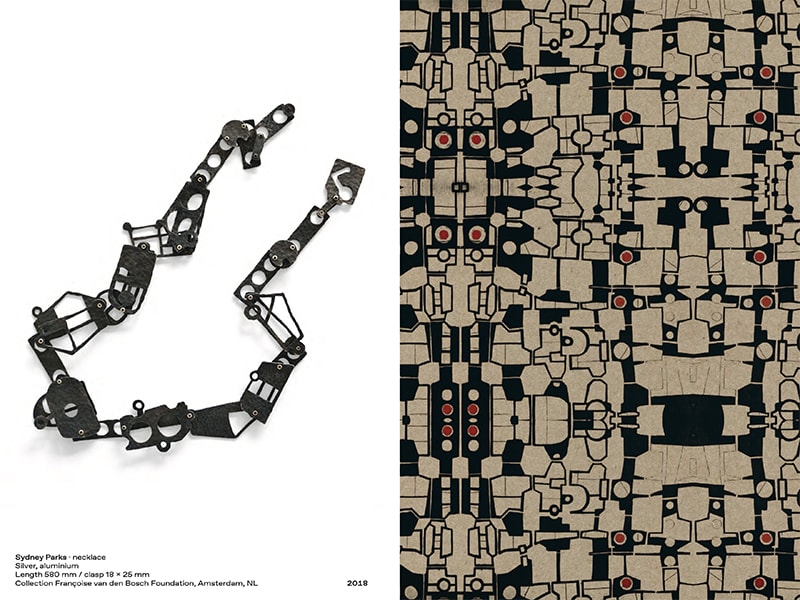 ACQUISITION
The Françoise van den Bosch Foundation strengthened its collection with the partly acquired, partly gifted Sydney Parks necklace, by Réka Fekete, designed in 2018 and made out of silver and aluminum. This piece of jewelry is also part of the monograph Réka Fekete: A Dance of Light and Shadow.
JEWELRY-ADJACENT ARTISTS WIN JOAN MITCHELL FELLOWSHIP
Angela Hennessy and Rose B. Simpson were awarded the annual Joan Mitchell Fellowship, which provides 15 artists based in the U.S. with unrestricted funds of $60,000 each, distributed over the course of five years. Congrats to both artists! Rebekah Frank has written about Hennessy for AJF, and has an article about Simpson in the works.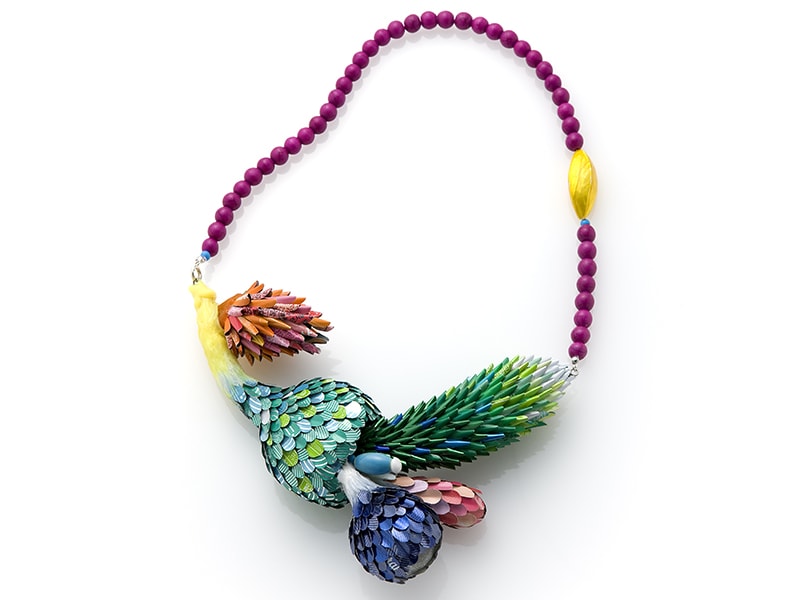 EUNSEOK HAN WINS THE 13TH EDITION OF JOYA
Eunseok will be the face of JOYA 2022, taking part in exhibitions representing the event. "The disposables we meet every day are considered as nonprecious materials and are used only once, then discarded," says Eunseok. "I thought we could make beautiful jewelry with them. They are also considered one of the causes of pollution. My work began with reviving disposables, but I wish not only the disposables but also nature will stay alive for a little longer."
WINNERS OF FIO CONTEMPORARY JEWELRY CONTEST ANNOUNCED
Alice Floriano and Nina Lima conceived Fio to map, stimulate, and spread the production of contemporary jewelry in Brazilian territory and give visibility to new talents and professionals. In this second edition, the contest was expanded with international categories. Works had to be original and unpublished. Brazilian professional winners: 1st, Alexandre Martins; 2nd, Joana Gabos; 3rd, Virgilio Bahde. International professional winners: 1st, Amanda Stumpf; 2nd, Taibe Palacios; 3rd, Lorena Lazard; honorable mention, Carolina Gomes. Brazilian student winners: 1st, Camila Ligabue; 2nd, Carol Roz; 3rd, Gabriella Araújo. International student winners: 1st, Qin Xu; 2nd, Meng Ju Wu; 3rd, Daria Edstrom; honorable mention, Yuqing Zhang. Congratulations to all!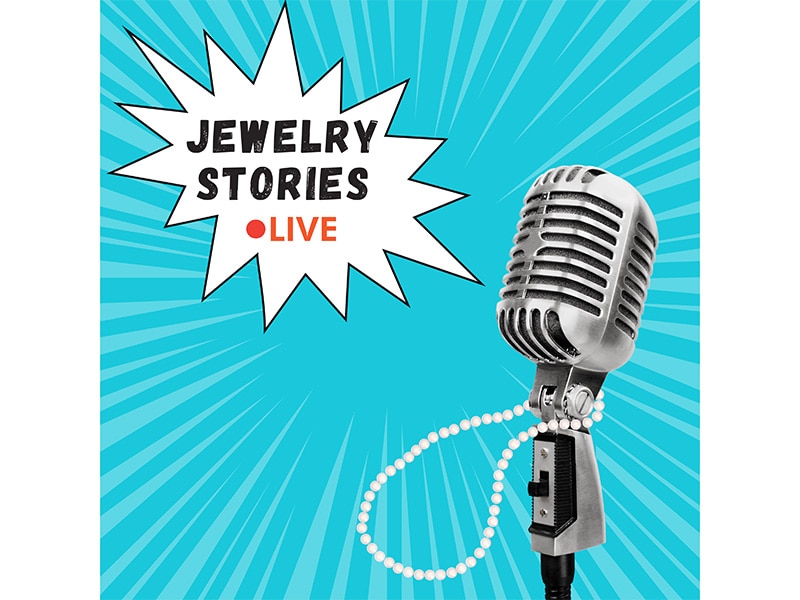 NYCJW'S 2021 SCHEDULE IS NOW ONLINE
Check out the offerings here. AJF will be there, presenting a collaboration with The Jewelry Library in which community members share their stories based on this year's NYCJW theme, "The Power of Jewelry." The event takes place November 18, 2021. Register here for Jewelry Stories Live.
 FROM OUR MEMBERS
ARIEL LAVIAN HAS A NEW CURATION
Ariel Lavian has curated Between a Break and a Breakdown: Jewelry as a Mirror of Our Times as part of the Jerusalem Biennale. The show opens November 16, 2021. Forced lockdowns and social alienation have greatly affected individuals and society. The plague has disrupted familiar reality; life as we knew it has changed from one end to the other. COVID caused a fundamental change in the patterns of life, the economy, and society, caused a rift, a turning point, and introduced another layer into our lives, a layer of instability, of uncertainty, which obscures reality. The 24 contemporary jewelers living in different realities, at different stages in life, Turks and Israelis, raise questions about the seamline that separates a break as a short period, as a space between actions and inaction, and our (total?) breakdown as individuals and as a society.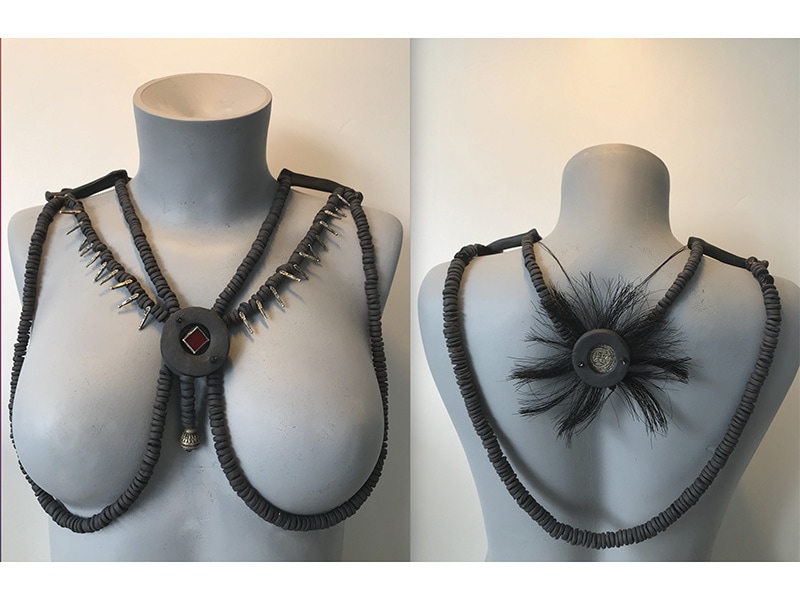 KARIN VAN PAASSEN SHARES HER LATEST CREATION
"I was inspired by the Song Dynasty in China (960–1279), a prosperous period in which art and culture flourished," says van Paassen. "People bought a lot of porcelain. The elite often had their porcelain utensils glazed black. It was a sign of prosperity. In bowls, the black glaze contrasted with the green tea. I always make my jewelry of black porcelain, so I feel a strong connection. Information about jewelry from the Song Dynasty can only be read from sculptures and images, like on sculptures of Bodhisattva. Bodhisattva is a Buddhist deity who has attained the highest level of enlightenment, but who delays entry into paradise to help the earthbound. A Bodhisattva takes both male and female form and is associated with mercy and compassion. I looked at different sculptures and combined all kinds of details in this piece. On the paintings of Li Song (Song Dynasty) we see so-called 'Skull Fantasy Pictures.' Bones and vertebrae are recurring elements in my jewelry collections. I always use horsehair, so it was interesting to find out that the Song army had an elite cavalry."
Bruce Hoffman wants to bring to your attention to Conditions of Ornament, now on show at the gallery he directs, Gravers Lane Gallery, in Philadelphia. It features current work by Bruce Metcalf.  "Bruce has been one of my favorite artists for many decades," says Hoffman. "This new body of work is keenly designed to question ornamentation in historical context, questioning the broad notion that current studio practices have been somewhat devoid of beauty and intricate design and pattern making."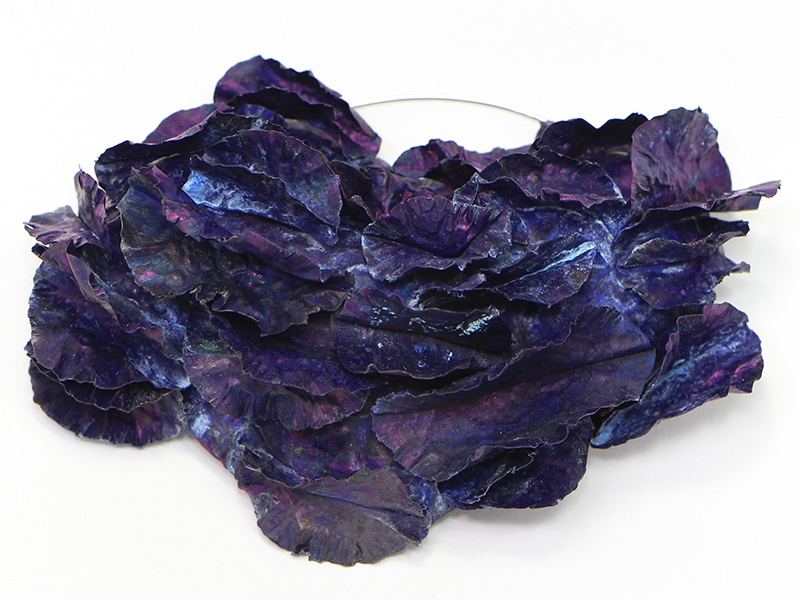 ARIEL LAVIAN HAS A SOLO SHOW
Depths of Heaven 2.0 was curated by Vered Babai. It's a follow-up to Depths of Heaven, which opened at the beginning of the year. The exhibition is part of the 5th edition of the Jerusalem Biennale. Jaffa street, 161, Jerusalem, Israel, November 11–December 30, 2021.  The opening takes place November 11, 2021, 7:00 p.m.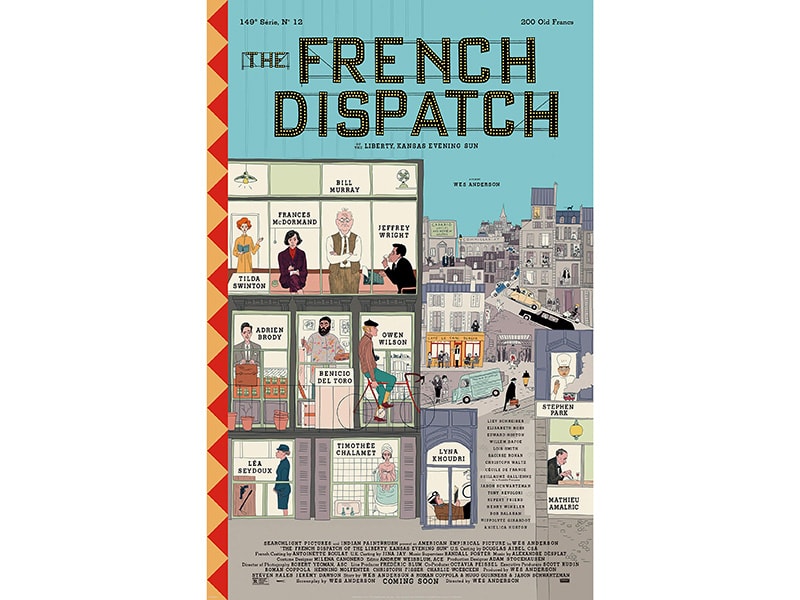 FILM RECOMMENDATION
Ruth Snyderman, who owned Snyderman-Works Galleries, loved The French Dispatch. It was written and directed by Wes Anderson. "The film is outstanding in creativity—animation and dialogue," says Snyderman. "It moves very quickly and has many different parts. More well-known actors play some role than I have ever seen before. It is really funny, too."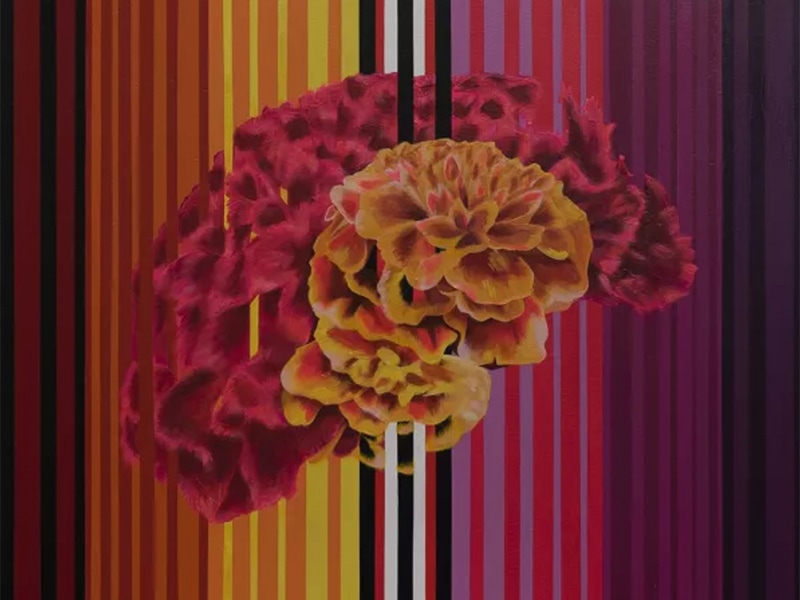 MUSEUM EXHIBITION
Linda Hillman relates that last Sunday a friend had a six-hour layover in Chicago, "so after a good brunch at Hemingway's Bistro in Oak Park, we went to the National Museum of Mexican Art—a jewel of a museum in Pilsen, a heavily Mexican neighborhood in Chicago. Always free, with easy parking next door, this museum is such a special venue, with one of the best gift shops in the city. I try to go every year for the Dia de los Muertos exhibit, and this year's Día de Muertos—A Time to Grieve & Remember was cool, as usual. The focus was on people who had lost their lives from COVID-19. There were two other exhibits. My favorite was the portrait show: Reframing Comunidad: The Art of Ester Hernandez and Shizu Saldamando. Utilizing paper, canvas, wood panel and cloth, they create sensitive drawings and paintings of a cross-section of people. Some portraits are intimate tributes to family members and friends. Others serve as social statements that bring visibility to invisible community and neighborhood residents. The exhibition provides a survey of their art across decades and from different cities, including recent portraits of each other never before exhibited.
Kathy Sackheim says to see Dune. "I read all six books in the series in the 1980s and was not sure about liking the film, in that the first one was incoherent," says Sackheim. "This version is really good and is understandable to anyone who has not read the book. Although the first book was written in 1965, the themes are current. The acting is great, and the images are wonderful. I went to a matinee with a friend, and there were six people in the theater. It was like a private screening; we felt very safe. This film covers part one of the first book. I hope enough people go to see it so funding is available to make part two."
EVENTS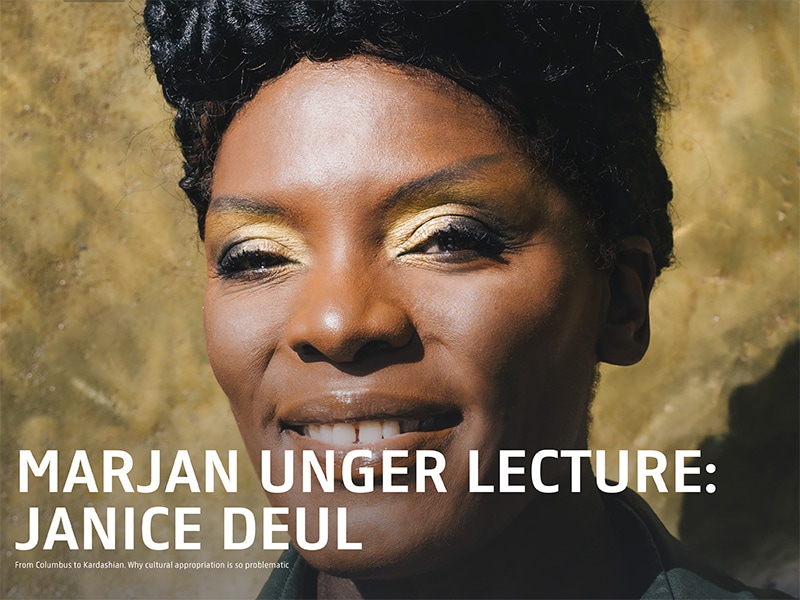 MARJAN UNGER LECTURE: JANICE DEUL
From Columbus to Kardashian. Why cultural appropriation is so problematic. In the second Marjan Unger lecture, renowned fashion and cultural activist Janice Deul will speak about cultural appropriation in fashion. What happens when a dominant culture claims elements and looks from a nondominant culture or group? November 8, 7:30 p.m. (in Amsterdam), in-person (€15) and online (free). Register here.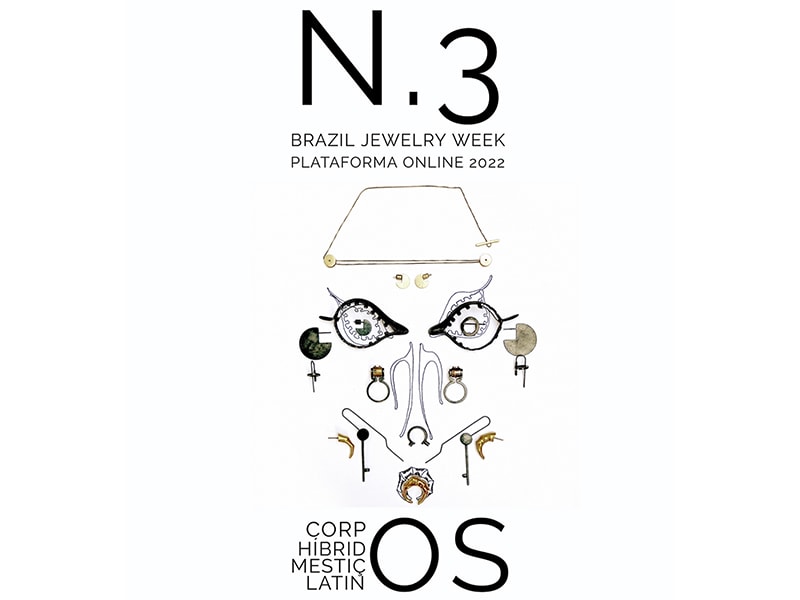 BRAZIL JEWELRY WEEK, THIRD EDITION
The event allows visualization of different expressions of art jewelry in Latin America and builds new ties of cooperation and artistic collaboration. November 18–25, 2021. See what's on.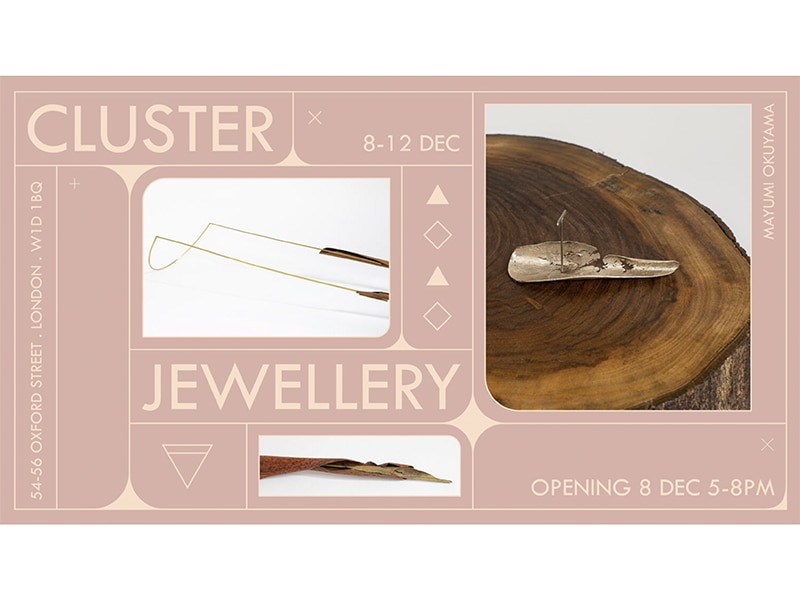 CLUSTER CONTEMPORARY JEWELLERY FAIR 2021
Entering its fifth year, Cluster Jewellery is a celebration of diversity, style, and material. A melting pot defined by the sole necessity to express and provoke. In London, December 8–12, 2021.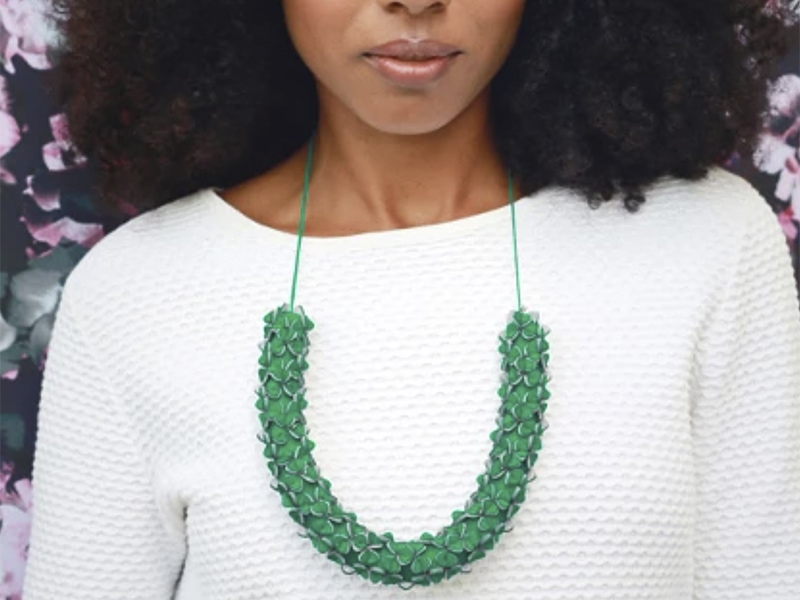 MAD ABOUT JEWELRY: HOLIDAY EDITION
At the Museum of Arts and Design, New York City. Opening benefit evening honoring esteemed educator and advocate for contemporary craft Helen Drutt English: December 6, 2021.
Public show and sale with free admission: December 7–11, 2021. Get the deets.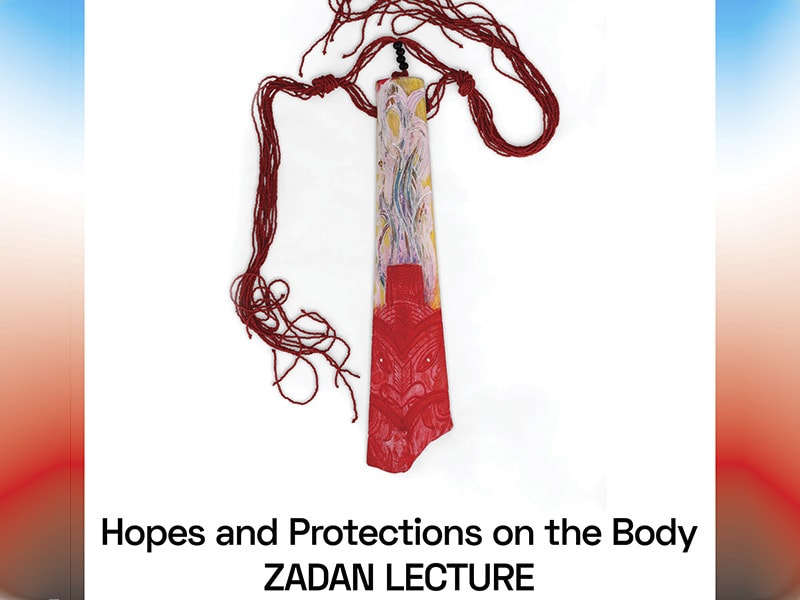 JEWELRY LECTURE SERIES: ZADAN—HOPES AND PROTECTIONS ON THE BODY
In the pandemic, many of our experiences have dramatically shifted to the virtual realm. These online lectures will explore whether new talismanic immaterial protections have emerged or if the digital space is unable to translate the talismanic of the material object. The series will investigate the hopes, desires, and fears that prompt jewelry makers to create amulets/talismans/charms/adornments and objects today. Remaining lectures—November 9, 2021: Suzanne Ramljak (curator and author of On Body and Soul: Contemporary Armour to Amulets); November 23, 2021: Thomas Kühtreiber (archeologist) on the significance of locations for amulets/talismans in the Middle Ages; January 18, 2022: Elena Höpfner (sociologist) on the significance of jewelry for refugees; March 10, 2022: Lars Krutak (tattoo anthropologist) on amuletic tattoos across the indigenous world. The project will result in a group exhibition March 7–13, 2022. More information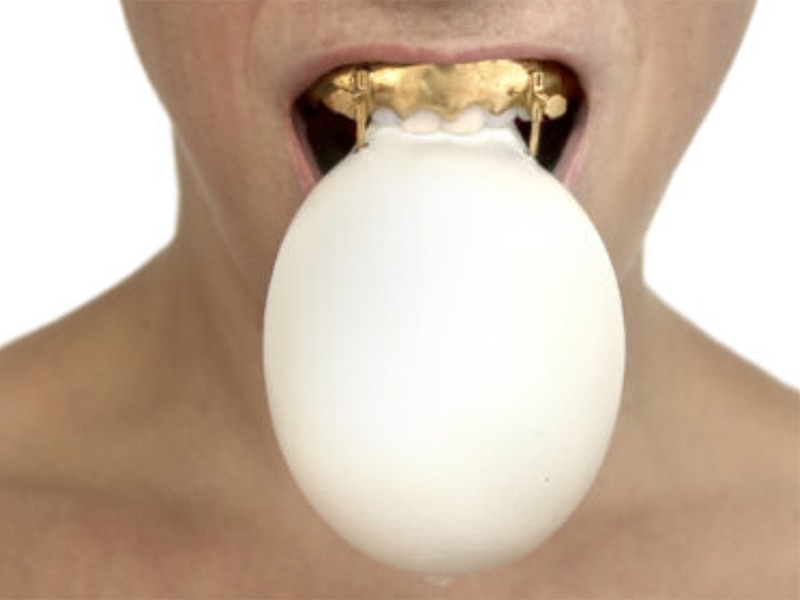 OBSESSED! JEWELLERY FESTIVAL
This edition's overarching theme, 'Local and In-Depth', highlights regional gems by opening museum archives and atelier doors of local artists to a global audience. Through a series of online interviews, OBSESSED! 2021 focuses on big ideas by a diverse range of experts based in the Netherlands and Belgium: curators, artists, designers, craftspeople, collectors and more. Through November 30, 2021.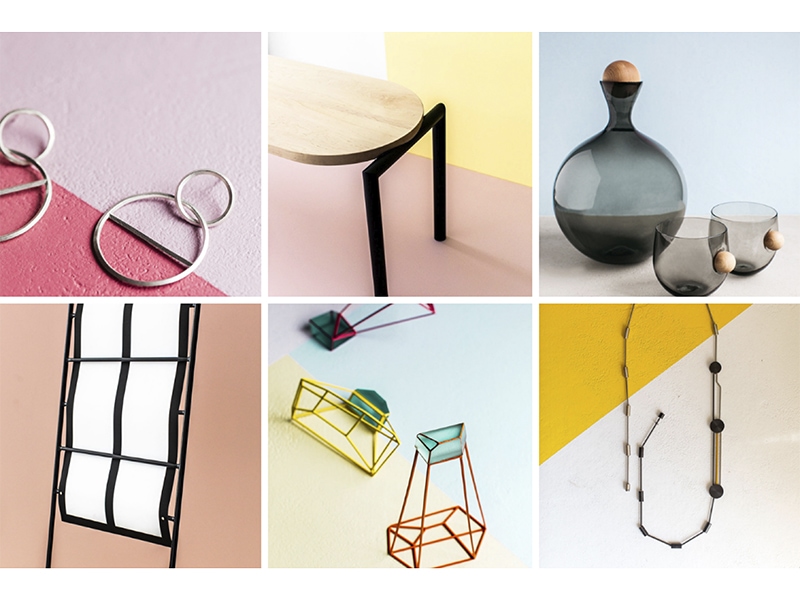 DESIGN CANBERRA
Workshops, crafternoons, and more. An auction launches November 12, with all proceeds going to the artists. November 5–28, 2021. Website.
OPPORTUNITIES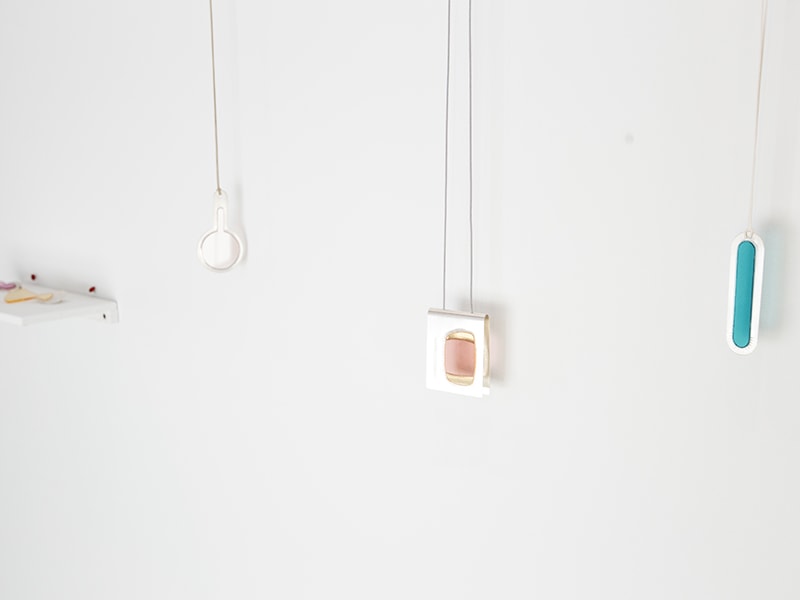 RESIDENCIES
The Baltimore Jewelry Center offers four different types of residencies for artists at different places in their careers. Artists are given bench access to a fully equipped metalsmithing studio situated in a vibrant community of jewelers and makers. This call for residency applications happens only once a year. Residency timing is dependent on the resident's schedule. Applications for mid-career residencies are due January 15, 2022. All other all other applications are due February 15, 2022.
OPEN CALL
Brussels Jewellery Week starts at the end of April 2022. The call is open to anyone working in the field of jewelry and crafts, as well as artists from other fields that focus on the new ideas and views of contemporary jewelry. Karin De Buysere, the founder and director of AJF member gallery Galerie Beyond, will be one of the jurors. Deadline: February 1, 2022.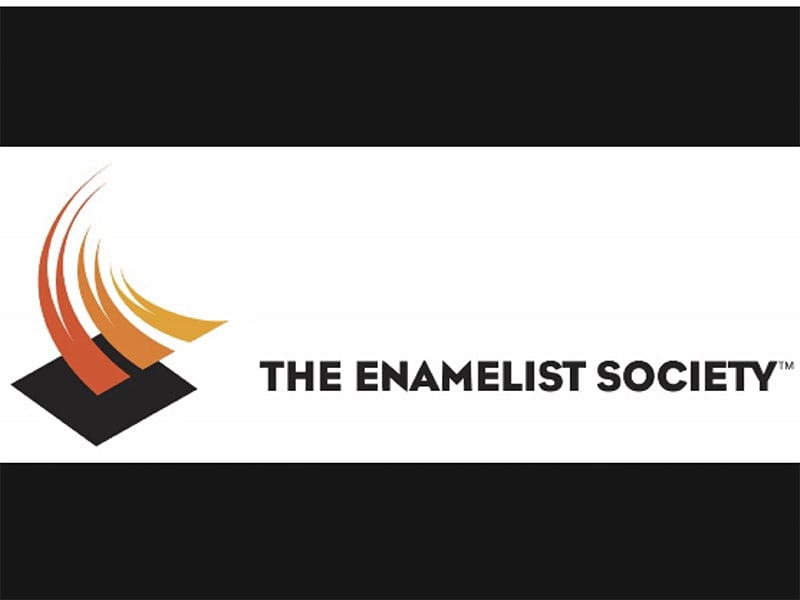 GRANTS FOR ENAMELISTS
The Enamelist Society's grant program is interested in, but not limited to, educational projects and those that promote enameling. Funds are awarded to groups, such as guilds, schools, art centers and other organizations that are not commercial in nature—not to individuals. Deadline: January 21, 2022. More info.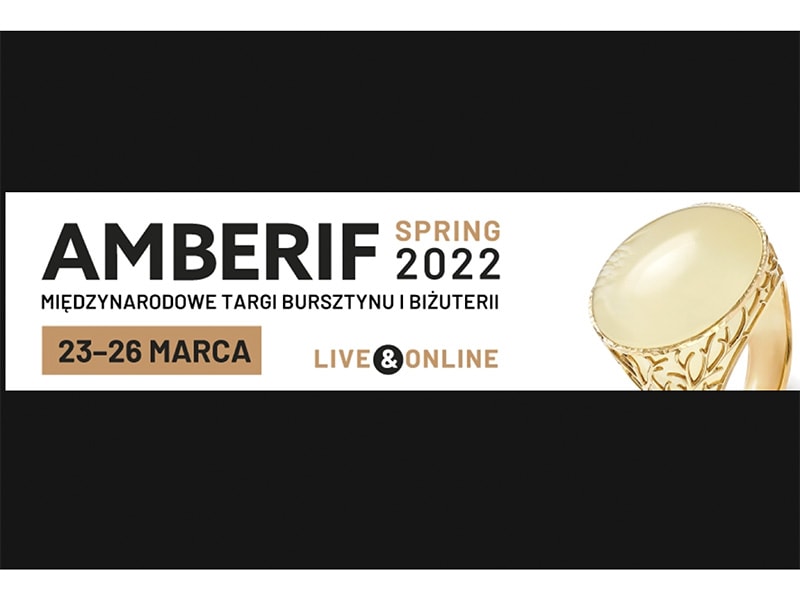 CALL FOR ENTRIES
The theme of the International Competition for the Design of Jewellery with Amber is "amber as a reward." The objective of the Amberif Design Award 2022 competition: to promote amber as a source of artistic expression. Only natural amber is permitted, but participants have complete freedom in choosing any other materials. Deadline: February 1, 2022.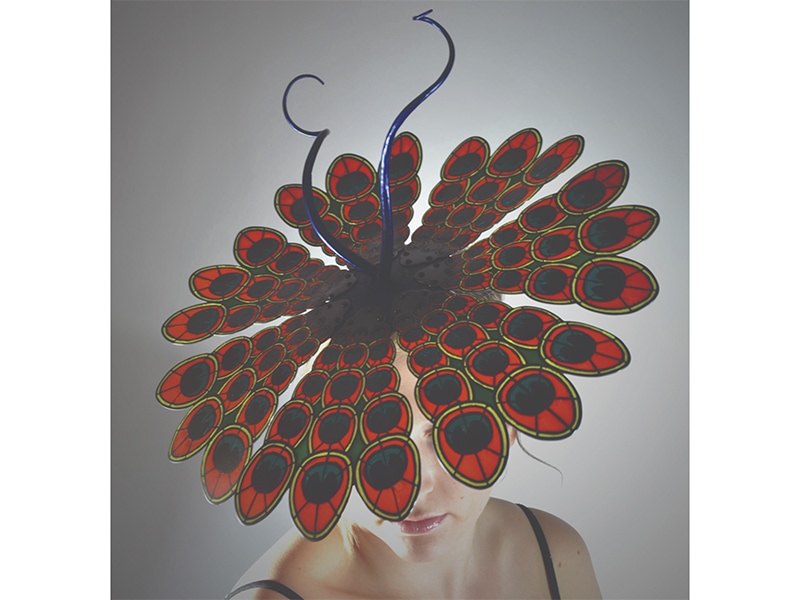 CALL FOR ENTRIES
The Enamelist Society Biennial International Juried Exhibition, Alchemy, will highlight the best in contemporary enamels produced in the last two years, by both professionals and students. Deadline: February 1, 2022. Get details.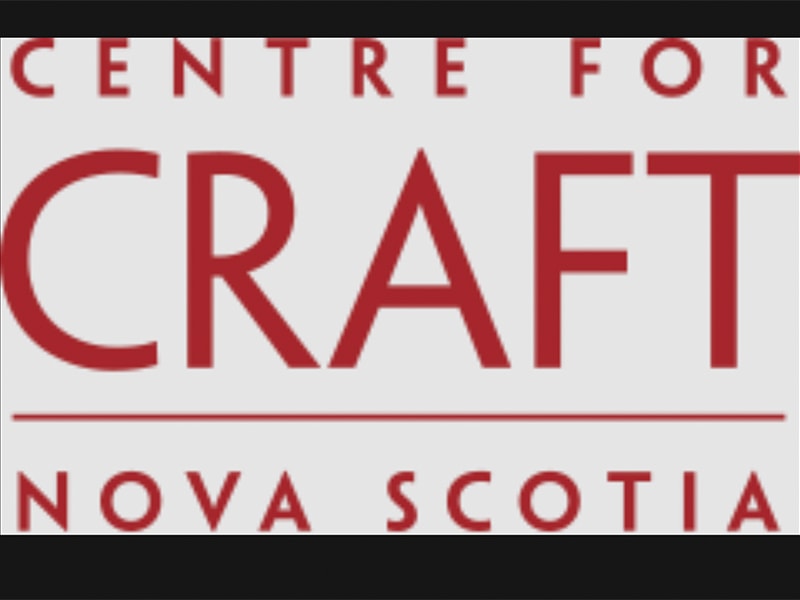 RESIDENCIES
The Craft LAIR (Local Artist In Residence) offers studio space to professional artists working in craft and craft discourse who are interested in engaging with the public. These six- to eight-week, project-based residencies offer a free, 10 x 22 foot, secure, public-facing, work/exhibition/flex space adjacent to the Mary E. Black Gallery at the Centre for Craft Nova Scotia, in Halifax. Application deadline: November 23, 2021.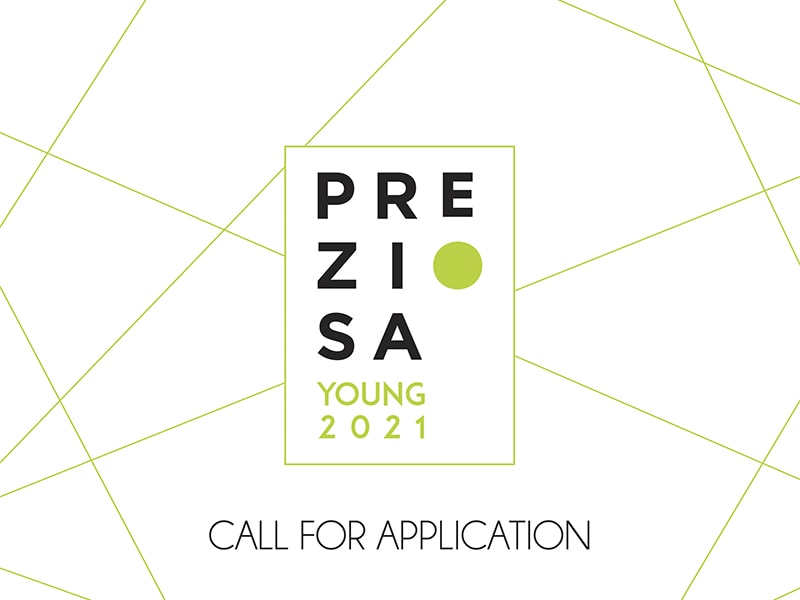 CALL FOR ENTRY
Preziosa Young, the international contest/exhibition for young jewelry makers, is a biennial competition launched in 2008 that's dedicated to worldwide emerging artists, goldsmiths, and designers. The aim is to contribute to the circulation of what's new in research jewelry, as well as to showcase what the new generations of goldsmiths/designers/artists are brewing. Deadline to apply for the 2021 Edition of Preziosa Young: November 15, 2021. Get information here.