There are so many reasons to purchase art jewelry…
You got that hard-earned promotion—celebrate!
As a gift for someone who loves art jewelry as much as you do—hurrah!
You're experiencing a once-in-a-lifetime occasion—honor it.
You wrapped up that major accomplishment—pay it tribute!
You want to mark the beginning of a new relationship or the end of one—commemorate it.
It's your birthday—have a happy one!
Maybe it's an investment—do it.
It's the perfect piece to round out an aspect of your collection—pounce!
Or perhaps it's to treat yourself—just because.
Art Jewelry Forum's international gallery supporters celebrate and exhibit art jewelry. Our monthly On Offer series allows this extensive network of international galleries to showcase extraordinary pieces personally selected to tempt and inspire you. Take a look. You're bound to find a fantastic piece you simply have to add to your collection! (Please contact the gallery directly for inquiries.)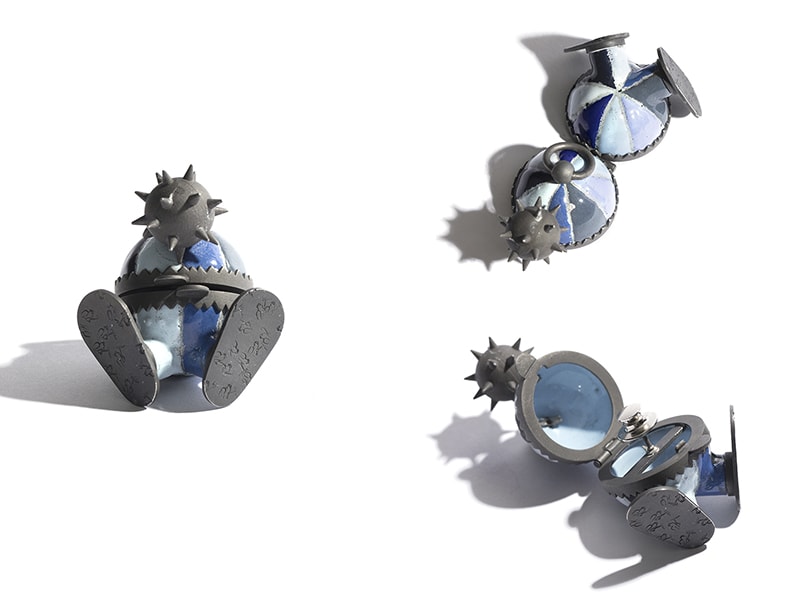 Artist: Aaron Decker
Gallery: Galerie Noel Guyomarc'h, bijoux et objets contemporains
Contact: Noel Guyomarc'h
Retail: US$800
Aaron Decker is a graduate of the Maine College of Art (BFA 2012) and the Cranbook Academy of Art (MFA 2015). Upon graduation, his work was awarded the Mercedes Benz Emerging Artist Award and the Marzee Graduate Prize. Decker's work is widely exhibited in the United States and internationally. He uses enamel freely in order to render a rather irreverent iconography. His latest collection is inspired by mechanical toys and children's drawings. It's the result of a collection of furtive memories and Decker's mixed fascination and fear of clowns. The resulting pieces combine both dark and reassuring memories. They take us into a landscape to explore that of childhood.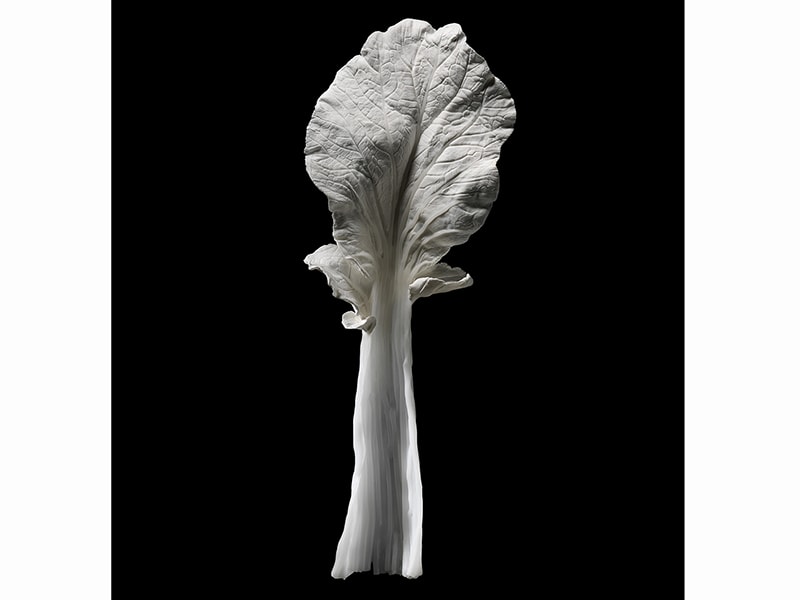 Artist: Catherine Truman
Gallery: Funaki
Contact: Katie Scott
Retail: AUS$3,600
This is a significant work by renowned Australian artist Catherine Truman. It marks a point in her exploration of the boundaries between art and science. In this piece, she uses paper compounds and thermoplastic to tease out some ideas about the vascular systems of plants (in this case, bok choy). Truman made it during her residency in the ophthalmology department at Flinders University. It is one of her last jewelry works before she expanded the scope of her practice. She now focuses on installations, video, and sculpture. As a work to wear, this brooch has all the ambiguity and majesty that typifies these later, larger projects. A companion brooch to this piece is in the collection of the Musée des Arts Decoratifs, Paris.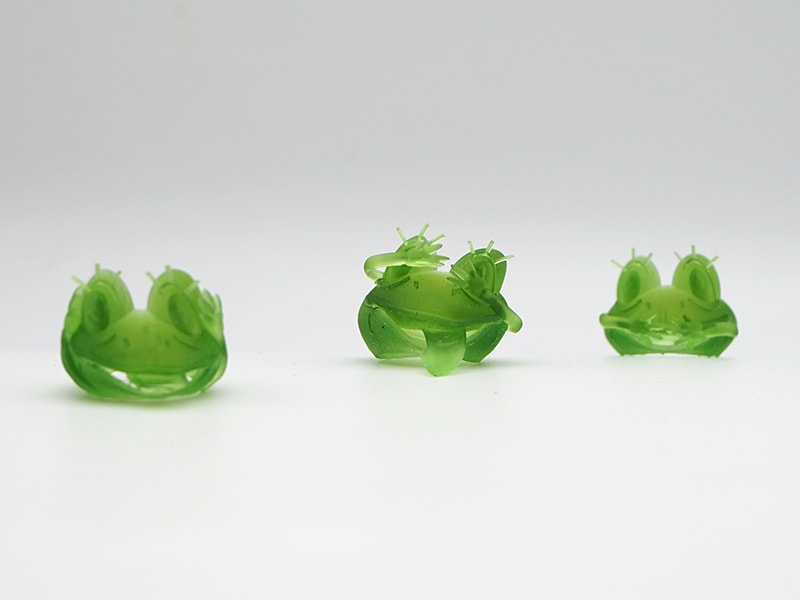 Artist: Nicole Dest-Forrester
Gallery: Baltimore Jewelry Center
Contact: Shane Prada
Retail: US$150 for the set of three
Nicole Dest-Forrester is a multidisciplinary artist. She creates clothing, shoes, jewelry, and objects. Dest-Forrester graduated from Towson University in 2020 with a BFA in interdisciplinary object design. She is a recent artist-in-residence at the Baltimore Jewelry Center. During the residency, she explored wax working and casting, 3D design, and creating grillz. The rings in this series were designed using Rhino. She printed them in resin. Of her art, Dest-Forrester says, "I like to make people feel. I am not particularly concerned with what you feel, as long as it's moving. The ability to feel emotion is one of life's best treats, and you'll always be excited for a treat."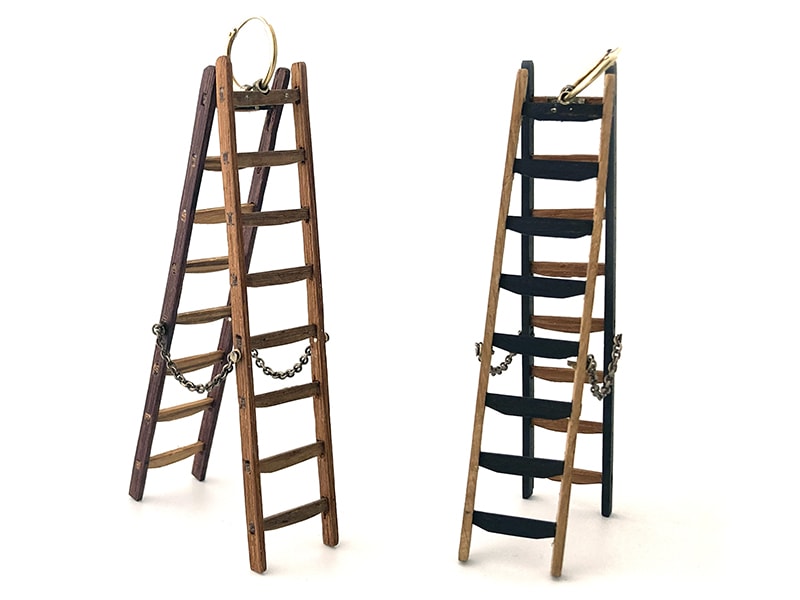 Artist: Ulrich Reithofer
Gallery: Ornamentum
Contact: Stefan Friedemann
Retail: US$2,200
Simply a fabulous pair of earrings—whimsical and bold. Delicately constructed and very light for easy wear. The two halves sway against each other to great effect when worn. The ladders stand for display.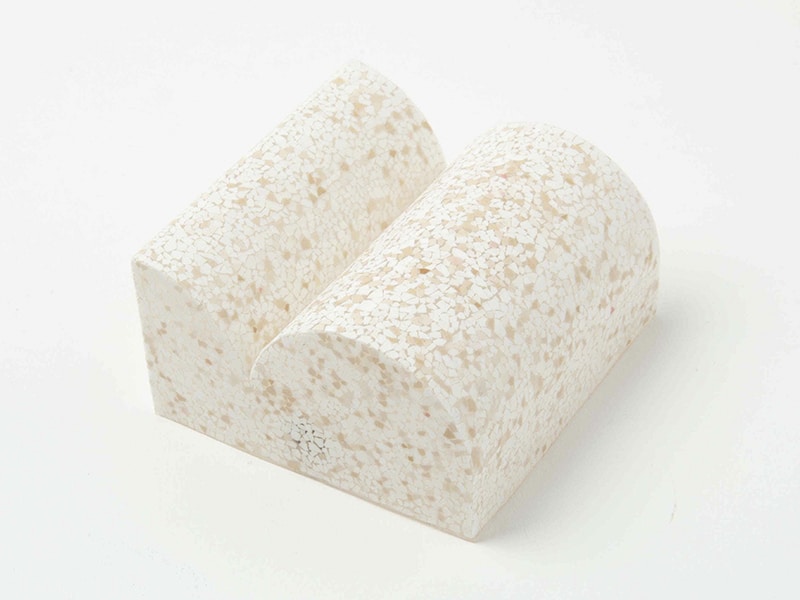 Artist: Joohee Han
Gallery: Jewelers'werk Galerie
Contact: Ellen Reiben
Retail: US$800
The eggshell fragments embedded in silicone make this a unique piece. It is flexible and lightweight.
Artist: Jutta Klingebiel
Gallery: Four Gallery
Contact: Karin Roy Andersson
Retail: €1,720
Jutta Klingebiel works with hard, long-lasting materials such as gold, silver, stainless steel, and enamel. The colors and the details are carefully added. Although this pendant is small, it has an intense expression.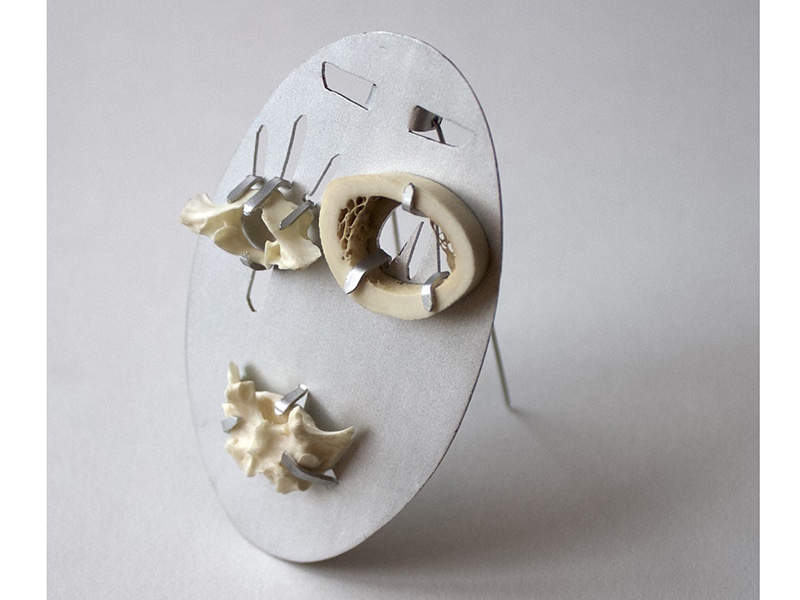 Artist: Luci Jockel
Gallery: Gallery Loupe
Contact: Patti Bleicher
Retail: US$350
On the surface, this brooch looks humorous, but in fact, there is serious content. Ghoul 1 reflects on historic and present-day invasive medical procedures and devices.
Artist: Andy Lowrie
Gallery: In the Gallery at Brooklyn Metal Works
Contact: Brian Weissman
Retail: US$2,500
Andy Lowrie pursues expressions of adornment and decoration that challenge hierarchies of material value. These also embrace a mindful exploitation of material and process. Lowrie uses mark making, surface manipulation, and erasure. He does so to explore the potential of process as metaphor. The objects come to embody change through cutting, bending, painting, and sanding. They sympathize with our journey as people negotiating life with each other. The work has a strong material presence. But it is really about gaining insight into the way we make ourselves. Fears and desires are simultaneously present in this piece. It carries an energy on par with the iconic or superstitious, incredibly old and totally new.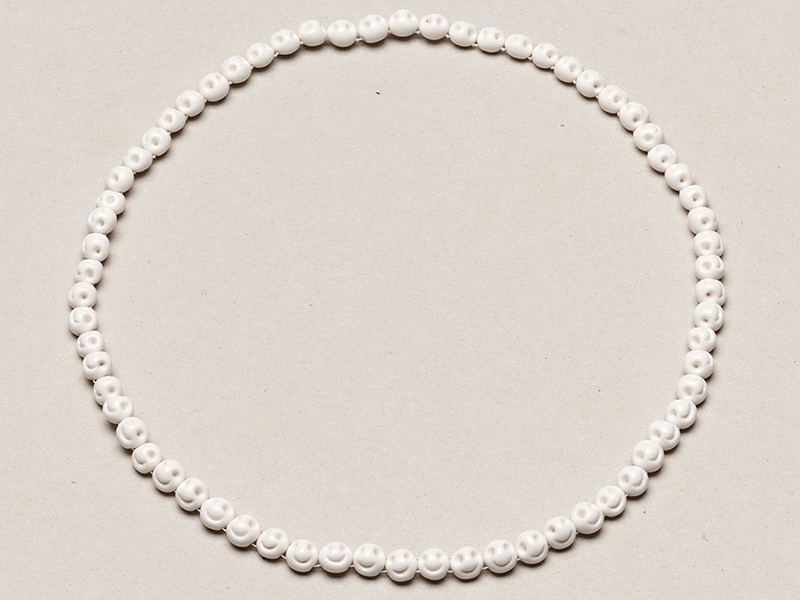 Artist: Manon van Kouswijk
Gallery: Platina Stockholm
Contact: Sofia Björkman
Retail: US$1,900
Manon van Kouswijk explores the visual and conceptual potentials of archetypal jewelry. She translates them through a range of materials and making processes. Throughout her career, the beaded necklace has been her trademark. The works originate from a conceptual approach to making. At the same time, van Kouswijk embraces the sensual qualities of jewelry objects. She achieves this in her use of color, and in the work's weight, sound, rhythm, and material expression. Van Kouswijk is an artist from the Netherlands. She has lived and worked in Melbourne, Australia, since 2010.
Artist: Pedro Sequeira
Gallery: Galerie Marzee
Contact: Marie-José van den Hout
Retail: US$950 (plus VAT)
About his Industrial Archaeology necklace, Pedro Sequeira says, "For some time, I worked in two different studios, both in downtown Lisbon: one for jewelry and the other for drawing and painting. At the time, tourism in Lisbon was skyrocketing. The renovation of buildings was happening on almost every city block. Often, when walking from one studio to the other, I felt that the urban scenario was something like some news coming from fast-developing China, where entire cities were being built in the course of a short time. Of course, a lot of materials were being dragged out of the inside of buildings. By each renovation site, piles of materials were left to be taken elsewhere. These materials—mostly wood, brick, and stone—caught my attention. I used some of these found materials to make jewelry, drawings, and some sculpture work."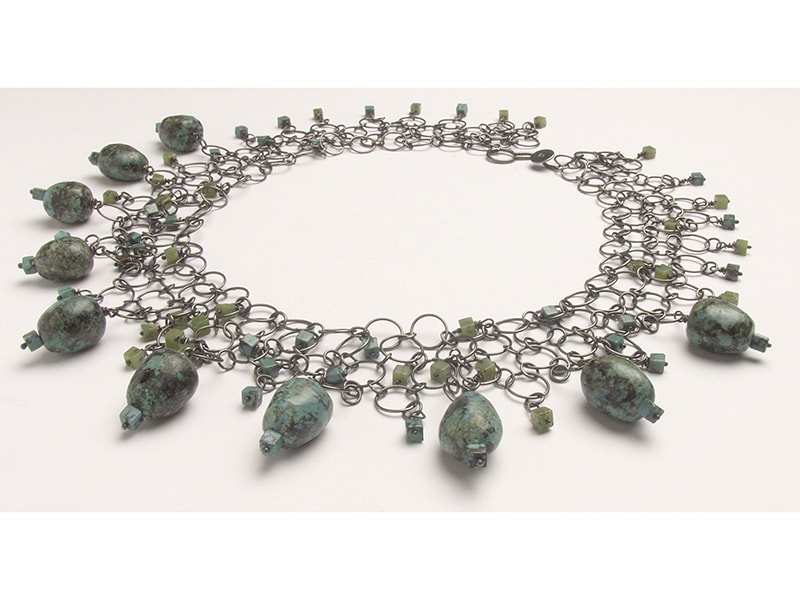 Artist: Paula Crespo
Gallery: Galeria Reverso
Contact: Paula Crespo
Retail: €1,980
Metallic fabrics, flexible or articulated structures that shape and adapt themselves to the movement of the body, or even surpass it, are some of the products and forms that prevail in the work of Paula Crespo.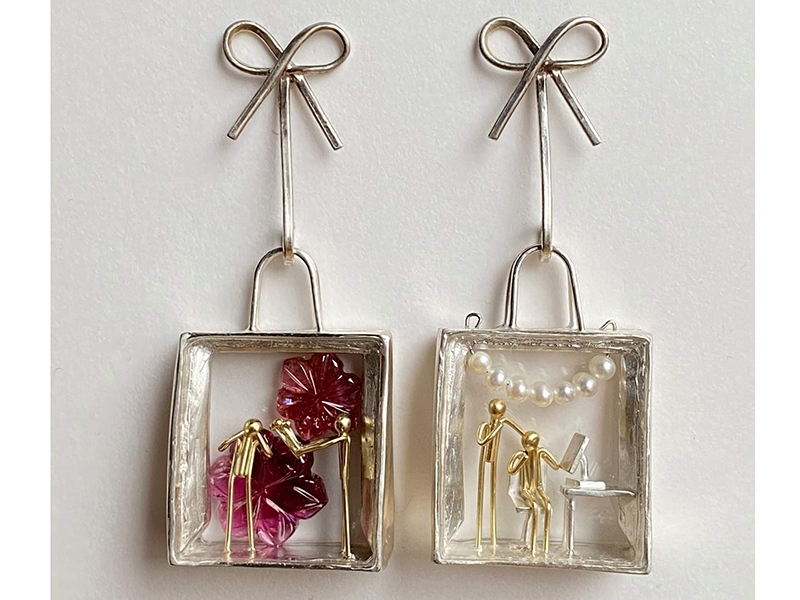 Artist: Asagi Maeda
Gallery: Mydaybyday Gallery
Contact: Laura H Aureli
Retail: €1,900
 This month, Mydaybyday Gallery, in Rome, features Japanese artist Asagi Maeda. These beautiful earrings are from the series What's in Your Shopping Bag? A Pearl Necklace and a Bouquet 💐. They are made of sterling silver, 18-karat gold, Plexiglas, pearls, and pink tourmaline. "I was asked to make square earrings to go with my department bangle bracelet," explains Maeda. "So I made the shopping bag earrings. In your bag, the feeling, the dream, and the love is also packed with the actual products. They are sometimes even more precious to us."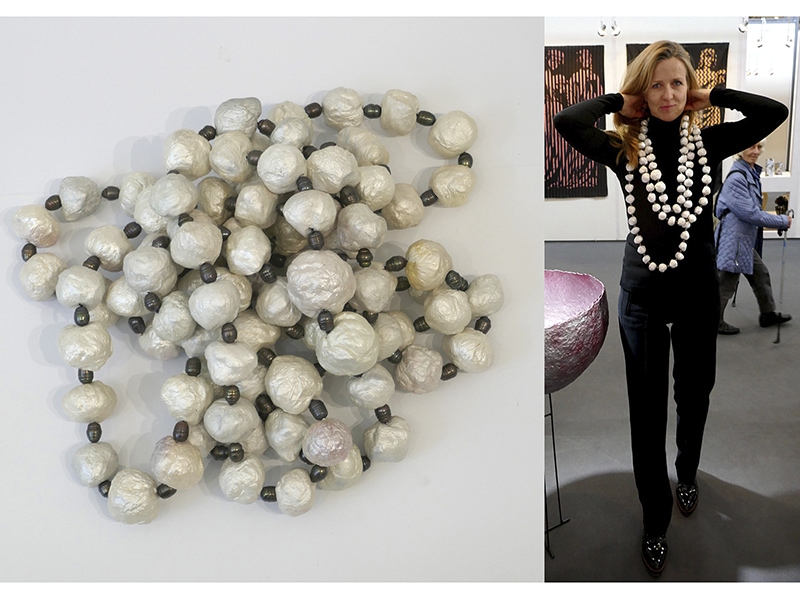 Artist: Marianne Schliwinski
Gallery: Galerie Spektrum
Contact: Jürgen Eickhoff
Retail: €2,400
You can wear this chain as a very long statement. Or you can wear it wrapped twice or three times around your neck. Due to its materials, it is quite light and very comfortable to wear.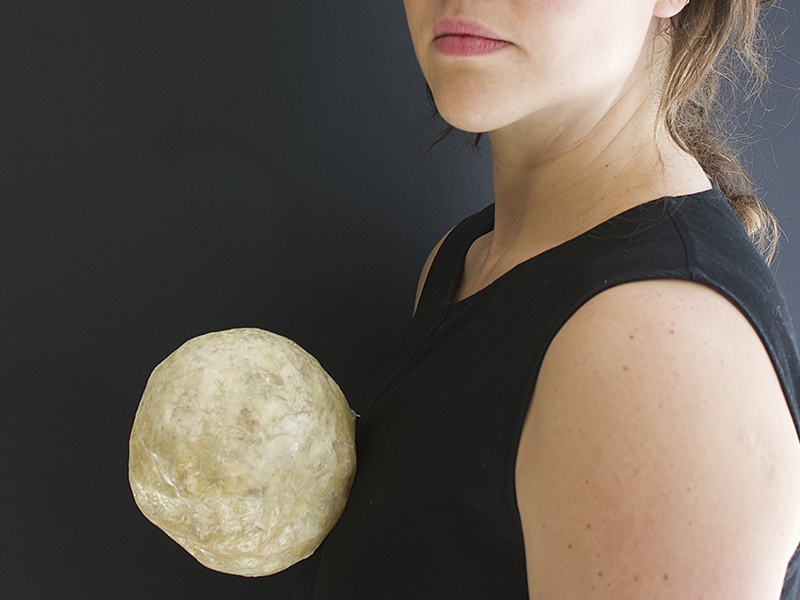 Artist: Alejandra Ferrer Escobar
Gallery: Tereza Seabra
Contact: Tereza Seabra
Retail: €1,400, plus shipping
This work is by the young artist Alejandra Ferrer Escobar. It is made with egg membrane and resin. It is part of the exhibition Vade Retro, integrated in Cold Sweat, the 1st Lisbon Contemporary Jewellery Biennial. "We have all let ourselves get seduced by the magic of our childhood fairy tales: frogs that turn into princes, genii who grant us wishes, godmothers who save us from curses, or princes who heal us with kisses of love. But in the reality of our adult lives, when faced with events beyond our understanding and which we would make disappear like magic, our childhood heroes do not come to our rescue. The unintelligible and the manifestations of evil spirits and supernatural forces have always weighed on the destiny of men. For this reason, and to fight the unknown, human lives have been sacrificed, temples built, gods invoked, and objects of protection, amulets, and talismans made to overcome the fear of the unknown."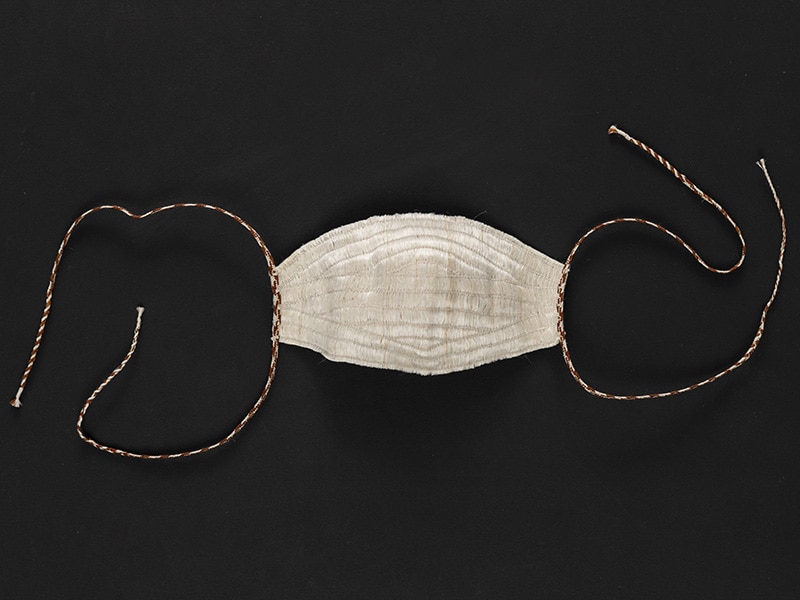 Artist: Matthew McIntyre-Wilson
Gallery: Fingers Gallery
Contact: Lisa Higgins
Retail: NZ$4,000
"In his practice, Matthew McIntyre-Wilson frequently re-envisages customary Māori taonga (treasures) in contemporary materials and designs," wrote the Auckland Art Gallery Toi o Tāmaki, "but with Muka Face Mask (2020), he does the reverse. Now imbued with highly contemporary significance, the surgical facemask here is reframed within the visual language of customary Māori adornment. Responding to the recent global pandemic events of COVID-19, in which personal protection is now essential, the artist applies his weaving knowledge and technical expertise to making facemasks out of muka fiber. In doing so, he symbolically invests the mask with the protective qualities traditionally associated with kaitaka and pāke (cloaks). Carefully crafted from natural materials and made for longevity, Muka Face Mask is the opposite of the item it references, raising questions about how we perceive and interact with objects in daily life and their relationship to past, present, and future."