Art Jewelry Forum is pleased to share the news that members of our community find noteworthy. Providing a place to share interesting news is one way AJF is celebrating our 20th anniversary. Is something missing? The success of this compilation of compelling events, exhibitions, and items of interest to the jewelry community depends on YOUR participation.
If you're a member of AJF, you can add news and ideas to the monthly report by going here. If you aren't a member, but would like to become one, join AJF by making a donation.
ANNOUNCEMENT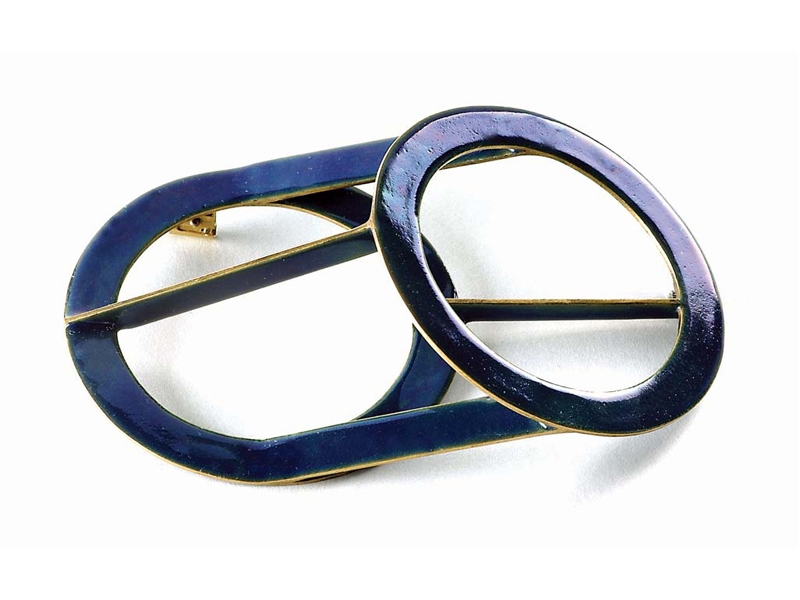 This is the list of events happening during Munich Jewellery Week from March 7–13. There are so many things going on that you'll have to study this list ahead of time in order to decide what you want to do! Don't forget that AJF is presenting two panel discussions, one on March 8 at 9 a.m. on collecting, and the other on writing, on March 9 at 9 a.m. Both panels take place at Galerie Handwerk. We are also having a dinner on March 10 after we announce the winner of the AJF Artist Award. Hope to see you there!
---
ANNOUNCEMENT
This is the list of the 65 jewelers chosen for Schmuck 2018: Nevin Arig, Carolina Bernachea, Marcus Biesecke, Alexander Blank, Babette Boucher, Maria Cecilia Capisano, Anne Luz Castellanos, Lin Cheung, Eunmi Chun, Nikki Couppee, Erinn Cox, Bárbara D'Ambra Pazos, Hilde De Decker, Paul Derrez, Patricia Domingues, Carla Durlan, Iris Eichenberg, Veronika Fabian, Benedikt Fischer, Karl Fritsch, Melanie Georgacopoulos, Samira Götz, Sophie Hanagarth, Luran Huang, Mari Ishikawa, Melanie Isverding, Helena Johansson Lindell, Kimiaki Kageyama, Beppe Kessler, Heejoo Kim, Sirja Knaapi, Hatsuko Kobayashi, Heeseung Koh, Takashi Kojima, Julia Maria Künnap, Gernot Leibold, Lena Lindahl, Jens Rüdiger Lorenzen, Jorge Manilla, Yutaka Minegishi, Mikkiko Minewaki, Elena Moreno, Nobuko Nishiwaki, Lina Peterson, Darja Popolitova, Camilla Prasch, Ramon Puig Cuyàs, Philip Sajet, Barbara Schrobenhauser, Sarah Schuschkleb, Karin Seufert, Vera Siemund, Nadja Soloviev, Despo Sophocleous, Annnemiek Steenhuis, Marta Švajdová, Fumiki Taguchi, Edu Tarin, Silke Trekel, Flora Vagi, Graziano Visintin, Andrea Wagner, Lisa Walker, Julia Walter, and Dongyi Wu.
Their work will be on display in Munich March 7–13, 2018, in the Internationalen Handwerksmesse München Halle B1. Congratulations to all!
---
ANNOUNCEMENT
Art + Feminism Wikipedia Edit-a-thon is a campaign improving coverage of cis- and transgender women, feminism, and the arts on Wikipedia. It takes place at the Museum of Modern Art, NYC, on March 3, 2018, from 10 a.m.–6 p.m.
AJF started to add jewelers to Wikipedia a couple of years ago. If you live in NYC and are interested in making female jewelers more accessible to the public at large, this is a great way to do it. Let us know if you are able to participate and what your experience was like.
---
ANNOUNCEMENT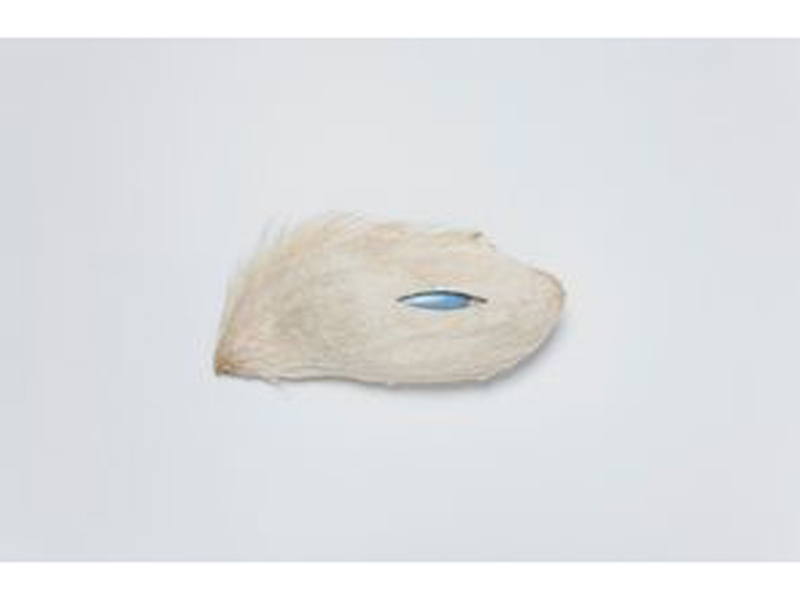 Otto Künzli has been named the 2018 "Klassiker der Moderne" by the Bavarian Crafts Council for the 2018 Schmuck exhibition. Each year an artist who is considered to have made an important contribution to the history of jewelry is honored with a retrospective exhibition. Congratulations, Otto—much deserved!
---
MUSEUM EXHIBITION
The Museum of Decorative Arts in Paris is holding an exhibition of artist's jewelry from the collection of Diane Venet. From Alexander Calder to Jeff Koons–via Max Ernst, Pablo Picasso, Niki de Saint Phalle, Caesar, Takis, and Louise Bourgeois–many modern and contemporary artists have taken a close interest in jewelry. Diane Venet, a collector of artist's jewelry for more than 30 years, shares her passion for these miniature works that often accompany the artist's visual language. The 230-piece collection, combined with exceptional loans from galleries as well as collectors and families of artists, illustrates chronologically and thematically the work of 150 French and international artists. On view March 7–July 8, 2018.
---
MUSEUM EXHIBITION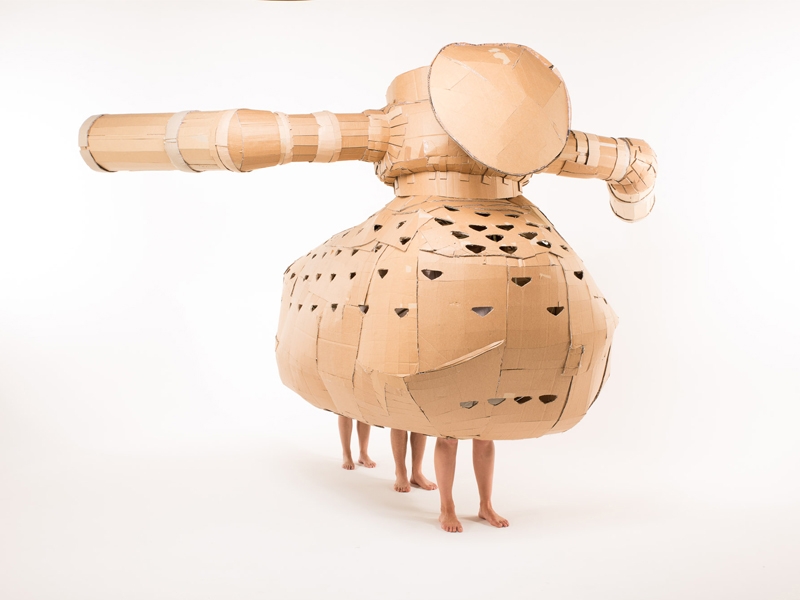 The Language of Things: Meaning and Value in Contemporary Jewellery, on view through June 24, 2018 at The Dowse Art Museum, Lower Hutt, New Zealand. The intimacy of jewelry worn on the body gives us a unique way of showing who we are and what's important to us. This show expands on our associations with adornment, drawing out how ideas of value have changed in the 20th and 21st centuries. It springs from the critique of preciousness through the lens of materiality. Featuring over 100 artists from Europe, America, Asia, Australia, and Aotearoa New Zealand, the exhibition explores social, cultural, or political matters through the materials and processes employed by contemporary jewelers. Their themes include status, gender, and place, as well as our relationships with accessories, the environment, and each other. Using our inherent understanding of jewelry as a symbol of personal expression to explore these ideas, The Language of Things also prompts us to reflect on how we "read" the materials that surround us in daily life.
---
MUSEUM EVENT—FILM
The film J. Fred Woell: An American Vision, The Life and Times of Jeweler and Political Artist premieres at the Museum of Arts and Design (MAD), in New York City, on March 29, 2018, at 6:30 p.m. Following the screening there will be a panel featuring former MAD director Glenn Adamson; curator/educator Helen Drutt; film director Richard Kane; and former Museum of Contemporary Crafts director Paul Smith; moderated by MAD curator Barbara Gifford.
This new feature film by Richard Kane celebrates the pioneering metal artist who created work with wit, satire, and meaning. MAD curator Barbara Gifford commented: "Fantastic! I particularly love how you contextualize Woell's work with his contemporaries … a really important film … an essential piece for American history." AJF's Susan Cummins calls the film "insightful … informative … intelligent." ACC's Stuart Kestenbaum: "inspiring." Through interviews with some of the American craft world's historic icons, Woell's place as a significant player is firmly established.
There will also be a screening on May 24, 2018, at the Society of North American Goldsmiths conference in Portland, OR, USA. To book a screening or inquire about future availability of DVDs and video on demand, contact https://www.jfredwoellfilms.org.
---
EXHIBITION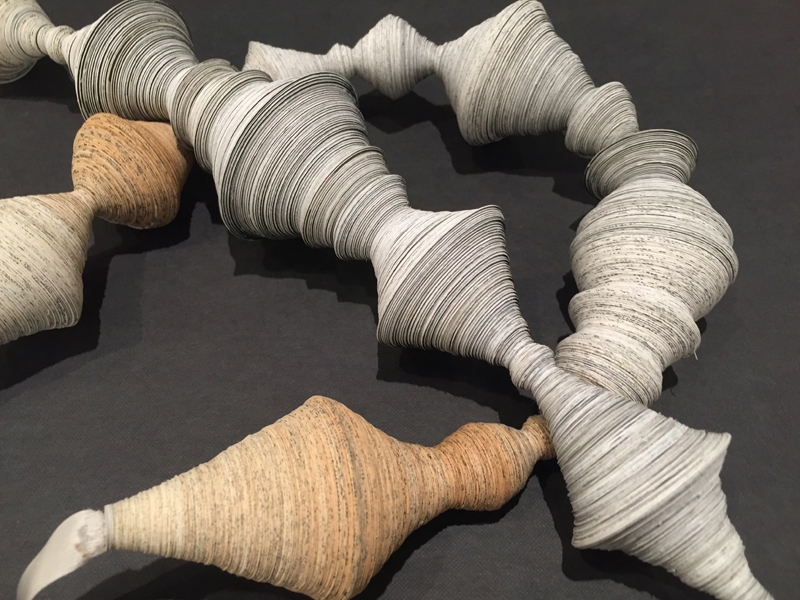 Long Beach City College Art Gallery, in Long Beach, CA, USA, presents PlumbLine: Jewelry and Objects, through March 8, 2018.
PlumbLine is designed as a window to contemporary jewelry and metalwork in a region relatively unacquainted with many of its own makers. This includes Alexandra Hopp and Eric Silva, from the Los Angeles area, who both focus deeply on their jewelry practice, though in radically different ways. Also Mary Donald from Los Angeles and Suzanne Pugh from San Francisco, who incorporate jewelry and its skill set as part of a broader studio practice.
The plumb line is an object of divination, a hybrid of jewel and tool. Its job is to create the vertical boundary that separates one invisible space from another. Contemporary art jewelry is designated by its value, not as commodity, but as content. It walks a line related to, but distinct from, fashion, design, craft, sculpture, and architecture. And it drifts over that line all the time.
---
EVENT—FAIR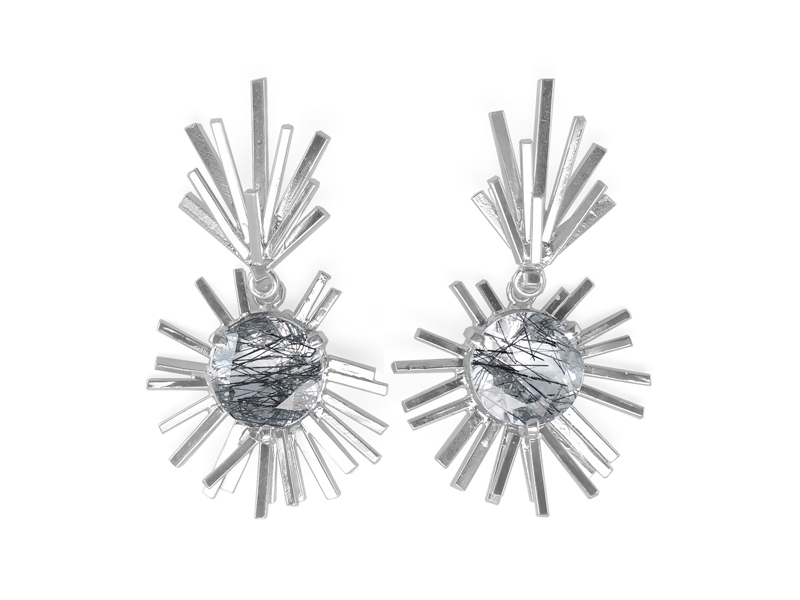 MADE LONDON—Canary Wharf is an exciting contemporary craft and design fair being held at the East Wintergarden April 25–29, 2018. It will present over 90 highly original and exceptional makers across all media, including jewelry and silversmithing. Work can be bought at the show and commissions can be taken.
---
EVENT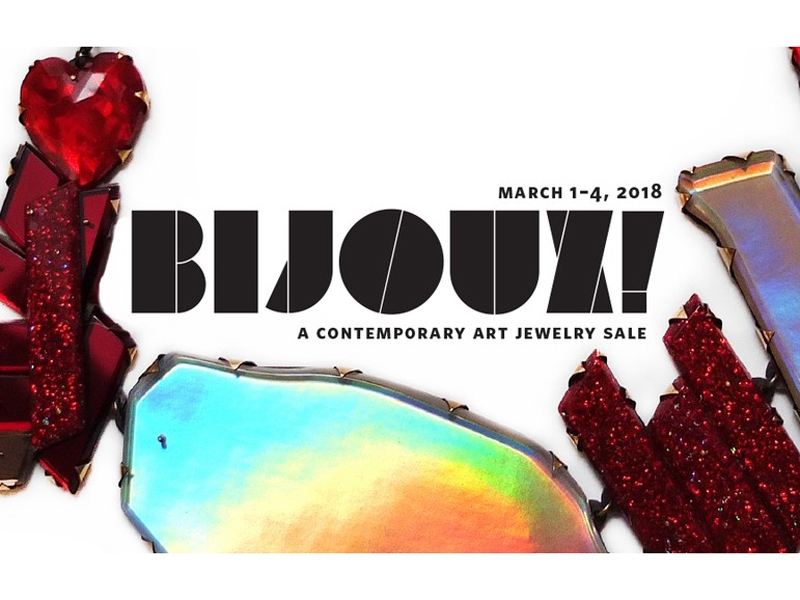 Bijoux! From March 1-4 in West Palm Beach, Florida, jewelry enthusiasts and collectors will have the opportunity to interact with forty international jewelry artists at the Norton Museum of Art. Each day at 3 pm, AJF member and independent curator Davira S. Taragin will make a presentation about the artists and there will be a special presentation on March 1 at 6 pm by another AJF member, glass jewelry artist Donald Friedlich.
---
AWARD
The Loewe Prize Finalists have been announced and there are four jewelers among the 30. They are Paul Adie (UK), Sam Tho Duong (Germany), Sara Gackowska (Poland), and Rita Soto (Chile). The finalists were chosen from 1,400 applications.
The Loewe Craft Prize 2018 recognizes the entirety of the shortlist as having made fundamentally important contributions to the development of contemporary craft, and the legacy of the exhibition will be documented by a specially produced catalog containing each of the finalist's pieces. Each finalist's work will be exhibited at the Design Museum, London, from May 4–June 17, 2018.
---
SYMPOSIUM/CONFERENCE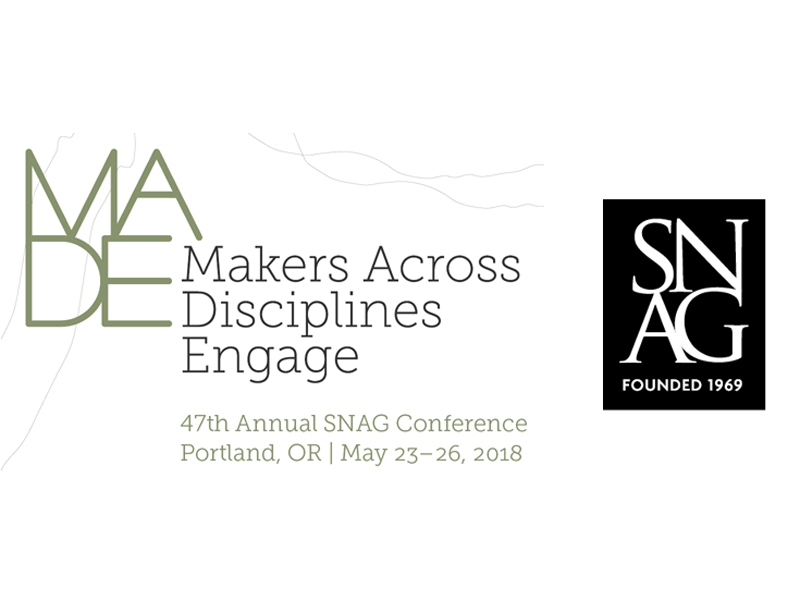 The Society of North American Goldsmiths heads to Portland, OR, USA, this spring for its 47th annual SNAG conference, to be held May 23–26, 2018, at the Portland Marriott Downtown Waterfront. SNAG's conference includes lectures, exhibitions, a vendor room, a trunk show sale, demos, and social events. Online registration is open through May 2, with early bird rates available through March 8. Attendees may also register on site. SNAG is pleased to announce that the keynote lecture will be given by Vivian Beer, a furniture designer/maker based in New England.
---
CALL FOR ENTRY—COMPETITION
This year, Lithuania celebrates its 100th anniversary of independence. Nonetheless, the country belonged to another state not so long ago. The Iron Curtain was an almost impossible obstacle. We had to overcome many ideological and bureaucratic barriers. To return home, we had to shake out our suitcases during customs checks. But now, at the airport we quietly pass through the gate labeled "Nothing to declare."
The jewelry art competition Nothing to Declare invites artists to announce their freedom in the language of jewelry, to say loudly that they have nothing to declare or hide. We can declare our freedom, freedom to travel and stay in our homeland, freedom of thought and freedom to disagree with others, freedom to be ourselves, and freedom to be artists.
We offer the opportunity to present this concept via metal art. Amber is a welcome but not obligatory material. All participating works will tour in exhibitions and jewelry shows in Europe, after the Amber Trip International Baltic Jewellery Show. Art jewelry and applications are accepted until March 1. Please contact art@ambertrip.com for participation conditions and further details.
---
CALL FOR ENTRY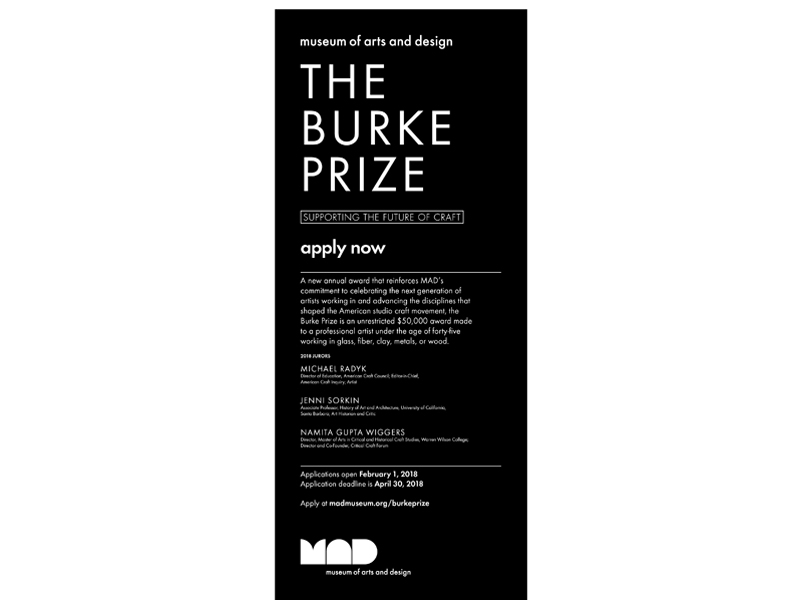 The Burke Prize, a new annual award that reinforces the Museum of Arts and Design's commitment to celebrating the next generation of artists working in and advancing the disciplines that shaped the American studio craft movement, is an unrestricted $50,000 award made to a professional artist under the age of 45 working in glass, fiber, clay, metals, or wood.
---
EDUCATION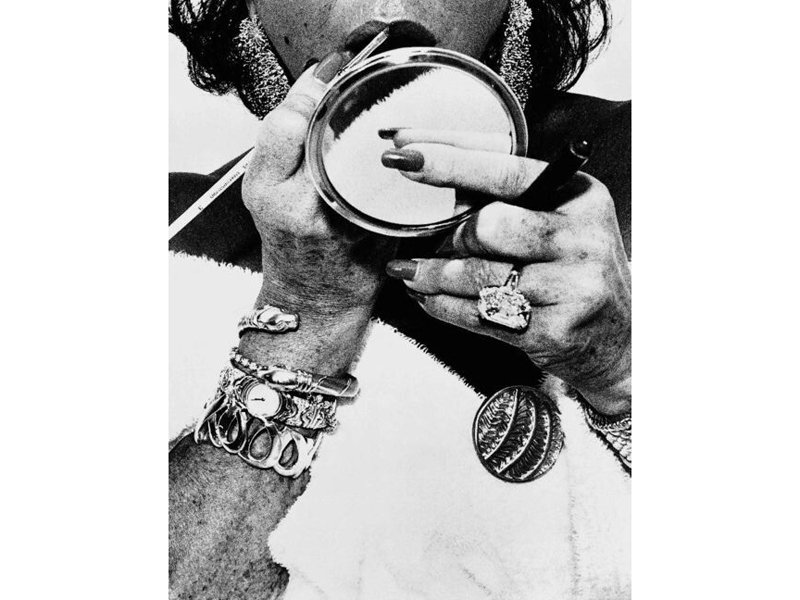 Apply now—The Sandberg Institute announces a new temporary program that will run September 2018–June 2020: Challenging Jewellery. What is small and intimate is often overlooked. Challenging Jewellery aims to give an impulse to the jewelry profession by focusing on the applicability of jewelry-thinking in society, from the making industry to the market of limited art editions. Tutors, guests, and participants in the program explore the attention paid to the small and intimate, the human handling, and the careful treatment of materials that they deem needed in the broader context of today's digitized society. The program allows the study of current notions of body-bound and human-focused objects and products. Through this approach it attempts to think big on a small scale—which supposes an ability to understand micro working. The temporary program challenges the subject of jewelry on a fundamental level—how it relates to our present time, its social and political implications, its relevance.
---
EDUCATION—WORKSHOP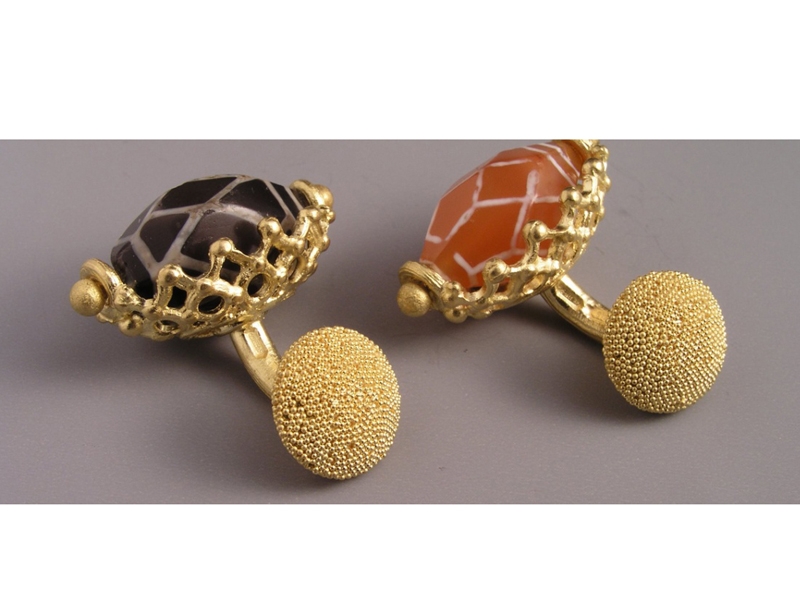 LAO Le Arti Orafe Jewellery School will offer an advanced granulation workshop taught by David Loepp, July 9–13, 2018. Participants should be familiar with the blowpipe torch and/or blowpipe and have basic knowledge of metallurgy, notably the properties of metals and the preparation of alloys.
---
EDUCATION—WORKSHOP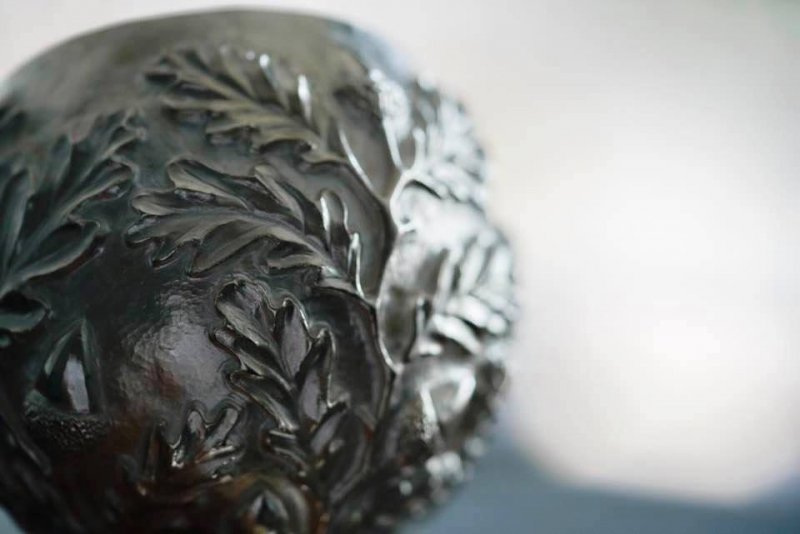 Maestro Acquafresca is arguably one of the greatest names in chasing and repoussé. He is the 17th generation in a Florentine family of chasing and repoussé artists spanning some 400 years, and has taught in Portugal, Switzerland, the UK, Belgium, Costa Rica, and the United States. Join us in Porto, Portugal, for two workshops with Il Maestro Acquafresca. They take place April 23–27 and September 3–7 at Incubadora de Joalheiros, with 10 students maximum. The courses will be taught in English and are beginner to intermediate levels; all tools are provided.
---
JEWELRY IN THE NEWS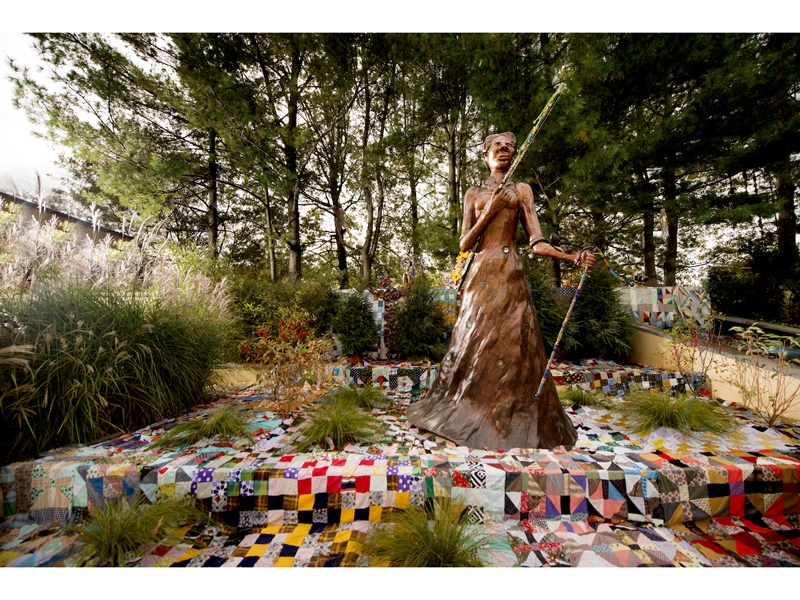 Since Joyce Scott received the MacArthur Genius award in 2016, she has suddenly started getting noticed in places like the New York Times and now in Hyperallergic. She is undoubtedly the first jeweler to receive this kind of attention. But she does many other things as well: She is a performer, a print maker, a storyteller, and a sculptor—and that allows access from the art press. But at least she still proudly wears the title of jeweler everywhere she is reviewed, because that role has sustained her. So happy for this recognition.
---
JEWELRY IN THE NEWS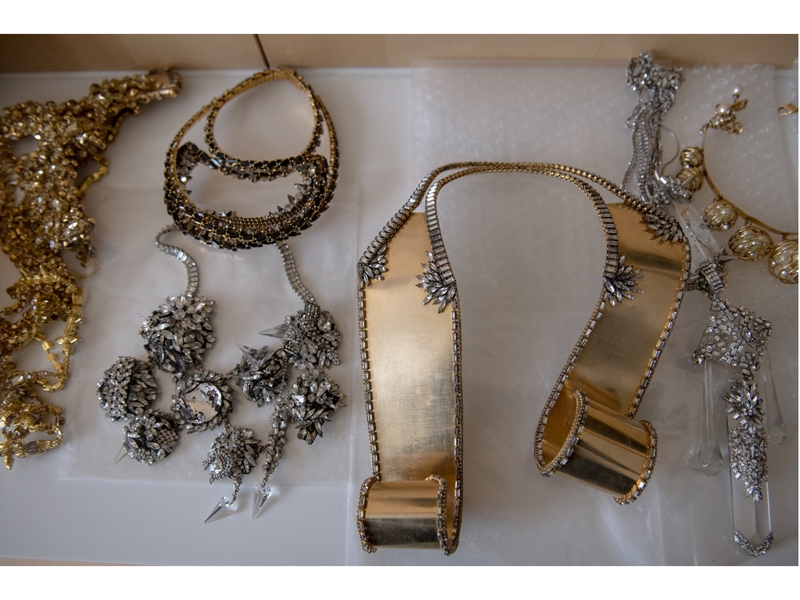 The figure skating commentator for the Olympics Johnny Weir shows off the jewelry collection he brought to the games.
---
JEWELRY IN THE NEWS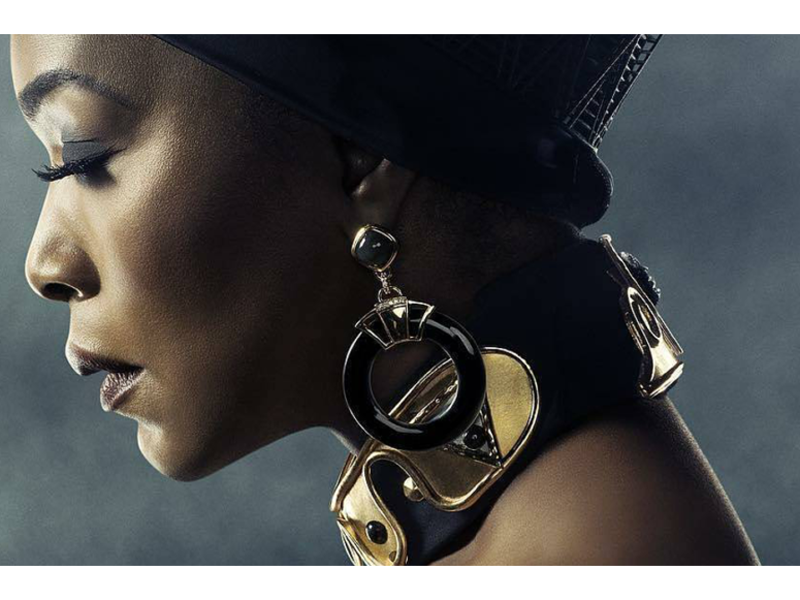 Black women are carving spaces for themselves in Hollywood, and now thanks to Douriean Fletcher, an LA-based jewelry designer and special jewelry costumer for Marvel's upcoming, much-anticipated Black Panther film, you can look like you just leapt out of the movie.
---
JEWELRY IN THE NEWS
Hyperallergic covers two silver exhibitions.