Art Jewelry Forum's extensive network of international gallery supporters is dedicated to celebrating and showing art jewelry. On Offer is a monthly series that allows AJF galleries to showcase a piece that they've personally selected to tempt and inspire you. Please contact the gallery directly for inquiries. Enjoy!
MUSEUM WORTHY
Facèré Jewelry Art Gallery—Jana Brevick's Transfer neckpiece is prime example of her work—a combination of science, subversiveness, fantasy, and whimsy.
"In Jana Brevick's hands, the prosaic household object or tool is transformed into a gem," says curator Jennifer Navva Milliken. "The resulting work juxtaposes a high level of metal craftsmanship with a droll tongue-in-cheek delivery. With a nod to Man Ray, these wry "chance meetings" are often accompanied by twists on scale and proportion that challenge conventions of wearability. Brevick is insatiably curious about the world and beyond. Her ongoing research into mathematics and the natural sciences forms the basis for many of her pieces. In her work, an awe for the history of scientific discovery and innovation is offset by her fascination with the beauty of obsolete technologies. Employing a visual language that is simultaneously anachronistic and futuristic, the artist tackles universal themes: from the alchemy of merging creative and scientific processes to the Romantic journey of the individual into the sublime."
RETAIL: US$3,800
CONTACT: Madeline Courtney
---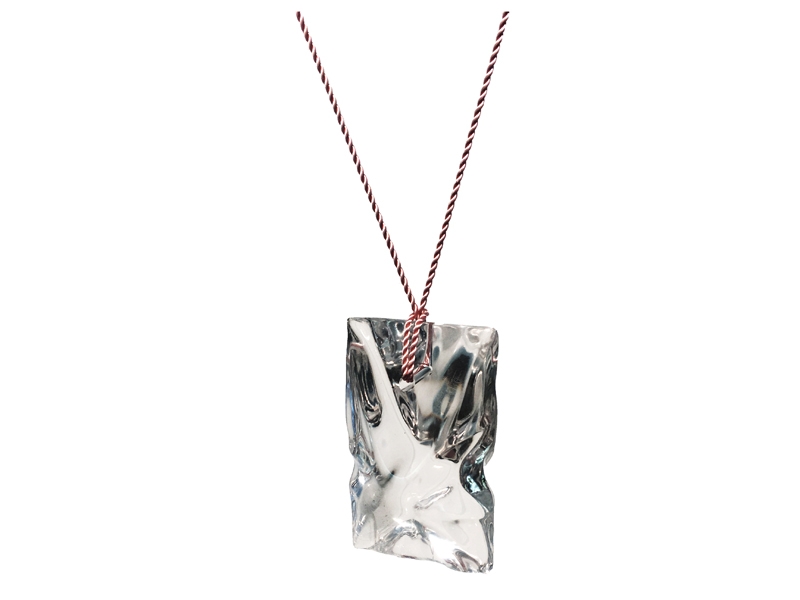 Gallery S O—Lin Cheung references traditional and understated jewelry forms and uses standard materials and techniques, then deftly twists these conventions through subtle subversions. Benita's Brooch is a wearable sculpture made of rock crystal, hand-carved and polished to the point of resembling melting ice, its mutable and translucent facets looking almost liquid. The sheer beauty of the piece belies its subject matter: the piece is in fact inspired by the plastic grip seal bags used to store jewelry. The work is part of the Keep series, a wry look at how the artist stores and protects her own jewelry. The piece is part of Cheung's solo show, It's a Jewellery Thing, on display until March 25.
Cheung (born in 1971, in Basingstoke, Hampshire) was shortlisted for the Women's Hour Crafts Prize in 2017 and is the recipient of the prestigious Françoise van den Bosch Award 2018. Her work is part of the collection of the Museum of Arts and Design, New York, USA; Middlesbrough Institute of Modern Art, UK; The Röhsska Museum, Gothenburg, Sweden; Crafts Council, London, UK; Stedelijk Museum 's-Hertogenbosch, The Netherlands; Contemporary Art Society, London; and The Potteries Museum & Art Gallery, Stoke-on-Trent, UK.
RETAIL: Price upon request
CONTACT: Felix Flury
---
Four—Pernilla Persson grew up in a small place in the middle of Sweden: Väckelsång, in Småland. It is a place surrounded by majestic forests—pine trees with long straight trunks, making a creaking noise when the wind catches their crowns, and green soft moss that covers roots, soil, and lost treasures. If you're lucky you will also find lingonberries, a slightly bitter-tasting delicacy that is at its best when picked after the first frosty night. This necklace will give you a taste of the enchanted forest of Småland.
RETAIL: 25,000 SEK (Swedish kronor)
CONTACT: Karin Roy Andersson
---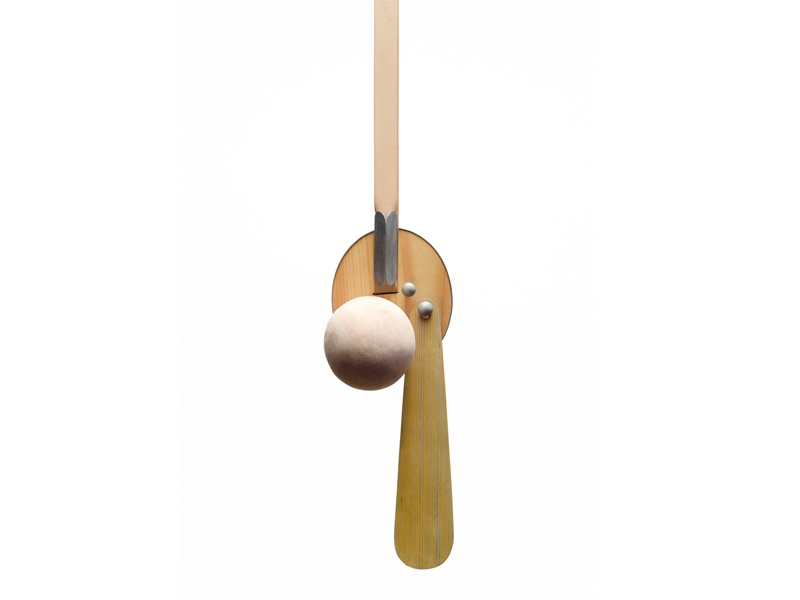 Gallery Funaki—This necklace is the third in a series of eight Juggler's Moment pieces completed by Lucy Sarneel in 2014. Other works from this series are in the collections of CODA Museum Apeldoorn (Netherlands) and the AkzoNobel Art Foundation (Netherlands), as well as significant private collections. The necklace perfectly captures the key aspects of Sarneel's approach: composition and material in perfect balance.
Sarneel says of this series: "Like jugglers we constantly try to keep all the balls up in the air; roles and tasks that we want to and have to fulfill. It is an art to find the right balance between the powers that guide us (or steer us…?) and those of the world around us. The Juggler's Moments are compositions made up of more or less the same elements, each with their own characteristics and materiality. The ball in rest position balances the whole through its weight but is visually disproportionate." (With thanks to Manon van Kouswijk for her translation).
RETAIL: AUS$3,600
CONTACT: Katie Scott
---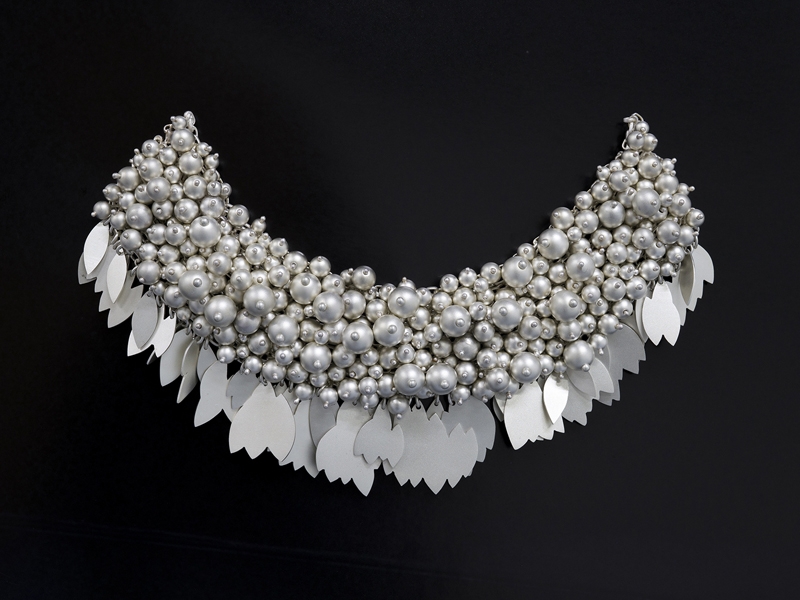 Sienna Patti—In Anya Kivarkis's recent work, she examines the cinematic role of jewelry in classic mid 20th-century cinema. Through re-creating jewelry worn in such film as Last Year at Marienbad, Kivarkis mines the parallel aspirations and desires that both movies and jewelry invoke. When extracted from the context of film, Object Sequence III becomes a surrogate for the character it once adorned. Similar to Kivarkis's previous work, this piece lies somewhere between object and image, and asks us to redefine glamour and consider what real really means.
RETAIL: Price upon request
CONTACT: Sienna Patti
---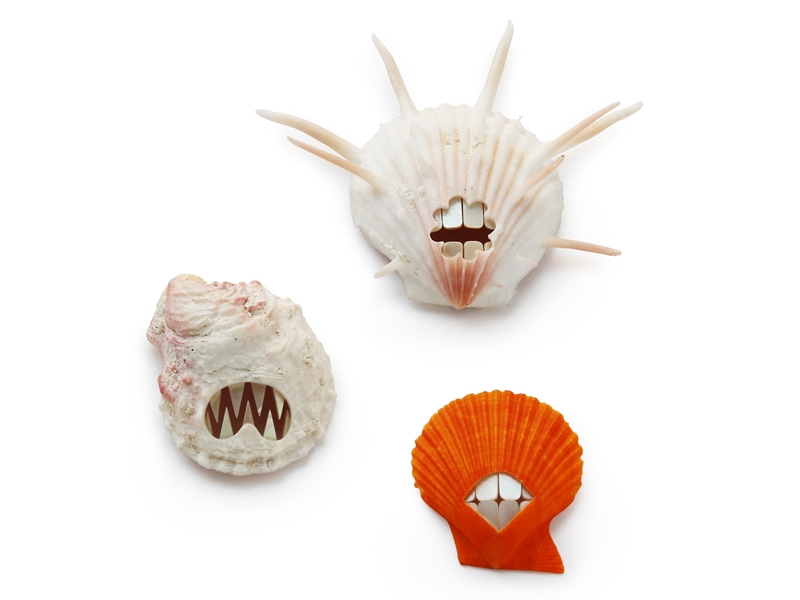 OONA Gallery—Once again, Benedikt Fischer has been working with his excellent craftsmanship to achieve this outstanding group of brooches, called Pearly Whites. Very different in appearance from his past work, Shields, these shells also fuse the natural and the artificial in a convincing way. Their quality as autonomous pieces of art is as strong as the one of wearable art.
RETAIL: Each brooch, €600
CONTACT: Anna Schetelich
---
ESTABLISHED ARTIST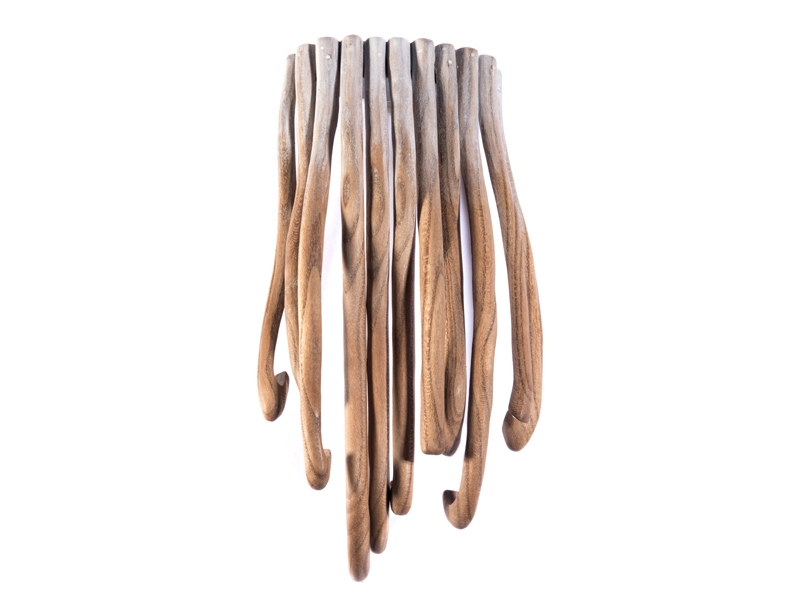 PLATINA—This piece is made by Ketli Tiitsar, a well-known and at same time mysterious artist from Estonia. She graduated from the Estonian Academy of Arts in 1999, and since then has been working as a jewelry artist, exhibiting her own work, and curating jewelry art, applied art, and design exhibitions both in Estonia and abroad. Since 2002, she has been a program manager at the Estonian Museum of Applied Art and Design. In her artistic practice, she has in recent years used wood as her principal material. As she says, wood is a common material in her everyday life, and the current process for making is like the everyday activity that is familiar from her childhood. She collects, dries, saws, sands, and reassembles wood in a different order, looking for ways to express herself, using the interference patterns and harmonies arising from deconstructing the material.
RETAIL: US$2,200
CONTACT: Sofia Björkman
---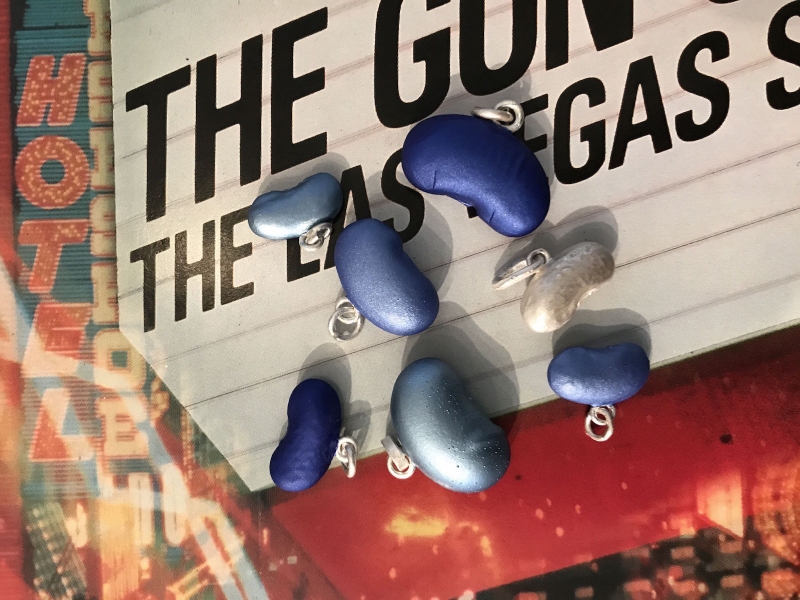 Galerie Biro—Gabi Dziuba works very closely together with visual artists. Be it film, fashion, literature, or music, all that reflects the zeitgeist is her source of inspiration. Jokes and anarchy combined together describes her work best.
RETAIL: Price upon request
CONTACT: Kinga Zobel
---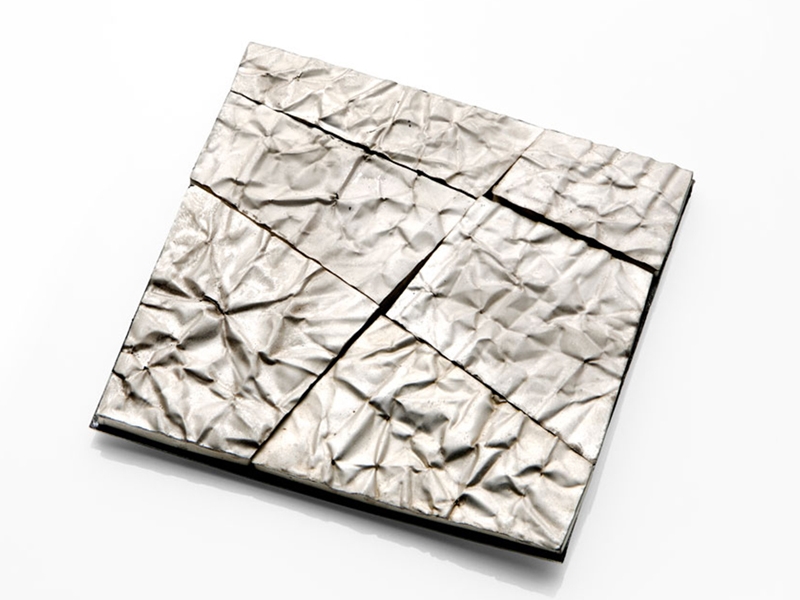 Galerie LA Joaillerie par Mazlo—This brooch is one of the three works composing the triptych created by Italian artist and goldsmith Gigi Mariani for the exhibition The Alchemical Egg, curated by art historian Nichka Marobin. The four guest artists invited to this project were called upon to interpret the three steps of the cognitive path of Alchemy.
The This Magic Moment (Albedo) brooch represents the second stage of the psychological alchemical path followed by Gigi Mariani. "The phase of whitening, Albedo, which follows the chaos of Nigredo, is symbolized by a jigsaw puzzle. Its whiteness, contrasting with the dark putrefying matter with cracks and flaws, emphasizes the idea of how self-awareness can be gained from the gloomy primal material," says the artist, who re-creates on a crackled, fractured surface that magic moment in which one is finally aware of his own unity. The depressed soul of nigredo—still fragile—is now starting to recompose itself in a new unity. The use of silver, stretched, stressed, crumpled and then polished in a thin veil, symbolizes the new condition of the material and of the alchemist. (Extract by Nichka Marobin from the exhibition catalog The Alchemical Egg: Visions and Revelations of an Enigma.)
RETAIL: Price upon request
CONTACT: Céline Robin
---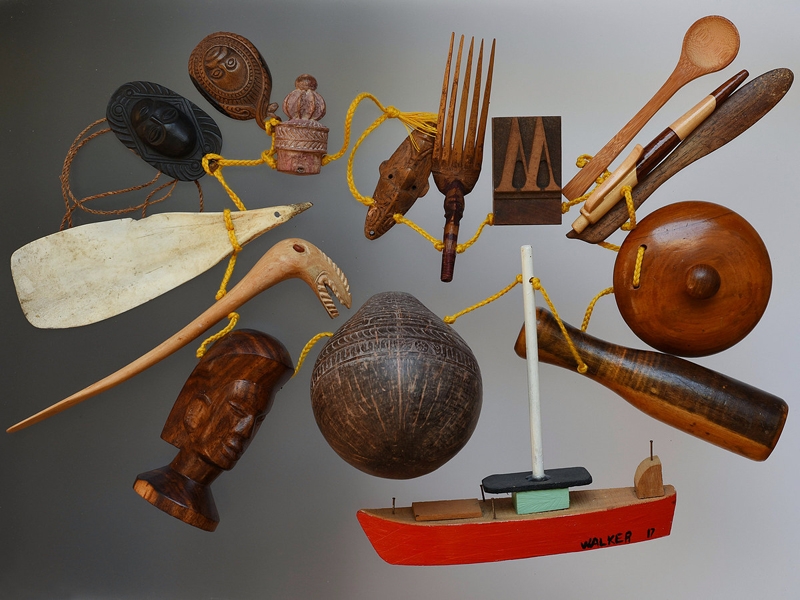 Fingers Gallery—Lisa Walker is one of New Zealand's most internationally successful jewelers, working in the "contemporary" sphere. Her work is a study into the differences between an acceptable notion of beauty or stereotype, and something else—the search for an aesthetic that we hardly ever see, but nevertheless perhaps recognize. Walker says, "I don't want to make pieces that are easily steered through our established channels, I want people to be forced to work on new syllogisms, analogies, and positions." She is continually pushing toward the extreme, and recognizes this is a method which enables her to expand her thinking and way of working. She works in a large range of materials and techniques making reactionary work, consciously active with influences from all walks of culture and life. The pieces are often laced with references to contemporary jewelry of the last 40 years, questioning and researching what jewelry means and what it can be. "Everything," Walker says, "is food for art."
RETAIL: NZ$4,200
CONTACT: Lisa Higgins
---
De Novo Fine Contemporary Jewelry—Judith Kinghorn has created this spectacular Sampler bracelet using a range of techniques, including fusing, weaving, soldering, forming, and granulation. Combining sterling silver and 24-karat, 22-karat, and 18-karat gold, each frame contains a detailed design which interacts with the other elements in the bracelet to create an elegant composition. There are hinges between each frame so the bracelet lies beautifully on the wrist and feels wonderful to wear.
RETAIL: US$8,200
CONTACT: Cherry LeBrun
---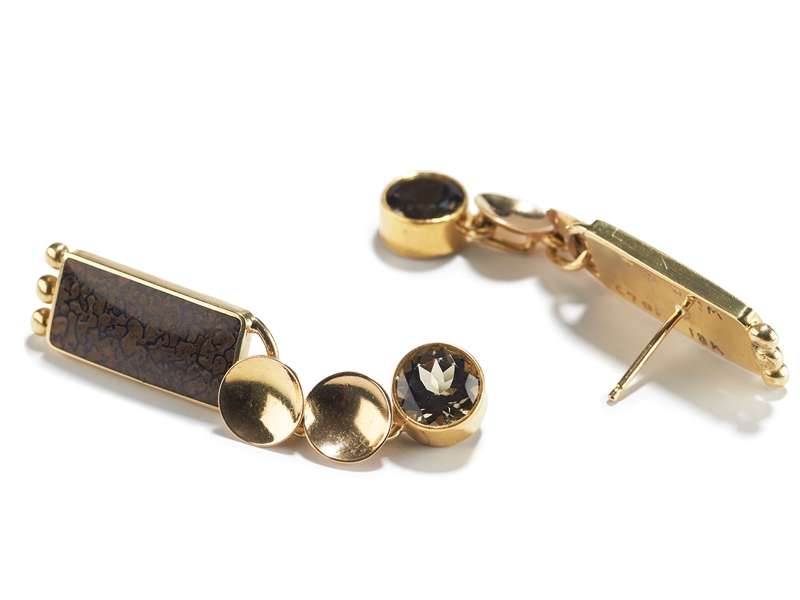 Patina Gallery—These beautiful earrings by Jeff and Susan Wise glimmer with light reflected by gold cups and sway gently through the use of a flexible hanging element. The geometric style, at once delicate and distinctive, represents the jewelry by the Wises, each piece a unique and purposeful statement of shape and color. Working in a shared studio in Durango, Colorado, he sculpts, she paints, and they collaborate on jewelry. Like the earrings featured here, each one-of-a-kind creation reveals the designers' daring use of color and materials.
RETAIL: US$3,335
CONTACT: Linda Childers
---
MID-CAREER ARTIST
Galerie Rob Koudijs—In this brooch by Melanie Isverding, the separate parts are connected by a silver structure. The silver also serves as the loom on which the fine silk threads are woven with a technique derived from basket weaving. The results are geometrical fields, defined by a distinct, subtle texture. Also, the glass appears in an unusual form: not transparent, but opaque, not as a volume or plane, but as a peripheral border. It provides the silk membrane with a sleek, shiny frame.
RETAIL: €2,400
CONTACT Rob Koudijs
---
EMERGING ARTIST
In the Gallery at Brooklyn Metal Works—Kyle Patnaude's work explores the emotive and humanistic coding of objects, specifically a certain "queerness" pertaining to the cultural guise of hypermasculinity. In Till The Night, Patnaude works with queer narratives, from inherently counter-culture gay tropes to homoromanticism of masculine power within authoritarian regimes. Patnaude's use of historical figures as touch points to develop this narrative gives him the opportunity to construct representational characters within this dialogue. One such portrayal is Jacksie, the alt-right caricature of gay fascism, a queer skinhead, garlanded with a rubber sautoir made from a recurrent symbol in Patnaude's work, a manhole cover pattern. Here Jacksie confrontationally awaits the inevitable—the expulsion and purge when the night of long knives comes again. Embracing a hybrid practice as a sculptor rooted in the rich traditional methods of metalsmithing, Patnaude unites contemporary sculptural forms with the skill and elegance of precious metalworking.
RETAIL: US$1,600
CONTACT: Brian Weissman
---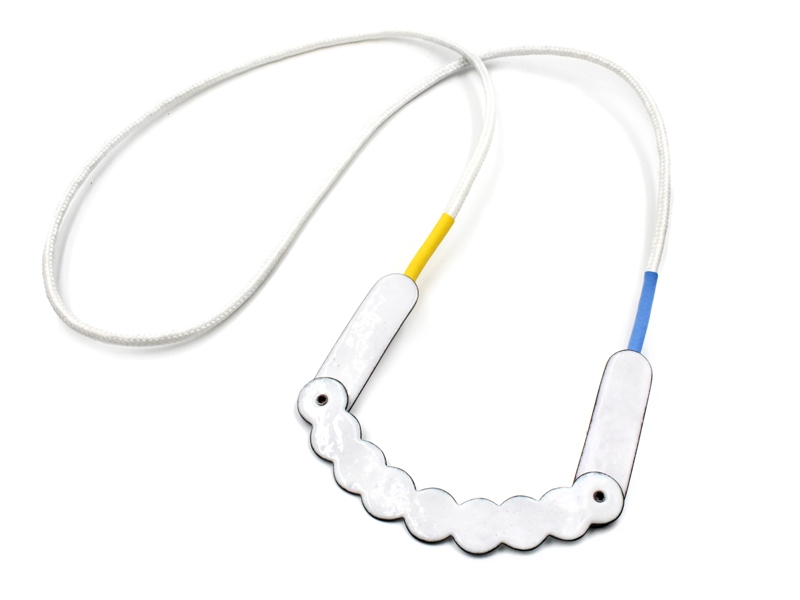 Baltimore Jewelry Center—Erin Hollis is an emerging artist in the metals and jewelry field, with a background in drawing and painting. She recently completed a one-month residency at the Baltimore Jewelry Center. In her metalwork, Hollis is drawn to found materials and builds small collections of pieces that utilize similar found objects. Drawn to cartoons, doodling, and antique toys, Erin creates easy-to-wear pieces imbued with a sense of levity and joy. This necklace is inspired by the necklace Lisa Simpson wears in The Simpsons.
RETAIL: US$125
CONTACT: Shane Prada
---
Lillstreet Gallery—The Bone Chandelier Studs by Maura Lenahan are a modern tribute to traditional memento mori jewelry. Featuring dark blue sapphires in her signature square prong setting and hammered "bone" links, these solid silver earrings offer lightweight movement and wearability. Lenahan has a bachelor's in fine arts in metals and jewelry from the Savannah College of Art and Design and was a CFDA+ design graduate in 2014. She is a contemporary jeweler living and working in Chicago, where she's the featured jewelry artist for the month of March at Lillstreet Gallery.
RETAIL: US$500
CONTACT: Nora McCarthy
---
Galerie Noel Guyomarc'h—A graduate of Kon-Kuk University, where she studied jewelry making, Jaesun Won continued her studies at the University of Rochester in the United States. Her artistic practice is based on making jewelry with stainless steel wire that she wraps with colored silk or synthetic threads. Once assembled in fine and repeated lines, her creations become brooches with discreet and harmonious colors with animated visual rhythms.
RETAIL: CAN $1,580
CONTACT: Noel Guyomarc'h
---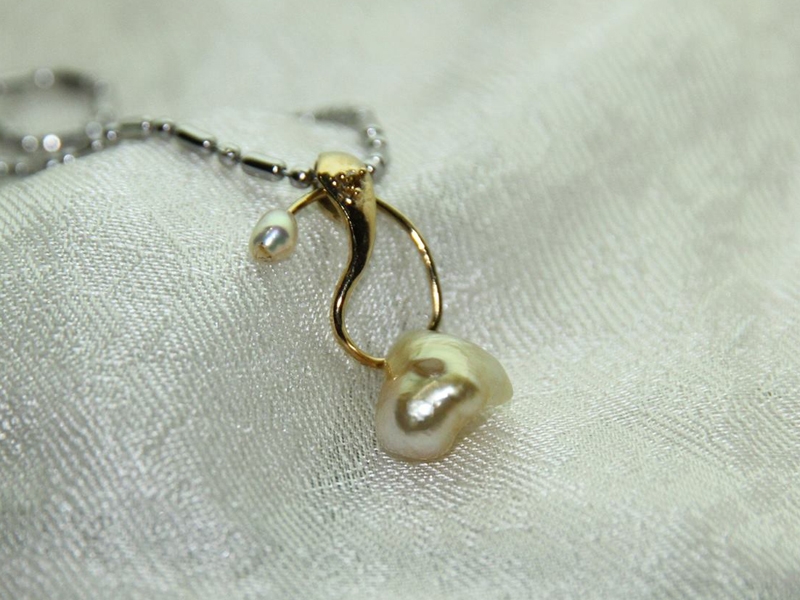 Koumei Art Gallery—We present love-inspired jewelry from our collection. This piece is one of the earliest works by Emily Zhu. The inspiration comes from how love comes into our lives naturally and brighten them, yet is a unique experience for each person.
RETAIL: 23,000,000 IDR (Indonesian rupiah)
CONTACT: Eko sukoco
---
GALLERY CHOICE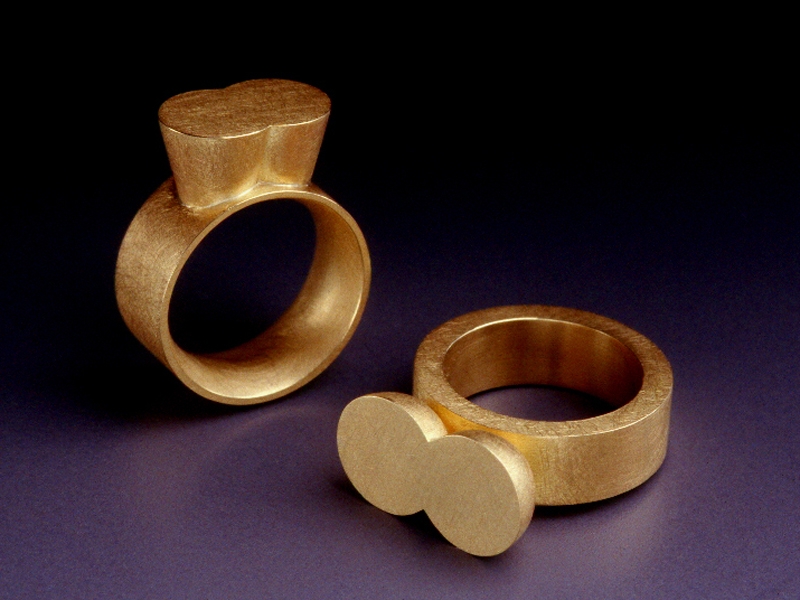 Gallery Loupe—These rings are part of a series that examines the ancient signet ring and reduces it to a visual dialogue of form + function. In comparison to the original format, here the "seal" component remains plain (unornamented,) with the intention of creating a quiet and anonymous image. Noam Elyashiv uses hollow fabrication as a means of contrasting the lightness of weight with a solid appearance. "I wanted the wearer to experience a sense of duality of strength and fragility, which reflects my general feeling about jewelry as a medium. I use gold for its heritage and physical properties, and as a manifestation of sentiment."
RETAIL: Each US$7,800
CONTACT: Eileen David
---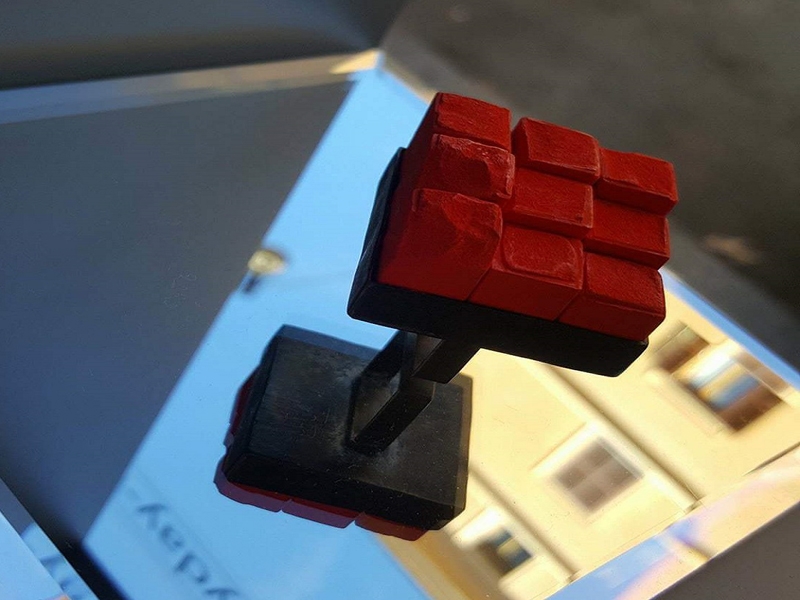 Myday-Byday—About this work, the artist Ioana Ardelean says, "The Ephemeral Matters collection is my statement about contemporary jewelry and its value: not about amassing the precious material, but the emotional value. Not a handful of jewelry but one piece of jewelry. While "Diamonds last forever" human nature is transitory. Can one collect and prolong the happy moments or save the good memories? This is a collection about playing life with lucidity and awareness so as to enjoy the moment fully, about consuming contemporary jewelry: ephemeral and fragile pieces as life itself. Their preciousness is given by this awareness on their fragility and the relation that the user chooses to invest in one piece, as a candid extension of his. These wearable objects made of graphite or colored chalk are moments of pure joy and spontaneity but also of suspense. I associate this idea of full joy with childhood: as colored chalk is an instant, candid joy for any child in the world, and most of all, an accessible joy!"
RETAIL: €250
CONTACT: Laura Helena Aureli
---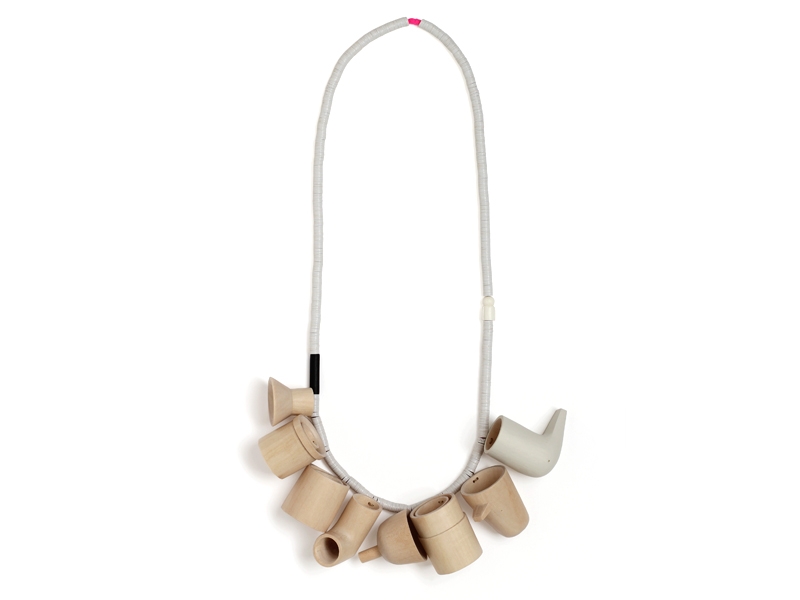 Ra Gallery—In her work, Karin Herwegh addresses aspects of life that seem to be vanishing: for instance, insight into and an understanding of how things function on a personal level. At the same time, she allows room for different perspectives. To achieve this, she uses information on the Internet about all ages, cultures, and places as a kind of personal archive. She selects, styles, and abstracts found images, whereby they lose their specific meaning and context. The design is guided by decisions taken in the process of making. The simplicity of a piece of wood as material and a knife as an implement ensure her independence from technology in the working process. Opposite worlds complement one another and new connections surface in her works, in particular the necklaces that lend themselves to various "readings."
RETAIL: €950
CONTACT: Paul Derrez
---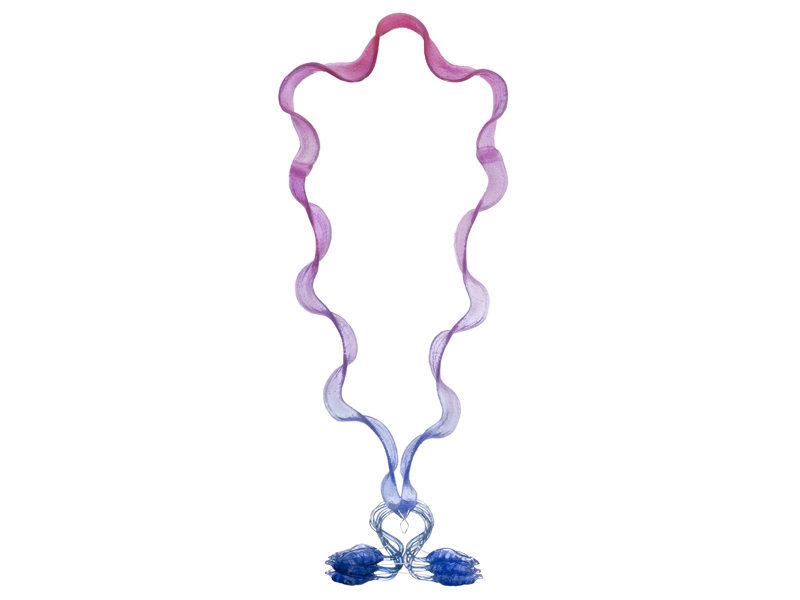 L.A. Pai Gallery—Experimentation has driven the creation of this body of work. It features materials not often found in jewelry, like translucent and tactile silicone. The result is an expression of Mary Lynn Podiluk's fascination with language and sound, interpreting organic sources such as botanical forms and linguistic anatomy into vibrant wearable art.
RETAIL: CAN$1,925
CONTACT: Lisa A. Pai
---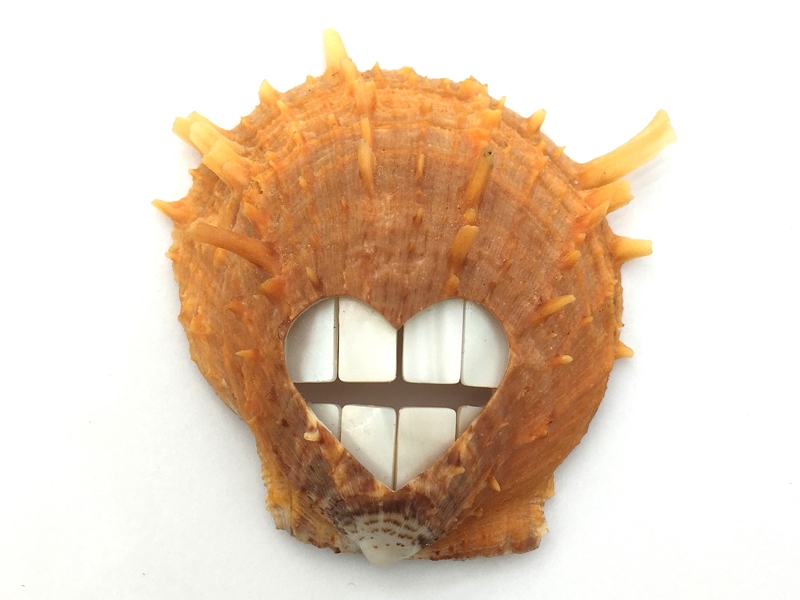 galerie beyond—Shelly found some baby teeth and tried them on for size. She is sassy and uncivilized, a loudmouth with no spine. Baring her pearly whites, she whispers, sighs, shouts, and grins. Evolution is contagious. Other shells are starting to speak back. Soft on the inside, hard on the outside—to open up they must sharpen their teeth. Each one has its own personality and style. Omnivores speak for themselves, and may bite if provoked. Feed them at your own risk!
RETAIL: €525
CONTACT: Rene Darmont