BRON
November 11, 2017–January 28, 2018
CODA, Apeldoorn, the Netherlands
On Sunday November 12, 2017, Ruudt Peters's exhibition BRON opened at CODA, in Apeldoorn, providing a spectacle of glass capsules, light, film, and jewelry as never seen before.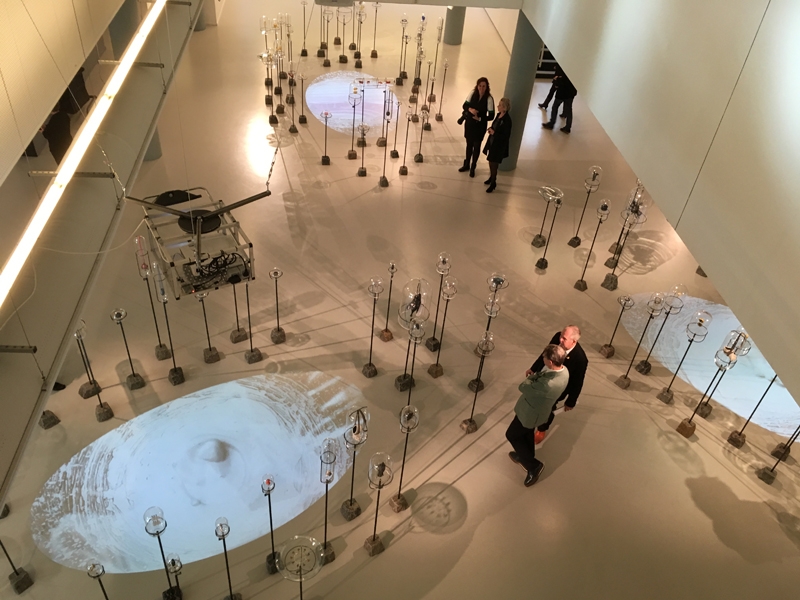 The logistics and organization of this very unusual and spectacular jewelry exhibition has been quite an undertaking, if not a mad project in the eyes of some. Two years ago, Peters decided it was time to make a grand overview of his career, covering 44 years of work. It was his dream to make an installation as the exhibition—an installation that would show his sources ("source" in Dutch = bron). He wanted to install a large group of individually blown glass cases in space to enable the visitor to see each piece from all sides. The exhibition layout, designed by Peters in collaboration with his husband, Leo Versteijlen, was based on the idea of a bubbling source [of water] with the vitrines arranged around it. The footage for the film was shot by Peters in Japan.
A choice of about 126 works from 1973–2017 led to the making of 126 blown-glass capsules by Edwin Dieperink, a technical glass blower in Amsterdam. Twelve different round and oval forms in various dimensions were needed to house the jewelry; most vitrines are for one individual work, while one type with an elongated horizontal shape is used for exhibiting a small group of pieces together. The airy glass bells are anchored to big Belgian stones via long steel stands.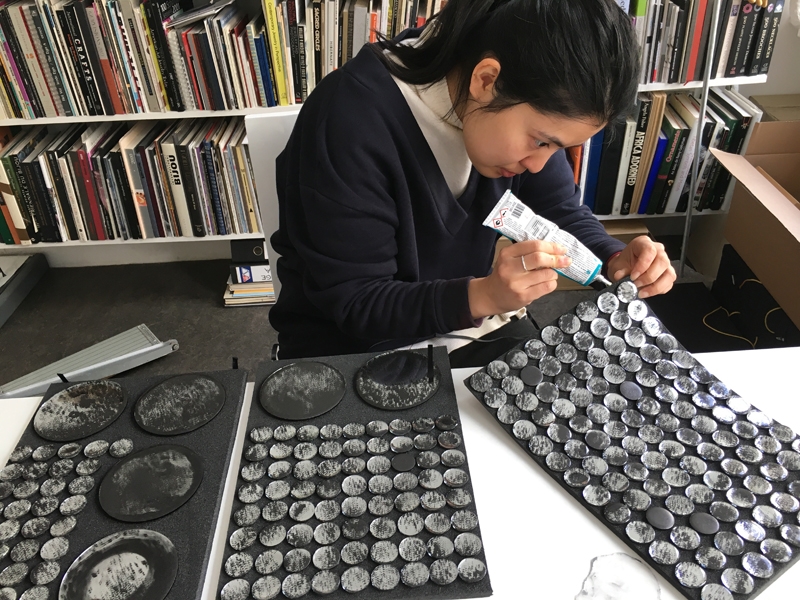 Apart from an engineer, a glass blower, a builder, a media technician, and a film maker and editor, there was a changing team of studio workers, interns, and volunteers (such as Urmas Lüüs, Margaret Munchheimer, Auguste Banyte, and Chumeng Weng) who worked some weeks or months in exchange for attending a free summer school taught by Peters—building on the idea of the master and pupil in the workshop. Koen Jacobs, who just graduated from the Rietveld Academy jewelry department last summer, developed into the unofficial and indispensable head of the workshop. Furthermore, project manager Catherine Regout and social media manager Inga Faizovaite worked on the project. The successful crowdfunding—unlimited small pins, an art edition, and the adoption of vitrines by lenders, which stemmed from an idea by Judith Torzillo—started just before Munich Jewelry Week 2017.
Gradually, Peters's home studio was taken over by materials, young assistants, and not to forget the book, with texts by Aaron Decker and Marina Elenskaya, which was ready two months in advance and boxes of which covered the steep stairs of his house in the center of Amsterdam as an additional layer.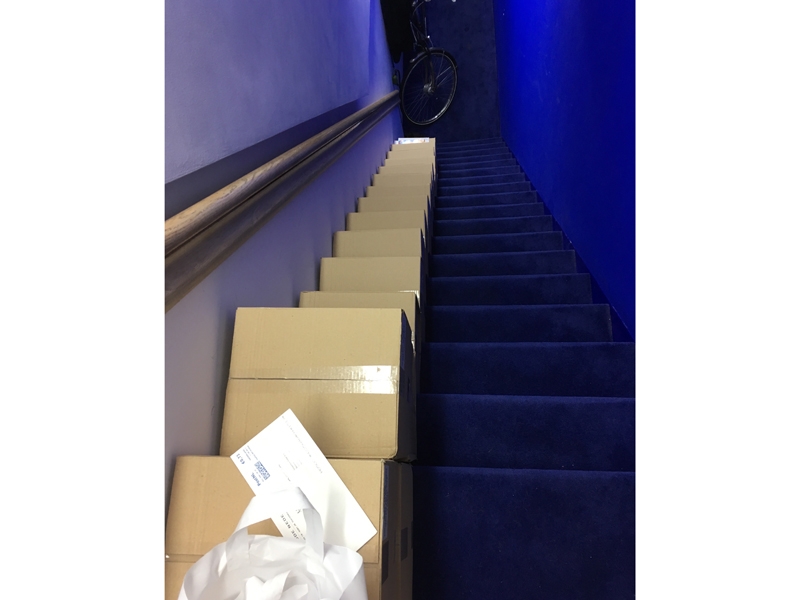 Specialists were needed at different stages. The constructions of the vitrines were technically calculated by engineer Peter Wolfs. The film, projected on the floor, was edited by the Italian artist Alberto Gori in such a way that the footage of the bubbling source is mixed with impressions of Peters's work. After building a test setup of the floor projection, the design of the exhibition had to be totally reconsidered and was changed from one big oval projection with all 126 vitrines grouped in and around it to three smaller projections, creating three groupings of showcases.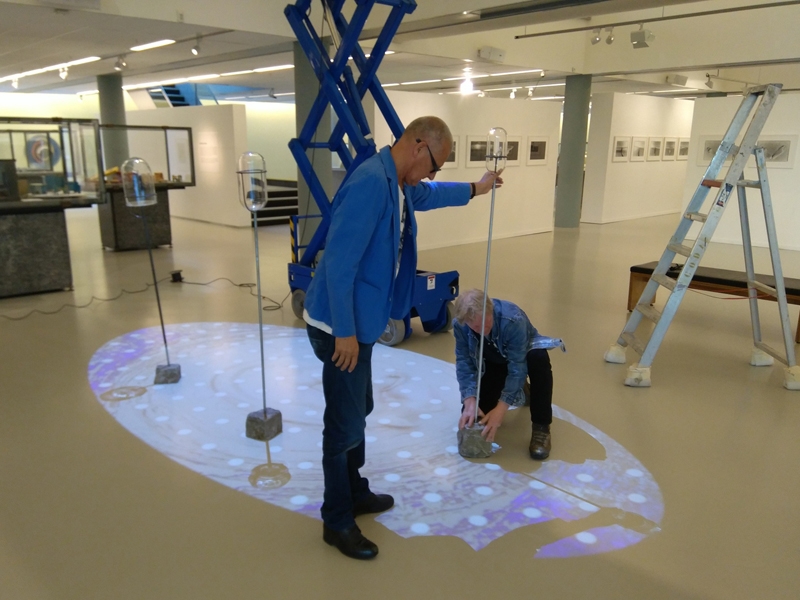 126 vitrines imply 126 times the same treatment, because each vitrine is custom-made. A vitrine includes, from bottom to top: a stone marked with a sign, a steel stand, a Plexiglas bottom plus a QR code linking to one of the short films on Peters's Vimeo channel, a custom-made Plexiglas or metal device to mount the jewelry, and the capsule. Peter Wolfs, who offered to make all the Perspex bottoms for the capsules, was confronted with the irregularities of each hand-blown glass bell; it required the patience of a saint to deliver this precision work, which took months to perfectly fit.
To avoid any confusion, a system was devised for the workshop team, with codes relating to any part of one vitrine and the piece of jewelry supposed to be placed in it. Long lists on the walls, containing all pieces of jewelry, were constantly updated about the work that had been accomplished, or anything that still needed extra attention.
Small disasters happened, such as the plastic foil meant to protect the perfectly clear glass capsules that turned out to leave serious traces on the glass (after 100 were done), or the steel stands which while blackened during a rainy and wet summer started to rust before your eyes, and things that went missing or were put away in the wrong boxes, and an emergency visit to the hospital.
Everything was tried out, every material and alternative material tested. A heavy hammer hung in a glass bell to test the glue, and all sorts of cleaning materials were tried to get the best result for the glass inside to stay clean.
The last few weeks, loaned works started arriving at the studio and were checked, cleaned, and sometimes restored. For the people in the workshop, this was the best part, as Koen Jacobs and Margaret Munchheimer confirmed: "After all this time, to have these pieces in your hands was a great experience." While the workshop was busy, Peters spent many hours behind his computer, communicating with everyone involved in the exhibition, and editing the 50 short movies (one to two minutes long) made by him over a period of one year, with interviews of 50 different people. Margaret explains: "The rare moments he was in the studio, he was smiling, he likes it so much. And he is very patient, if he notices you are interested in some technique, he takes time to teach you. Even when it was extremely busy he taught us things about chemicals for blackening steel, or using gold leaf."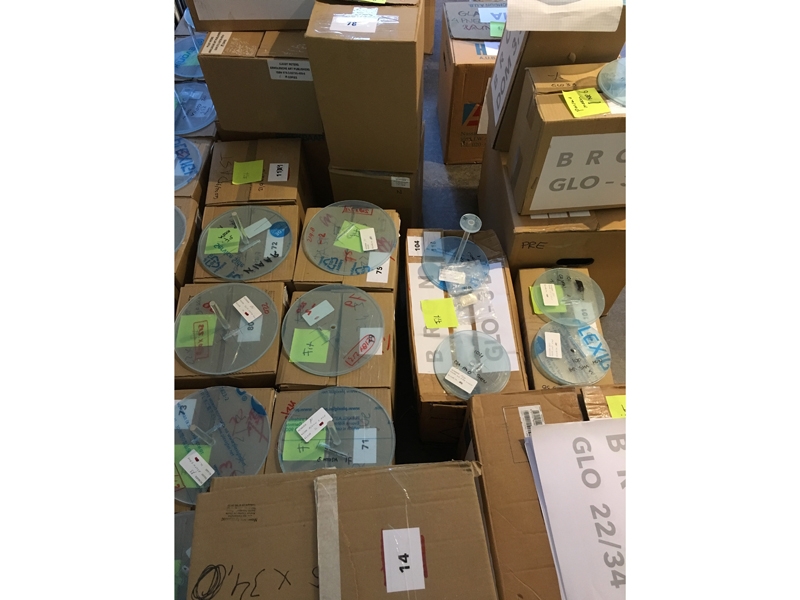 At times the project might have been a logistical, technical, and organizational nightmare, but Peters kept a positive spirit, never showing his concerns and being confident in creating the right vibe. Any completed phase in the process or any good result was celebrated (in the studio and on social media), and questions were always answered with, "It will be so beautiful." Inspired by his personality, a mutual spirit was created, working toward one radiant goal—an undertaking like this has no chance otherwise.
Click here to see a trailer for the exhibition.