Art Jewelry Forum's extensive network of international
gallery supporters
is dedicated to celebrating and showing art jewelry. On Offer is a monthly series that allows AJF galleries to showcase a piece that they've personally selected to tempt and inspire you. Please contact the gallery directly for inquiries. Enjoy!
MUSEUM WORTHY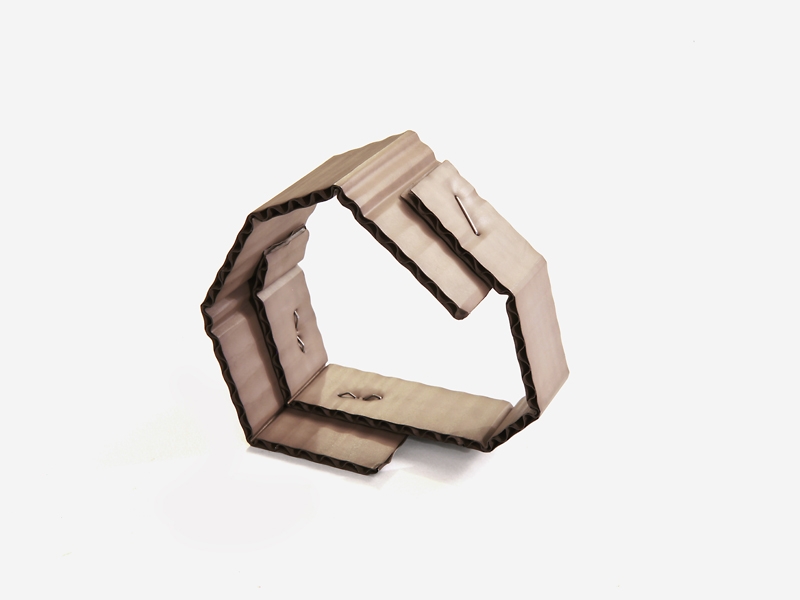 Gallery S O—This piece by David Bielander is part of the award-winning Wellpappe series, which won the Bavarian State Prize in 2015. What looks like a childish corrugated cardboard bracelet is actually made entirely of iron-plated silver with a white-gold staple. The matte surface and the realistic dents are so convincing that viewers often need to handle the piece before believing that it's made of metal. The fine craftsmanship and exquisite details of this work are not an end in themselves. Starting from an idea and reacting to the material world around him, Bielander's work is a reminder that behind conventions there are endless possibilities of interference with the everyday.
Bielander (born in 1968, in Basel, Switzerland) lives and works in Munich and is the recipient of the Swiss Grand Award for Design 2017. Wellpappe is part of his solo show at Gallery S O in Solothurn, Switzerland, and will be on display until December 16.
RETAIL: Price upon request
CONTACT: Felix Flury
---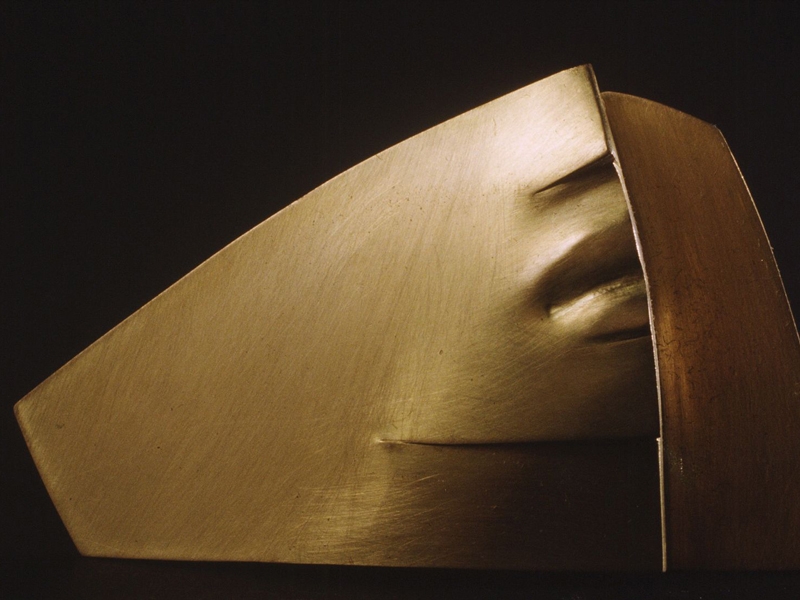 Slavik Gallery—In 2012, Bruno Martinazzi described his work this way: "My jewelry works or sculptures capture gestures, signs, signals and make them immortal. As time went by, lips, eyes, hands, feet, and fingers became the vocabulary of my own way of expression—I can create metaphors, query the past, and come to a better understanding of things gone by. The past becomes alive if we listen to it with an open heart, if we remain receptive to new signs and signals.
RETAIL: €19,800
CONTACT: Renate Slavik
---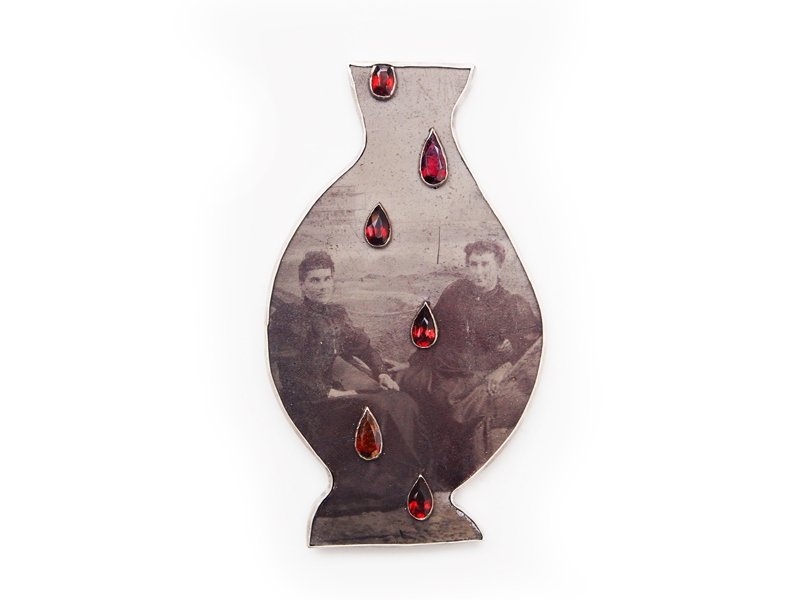 PLATINA Stockholm—When Bettina Speckner was invited to an artist's residency in Sweden in 2012, she worked together with a glass-blowing manufacture that blew a vase for her. The form of the vase was clumsy but beautiful, like a body, and The Vase became a representative for herself, her alter ego and an imperfect amiable companion. Bettina's vase series can be seen as typical of our time. To exhibit this piece in Sweden, one of the world's most egalitarian countries, is a part of feminine power for an equal society.
Speckner received her diploma from the Academy of Fine Arts in Munich in 1993. She is now a well-known, established artist within the jewelry field. Her work belongs to a number of museums and private collections and she exhibits and travels regularly around the world.
RETAIL: US$3,600
CONTACT: Sofia Björkman
---
Galerie Rob Koudijs—Here's a fabulous, new, and unique brooch by Gijs Bakker from 1992–2014. The photograph of this swimmer was found, laminated in PVC, and signed in 1992. In 2014, the brooch was mounted with palladium white gold, diamonds, topazes, tourmaline, and aquamarine.
RETAIL: €11,500
CONTACT: Rob Koudijs
---
ESTABLISHED ARTIST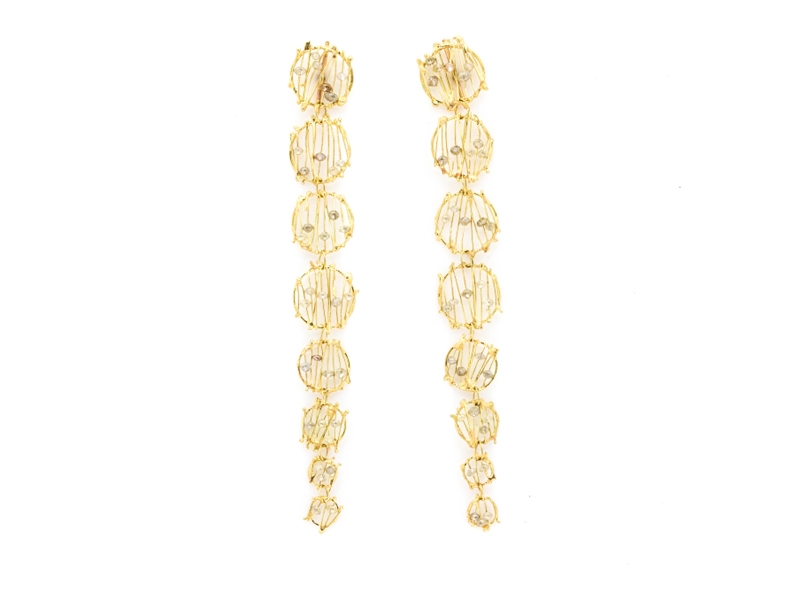 Shibumi Gallery—Croatian-born Nina Bukvic graduated in 1998 with a BA in jewelry design from Central St Martins, in London. From the outset, her works have fused a passion for elaborate textile techniques with her unique manipulation of fine materials, which she combines into a signature style that is immediately recognizable. These earrings would be fabulous for an event and are very lightweight.
RETAIL: US$6,630
CONTACT: April Higashi
---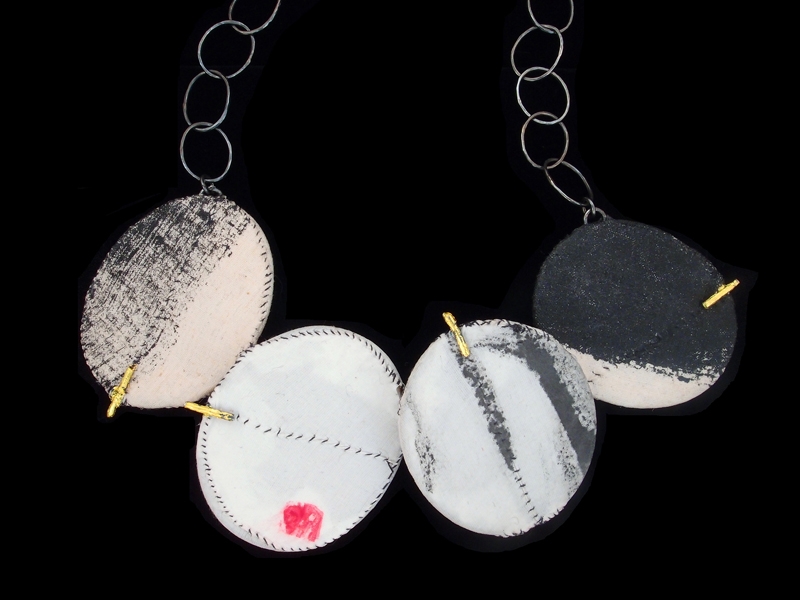 De Novo Fine Contemporary Jewelry—Myung Urso has a degree in fiber arts and incorporates textile materials and techniques into many of her pieces of jewelry. This sculptural necklace is created using hand-painted fabric stretched and sewn over wire frames. The hand stitching is an important visual element in this one-of-a-kind necklace.
RETAIL: $760
CONTACT: Cherry LeBrun
---
Patina Gallery—Pat Flynn crafted this gold and iron bracelet to reflect and accentuate the refined elegance of today's woman or the no-nonsense confidence of a man. "I know my jewelry pieces mean a lot to people," Flynn says. "The pieces are meaningful because they are so important, such a keepsake." Flynn is one of the featured goldsmiths in 'Tis the Golden Season, an exhibition opening December 15, 2017, at Patina Gallery. This nail bracelet features a subtle matte finish beneath the shimmering gold dust. Patina Gallery can order this bracelet in any size.
RETAIL: US$1,865
CONTACT: Linda Childers
---
MID-CAREER ARTIST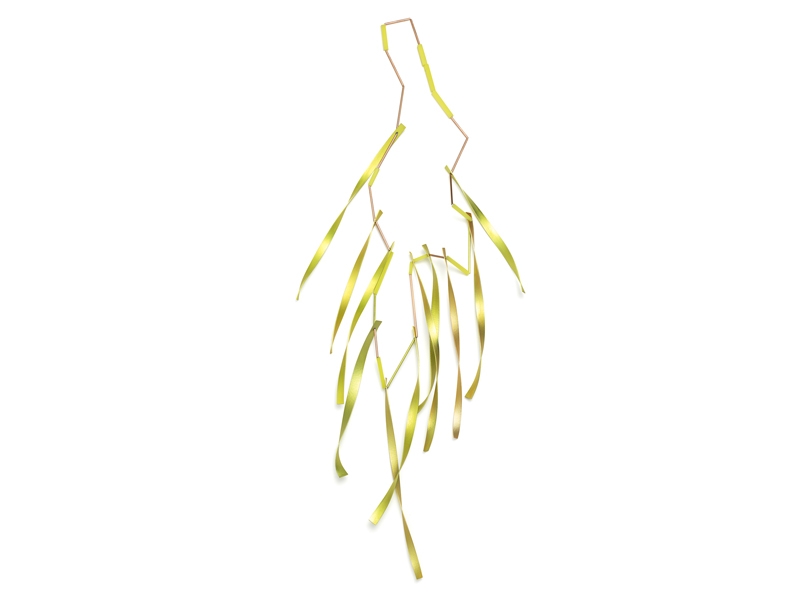 Ornamentum—Karin Johansson creates vibrant and strikingly wearable works that are equally at home in the fashion and art jewelry worlds. Precious and nonprecious are combined in lightweight necklaces with stunning scale and color.
RETAIL: US$3,800
CONTACT: Stefan Friedemann
---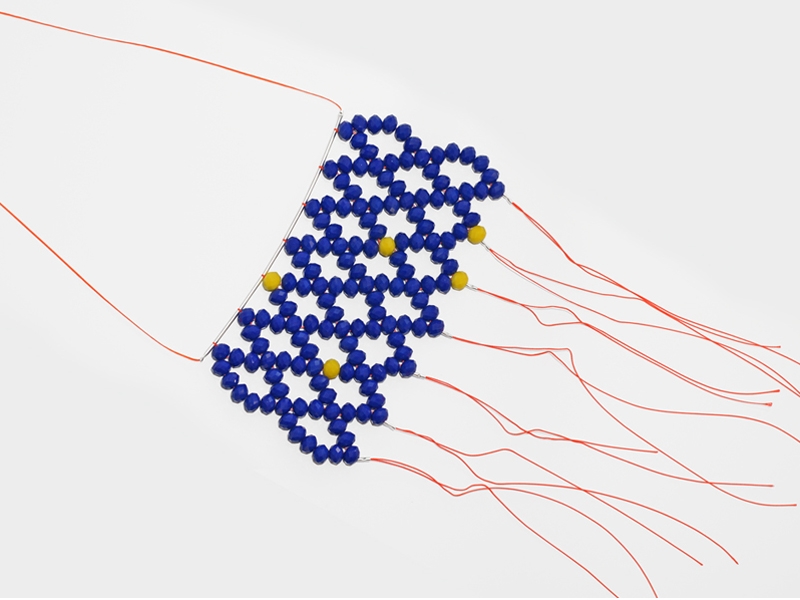 OONA Gallery—The playful work of the duo PE/AH is an appreciation of decorative ethnologic jewelry. Nowadays we have a nostalgic view of the naive and authentic jewelry of ethnic groups. But PE/AH doesn't stick to nostalgia. Due to strict and graphic interpretation, new materials, and well-chosen colors, the result becomes a very contemporary piece of jewelry.
RETAIL: €890
CONTACT: Anna Schetelich
---
Lillstreet Gallery—With jewelry as their platform, Erica Bello, Sarah Holden, and April Wood take on the surrealist parlor game of the cadavre exquis, or exquisite corpse. Exquisite Corpse is one of three collaborative brooches on display as part of Lillstreet's current exhibition, Jeweled Corpses. Each brooch, fabricated in turn by the three artists, is one-of-a-kind and will be on display alongside their individual production lines through December 24.
RETAIL: US$800
CONTACT: Nora McCarthy
---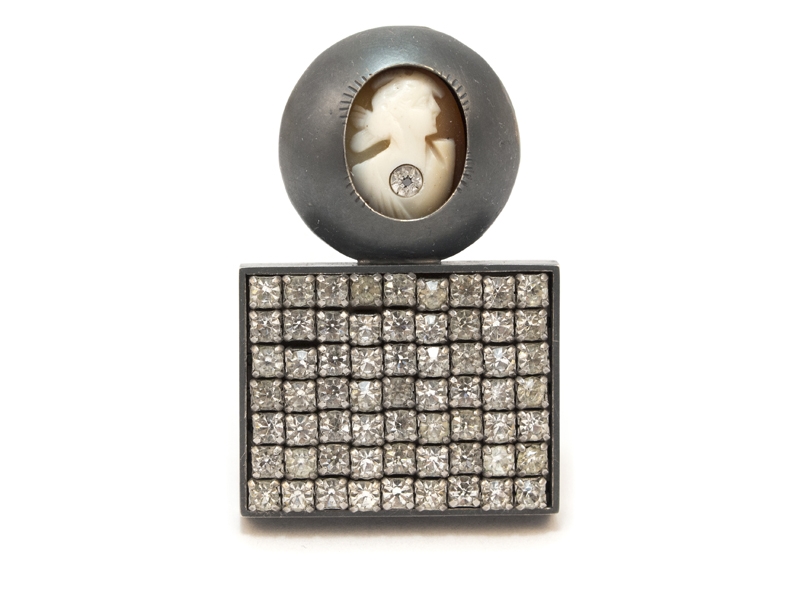 Baltimore Jewelry Center—This brooch was made as part of Radical Jewelry Makeover, an international community jewelry-mining and recycling project that draws attention to the creativity and skills of local jewelry designers, reveals the stories behind our personal collections, and encourages reconsideration of our habits of consumption. Artists use donated jewelry (both costume and fine) to create new work. Erica Bello is very interested in cameos and restoring the value of this craft form, which was radically devalued in the last century. Her work often involves minimalist yet complex fabrication, which is evident in this object.
RETAIL: US$350
CONTACT: Shane Prada
---
EMERGING ARTIST
The Gallery at Reinstein|Ross—The Lost Landscape necklace is part of Chiara Scarpitti's new collection, called Anthropocene. Anthropocene is a term adopted by the Nobel Prize-winning chemist P. Crutzen in the book Welcome to the Anthropocene. Anthropocene is a new post-Holocene geological time interval—a period characterized by the pervasive impact of human activities on the earth. This word comes from the Greek "anthropos," which means man, and "olocene," used for the current geological era, in order to indicate a new period where mankind transforms in an irreversible way the physical, chemical, and biological natural landscape. The jewelry collection leads to a reflection on this critical situation. The artist creates a collage of images that is digitally printed on silk, then set in silver.
RETAIL: US$420
CONTACT: Bella Neyman
---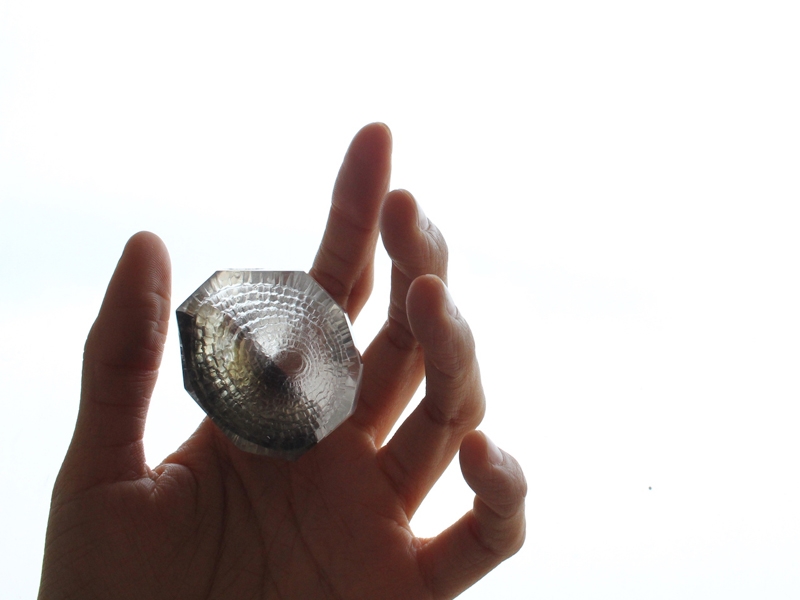 Yun Gee Park Gallery & Atelier—South Korean artist Jeong Hwa Lee uses the medium of jewelry, with its associations to the body and socially prized objects, to explore humankind's relationship with the earth and our allo-human neighbors. In her Mine series, Lee minifies strip mines to translucent and glowing ring-sized representations that rival the beauty of the gems that come from them. The rings are crimson red, to represent blood diamonds, or earth-toned, and they are often accented with mineral gold. She also further explores this theme through the creation of brooches that resemble the crystalline structures plucked from the walls and floor of a mine. For these brooches, she uses Japanese paper clay, with its association to earth, to fabricate objects of substantial visual weight that are meant to symbolize the replacement and healing of the scarred areas of the earth and a return in the mind of the wearer and viewer to a state of wholeness and remembrance. Lee's desire is for her rings and brooches to find a place in jewelry boxes next to the precious products of the mining process, visualizing the home from which the gems and minerals were extracted and reminding one of the cost to the earth for their removal. Lee earned her BFA and MA from Hanyang University, and has exhibited her work in Asia, Europe, and North America.
RETAIL: Price upon request
CONTACT: Scott Duerstock
---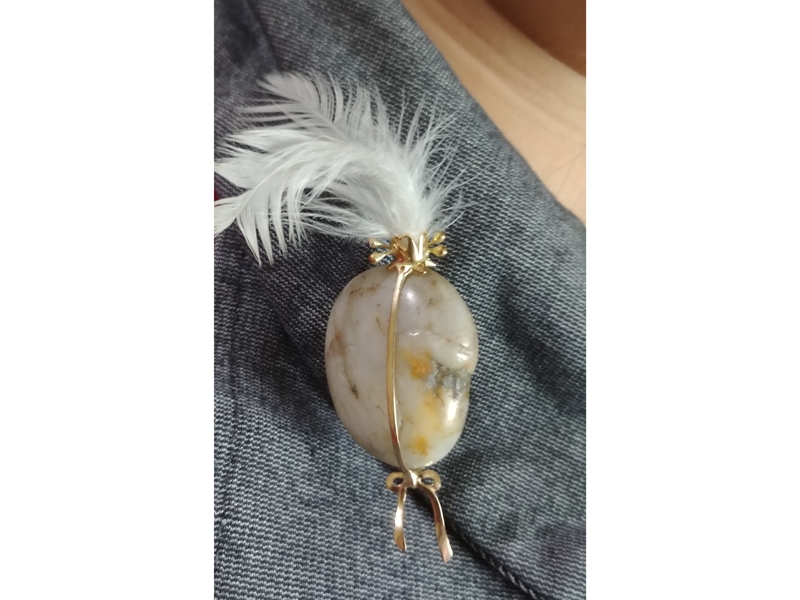 Koumei Art Gallery—Emily Zhu is a jewelry designer based in Indonesia. She graduated with a degree in art and design. Her designs usually incorporate mythological elements, folktales, and cultural beliefs from around the world. In the late 90s, a very popular Hong Kong television series called Kera Sakti aired in Indonesia. The series was actually an adaptation from a Chinese novel published during the Ming dynasty called Journey to the West. This brooch is inspired by one of the characters in the story, Sun Wukong (孙悟空), who wreaked havoc in heaven and took the title Qítiān Dàshèng (齊天大聖).
RETAIL: 17,000,000 IDR (Indonesian rupiah)
CONTACT: Eko Sukoco
---
Four—Ropes, weaves, and baskets are made to carry and to be carried. They are made of interlaced bands that create strong materials. The techniques are often associated with traditional female crafts, but the hands that tie, braid, and bind are not gentle virgin hands—they are tough, persistent, and strong. Ammeli Engström makes her weaves of fine silver. In this piece, thin metal bands are turned into a soft material with a shimmer that gives a hint about the origin and strength of the material.
RETAIL: €2,300
CONTACT: Karin Roy Andersson
---
GALLERY CHOICE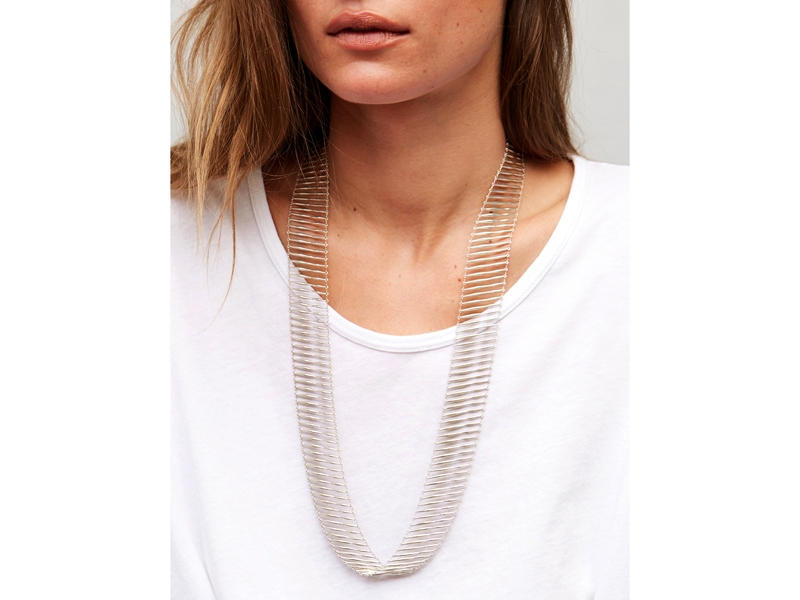 In the Gallery at Brooklyn Metal Works—The work of Kristi Sword is noted for its attention to the smallest of details, with minimal elements repetitively used to create maximum effect. Sword expertly constructs pieces that drape and flow effortlessly on the body, allowing the wearer to activate the movements inherent in her work. This jewelry is meant to be worn. This necklace is as fluid as any garment. Its structure brings light into the shape of the design and reflects off the metal surfaces as it shifts across the torso. This truly is a stunning piece of wearable statement jewelry that will easily be worn every day.
RETAIL: US$1,890
CONTACT: Brian Weissman
---
Ombré Gallery—Golden Reflection Brooch is a part of Jill Baker Gower's Retouched series. This series is inspired by ornate mirror frames, tools used for beautification, faceted gems, and the human body. These pieces playfully bring attention to our own vanity through the use of mirrors that distort, block, or alter the viewer's reflection. In Golden Reflection Brooch, Gower combines delicate crocheted wire with ornately patterned mirror that draws viewers in as they search for their own reflections.
Gower is an artist, metalsmith, and educator who resides in southern New Jersey, where she is an associate professor of art at Rowan University. She's originally from the Chicago area and received her BS in art education from the University of Wisconsin-Madison, and her MFA in metals from Arizona State University. Jill's work has been in many juried and curated exhibitions nationwide, and has been published in Metalsmith magazine, 500 Enameled Objects, and CAST. Gower is a former resident artist of Arrowmont School of Arts and Crafts in Gatlinburg, TN. She was a recipient of the New Jersey State Council on the Arts Individual Artist Fellowship (2015).
RETAIL: US$1,600
CONTACT: Jenna Shaifer
---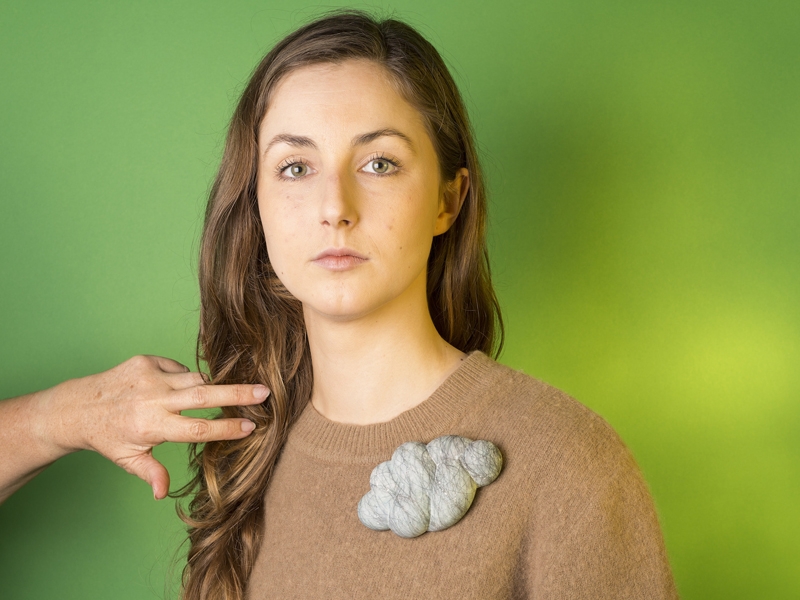 galerie beyond—This light and easy-to-wear piece by Timothy Veske-McMahon is a 3D-printed nylon brooch finished with a layer of fluid imaging.
RETAIL: €600
CONTACT: Rene Darmont
---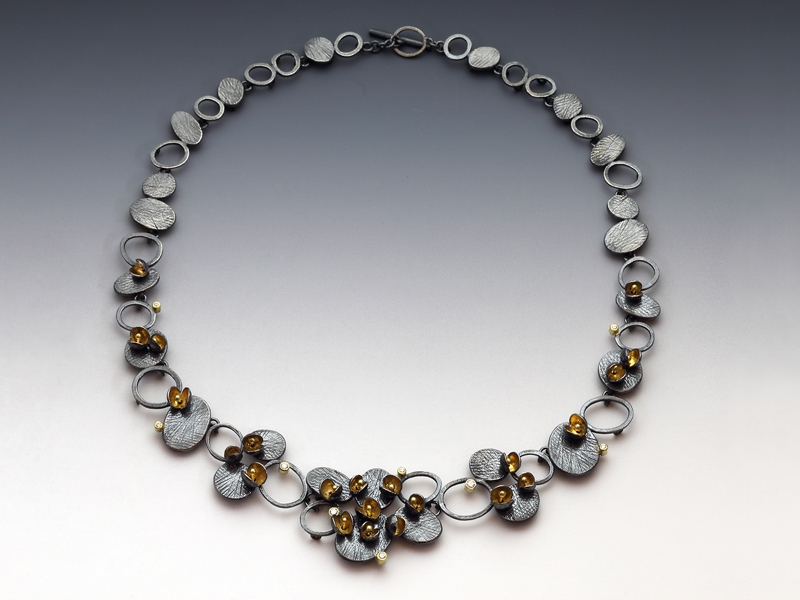 Facèré Jewelry Art Gallery—Liaung-Chung Yen has a passion for the natural world, its structures and materials. His work is witty and sensual. Inspired by water lilies, this necklace uses elements that sparkle and flash. Moving with the wearer, it creates a sense of rhythm in space—a dance of light on the neck.
RETAIL: US$3,763
CONTACT: Madeline Courtney
---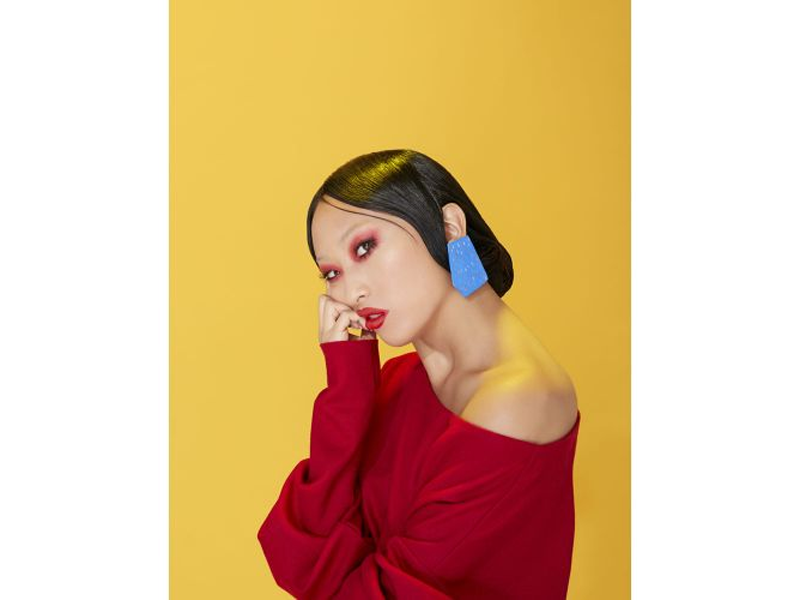 L.A. Pai Gallery—Gabrielle Desmarais is an emerging artist of note. In charming counterpoint to her sculptural jewelry, she has developed a line of bright and bold large-scale pieces that are enchanting, as is her photographic campaign for the Achromat limited-edition series.
RETAIL: CAN$130
CONTACT: Lisa A. Pai
---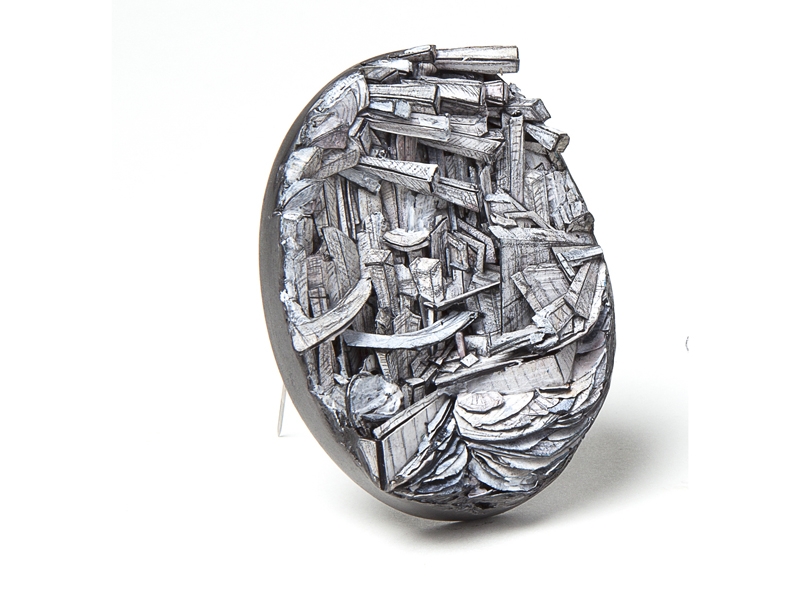 Galerie Noel Guyomarc'h—Israeli artist Attai Chen compiles and researches matter before beginning any creation. He uses raw materials such as casts-off, carved wood, paper, paint, and graphite. His most recent series, Matter of Perspective, aims at denouncing how each individual views reality through the lens of his or her own specific culture and references. With his exceptionally beautiful pieces, he encourages us to see raw materials as if for the first time, without any preconception. A graduate of Bezalel Academy of Art and Design in Jerusalem, Chen also holds a degree from the Munich Academy of Fine Arts. In 2010, his work was awarded the Herbert Hofmann Award at Schmuck, and in 2011 he won the Oberbayerischer Prize for Applied Art. In 2014, he was granted the Andy Prize for Contemporary Art and was offered a solo exhibition at the Tel Aviv Art Museum. His works can be seen in the collections of the New York Metropolitan Museum of Art, Munich Neue Sammlung, Tel Aviv Museum of Art, Jerusalem Israeli Museum of Art, and Rotasa Trust Collection in California.
RETAIL: €2,100
CONTACT: Noel Guyomarc'h
---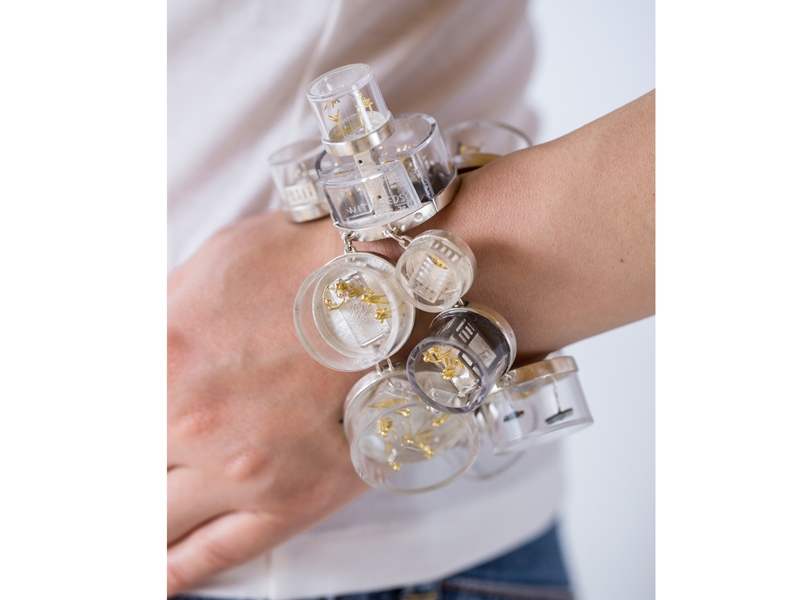 Galerie LA Joaillerie par Mazlo—Born in Tokyo in 1977, Asagi Maeda has been fascinated since childhood by boxes and puppet theater. His works explore the theme of everyday life in the urban space, in the form of small scenes in which characters are evolving. Especially designed for the group show Triptych: Life, Love, Death, the bracelet entitled My Life with Beds takes us into the meanders of a domestic odyssey. We become the spectators of a woman's life, from the bed of the parturient to that of the dead, through the bed of the newborn or of the first love.
To represent Death, Maeda confesses that she had to leave her comfort zone, having never dealt with it before in her work. Instead of representing this ultimate threshold as an end, she takes up the archetypal symbol of the scale. Death is transformed here into an Ascension. It is regarded as an elevation to a higher level of existence, in line with primitive initiatory rites. While the silhouettes of the living are made of gold threads, that of the deceased is adorned with silver, before seeing his soul hoisted by an angel, in the box constituting the clasp and thus symbolically separated from the body of the bracelet.
RETAIL: Price upon request
CONTACT: Céline Robin
---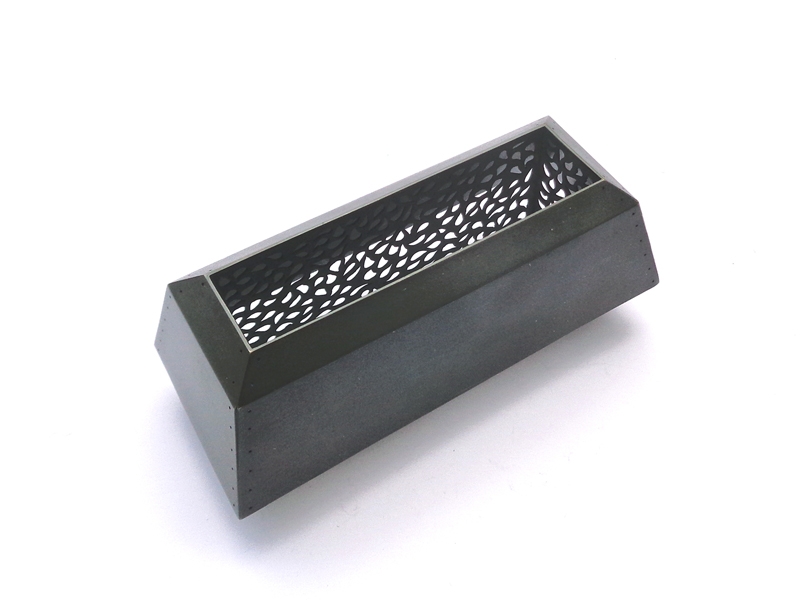 Galerie Spektrum—Interno is the exhibition with which we began our collaboration with Ruudt Peters. Interno-Labor is a very important piece from this series, made in 1991.
RETAIL: US$6,900
CONTACT: Jürgen Eickhoff
---