Art Jewelry Forum is pleased to share the news that members of our community find noteworthy. Is something missing? The success of this compilation of compelling events, exhibitions, and items of interest to the jewelry community depends on your participation.

If you're a member of AJF, you can add news and ideas to the monthly report by going
here
. If you aren't a member, but would like to become one, join AJF by
making a donation
.
ANNOUNCEMENT
The Baltimore Jewelry Center (BJC) is currently facing a US$45,000 shortfall, due to having to be closed for two and a half months due to the coronavirus. Your generosity can help the BJC make up the difference! During the time they've been closed, the BJC has provided online demos and other programming for free, and it means a lot to their organization to provide programming that can help people stay busy and creative in this time. Your donations (of all sizes, big or small) will ensure the future of the BJC. Give here; the Center thanks you very much for your support.
ANNOUNCEMENT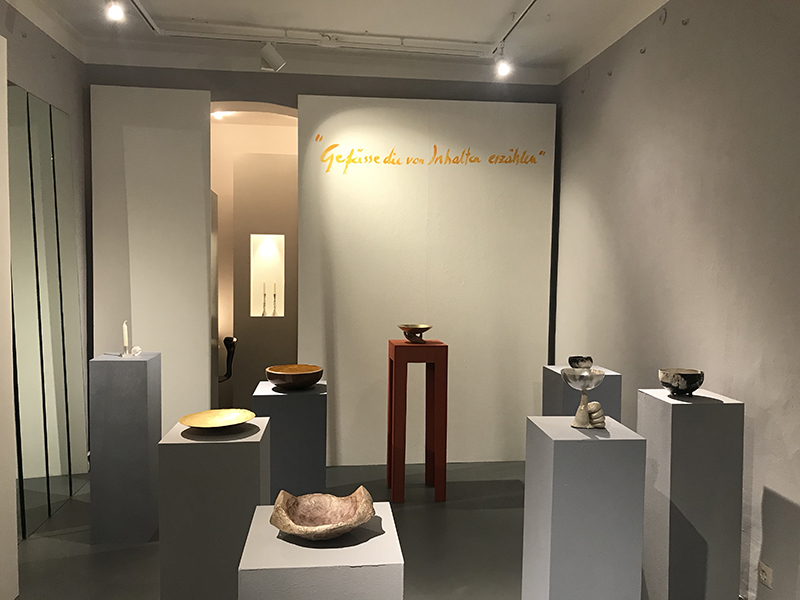 Due to CORONA, Galerie Biró's plans have changed. The planned exhibition with Coco Sung was unfortunately cancelled, but has been replaced with the current exhibition that's just as exciting, showing work by Peter Bauhuis, Rudolf Bott, Karl Fritsch, and Gerd Rothmann. For the very first time, the gallery is showing exclusively vessels. Galerie Biró is very thankful and feels quite honored that these four highly respected artists have been inspired by the idea at such short notice. The exhibition has become a real jewel.
MUSEUM EVENT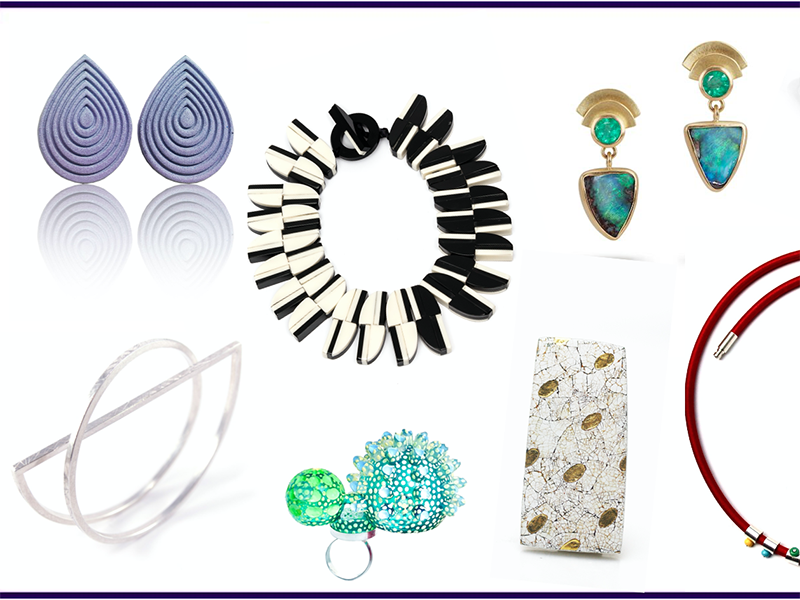 LOOT: MAD About Jewelry, the Museum of Arts and Design's annual curated jewelry show and sale, is available to shop online! Enjoy this sneak peek of what's to come later this year (LOOT will take place December 7–13, 2020). New artists will be posted on June 19, with additional LOOT artists added each month, so check back frequently. The LOOT 2020 artists have created a very special online sale of contemporary jewelry. Proceeds from the sale directly benefit participating artists and the MAD's educational programming.
Also, Virtual Trunk Shows with LOOT alumni in conversation with LOOT curator Bryna Pomp are occurring bi-weekly. On June 9, Jed Green and Anna Porcu will be highlighted. On June 25, the participants will be Jane Adam and Jen Neame Collins. Get more information.
EXHIBITION—WITH VIRTUAL TOUR
All Is Possible: Mary Ann Scherr's Legacy in Metal highlights one of the first female industrial designers, and the first woman designer to work in the automobile industry. Curated by jewelry historian Ana Estrades, All Is Possible includes numerous examples of Scherr's innovative jewelry, body monitors, and design work, reuniting a total of 143 of her jewelry pieces and covering a career that stretched over six decades, from Scherr's first two pieces, made in 1951—a sterling silver cuff and matching earrings—to her most recent personal commission, an amethyst necklace from 2012. Includes Scherr's pioneering heart pulse bracelet, on loan from the Museum of Arts and Design in NYC, a sort of early Fitbit designed in the late 1960s. At the Gregg Museum of Art & Design, in Raleigh, NC, US, through September 6, 2020. View the virtual tour.
EXHIBITION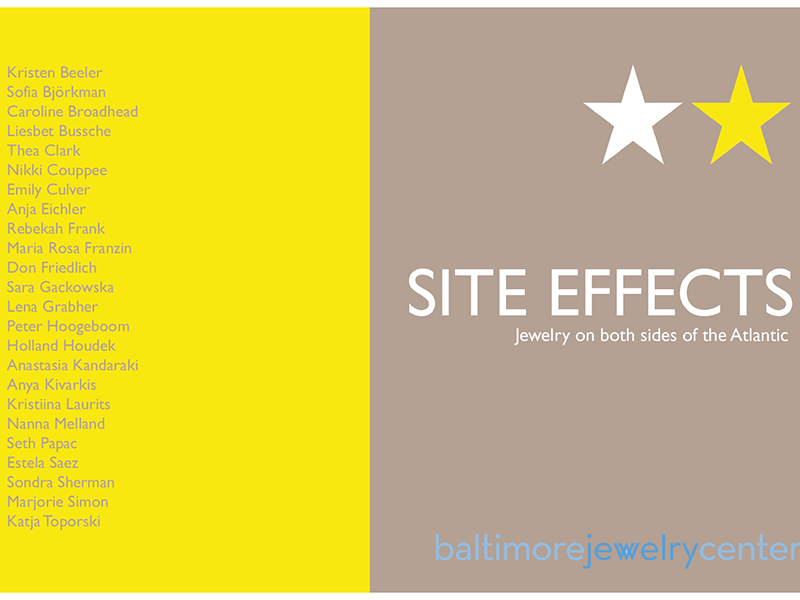 Site Effects will be on view at the Baltimore Jewelry Center June 5–July 10, with an opening reception on Friday, June 5, 6–9 p.m. On both sides of the Atlantic Ocean are "Western" cultures. If jewelry is considered a form of communication, do people speak the same language on either side of the Atlantic? Site Effects aims to shed a light on two questions: Have these differences been blurred in our era of globalization, or do they still exist? And to what extent does one only perceive a difference because knowledge of an artist's name and location results in cultural stereotyping? Participating artists: Kristen Beeler, Sofia Björkman, Caroline Broadhead, Liesbet Bussche, Thea Clark, Nikki Couppee, Emily Culver, Anja Eichler, Rebekah Frank, Maria Rosa Franzin, Don Friedlich, Sara Gackowska, Lena Grabher, Peter Hoogeboom, Holland Houdek, Anastasia Kandaraki, Anya Kivarkis, Kristiina Laurits, Nanna Melland, Seth Papac, Estela Saez, Sondra Sherman, Marjorie Simon, and Katja Toporski.
EXHIBITION
Dorothea Prühl belongs to the generation of goldsmiths who began to question the means and standards of classic goldsmithing in some European countries at the beginning of the 1960s. Free in the choice of themes and materials, this jewelry is created solely from the subjective artistic will of its authors. Prühl is one of the earliest protagonists of this movement.
The exhibition Ornament and Sculpture: New Works by Dorothea Prühl, curated by Dr. Renate Luckner-Bien, shows new works ranging from 2005–2020. Prühl's works are determined by an understanding of form trained in classical modernism. Her jewelry is always both ornament and sculpture. The works are characterized by memorable artistic ideas. Necklaces are the central concern for Prühl. For this she prefers to use the French word collier. Whoever wears a necklace shows a face. It promises dignity to its wearer. With the power of their forms, Prühl lives up to this promise. At the Kunstmuseum Moritzburg Halle, in Saale, Germany, through August 30, 2020.
VIRTUAL EXHIBITION—GALLERY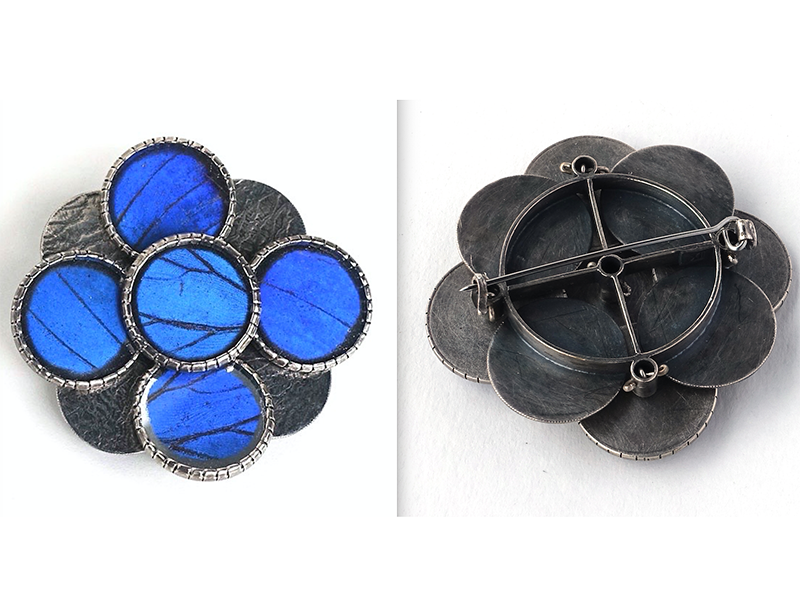 Galerie Rob Koudijs presents Daniel Kruger: Mixed Bag. Under the current circumstances, the gallery is beginning by displaying Kruger's work virtually. It has produced a special online catalog in which you can admire all the pieces. Through July 25, 2020.
CALL FOR ENTRY—WRITING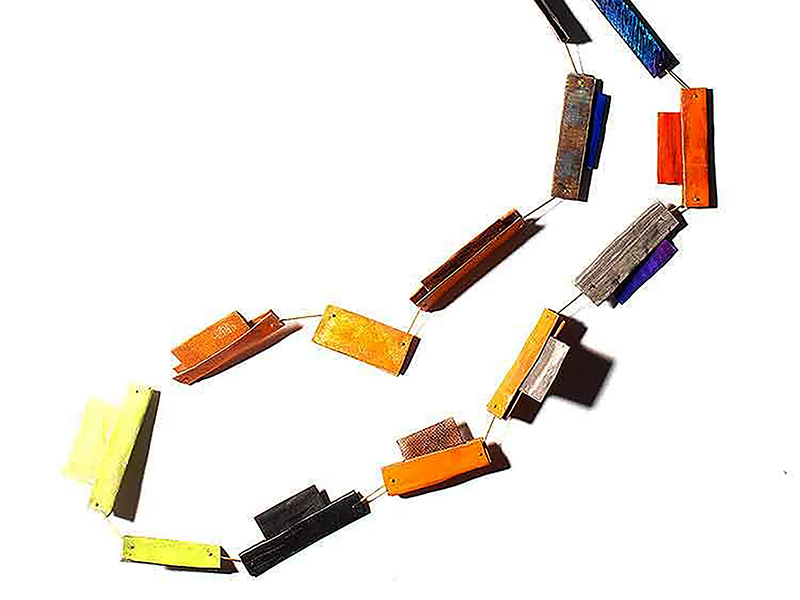 The Journal of Jewellery Research awaits papers that investigate jewelry design, theory, and the contexts in which it operates. The journal is a peer-reviewed online and open-access publication that focuses on the design, theory, and praxis of jewelry studies. It promotes jewelry research into materials, techniques, methodologies, processes, concepts, and aesthetics, providing an interdisciplinary arena for the discussion of jewelry spanning conceptual, practical, pedagogical, and cultural aspects.
Submissions can be made in two forms of academic paper: conventional and visual/textual. All submissions will be peer-reviewed by at least two members of the journal reviewing committee. The committee is formed of a panel of international jewelry and design researchers—Editorial board: Roberta Bernabei (editor-in-chief), Jayne Wallace(co-editor). Advisory board: Liesbeth den Besten, Stephen Bottomley, Lin Cheung, Monica Gaspar, Sian Hindle, Jenny Hutton, Ben Lignel, Kevin Murray, Laura Potter, André Gali, Secil Ugur, and Josephine Winther. Deadline for submission of full paper or exhibition review: June 30, 2020. Get more information.
EDUCATION—WORKSHOP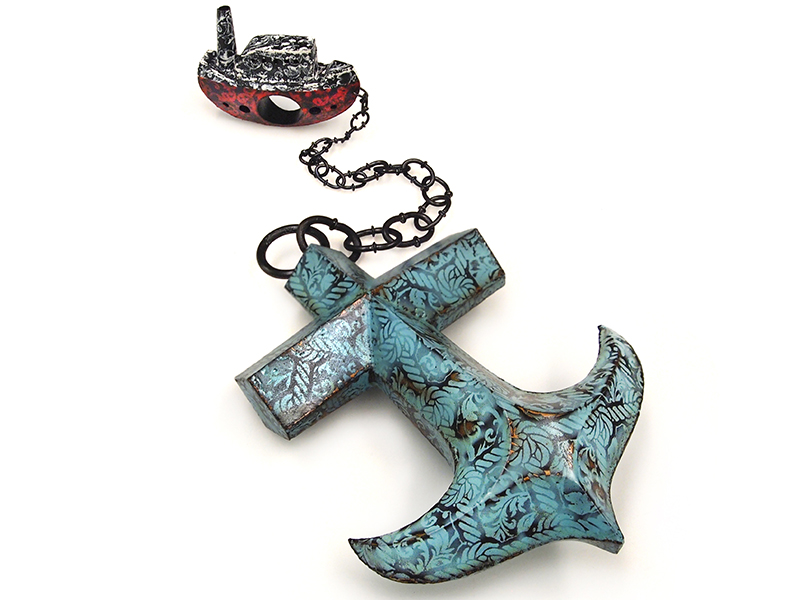 Join the Baltimore Jewelry Center for a visiting artist workshop with Sharon Massey, to be held Saturday and Sunday, August 1– 2, 2020. Scoring and bending sheet metal is an efficient way to add complexity and volume to three-dimensional form without sacrificing structural integrity or adding additional solder seams. In this workshop, students will learn how to quickly score sheet metal to achieve both straight and curved bends for a variety of applications. Some experience preferred. Learn more and enroll in the workshop, titled Adding Volume with Scoring & Bending.
EDUCATION—WORKSHOP
Join the Baltimore Jewelry Center for a visiting artist workshop with Tanya Crane, Saturday and Sunday, August 8–9, 2020. Beads offer unlimited variations for assembly in jewelry. In this workshop, learn to make one-of-a-kind enameled beads using liquid enamels that can then be decorated with enamel paints, glass beads, glass stringers, sand, and steel. Ultra-light copper will offer easy construction methods and, in the end, your beads will be unique, light, and eye-catching! No experience necessary. Learn more and enroll in the workshop, titled Pop Life: Enamel Beads.
EDUCATION—WORKSHOP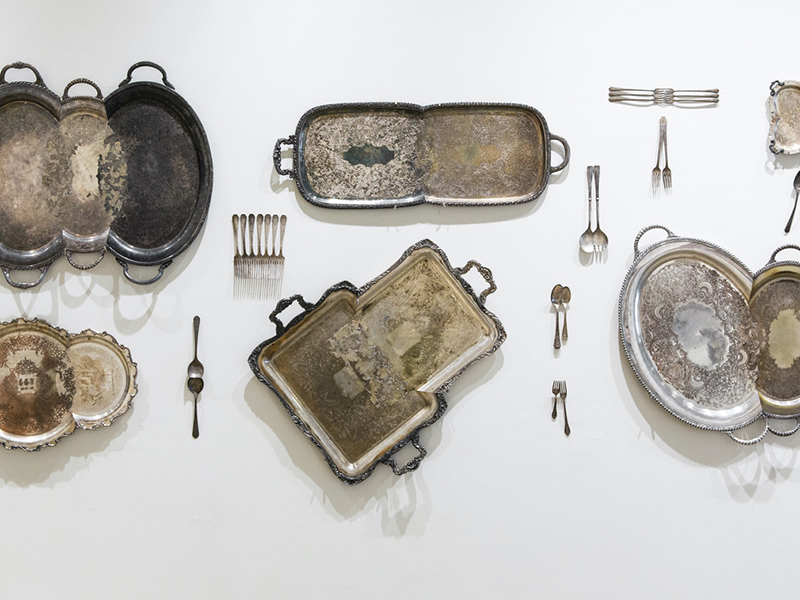 Join the Baltimore Jewelry Center for a visiting artist workshop with Jaydan Moore, Friday–Sunday, August 21–23. How is it different to work with materials that have a history? This workshop will focus on mining materials from the scrap heap, second-hand shops, and other sources. You will study and solve the technical challenges that come with each material and the concepts evoked when working with found objects. Each student will explore the ideas conveyed by the materials they're drawn to, and will consider how those ideas can be incorporated into jewelry, sculpture, or functional objects. Processes will include sawing, soldering techniques, cold connections, sheet fabrication, and more, and will be covered throughout the workshop. No experience necessary. Learn more and enroll in the workshop, titled Found.
EDUCATION—FREE MODERATED PANEL ONLINE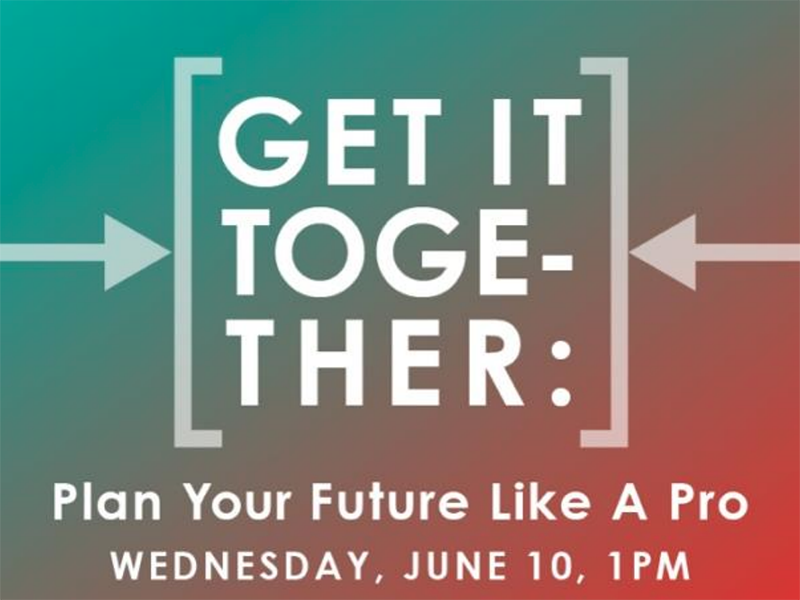 Here's an online learning opportunity for metal artists and studio jewelers. On June 10, at 1 p.m. CST, the Metal Museum will host its first virtual panel discussion to answer such questions as: How do I develop professional relationships with museums and galleries? How do I borrow work that I've sold from galleries, private collections, and institutions? What's the best way to document my work? How do I determine my work's insurance and the retail value?
This free professional development opportunity is titled Get It Together: Plan Your Future Like A Pro. Exhibitions Manager Nancy Cook, Collections Manager Brooke Garcia, and metalsmith Mary Lee Hu will participate in a moderated discussion via Zoom. This virtual event is ideal for established artists, emerging artists, and recent graduates. Read the press release for additional info. You must fill out this pre-registration form to attend.
INTERESTING LINK
The current issue of Ornament Magazine has a lovely article, with photos, about Taboo Studio, the gallery of contemporary jewelry. Located in San Diego, Taboo Studio has been open for 33 years!
INTERESTING LINK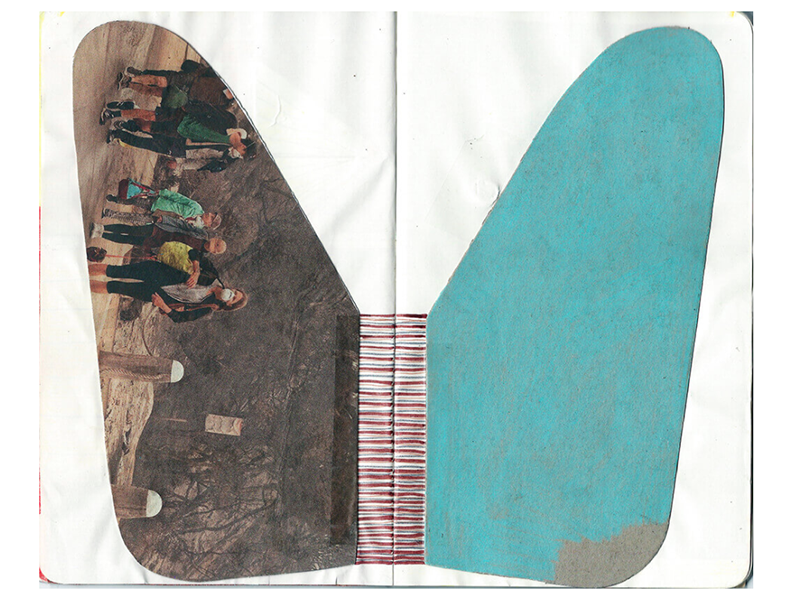 Alchimia recently hosted an exhibition in Taipei that featured pieces made by teachers and former students of the school. Called [im-mà-gi-nà]—The Jewellery Artists' Works and Their Notebooks, it showcased jewelry/objects made by contemporary jewelry artists, along with their rarely seen notebooks. See the full list of artists, and view selected pages from their sketchbooks, which are a real treat—don't you love getting a peek behind the curtain?!
INTERESTING LINK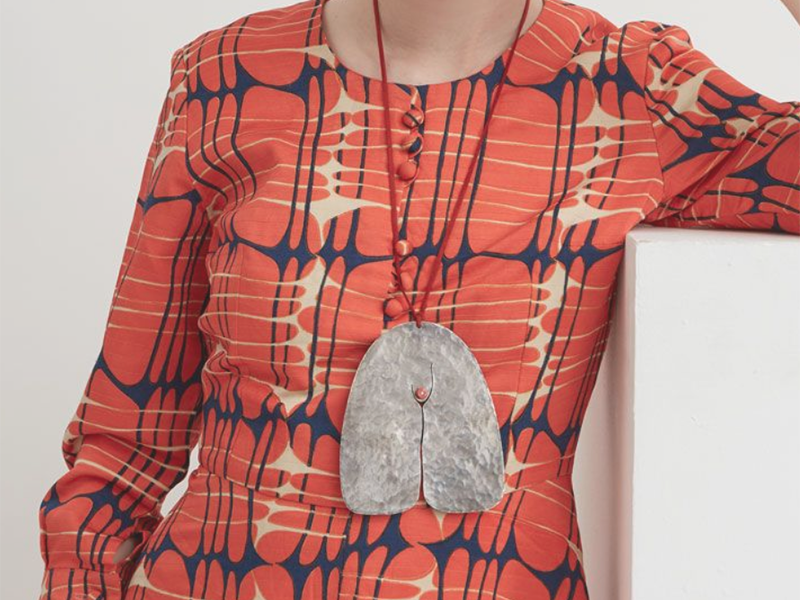 Artdaily reported that Christie's is presenting an online selling exhibition of jewelry by leading 20th-century artists. Art to Wear is a partnership with Didier Ltd, a London-based gallery that specializes in 20th-century artist-designed jewelry. The 17 objects presented—by artists ranging from Louise Nevelson to Niki de Saint Phalle—transcend eras and channel art, innovation, and technique to create luxurious and bespoke expressions suitable for daily wear. The exhibition explores the creative process with photographs, sketches, and texts that give viewers insight into this unique aspect of the artist's oeuvre, underlining the cultural and art historical contexts within which these objects were brought into existence. Works from the exhibition are available for immediate purchase, with a price range of £20,000–150,000.
INTERESTING LINKS—GRADUATING STUDENT EXHIBITIONS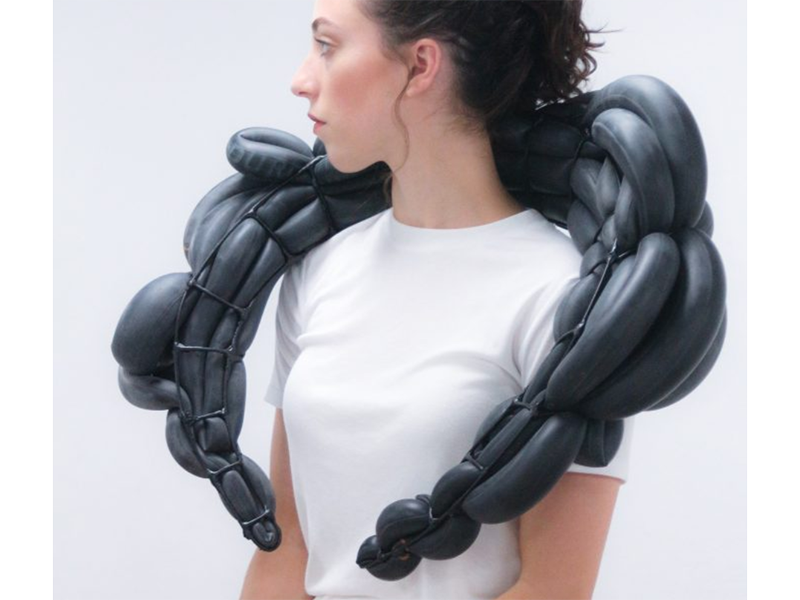 COVID-19 is preventing graduating students from holding exhibitions of the pieces they've been working on so hard for so long—it's really unfortunate! However, many universities are posting graduation exhibitions online instead, so here's your opportunity to view them.
The VCU Craft/Material Studies Metal Area is proud to present the work of its 2020 MFA and BFA graduating classes. View online.
View Pratt Institute's 2020 BFA Jewelry Exhibition here.
See SUNY New Paltz's Spring 2020 MFA show.
Indiana University Eskenazi School of Art, Architecture + Design, Bloomington, IN, has one student graduating in metals. See her online exhibition here.
Ball State's BFA graduates showing jewelry work include Jessica Craig, Aly Didier, Marin Hilbrich, and Gabrielle Wilkes.
The metal and jewelry department at Oslo National Academy of the Arts has posted work by its graduating class on Instagram.
INTERESTING LINK
The Crafts Council reports that the UK's passion for craft has never been greater, with craft sales exceeding £3 billion. The report was implemented by the Crafts Council and eight leading national partners and surveyed 5,000 UK residents, 1,500 US citizens, and 1,700 professional makers. It brims with statistics and trend insights. For example, The Market for Craft Report found that 73% of UK adults had bought craft in 2019, snapping up almost 25 million handcrafted objects. In a significant shift, almost a third (32%) of today's buyers are aged under 35—making this demographic the biggest buyer of craft today. Read the report for valuable evidence as to who's buying what, why and how they're doing it, and how best to support and grow the market.
INTERESTING LINK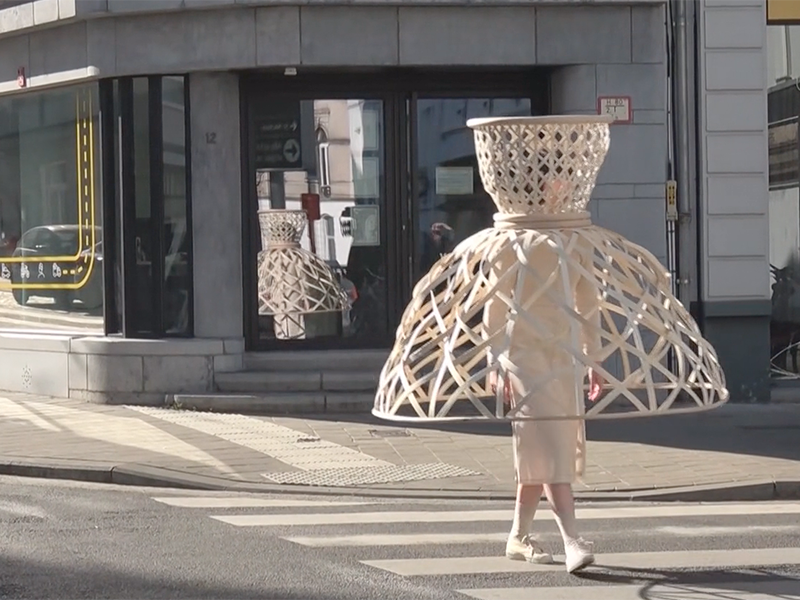 Fast Company reports that after "months of social distancing, many of us have had just about enough. It's no fun being 6 feet apart from our friends and family. But this moment is sparking creativity in some fashion designers, inspiring them to reimagine garments that have some fun even from a distance … One outfit, which takes the form of a large rattan cage, is suggestive of how trapped we feel by these new rules. Others, like a massive doughnut, are effectively performance art. Some, like the hats and the petticoats, are a nod to the history of fashion, when clothes were used to keep people apart for many reasons, including to create a barrier between women and unwanted suitors. (One fashion historian suggests that this may have inadvertently helped mitigate smallpox and cholera.)" Read the article.
INTERESTING LINKS
The robot artists aren't coming, says Ahmed Elgammal, the director of the Art and Articifial Intelligence Lab at Rutgers University, in the New York Times. "Artificial intelligence is making machines more creative—but machines don't make art." Although a robot artist named Ai-Da has generated $1 million in sales since 2017, and Christie's sold an AI artwork for $432,500, as reported in an artnet article about Jarvis, an AI program selected to curate the 2022 Bucharest Biennial, Elgammal writes, "artificial intelligence can produce truly novel and uncanny imagery that is beyond our imagination. This element of surprise is the force that can advance artistic mediums in new directions, with the machines functioning not only as tools for artists, but also as their partners." Read Elgammal's full opinion piece.
OBITUARY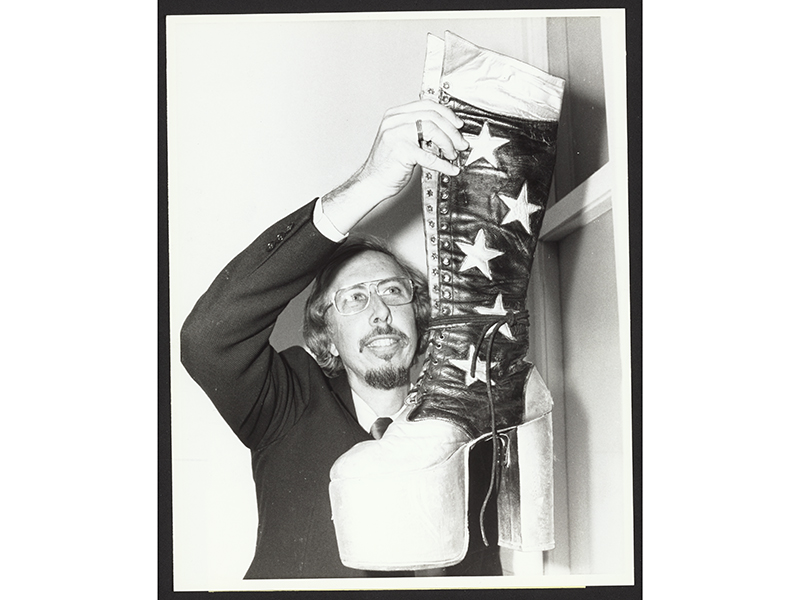 Paul J. Smith (1931– 2020). Smith was the director of the Museum of Arts and Design, NYC, from 1963 until 1987, and served as director emeritus until his death. As Architectural Digest reports, "Smith was born in Batavia, New York, in 1931 and raised in various upstate New York communities. In a 2010 oral history, Smith recalled first earning recognition for his artistic talents in high school, after which he attended the Art Institute of Buffalo and Rochester's School for American Craftsmen. He moved to New York City in 1957 to join the staff of the American Craftsmen's Council (now the American Craft Council), where he organized traveling exhibitions and provided support to Museum of Contemporary Crafts directors Thomas Tibbs and David Campbell. He was appointed head of MCC in 1963, and he oversaw the museum's rebranding as the American Craft Museum in 1979. The museum and council became separate entities shortly after Smith's tenure. MAD gained its current name in 2002."