Art Jewelry Forum's extensive network of international
gallery supporters
is dedicated to celebrating and showing art jewelry. On Offer is a monthly series that allows AJF galleries to showcase a piece that they've personally selected to tempt and inspire you. Please contact the gallery directly for inquiries. Enjoy!

MUSEUM WORTHY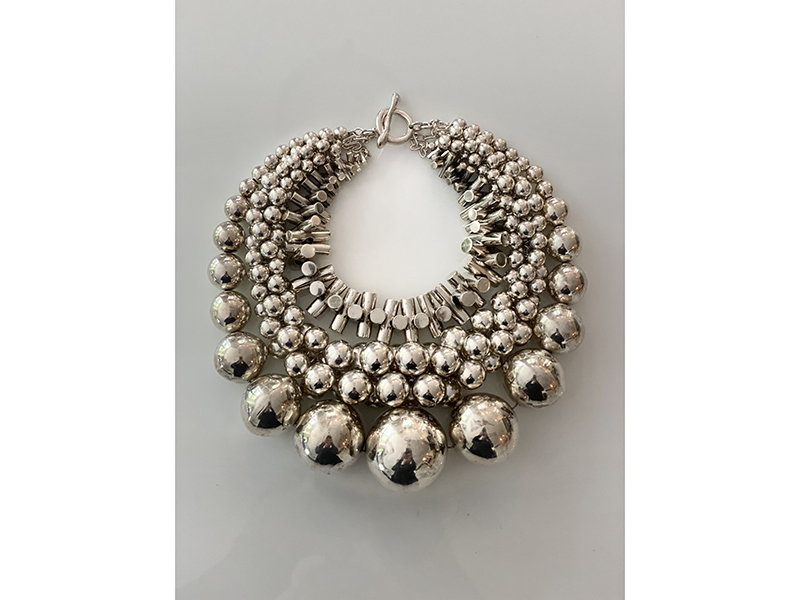 Artist: Robert Lee Morris
Gallery: Sculpture to Wear
Contact: Lisa M. Berman
Retail: US$12,000
This sterling silver triple row necklace was created for the Fall 2009 runway show for Donna Karan. It's the only necklace from the show that is still available. The powerful visual punch was the perfect element of luxury that the rich fabrics and styling of the collection needed. Its creator, Robert Lee Morris, states, "Throughout history, the arts have always depended on the patronage of the collector—having a new a steward of my work is always appreciated, and having one who will ensure my original designs remain part of our culture is truly a gift. I was more than thrilled to achieve the patronage of serious art collectors who recognized the value of my wearable art in my gallery, Artwear, and now, as I enter my golden years, I find enormous gratitude to know the value of my rare archival pieces, some 40 to 50 years old, have increased in value and are appreciated as I dreamed they would be. This inspires me to create even more."
MUSEUM WORTHY
Artist: Peter Machata
Gallery: Galerie LA Joaillerie par Mazlo
Contact: Céline Robin (curator)
Retail: €2,000
The representation of body parts plays a pivotal and metonymic role in the works of Peter Machata. It refers to the tradition of reliquaries, of lucky charms, worn close to the body since the earliest times. The Rekonstructions series, however, deals more specifically with the idea of reconstructing a whole from a sole remaining part, here with the representation of a jaw starting from a tooth. The process of imagination involved here has a lot to do with archeological speculations and the restoring technique of anastylosis—an architectural thinking frame which is very dear to Machata, who was initially trained as a sculptor in the studio of Prof. Jankovic, in Bratislava.
MUSEUM WORTHY
Artist: Daniel Kruger
Gallery: Galerie Rob Koudijs
Contact: Rob Koudijs
Retail: €3,850
Daniel Kruger's jewelry often refers to the models and customs that European goldsmiths developed over the past centuries. The way in which he handles these historic recourses is always as unconventional as the outcome is seductive.
MUSEUM WORTHY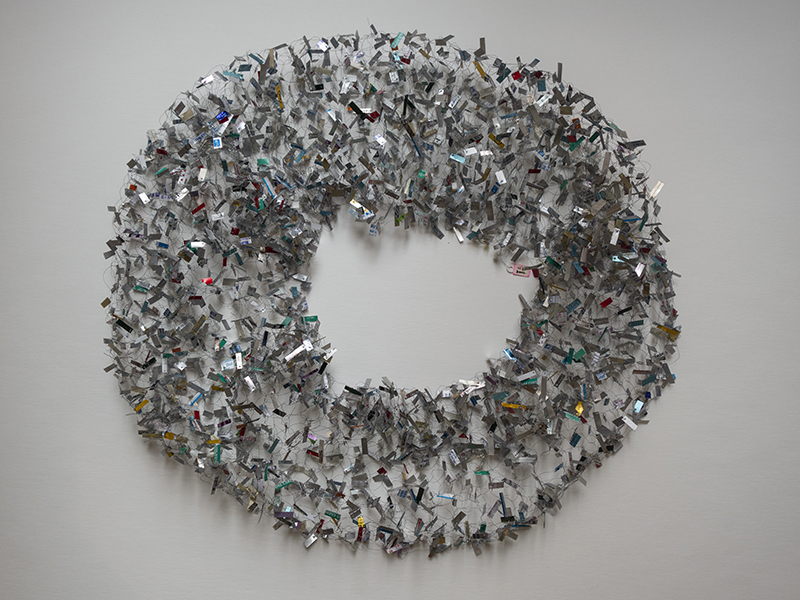 Artist: Verena Sieber-Fuchs
Gallery: Galeria Tereza Seabra
Contact: Tereza Seabra
Retail: €3,000
Verena Sieber-Fuchs has produced some of the most exquisite contemporary jewelry since the early 80s. Her pieces reveal a deep skill with crocheting fine wire combined with ordinary materials such as photographic film, wrapping paper for chocolate, onion skins, medicine blister packs, and many others, converting them into astonishing and sophisticated art pieces. Her working process reflects a poetical and almost Zen atmosphere that contrasts with her biting criticism of contemporary political and social events. Sieber-Fuchs is represented in the permanent collections of the most important museums and held by the top private collectors of contemporary jewelry.
ESTABLISHED ARTIST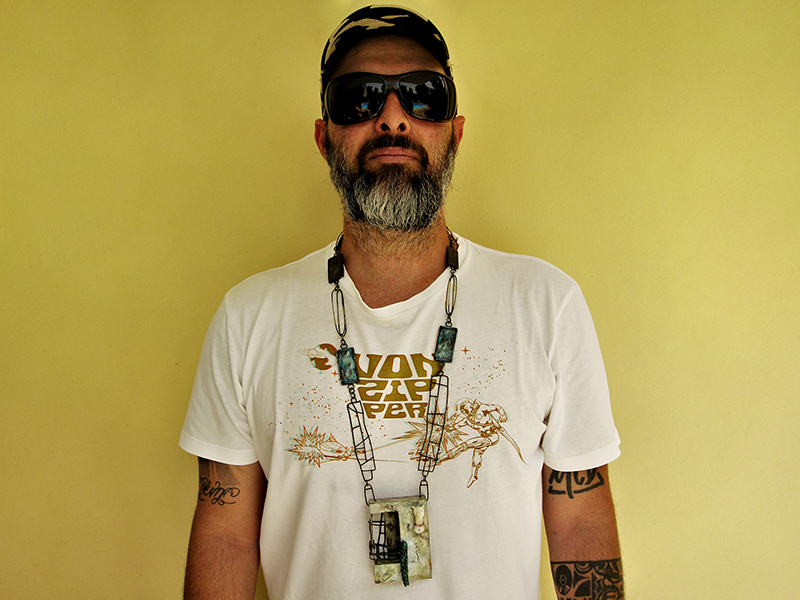 Artist: Yiota Vogli
Gallery: Tamagit
Contact: Marta Tamagit
Retail: €1,200
The brain controls all functions of the body and it interprets information from the outside world through our senses. This necklace by renowned artist Yiota Vogli belongs to the series Rooms of the Mind and it embodies the artist's interpretations of reality stored in different boxes or drawers of the mind. Can't help connecting this to Salvador Dalí's drawers as tributes to the unconsciousness.
ESTABLISHED ARTIST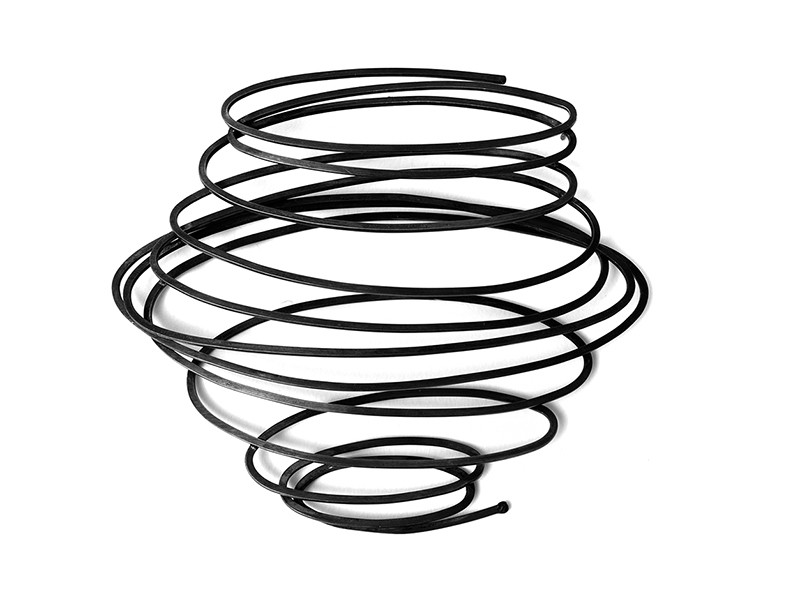 Artist: Gésine Hackenberg
Gallery: Galerie Noel Guyomarc'h
Contact: Noel Guyomarc'h
Retail: €640
For the exhibition Falter Not Fall, on display at Galerie Noel Guyomarc'h starting May 26, Gésine Hackenberg uses movement, especially rotation, as a visual element. She creates dynamic compositions that appear to produce kinetic energy, although each structural element is static. With the series Tumbling, brooches are composed of successive layers of colored glass rings that seem to rotate continuously. Her compositions tend to trick the eye, as one would expect the overall structure to be on the verge of collapsing. As for the works from the Drawing series, they come as material expressions of three-dimensional sketches. In an expressive and dynamic motion, the artist's gesture unfolds onto the wearer's body and into space. Hackenberg involves the wearers in her work, looking for ways to amalgamate their movements with those suggested by the jewelry objects. Both the object and the body are thus held in a moment of tension between balance and chaos.
ESTABLISHED ARTIST
Artist: Marianne Schliwinski
Gallery: Galerie Spektrum
Contact: Jürgen Eickhoff
Retail: €1,600
Marianne Schliwinski is one of the most established female jewelry artists of Germany. The cofounder of Galerie Spektrum, in 1981, she has meanwhile concentrated on her work for the past 10 years. This necklace, dating from 2018, has the title Glück (Luck). This is something we all need in these times.
ESTABLISHED ARTIST
Artist: Sofia Björkman
Gallery: Four
Contact: Karin Roy Andersson
Retail: US$3,800
When Sofia Björkman got a 3D pen as a birthday gift, she started a new body of work by making three-dimensional drawings. Most of the work was about wilderness and environmental impact, such as burnt landscapes, genetically modified plants, and affected animals. Last winter, the work took a new turn, as if the landscapes and creatures had returned to life again. She started to make flowers and says that she was completely out of her comfort zone and not prepared by this turn. The work grew, and later this spring she understood that she was working with hope—flowers symbolize the short-lived beauty of life. The sun now shines on her workbench.
ESTABLISHED ARTIST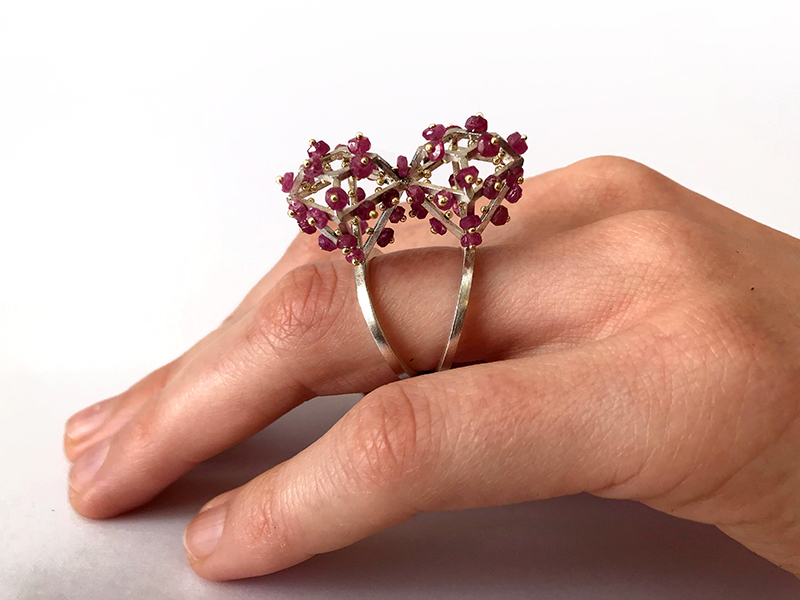 Artist: Philip Sajet
Gallery: Galerie Elsa Vanier
Contact: Elsa Vanier
Retail: €1,750
Most of Philip Sajet's jewelry pieces are a reflection on the history of ornamentation, reinterpreted in a contemporary, personal way. He often uses irony, exaggerating the size of the stones, amplifying the rings, offering finally an aesthetic wonder sustained by technical perfection. Colored stones enchant him, but he uses them in an unusual way. He might cut them, saw them, replace them with shattered glass, call them up in volume in metal or by gold lines evoking their edges, a sort of metonymy widely imitated… Sajet's works can be found in numerous public collections, including the Stedelijk Museum, Amsterdam; the V&A, London; Die Pinakothek der Moderne, Munich; the Museum of Fine Arts, Boston; and the Musée des Arts Décoratifs, Paris.
ESTABLISHED ARTIST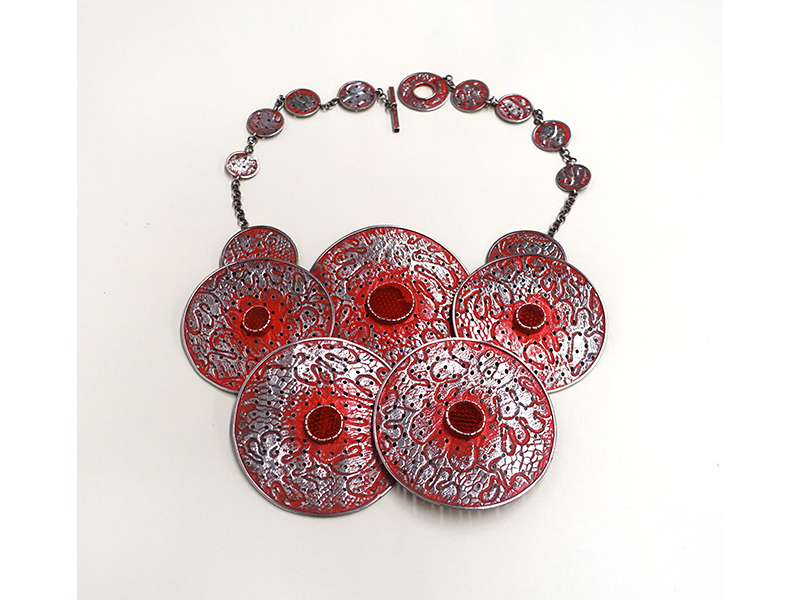 Artist: Daniel Kruger
Gallery: Galeria Reverso
Contact: Paula Crespo
Retail: €3,700
The red necklace. The silver discs have lace pressed into them to give them a floral pattern. They are additionally pierced with small holes, which accentuate the lace and textile quality. The discs each have a center like a flower, with discs cut from red motor-car reflectors and with red pigment applied to them that has been partly wiped off to expose the gray silver and emphasize the pattern. The reflectors and red color might suggest "danger" or "warning" and could be interpreted this way, but in the sense of what Gottfried Semper wrote about the origin of adorning the body: "The first efforts to elevate the natural form of the human by artificial means was aimed primarily at intimidating and frightening, rather than to promote a pleasing appearance." In a way, this is what many of us still aim for today, though in a sublimated form.
ESTABLISHED ARTIST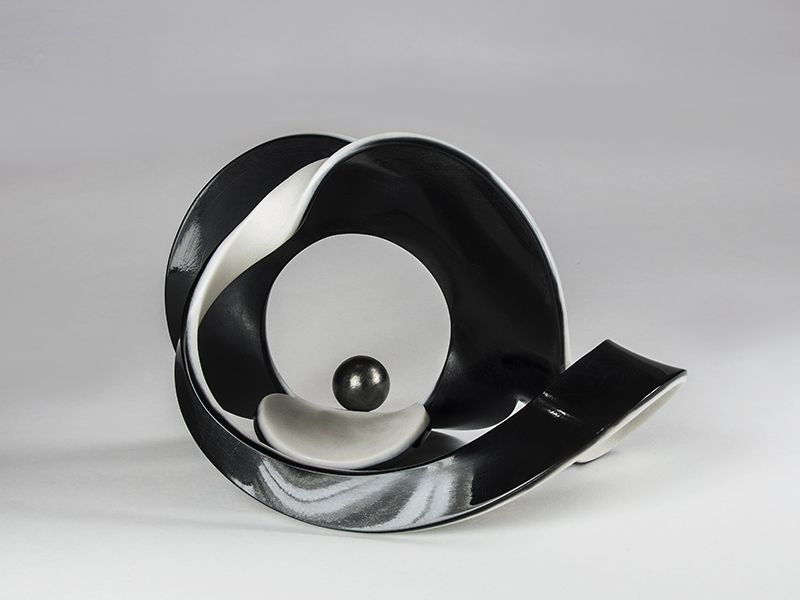 Artist: Petra Zimmermann
Gallery: Galerie Biró
Contact: Kinga Zobel
Retail: €4,200
Alongside her extraordinary artistic creativity, Petra Zimmerman is an outstanding craftswoman. Her works have a very specific dynamic—they're made of a self-cast and colored plastic plate, formed with a single swinging movement of Zimmerman's hands. At the same time, they're extremely portable, reflecting her many years of experience, and perfectly crafted.
ESTABLISHED ARTIST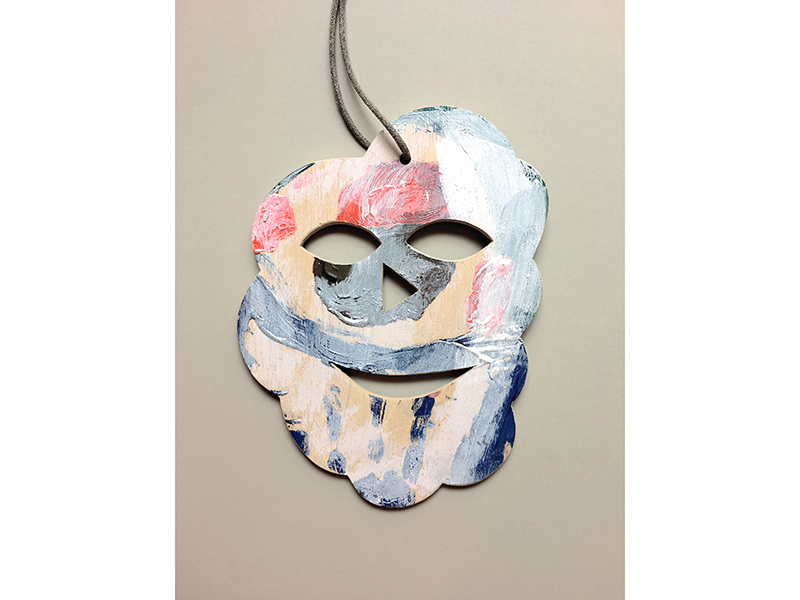 Artist: Julia Walter
Gallery: OHMYBLUE
Contact: Elena Rizzi
Retail: €780
"I am interested in people wearing things. How they wear it, why they wear it, what they wear […] I think there should be a big part of confidence and fun involved, it is just interesting to look and to ask sometimes how it feels to be wearing one of my pieces. A woman who wears my work said to her it feels like freedom to wear my jewelry, that is a great compliment! This freedom is exactly what I feel myself when I work." —Julia Walter in conversation with Current Obsession
ESTABLISHED ARTIST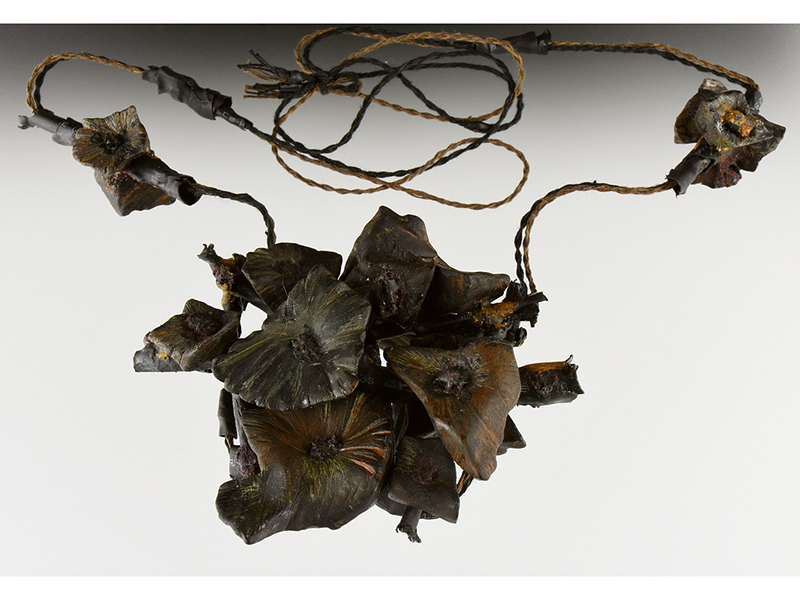 Artist: Ross Malcolm
Gallery: FINGERS GALLERY
Contact: Lisa Higgins
Retail: NZ$530
Ross Malcolm's jewelry draws on his interest in ecology and sustainability. His works show a continual experimentation with form and media worked in recycled and unconventional materials. Here he combines wood, rubber, resin, nylon, and thread to bring to life the sights and feelings experienced on his daily walks through nature. Malcolm completed a bachelor's degree in visual arts, majoring in jewelry, at the Manukau Institute of Technology, Auckland, in 2004. His work was represented in the international touring exhibition Wunderruma in 2015 and is held in a number of public and private collections throughout New Zealand and overseas.
ESTABLISHED ARTIST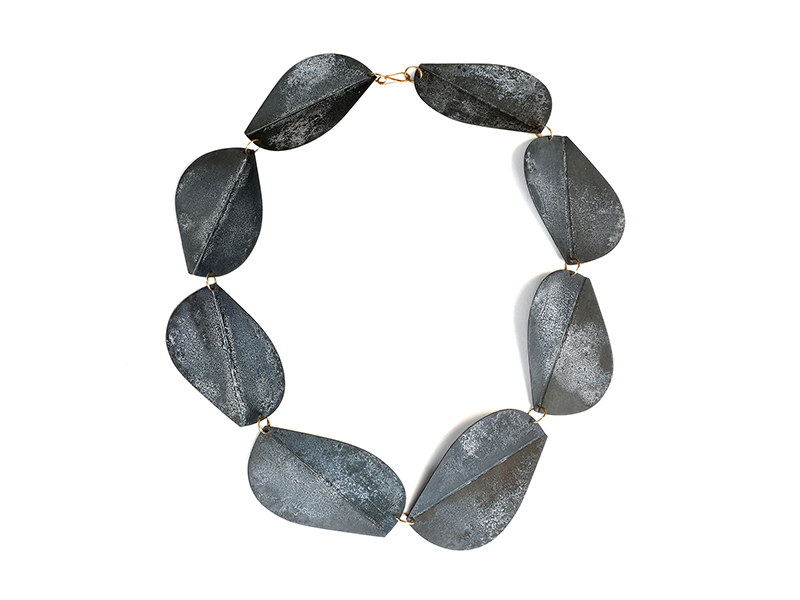 Artist: Helena Sandström
Gallery: PLATINA Stockholm
Contact: Sofia Björkman
Retail: US$970
Helena Sandström is a jewelry artist from Stockholm. She works mainly in metal and explores zinc as a working material—its possibilities and limitations. As an artist-in-residence in Japan, she got inspired by origami. It's difficult to solder zinc in the usual way, so instead Sandström creates volume from the flat sheet by sawing and folding. She also works with etching to create interesting patterns and a variety of beautiful shades of gray in the metal.
MID-CAREER ARTIST
Artist: Jutta Klingebiel
Gallery: Ornamentum
Contact: Stefan Friedemann
Retail: US$1,600
The enamel works of Jutta Klingebiel are masterfully created in the rarely used, laborious method of enamel painting, wherein the enamel is applied with a fine brush, kiln fired, and repeated—sometimes up to 10 to 12 times. The results are intimate and dreamy images of her subject matter, sometimes objects or portraits, other times details from nature.
EMERGING ARTIST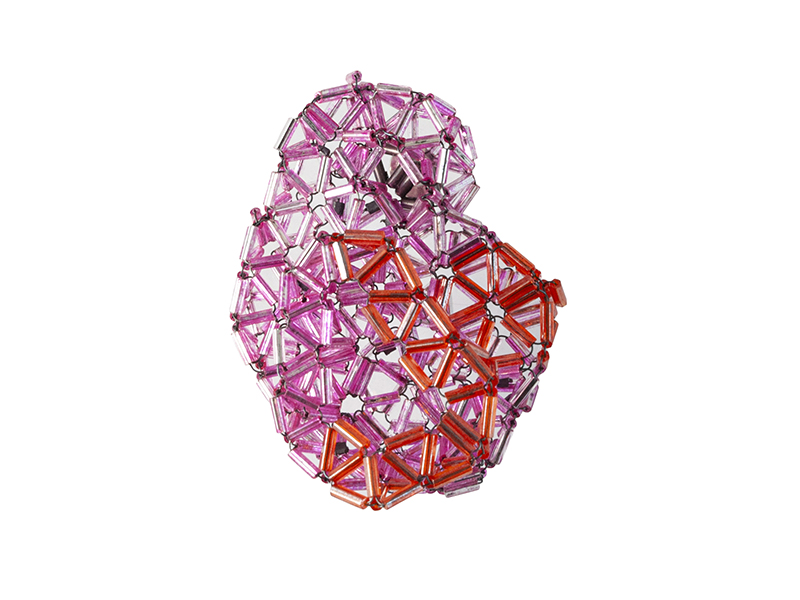 Artist: Elaine Zukowski
Gallery: Baltimore Jewelry Center
Contact: Shane Prada
Retail: US$250
Elaine Zukowski is a Baltimore-based artist who creates jewelry using a variety of techniques and materials. Possessing a background in fiber art and years of experience as a mold maker, Zukowski works as an art conservator primarily focusing on gilding. Zukowski began making jewelry more than a decade ago and has developed several limited series of art jewelry. Her work combines found materials such as broken car window glass, epoxy resin, steel, and beads. It has been exhibited nationally, such as in Heidi Lowe Gallery's Earrings Galore 2018 and Pocosin Arts Ware/Wear in 2017. Her pieces were recognized and awarded in the Maryland region edition of the Radical Jewelry Makeover Exhibition in 2017.
EMERGING ARTIST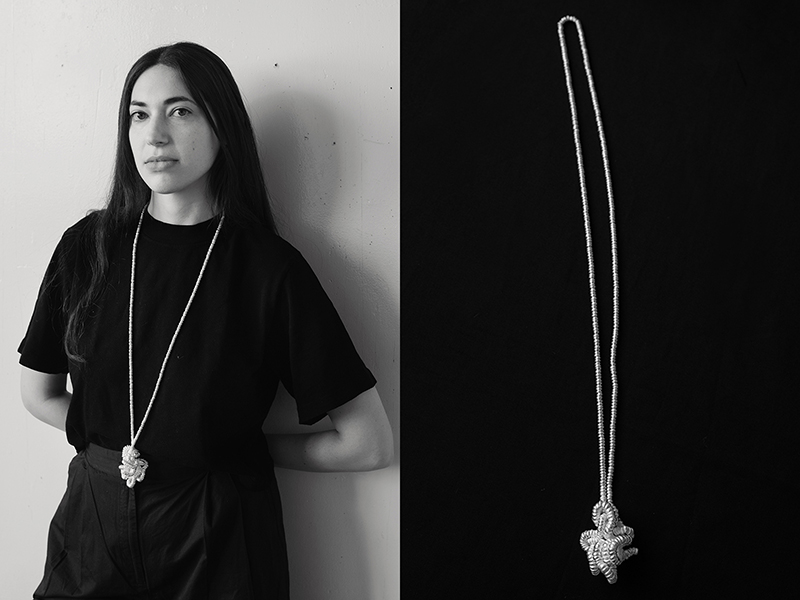 Artist: Betsy Lewis
Gallery: In the Gallery at Brooklyn Metal Works
Contact: Brian Weissman
Retail: US$1,200
The Figure of the Falling, by Betsy Lewis, exhibits works that refer to the center—the core, the spine, the gut, and the heart. Metal objects and necklaces point to sites on the body to interpret what is otherwise impossible to tell. Like the armor they have become, these works serve as protection and give testimony to the privacy of night. "The heartbeats of these memories are transferred into the stillness of the work, and here I learn to breathe again."
EMERGING ARTIST
Artist: Emily Chase
Gallery: 108 Contemporary
Contact: Susan Baley
Retail: US$48
Emily Chase's current work combines traditional methods with new technologies. For her series of laser-cut jewelry, she designs the patterns by hand and then creates a computer file to use with the laser cutter. She hand paints and finishes each cutwork piece to create jewelry in a wide variety of colors and designs.
EMERGING ARTIST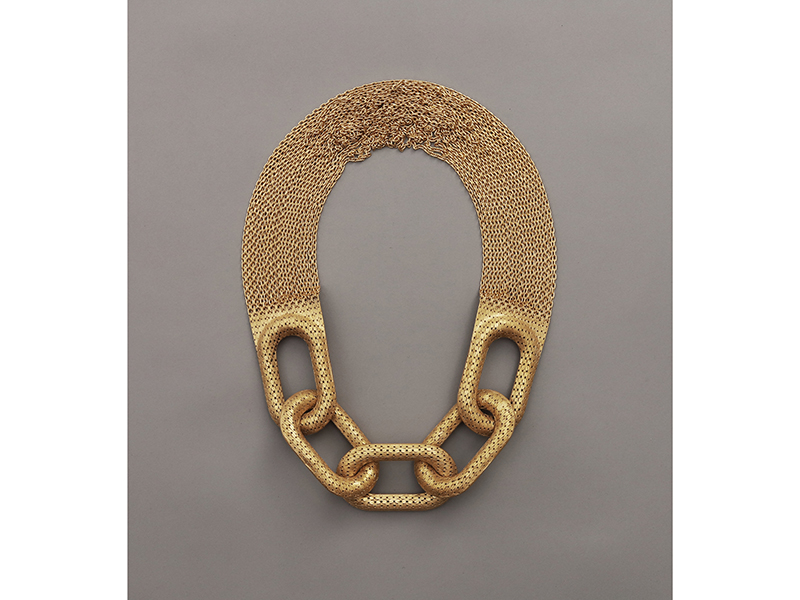 Artist: Veronika Fabian
Gallery: Galerie Marzee
Contact: Marie-José van den Hout
Retail: €5,600
Veronika Fabian bases her work on the notion of a woman's relationship to self-identity, chained as it is to the female personas of our time. Through her work she researches how we form our identity within economic and cultural conditions. She transforms traditional chains to explore contemporary female archetypes in the context of postmodern identity, raising the question of whether women are more liberated or constrained in our modern society.
GALLERY CHOICE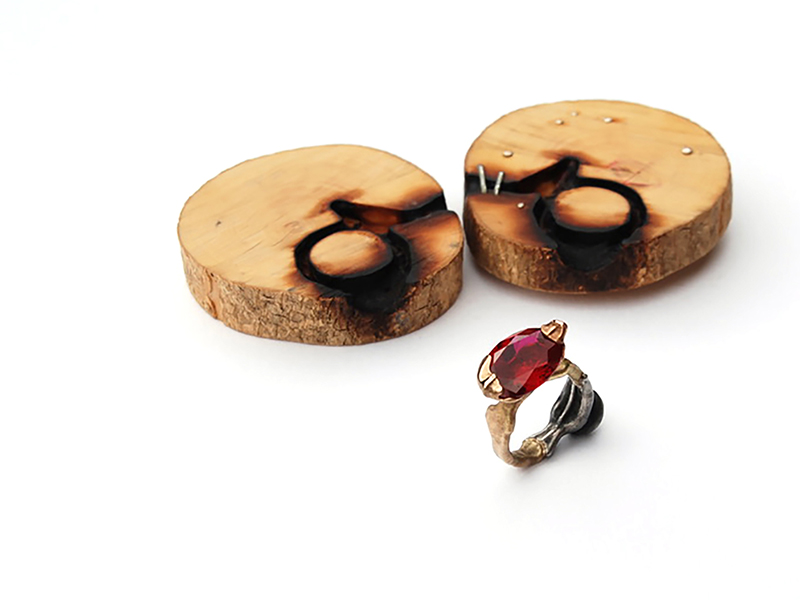 Artist: Taehee In
Gallery: Galerie Door
Contact: Doreen Timmers
Retail: €2,220
There are several ways to cast metals. Taehee In casts her silver and gold jewelry pieces using wooden molds. She files and cuts both the size and shape of the ring straight out of the wood. Moreover, and this is partly what makes her work so special, she sets her stones directly when casting. Material, handwriting, casting process. Drawing, jewel, treasury box. Little finery for all this beauty.
GALLERY CHOICE
Artist: Zachery Lechtenberg
Gallery: Gallery Loupe
Contact: Patti Bleicher
Retail: US$700
Diligent and directed, Zachery Lechtenberg is an illustrator who has been influenced by contemporary cartoon imagery. He uses the technique of champlevé enameling in his colorful jewelry, where related imagery is often engraved on the reverse.
GALLERY CHOICE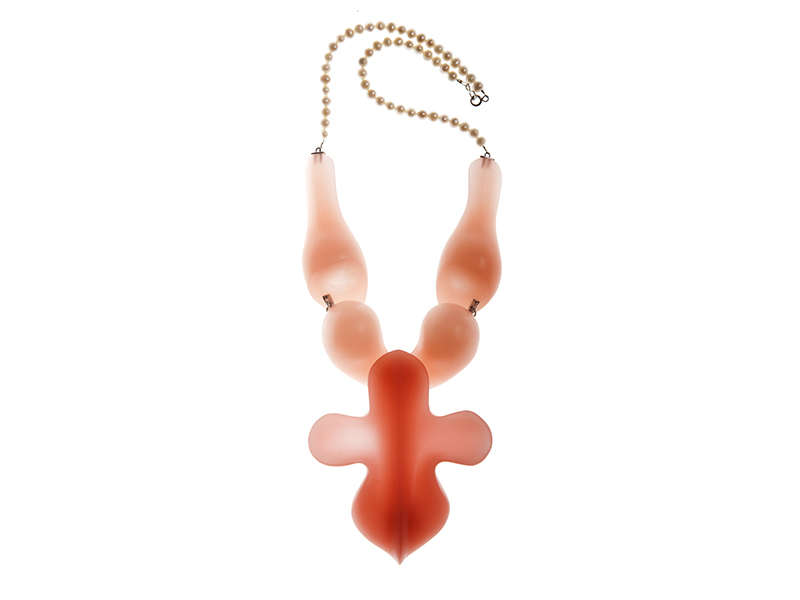 Artist: Tanel Veenre
Gallery: mydaybyday
Contact: Laura Helena Aureli
Retail: €3,750
Mydaybyday gallery in Rome presents Estonian contemporary jewelry artist Tanel Veenre, with this jewelry piece in coral, pearls, and silver. "While working with pink reconstructed stone, the piece became like a piece of human skin," says Veenre. "I felt how it became alive in my hands, it was growing with its silky texture and translucency. I created a series of crosses with bodily organic forms, which reminded me both of human flesh and of a flower. I can imagine a planet where crosses are growing and this is how they look. I have been fascinated by the idea of multipurpose jewelry, so this piece can be worn as a brooch, as a pendant, or as a neckpiece."