Art Jewelry Forum shares the news that members of our community find noteworthy. Is something missing? The success of this compilation of compelling events, exhibitions, and items of interest to the jewelry community depends on YOUR participation. If you're a member of AJF, you can add news and ideas to the monthly report by going here. If you aren't a member, but would like to become one, join AJF by making a donation. Listings gathered with assistance from Carrie Yodanis.
AJF LIVE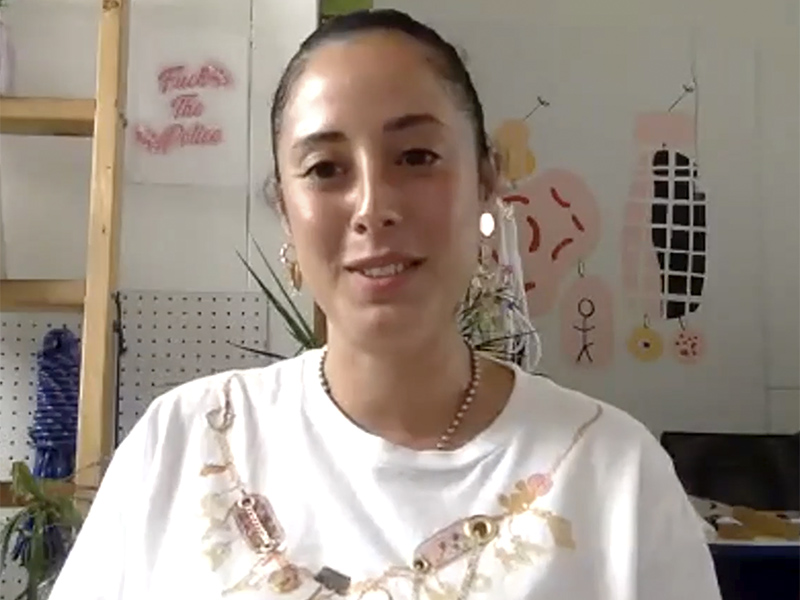 We're taking a brief break, but are currently planning this fall's return with new AJF Lives for you to enjoy. We post all the recordings on our website, so you can watch (or rewatch) anytime. Here's some you might like to revisit:
AJF Live: MJ Tyson
AJF Live: Lore Langendries
AJF Live: Nicolas Estrada
AJF Live with Georgina Treviño
AJF Live with Fingers gallery
AJF Live with Sharon Massey
AJF Live with Aaron Decker
AJF Live with Tanel Veenre
ANNOUNCEMENTS
AJF AT SCHMUCK 2022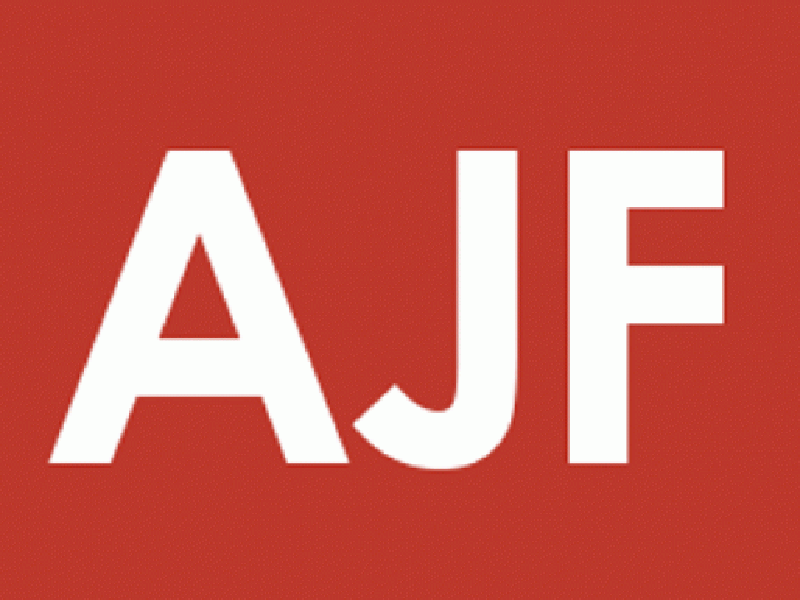 AJF will once again partner with Frame for the next edition of Schmuck, to take place March 9–13, 2022. We are invited to the FRAME dinner, we will announce our awards from the main stage, and we will use the Galerie Handwerk space for panel discussions.
POST-AUCTION SALE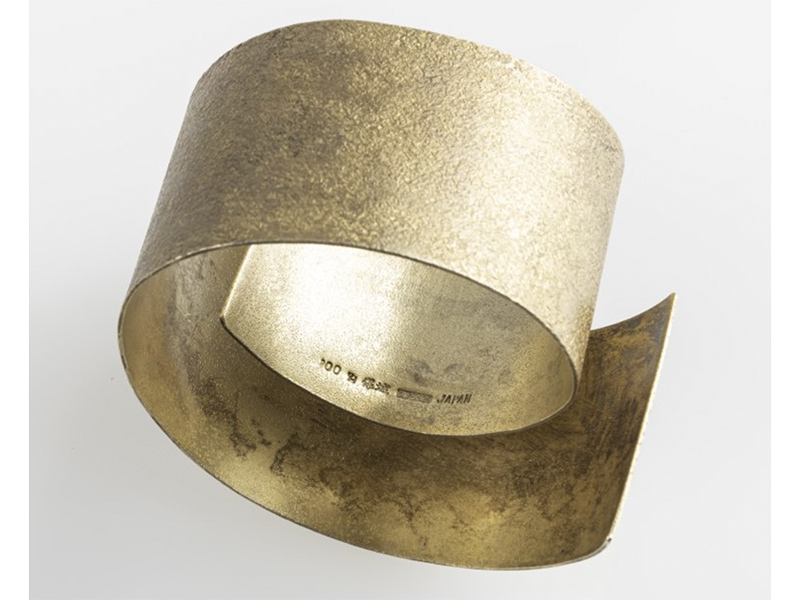 AJF member gallery Quittenbaum Art Auctions held an auction of author's jewelry at the beginning of the month. Unsold pieces are available during Quittenbaum's post-auction sale through August 6, 2021.
JEWELRY WEEK
NYC Jewelry Week 2021's Community Program is open for registration. Get information here.
INTERESTING LINKS
VIDEO
This video lets you peek into Nicolas Estrada's studio and find out more about his hand-made pieces. He also discusses some of his work, talking about inspiration and describing some of the thoughts behind his most iconic lines of work.
VIDEO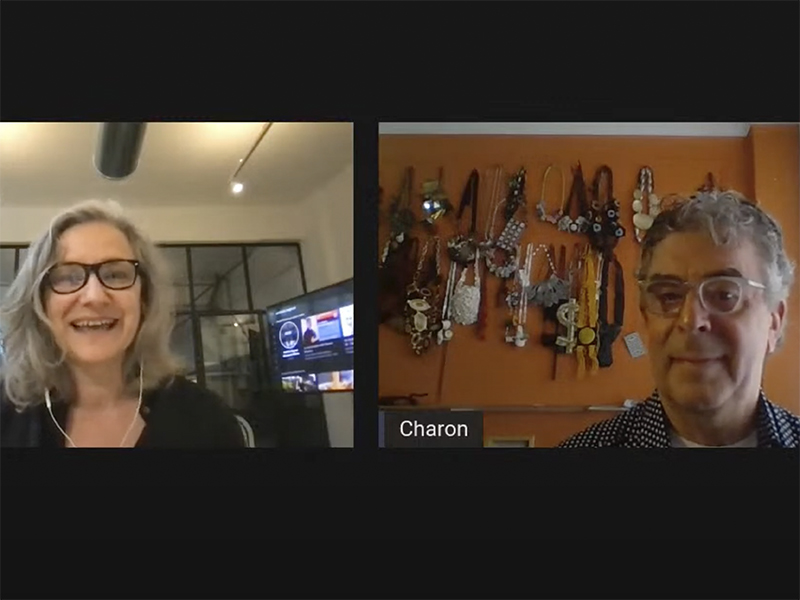 Archivio Negroni recently talked with Charon Kransen, who shared his vision on art jewelry and his perspective on an uncertain future. Watch here.
VIDEO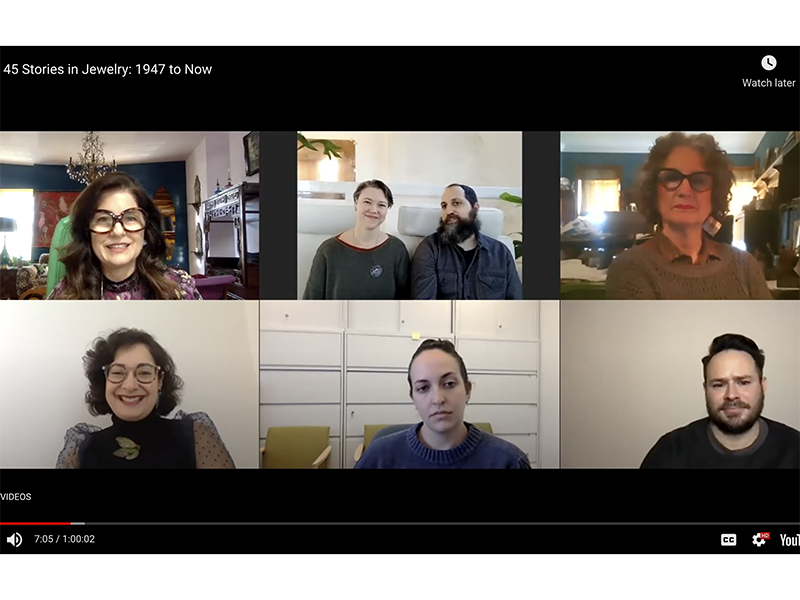 Ever wonder how museums decide what objects to acquire for their collections? And how they decide what to show in exhibitions? In Choosing 45 Stories to Tell, you'll get an inside look at how these decisions were made for the Museum of Arts and Design's permanent collection show, 45 Stories in Jewelry: 1947 to Now.
JEWELRY IN THE MEDIA
Check out the jewelry Secretary of the Interior Deb Haaland wears in the recent InStyle article about her. The US's first Indigenous Cabinet member has on spectacular work by Indigenous jewelers Huckleberry Woman Designs, Keri Ataumbi, Jamie Okuma, Rainy Dawn Ortiz, Catherine Blackburn Jewellery, Hollis Chitto, and Warren Steven Scott, plus other gorgeous accessories!
JEWELRY IN THE MEDIA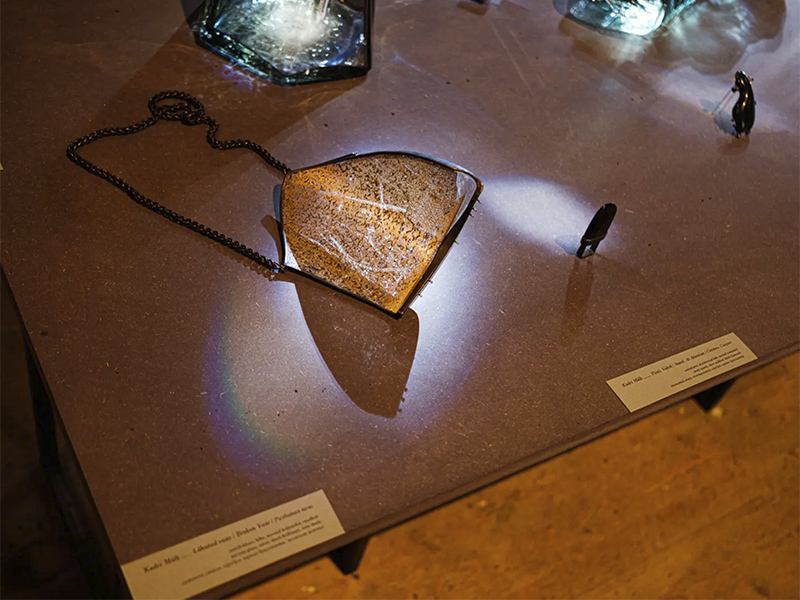 Julia Marie Künnap and Kadri Mälk, along with glass artist Kai Koppel, recently showed work in an ecumenical chapel in Tallinn. The exhibition was titled Püha Nõu (Holy Vessel). ERR.ee has a visual gallery of the show in its Culture section; click on the icon in the corner of the photo at the top to check it out.
JEWELRY IN THE MEDIA
The Summer Olympics will (likely) start in Tokyo this week. Competing will be track and field star Christina Clemons, who doesn't run a race without earrings. She may be wearing her Doritos earrings, gifted to her from the company when it learned that she's nicknamed after the snack chips.
JEWELRY IN THE MEDIA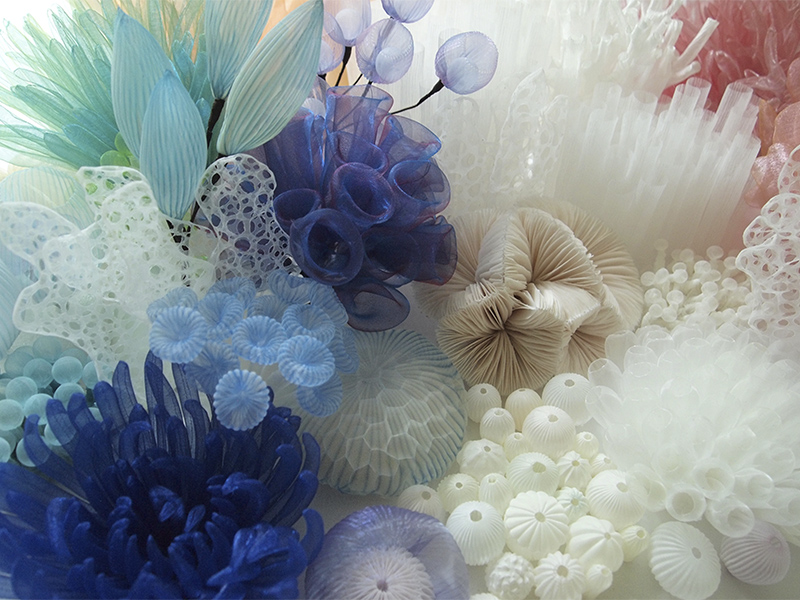 Mariko Kusumoto was featured in Colossal last week. She uses polyester, nylon, and cotton to fabricate sculptural forms that resemble creatures she finds fascinating.
JEWELRY IN THE MEDIA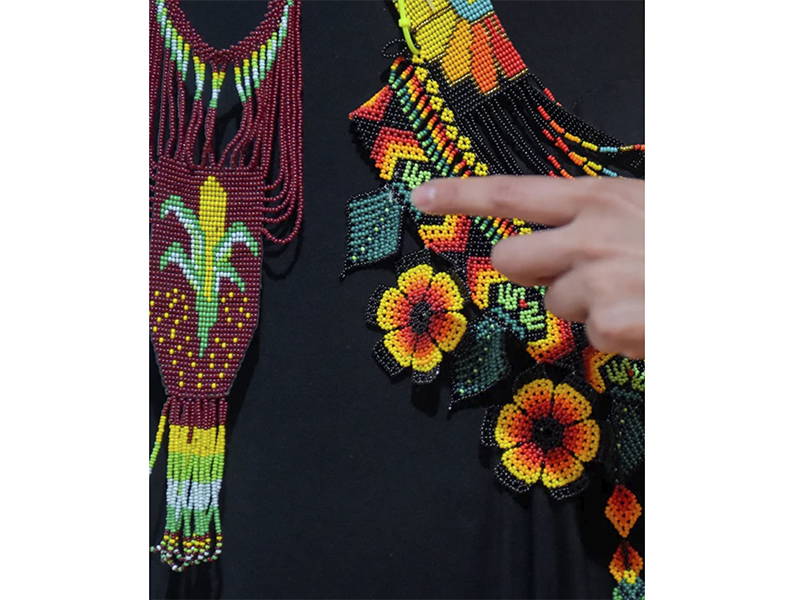 An interesting article from Refinery29 that discusses how to buy and wear Indigenous jewelry without culturally appropriating.
JEWELRY IN THE MEDIA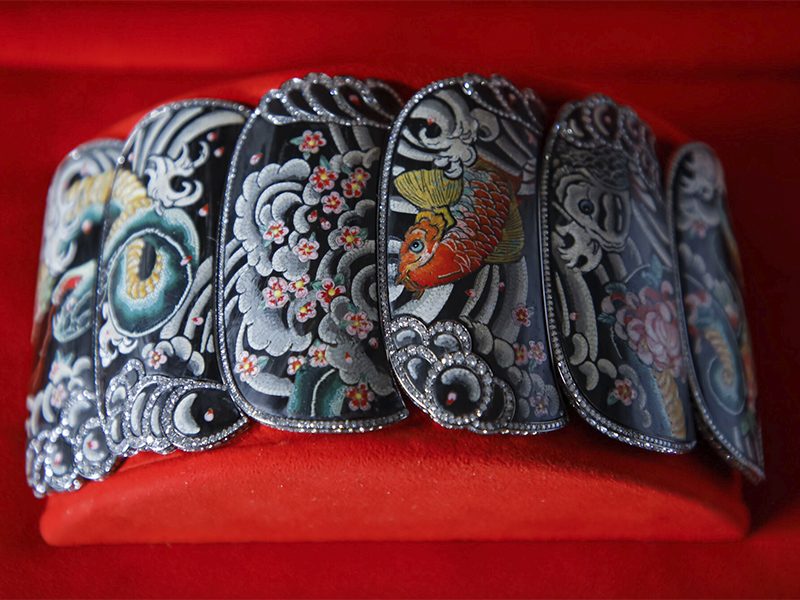 Check out this article on the micromosaic jewelry of Maurizio Fioravanti. Micromosaic is highly time-consuming, involving setting thousands of tiny glass tesserae, often smaller than 1 mm, to create images.
JEWELRY ON SOCIAL MEDIA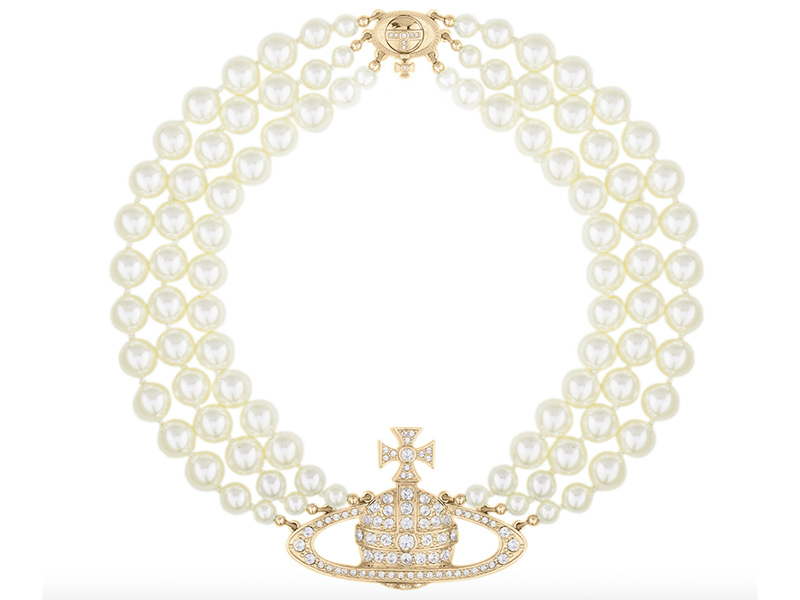 Learn more about the "TikTok necklace," made by Vivienne Westwood 30 years ago and worn all over TikTok with sweatpants by celebrities and influencers today.
BUSINESS REPORT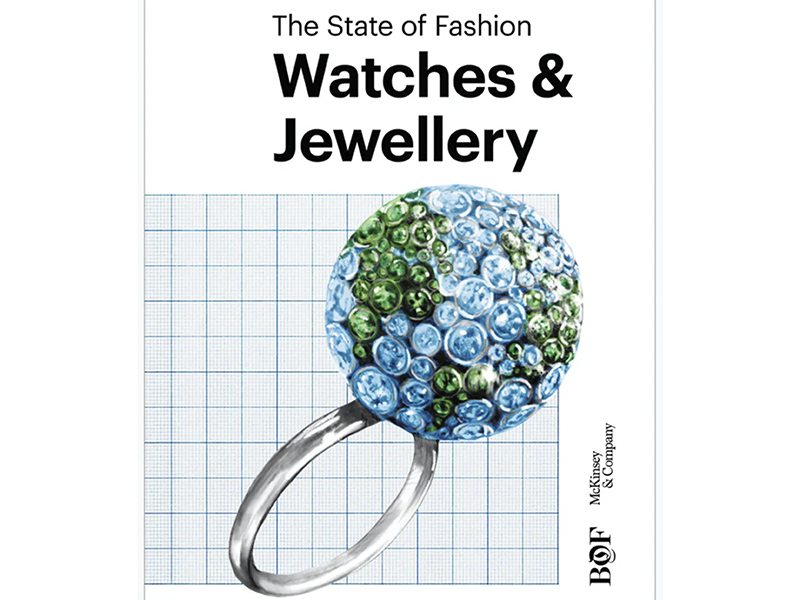 The Business of Fashion and McKinsey & Company released their State of Fashion Watches and Jewellery Report.
JEWELRY IN THE MEDIA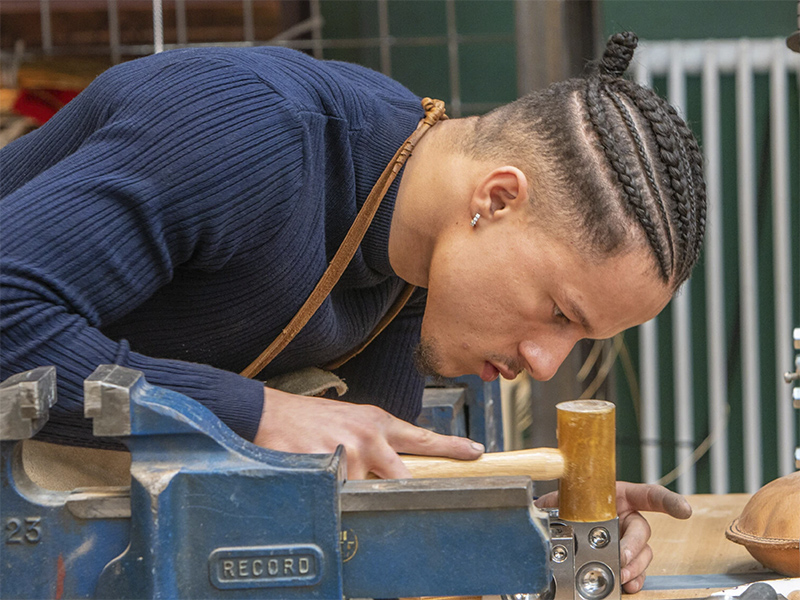 The jewelry reality show All That Glitters is recommended watching by the New York Times. You can "meet" all the contestants in this article from Retail Jeweller. We're so excited to watch it … and maybe to see some of you compete if future seasons get filmed!
JEWELRY IN THE MEDIA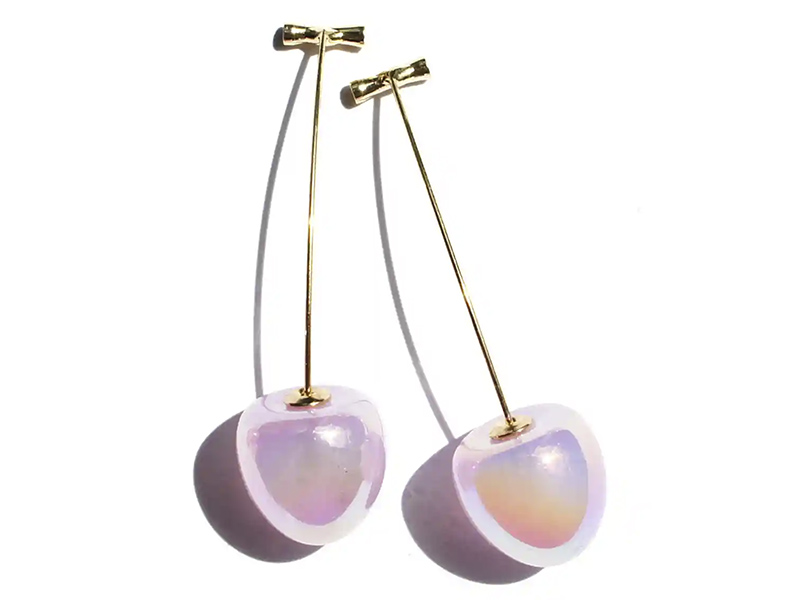 Tutti-frutti is the ripe fashion buzzword of the moment according to The Guardian, which presents 16 "picks of the bunch," including a handful of jewelry. Can you say "ch-ch-ch-cherry bomb"?
JEWELRY IN THE MEDIA
Everything old is new again. Ancient jewelry is becoming a modern trend, reports the New York Times.
JEWELRY COMPANY FOUNDER DIES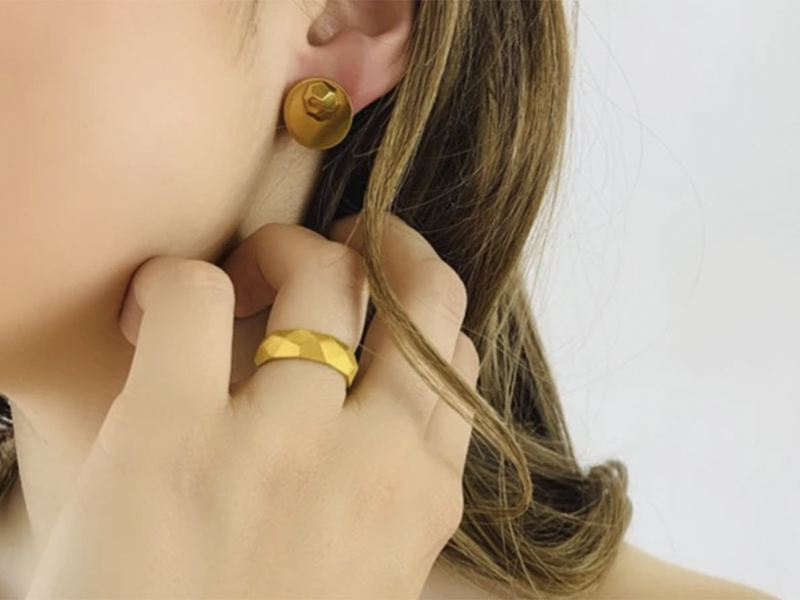 Boryana Straubel, a philanthropist and advocate for environmental sustainability who founded Generation Collection, a jewelry company that uses recycled metals for its designs, died last month after being struck by a car while riding her bike. Straubel conceived Generation Collection after learning that precious metals like gold were a large component of electronic waste. A jewelry company that used this material instead of mined gold—which is carbon intensive and heavily polluting, and which often relies on forced and child labor—fit her desire to create a business that had a positive environmental and social impact. Art jeweler Erica Bello works for the company. Read more in the New York Times.
SPOTLIGHT ON STUDENTS
Lucerne University of Applied Sciences and Arts spotlights three students' jewelry design projects on Dezeen. Shown here, Privacy to Go "is a wearable critique of today's surveillance mechanisms—a jewelry collection that promotes self-empowerment in public spaces and resists the monitoring of facial recognition technology," says Laura Desch, the student who made it. Check out her short video about the collection.
ONLINE CATALOG
An online catalog and video gives an overview of the sources of inspiration for Evert Nijland's newest body of work, Wings, and show how the work looks worn. Form Galerie Rob Koudijs.
ANTIQUE JEWELRY NEWSLETTER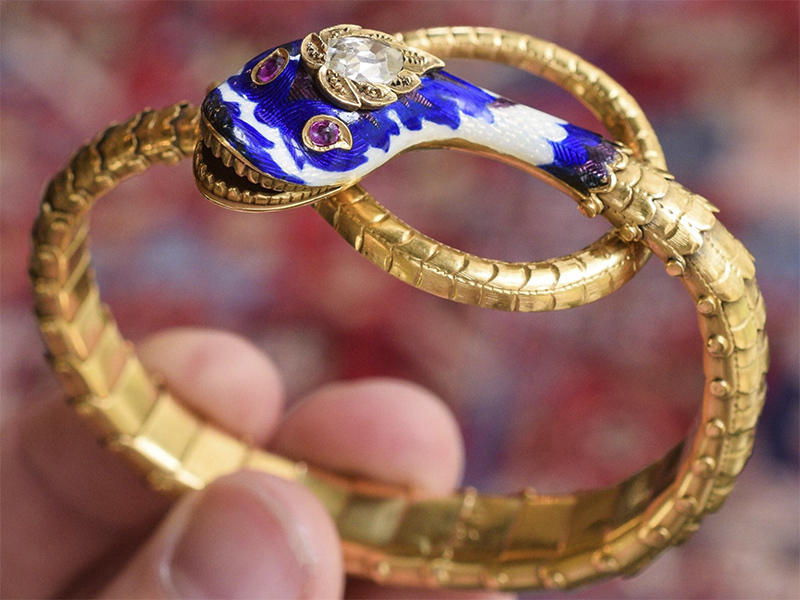 "Dearest," a Substack newsletter written by Monica McLaughlin, serves up dishy gossip about antique jewelry, providing news about auctions and sales along with historical backstories. Snake bracelets with human teeth from pre-Revolution Russia, a golden piggy bag, a brooch featuring a moonstone carved to resemble three baby's faces (McLaughlin calls it an abomination, and it is!), fauxbergés, and sometimes modern items like Slick Rick's eyepatch and a four-finger ring by Johnny Nelson that depicts some of the greatest female hip-hop MCs—all in the fun tone of your cleverest friend.
PAGES
BOOK
Eastern Treasures: Ottoman Oman Yemen and Turkoman Jewellery, by Oytun Camcigil. This book published in 2017 isn't new, but it may not have been on your radar. Camcigil, a celebrated contemporary jewelry designer, presents a range of original Ottoman, Turcoman, Omani, and Yemeni jewelry. Beautifully designed, with authoritative text. Check out the book review on Bedouin Silver.
EXHIBITION CATALOG
An Unreliable Guidebook to Jewellery by Lisa Walker, edited by Kate Rhodes and Nella Themelios. This volume accompanied the retrospective exhibition lisa walker: she wants to go to her bedroom but she can't be bothered and considers how Walker's work can be thought of as a career-length conversation with the question, "what is jewelry?" 472 pages, US$60. Available from Charon Krantzen Arts.
NEW BOOK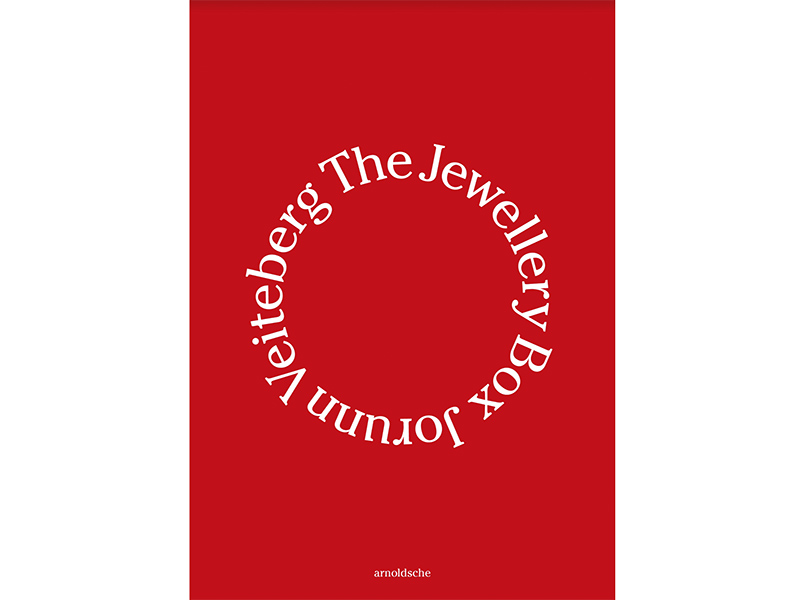 The Jewellery Box, by Jorunn Veiteberg. Art historian Jorunn Veiteberg is one of the most renowned curators and authors in the field of applied art. Her spectacular collection of art jewelry comprises 550 pieces by over 120 artists from more than 30 countries. Now, for the very first time, the public is granted access to the entire collection via this book. The illustrated section gives a view of the entire collection and feels almost as if you were going through Veiteberg's jewelry box yourself because every piece is reproduced actual size. 552 pages, US$65. From Arnoldsche.
MAGAZINE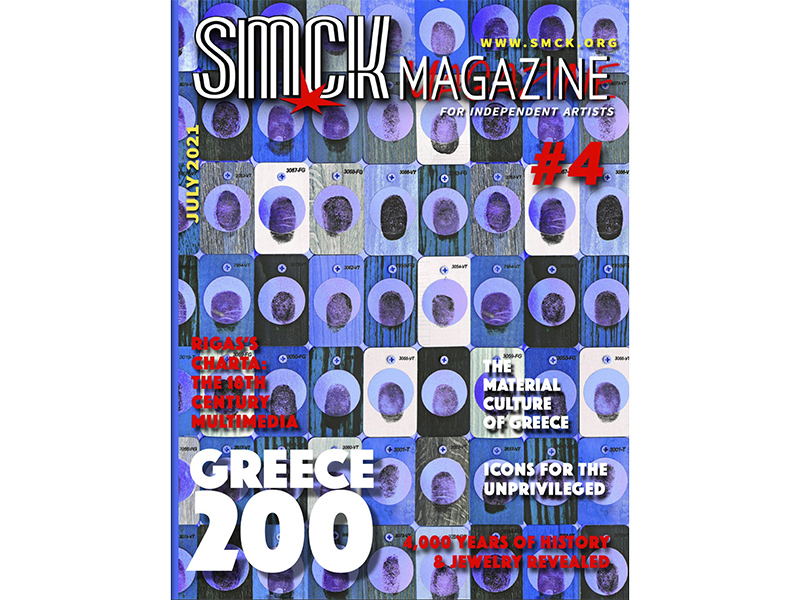 Check out some of the latest issue of Smck #4 (some pages are blurred). Includes articles such as "Does Jewelry Need to Be Spiritual?," "Pforzheim School of Design Students Respond to Smck's Challenge," and "The Petras Excavation in Crete: Unveiling Mysteries, Understanding Jewelry." Go here to purchase or see other issues.
EDUCATION
TWO-DAY WORKSHOP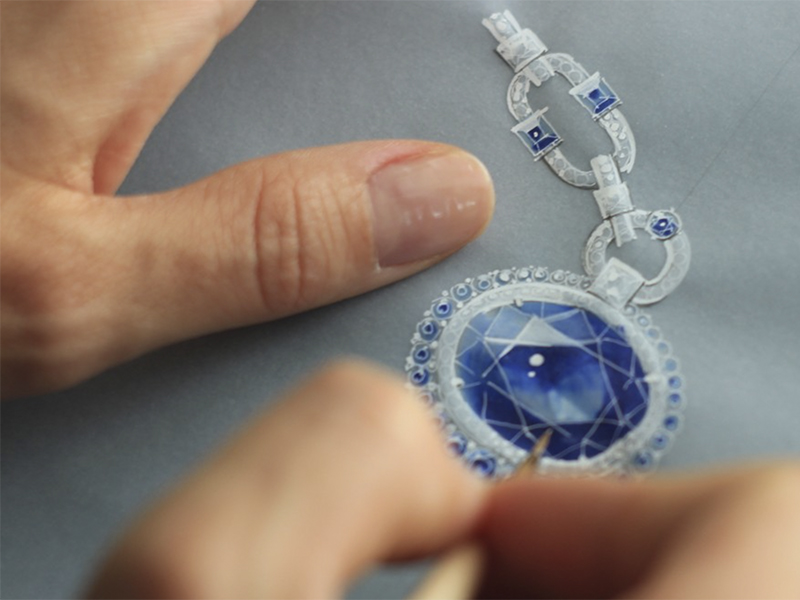 Drawing Diamonds, at DIVA Antwerp, September 10 and 11 OR November 20 and 21, 2021. €125. This workshop by Inesa Kovalova introduces different sorts of gemstone cuts and traditional jewelry painting techniques using white gouache to capture diamond's highlights on paper. Open to beginners and professionals. Kovalova is a jewelry designer with extensive experience in drawing, and a graduate of Central Saint Martins. She has worked on projects for Van Cleef and Arpels, Vacheron Constantine, and others.
FIVE-DAY WORKSHOP
Production Techniques for Art Jewelers, at Arrowmont School of Arts and Crafts, August 15–20, 2021. $600. Do you want to create a cohesive line of handmade work but struggle with just how to do it? Or do you enjoy creating one piece, but long to build it out into a line for others to buy and cherish? Alicia Goodwin teaches students to create a small line of jewelry including earrings, bracelets, pendants, and/or a brooch using a limited number of shapes while adding found metal objects and discarded metal shapes. Goodwin is a Chicago-based jewelry designer who creates her work under the line title of Lingua Nigra.
FIVE-DAY WORKSHOP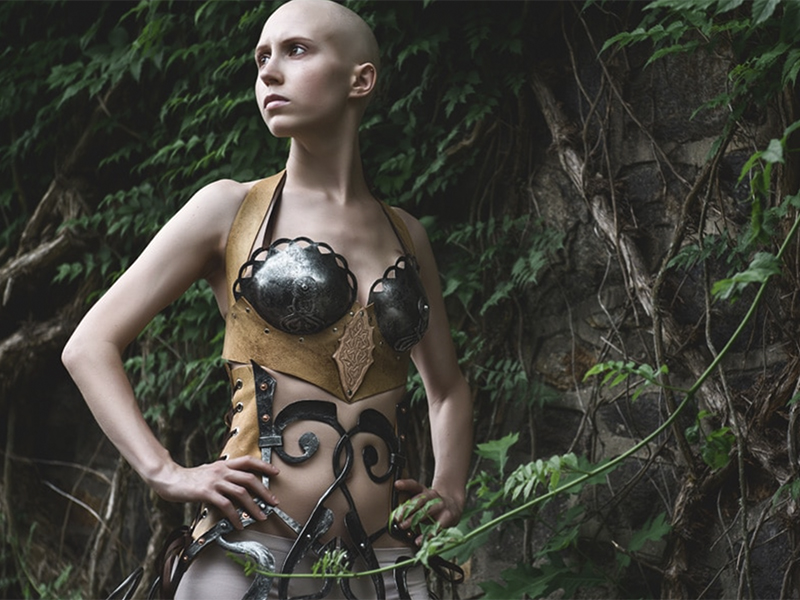 Wearable Forms in Metal, at Peters Valley School of Craft, Layton, NJ, US, July 30–August 3, 2021. $715. Ellen Durkan is known for her innovative wearable designs in metals and will share her process of designing and fabricating objects for the body. The course will focus on traditional forging techniques, design, and construction methods so students can create an original forged wearable object or garment.
ONLINE WORKSHOPS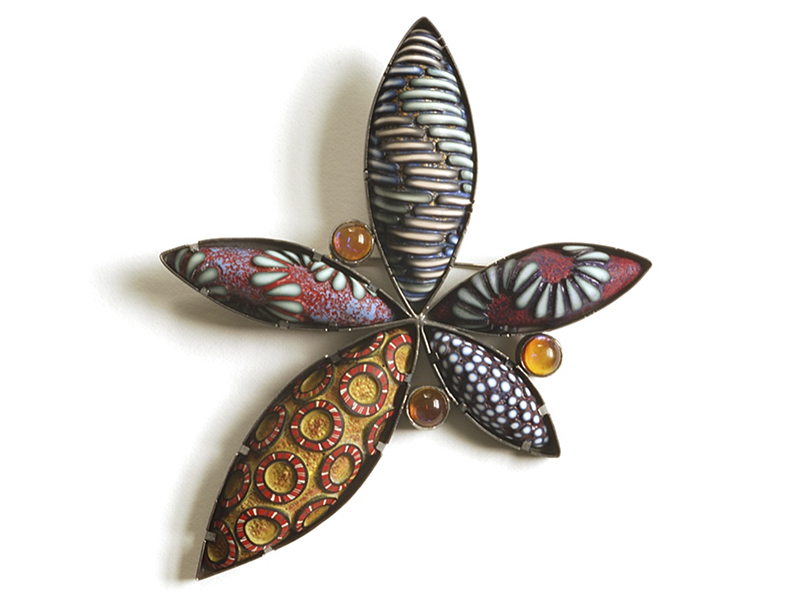 Working with Polymer Clays, Pocosin Arts School of Fine Crafts, August 5 and 12, 2021. $310. Ford/Forlano will teach what makes polymer clays an ideal material for jewelry. Students will learn the basics about different brands of polymer, how they're different, and when to use each. Techniques covered: mixing colors by hand and machine, building canes, reducing complex cane shapes, curing, and finishing treatments, with an emphasis on adapting techniques from other media. Pocosin offers a wide range of other virtual workshops; instructors include Tanya Crane, Märta Mattsson, Jillian Moore, Mi Sook Hur, Barbara Minor, Aurélie Guillaume, Sharon Massey, Jane Pellicciotto, Nikki Couppee, and more.
FIVE-DAY WORKSHOP
Ugly & Niello, on HTF Hardtofind, July 26–30, 2021. Taught by Philip Sajet. Make something ugly—you'll see how difficult it is! "What fascinates about beauty is that it borders so closely to what is perceived as ugly, and the exciting contradiction is that if one wants to find new forms of beauty, one must actually tap into the source of ugliness." Participants will learn the surface decoration technique Niello.