Art Jewelry Forum is pleased to share the news that members of our community find noteworthy. Is something missing? The success of this compilation of compelling events, exhibitions, and items of interest to the jewelry community depends on YOUR participation.
If you're a member of AJF, you can add news and ideas to the monthly report by going here. If you aren't a member, but would like to become one, join AJF by making a donation.
ANNOUNCEMENT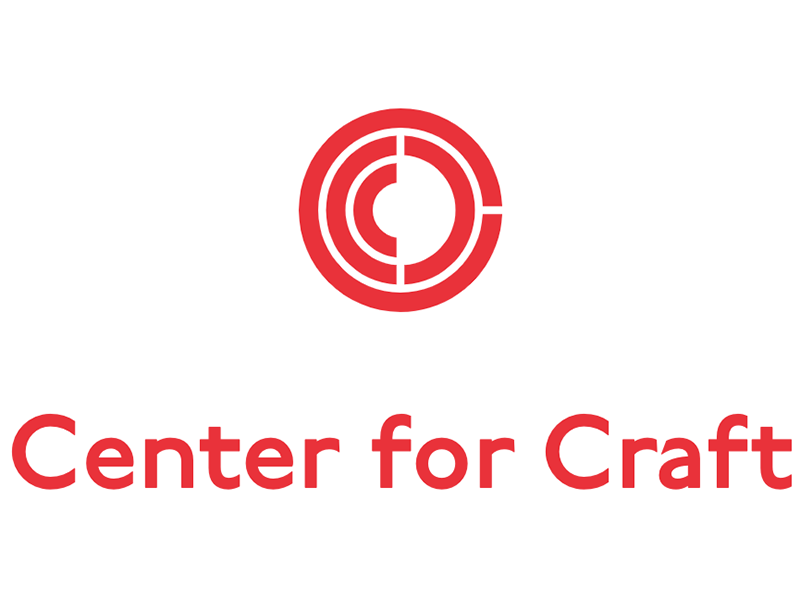 The Center for Craft – Craft Research Fund Artist Fellowship is now accepting applications. For information about other grant opportunities currently offered by the Center for Craft, please visit: https://www.centerforcraft.org/grants-and-fellowships.
ANNOUNCEMENT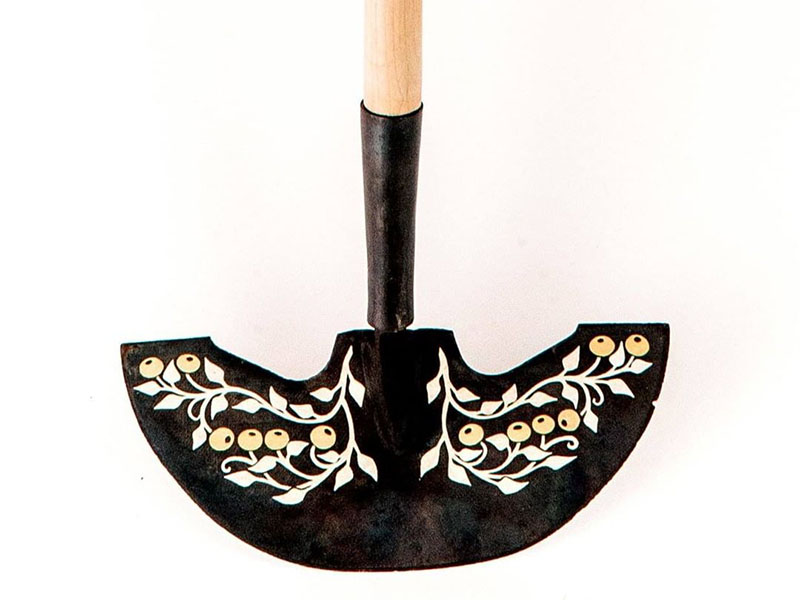 This fall, the Metal Museum will hold its first community-curated exhibition, It Takes A Village. Between July 13 and July 24, 2020, members of the public will be able to vote for their favorite pieces in five categories: forged sculpture, cast sculpture, art jewelry, vessels, and functional work. The top 30 artworks will be on display from September 28, 2020, to March 14, 2021. Do you want to cast your vote? Learn more in the press release, and follow the Metal Museum on social media or subscribe to their emails to receive notice when each category of voting is live.
ANNOUNCEMENT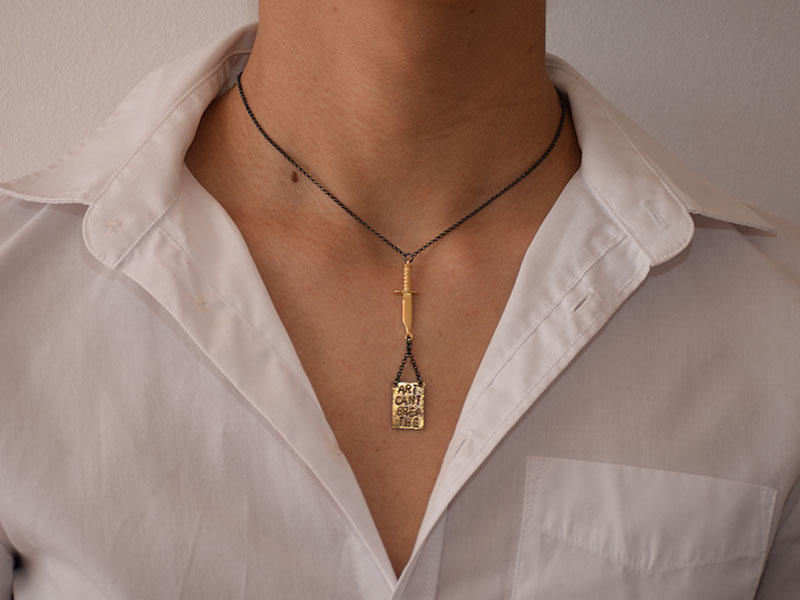 Tamagit announces a new jewelry series collectively created by a diverse group of artists—#artcanTbreathe: Jewelry makers united for a good cause. Through #artcanTbreathe, Tamagit will be featuring jewels by artists who have generously created more accessible pieces for individuals and collectives who would like to raise awareness on certain issues. Pieces can be personalized in a co-creation process between the wearer and the maker. In a silent but powerful way, #artcanTbreathe jewels aim at rising awareness on profound political, social, or environmental conflicts, such as racism and xenophobia, sex and gender-related offenses, appearance-related offenses, religion-related offenses, bullying, discrimination against minorities, fierce capitalism, zero support to art, corruption, child labor, unethical practices, climate change, and deforestation. We can't be indifferent. Will you join them on their journey to raise awareness through jewelry?
ANNOUNCEMENT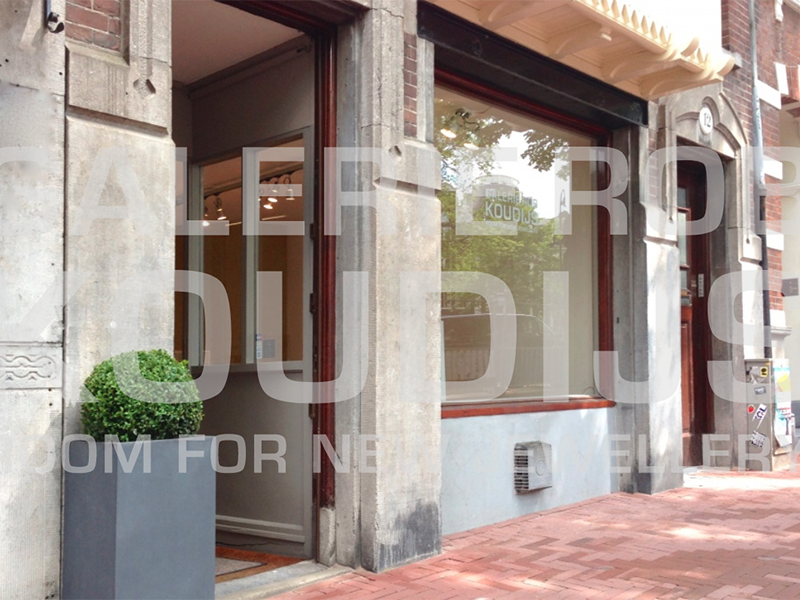 Galerie Rob Koudijs, after being closed for 117 days, reopens July 3, 2020! Many pieces from exhibitions that, up to now, had known only a virtual existence have been put on display in the gallery. Don't miss it! For the time being, the space is open solely on Fridays and Saturdays, between 11 a.m. and 4 p.m., and other days by appointment.
ANNOUNCEMENT
Galerie Marzee has been able to remain open despite the coronavirus situation, but has decided against any new exhibitions for the time being, for the safety of visitors, artists, and staff. The current exhibitions by Annelies Planteijdt, Piet Dieleman, Karola Torkos and Annamaria Leiste have been extended through July 31, 2020. On the ground floor, Marzee is presenting work by its permanent artists, and is also showing editions by 30 of last year's graduates. These are editions of 10 and are priced at €100 or less—a fantastic way to develop your jewelry collection and support new artists. If you can't make it into the gallery, check out its website.
ANNOUNCEMENT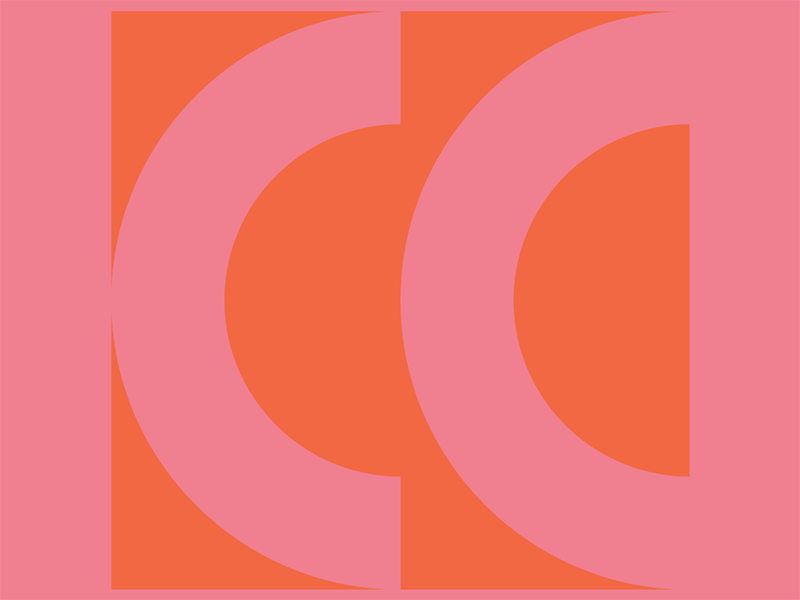 In a follow-up to The Market for Craft, the biggest study of the marketplace for 10 years, the Crafts Council (which commissioned the study) is hosting five conversations in July, via Zoom, with the aim of having attendees help it shape and energize the future craft market. These conversations are designed to enable makers to develop their businesses; galleries, markets, fairs, and other retailers to consider what can be done to rebuild and adapt post-pandemic; formal and informal education providers to build on the role of participation in craft consumption. The five sessions, and their dates, are:
Craft education and training providers (formal and informal): July 13, 2020
Fairs and market organizers: July 14, 2020
Galleries (commercial and public): July 21, 2020
Makers: July 27, 2020
Retailers: July 28, 2020
All events start at noon local time. Register here.
EXHIBITION
An adherent of co-exhibiting, whether out of humility or for the pleasure of dialogue, for his first-ever exhibition in France, Philip Sajet invites us to discover, alongside his works, the jewelry of Violeta Adomaitytė, a young Lithuanian artist. At Galerie Elsa Vanier through July 25, 2020.
EXHIBITION
See "Everything Is Study"—Anthology from the Archive of Onno Boekhoudt. By collecting, sketching, writing, and playing with form and material, jewelry artist Onno Boekhoudt constantly made new discoveries. His practice largely consisted of a continuous need to organize and rearrange the world. During daily walks, he collected objects that caught his attention. He carefully composed them into still lives that were an important inspiration for his studies and jewelry. Broken branches, rusted nails, wooden blocks, plastic caps—a multitude of objects arranged in boxes and egg cartons. The search led, the end result was much less important. It wasn't always clear where a piece of jewelry started and a study object or test ended, but that wasn't important to Boekhoudt.
Boekhoudt was fascinated by the manufacturing process. In 1999, in the exhibition Bench Pin Museum, Gallery Marzee showed the extensive collection of bench pins that Boekhoudt had collected from colleagues over six years. These are part of the Onno Boekhoudt archive managed by CODA, and a selection of them can be seen in Everything Is Study, which also shows how he inspires others to this day. At CODA, in Apeldoorn, the Netherlands, through October 25, 2020.
EXHIBITION
To Speak With a Golden Voice celebrates the centennial birthday of Bill Reid (1920–1998). Guest curator Gwaai Edenshaw—considered to be Reid's last apprentice—says, "Reid was a master goldsmith, sculptor, community activist, and mentor whose lasting legacy and influence has been cemented by his fusion of Haida traditions with his own modernist aesthetic. Just about every Northwest Coast artist working today has a connection or link to Reid. Before he became renowned for his artwork, he was a [Canadian Broadcasting Corporation] radio announcer recognized for his memorable voice—in fact, one of Reid's many Haida names was Kihlguulins, or 'golden voice.' His role as a public figure helped him become a pivotal force in the resurgence of Northwest Coast art, introducing the world to its importance and empowering generations of artists."
Reid studied jewelry making while working at CBC and became known for making exquisitely detailed pieces, which were eventually translated into larger formats as he moved into monumental carvings.
The group exhibition includes rarely seen treasures by Reid and works from artists such as Robert Davidson and Beau Dick. At the Bill Reid Gallery of Northwest Coast Art, in Vancouver, July 16, 2020–April 11, 2021.
ONLINE EXHIBITION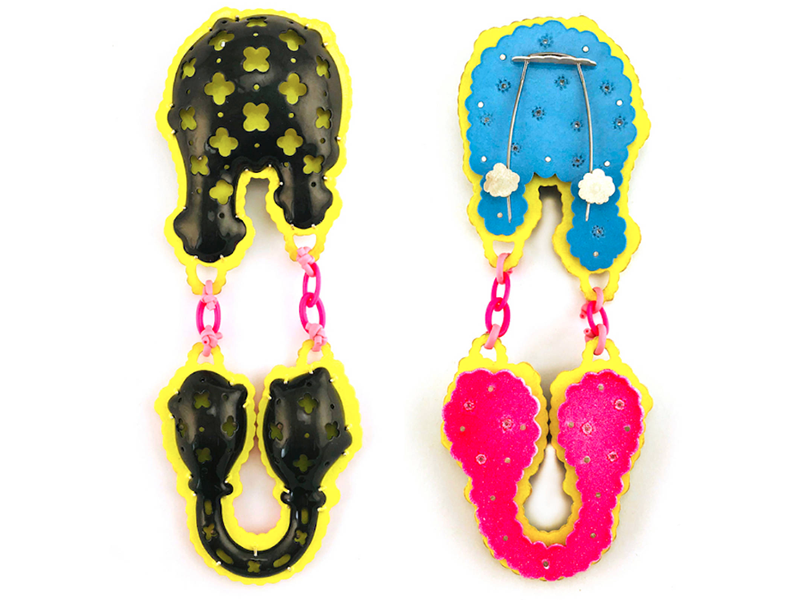 The Cooper Hewitt posted a collection about influential LGBTQ+ designers and wearers of jewelry from past to present. It includes Art Smith, Mando Bee, Aric Verrastro, Mateo Harris, Katherine Bradley and Edith Cooper, Sasha Velour, Keith Haring, and Billy Porter. View it here.
ONLINE EXHIBITION—GRADUATING STUDENTS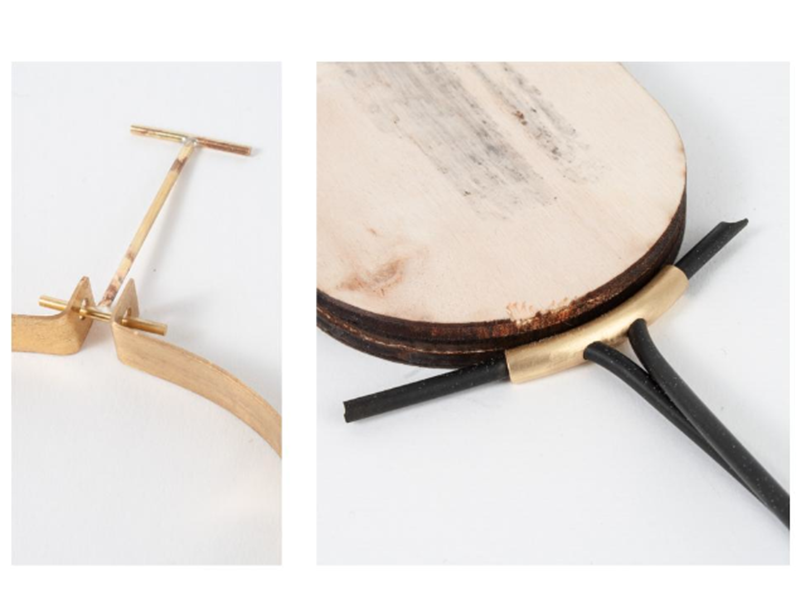 While COVID-19 has prevented graduating students from holding exhibitions of the pieces they've been working on so hard for so long, many universities are posting graduation exhibitions online instead, so here's your opportunity to view them:
Nova Scotia College of Art and Design is showing student work on Instagram, and it's updated daily.
Check out the work of the students graduating from Lucerne University of Applied Design & Arts's BA XS jewellery program. The work ranges from hearing aids for proud display to jewelry as staging and self-discovery to chains that focus on longing.
RISD's Jewelry + Metalsmithing BFA digital publication for the senior show is now online.
You're warmly invited to visit MAD Masters Unlocked, the graduation exhibition showcasing the work of the Object & Jewellery master's students in PXL-MAD's brand-new building. Nine master's students were linked together and then locked up. Now they break free, proud to show how a broken link didn't ruin their creative drive! To meet all safety requirements the exhibition can only be visited by reservation. Select your preferred time via this scheduling calendar to book your personal visit. June 19–21, 2–7 p.m., at PXL-MAD School of Arts, Hasselt (Belgium), Elfde-Liniestraat 25, building G. Keep your eye on the department's Instagram, too!
EXHIBITION—ONLINE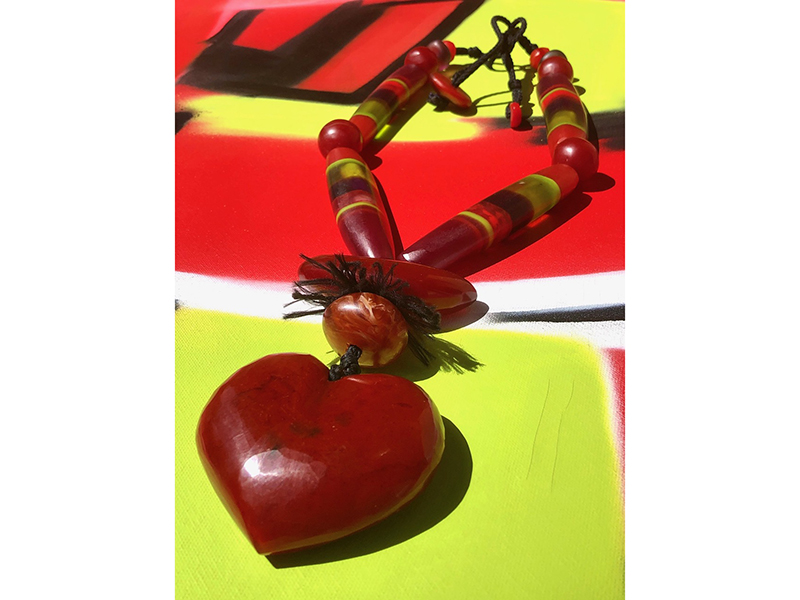 A select group of pieces from the late pioneering jeweler/sculptor Cara Croninger, whose work appeared in Vogue over 30 times, will be presented to the public by Lisa M. Berman, owner of Sculpture to Wear Gallery, via the gallery's website, as well as in shows throughout Southern California. Croninger's body of work is being catalogued by her eldest daughter, Saudia Young, who is also preparing a retrospective, museum acquisition, and book publication for 2022. Croninger's work has been shown at the Whitney Store, PS1, Julie: Artisan's Gallery, Maxfield, Sculpture to Wear, and Artwear, and was awarded the Prince Matchabelli-Prix de Cachet Award in 1980. Primarily a self-taught painter, sculptor, and designer, Croninger was active for a span of 60 years. The artist worked up until March 21, 2019, when she died of a stroke, leaving behind a body of work that includes jewelry, sculpture, unfinished pieces, and her various objects of inspiration and study.
CALL FOR ENTRY—COMPETITION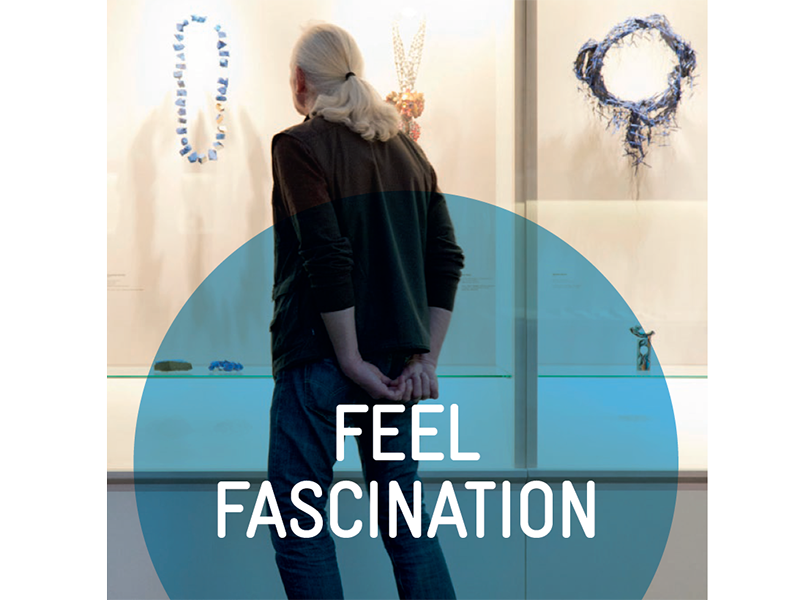 Applications for Schmuck and Talente are now being accepted; the deadline to apply for both competitions is October 5, 2020. Get more information and the application forms here. These special shows at the Internationale Handwerksmesse, in Munich, are organized for the Gesellschaft für Handwerksmessen by the Department for Fairs and Exhibitions of the Handwerkskammer für München und Oberbayern, under the direction of Wolfgang Lösche.
Schmuck was founded in 1959 by Dr. Herbert Hofmann. It's the earliest exhibition on contemporary jewelry worldwide, and has presented the Herbert Hofmann Prize since 1973. Talente was founded in 1980 as an international competition for all areas of craft and design. The selected participant can only exhibit once. An international jury selects the winners of the Talente Prize.
CALL FOR ENTRY—COMPETITION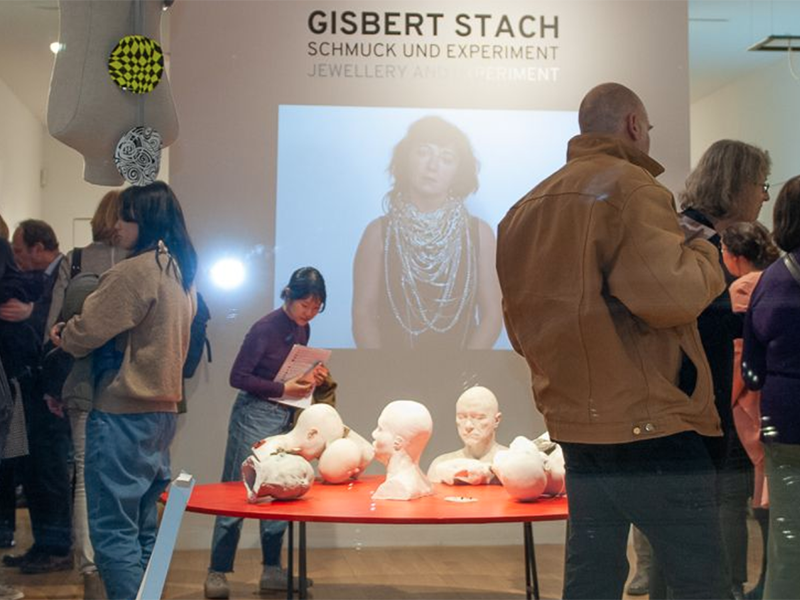 Applications are open for the BKV-Prize 2021 for Young Applied Arts. The BKV-Prize was created in 2006 and is awarded once a year. The competition is aimed specifically at young artisans who have completed their professional training and are beginning their careers. The competition is international and covers all areas of applied arts. Artisans who haven't yet reached the age of 35 may participate. The prize is awarded to works that show unique artistic creation based on fine craftsmanship. First prize is €3,000, second is €2,000, and third, €1,000. The entry deadline is July 24, 2020. Get more information.
Founded in 1851, the Bavarian Crafts Council (Bayerischer Kunstgewerbeverein or BKV) is today a professional association for the promotion of contemporary crafts, with around 450 members. Located in the center of Munich, BKV maintains a forum for Arts + Crafts, which consists of the Gallery for Applied Arts (Galerie für Angewandte Kunst) and a spacious shop with a wide range of contemporary works of art. The Bavarian Crafts Council also participates in a number of trade fairs.
CALL FOR ENTRY—COMPETITION
The PlatAfrica 2020 competition is accepting entries from students, apprentices, and professional jewelers in South Africa who have the support of their academic institutions or legal entities. The theme is Men of Platinum. Prizes offered. Deadline: August 28, 2020. Get more information.
EDUCATION
The Southwest School of Art is offering online summer classes in jewelry taught by Jillian Sortore and Alejandra Salinas. Classes start as soon as July 3 and span varying lengths of time; they include Contemporary Jewelry Ideas, Setting Up a Home Studio, Beehive Kiln for Enameling, and Metals Independent Study. Creativity lives everywhere, even at home. View the catalog and register.
EDUCATION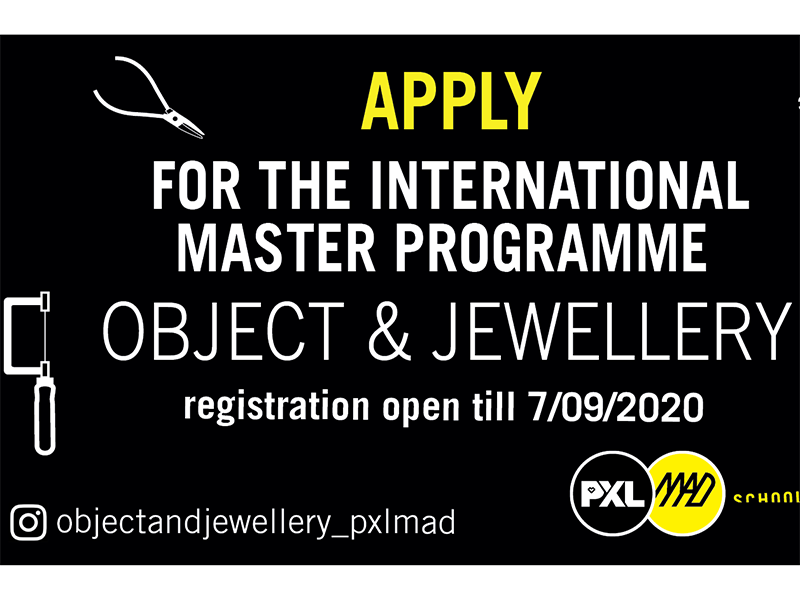 The deadline to apply for the international master's program in Object & Jewellery at PXL-MAD School of Arts, Hasselt, in Belgium, is July 9, 2020. Get more information. The application form is here.
INTERESTING LINK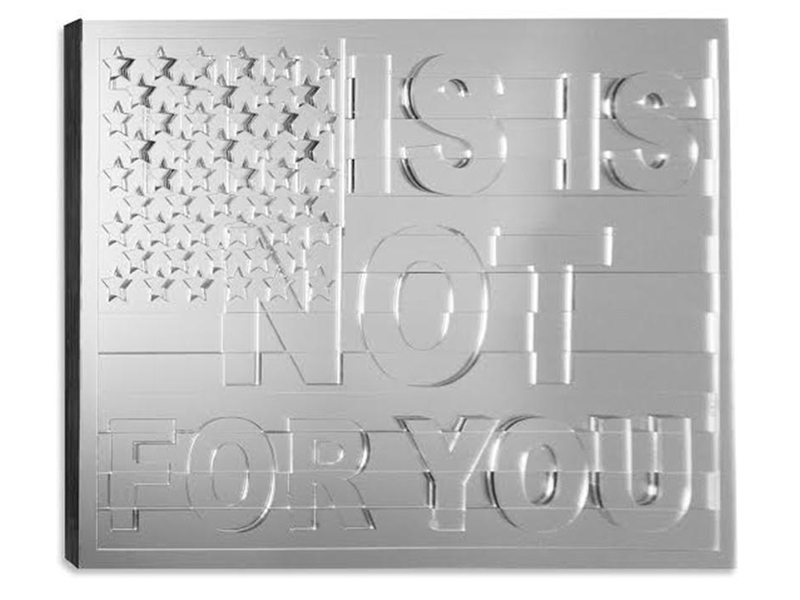 Tiff Massey, the winner of the 2019 Susan Beech Mid-Career Grant, was featured, along with artists Peter Williams and Kelly Sinnapah Mary, in a recent Forbes article on how George Floyd's death and systemic racism have "spark[ed] creative breakthroughs for artists." Massey's "'work examines how symbols of wealth in the regalia of African diaspora affect the wearer's behavior and attitude,'" reports journalist Natasha Gural, "and her experience with creating jewelry evolved into large-scale sculpture that exudes brawn, both physically and emotionally. She hasn't responded to Floyd's death in her work." The article acknowledges elsewhere that "Artists have always found creative inspiration in turmoil and tragedy. Rampant police brutality has long been a theme for artists expressing anger and raising awareness through remarkable works."
Massey is quoted as saying, "It is more than difficult to even come up with words, let alone incorporate these feelings into 'art' to describe what it feels to see people that look like you murdered on a regular basis. Murdered just for living their lives." The article includes a photo of Massey's Ain't No Future in Your Front. Massey "said she's created works like Aint No Future in Your Front, a mirrored American flag that elegantly, powerfully screams 'THIS IS NOT FOR YOU!' as 'more of a response to how America feels about many of its citizens but especially the African American community,'" reports Gural. Read the entire story.
INTERESTING LINK
"Looking for Design" explores the work of Black and Latinx designers in the Smithsonian collections, notably the National Museum of African American History & Culture and the Cooper Hewitt, Smithsonian Design Museum. From jewelry to furniture, activist posters to architectural drawings, these objects tell a story about how Black and Latinx designers have produced innovative objects that reference diasporic traditions and shared histories. We engage with objects like this every day—bracelets, chairs, tables, and posters—but don't always consider who developed them, or what practices and cultures inspired them.
INTERESTING LINKS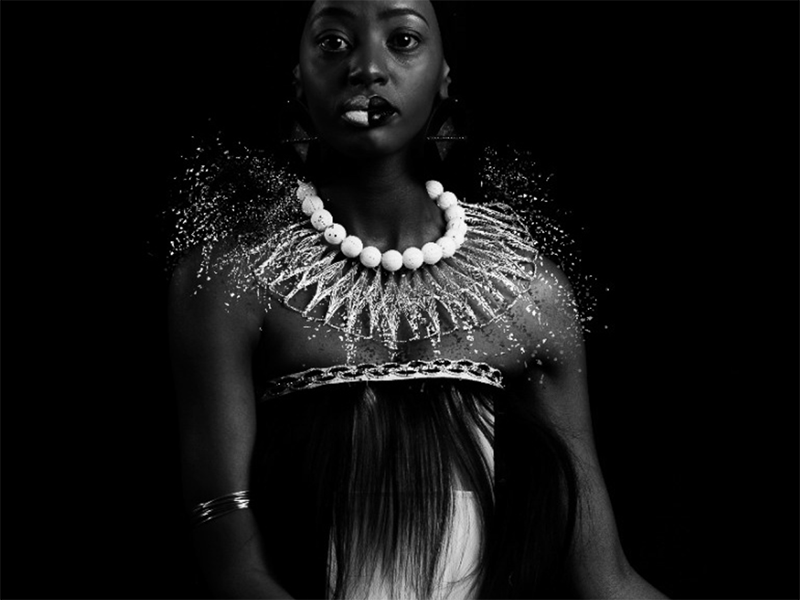 Issue 19 of Garland magazine is chock-full of fascinating articles on jewelry—bravo! There's an academic paper, by the contemporary South African jeweler Khanya Mthethwa, that researches the traditional Zulu girdle, called the isifociya, and shows examples of her own designs based on that research. (Mthethwa, by the way, recently started South African Jewellery week.)
Beverley Price describes her Urgent Adornment workshop, in which attendees "make pieces of jewellery in a limited time (two hours) with limited kinds of materials (no gold or silver) and with limited jewellery techniques (no soldering)."
Price explains that her "intention was that the participants 'mine their minds' to reveal new creativity under a situation of pressure." Check out the photos of pieces made in the workshop, which were displayed at Tinsel—they feature terrific work!
Taryn Sadé Joseph, a jewelry designer and manufacturer from Johannesburg, explains why she's "inspired by the 'Coloured' aesthetic of her upbringing." In the essay, she explores "why certain objects, collections and configurations of home décor are common to 'Coloured' homes and how they may be used in jewellery." Joseph has created a series of doily jewelry. She says, "In my jewellery, I am inspired by the dominant objects of décor pertaining to 'Coloured' material culture as inspiration to create new pieces of jewellery. These include doilies, lace material, and brass artefacts. They are nostalgic in nature, pertaining to my upbringing."
In an essay that evidences the cross-pollination across areas of craft, the South African artist Hlengiwe Dube recounts the elaborate Zulu tradition of earplugs that inspired her baskets, which are made from telephone wire. The designs and colors she incorporates in her work are exceptional—check out the gallery of images!
Mel Young has been mapping the tideline during the COVID lockdown. Without access to a workshop, she's making jewelry from items she finds during walks along the beach. "Recently the ocean has been generous gifting shells on the shoreline," she says. "I am collecting the ones with holes and twisting them into a string as I go, cataloguing each walk with a necklace."
Mbuso Zondi writes about his commitment to his Zulu culture, reflected in his project to create new beads that use more traditional materials than those imported in the past. "My jewellery is inspired by Nguni ethnic Zulu beadwork, Zulu material culture and tradition. This is slowly vanishing because of Western, European, and, lately, Asian influence in our people," says Zondi. "The Western stereotypes against indigenous materials, such as the concept of fetish, have helped foreign materials to take over our production for generations. Western culture does not reflect indigenous people as they truly are."
And there's an article about Izandla Zethu, "one of three vocational training programs (next to hospitality and ICT), which support and provide skills development to school leavers. Youth turn raw material from their surrounding into precious jewel pieces by upcycling corrugated iron. They join the training for five months while being guided by social workers to come up with a tailor-made plan for their future after completing the training cycle." Read more about this project, "initiated by master goldsmith and jewellery designer Michaela Römer and Masifunde Learner Development, a non-profit organization running a variety of educational programmes for children and youth."
INTERESTING LINK
Masks—they're everywhere! Paula Caviezel, a recent graduate from the Lucerne School of Design & Art, named her graduating show Unknown: Wearable Privacy. "The face is an expression of our individuality. In the diversity of our facial features, our essence manifests itself in its complexity. But what happens when this intimacy is no longer protected and is captured by nationwide surveillance systems? Cameras equipped with artificial intelligence identify faces, analyze them, and let the findings flow into central databases. … Paula Caviezel deals with the technologies of automated face recognition. The resulting accessories point to the topic of automatic monitoring by making data acquisition tangible and giving people back their self-determination in use."
INTERESTING LINK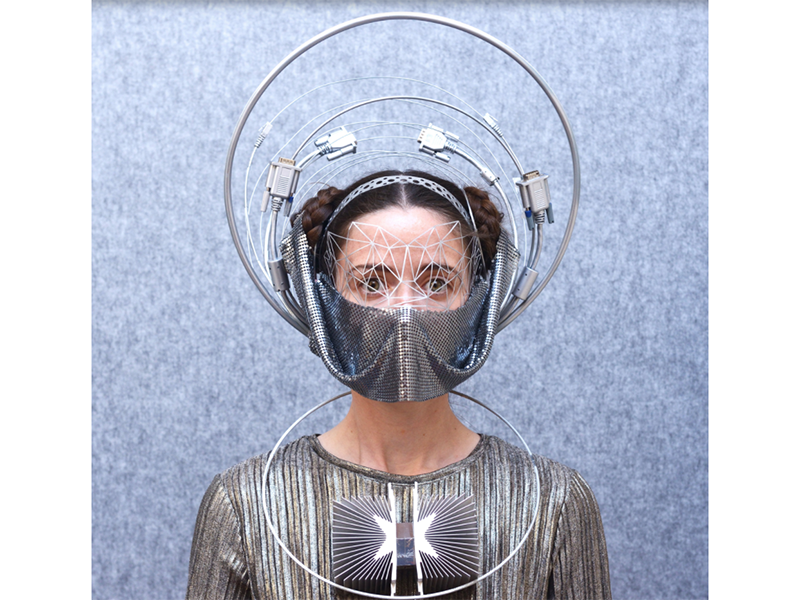 Freyja Sewell's recent masks are peripherally related to jewelry. The London-based designer has created eight decorative face masks in honor of key workers in the pandemic. She started her Key Workers art project in a bid to "say a visual thank you" to those who have remained working during the COVID-19 crisis. The masks aren't intended as personal protective equipment but are instead a decorative celebration of frontline workers. They salute health and social care personnel, education and childcare workers, and key public servants in local and national government. Others celebrate workers in food and other necessary goods industries; public safety and national security staff; utilities, communication, and financial services personnel; and transport workers. See more on dezeen.
INTERESTING LINK
Also related to masks, Danielle Baskin, a San Francisco-based visual artist and product designer, has formed Maskalike, a company that prints masks with a person's face on them. The masks consider our relationship with technology and facial recognition software, which is affected by mask-wearing. The masks are fully washable and shaped to avoid distortion of facial features, meaning you can custom-print your own face on the washable mask so that your phone, family, and friends will recognize you. Or you can print someone else's face on it if you want to mess with the AI and prevent it from recognizing you (or you can print another image altogether, of course).
JEWELRY IN THE NEWS
Sara Sallam's collection of jewelry and accessories protects wearers from tech-enabled surveillance without concealing their features. Named after George Orwell's novel 1984, Sallam's project includes pieces for the face, chest, and foot, each designed to protect the user's identity from either facial recognition, heartbeat detection, or gait-tracking technology while remaining visually appealing. Read the article on MyBe Online to see all the pieces worn.
JEWELRY IN THE NEWS
Aeternum's range of mourning jewelry is designed to offer people who are grieving a death "something to hold in times of sorrow." Developed by Aeternum founder and Austrian artist Ninja Evangelista, the jewelry is intended to be worn by a person throughout their life, before becoming a sentimental heirloom for their family when they die. The collection features a number of different pendants with highly embellished finishes, achieved by Evangelista through a combination of metalwork and cross-stitch techniques. Read more.
JEWELRY IN THE NEWS
A Business of Fashion news story published on June 3, 2020, reported that "LVMH Chief Executive Bernard Arnault is exploring ways to reopen negotiations on the French luxury goods giant's $16.2 billion acquisition of US jewellery chain Tiffany & Co, as US social unrest and the coronavirus pandemic weigh on the retail sector." LVMH deal to acquire Tiffany, agreed upon in November, has yet to close, pending regulatory approval. "Arnault has been in talks with his advisers this week to identify ways to pressure Tiffany to lower the agreed deal price of $135 per share, the sources said. He is considering whether he can argue that the New York-based company is in breach of its obligations under the merger agreement, they said. LVMH has not yet settled on a strategy to pursue a deal price cut and has not asked Tiffany to reopen negotiations, according to the sources. It is not clear whether it will do so, and what arguments it could pursue." Read the full story.