Art Jewelry Forum's extensive network of international
gallery supporters
is dedicated to celebrating and showing art jewelry. On Offer is a monthly series that allows AJF galleries to showcase a piece that they've personally selected to tempt and inspire you. Please contact the gallery directly for inquiries. Enjoy!

MUSEUM WORTHY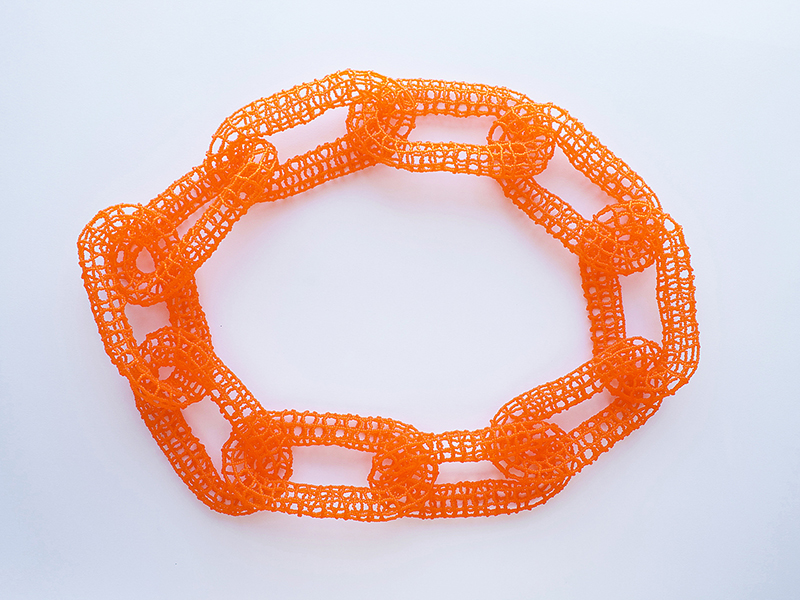 Artist: Caroline Broadhead
Gallery: Galeria Tereza Seabra
Contact: Tereza Seabra
Retail: €2,736
In this day and age, we can say that contemporary jewelry is a multidisciplinary art, and the work of Caroline Broadhead is undoubtedly a good example. The time she spent in Kenya, at the beginning of her career, and the contact with the Maasai and Turkana peoples and with their large-dimension ornaments of specific meanings have contributed to shaping her artistic career. Her keen study on the interaction of the body in movement with space translates into a gestural vocabulary connected to dance and performance, resulting in jewels that go beyond the boundaries of mere ornaments. Strength in Numbers I was the first beaded chain made by the artist in response to the invitation from Gallery S O to take part in the exhibition Chain.
MUSEUM WORTHY
Artist: Ramon Puig Cuyàs
Gallery: Galerie Spektrum
Contact: Jürgen Eickhoff
Retail: €2,150
Ramon Puig Cuyàs, former professor and head of the department at Massana School, in Barcelona, Spain, is here represented with a historic work from 1989. It is typical in shape and colors for the jewelry Puig Cuyàs produces, and also typical for the Catalonian style of art. For anyone interested in Spanish jewelry history, this work will be an essential part of their collection.
MUSEUM WORTHY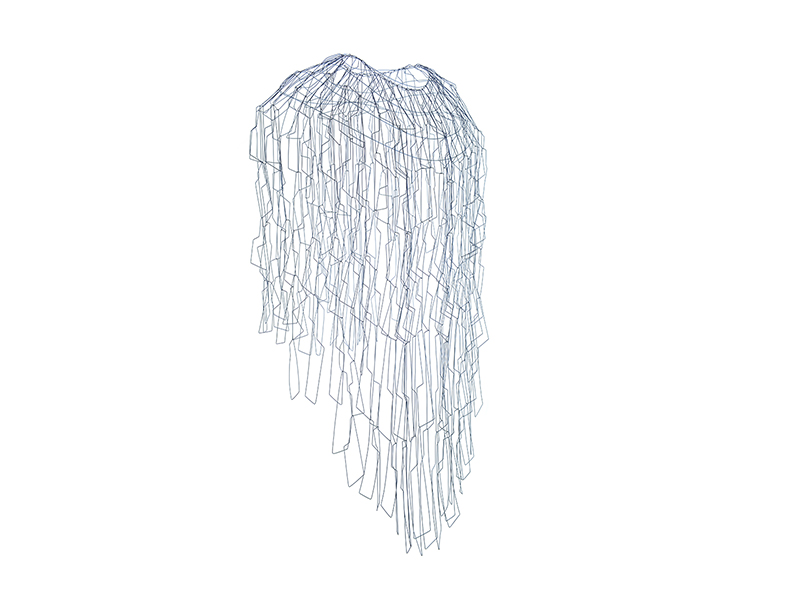 Artist: Florence Croisier
Gallery: Galerie Elsa Vanier
Contact: Elsa Vanier
Retail: €6,800
Florence Croisier became interested in titanium as early as 2002. This metal allows her to explore ways of adorning the body in a sculptural and contemporary spirit. She does not consider a piece of jewelry as a decorative object; in her view, by interacting with the volumes, colors, and movements of the body, it becomes a true complement, emphasizing a trait of character or an inner sensuality. Titanium is, for her, most interesting for its lightness, its hypoallergenic properties, its strong resistance, and also for this fascinating possibility to reveal colors that are intrinsic to the metal through a technical process.
MUSEUM WORTHY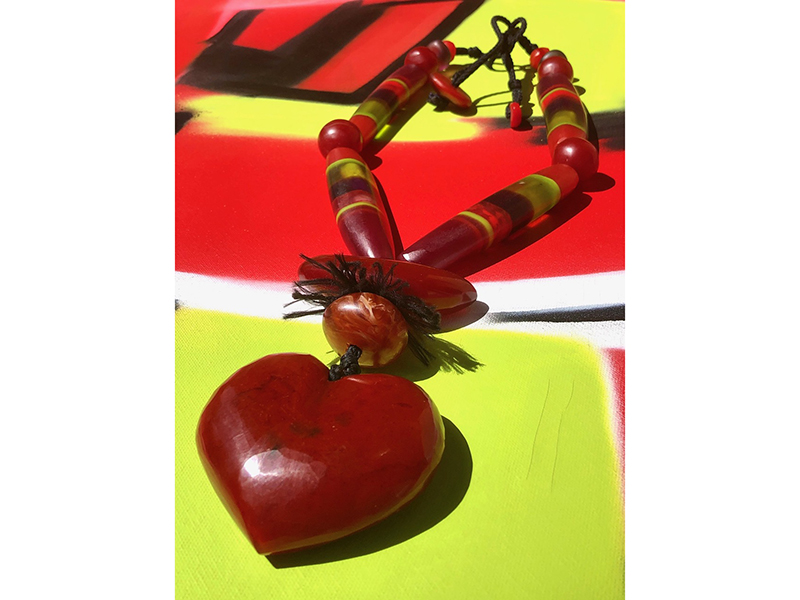 Artist: Cara Croninger
Gallery: Sculpture To Wear
Contact: Lisa M. Berman
Retail: US$8,000
Cara Croninger, American (1939–2019), was a pioneer in the use of acrylic and resin for her sculpture and jewelry. Her work was featured at Artwear, Robert Lee Morris's iconic gallery in NYC. He illuminates: "Each bead is a unique and completely handmade carving of the hardened material. The hours of labor are the equivalent of fine jewelry if not more." The NY Times said, "Cara's jewelry should be considered as contemporary art." This statement necklace incorporates many of the iconic elements of her work—the scale, the individual large beads are 102 mm long and comprised of 11 layers each! The heart is 76 mm, and all are connected with her signature black cord. Each significant element is signed individually to underscore its importance.
ESTABLISHED ARTIST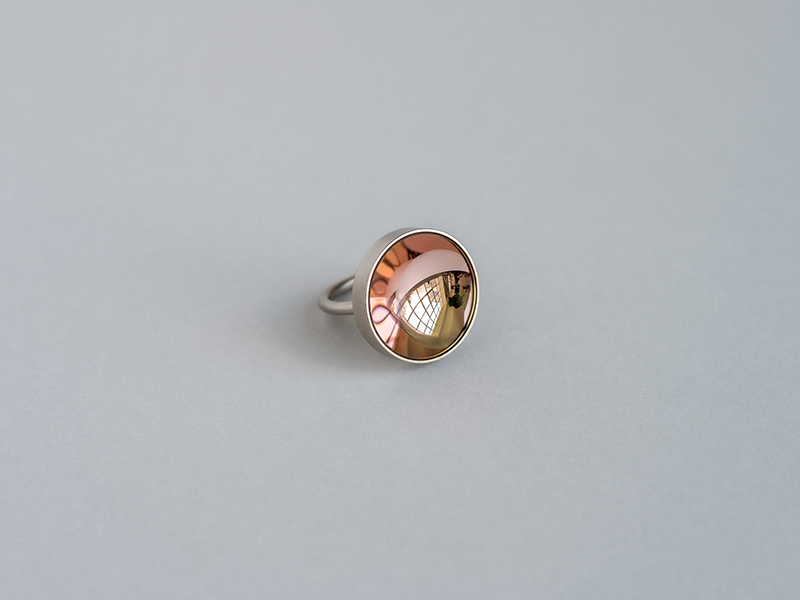 Artist: Jiro Kamata
Gallery: Ornamentum
Contact: Stefan Friedemann
Retail: US$2,600
A new twist on Jiro Kamata's lens/reflecting adornments finds him coating the glass with gold, in this case rose gold set within 18-karat white. Kamata's works emit great visual strength through their perfectly proportioned minimal forms, while the reflections of the wearer's surroundings create an ever-changing decorative motif.
ESTABLISHED ARTIST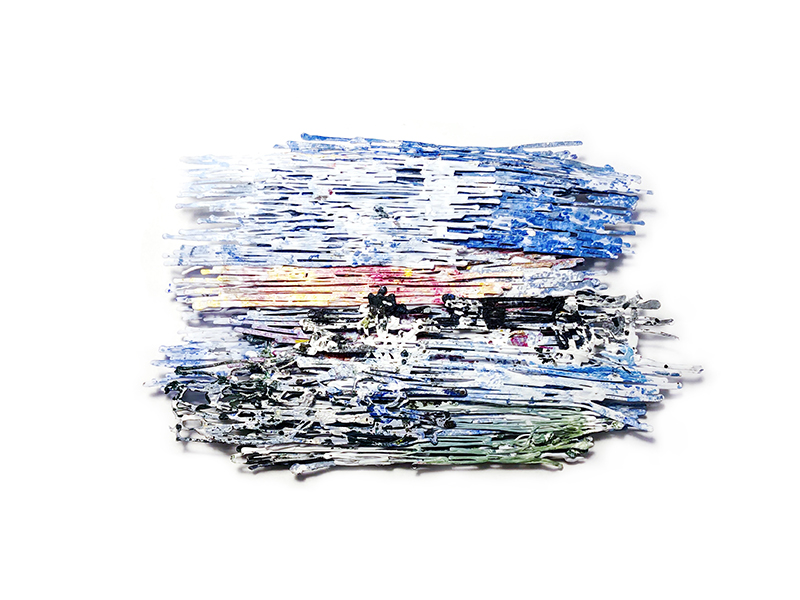 Artist: Sofia Björkman
Gallery: Baltimore Jewelry Center
Contact: Shane Prada
Retail: US$915
Sofia Björkman is a contemporary jewelry artist based in Stockholm, Sweden. In addition to creating her own work and curating, Sofia founded and operates PLATINA, a contemporary art jewelry gallery in Stockholm. Through her work, Björkman seeks to fascinate, annoy, and delight her audience. Her jewelry questions unwritten structures and may at first seem strange to the viewer. She thinks of jewelry as a miniature capture of life's content. In Sunset Somewhere, Björkman has rendered—utilizing polylactic acid and a 3D pen—a sunset on the beach as if seen from a moving car.
ESTABLISHED ARTIST
Artist: Erich Zimmermann
Gallery: Taboo Studio
Contact: Jane Groover
Retail: US$15,000
High-karat gold and lapis lazuli have been revered since the 1922 discovery of Tutankhamun's glorious funerary mask. Erich Zimmermann's stunning modern take on the 18-karat gold and lapis lazuli combination reflect the richness of times past.
MID-CAREER ARTIST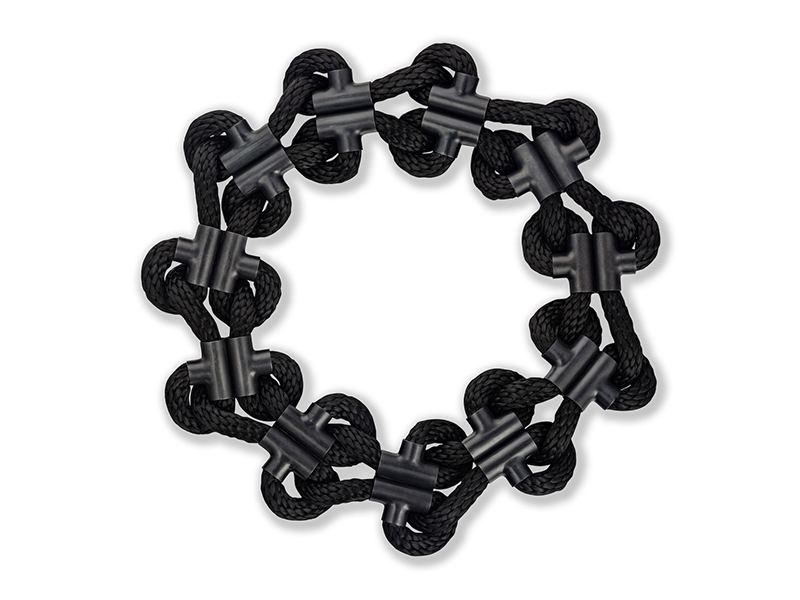 Artist: Joanne Grimonprez
Gallery: Galerie Noel Guyomarc'h
Contact: Noel Guyomarc'h
Retail: CAN$2,340
French jeweler Joanne Grimonprez obtained an MFA with Honors in contemporary jewelry from the HEAR Strasbourg, France, in 2007, and subsequently completed a two-year post-graduate diploma at Munich's Kunstakademie. She was also a guest student at Barcelona's Escola Massana, and completed a jewelry design internship in Milan, Italy. After completing a master's degree in Science of Education, from 2014 to 2018 Grimonprez was head of the jewelry department in a technical college in the southwest of France, teaching design, concept exploration, and art history for the National Diploma of Art and Design. Her work explores the contrasts within different materials and their abilities to be part of a whole and unique object, as well as constraint as a way of creating shapes and bringing matter to life.
EMERGING ARTIST
Artist: Sònia Pibernat
Gallery: Galerie Door
Contact: Doreen Timmers
Retail: €950
Lines, circles, and weaves in gold or silver, with sometimes a bright pink paint stroke. Sònia Pibernat (born 1984, Barcelona, Spain) investigates movement and translates it into subtle volumes. With this brooch, she created a three-dimensional silver drawing. Wearing this piece is like wearing a poem of transparency. If you wish to find out more about Pibernat and her art pieces, please send an e-mail.
EMERGING ARTIST
Artist: Betsy Lewis
Gallery: In the Gallery at Brooklyn Metal Works
Contact: Brian Weissman
Retail: US$9,000
The Figure of the Falling by Betsy Lewis exhibits works that refer to the center—the core, the spine, the gut, and the heart. Metal objects and necklaces point to sites on the body to interpret what is otherwise impossible to tell. Like the armor they have become, these works serve as protection and give testimony to the privacy of night. "The heartbeats of these memories are transferred into the stillness of the work, and here I learn to breathe again."
EMERGING ARTIST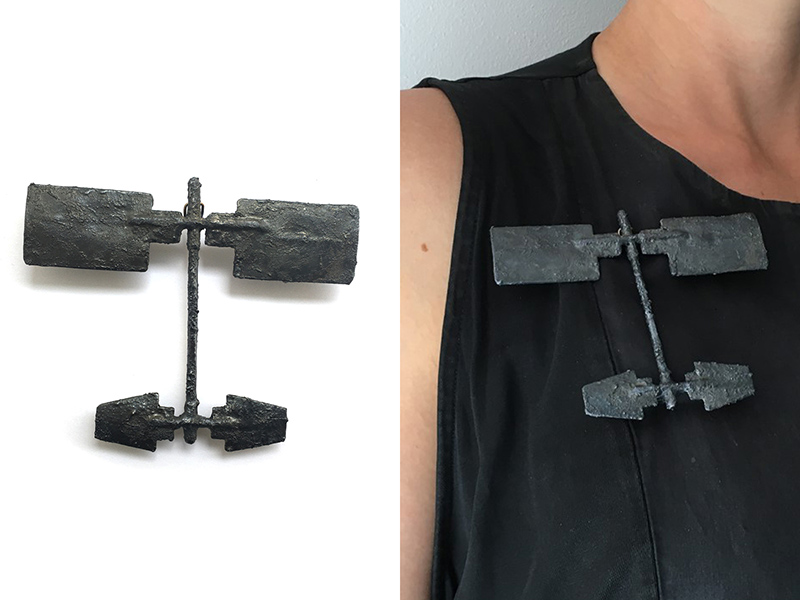 Artist: Staffan Jonsson
Gallery: Four
Contact: Karin Roy Andersson
Retail: €600
Staffan Jonsson's summer job as a cemetery gardener became a starting-point for this project, which deals with the moments between life and death. The works have associations with childlike toys, naivety, darkness, and sometimes violence. This piece is built up from sheets and rods of sterling silver, cut, filed, and soldered. The dark surface is niello, a metal alloy of silver, copper, lead, and sulphur that gives a strong cover and an expression that fits perfectly with the motif.
GALLERY CHOICE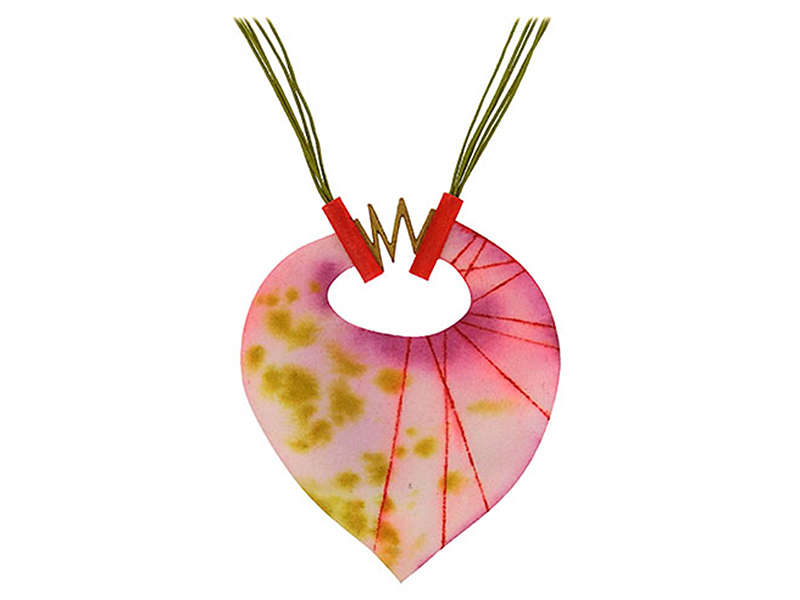 Artist: Rebekah Laskin
Gallery: Aaron Faber Gallery
Contact: Patricia Kiley Faber
Retail: US$675
Rebekah Laskin's digital jewelry forms combine her traditional artistic process of freehand drawing with 3D print technology to create acrylic bracelets and pendants that are then painted by the artist, front and back, with acrylic dyes. Laskin notes, "Each side is painted as a unique abstract composition. I am interested in the interplay between the form of the object and the image on its surface. Every piece is an investigation of this dynamic. The magic of 3D printing opens up possibilities for complex forms which can be produced in a variety of materials, including this strong nylon plastic, the color of which can then be altered with dyes."
GALLERY CHOICE
Artist: Chris Charteris
Gallery: Fingers Gallery
Contact: Lisa Higgins
Retail: Piece on the left: NZ$1,840
"My work, although varied, is based on Maori and Pacific Island forms," says Chris Charteris. "… this brings me into disciplines of mind and technical skill and allows my heritage to be expressed and evolve. I am being driven more by my instincts. This involves letting go of the control I usually exercise when making my work. I have been experimenting a lot with textures and contrasts, exploring ways to use tools to achieve new results. A big part of my creative process has always been to stretch myself … to find an edge where there is new energy, innovation, and impact."
GALLERY CHOICE
Artist: Heejoo Kim
Gallery: Galeria Reverso
Contact: Paula Crespo
Retail: €2,700
The growth that occurs in nature is a process in which invisible things are piled up to make it hard and strong. This unique piece captures the process of how pearls and corals form in the blue ocean. Electroforming, a modern technique designed to replicate or protect the surface of metals like plating, mimics the process of pearl formation made up of accumulated particles. Electrolyzed metal particles in a blue sulfuric acid solution repeatedly accumulate, thereby forming a new shell. Running on electricity but very analogue, electroforming requires time and craftsmanship as if taking care of life.
GALLERY CHOICE
Artist: Gigi Mariani
Gallery: Archivio Negroni
Contact: Eliana Negroni
Retail: €1,490
This work marks the meeting between Gigi Mariani and Archivio Negroni, inspired by a ring that took part in Gioielli in Fermento—2012 Edition, an exhibiting circuit and award founded by Eliana Negroni. After many years, this shape is truly iconic, telling of a kind of chalice that seals a friendship and a blind bezel that deeply expresses the soul of the wearer. The tiny golden pattern comes from the rolling of an old tool made in Archivio Negroni's workshop. (Note: For this limited monthly offer, insured oversea shipment is included.)