Art Jewelry Forum is pleased to share the news that members of our community find noteworthy. Is something missing? The success of this compilation of compelling events, exhibitions, and items of interest to the jewelry community depends on YOUR participation. If you're a member of AJF at the Silver level or above, you can add news and ideas to the monthly report by going here. If you aren't a member, but would like to become one, join AJF here.
Listings gathered with assistance from Carrie Yodanis.
THE YOUNG ARTIST AWARD DEADLINE IS COMING UP FAST
Grab your chance at fame and fortune! The biennial AJF Young Artist Award offers a prize of US$7,500 for the winner and US$1,000 for each of the four finalists, as well as an exhibition at Schmuck in March 2022. Jewelry artists age 35 and under are invited to apply for this international prize in contemporary art jewelry, which acknowledges promise, innovation, and individuality, and advances the careers of rising artists. Get your work in front of the jurors: collector and gallerist Karen Rotenberg, curator Chequita Nahar, and 2020 Young Artist Award winner MJ Tyson. Apply here.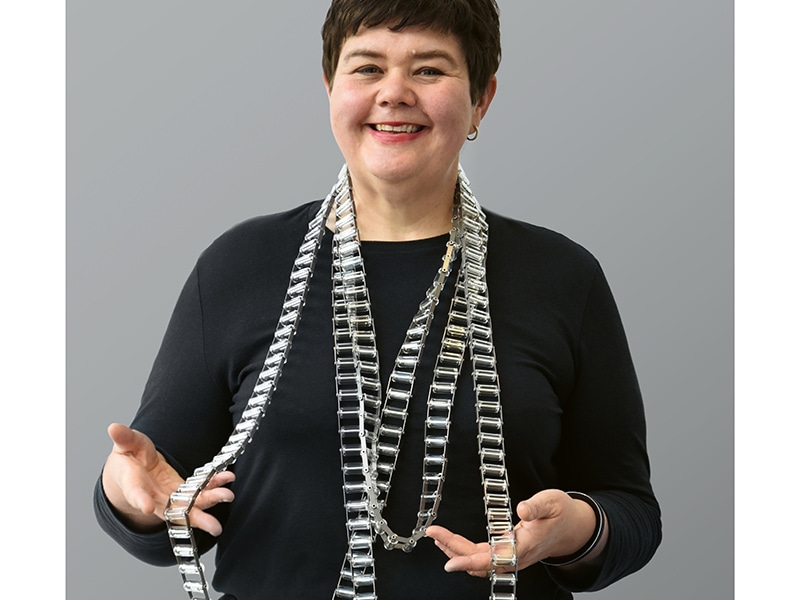 AJF LIVE
If you missed the most recent AJF Live event, you can still see it—we recorded it. Watch it here.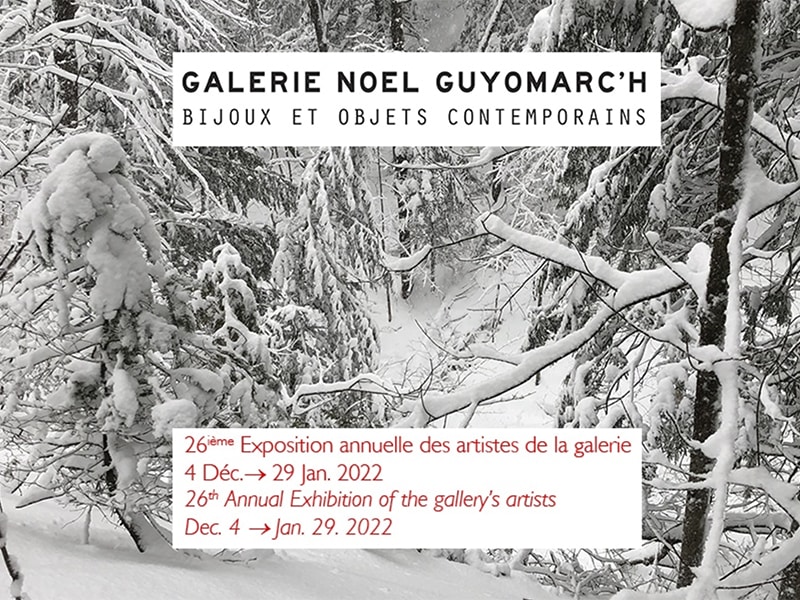 FEEL LIKE SEEING A JEWELRY SHOW THIS WEEKEND?
Find listings on our dedicated exhibition page.
+ From Memory | María Ignacia Walker is at AJF member gallery Galeria Alice Floriano, Porto Alegre, Brazil, December 9, 2021–January 23, 2022.
+ See the Annual Exhibition of the Gallery's Artists at AJF member gallery Galerie Noël Guyomarc'h, Montreal, Canada, December 4, 2021–January 29, 2022.
+ Check out Noon Passama + Marc Monzó at AJF member gallery Viceversa, Lausanne, Switzerland, through December 18, 2021.
+ Enjoy Breaking Rules, Part of a Table for Two Expo Series: Hansel Tai | Christoph Weisshaar at AJF member gallery Galerie Beyond, Antwerp, Belgium, November 20, 2021–January 12, 2022.
MEMBER RECOMMENDATIONS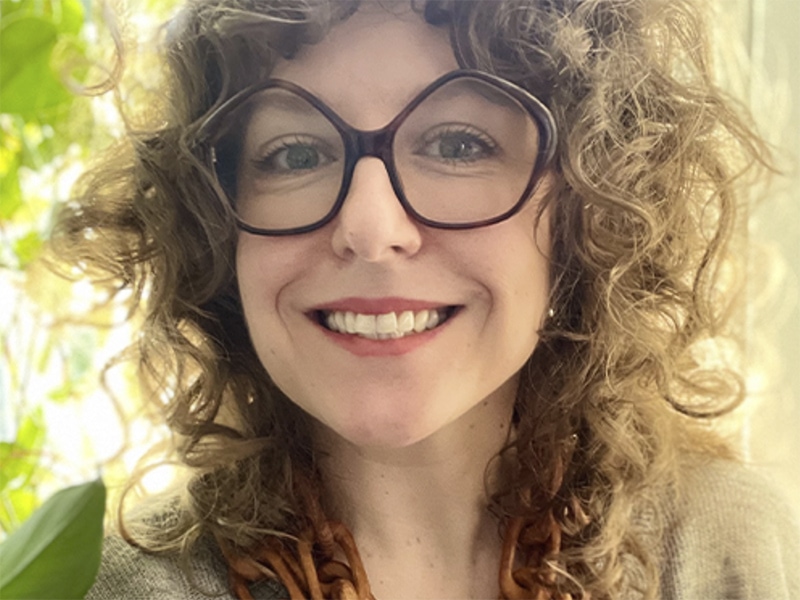 LISTEN TO THESE PODCASTS
Sharon Berman's latest interviews for the Jewelry Journey podcast were with Adrienne Dalton, the editor of Metalsmith magazine, and Lisa M. Berman, the owner of Sculpture To Wear. Listen here.
WATCH THIS FILM
Linda Hillman highly recommends The Second Mother, written and directed by Anna Muyleart. "This movie was so engaging because it complicates the relationships among upper class Brazilian families and their long-time housekeepers/maids. I was totally taken in by the nuanced characters in a culture I don't really know. Highly recommend!" The film's star, Regina Cale, is Brazil's Oprah. You can watch it on Amazon Prime in Portuguese with English subtitles.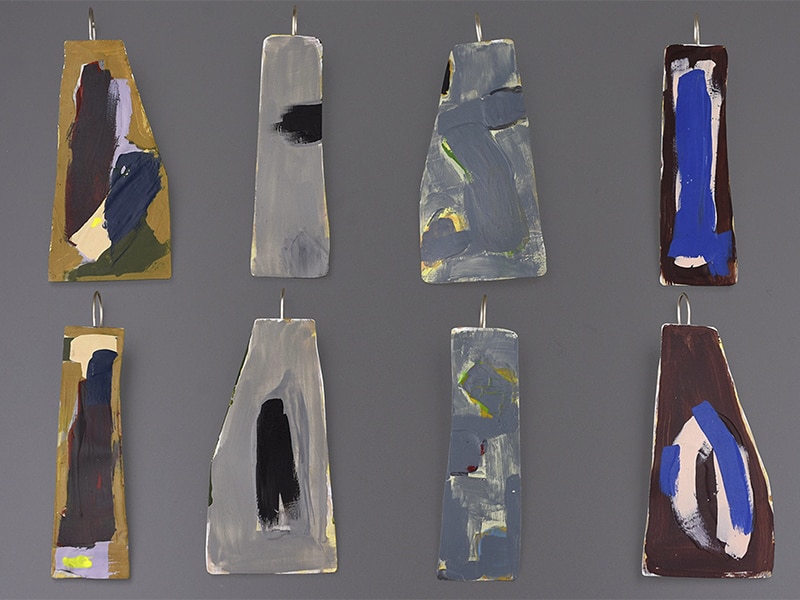 SEE THIS GALLERY SHOW
Jacqueline Morren @jaxjewels suggests you take in the annual group show at Fingers Contemporary Jewellery Gallery, in Auckland, New Zealand. "There's an outstanding and vast variety of skill and materials body of art!" says Morren.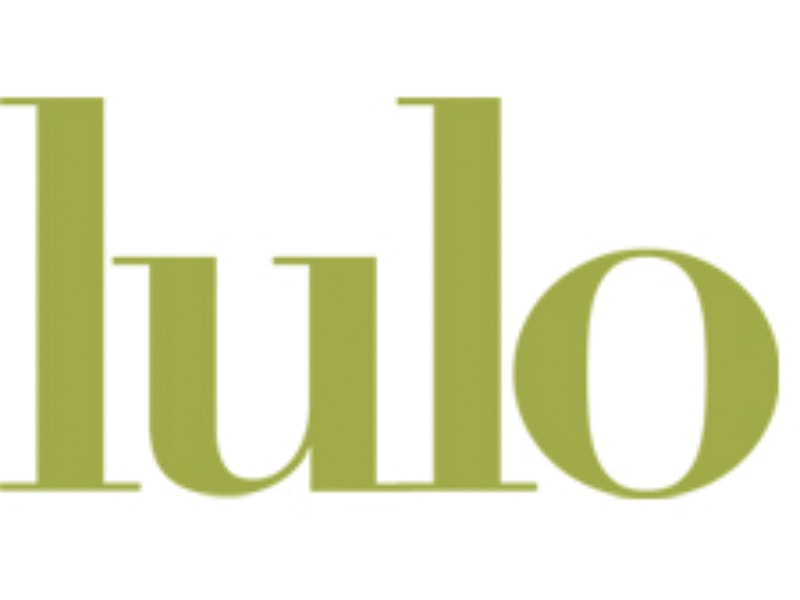 CHECK OUT THIS JEWELRY GALLERY
Sara Jane DeHoff just learned about a jewelry gallery in Healdsburg, CA: Lulo Gallery. "It's owned by Anne-Kathrine Schjerbeck and artist Karen Gilbert," she says. "Lulo is representing  a lot of jewelers. It's worth going to when visiting the wine country and you need a break from the wine!"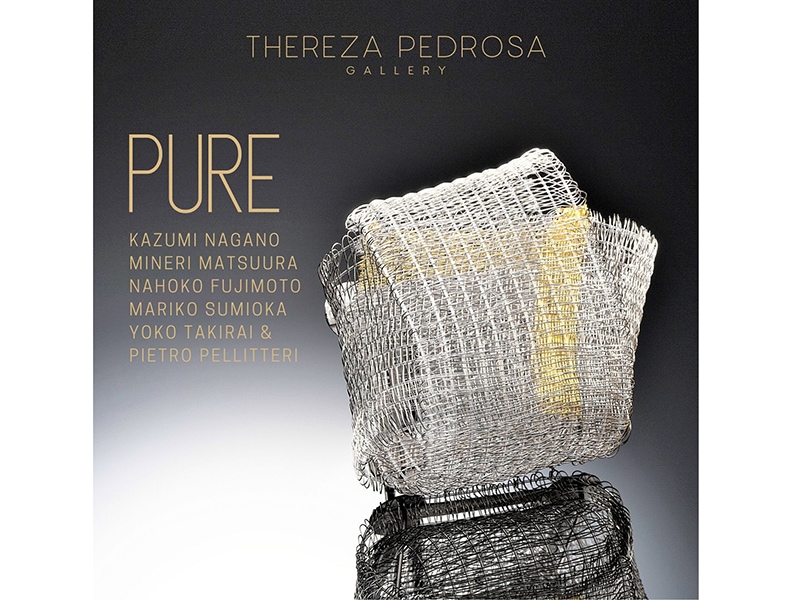 SEE THIS EXHIBITION AT THEREZA PEDROSA GALLERY
Traveling takes us to places, people, languages, and cultures unknown to us. It enriches our minds and spirits. But discovering the world can take place thousands of kilometers away or just a few meters from home. The important thing isn't where we are, but to be ready to observe the world with a heart open to new discoveries and a curious mind. The group show Pure | Japanese Collective Exhibition takes you on an exploration of the richness of Japanese culture through the work of artists Kazumi Nagano, Mineri Matsuura, Nahoko Fujimoto, Mariko Sumioka and Yoko Takirai | Pietro Pellitteri. Through December 25, 2021.
TAKE IN THIS GALLERY EXHIBITION
A member who wishes to remain anonymous told us about Artifactual Remakes, an exhibition at Baltimore Jewelry Center. "The exhibition playfully addresses the history of jewelry: its cultural significance, construction techniques, materiality, and longevity as a form of personal expression. It references notable pieces of jewelry from the collection of the Walters Art Museum. Every fall the BJC hosts an annual symposium featuring free workshops, demonstrations, and a speaker series, all related to a designated theme. This year's focus was the history of jewelry. Participating artists drew inspiration from a pre-selected collection of historical jewelry objects, chosen by curators from the Walters Art Museum. The historical items selected come from various cultures and time periods, exhibiting spectacular craftsmanship and skill."
OMG HAVE YOU HEARD?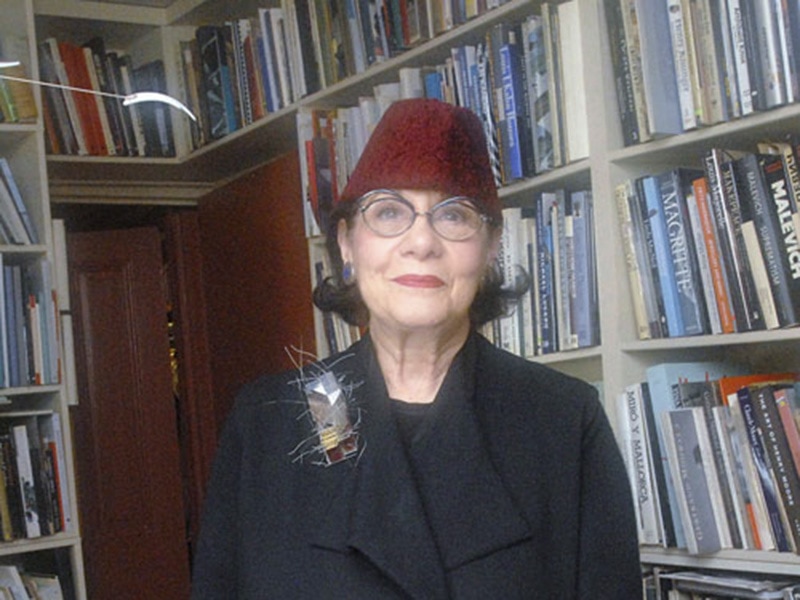 YOU CAN SEE SOME OF HELEN WILLIAMS DRUTT'S BRACELETS!
MAD About Jewelry honoree Helen Williams Drutt and Museum of Arts and Design's curator Barbara Paris Gifford have selected a group of stunning bracelets from the Helen Williams Drutt Family Collection for visitors to enjoy during MAD About Jewelry Week. Come see outstanding examples from artists Bianca Eshel Gershuni, Helen Shirk, Falko Marx, Claus Bury, Joyce Scott, and Shana Kroiz, just to name a few! You can see this once-in-a-lifetime display located within MAD's exhibition 45 Stories in Jewelry: 1947–Now for one week only: December 6–11, 2021.
BELLE BROOK BARER WON THE DESIGN AWARD AT JCK
Belle Brook Barer took first place at the 2021 Design Awards at the JCK Show for New & Noteworthy for her one of a kind cuff titled Bauhaus at one of the world's largest jewelry shows this August, in Las Vegas. Sculpture to Wear is thrilled to see the consistent trajectory of Barer's career over the past 16 years. The award-winning design was a result of her alliance with @Diamondsdogood – by Supporting Natural Diamonds. Barer says, "Using ethically mined diamonds has always been a passion for me. I'm glad to be able to merge my creative inspiration with my personal values." Congratulations!
JOYCE J. SCOTT WILL HAVE A SOLO EXHIBITION SOON!
Mobilia Gallery is organizing a large traveling exhibition of Scott's wearables in 2022–2023. Stay tuned for the venues as they're announced.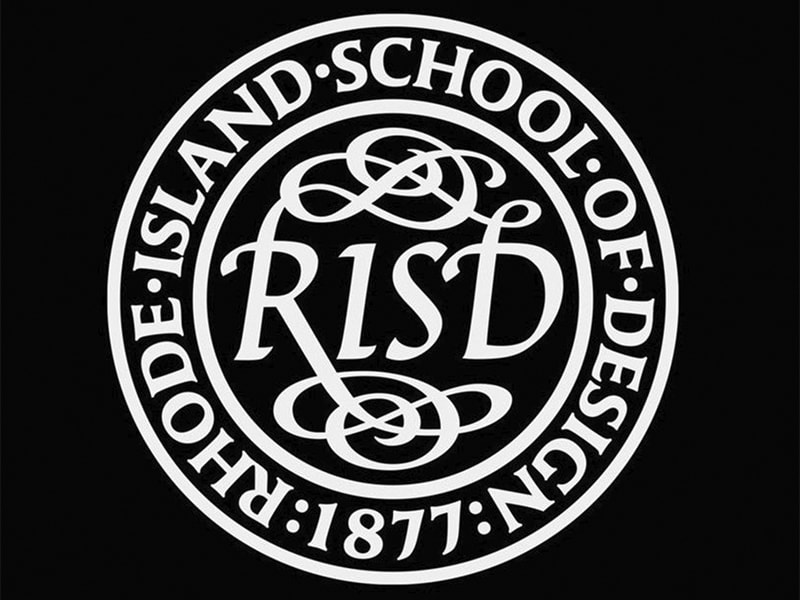 JOB OPENING AT RISD
The RISD Jewelry + Metalsmithing department invites applications for a full time faculty appointment of Professorship in Race in Art & Design in the Division of Fine Arts. They seek applicants with a strong practice and training and/or disciplinary research in Jewelry and Metalsmithing. Applicants who demonstrate a potential for cross-disciplinary collaboration with apparel and fashion, performance, film are of particular interest. Traditional adornment and clothing, contemporary jewelry and fashion are all multifaceted forms of communication, fundamental to how we envision ourselves, each other, our histories, and our futures. Get more information.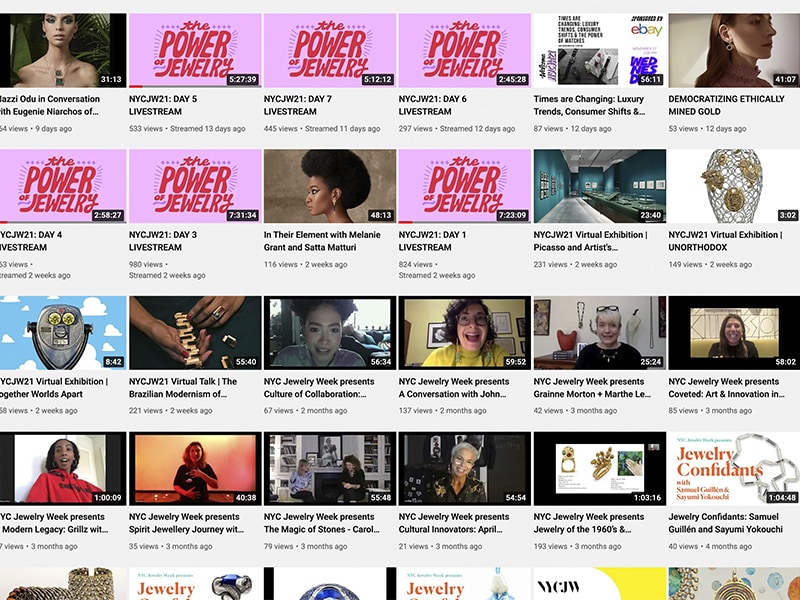 NYCJW22 DATES HAVE BEEN ANNOUNCED
Mark your calendar: Next year's event will take place November 14–20, 2022. Also, if you missed anything from NYCJW21 (or want to rewatch it), all the virtual programs have been posted online. You can view them on Youtube, here.
DATES ANNOUNCED FOR SIERAAD 2022
The 19th edition of SIERAAD will take place May 26–29, 2022. More information.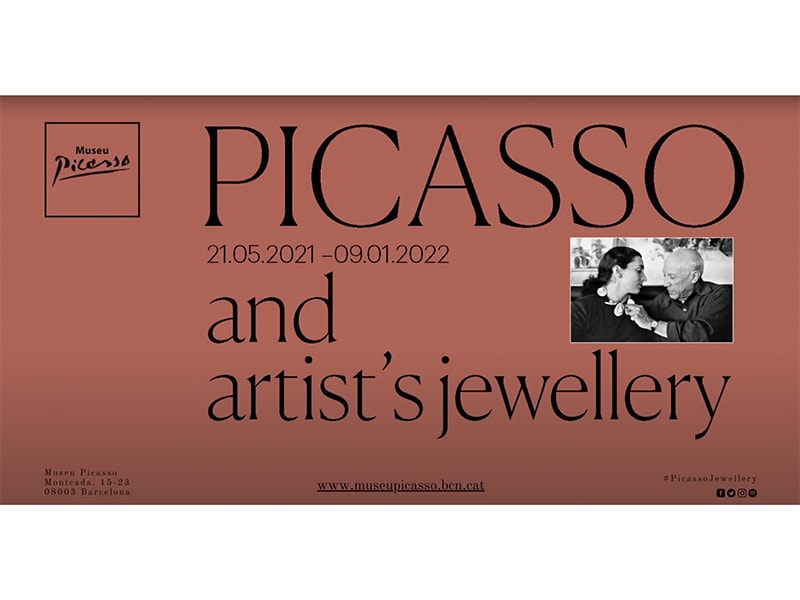 THE PICASSO AND THE ARTIST'S JEWELLERY EXHIBITION WAS EXTENDED
Picasso and the Artist's Jewellery, at the Picasso Museum, Barcelona, Spain, will now stay open until January 9, 2022. Watch a walkthrough of the exhibition here.
YOU CAN STREAM THE PBS SHOW JEWELRY
Jewelry is a program that explores the history, artistry, and impact of personal adornment. It features classic jeweler Tom Herman; Harriete Estel Berman who creates jewelry with recycled materials; the coeditors of Ornament Magazine; the legacy of modernist jeweler Art Smith; nature-inspired artist Gabrielle Gould; and Navajo/Hopi master jeweler Jesse Monongya. Watch it here.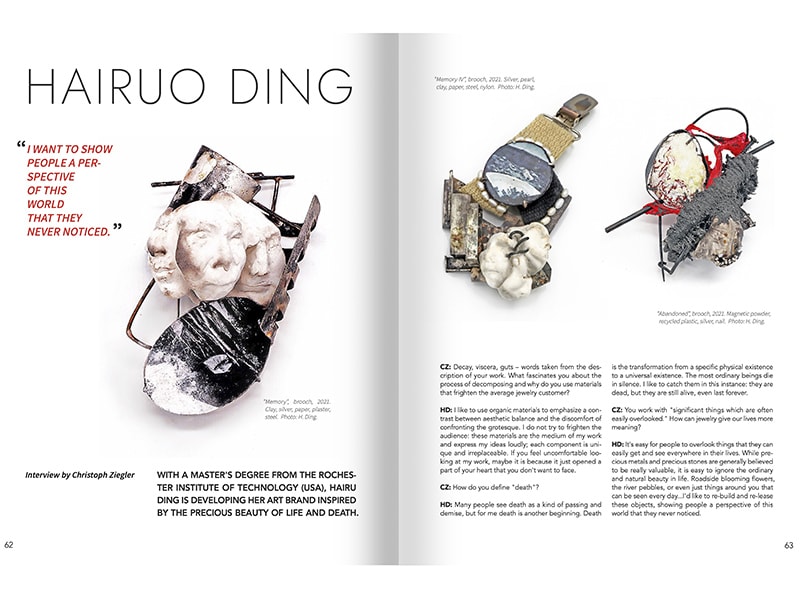 ISSUE 5 OF SMCK MAGAZINE IS AVAILABLE ONLINE
It contains interviews with artists Karl Fritsch, Hairu Ding, and Gian Luca Bartellone; art connoisseur Jeroen Redel; and Art Aurea founder Reinhold Ludwig, among many other articles. Read it here. From Loukia Richards and Cristoph Ziegler.
EVENTS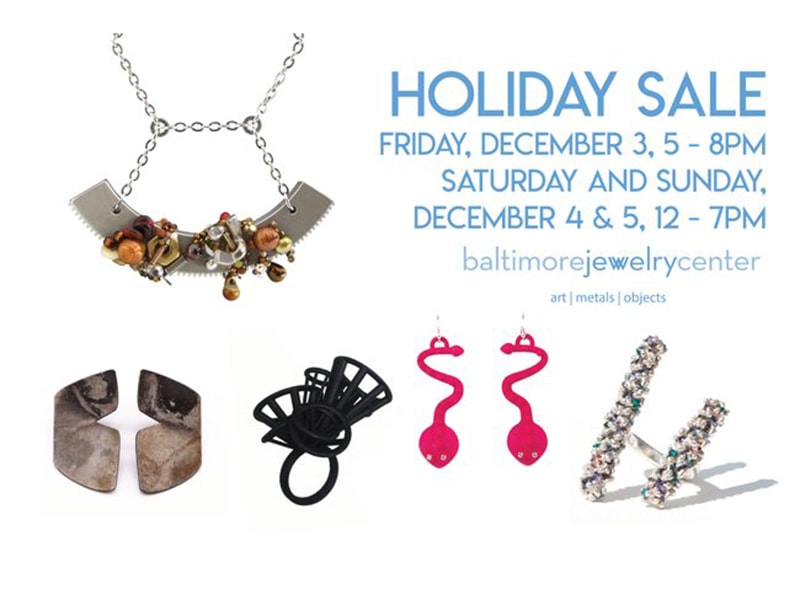 HOLIDAY SALE
Did you miss Baltimore Jewelry Center's holiday sale this past weekend? Don't worry! It continues online through December 17, 2021. Check it out here. This is a juried sale, and each artist in the sale is presenting a unique line of work. Work made of sterling silver, steel, brass, copper, gemstones, and alternative materials will be included.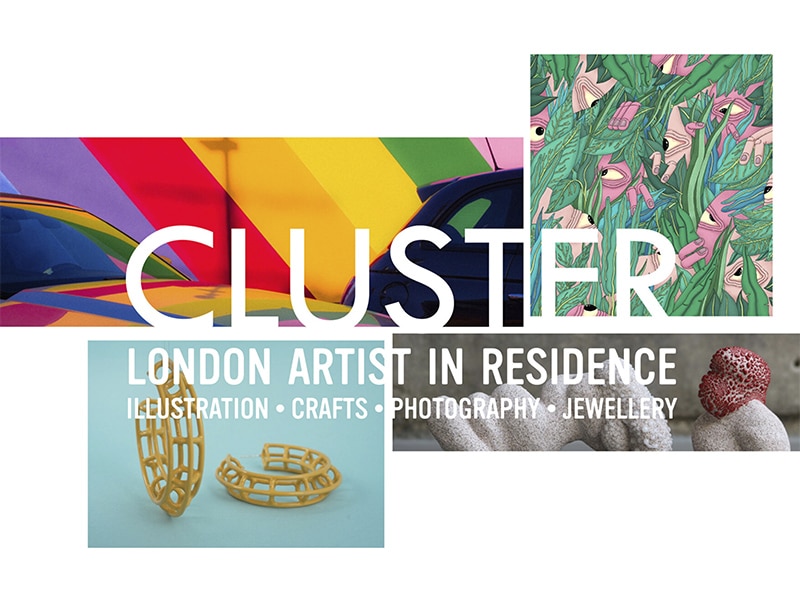 JEWELRY FAIR
Cluster Contemporary Jewellery Fair 2021 takes place December 8–13, 2021, at 54-56 Oxford Street | London.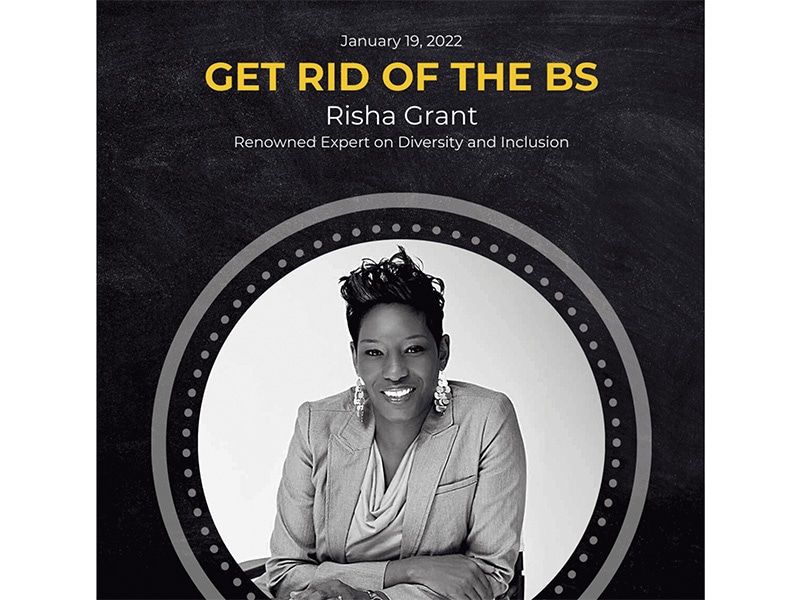 GET RID OF THE BS WITH THE BLACK IN JEWELRY COALITION
In Get Rid of the BS, Risha Grant, a renowned expert on diversity and inclusion with a no-holds-barred style, will tackle hard but necessary questions about how to address social unrest and racial injustice. She'll also offer practical advice for how to confront and get past biases to create more respectful, diverse, and inclusive communities. Takes place January 19, 2022. Get more info.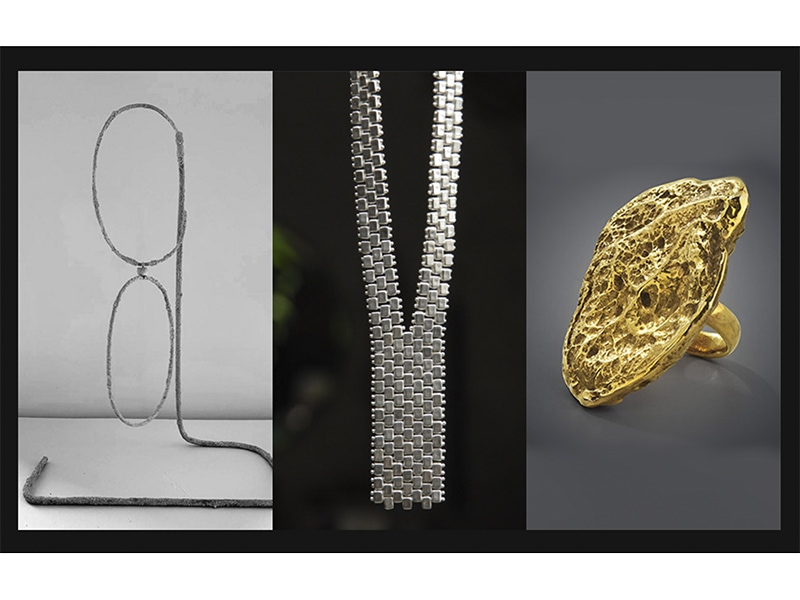 ONLINE LECTURE
Jewelers & Sculptors of NYC, Ana Khouri, Jill Platner, and Michel Oka Doner in Conversation with Jonathan Wahl, from 92Y. Jewelry and sculpture are not the separate fields they are often classified as. Join Jonathan Wahl, director of 92Y's Jewelry Center, for a discussion with three artists whose work crosses these boundaries and where sculpture and jewelry continually cross-pollinate their practice. January 26, February 2, and February 9. Tickets start at US$10. Learn more.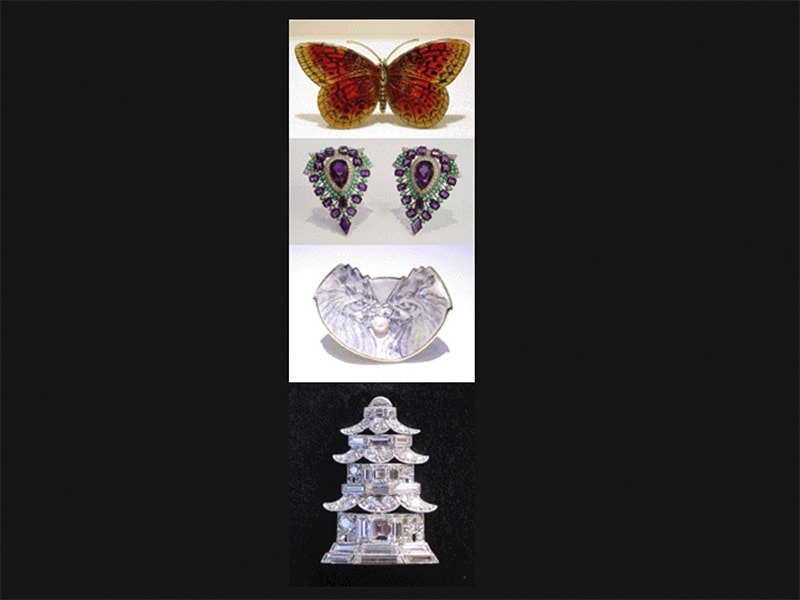 LECTURES, IN-PERSON AND ONLINE
The Society of Jewellery Historians + Society of Antiquaries of London's 2022 lectures will include Jewels at the Court of Henry VIII; Jewellery and Power in Iron Age Kazakhstan; Jewels Captured in Perpetuity: The Jewellery Book of Anne of Bavaria; An Aspect of Portuguese Jewellery; and The Late 14th-Century Royal Crown of Blanche of Lancaster. Additional info.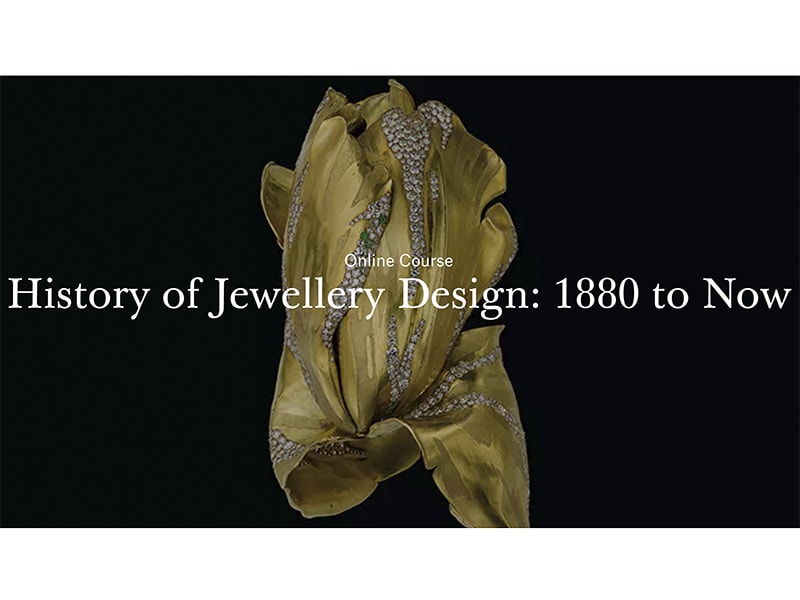 ONLINE COURSE FROM CHRISTIES EDUCATION
History of Jewellery Design: 1880 to Now explores the glamour and exquisite craftsmanship of Haute Joaillerie from the Belle Époque to the present day. Vanessa Cron brings high jewelry to life, revealing the context of its creation throughout the 20th century. Encounter the patrons, jewelers, and fashions that made Europe the epicenter of influential new styles of jewelry, and see the global reach of high jewelry in the 21st century. January 18–February 28, 2022. $1,500.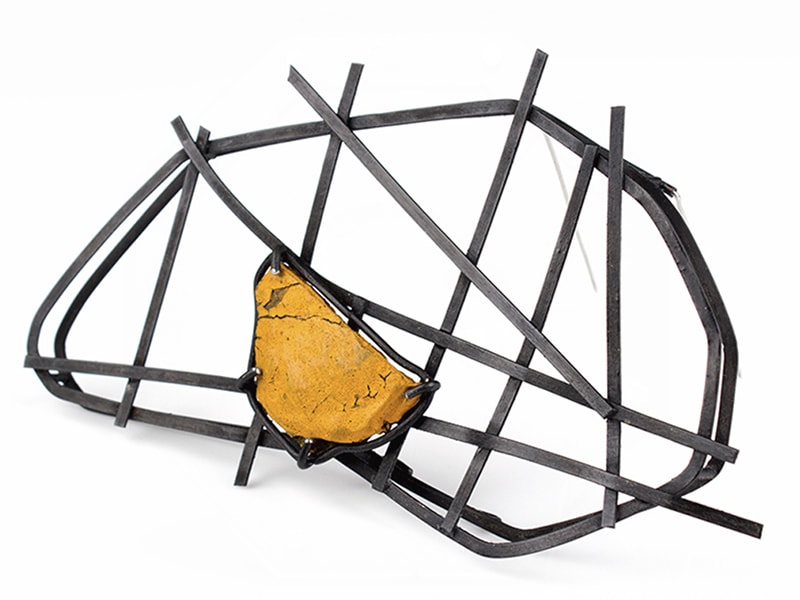 YUMA ART SYMPOSIUM
The Yuma Art Symposium will take place February 22–26, 2022. Demonstrations, lectures and slide presentations, exhibition, student show, the National Saw, File, & Solder Sprints, the annual pin auction, and a fiesta and dance.
EDUCATION
ONLINE CLASSES AT AJF MEMBER BALTIMORE JEWELRY CENTER
In addition to their in-person classes, BJC is offering some interesting online classes starting in January 2022. These include courses in intaglio stone carving, using found and unconventional objects, and digital design. In the Intaglio Stone Carving class (January 15–16, 2022), students will gain agency to transform a gemstone by learning the lapidary technique of intaglio. Intaglio is the process of engraving designs into the surface of a gemstone, utilizing semiprecious and precious gemstones. Students will then learn how to tab set the intaglio stone as a pendant. Register before December 10 and receive $25 off, as seen on BJC's Instagram.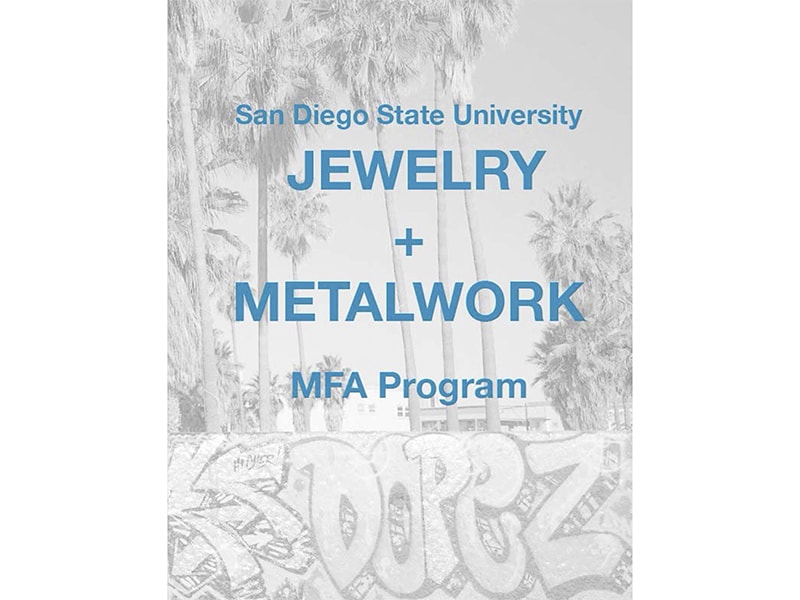 SAN DIEGO STATE UNIVERSITY'S MFA GRADUATE PROGRAM
Ranked in the top MFA programs in jewelry and metalwork in US News and World Report, the three-year San Diego State University MFA graduate program offers a 60-unit course of study in studio, art history, and professional practice with faculty Sondra Sherman and Kerianne Quick. Face-to-face instruction and dialogue are back in place (masked + vaxxed). First-year scholarships, graduate assistantships, and teaching assistant opportunities available. Deadline for application and fee: December 15, 2021; for statement of intent, portfolio, and letters of recommendation: January 12, 2022. Get info. Apply.
OPPORTUNITIES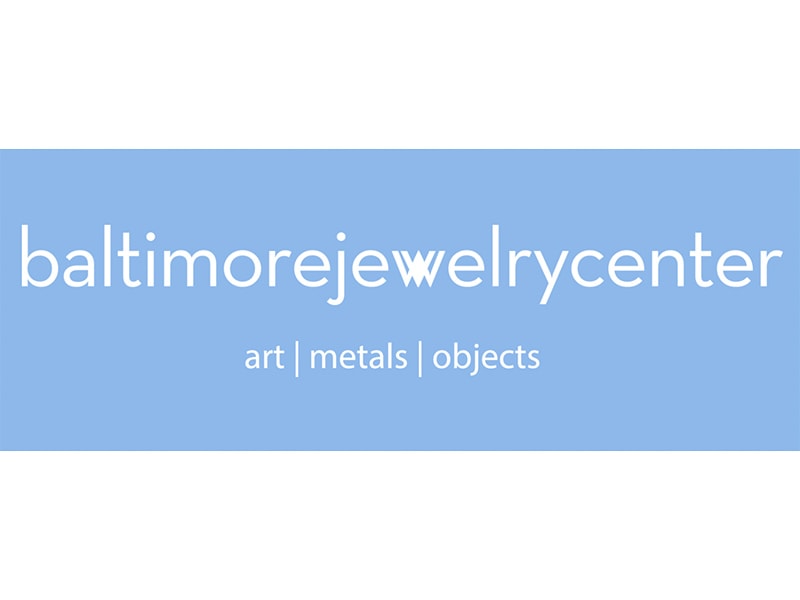 CALL FOR ENTRY: WORD AFTER A WORD, AT BJC
In the AJF article "Tilling Time/Telling Time," gallerist and writer Karen Lorene says, "Ideas appear, and then words, and then, strangely enough, a novel." This progression is also mirrored in the work of visual artists. For the exhibition Word after a Word, Baltimore Jewelry Center seeks work by metalsmiths and jewelers who use text and language in their work to visually and literally communicate their ideas, as a method of mark-making, or as an inspiration point. Work might include actual written language or text, universal signs or symbols, or explore coded language, such as emojis or the coded language of flowers. It may even directly reference or be inspired by literary works or language. Application deadline: January 5, 2022. Get more info.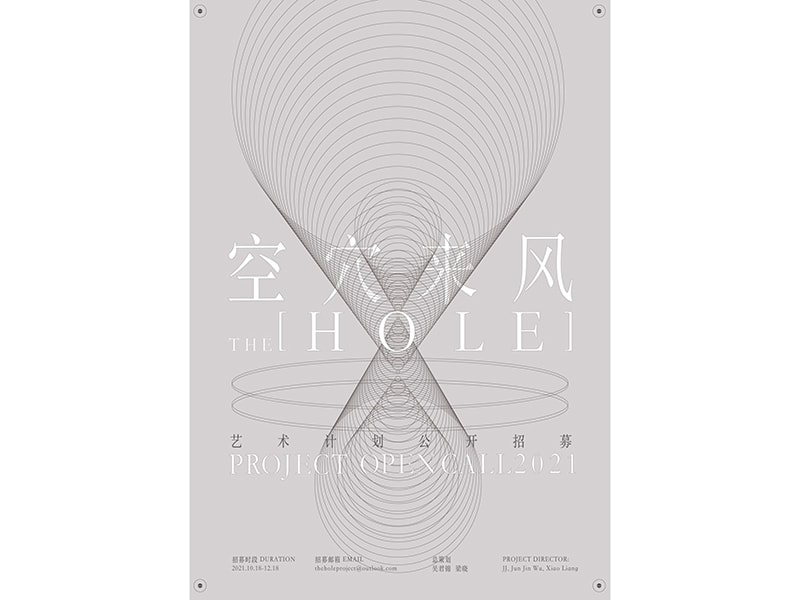 CALL FOR ENTRY: HOLE PROJECT
The Hole Project is a co/re-creation project to promote the reproductive mechanism within and beyond the contemporary jewelry scene. Unlike a general art production completed by one person, this project is a collaboration in which both artists and non-art-practitioners cooperate in three stages. In stage I, the groups of inviting artists have presented the archetype of thought/primacy of concept per the provided theme-oriented instructions/blueprints. Currently, the project has advanced to stage II, the most essential part, and is calling for the public participation to maximize the ripple effect's power.
CALL FOR ENTRY: 2022 JAPAN JEWELLERY COMPETITION
The JJDA invites entries from overseas. The selected works will be exhibited at the Tokyo Metropolitan Art Museum in June 2022. Deadline: February 1, 2022. Info.
OPEN CALL FOR BRUSSELS JEWELLERY WEEK
Brussels Jewellery Week starts at the end of April 2022. The call is open to anyone working in the field of jewelry and crafts, as well as artists from other fields that focus on the new ideas and views of contemporary jewelry. Karin De Buysere, the founder and director of AJF member gallery Galerie Beyond, will be one of the jurors. Deadline: February 1, 2022.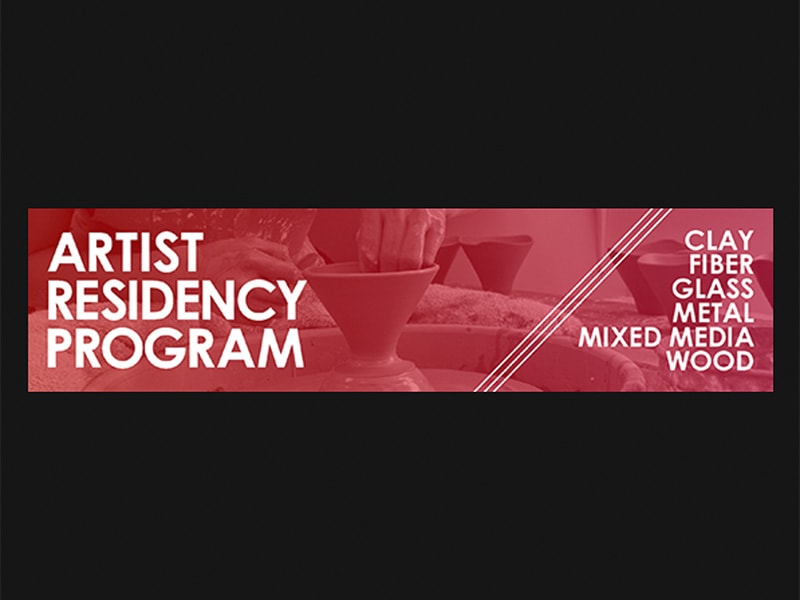 TWO RESIDENCIES AT HOUSTON CENTER FOR CONTEMPORARY CRAFT
Metals artists welcome. Artists in Residence Program includes 24/7 access to studio space, cultural and professional development opportunities, monthly stipend that includes small housing/materials allowance, and the opportunity to give an artist talk. Interdisciplinary Craft + Photography Artist Residency is for artists creating work at the intersection of contemporary craft and photography. Three-months of studio space at HCCC, all the benefits of regular HCCC resident artists, printing credits, and access to digital lab, joint artist talk, inclusion in annual exhibition and the center's spot magazine. Application cycle opens January 1, 2022. More info.