There are so many reasons to purchase art jewelry…
You got that hard-earned promotion—celebrate!
You're experiencing a once-in-a-lifetime occasion—honor it.
You wrapped up that major accomplishment—pay it tribute!
You want to mark the beginning of a new relationship or the end of one—commemorate it.
It's your birthday—hurrah!
Maybe it's an investment—do it.
It's the perfect piece to round out an aspect of your collection—pounce!
Or perhaps it's to treat yourself—just because.
Art Jewelry Forum's international gallery supporters celebrate and exhibit art jewelry. Our monthly On Offer series allows this extensive network of international galleries to showcase extraordinary pieces personally selected to tempt and inspire you. Take a look. You're bound to find a fantastic piece you simply have to add to your collection! (Please contact the gallery directly for inquiries.)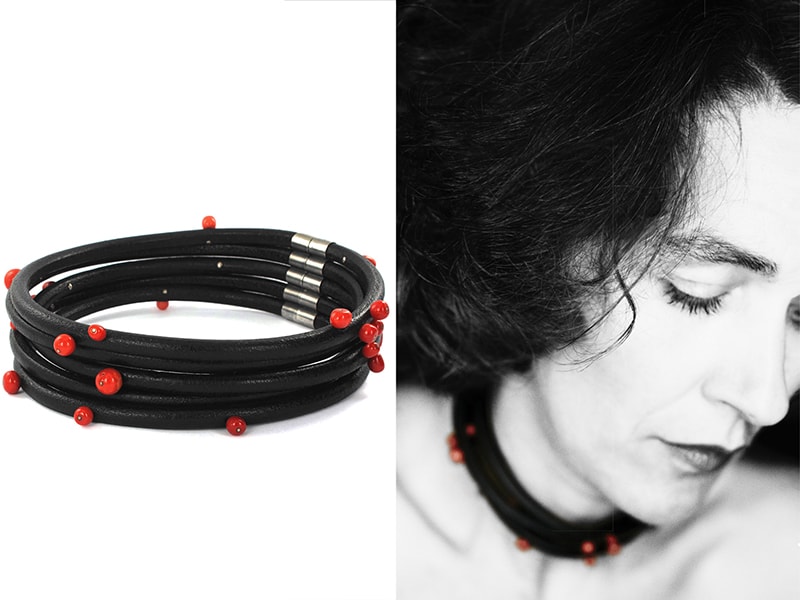 Artist: Agathe Saint Girons
Gallery: Galerie Elsa Vanier
Contact: Elsa Vanier
Retail: €1,980
Agathe Saint Girons' jewelry always tells an intimate story. This short one-off necklace carries strong meaning. The coral beads mimic blood and life. This five-row necklace both adorns and protects a vulnerable part of the body. The human form is a natural source of inspiration for Saint Girons. Every possible angle of vision is a vector for creativity, whether subject or object, actor or observer, in fusion or in conflict. Many stories without end, like life itself.
Artist: Ruth Allen
Gallery: Fingers Gallery
Contact: Lisa Higgins
Retail: Each NZ$480
Working with hot glass has been an integral part of Ruth Allen's life for 32 years. "The simple blown bubble holds the dynamism of inside and outside space," says the artist. "Light is trapped within and hovers over the surface. I enjoy the meditative time taken carving the surface of the Urchin. [As I use] traditional Venetian techniques of battuto, my mind drifts and travels, as do my hands. The blown form slowly transforms into a hieroglyphic transcript of experience. Working the surface through multiple processes creates a depth to the space that the Urchin occupies and those who wear it."
Artist: Aurélie Guillaume
Gallery: Galerie Noel Guyomarc'h
Contact: Noel Guyomarc'h
Retail: CAN$1,375
With the Soft Rocks pieces, Guillaume continues the theme started during her exhibition Le Poème. She evokes a poetic vision of its immediate environment by amplifying her usual connection with nature, sometimes inert but to which she adds a life with tenderness and humor. Special attention to detail! The rock is looking at you!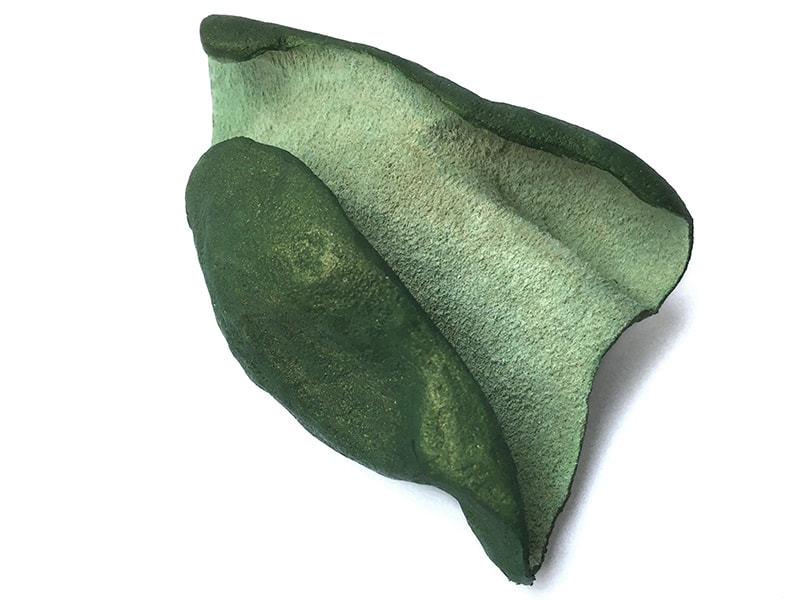 Artist: Flóra Vági
Gallery: Four Gallery
Contact: Karin Roy Andersson
Retail: €800
There are things we have no words for. Flóra Vági works in a language that is understood without words. She describes her pieces as "newly dressed souls" and that is exactly what they are. Vági works mostly in natural materials like paper or wood, but in her hands the materials develop into something new. It's as if she is giving water to a seed that grows to be a tree or a flower; covering a worm in silk, making it become a butterfly; or putting a log on a fire, turning it into a black piece of coal. She finds and brings out the soul of the material and she gives it a new identity.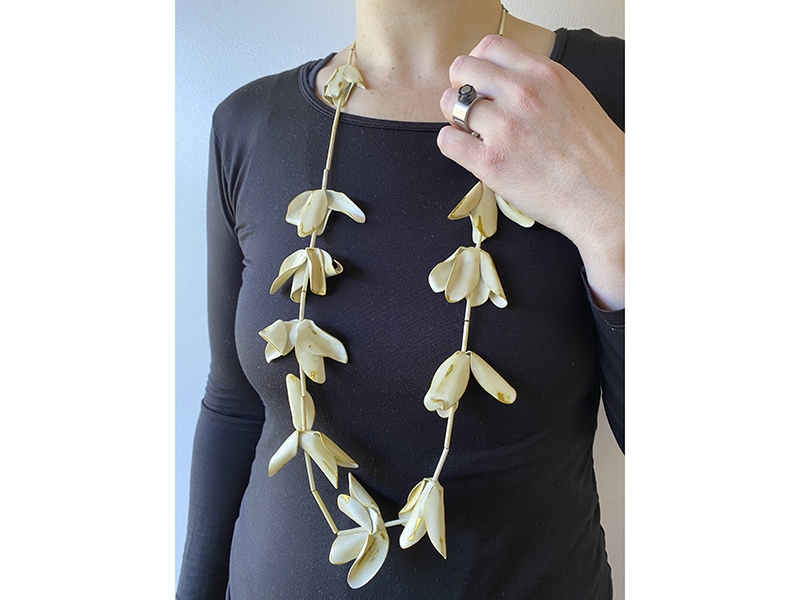 Artist: Jess Dare
Gallery: Zu design – jewellery + objects
Contact: Jane Bowden
Retail: AUS$3,190
Frangipani Lei, by Jess Dare, is a heartfelt response to Beresford White Inspired, an exhibition at Zu design that celebrates the work and life of an inspiring maker, Beresford White. "When I invited Jess to make a piece for this show she was hesitant," says Jane Bowden. "Her work is very different from Beresford's. I explained that I had asked her because I knew that her partner had proposed with one of White's rings." The neckpiece Dare produced sits perfectly within the show, and the story behind it has moved many visitors: "The day Marcus proposed we were in Bali," says the artist. "That night we had dinner on the beach and were gifted Frangipani leis. I hung the leis in our room. For 2 weeks they slowly wilted, collapsed, and browned as their scent got sweeter. This Frangipani Lei, in weighty brass, takes me right back to that moment—a day I'll forever treasure, as [I do] the ring on my finger, made by Beresford White."
Artist: Fumiki Taguchi
Gallery: Platina Stockholm
Contact: Sofia Björkman
Retail: US$2,500
This piece by Fumiki Taguchi can be worn as a brooch as well as a pendant. It expresses the artist's perceptions of time, and the sensations and emotions hidden in ephemeral memories. Fading moments are visualized by layers of hand-sawed silver and colored silver powder. The piece is skillfully made with ornaments and the surface fragmented as if it were dissolved. Taguchi lives in Japan and works as associate professor at Kobe Design University. He exhibits worldwide and has received several prizes, including the prestigious Herbert Hofmann Prize.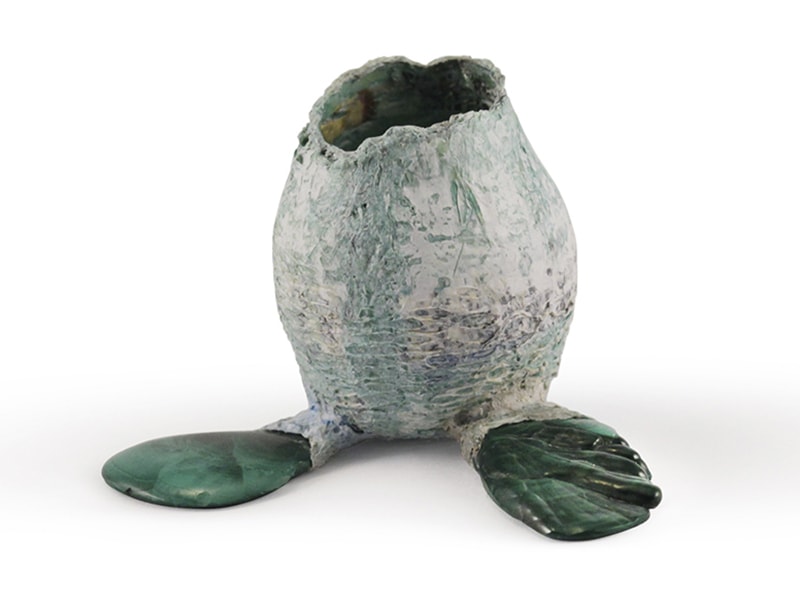 Artist: Elena Gorbunova
Gallery: Galerie Door
Contact: Doreen Timmers
Retail: €225
Russian artist Elena Gorbunova is fascinated by communication and the relationships between material and immaterial worlds. This work is aptly titled Roots and Wings: the small sculpture stands firmly with both legs on the ground and at the same time gives the impression of being able to rise, to fly. The form of this brooch is open and offers the possibility to lay up or (temporarily) store something. It makes you wonder why the alternative title is Daily Routine of a Goddess. Find out more about Gorbunova's work in the current exhibition Matches and Unions, at Galerie Door.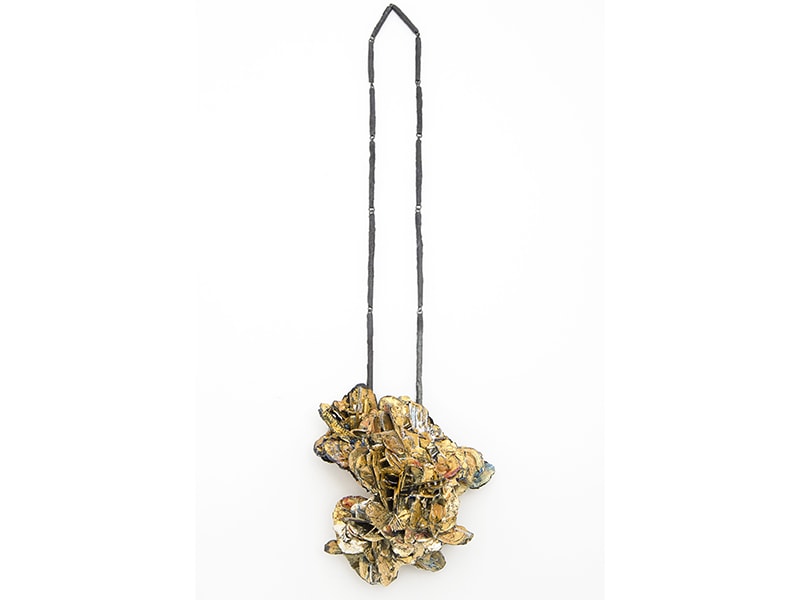 Artist: Attai Chen
Gallery: Galeria Reverso
Contact: Paula Crespo
Retail: €4,374
"My work primarily deals with the fluid identity of matter and our relationship with it," says Attai Chen. "I seek to create objects that represent a constant state of motion in their physical appearance and representation. … I create work that has a somewhat modular and dynamic identity, the objects existing in a liminal context, leading to multiple possible reflections simultaneously."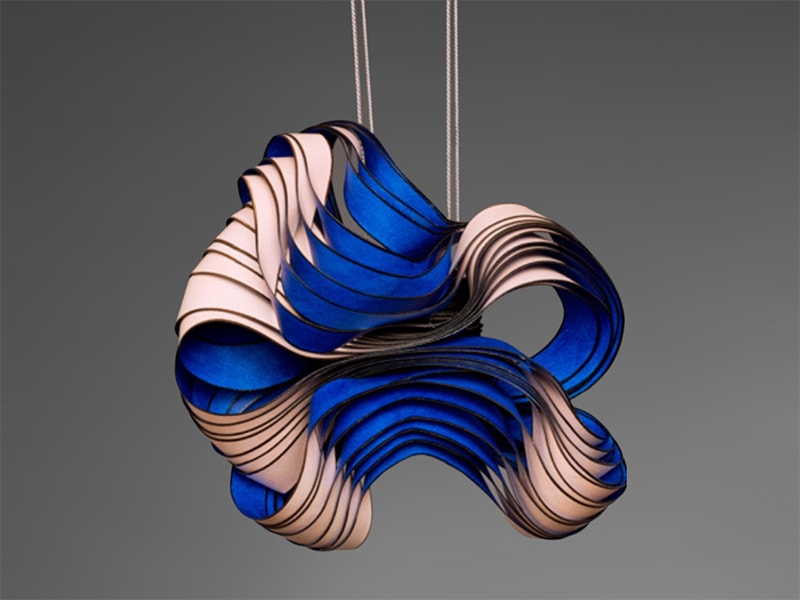 Artist: Lydia Hirte
Gallery: Thereza Pedrosa Gallery
Contact: Thereza Pedrosa
Retail: €610, with free shipping
Lydia Hirte's work mainly revolves around the spatiality, direction, and movement of the drawing card. The artist always aims to link wearability with the sculptural form. When working, she takes advantage of the flexibility and stability of the drawing card to bring it to the limits of formability. For her it's essential to create an extreme state in the material, to feel the physical force of the bundles under tension and to provoke their reactions, reaching each time a magnificent and unrepeatable shape.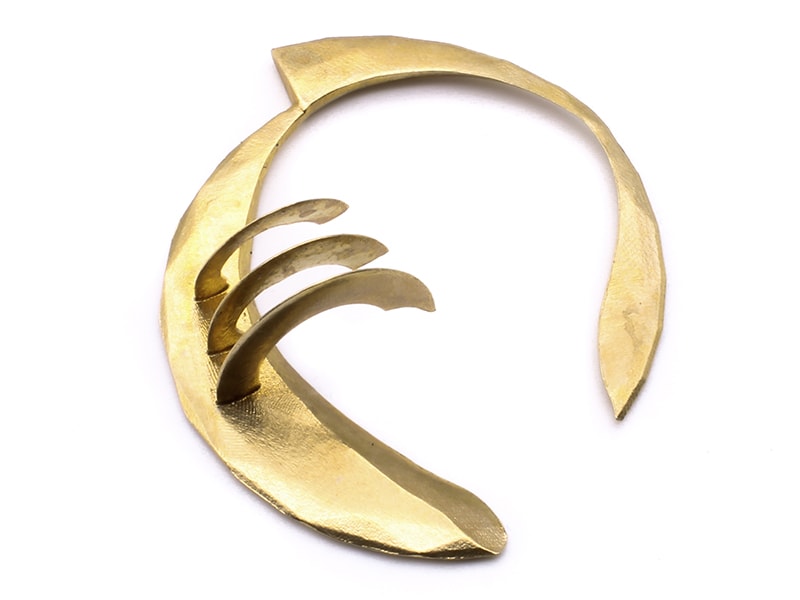 Artist: Mona Taylor
Gallery: Baltimore Jewelry Center Gallery
Contact: Shane Prada
Retail: US$200
Mona Taylor is a multimedia artist, innovator, creator, and designer. She loves to create art in different genres, including voice, music, movement, and adornment. In 2017, Taylor launched Armóur, and has been designing jewelry for the brand that follows three maxims: 1. Fuse fashion with health through the use of healing and organic materials. 2: Innovate in every space Armóur enters and make all work processes as efficient as possible. 3: Create pieces that have never been seen before. Recently, while completing a three-month residency at the Baltimore Jewelry Center, Taylor created a line of copper and copper alloy jewelry for Armóur that makes use of healing and environmentally sustainable metal. Copper, a Venusian metal, possesses great healing ability, metaphysical properties, and functionality beyond aesthetics.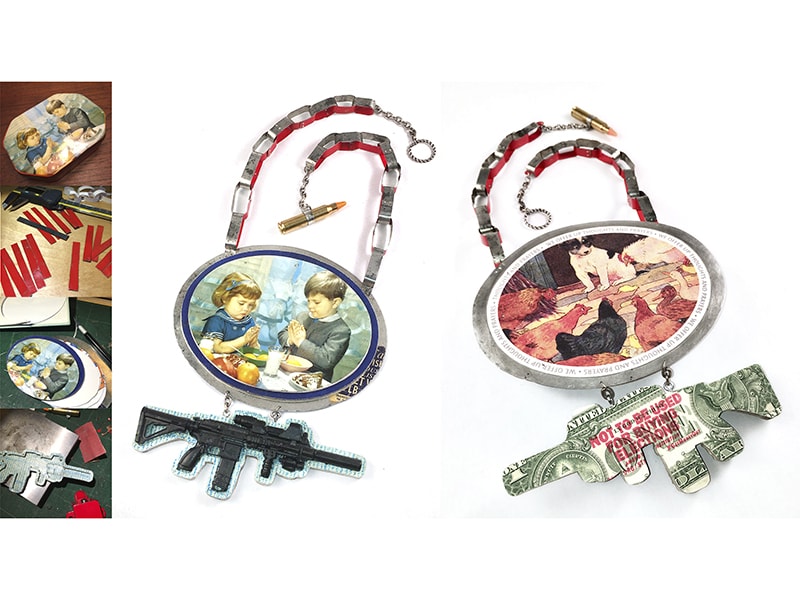 Artist: Bridget Parlato
Gallery: Sculpture To Wear
Contact: Lisa M. Berman
Retail: US$2,600
Created by Bridget Parlato. The established artist explains, "This piece is a reaction to the increasing volume of mass shootings in the United States. When the Sandy Hook Elementary school shooting took 20 first graders and six of the school's employees in 2012, I thought gun policies would finally be amended. As of 2020, there have been 2,409 mass shootings in the US (https://ncvc.dspacedirect.org/handle/20.500.11990/1725). While thoughts and prayers are lovely to offer, sending them is not quantifiably saving lives. This piece is made from confectionery tins, children's books, toys, and a dummy AR15 bullet. The front features a bucolic image of perfectly dressed children from another (safer?) era, praying over their picture-perfect meal cut from a cookie tin. It is mounted on a disc constructed from pieces of a children's book. The toy AR15 (the favored gun of mass shooters in the US) hangs like a jewel in its own bezel made from the hardcover jacket of that book. On the back, a storybook farmyard scene lies on the wearer's chest, close to the heart. The scene features a gathering of farmyard animals circled around a dead baby chicken. The puppy has actually killed the chick and the community looks on at the death, frozen in non-action, encircled in the words 'We offer up our thoughts and prayers.' The rifle is backed by a US dollar that came to me stamped with the words 'Not to be used for buying elections.'"
Artist: Tore Svensson
Gallery: Mydaybyday Gallery
Contact: Laura H Aureli
Retail: €500
This month, Mydaybyday Gallery, in Rome, is featuring the beautiful artwork of artist Tore Svensson, with his unique brooch from the 27 Square Cm series, from 2004, in steel, gilt, and fired with linseed oil. "From a square of 6 x 6 cm, a fourth is taken away and 27 square cm remains," says Svensson. "Divide, displace. Divide into several parts. Give some of them a pattern. Even if the expression of the brooches is very different, the total area of all of them is 27 square cm. From a basic shape, new and unexpected shapes, new signs and symbols arise."
Artist: Marianne Schliwinski
Gallery: Galerie Spektrum
Contact: Jürgen Eickhoff
Retail: €1,800
This ring is not only a ring. You can see in it the tradition of European Pop-Art and Nouveau Réalisme like Mimmo Rotella. Making with a piece of art an artistic statement and a cultural/political statement. That is what the artist has in mind.
Artist: Shahrzad Motallebi
Gallery: Galeria Tereza Seabra
Contact: Tereza Seabra
Retail: €500 + shipping
Shahrzad Motallebi is a young designer fascinated by mathematical art. She likes to work with numbers and develop visual algorithms. Her process of creation begins with generating a single shape as the first component of her work. Then she creates a system of connection and multiplication and applies it to that component. In this process of creation, she gets to explore innumerable unpredictable possibilities of matching and connecting a single shape, and it is very exciting.
Artist: Shinji Nakaba
Gallery: Gallery Loupe
Contact: Patti Bleicher
Retail: US$2,200
Shinji Nakaba is a contemporary Japanese jeweler who renders images in minerals, shell, pearls, and steel, as well as upcycled aluminum cans and plastic bottles. The concept of beauty is Nakaba's guiding principle. Referring to it as "innocent beauty," he believes it has the potential for systemic redemption. He presents jewelry in an unconventional manner, by often engaging motifs associated with prurient pleasures. In addition to typical subjects, such as plants and flowers, he signals the unexpected through erotic imagery—a lone breast, buttock, or penis—carved with the utmost realism.