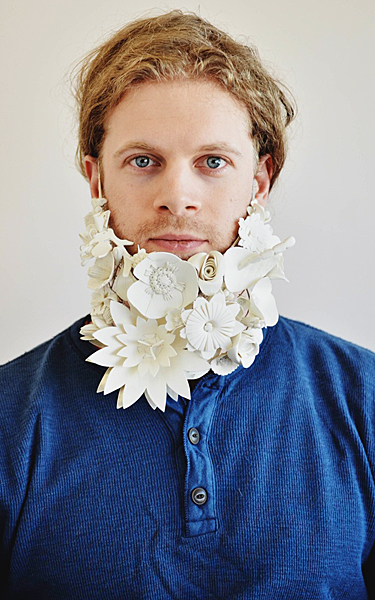 Susan Cummins: Can you tell the story of how you discovered that you wanted to be a jeweler?
Rebecca Hannon: I grew up in Virginia, and my high school art teacher took me to the Interlochen Center for the Arts in Michigan to be his metalsmithing assistant one summer. He had a few art jewelry catalogues with him, and they were unlike anything I had ever seen. (Imagine, pre-Internet!) I carefully re-drew Hermann Jünger and other jewelers' work in my journal, as I was sure I would never see such amazing things again. I made jewelry for everyone that summer and loved this connection, person to person, through an object. I went on to major in jewelry and metals at Rhode Island School of Design.
Are you teaching now?
Rebecca Hannon: I teach full time at the top Canadian art school Nova Scotia College of Art & Design, nestled in Halifax, Nova Scotia. This working port town is bursting with creative energy. I teach color, design, and 3-D courses and really love working with students who are starting their artistic journey. Their curiosity and openness fuels me. In summers, I teach workshops in New York City and beyond to keep this part of my practice active.
Recently you participated in a residency on a French Polynesian island. Please describe that experience and what influences it has had on your current work.
Rebecca Hannon: I learned about the artist residency on the island of Hiva Oa through my mentor Robin Quigley. I spent three months on the remote island where both Paul Gauguin and Jacques Brel died. When residents learned a new artist had arrived, they would approach my outdoor atelier and ask, "Where are the paintings?" This is what someone with the title of "artist" would make. Jewelry and adornment is very present in everyday life there but never given the definition of art or really craft. Just life. Women would get up in the wee hours to collect fresh flowers for a headpiece or neckpiece, and then hand assemble it to wear to work at the post office, for example. I met a woman in her 70s, who like many others, created a small packet daily with flowers, banana, sandalwood dust, all wrapped in a leaf and secured in her bun. The purpose of this lovely packet was to emit a sensual smell. Some of the best tattooing in the world comes from the Marquises, another very direct form of personal adornment. These bold forms of self-expression really intrigued me.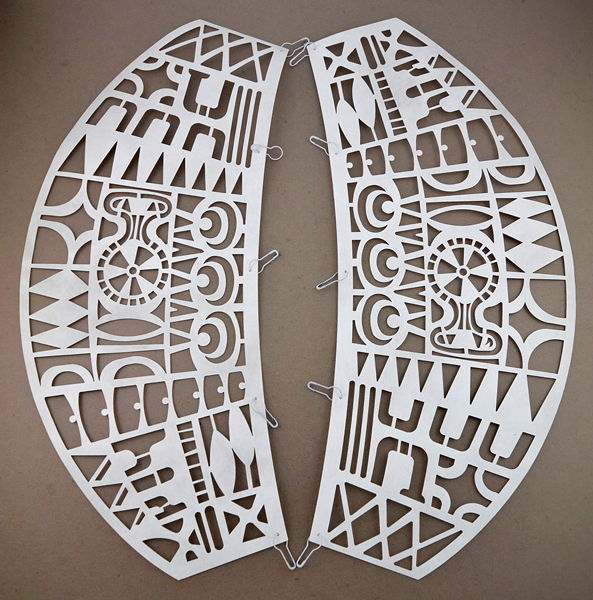 At this residency you became very interested in gender roles as related to jewelry. How does the jewelry in your show Jolie raise questions about these roles?
Rebecca Hannon: In Hiva Oa, I was interested in the traditional roles both women and man had and how this was expressed through ornamentation. These roles are shifting, especially with the overlay of European culture present. The Marquises people are currently involved in an intense re-examination of their history. I did a switch of traditional gendered adornment and made ornaments for men with flowers and pieces for women utilizing the tattoo symbols of the warrior. I worked very big and free using simple materials.
Over the past two years, I have been studying the objects and photos and writing to understand how this investigation might shape understanding of gender expectation in ornamentation. There has been much writing about the loss of distinct style linked to a place, but I am curious about why with all of our global contact, our ideas of what can be considered jewelry haven't changed that much. The work in Jolie explores nontraditional adornment. It is big, bold, white, and mostly made for men.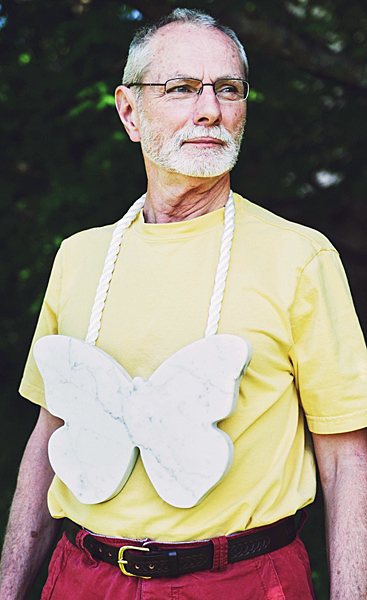 Rebecca Hannon: Funny you should ask this. I remember the days when we "made work," and I'm sort of skeptical about how we have changed this terminology to "researching." I am told this shift occurred when artists had to compete with scientists for grants.
I am a sucker for new materials and processes, and this always requires a long research and development phase. I usually have an idea I am exploring through different facets, writing and making, trying to answer my questions.
You were recently at the 2013 SNAG conference in Toronto. Can you describe a memorable moment or two?
Rebecca Hannon: My favorite thing is talking with the young jewelers. At both Schmuck and SNAG, I love to see the exhibitions they create. At SNAG, Opine and Making it Real (both at OCAD University Student Gallery) stood out, Heidi Lowe's pop-up shop was fabulous, and a collaborative workshop and outreach collective called Studio Huddle showed a lot of spunk!
Are you reading something that you would like to recommend?
Rebecca Hannon: Living in a working port town, I am obsessed with dazzle camouflage and plotting my next body of work. I am reading two books, Shipshape and False Colors by Roy Behrens, a leading authority with an amazing blog to boot.
Thank you.