April 2022, Part 1
There are so many reasons to purchase art jewelry…
You got that hard-earned promotion—celebrate!
You're experiencing a once-in-a-lifetime occasion—honor it.
You wrapped up that major accomplishment—pay it tribute.
You want to mark the beginning of a new relationship or the end of one—commemorate it.
Perhaps it's an investment—do it!
It's the perfect piece to round out an aspect of your collection—pounce!
Or maybe it's as a treat for yourself—just because.
Art Jewelry Forum's international gallery supporters celebrate and exhibit art jewelry. Our monthly On Offer series allows this extensive network of international galleries to showcase extraordinary pieces personally selected to tempt and inspire you. Take a look. You're bound to find a fantastic piece you simply have to add to your collection! (Please contact the gallery directly for inquiries.)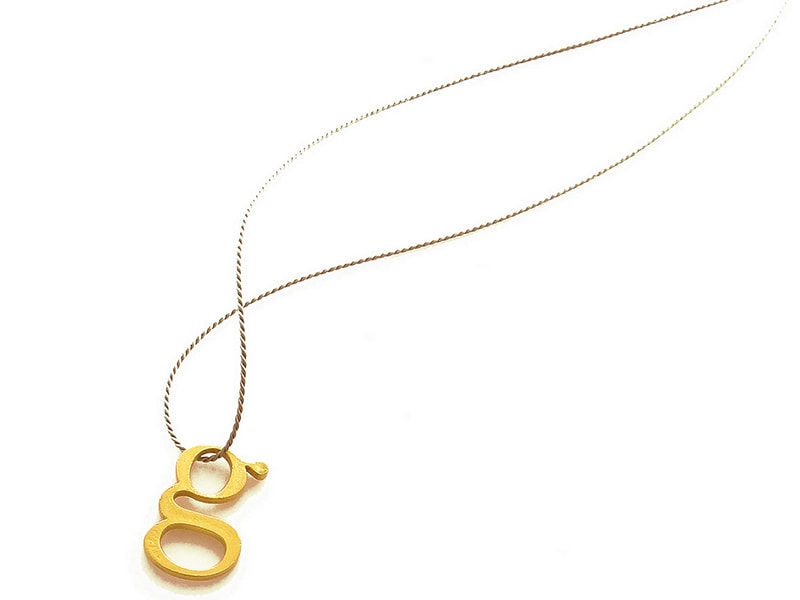 Gallery: Galeria Alice Floriano
Contact: Alice Floriano
Artist: Akiko Kurihara
Retail price: US$310
1g/necklace/18-karat gold, silk string 1 "g" weighs exactly 1 gram.
Gallery: Galerie Noel Guyomarc'h
Contact: Noel Guyomarc'h
Artist: Bridget Catchpole
Retail price: CAN$1,200
Composed of plastic debris thrown up by the ocean on the shores of the Pacific, these jewelry pieces by the Canadian Bridget Catchpole, beyond a seductive and magical aesthetic, carry within them a deeper reflection on our behavior and our responsibilities.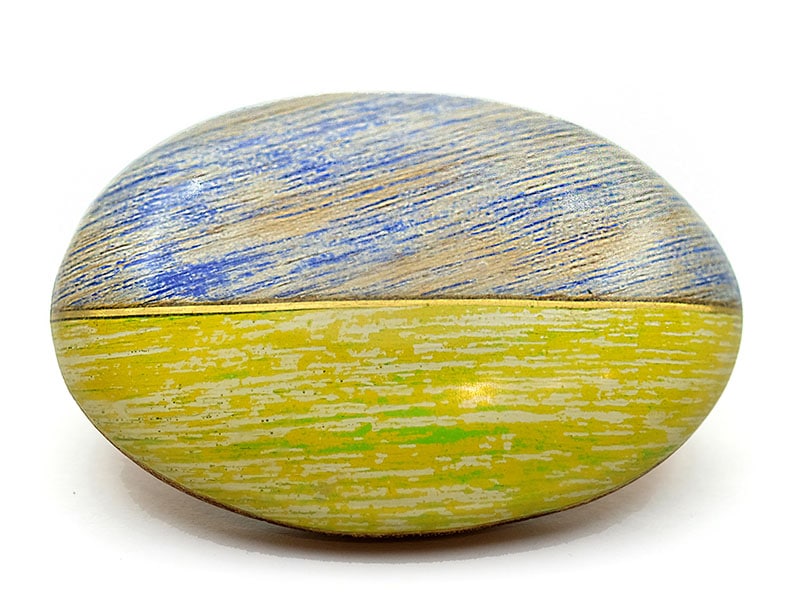 Gallery: Platina Stockholm
Contact: Sofia Björkman
Artist: Beppe Kessler
Retail price: US$1,800
This brooch has the colors of Ukraine. The title The Sky Is the Limit refers to the unlimited possibilities that we could have in a free world. The profit from this brooch will be donated to help the victimized people of Ukraine. In Beppe Kessler's' work, there is a strong interaction between drawings/paintings and jewelry. A painting can be the starting point of a brooch and vice versa. She gives plain and low valued materials new meanings to enter a rhythmic line-play together.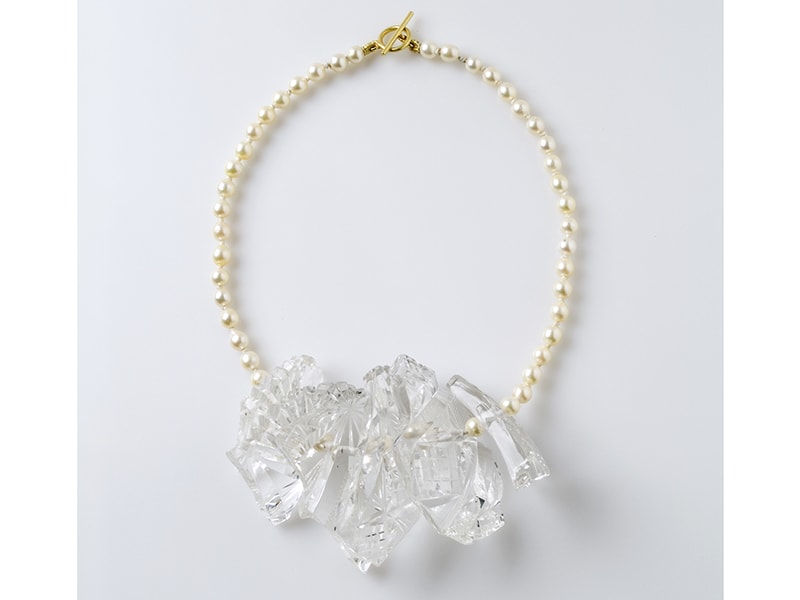 Gallery: Galeria Reverso
Contact: Paula Crespo
Artist: Daniel Kruger
Retail price: €3,250
A conventional string of pearls passed through the shards of a broken cut crystal bowl. It is an explosion of light and sparks that breaks the soft gentility of the string of pearls. A recurrent theme in Kruger's jewelry is the use of fragments of objects that have been broken and discarded. "In this necklace, the remnants of a once-cherished heirloom are revived and reinstated in a place of veneration and remembrance," says Kruger.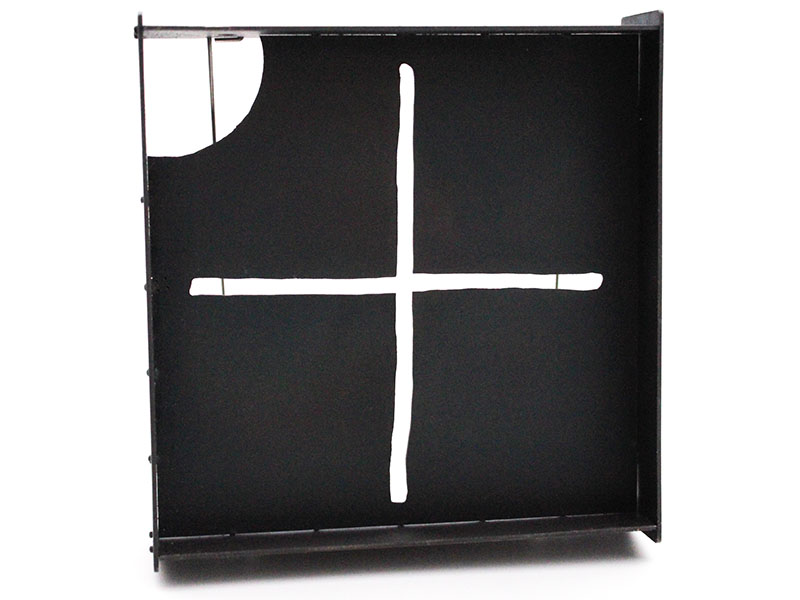 Gallery: Baltimore Jewelry Center
Contact: Shane Prada
Artist: Elliot Keeley
Retail price: US$450
Elliot Keeley is an artist and metalsmith from Raleigh, NC. He has a BFA from Appalachian State University with a concentration in metalsmithing and jewelry design and he was a Penland School of Craft Core Fellow. He is currently based in Baltimore, MD, where he works at the Baltimore Jewelry Center. Keeley's work explores the foundational elements of composition-making, stripping away extraneous components down to what is most essential. Contemplating the way a piece comes together, is disassembled, and rearranged, Keeley searches for what creates the soul of an object and what gives it universal meaning. "This piece interprets a highway sign as a significant waypoint along a journey," he states. "Signs mark place, they advertise and inform. They are the faithful standard-bearers of interstate commerce. Once these signs meet a stage of disrepair, they then demarcate space, moments of significance along a sometimes long and uneventful passage. They most often remind me of the beautiful blue sky by framing it. This work preserves these moments of noticing along the route to a destination, to commemorate the trip itself, staring out the window on a long car ride."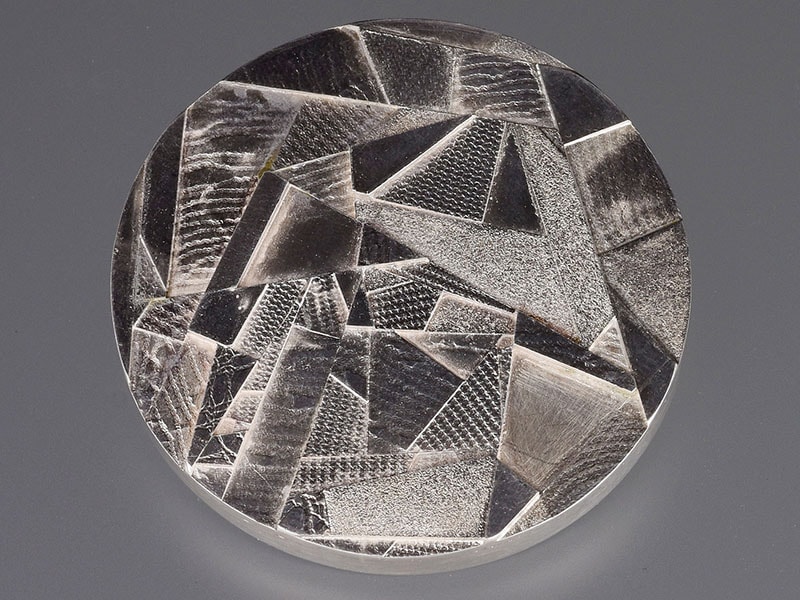 Gallery: Fingers Gallery
Contact: Lisa Higgins
Artist: Anna Wallis
Retail price: NZ$850
Anna Wallis studied at Dunedin Polytechnic under Kobi Bosshard and Georg Beer; she graduated in 1992. She has exhibited her work both nationally and internationally since the 1990s, and her work is held in permanent collections at the Dowse and Auckland Museum. Wallis considers making jewelry as an exercise in building or growing objects. She uses a process-based methodology where the economy of construction is of primary concern. Wallis works mainly in metal. The outcomes are inextricably connected with how the pieces are constructed. Playing with scale, structure, and surface treatments, she has a common thread of repetition throughout her works. Her pieces reference traditional jewelry while simultaneously citing machinery, architecture, and crystalline or geological forms.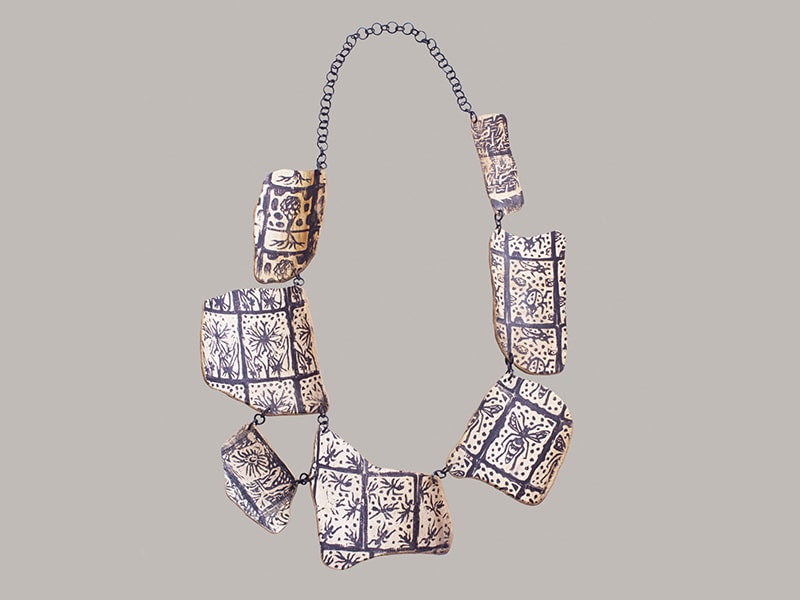 Gallery: Galerie Door
Contact: Doreen Timmers
Artist: Ildikó Dánfalvi
Retail price: €1,660

Much (traditional) jewelry is worn because it is a memento, a reminder and a symbol to reinforce and support a thought, a loved one, faith. Ildikó Dánfalvi plays with this custom: the habit of wearing protective symbols. She made a large necklace as big as a suit of armor out of tree bark. The size, shape, and material of the necklace all refer to protection. The skin of the tree—bark—is, just like with humans, a shield and it reveals the tree's health and environment. Dánfalvi cleverly added decorative elements on the inside of the bark showing us the environment as well as linking to an inspiration of stamps and signet rings. The wearer chooses what is shown.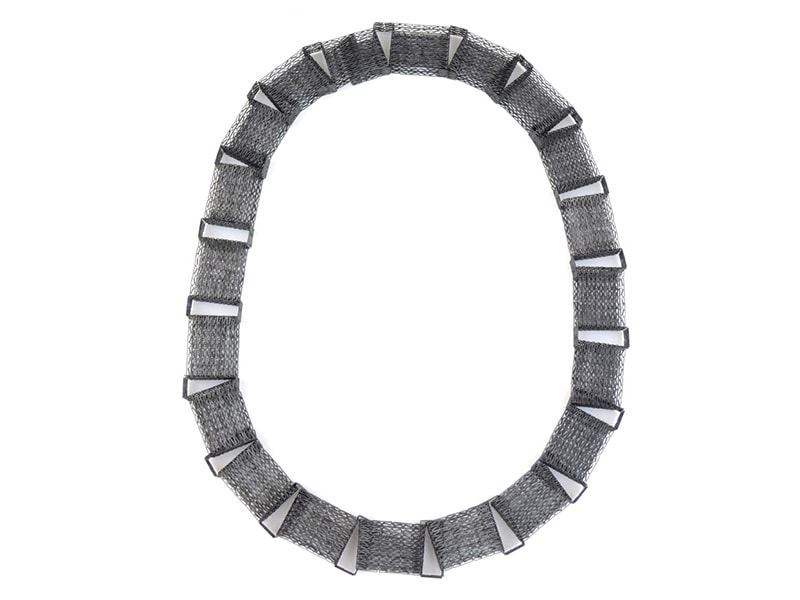 Gallery: Gallery Loupe
Contact: Patti Bleicher
Artist: Jess Tolbert
Retail price: US$2,600
American jeweler Jess Tolbert reconsiders manufactured everyday products to create jewelry that balances the duality between the industrially made and the handcrafted, as well as our nostalgic versus our imagined relationship with labor and the built environment. Utilizing commonplace objects, such as staples, she transforms mass-produced items that we habitually take for granted into objects of grace and beauty. Her timely investigation focuses on the "merits of reinvention and reclamation as a creative act," asking us to regard the source along with the human role in the production of things.
Gallery: Four Gallery
Contact: Karin Roy Andersson
Artist: Camilla Luihn
Retail price: US$1,650
Camilla Luihn's jewelry provides an introduction to a story for which the viewer can continue the narrative. Titles that are poetic, playful, or sometimes a bit mysterious, in combination with a sensitive aesthetic language, raise curiosity and trigger the imagination.
Gallery: Ornamentum
Contact: Stefan Friedemann
Artist: Rebecca Hannon
Retail price: US$700
Rebecca Hannon is known for works of (kitchen counter) laminate material, often comprised of recognizable silhouettes. Rainbow Branch is an easy-to-slip-over-the head necklace, a minimalist construction that brings her work into a nicely affordable price point, while the colored tube elements elicit springtime cheer.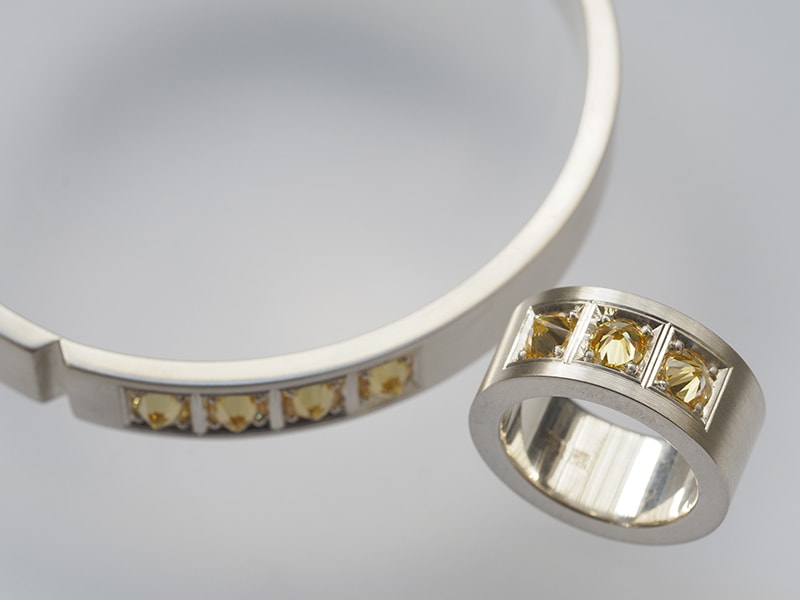 Gallery: Zu design – jewellery + objects
Contact: Jane Bowden
Artist: Renai Perkas
Retail price: Bangle: NZ$3,400; ring: $1,980
Renai Perkas is one of the makers who works at Zu design. Upside-down is realized by the amazingly skillful setting of the upside-down cubic zirconias, which form a geometric pattern on the sterling silver surface of her pieces. Perkas has worked closely with the stone setter to create the desired effect. The result is striking. The reflections of the cubic zirconia's color from the setting's edge draw you in for a closer look.
Gallery: Galerie Spektrum
Contact: Jürgen Eickhoff
Artist: Ruudt Peters
Retail price: €10,000 for the pair
Stigmata is a main work in Ruudt Peters's Suctus series.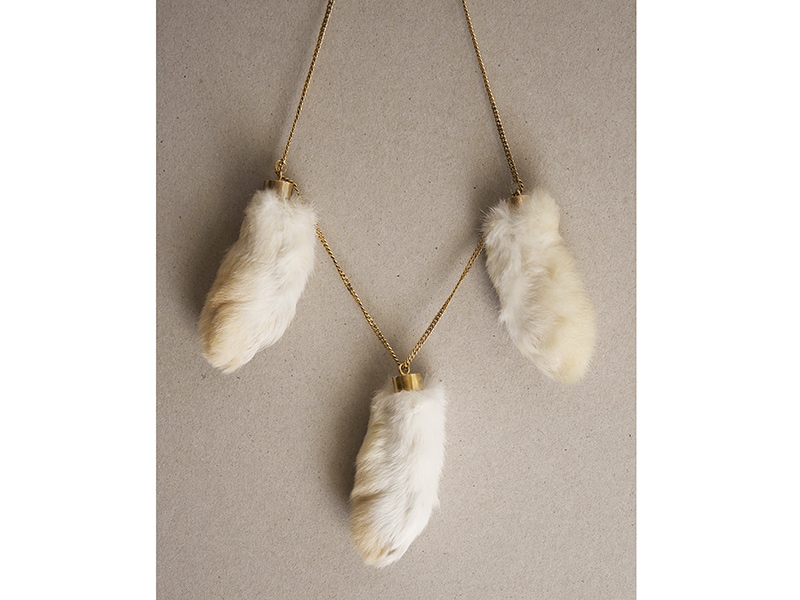 Gallery: Galeria Tereza Seabra
Contact: Tereza Seabra
Artist: Tereza Seabra
Retail price: €9,700, plus shipping
Always surrounded by an aura of mystery, Tereza Seabra's jewels are like magical talismans made with care and sophistication. She's a true sorceress of the 21st century. "When he opened the fourth seal, I heard the voice of the fourth living creature say, 'Come!' And I looked, and behold, a pale horse! And its rider's name was Death, and Hades followed him. And they were given authority over the fourth of the earth, to kill with sword and with famine and with pestilence and by wild beasts of the earth." —Apocalypse, Apostle John, Chapter 6, verses 7, 8.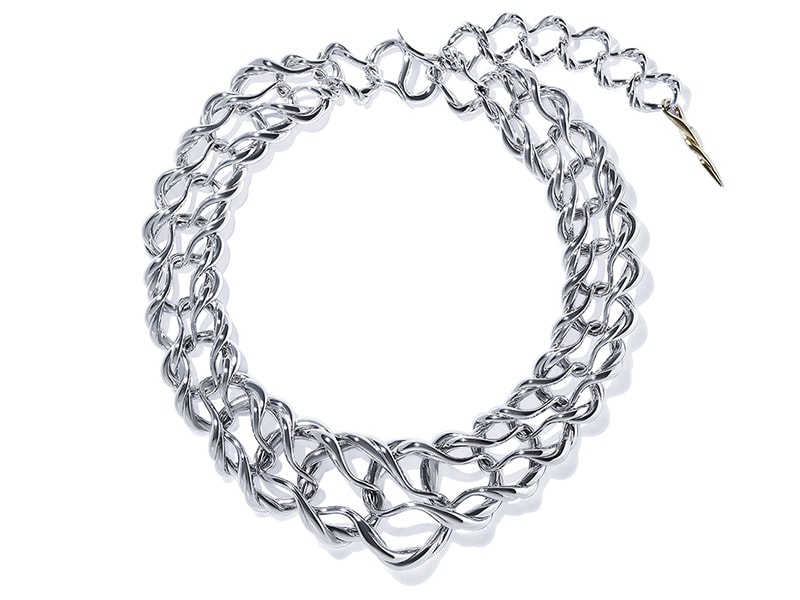 Gallery: ATTA Gallery
Contact: Atty Tantivit
Artist: Noon Passama
Retail price: US$5,475
The award-winning Noon Passama does not stop surprising us with her fashion-inspired art jewelry collections. In her latest collection, crush/gather/twist/reverse, she hand-sculpted each module with actions that "bring about shapes that are somewhere between the classic and the unfamiliar. An action is repeated over and over in sculpted models until there is one that feels right. The sculpting process is the passing of stages in which a malleable material becomes solidified. It reflects in the contrast between the sleek hard tactility and the soft fluid-like appearance of the jewelry. In many pieces, the framework is a straightforward format like a complete circle or one link connecting to the next." This necklace would definitely complete your look, be it casual or formal.
Gallery: Sculpture To Wear
Contact: Lisa M. Berman
Artist: Jacqueline Rudavsky
Retail price: US$2,400
This one-of-a-kind necklace is featured in the exhibition and book Only Strong Women Wear Big Jewelry, by Jacqueline Rudavsky. The project features prominent women of Slovakian descent: Politicians, activists, producers, actresses, photographers, educators, etc., wearing one-of-a-kind pieces by the artist. This image features Silvia Najdena, a prima ballerina in the Slovakian National Theater. Once the piece is acquired, the collector is kindly requested to allow the necklace to travel with the show internationally and will receive credit in the published book.