Jennifer Cross Gans was a freelance writer and a collector of jewelry, and a generous supporter of the arts in many different ways. She lived in the City of Fog and died of old age.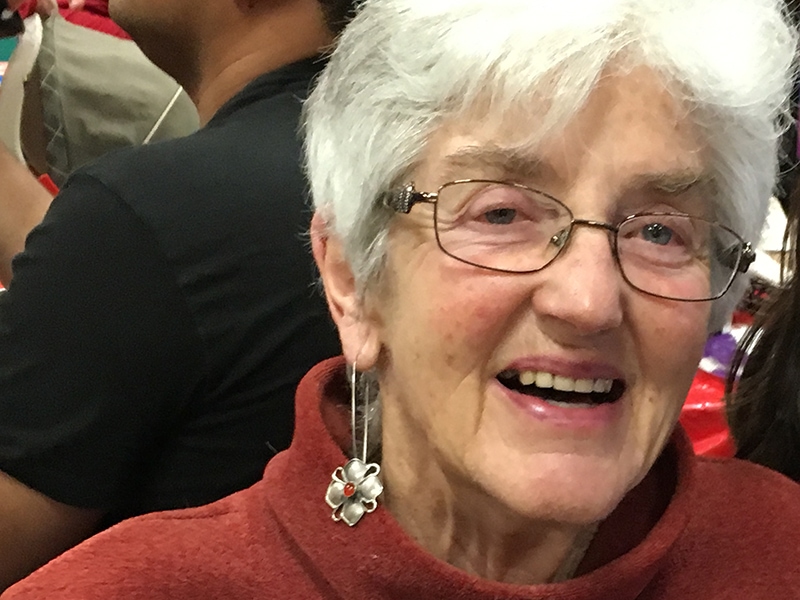 Gans described how her jewelry collecting began: "It was a summer afternoon in 1973, and my son, then two-and-a-half, was a newcomer in San Francisco, happily being pushed in a stroller in a narrow Grant Avenue street. I chance to look into a shoe store and found some examples of an auction of Native American jewelry. What caught my eye was a squash blossom necklace, weighing well over 8 ounces, and decorated with massive blocks of dark red coral. It cost $250, which in those days was a fair chunk of change.
"I dithered, but I was hooked.  I loved the prospect of wearing such a marvelous, eye-catching piece. But I feared the prospect of spending so much money from the household accounts: What would my husband think? Suddenly I recalled my own bank account, and thought, what the hell, I will buy it anyway. So I did.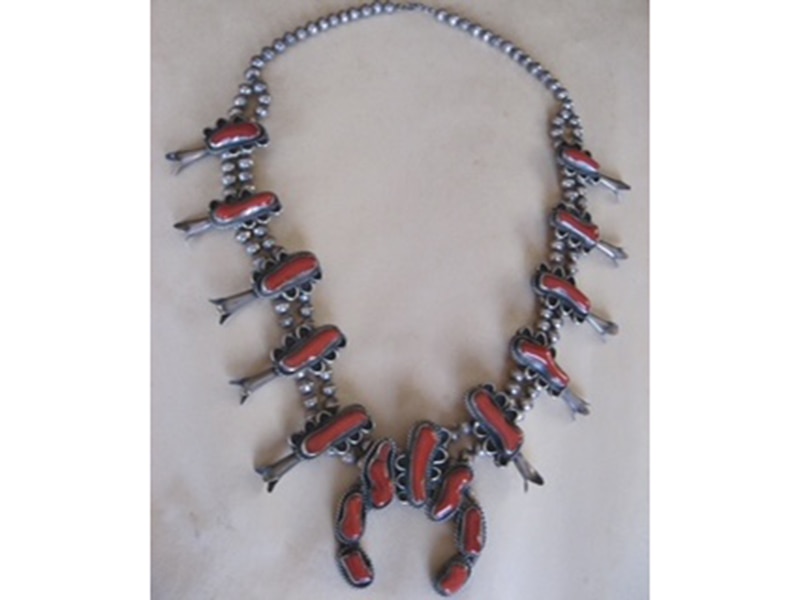 "My husband admired the necklace, and said not a word. I wore it a few times, then put it away. But I became a collector from then onward. So began a long pilgrimage in search of ethnic jewelry of all kinds.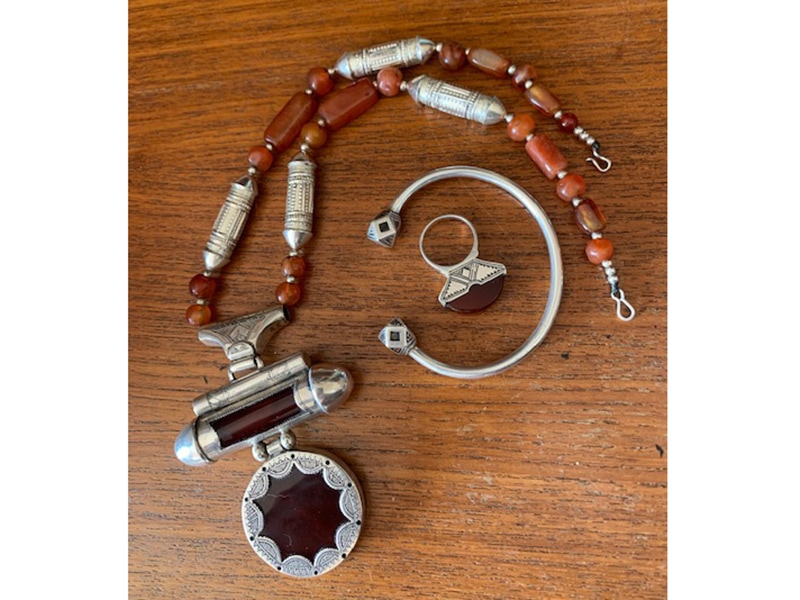 "But I later moved on to modern art jewelry, of a kind AJF loves so well, particularly the work of my friends who spend their lives working at it. I should mention that I wore the necklace at a jewelry show and was offered a good deal more money if I would care to sell it. Sorry! I wasn't interested." Gans is shown here wearing that necklace. She became a jewelry artist herself, too. Her story continues: "PS: The earrings? Definitely modern jewelry, and I made them, of course."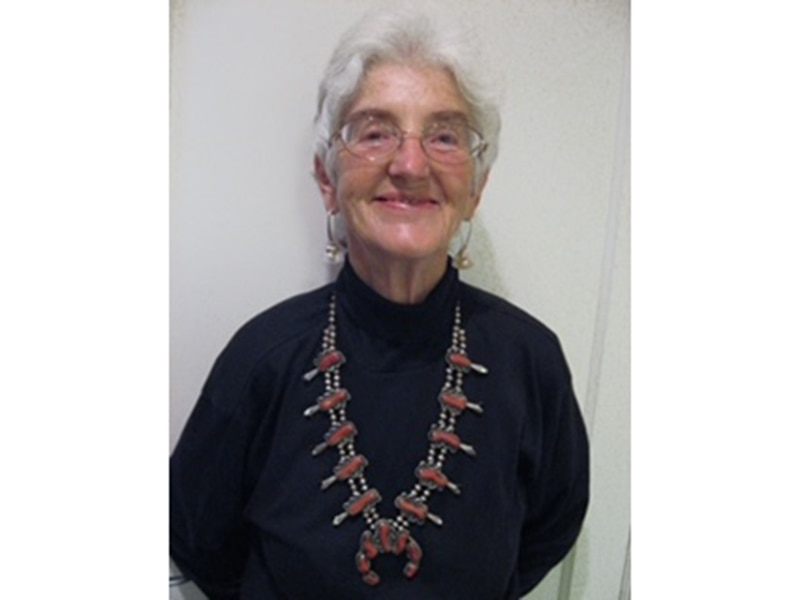 Metalsmith Aimee Golant met Gans in a metals class they were both attending in 1993, and their friendship lasted almost 30 years. From the warm eulogy Golant read at Gans's funeral: "She was a member of the San Francisco Gem and Mineral Society, and attended many Society of North American Goldsmiths' conferences and the YUMA Art Symposium, always loving to participate in the pin swap. I remember her working feverishly to have as many pins ready for the conference as she could. I would look forward to seeing all the pins she collected at the conferences. She had many friends in the metals and enameling communities—and lent her writing skills to Art Jewelry Forum and the Metal Arts Guild. Every year when she would visit her son, Jason, his wife, Norma, and their son, Henry, in New Mexico, she wouldn't miss a chance to go to the Indian Jewelry market. She would always bring home amazing works in silver and bring them to our lunches so I could marvel at the craftspersonship. We always tried to figure out how the jewelry was made." (Read Golant's full remembrance here.)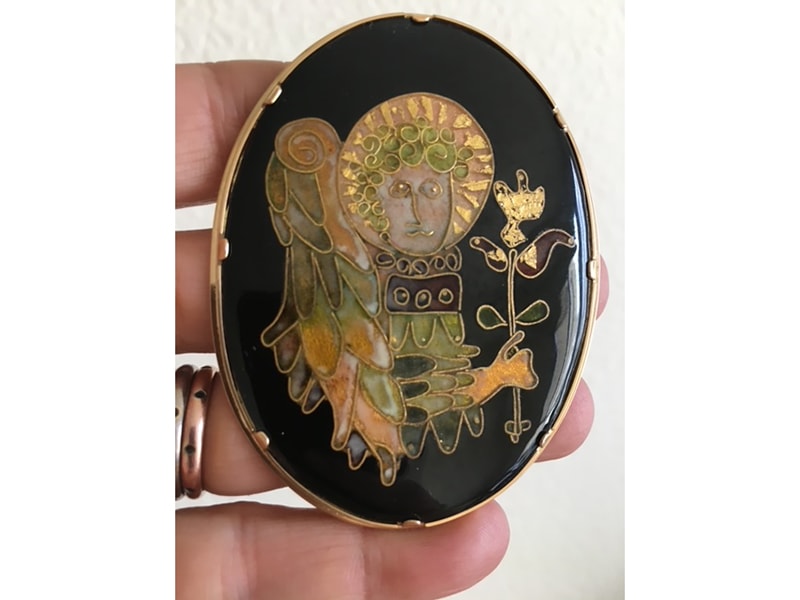 Mike Holmes, the owner of Velvet da Vinci, wrote about Gans, "I treasure the many memories I have of Jennifer over the years. She was an avid supporter (and customer!) of Velvet da Vinci. I loved hanging out with her at the gallery and talking about jewelry. Jennifer had strong opinions of what was good and what wasn't! She and Ellis [her husband] rarely missed a VdaV exhibition opening reception. I am honored that Jennifer wrote many exhibition reviews, published by SNAG's Metalsmith magazine, including William Clark's retrospective (Police State Badge!), Tom Hill sculpture, Lisa and Scott Cylinder, Radical Jewelry Makeover, Golden Clogs Dutch Mountains, Joyas-Joyas Latin American jewelry… Jennifer's passion for jewelry was wide and deep. I worked with her on Art Jewelry Forum's newsletter and later the AJF blog and she contributed many book and exhibition reviews and also reports from jewelry conferences. A favorite of mine was Jennifer's report from the Santa Fe Indian Market. Jennifer wrote a lovely article for Metal Arts Guild's Guildletter celebrating Velvet da Vinci's 20th anniversary in 2011. Farewell, Jennifer, and thanks. XX."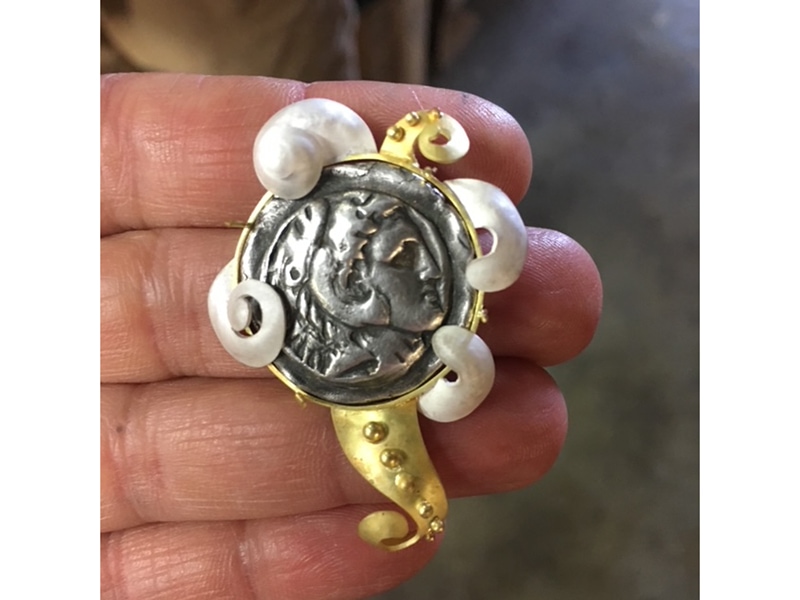 Starting in 2010 Gans was part of the editorial committee—along with Ron Porter, Holmes, Karen Lorene, Ahna Adair, Elise Winters, and Rachel Carren—that oversaw AJF's newsletter and blog. A member of Art Jewelry Forum, the Society of North American Goldsmiths, and the Metal Arts Guild, she wrote almost a dozen book reviews published on AJF, as well as an exhibition review. Read those pieces here. She also wrote about California metalsmiths; those articles can be seen on Ganoskin.