April 2022, Part 2
There are so many reasons to purchase art jewelry…
You got that hard-earned promotion—celebrate!
You're experiencing a once-in-a-lifetime occasion—honor it.
You wrapped up that major accomplishment—pay it tribute.
You want to mark the beginning of a new relationship or the end of one—commemorate it.
Perhaps it's an investment—do it!
It's the perfect piece to round out an aspect of your collection—pounce!
Or maybe it's as a treat for yourself—just because.
Art Jewelry Forum's international gallery supporters celebrate and exhibit art jewelry. Our monthly On Offer series allows this extensive network of international galleries to showcase extraordinary pieces personally selected to tempt and inspire you. Take a look. You're bound to find a fantastic piece you simply have to add to your collection! (Please contact the gallery directly for inquiries.)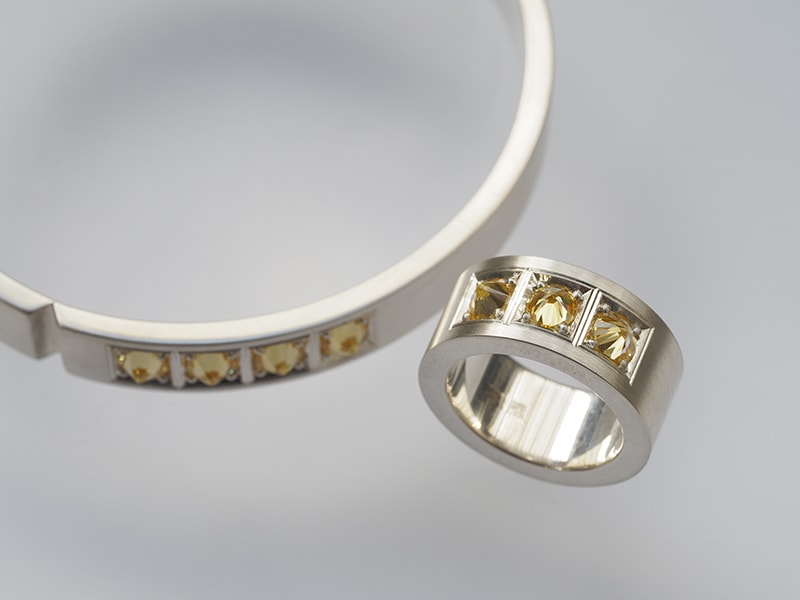 Gallery: Zu design – jewellery + objects
Contact: Jane Bowden
Artist: Renai Perkas
Retail price: Bangle: AUS$3,400; ring: AUS$1,980
Renai Perkas is one of the makers who works at Zu design. Upside-down is realized by the amazingly skillful setting of the upside-down cubic zirconias, which form a geometric pattern on the sterling silver surface of her pieces. Perkas has worked closely with the stone setter to create the desired effect. The result is striking. The reflections of the cubic zirconia's color from the setting's edge draw you in for a closer look.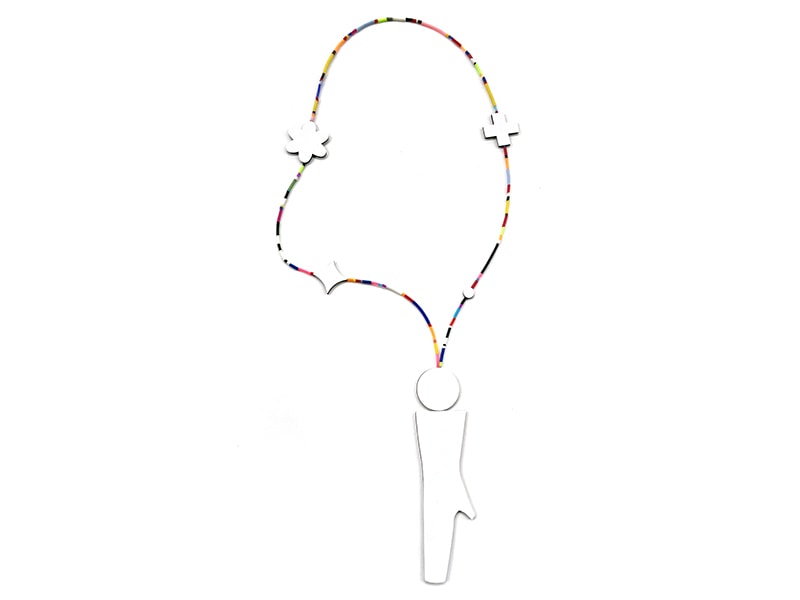 Gallery: Ornamentum
Contact: Stefan Friedemann
Artist: Rebecca Hannon
Retail price: US$700
Rebecca Hannon is known for works of (kitchen counter) laminate material, often comprised of recognizable silhouettes. Rainbow Branch is an easy-to-slip-over-the head necklace, a minimalist construction that brings her work into a nicely affordable price point, while the colored tube elements elicit springtime cheer.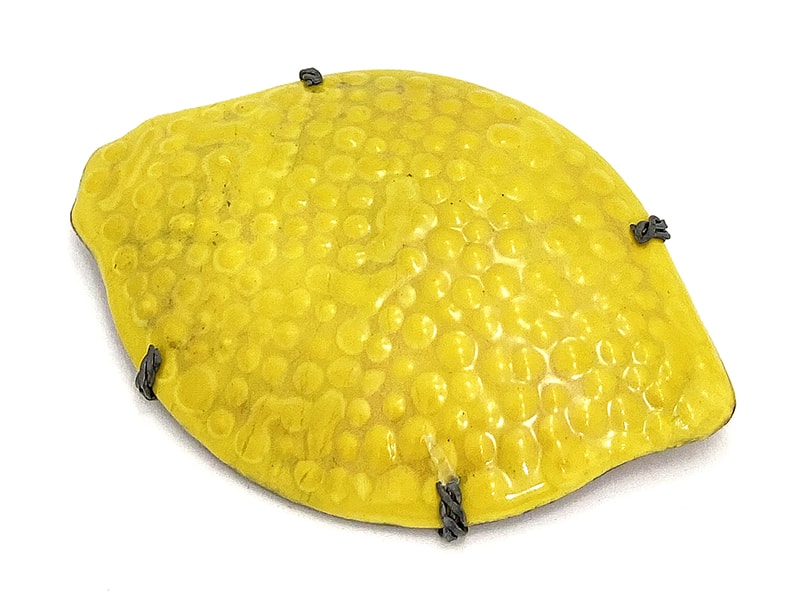 Gallery: Four Gallery
Contact: Karin Roy Andersson
Artist: Camilla Luihn
Retail price: US$420
Camilla Luihn's jewelry provides an introduction to a story for which the viewer can continue the narrative. Poetic, playful, or sometimes a bit mysterious titles, in combination with a sensitive aesthetic language, raise curiosity and trigger the imagination.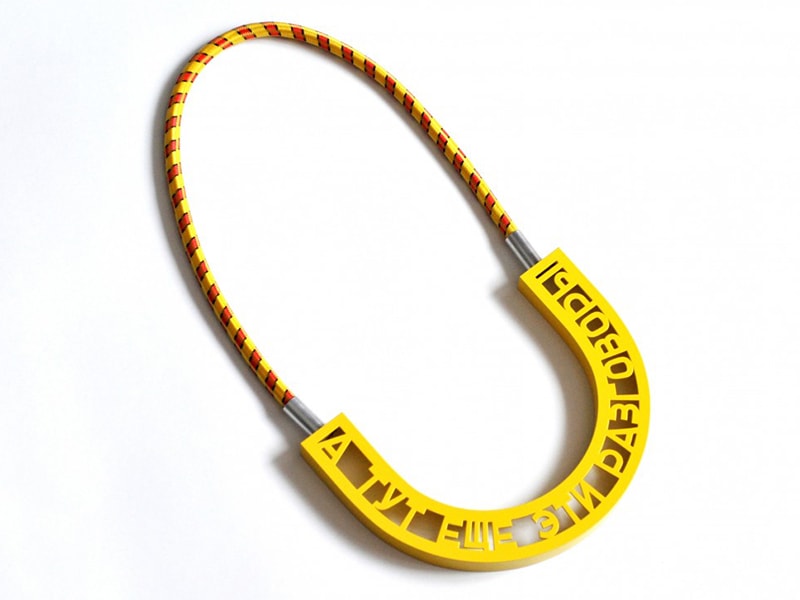 Gallery: Baltimore Jewelry Center
Contact: Shane Prada
Artist: Katia Rabey
Retail price: US$416
Katia Rabey is a Russian jewelry designer with a degree from Shenkar College of Engineering, Design and Arts, in Israel. With a background in literature and experience with illustration, Rabey frequently incorporates stories into her jewelry through the use of language, bright colors, and a graphic aesthetic. All This Talk is currently on view at the Baltimore Jewelry Center as part of A Word after a Word, an exhibition exploring the nuance and complexity of language. This laser-cut and laser-soldered necklace features a quote in Russian from Anton Chekhov's Three Sisters.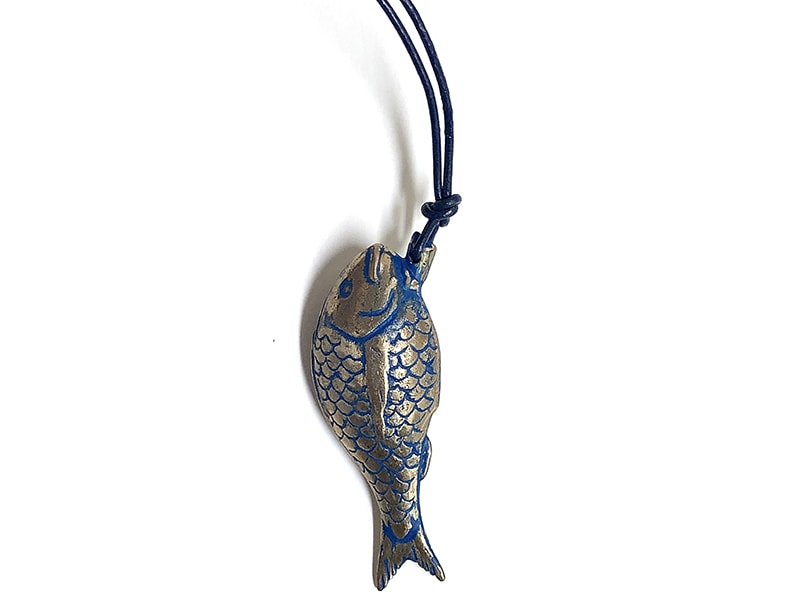 Gallery: Galeria Tereza Seabra
Contact: Tereza Seabra
Artist: Catarina Silva
Retail price: €260, plus shipping
In her work, artist Catarina Silva focuses on talismanic objects, lucky charms, and rituals. Each piece has the gift of protecting us with the power that each one wants to give it. "(…) God chose certain animals to be sacrificed to him; but all of them either land animals or birds, fish being totally excluded from the sacrifices. And who doubts that this so universal exclusion was worthy of great dismay and feeling for all the inhabitants of such a noble element, which deserved to give the material to the first sacrament? The main reason for excluding fish was because other animals could go to the sacrifice alive, and fish usually not, but dead; and a dead thing does not want God to be offered to him, nor to come to his altars." —Father António Vieira, in Saint Anthony's Sermon to the Pisces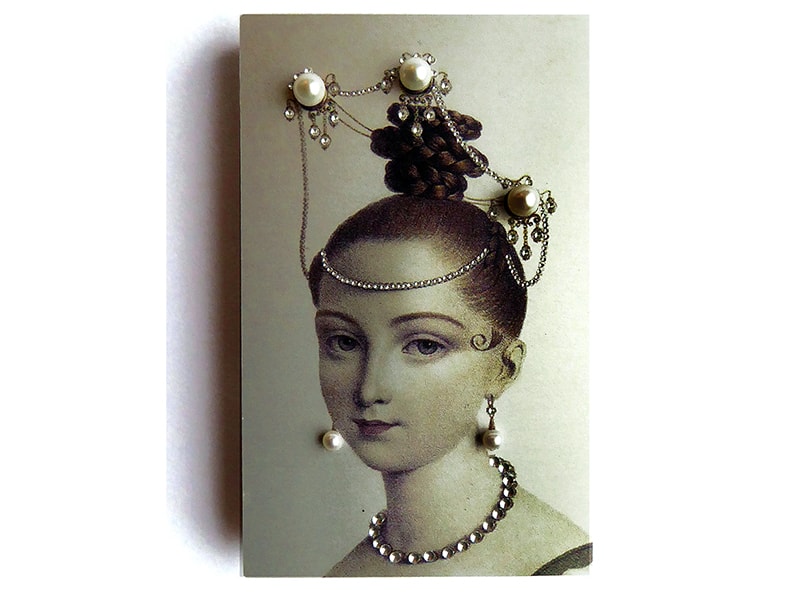 Gallery: Galerie Spektrum
Contact: Jürgen Eickhoff
Artist: Herman Hermsen
Retail price: €500
This is a charming, typical Hermsen brooch for a smart price.
Gallery: Platina Stockholm
Contact: Sofia Björkman
Artist: Helena Johansson Lindell
Retail price: US$350
This pair of rings has the colors of Ukraine and can be worn on two fingers. The profit of the rings will be donated to help the victimized people of Ukraine. Stockholm-based artist Helena Johansson Lindell works with hierarchical structures and embraces materials and methods that, from art and societal perspectives, are considered to have low status but are frequently used in pop culture. Colorful plastic and ready-mades have been recurring materials.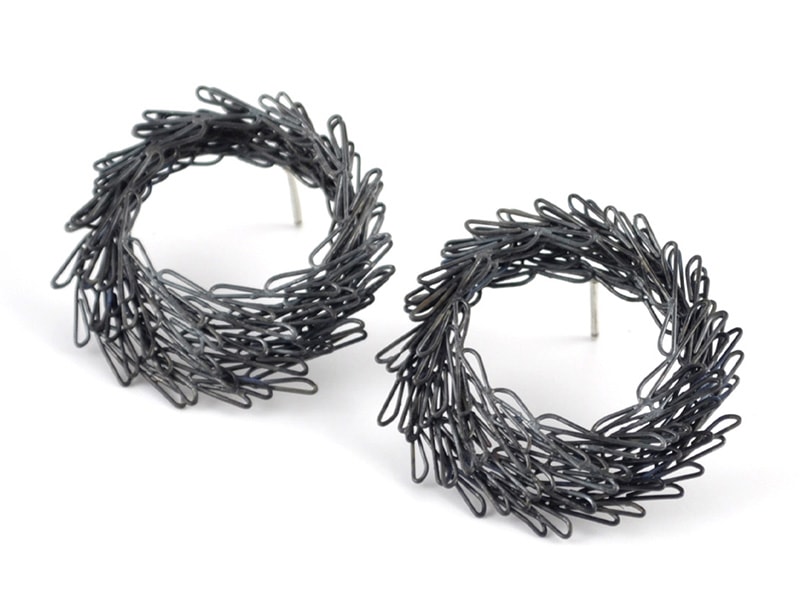 Gallery: Gallery Loupe
Contact: Patti Bleicher
Artist: Jess Tolbert
Retail price: US$200
American jeweler Jess Tolbert reconsiders manufactured everyday products to create jewelry that balances the duality between the industrially made and the handcrafted, as well as our nostalgic versus our imagined relationship with labor and the built environment. Utilizing commonplace objects, such as staples, she transforms mass-produced items that we habitually take for granted into objects of grace and beauty. Her timely investigation focuses on the "merits of reinvention and reclamation as a creative act," asking us to regard the source along with the human role in the production of things.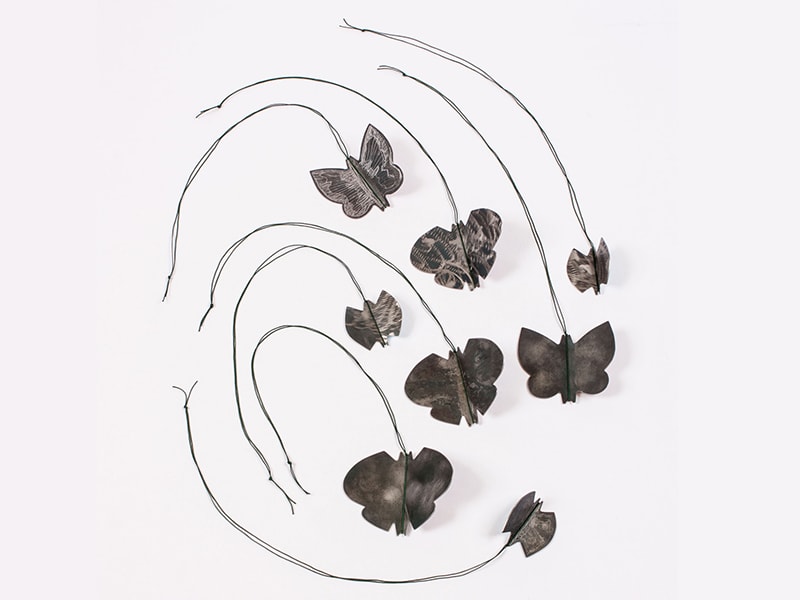 Gallery: Galerie Door
Contact: Doreen Timmers
Artist: Ildikó Dánfalvi
Retail price: Small: €310; large: €355
Ildikó Dánfalvi was a Meisterschülerin in Burg Giebichenstein's jewelry department, with Prof. Hans Stofer, in 2020–2021. She had previously studied there since 2015 and received her diploma in 2019. Dánfalvi's art jewelry is best described as contemporary narrative amulets. The beautiful, delicate, and fragile butterfly is a symbol of rebirth, transformation, and change. The butterfly worn around the neck has a message. It makes us aware that we should enjoy life to the fullest instead of worrying about it. The butterfly challenges us to think about where we are in our lives and to live now.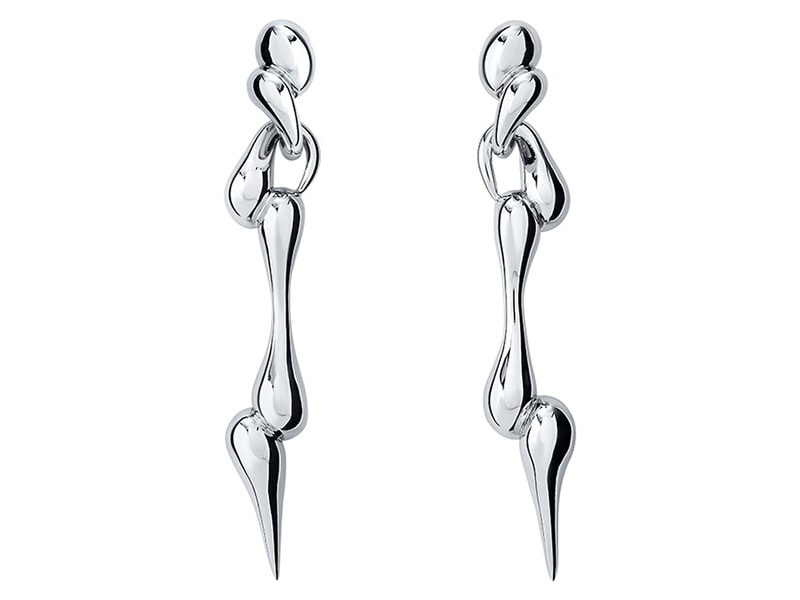 Gallery: ATTA Gallery
Contact: Atty Tantivit
Artist: Noon Passama
Retail price: US$320
The award-winning Noon Passama does not stop surprising us with her fashion-inspired art jewelry collections. In her latest collection, crush/gather/twist/reverse, she hand-sculpted each module with actions that "bring about shapes that are somewhere between the classic and the unfamiliar. An action is repeated over and over in sculpted models until there is one that feels right. The sculpting process is the passing of stages in which a malleable material becomes solidified. It reflects in the contrast between the sleek hard tactility and the soft fluid-like appearance of the jewelry. In many pieces, the framework is a straightforward format like a complete circle or one link connecting to the next." This pair of earrings is easy to wear and will raise your everyday outfit to a new level.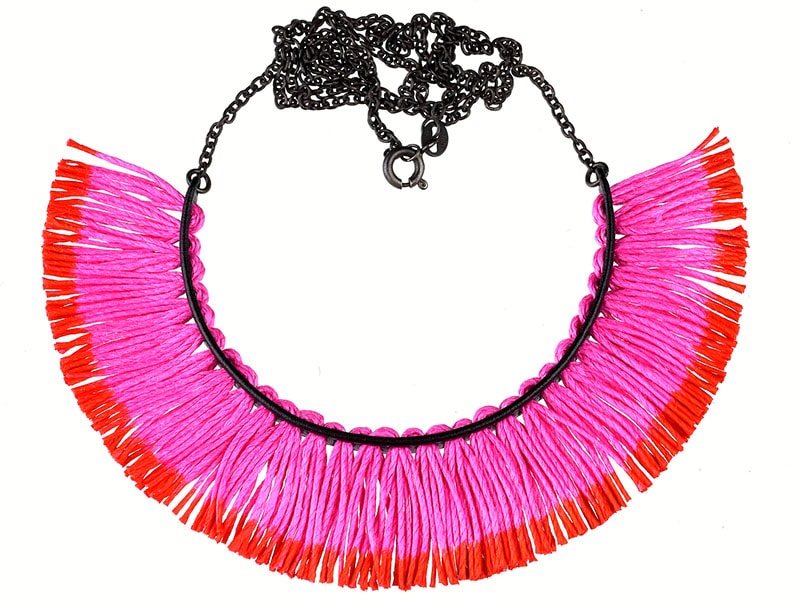 Gallery: Fingers Gallery
Contact: Lisa Higgins
Artist: Vicki Mason
Retail price: NZ$275
Vicki Mason is interested in the potential for botanical imagery to represent notions of place, belonging, and the life cycle. She uses plants as metaphors to represent these ideas, basing her contemporary designs on forms sourced from native and exotic species, as well as plant forms found in fine/decorative arts and used in local gardens. Cross-media and material discourse inform her practice, and she often combines slow-tech domestic craft processes with industrial techniques in order to challenge traditional orthodoxies surrounding craft making. Originally from New Zealand, Mason now lives and works in Melbourne, Australia.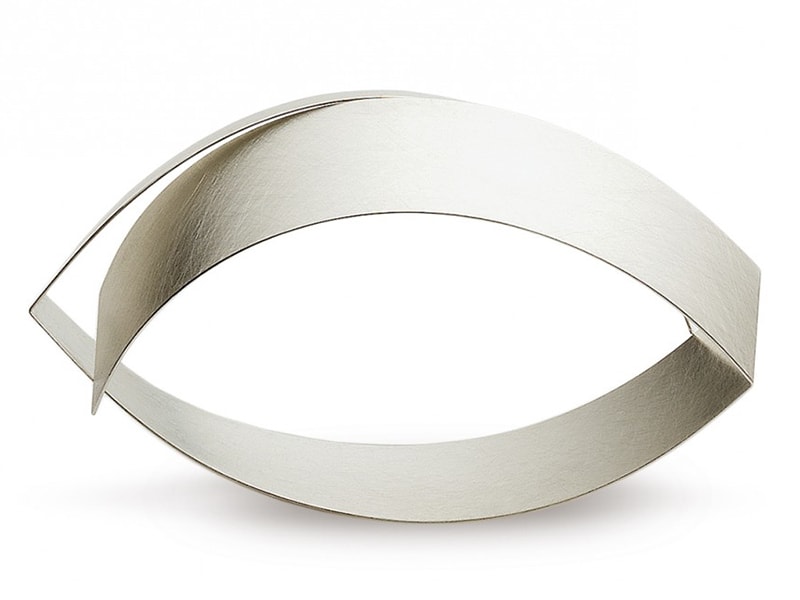 Gallery: Galeria Reverso
Contact: Paula Crespo
Artist: Claudia Hoppe
Retail price: €390
Claudia Hoppe's work unites traditional goldsmith knowledge and contemporary influences from product and jewelry design, installation, and sculpture. With her bangles of minimalist geometry, she creates counterparts to the natural lines of the human body. "Contrasts turn life into an adventure," says the artist. "My challenge is to discover and experience them through my work."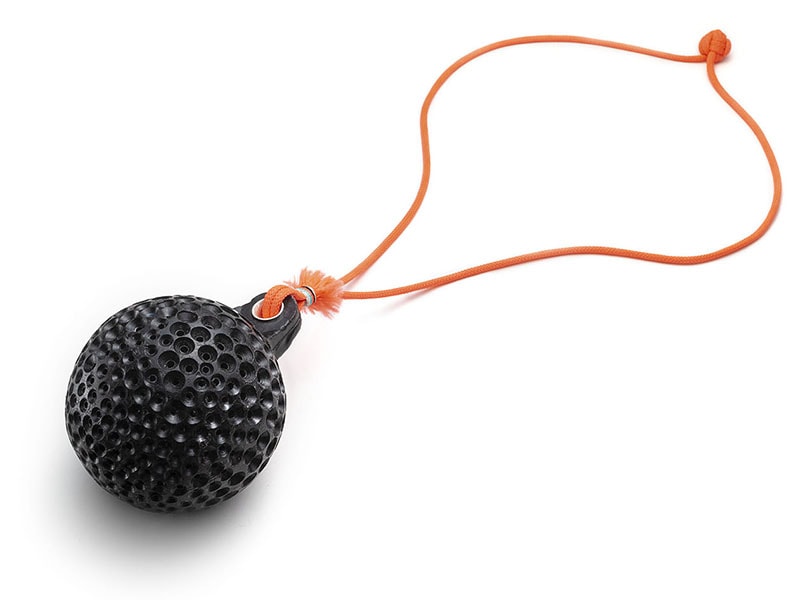 Gallery: Galerie Noel Guyomarc'h
Contact: Noel Guyomarc'h
Artist: Bridget Catchpole
Retail price: CAN$475
Composed of plastic debris thrown up by the ocean on the shores of the Pacific, jewelry pieces by Canadian Bridget Catchpole, beyond a seductive and magical aesthetic, carry within them a deeper reflection on our behavior and our responsibilities.
Gallery: Galeria Alice Floriano
Contact: Alice Floriano
Artist: Akiko Kurihara
Retail price: US$310
1g/necklace/18-karat gold, silk string 1 "g" weight exactly 1 gram.