Art Jewelry Forum's extensive network of international gallery supporters is dedicated to celebrating and showing art jewelry. On Offer is a monthly series that allows AJF galleries to showcase a piece that they've personally selected to tempt and inspire you. Please contact the gallery directly for inquiries. Enjoy!
MUSEUM WORTHY
OONA Gallery—Austrian artist Benedikt Fischer's work often applies the traditional metalworking technique of engraving to modern materials such as plastic. In his Shield brooch, a series of textured circles, like fingerprints or the densely packed tiny flowers that fill the center of a sunflower or daisy, break the impossibly perfect smooth surface. It's this contrast between the natural and the human-made that powers Fischer's work.
RETAIL: €1,100
CONTACT: Anna Schetelich
---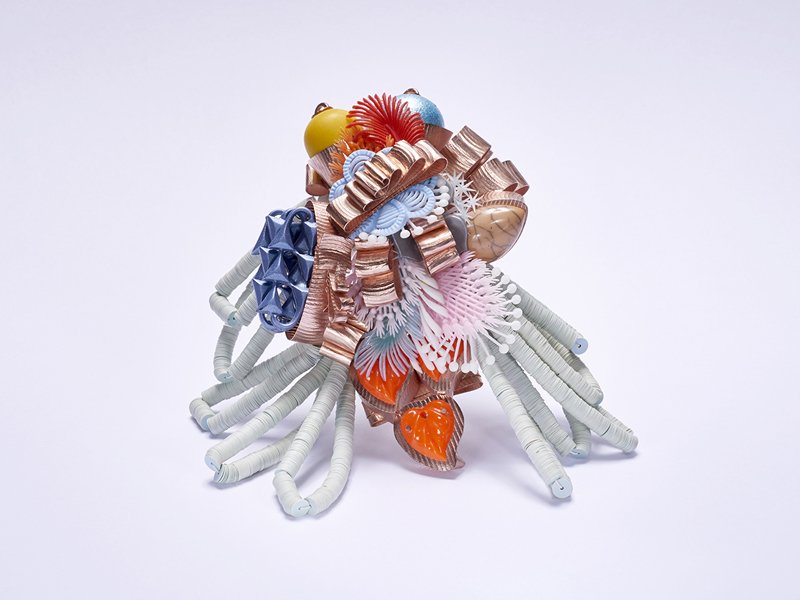 Gallery Funaki—Big Bouquet is a major work by Helen Britton, one of the world's foremost jewelers. It's a piece that combines all the strongest aspects of her practice: highly skilled work and close attention to material and decorative elements, nuanced reference to jewelry history and popular culture, a playful wit, and an awareness of jewelry's ability to trigger memory and personal narrative. This is a piece with enormous presence and a profound sense of joy.
RETAIL: Price upon request
CONTACT: Katie Scott
---
Lillstreet Gallery—Peter Antor's Architechtonic Container employs the use of a fully functioning aperture mechanism to entice viewers to interact with the piece. As an object that cannot be worn, but must be handled, it challenges the viewer to engage intimately with it as a sculpture.
Currently a metalsmithing resident artist at Lillstreet Art Center in Chicago, Peter has a BFA from Grand Valley State University and an MFA from Edinboro University. With a passion for architecture, he creates small-scale sculptural pieces using jewelry as a platform. Peter states, "By combining the spatial and structural qualities of architecture with the intimacy created between jewelry and its wearer, I encourage the viewer to explore, discover, and question the work. Architecture allows viewers to immerse themselves completely within it. It can be appreciated for its artistic aesthetic and functional integrity. Jewelry is also functional, but instead of engulfing the viewer, it becomes an extension of the body. By fabricating with mixed materials, I can decisively create, conceal, and reveal physical spaces. Powder coat, wood, and cement elements promote an industrial look and feel, while silver and gold leaf speak to the preciousness of jewelry."
RETAIL: Price upon request
CONTACT: Nora McCarthy
---
ESTABLISHED ARTIST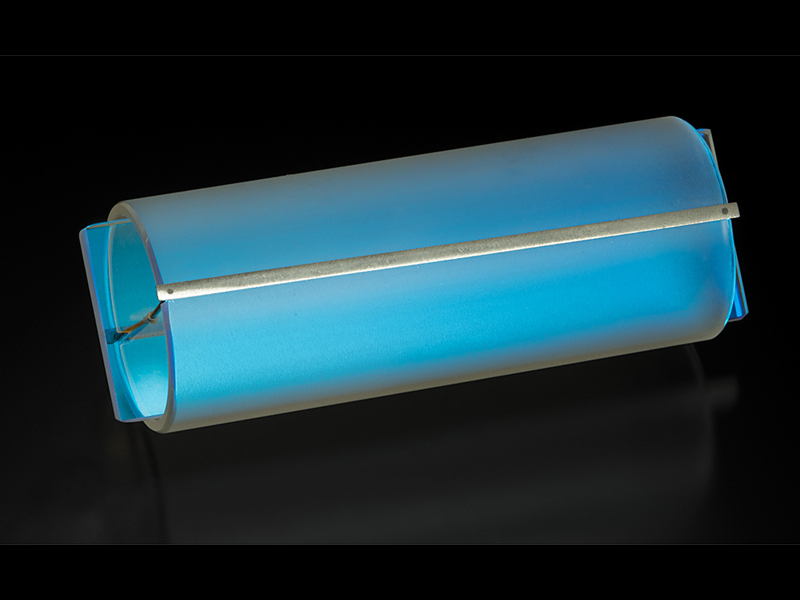 Hedone Gallery—Well-known glass jewelry artist Donald Friedlich has created a new body of work using borosilicate and dichroic glass to create jewelry that shimmers and glows from within. He states, "For many years, I've sought to identify qualities that are unique to jewelry as a medium. One I've focused on is that jewelry is seen in motion. In my Lumina Brooch series, I've exploited this movement in such a manner that the brooches appear to dramatically shift color intensity when viewed at different angles. At times they appear almost like internally lit neon tubes, saturated with color and full of light. At other angles, the color is quite muted or it disappears entirely. My Lumina brooches are in part inspired by the effect of sunlight that is reflected by the moon and, at times, diffused by cloud cover or fog."
RETAIL: US$1,900
CONTACT: Bonnie Levine
L. A. Pai Gallery—In this series, Mary Anne Barkhouse removes the cowboy's and Indian's guns to reveal instead the disco-like gestures of the figures. Mary Anne is a recognized metalsmith and sculptor (Royal Canadian Academy of Arts) who belongs to the Nimpkish band of the Kwakiutl First Nation. L. A. Pai presents an exhibition of her large-scale mixed media sculptures, opening November 4. Visit the gallery's website for further information.
RETAIL: Each pendant, CAN$275
CONTACT: Lisa A. Pai
---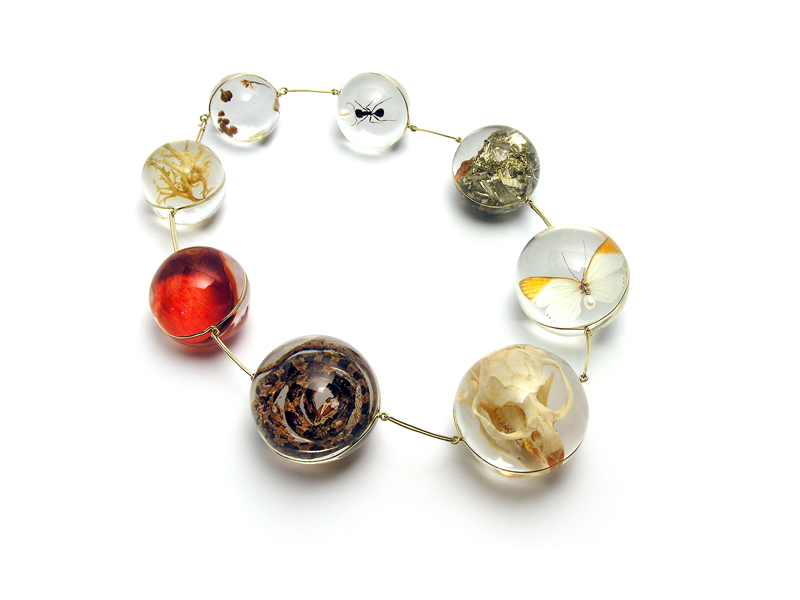 Ornamentum—This is one of Ted Noten's newest works, part of the exhibition Drawer's Delight, open now at Ornamentum. It reflects on a European's romanticized notions of the American West—a beautiful juxtaposition of life and death, natural elements—some (like a flower petal) elegant, others (like a snake) cringe-worthy—encased in acrylic spheres connected with gold links.
RETAIL: Price upon request
CONTACT: Stefan Friedemann
---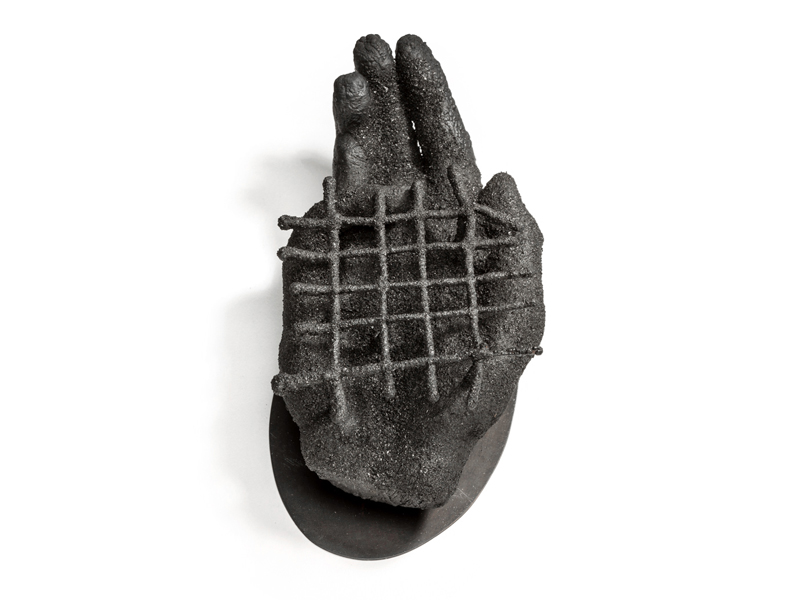 PLATINA Stockholm—Since 2006, Iris Eichenberg has been an artist in residence and head of the metalsmithing department at Cranbrook Academy of Art, in Michigan, USA. In her second solo exhibition at PLATINA, she shows a body of work made after multiple working trips to South America. There, she came across ex-votos, objects that convey a desire or longing, made to express gratitude for a favor granted by a supernatural force. She says that these objects transmit an essential part of jewelry through the way they're made and used. Ex-votos possess a unique ability to communicate because they stand in for a universal longing for change and betterment. Gratitude and love are hard to convey, and she has real admiration for these objects, which are made out of necessity and charged through making. Eichenberg's new work shares that intention.
RETAIL: US$3,700
CONTACT: Sofia Björkman
---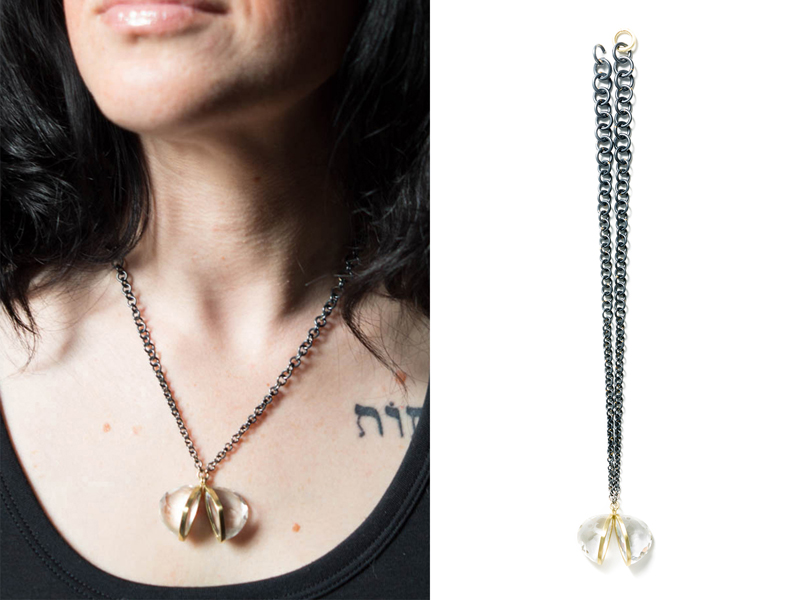 The Gallery at Reinstein|Ross—Caroline Gore's work is thoughtful, powerful, and beautifully made. The Flutter necklace is the star of the Dual Duel exhibition. Gore sourced her own private collection for the antique quartz stones, which she faceted, polished, and set in 18-karat yellow gold. The tapered sterling silver chain has been deeply oxidized and beautifully contrasts the polished gold bezel. The construction of the piece allows for the two quartz pieces to move freely.
RETAIL: US$4,657
CONTACT: Bella Neyman
---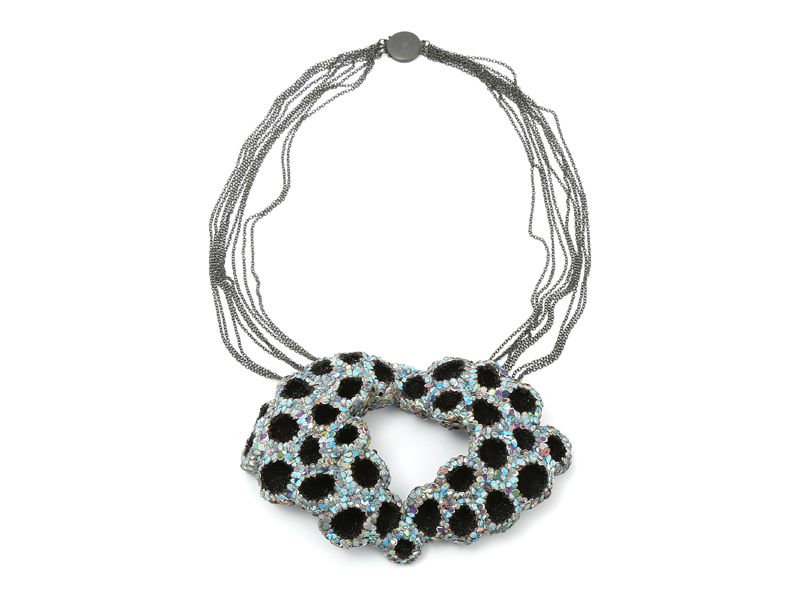 Galerie Noel Guyomarc'h— Using materials from her immediate surroundings and with a previous life, Carina Shoshtary considers herself a hunter-gatherer. In Karma Chroma, her newest artistic proposal, she uses fragments of graffiti, recovering the successive layers of posters on public panels that, with time, come off and fall to the ground. Maintaining a fusional relationship with color, she keeps it at the core of her creative researches, adding sometimes found organic materials to her creations.
Shoshtary was born in Germany and received her goldsmithing training in Neugablonz. She studied contemporary jewelry at the Munich Academy of Fine Arts, with Otto Künzli. In addition to being part of important collections such as the Munich International Design Museum and London's Victoria and Albert Museum, her work has been presented internationally in numerous museums and galleries. In 2012, she received the Bavarian State Prize for Emerging Designers and the Upper Bavarian Prize for Applied Arts.
RETAIL: €3,200
CONTACT: Noel Guyomarc'h
---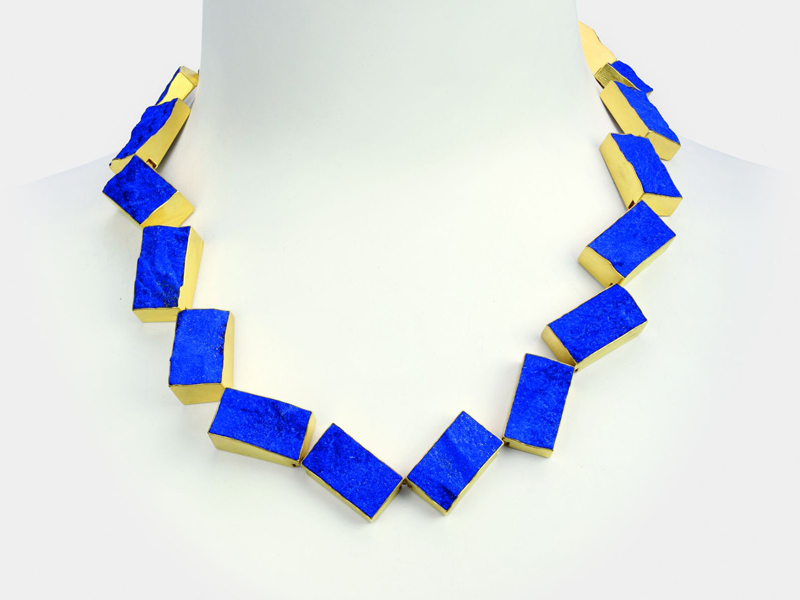 Slavik Gallery—Raw, rough lapis lazuli nestles in its golden frame. Michael Becker knows how to make the elementary qualities of the materials work in all their independence. The radiant color of the lapis lazuli, which is perceived as a whole mountain in its apparently arbitrary and uniquely broken form, tells of the preciousness of this rock, grown in Afghanistan and hoarded in European art chambers.
RETAIL: €24,500
CONTACT: Renate Slavik
---
Jewelers'werk Galerie—The tactile and textured surface qualities of this piece make it very representative of Reiko Ishiyama's recent work. This piece stands out as a bold yet subtle construction of silver and plastic.
RETAIL: US$2,200
CONTACT: Ellen Reiben
---
Patina Gallery—These earrings may remind you of ironwork. That's what Daphne Krinos intends. She finds that the oxidized sterling silver accentuates the red of the carnelian and gives the pieces the quality of a graphic drawing. For Daphne, there is majesty in man-made structures—metal fences, scaffolding, street art, and buildings in various stages of development or decay. Over the years, she has found inspiration in industrial buildings, including those in London, where she lives.
RETAIL: US$1,725
CONTACT: Linda Childers
---
Slavik Gallery—Erika Leitner describes her bracelet, Metamorphosis: "Thirty meters of 0.3-mm 18-karat gold wire: A line out of which grows a complex organic shape. I have to keep a balance between the fundamental laws of the metal and the creative ideas that occur to me while working. After having completed a piece of jewelry, a new world opens up, offering new opportunities."
RETAIL: €11,800
CONTACT: Renate Slavik
---
MID-CAREER ARTIST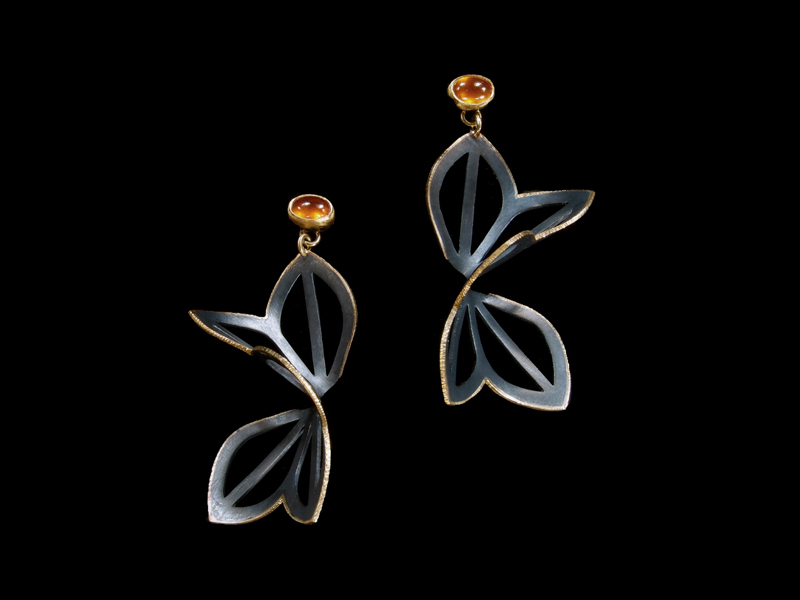 De Novo Fine Contemporary Jewelry—Reminiscent of origami, these earrings are one of our most favorite designs yet from jewelry artist Karin Jacobson. They have a sculpted three-dimensional form that floats beautifully when suspended from the ear.
RETAIL: US$1,576
CONTACT: Cherry LeBrun
---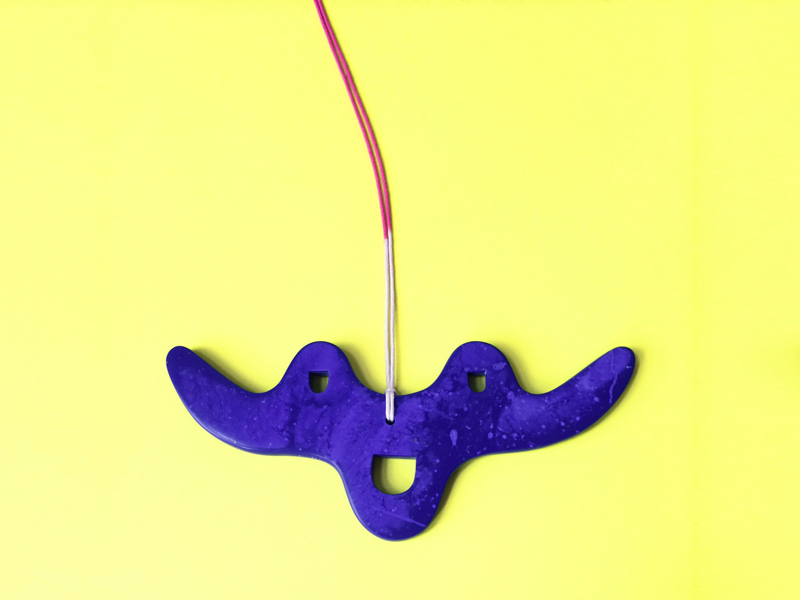 Galerie Marzee—For Julia Walter, the material and spiritual worlds are closely connected. She takes inspiration from her dreams, her journeys, and real life, and sees "everything connected in a constant flow of movement and transformation, action and reaction." This work reflects the ambivalent power of symbols—both ancient as well as contemporary interpretations of now ubiquitous emojis—and sees her trying to calibrate intuition, fortune, and improvisation. The outcome is wearable, cult jewelry—powerful amulets for our time.
RETAIL: €1,060
CONTACT: Astrid Ubbink
---
EMERGING ARTIST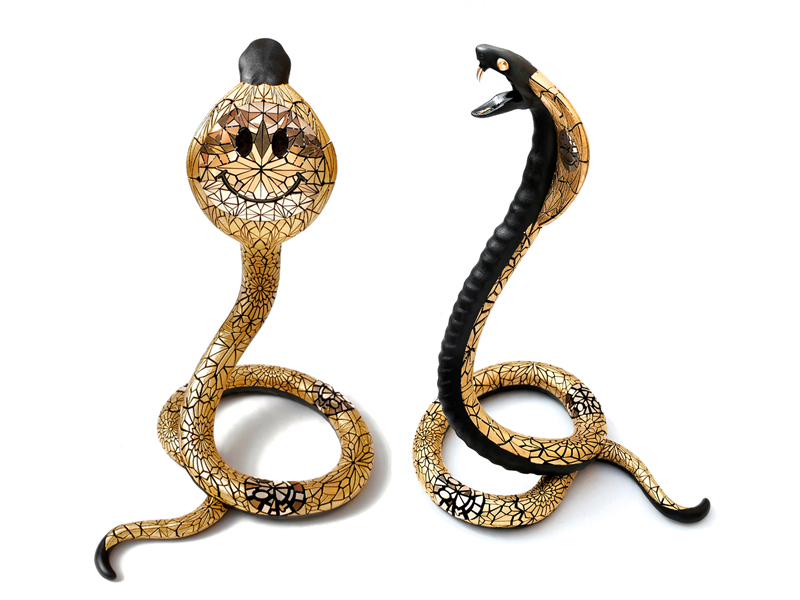 In the Gallery at Brooklyn Metal Works—This fall, Mallory Weston and Emily Cobb finished their first collaboration together, creating a life-sized sculpture covered head to tail with decorative scales. The cobra, a snake with a particularly hypnotic presence and distinctive hood, was chosen for the collaboration, to represent a popular but often fearsome symbol found in jewelry throughout history. Much as a cobra uses its scales to distract and intrigue its prey, Ssssmiley Face entices the viewer to come closer to observe its sparkly, detailed surface. The golden kaleidoscope patterns and smiley faces are pulled directly from imagery Weston uses in her intricately pierced jewelry. Cobb rearranged these shapes into the dimensional skin of a cobra using a 3D modeling program, a construction method she uses in her own work. The main structure of the snake was 3D-printed in five parts, and as Weston worked meticulously on placing the cut pieces of gold-filled metal onto the snake's smiley faces in Philadelphia, Cobb applied the gold leaf to the kaleidoscope pattern in California (where she recently moved). Once the final connections and finishing touches were complete, the piece was sent to Brooklyn Metal Works to debut at the opening of Icons at Play, curated by Manuela Jimenez and Kendra Pariseault. Icons at Play is on view at Brooklyn Metal Works October 7–November 30, 2017.
RETAIL: US$10,000
CONTACT: Brian Weissman
---
Yun Gee Park Gallery & Atelier—Youmi Kim uses wire to create works that at once have volume and an energy of line. Her substantial biomorphic forms have an elegant transparency that suggests drawing in three-dimensional space as they adorn the wearer. For this work, Root of Plant 1, Kim deftly accents the serene earth tones of the woven brass wire with a vibrant synthetic wire that provides bold contrast and evokes the ever-merging dichotomy of nature and technology. Kim studied in Nova Scotia, Canada, and completed MFA studies in metalwork and jewelry in South Korea. Her work has been exhibited in Korea, Germany, Spain, Canada, and the United States.
RETAIL: US$800
CONTACT: Scott Duerstock
---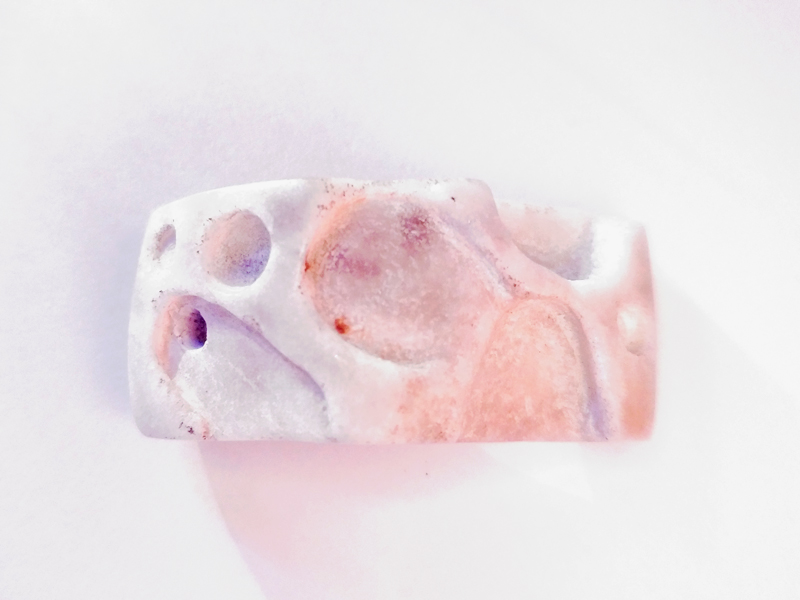 Koumei Art Gallery—Rudy Adji is an emerging lapidary artisan from Indonesia. His interest in gemstones encouraged him to learn lapidary technique. At a relatively young age, he's able to display his passion and artistry through his works. A Drop of Moon is a collaboration between him and jewelry designer Emily Zhu. Enticed by the natural color and pattern on the stone, Zhu decided to glean inspiration from the moon-viewing festivals held around Asia in mid-autumn. Understanding the meaning that want to be conveyed in the piece, Adji gave the stone a moon surface pattern on the front side of the piece. This piece symbolizes that sometimes imperfection is also part of enchanting beauty.
RETAIL: 8,200,000 IDR (Indonesian rupiah)
CONTACT: Eko Sukoco
---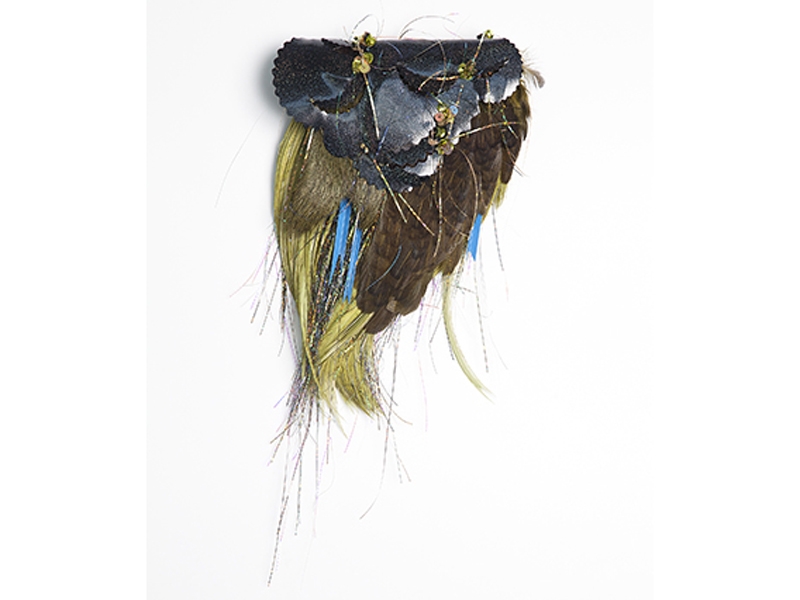 Baltimore Jewelry Center—Lyndsay Rice explores the intersection between animal ornamentation and human ornamentation in her work. She's intrigued by how patterning can work as both decoration and a means of communication. Lyndsay sources ornamentation as a natural signifier of repulsion translated into a fashion object that intends attraction to the wearer. In this piece from her Honor Badge Series, Lyndsay uses patterning from the natural world to allow the wearer to subliminally apply the significance of this natural ornamentation to the body. The piece explores both militaristic and animal ornamentation and how that ornamentation functions as a means of communication.
RETAIL: US$1,200
CONTACT: Shane Prada
---
GALLERY CHOICE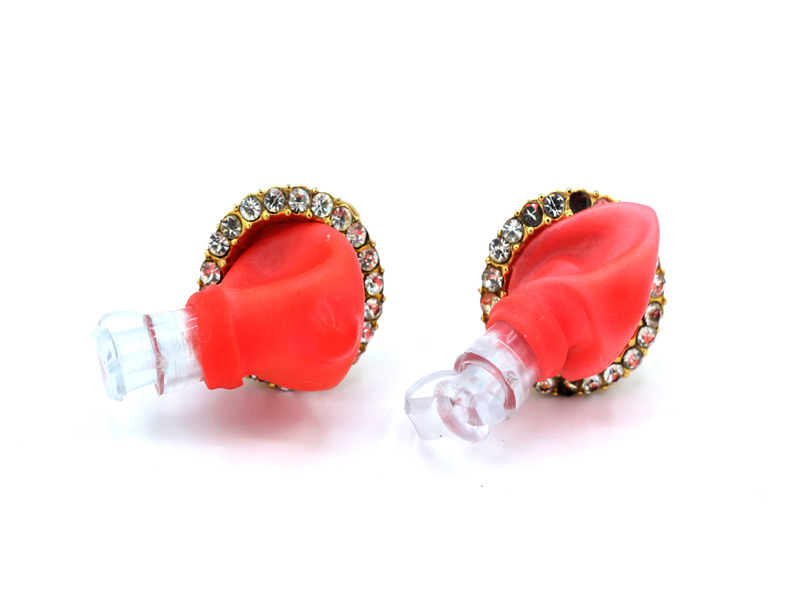 ATTA Gallery—This pair of earrings by Taweesak Molsawat is a good representative of the artist's work that explores the duality of traditional jewelry and the conceptualization/contextualization of contemporary jewelry.
RETAIL: 16,500 THB (Thai baht)
CONTACT: ATTA Gallery
---
galerie beyond—Swiss/German artist Helen Friesacher states: "Starting from geometrical shapes like the circle, semicircle, rectangle, and ribbon, the surfaces are bent into the room along defined lines. The contour, the edge, the folding angles, and the size ratios of the basic shapes play an important role. I compose the individual elements together to form a necklace and verify the fit so that it lies smoothly around the neck."
RETAIL: €1,450
CONTACT: René Darmont
---