When I was a child, I often awoke early in the milky, gray dawn of school-year Saturdays and sat in the dimly lit den awaiting Saturday morning cartoons. I might first have to sit through the local news, but my patience paid off when a cavalcade of colorful, freaky, anthropomorphic mutants paraded across the screen. Thirty years later, I'm still an early riser, but rather than spending hours watching cartoons, I usually devote Saturday mornings to catching up on mailing lists, newsletters, and updates from the international art jewelry scene.
On a similarly milky, gray morning, I was introduced to the cartoonish characters of French-Canadian enamelist Aurélie Guillaume by way of the 2015 L.A. Pai Gallery National Student Jewellery Competition announcement. Viewing jewelry on a screen—a necessity for most curators, jurors, and researchers—does a disservice to the weight, tactility, and functionality of jewelry objects and makes physicality secondary to a pristine, digital representation. Serendipitously, a trip to New York this past February coincided with the artist's first U.S. solo exhibition, Mauricette, the Giants, and Other Frivolous Tales: The Jewelry of Mlle. Guillaume, at The Gallery at Reinstein|Ross, where I had the opportunity to admire Guillaume's characters.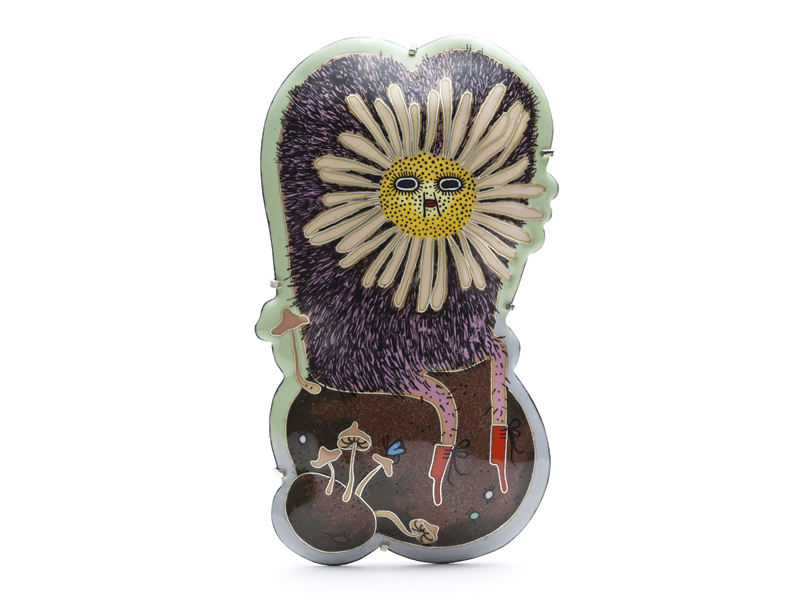 Among the 22 objects on view, I was especially drawn to a brooch that made me laugh aloud. The cloisonné piece Paulette depicts an anthropomorphic figure—a common feature of Guillaume's illustrative oeuvre. The curious character is daisy-faced, hirsute, and hunchbacked. Clad in dainty red boots and seated atop a dung heap, Paulette is one of the more subversive examples of the style of queasy whimsy for which Guillaume is becoming increasingly known. I imagined the possible reactions and conversations wearing the work might incite. After all, it's not everyday one sees excrement—even the cartoon variety—incorporated into jewelry. I considered that the work might be a snarky response to the idiom "fresh as a daisy," but it feels more sincere than scatological.
Paulette challenges any initial impulse toward repulsion, in part because of the success with which Guillaume employs the high/low dichotomy so easily ascribed when jewelry pushes the boundaries of traditional techniques. There's also a sense that the work is subtly, playfully turning a mirror on viewers' assumptions about a figurative subject with implied feminine signifiers (in this example, the title). Figures reading as feminine are subject to increased scrutiny; details like Paulette's prominent body hair play with the gaze to which many female-identified folks are subjected.[1] Though it's tastefully rendered, some might construe the imagery crass. To me, Paulette feels more like a potential mascot, an emblem of defiance via quiet contentment for anyone who feels their messy corporeality is a prison.
It's easy to get carried away contemplating Paulette's subversive potential. However, to do so would be to overlook the exquisite details in Guillaume's spectacularly crafted cloisonné. Similar to an animation—a series of static cells that, when presented in succession, create moving images—cloisonné is a configuration of cells (the name derives from the French cloison, meaning partition) that remain static but necessitate a great deal of movement and repetition in their making. Just as the labor of a successful animation is absent in the final product, the labor of skillfully executed cloisonné is only apparent in the work if one knows the process.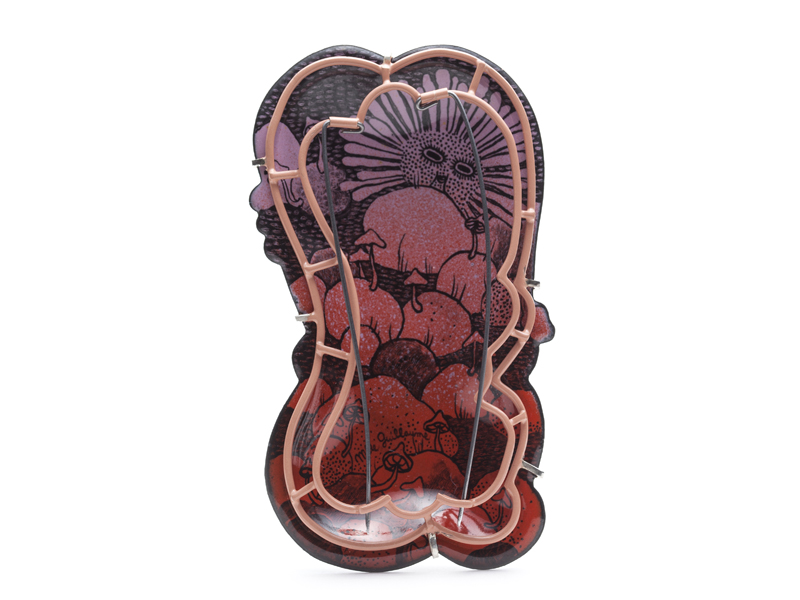 In Paulette, the delicately formed fine silver wires that create every flower petal and mushroom must first be carefully fused in place. The color gradation that provides dimension and texture to the dung heap is a result of packing a wet enamel paste into each compartment. Once packed, the moisture must dry completely before firing in a kiln. This is repeated until each section is filled evenly, with no bubbles or divots. The surface is smoothed with an alundum stone, creating an even plane and a slightly porous, matte surface receptive to the liquid enamel used to meticulously paint details such as Paulette's hairy body.
As Toni Greenbaum noted in her recent feature on Guillaume, while the style is aesthetically unique and wholly contemporary, the work has roots both within the field and beyond.[2] Guillaume nods toward the history of allegorical and iconographic enamelwork,[3] but her works fit just as comfortably into the lineage of playful, subversive 20th and 21st century North American enamelwork. Prominent predecessors, such as Mildred Watkins's My Cat Whirling on a Red Cushion or William Harper's Dirty Dominoes, share the spirit of Guillaume's characters. Whatever lies ahead in Guillaume's creative practice, whatever transformations her work might undergo, objects such as Paulette have carved out space within the lexicon of contemporary enamel for bold, freaky figures that are simultaneously humorous and thought provoking.