Art Jewelry Forum's extensive network of international
gallery supporters
is dedicated to celebrating and showing art jewelry. On Offer is a monthly series that allows AJF galleries to showcase a piece that they've personally selected to tempt and inspire you. Please contact the gallery directly for inquiries. Enjoy!
MUSEUM WORTHY
Artist: Andrea Wagner
Gallery: Galerie Spektrum
Contact: Jürgen Eickhoff
Retail: €2,280
Andrea Wagner, German born and raised in Canada, studied at the Rietveld Academie, in Amsterdam, where she also lives and works. This brooch is a remarkable piece of jewelry out of her series And the Architect Is Still Facing His Jardin Intérieur, in which she deals with colors, inside and outside, and living situations. This work can be a highlight of any collection.
MUSEUM WORTHY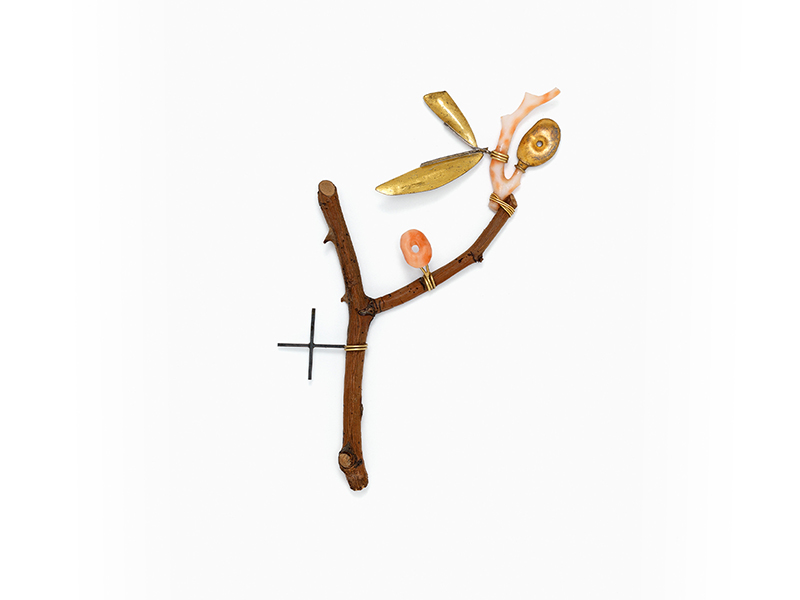 Artist: Manfred Bischoff
Gallery: Quittenbaum Gallery
Contact: Nadine Becker
Retail: €9,000 *SOLD*
Manfred Bischoff (1947–2015) is one of the most important and innovative jewelry artists of our time, and one of the few who dare to tell stories with their jewelry. Bischoff searched for a long time for the right materials to express his thoughts and feelings. By the mid-80s at the latest, when he was living in Italy, he had found his unmistakable design language—his materials, gold and coral, as well as his very special way of presenting the pieces. Many works include a drawing on which words play an important role, in a peculiar script, and on which rings, brooches, or earrings can find their place, but they do not have to. This brooch, from 1985, is on display from March 11 to April 23, 2021, at Quittenbaum Gallery, together with around 40 pieces from the artist's estate, which is in the care of the exhibition curator Rike Bartels.
ESTABLISHED ARTIST
Artist: Tatjana Panyoczki
Gallery: FINGERS GALLERY
Contact: Lisa Higgins
Retail: NZ$1,200
In 2018, Tatjana Panyoczki visited the city of Vladivostok, Russia. To the north lies a small beach where, after the closure of a porcelain factory from the Soviet era, she found an abundance of "treasure" washed up on the shore. As she scoured this beautiful stretch of coast, Panyoczki collected "porcelain things with holes" whilst local Russian friends regaled her with stories of family members who had worked in the factory many years ago. Panyoczki is a New Zealand-based maker/object designer who pushes and explores the boundaries of jewelry and its connotations, while always maintaining a relationship with the body.
ESTABLISHED ARTIST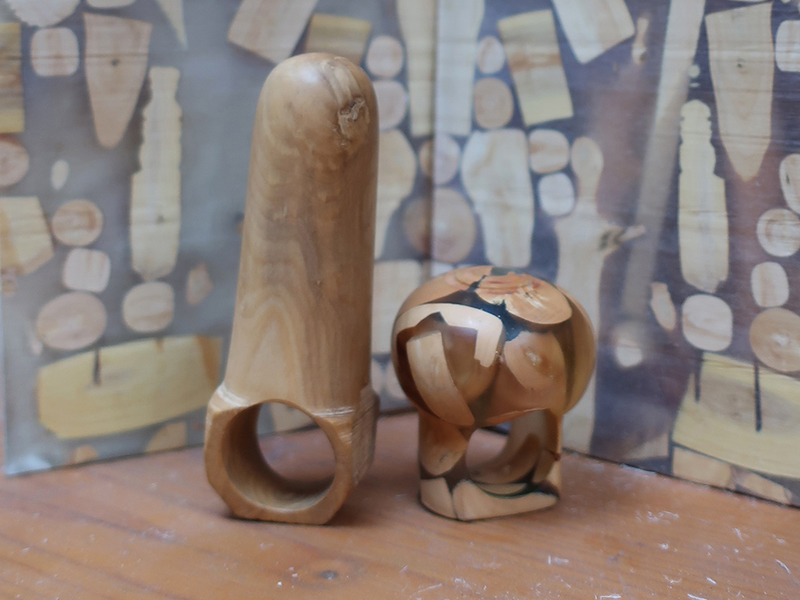 Artist: Volker Atrops
Gallery: Four
Contact: Karin Roy Andersson
Retail: €400–450
Volker Atrops is a jewelry artist and a gardener. He detects what can grow where and how it should be handled to flourish—an important ability both in gardening and art jewelry. His artistic language is not written in caps, but like a whisper cuts through murmur. The expression of his work is striking.
ESTABLISHED ARTIST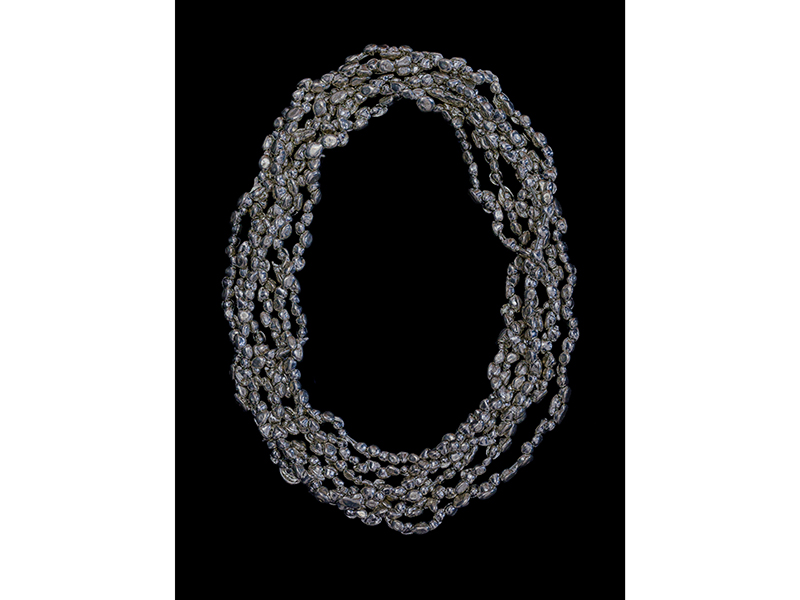 Artist: Nadine Simone Kuffner
Gallery: MydayByday Gallery in Rome
Contact: Laura Helena Aureli
Retail: €2,900
MydayByday Gallery in Rome is featuring the work of Nadine Kuffner, presenting the Prunkstueck necklace in tin, cotton thread, and color. All the beads are individually cast and strung on one single thread so the necklace can be worn in different lengths. "In my work I like to question the normative rules of jewelry production by playing with the opposite of what we consider as good craftsmanship," says Kuffner. "This necklace, Prunkstueck (Showpiece), deals with certain expectations we have toward the making of jewelry and how value is defined by material, knowledge, time, process, and concept. I use low valued metal to create each 'pearl.' It is a quick, simple, and rather random than controlled process of casting. But the glossy surface, its tactility and pure weight, [promises] at the same time a luxurious and well-made piece of adornment."
ESTABLISHED ARTIST
Artist: Tereza Seabra
Gallery: Galeria Tereza Seabra
Contact: Tereza Seabra
Retail: €7,200
Over the years, Tereza Seabra has been collecting a small treasure of beautiful precious stones with which she can tell romantic stories through exquisite handcraft. The combination of brutal and rough tourmalines and classic cut topaz brings a contemporary approach to the classical gemstone necklace.
ESTABLISHED ARTIST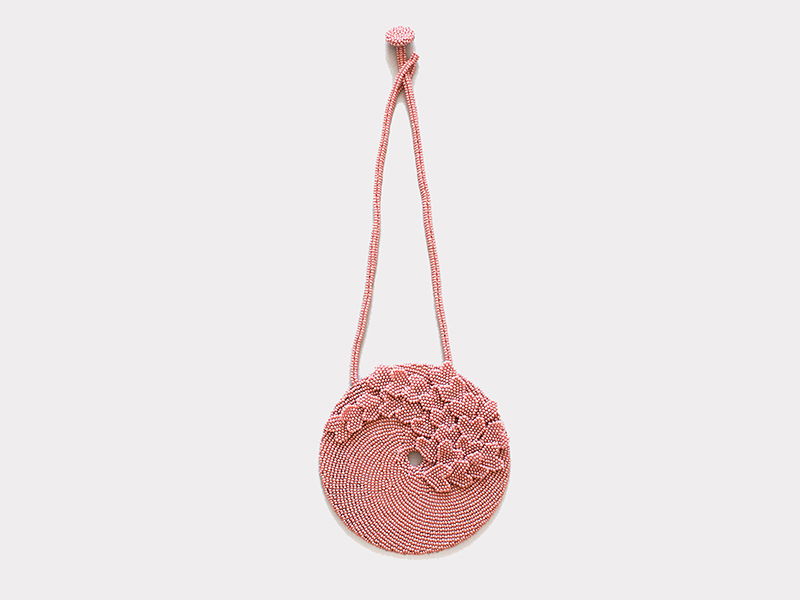 Artist: Catarina Silva
Gallery: PLATINA
Contact: Sofia Björkman
Retail: US$2,900
This Mantra Love Song necklace, by Catarina Silva, is made of a Marvin Gaye CD covered with glass beads stitched in a meditative technique. Hearts follow the rhythm of the love song and capture the emotions that arise. Silva is a jewelry artist from Lisbon. She studied at Ar.Co (Centro de Arte e Comunicação Visual) between 2000–2005, and is now the head of its jewelry department.
ESTABLISHED ARTIST
Artist: Jiro Kamata
Gallery: Ornamentum
Contact: Stefan Friedemann
Retail: US$13,000
A gorgeous example from Jiro Kamata's current exhibition, Holon, at Ornamentum. From Kamata's statement: "Holon applies a PVD (physical vapor deposition) coating of various colors to each individual lens. Through the shape of the concave lens and the convex lens, the color-coated mirror surfaces on the sides of the lens reflect each other, creating a unique depth and 3D hologram effect on the lens. By wearing this jewelry, you can enjoy the ever-changing colors of light. Holon is a new body of work, but also a collection of all the elements of the work I have been creating for the past 20 years. These lenses not only reflect our reality, but they may also change our perception."
MID-CAREER ARTIST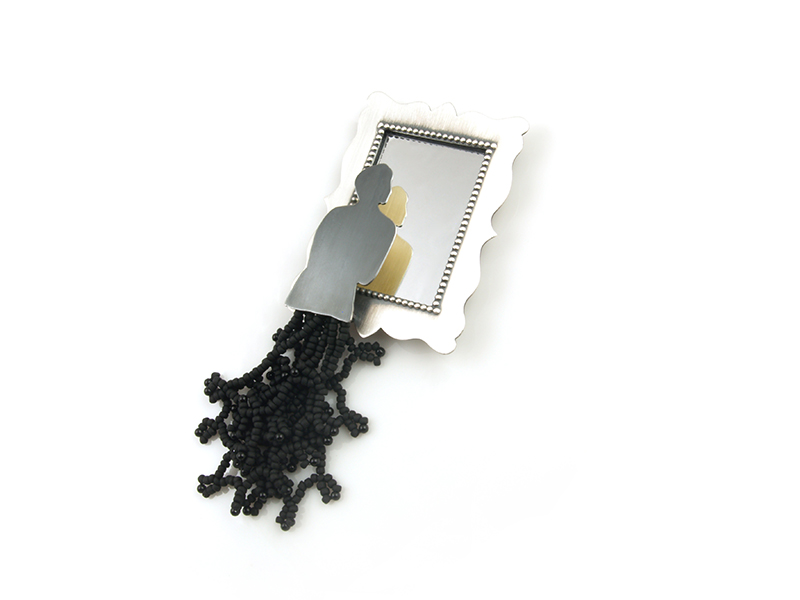 Artist: Jill Baker Gower
Gallery: Sculpture To Wear
Contact: Lisa M. Berman
Retail: US$1,200
She Looked Forward was created for the RAL Art Studios (Rehoboth Art League), in Lewes, Delaware, for the 2015 show Reflect, curated by Jay Pastore, exhibitions director, and Heidi Lowe, owner of Heidi Lowe Gallery. In, Reflect, 12 international contemporary jewelers responded to historical female portraits from the Rehoboth Art League's Permanent Collection and the Biggs Museum of American Art, in Dover, Delaware. The portrait is an artistic representation of a subject, highlighting unique aspects of personality, mood, and attitude. Jewelry, as a format, serves as a symbol of personality, power, and status. The jewelers interpreted portraits, considering composition, color, and shape and concept, while honoring historic, gender, or political references. The portraits and jewelry were presented together, creating a juxtaposition between new and old, image and object, representation and reflection. Jill Baker Gower is a metalsmith, educator, and former board member of SNAG.
MID-CAREER ARTIST
Artist: Lauren Markley
Gallery: Baltimore Jewelry Center
Contact: Shane Prada
Retail: US$420
Lauren Markley is a native of Kansas currently living in Raleigh, NC, US. She exhibits at numerous craft shows each year and teaches workshops around the United States. In her work, Markley utilizes sterling silver, brass, enamel, wood, and found objects. She's a master at creating interesting compositions, as seen in this brooch made with wood, enamel, and gold-plated brass.
MID-CAREER ARTIST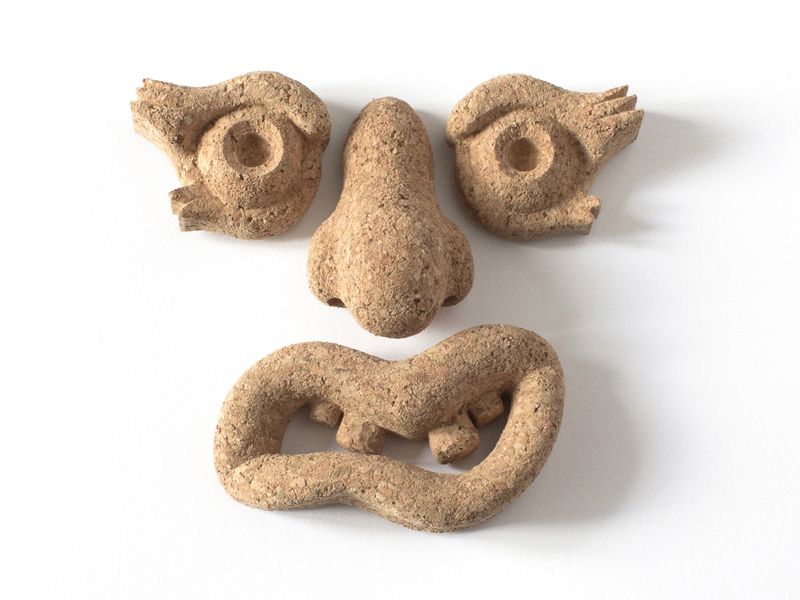 Artist: Alexander Blank
Gallery: Galerie Rob Koudijs
Contact: Rob Koudijs
Retail: Eye: €1,100; Nose: €1,000; Mouth: €1,225
An exciting group of brooches by the amazing Alexander Blank, as part of his brand-new exhibition—on the occasion of Schmuck Munich 2021—which will soon be presented and published online by Galerie Rob Koudijs Amsterdam.
EMERGING ARTIST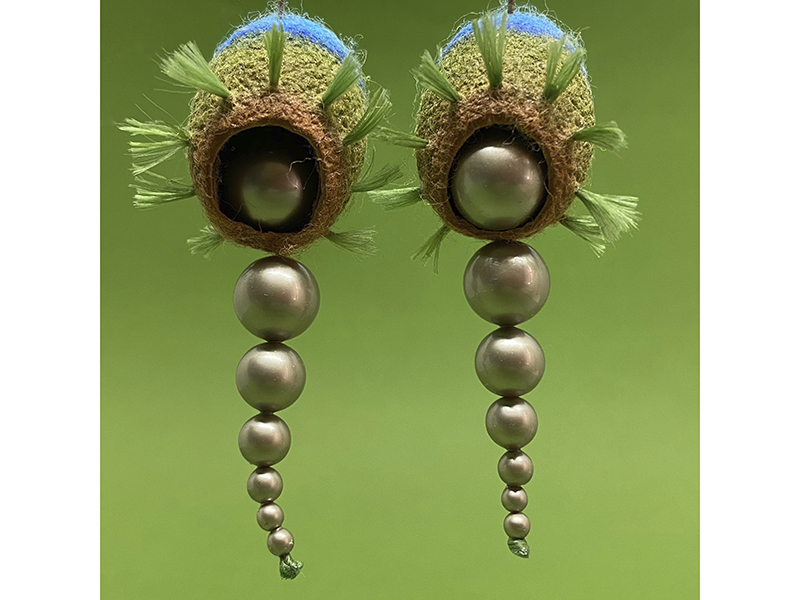 Artist: Leslie Wardlaw
Gallery: Yun Gee Park Gallery
Contact: Scott Duerstock
Retail: US$450
"Earring as landscape," is how the artist, Leslie Wardlaw, describes these one-of-a-kind earrings, titled Taos. They were born from her travels and immersion into the landscape. Wardlaw has gained a following creating miniature, wearable sculptures, most often in the form of the earring, that are influenced by natural and man-made environments and often reflect the structures of plants she encounters, or the joy in daily life upon discovering the commitment to line, volume, and function that might be found in a chair, a typeface, a light fixture, or a building. Wardlaw's choices of materials allow visual weight with minimal physical weight, making her works visually stunning as well as comfortable to wear.
GALLERY CHOICE
Artist: Corrado De Meo
Gallery: Archivio Negroni
Contact: Eliana Negroni
Retail: €349
A permanent challenge with the unique piece and a single, eternal material: metal. Like a blank canvas, De Meo start "painting" his daily maturity: unique and always different. Abstract and alive, in a never-ending dialogue between thought and nature. Is art jewelry nearer to feelings or aesthetics? The statement is up to the wearer…
GALLERY CHOICE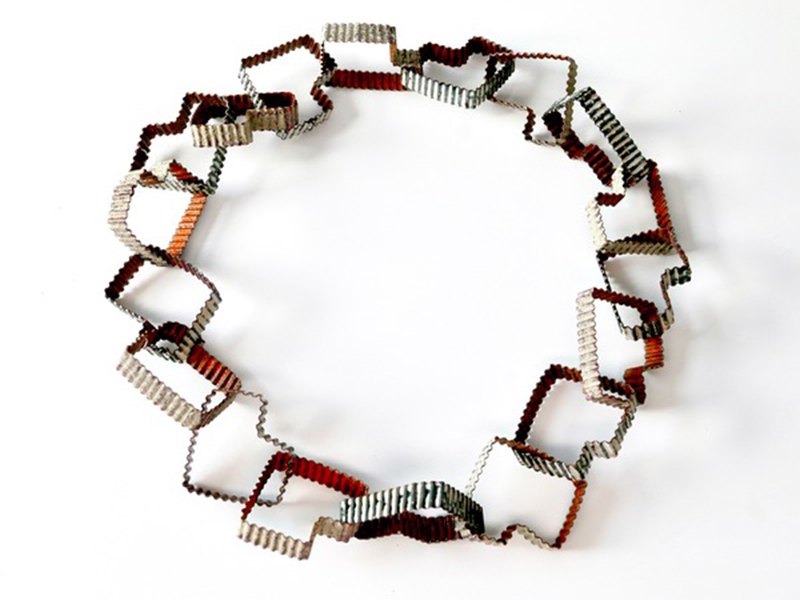 Artist: Adriana Radulescu
Gallery: Jewelers'werk Galerie
Contact: Ellen Reiben
Retail: US$2,600
This is brand-new work from Adriana Radulescu. It shows her background in architecture as well as her art-jewelry vision. Ingenious and beautiful. In copper, enamel, and silver.
GALLERY CHOICE
Artist: Aurélie Guillaume
Gallery: Galerie Noel Guyomarc'h, bijoux et objets contemporains
Contact: Noel Guyomarc'h
Retail: CAN$3,800
"In her latest body of work, Le Poème, Québécois artist Aurélie Guillaume departs from her usual format of large cloisonné enamel brooches depicting cartoon-like characters," writes Toni Greenbaum. "Prompted by the memory of simple, quiet moments spent with her father as a child growing up on the island of Martinique, Mlle. Guillaume has created both jewelry and objects that are more delicate and somewhat smaller in scale—often textured, dimensional, kinetic, and freely painted with enamel rather than enclosed, as in cloisonné. The isolation of COVID-19 restrictions over the past year intensified Mlle. Guillaume's desire to create works that evoke a poetic view of her immediate surroundings. Broadening her habitual connection with nature, she immersed herself in the simple pleasures of daily life that we typically take for granted. She focused on nature's treasures found just outside her door, flora and fauna flourishing in nearby forests, insects that made her laugh, and flowers that spoke of love. She made delightful drawings, watercolors, and gouaches, often transforming them into jewelry that is intimate, tender, 'soft,' as Mlle. Guillaume states, mitigating the temporary lack of human interaction caused by the pandemic."
GALLERY CHOICE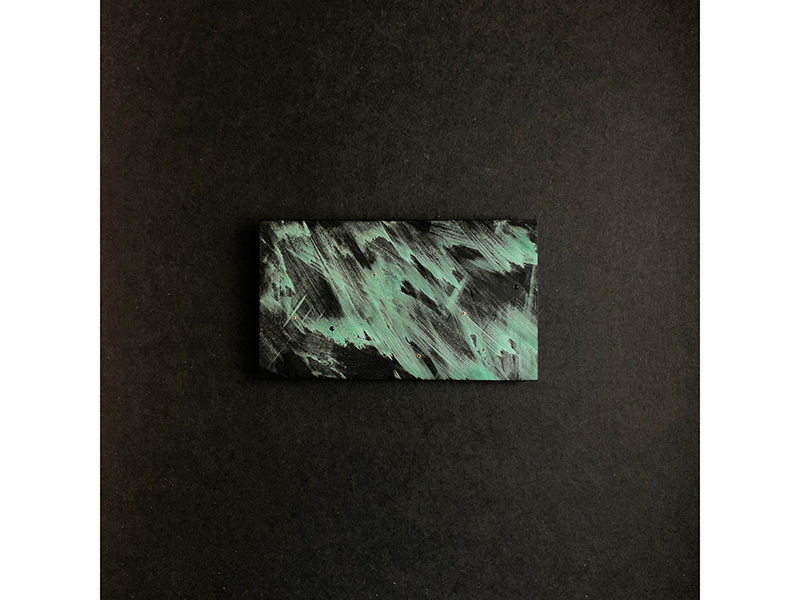 Artist: Karin Johansson
Gallery: Galeria Reverso
Contact: Paula Crespo
Retail: €895
"This piece," says Karin Johansson, "is one of my contributions to the Hope exhibition, at Galeria Reverso. I was inspired by the text sent to me and decided to make a group/pair called Argos and Penelope and The Golden Thread of Hope. The story of Argos waiting for Ulysses is strong and beautiful. And then there is Penelope, weaving… and weaving … waiting. The brooch (very new) is made of acrylic that I have treated to make the different shapes/pattern and directions in the surface. There are four golden points, and two black diamonds. I thought of them as four feet, a head, and a tail. Also, I wanted them to bring to mind a dark sky with stars, stars that you sometimes use as a guide, to find the way. On the back there is a pin mechanism of gold."
GALLERY CHOICE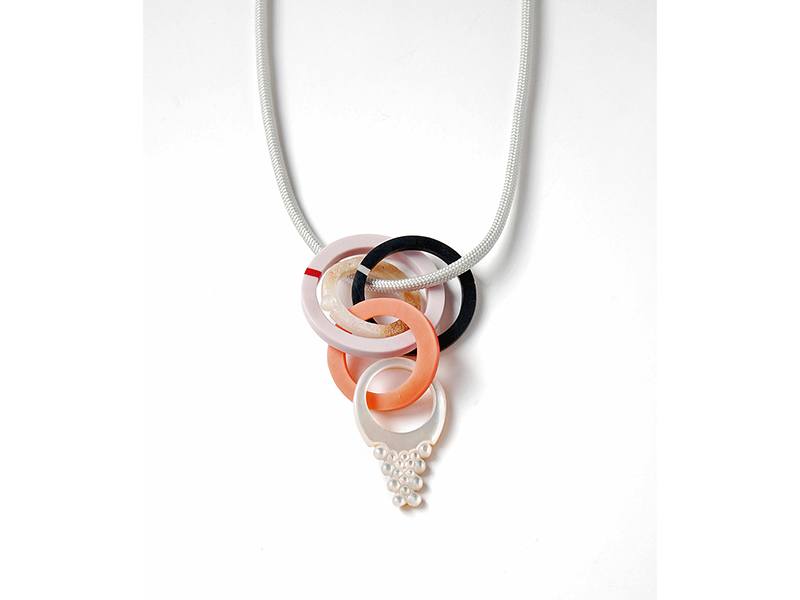 Artist: Danni Schwaag
Gallery: Galerie Door
Contact: Doreen Timmers
Retail: €555
Danni Schwaag made several linked links hand-carved out of mother-of-pearl and galalith. The piece was made for this year's group exhibition at Galerie Door which bears the name and theme ProChaine—referring to the French word for "next," and of course the English word "chain." For the exhibition, which opens March 9, 2021, every artist represented by Galerie Door was asked to make one part of a chain. Together it is going to be one fantastic and glorious necklace. The art works will signify how we are all tied up, how we all crave to be connected again. That is our hope for 2021 and years to come.