There are so many reasons to purchase art jewelry…
You got that hard-earned promotion—celebrate!
You're experiencing a once-in-a-lifetime occasion—honor it.
You wrapped up that major accomplishment—pay it tribute.
You want to mark the beginning of a new relationship or the end of one— commemorate it.
Perhaps it's an investment—do it!
It's the perfect piece to round out an aspect of your collection—pounce!
Or maybe it's just to treat yourself—just because.
Art Jewelry Forum's international gallery supporters celebrate and exhibit art jewelry. Our monthly On Offer series allows this extensive network of international galleries to showcase extraordinary pieces personally selected to tempt and inspire you. Take a look. You're bound to find a fantastic piece you simply have to add to your collection! (Please contact the gallery directly for inquiries.)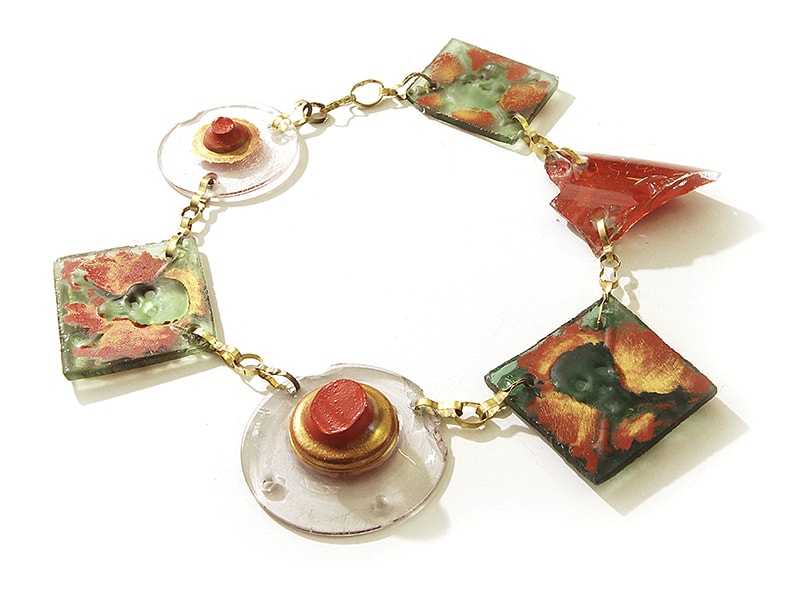 Artist: Bernhard Schobinger
Gallery: Tereza Seabra
Contact: Tereza Seabra
Retail: €26,750
Bernhard Schobinger's subversive approach to making spans more than 40 years and has earned him a reputation for rebellious innovation and a critical voice. His work skillfully transforms discovered objects into pieces that allude to past and present, precious and leftover. Recognized as a key figure of avant-garde contemporary jewelry and something of an alchemist, Schobinger gathers and processes all manner of matter, which frequently includes discarded detritus. From colored pencils, worn-out knicker elastic, precious stones, combs, or worn eraser nubs to coins, diamonds, prickly saw files, or poison bottles—scavenged materials are all sources of aesthetic and physical richness. At once anarchic and collectible, Schobinger's work unites these materials to create hybrid jewels that irreverently express their provenance while challenging conventional histories of body adornment.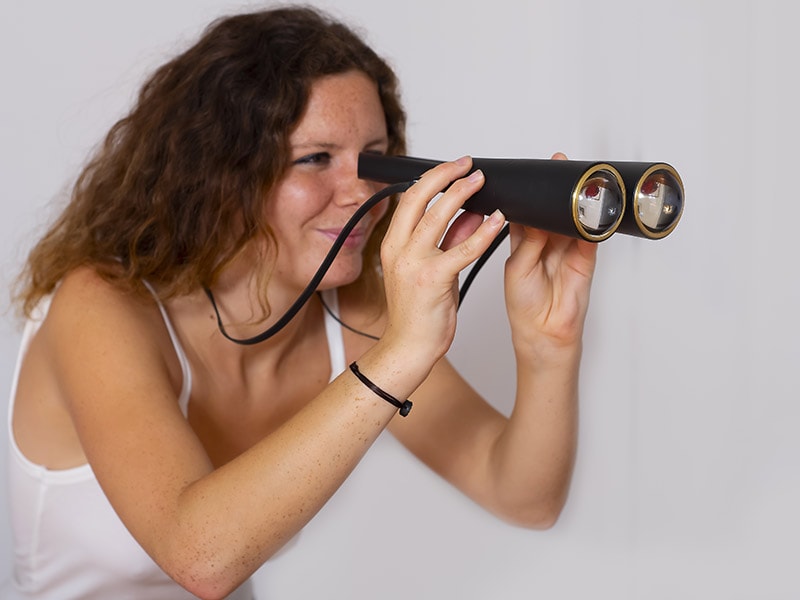 Artist: Teresa Milheiro
Gallery: Galeria Reverso
Contact: Paula Crespo
Retail: €4,800
Teresa Milheiro's Spy On is the gaze itself that wounds the body of the patroller, which does not fail to alert to the critical questioning of any gaze cast upon the other, which includes the gaze itself.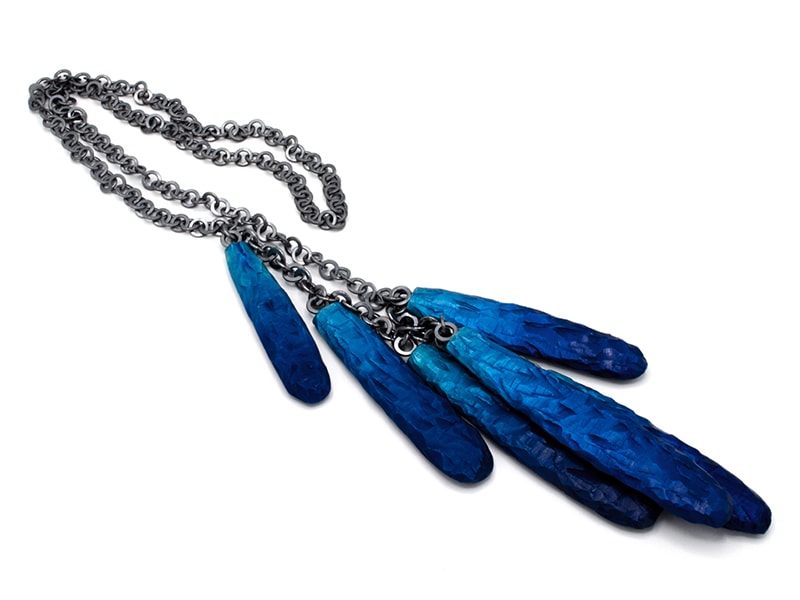 Artist: Lynn Batchelder
Gallery: Gallery Loupe
Contact: Alejandra Salinas
Retail: US$1,800
 Titled Remains, Lynn Batchelder's newest jewelry and works on paper are abstractions based upon some of the earliest recorded imprints left by humans, achieved through cross-hatching, carving, and engraving. Deeply chiseled impressions on the uppermost layer of this aluminum pendant are anodized—a departure for Batchelder, who hasn't previously utilized color in her work.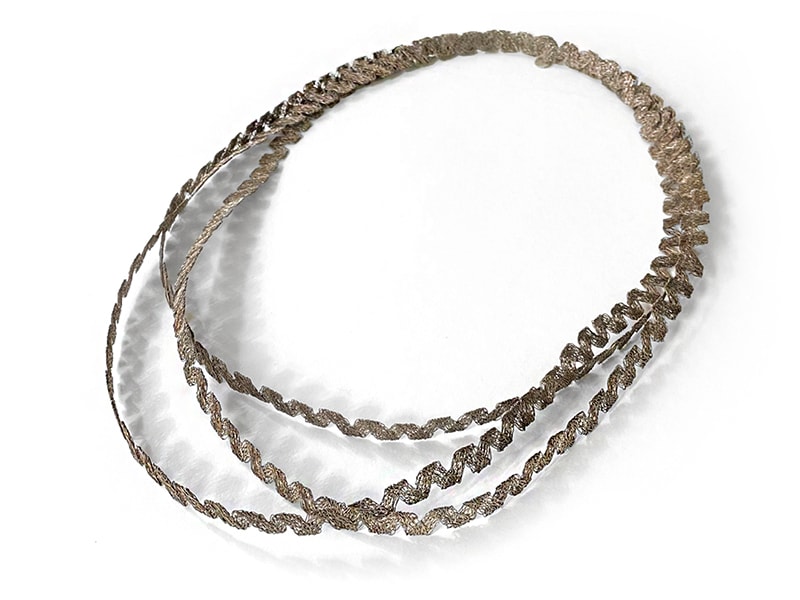 Artist: Doris Betz
Gallery: Platina Stockholm
Contact: Sofia Björkman
Retail: US$2,800
Doris Betz's artistic practice is characterized by fluid movement resulting from her craftsmanship and courage to experiment. The dictum is the line which the German artist experiences freedom in. With playful curiosity she pushes the materials, mostly silver, to the limit, while carefully and vigilantly controlling the linear formation process. The results are beautiful, flexible, and easy-to-wear jewelry. Betz received her diploma in 1996 from the Akademie der Bildenden Künste, in Munich.
Artist: Fumiki Taguchi
Gallery: ATTA Gallery
Contact: Atty Tantivit
Retail: US$1,300
Fumiki Taguchi has mastered superb technical skills in creating his unique jewelry. Mostly known for his reflective and delicately pierced works created since he won the Herbert Hofmann Prize in 2013, this new Sticker Series shows yet another explorative and innovative nature of his practice. "In Japan 'MA' is used for both time and space, and we have captured the elusive sensations and emotions that are invisible. They tried to express the elusive ephemeral itself, such as a momentary scene and an indescribable sensation. The senses of memories and imaginations are white and ephemeral, and you see a momentary sight. The theme of this is 'time,' and the ephemeral and beautiful fading figure is expressed as jewelry. I want you to look back on the time by projecting your memory into a white expression."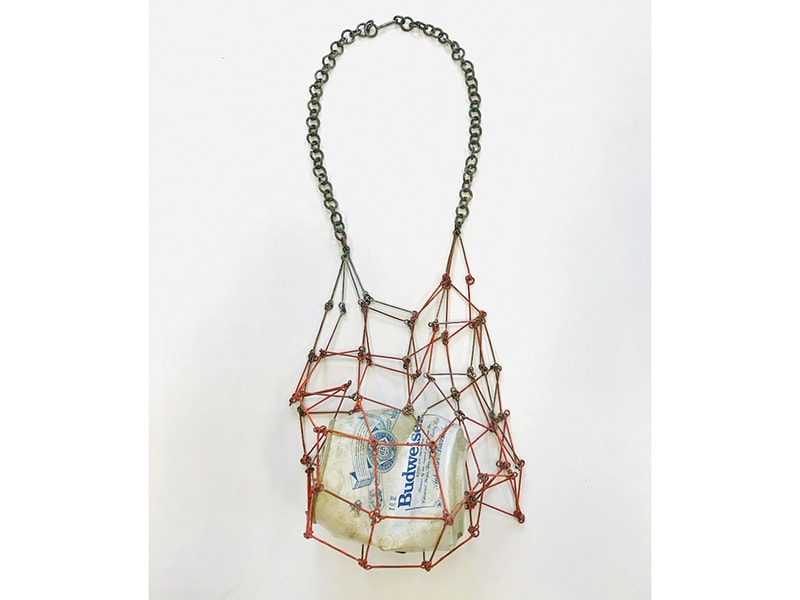 Artist: Sarah Parker
Gallery: Baltimore Jewelry Center
Contact: Shane Prada
Retail: US$650
Sarah Parker is a jeweler and artist currently completing her MFA at Virginia Commonwealth University. In her work, Parker creates relationships between body and adornment from parts of objects that have begun their arduous journey of decomposition. On the surfaces of these materials is the reflection of a culture that rejects the uncomfortable realities of human existence. Once part of a valuable whole, the disparate detritus emerges from brokenness into new forms, illuminating and honoring scars and evidence of former use.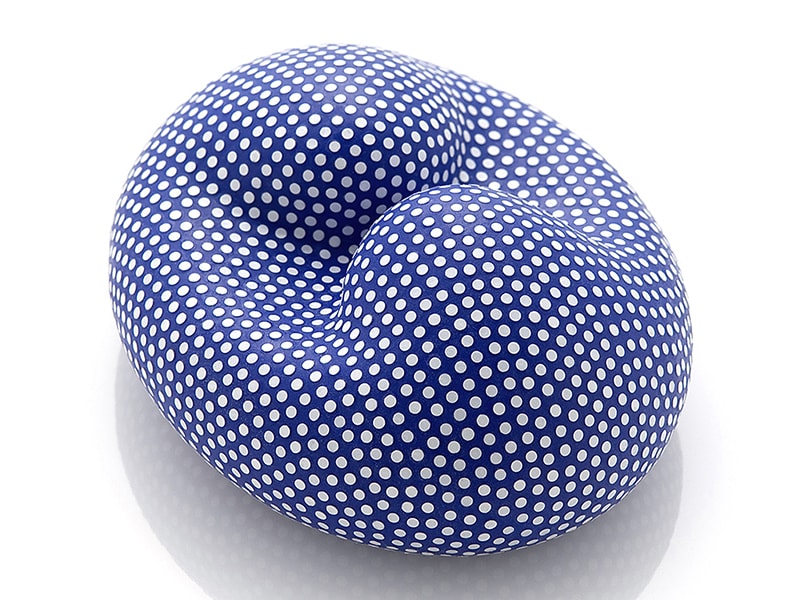 Artist: Junmin Bae
Gallery: Four Gallery
Contact: Karin Roy Andersson
Retail: €960
The microcosmos offers an impressive range of colors and shapes. Lately images of viruses have been everywhere, but cells, insect eggs, bacterias, algae, and molds also offer a magnificent palette. Junmin Bae finds inspiration in the delicate structures of the microscopic world, the repetitions and the contrast of colors. She plays with the coexistence of beauty and grotesqueness, and with the positive and negative feelings that her objects might evoke.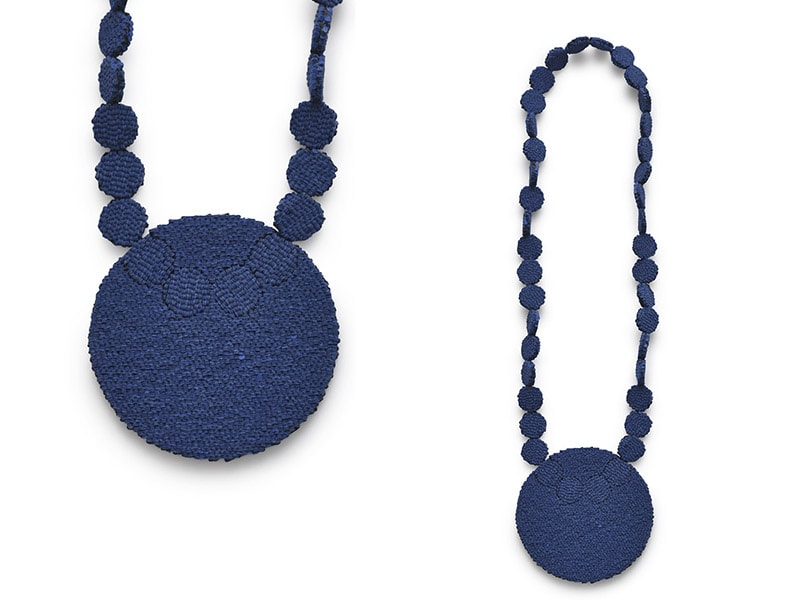 Artist: Karin Seufert
Gallery: Galerie Noel Guyomarc'h, bijoux et objets contemporains
Contact: Noel Guyomarc'h
Retail: €6,000
Moving away from the materials normally associated with jewelry and preciousness, Karin Seufert has chosen PVC as her preferred material. Her search for materiality is as much visual as it is tactile, each object being composed of hundreds of small PVC circles that are assembled with each other. This assembly process also reflects through its result the artist's gesture, its duration and its repetition. Reflecting the outline of each of these small elements, the silhouette of each object is derived from the same form: the circle. By slightly distorting it, bending it, or removing a thin section—all very subtle interventions—Seufert manages to evoke various recognizable objects and elements, which she skillfully reduces their simplest expression.
Artist: Kylie Sinkovich
Gallery: Fingers Gallery
Contact: Lisa Higgins
Retail: NZ$665
Kylie Sinkovich's practice is informed by her sensitivity to her favored materials of wood, stone, and metal, creating objects that connect with the body on both a physical and intellectual level. "This project transported me back to my childhood running barefoot through the long grass in my family's orchard collecting stones, tiny windblown birds' nests, and other earthly treasures before bringing them back to a pint-sized workbench next to my father's in the garage. I had a fascination with the nostalgic, especially old tins, and kept my precious findings in them."
Artist: Margo Csipő
Gallery: In the Gallery at Brooklyn Metal Works
Contact: Brian Weissman
Retail: US$1,200
"With narrative at the forefront of my creative practice, I convey tales, both surreal and grounded," says Margo Csipő. "Stories build many of the lessons we learn in our lifetimes, and, as a queer woman, I am fascinated with the voids between these anecdotes: narratives about 'The Unknown.' Society often neglects stories for those of us outside the norm, so with my art I craft tales that seek the answers to questions that the culture I grew up in failed to supply me with." Know Yourself at Every Age was chosen in support of the exhibition Hearts + Flowers, an exploration of the souvenir and sentimentality in jewelry.
Artist: Nicola Heidemann
Gallery: Thereza Pedrosa Gallery
Contact: Thereza Pedrosa
Retail: €880
Seeing the world with observing eyes is a rare gift, but being able to capture its essence and turn it into matter is an extraordinary talent. Nicola Heidemann is an observer of the natural world, especially of the contrasts between light and water, the erosive battles between land and sea, the reactions between the elements. She collects impressions, reflections, and feelings that she then encapsulates in each of her works. Each piece of jewelry reworks the reflections, the matter, the reactions between the elements, and, like nature itself, they turn out to be unique, unrepeatable, and simply captivating.
Artist: Claudia Lepik
Gallery: Mydaybyday Gallery
Contact: Laura H. Aureli
Retail: €1,500
This month, Mydaybyday Gallery, in Rome, is featuring the beautiful work of Estonian artist Claudia Lepik with her Light Ceremony Necklace. Lepik is a jewelry artist who is intrigued by how to push boundaries in jewelry with scale and material. "In my practice," says Lepik, "I have always tried to use all the silver I have when I create something by sewing, soldering, and putting together structures using all the little bits and pieces left behind, all those pieces which can't be used to do anything else. I gather all these bits and create little silver bits in my own technique. In this chain I created a storyline (each bit is different and a new angle is revealed when investigating separate bits). So all in all, the piece is made of recycled silver and double curb chain. The [title] Light Ceremony comes from the process of making it, how silver shines back to me with the sun's reflection."
Artist: Ruudt Peters
Gallery: Galerie Spektrum
Contact: Jürgen Eickhoff
Retail: €2,000
Ruudt Peters expresses his feelings and thoughts about the phenomenon of fog: "I never think of fleeing or being locked up. Nebula is the freedom of imagination, seeing something and not being able to understand it initially, being confused, not knowing, the freedom of interpretation. Only the wearer knows how and why the work reveals itself in such a way; how the glass relates to the silver and what kind of negative space (Japanese MA) there is between the glass and silver. This is an experience that comes to mind as a maker. It is important that the viewer have multiple interpretations of the work and that the work be universal. To keep myself externally aware."