Art Jewelry Forum's extensive network of international
gallery supporters
is dedicated to celebrating and showing art jewelry. On Offer is a monthly series that allows AJF galleries to showcase a piece that they've personally selected to tempt and inspire you. Please contact the gallery directly for inquiries. Enjoy!
MUSEUM WORTHY
Artist: Anton Cepka
Gallery: Galerie Spektrum
Contact: Jürgen Eickhoff
Retail: €4,500
Anton Cepka, born in Slovakia in 1936, and former professor at the university of applied art in Prague, is one of the leading jewelry artists from eastern Europe. His influence as a teacher was immense. Due to a stroke, he's no longer able to make jewelry. His last work is from 2006. The brooch shown here is a typical piece of jewelry for his cyclus between 1995 and 2003. It will be a highlight of every collection that seeks to complete the Cepka oeuvre, or to have at least one piece by this important artist in its collection.
MUSEUM WORTHY
Artist: Tove Knuts
Gallery: Four
Contact: Karin Roy Andersson
Retail: €90
Tove Knuts's work takes place in the quiet corner of the home, where it has always taken place. Her crochet work reflects the monotony that has made the last months something completely out of the ordinary for many. But the pandemic has affected her work in other ways. The virus has spread to all the discussions in her home and everything revolves around it in one way or another. Knuts, born in 1969, lives and works in Stockholm. She got her MFA at Ädellab, Konstfack, and her work is represented at the National Museum in Sweden.
MUSEUM WORTHY
Artist: Kun Zhang
Gallery: Galerie Door
Contact: Doreen Timmers
Retail: €2,100
Kun Zhang graduated with an MFA from the Hochschule Trier, Idar-Oberstein, Germany, under professors Theo Smeets and Ute Eitzenhöfer, in 2018. This talented female artist was born in Beijing, China, in 1990. For her latest body of work, Kun carved small-scale sculptures that are—in all ways and from all perspectives—constructed by antithesis: massive form and transparent parts, flat planes and curves, movement and stillness, sharp and soft, polished and rough. She makes intriguing abstract sculptures where solid pedestals and fragile pins play the first fiddle. This artist forces us, the audience, the beholder, to focus on both the presence and the absence of material.
ESTABLISHED ARTIST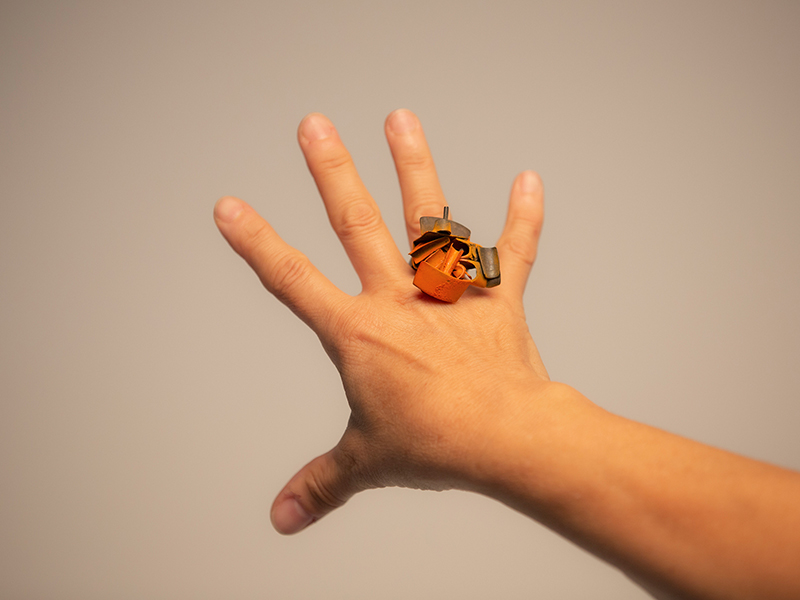 Artist: Fabrizio Tridenti
Gallery: Archivio Negroni
Contact: Eliana Negroni
Retail: €854, tax included
"My intention is to isolate an interesting shape out of this chaos," said Fabrizio Tridenti. "I'm more attracted by the casualness of events than by determining them, because, in project design and development, the surprise element is lost, whereas it exists in identifying and reproducing a casual combination. So the purpose is to lose the idea of shape."
ESTABLISHED ARTIST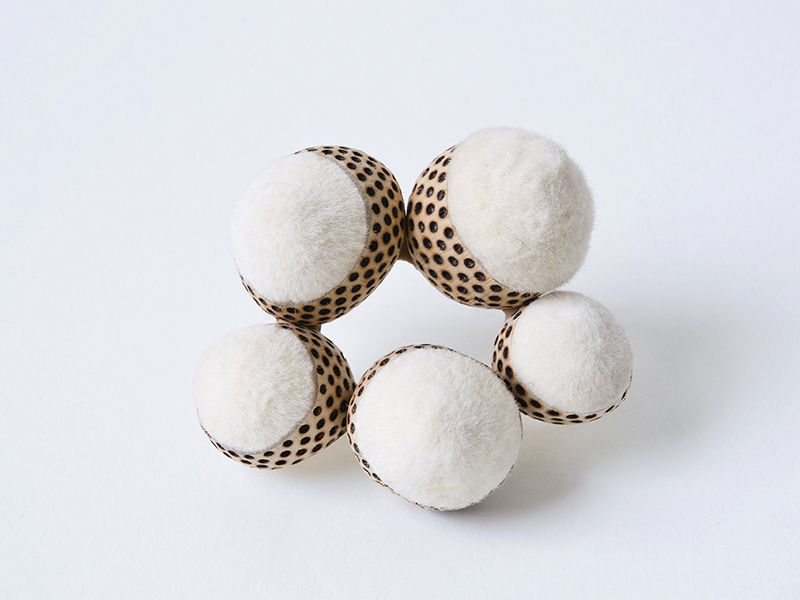 Artist: Beppe Kessler
Gallery: MydayByday Gallery in Rome
Contact: Laura Helena Aureli
Retail: €1,250
MydayByday Gallery features the work of artist Beppe Kessler. Kessler studied textile design at the Gerrit Rietveld Academie, Amsterdam. Her artworks have found their way into numerous museums, including the Rijksmuseum and Stedelijk Museum, in Amsterdam; the Schmuckmuseum, in Pforzheim; and prominent museums in Montreal, Houston, Boston, and New York. "I am a painter who makes small things and a jewelry maker who paints," says Kessler. "'Little treasures,' that is how I describe my works of art; miniature sculptures composed of age-old and contemporary materials, brazenly combined and not bound to the traditions of jewelry-making. They express my feelings and thoughts about life. They invite touching and they tell a story, summarized in titles justifying their existence."
ESTABLISHED ARTIST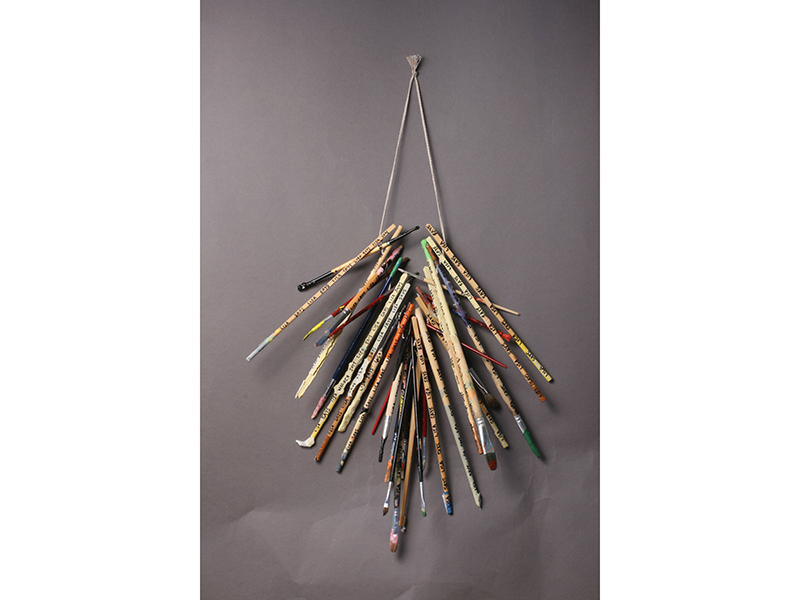 Artist: Lisa Walker
Gallery: Ornamentum
Contact: Stefan Friedemann
Retail: US$4,400
Of this simple and boldly expressive piece, New Zealand jeweler Lisa Walker states: "The Velvet Underground, Lou Reed, and I speak. My paint brushes from over the years." The brush is the painter's method of communication—the necklace is Walker's, and the title is shared with a song by the aforementioned music group. The tools become the statement, and the statement is wearable.
ESTABLISHED ARTIST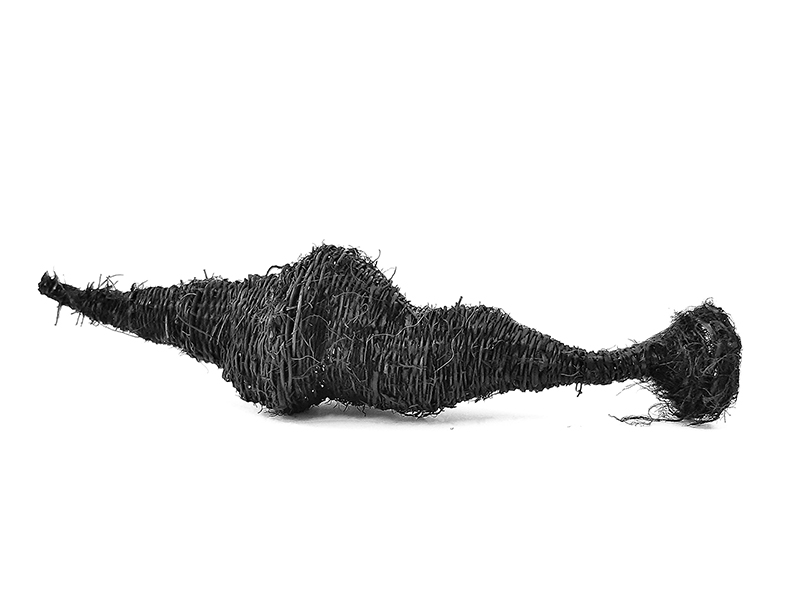 Artist: Rita Soto
Gallery: Tamagit
Contact: Marta Tamagit
Retail: €900
Malakamato belongs to the series Sailing Spirits from the End of the World and is inspired by Lakutaia Le Kipa, by Patricia Stanbuck, a book about Rosa Yagán, an indigenous woman who inhabited Tierra del Fuego (Land of Fire), the southernmost place on earth. Through Yagán, the jewelry artist Rita Soto discovered a whole spiritual universe of legends, animals, nature, and sea that triggered her to create imaginary textile creatures that somehow became alive, as if they were the sailing spirits of a culture condemned to disappear.
ESTABLISHED ARTIST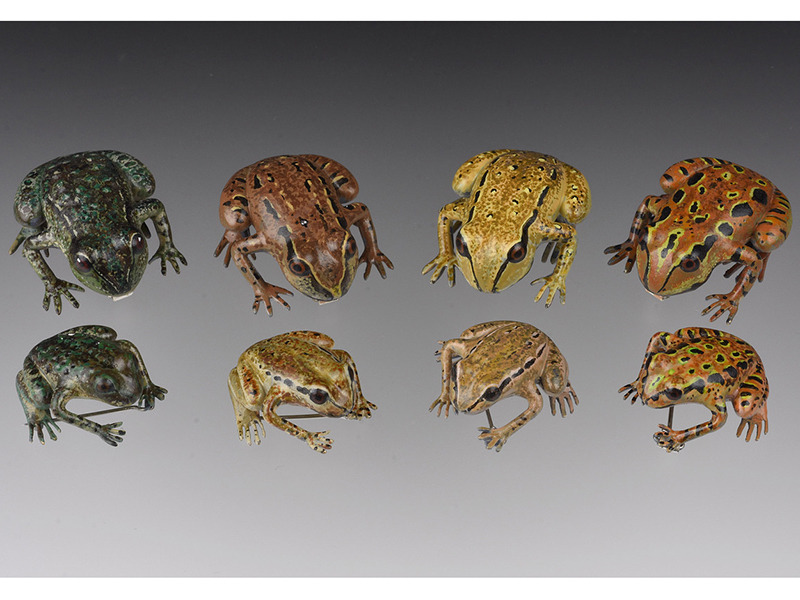 Artist: Tania Patterson
Gallery: FINGERS GALLERY
Contact: Lisa Higgins
Retail: Large, NZ$335; small, NZ$265
"These four endangered New Zealand native frogs/pepeketua are primitive and ancient creatures that have changed little in the last 70 million years. They differ from other frogs in that they do not have eardrums and they do not croak … they are silent and elusive creatures. They also do not have a swimming tadpole stage and carry their froglets on their backs until fully developed. Fossil records show that these frogs used to be widely spread throughout NZ, but through habitat loss, predation, and disease, their numbers have slowly dwindled." —Tania Patterson
MID-CAREER ARTIST
Artist: Carina Shoshtary
Gallery: PLATINA
Contact: Sofia Björkman
Retail: US$2,000
This sparkling necklace is one of Carina Shoshtary's latest works. It's a completely new series she developed with a 3D pen with which she melts the material and then draws by hand. Shoshtary is a jewelry artist of German and Iranian descent who lives and works in Germany. She was educated at the Academy of Fine Arts in Munich (2006–2012) and has exhibited around the world. In 2016, she was one of the finalists for the AJF award.
EMERGING ARTIST
Artist: Niklas Link
Gallery: Galerie Rob Koudijs
Contact: Rob Koudijs
Retail: €1,475
Of all the jewelry that people wear, only rings are actually seen by the wearers themselves. Furthermore, there is no other piece of jewelry that is so specific to the measurements of the user. Niklas Link made it his quest to add something new to the phenomenon. He opted for a pronounced style, bold shapes, and expressive colors. So these didn't turn out to be modest, obliging rings. They are intended for men and women alike.
EMERGING ARTIST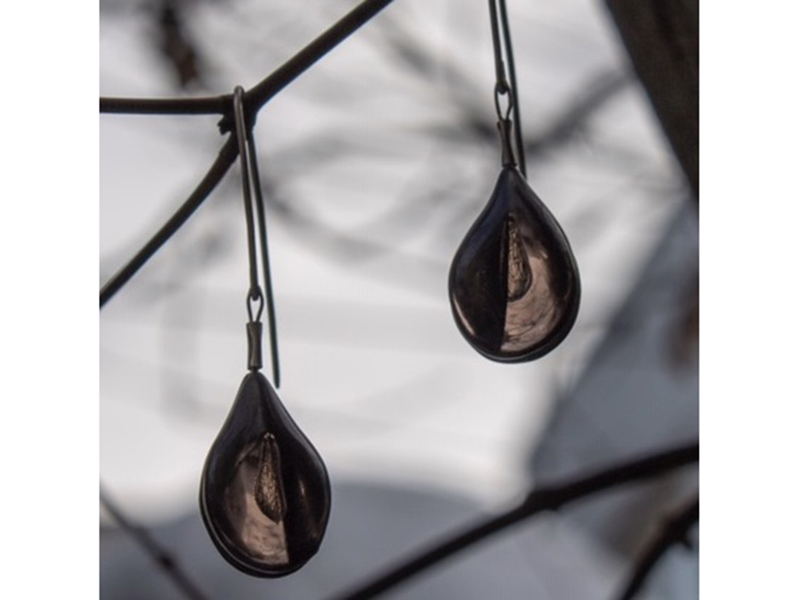 Artist: Luci Jockel
Gallery: Gallery Loupe
Contact: Patti Bleicher
Retail: US$450
Luci Jockel combines typical jewelry-making materials—metals and minerals—with the remains of insects and animals, resulting in pieces that are poetic, elegant, and eminently wearable.
EMERGING ARTIST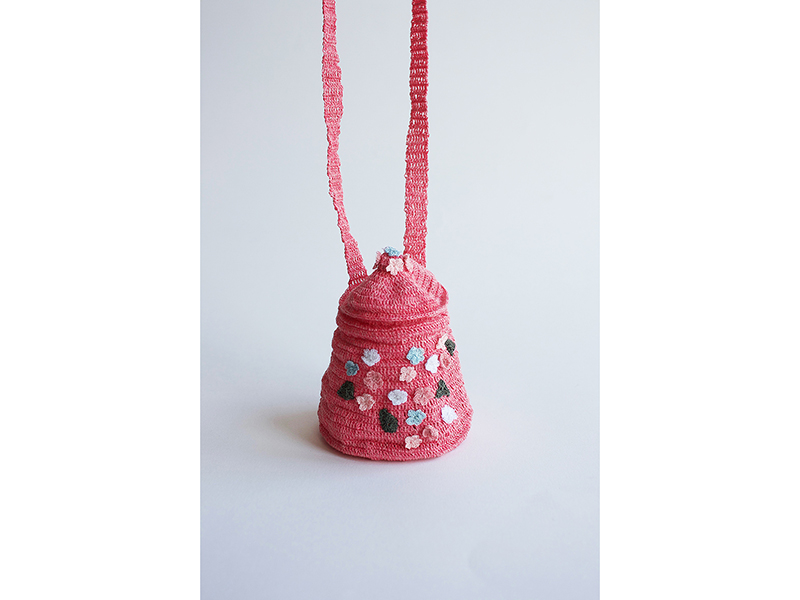 Artist: Inês Esteves
Gallery: Galeria Tereza Seabra
Contact: Tereza Seabra
Retail: €600
Inês Esteves is a promising young artist recently who graduated from Ar.Co (Centro de Arte e Comunicação Visual). Her work is based on memories shared around a tea set with family and friends. Using the classic old-fashioned technique of crochet from the grannies, she invents new humorous and romantic pendants that reproduce table sets from her home with very thin thread and delicate hands.
EMERGING ARTIST
Artist: Ben Cooke-Akaiwa
Gallery: Baltimore Jewelry Center
Contact: Shane Prada
Retail: US$600
Ben Cooke-Akaiwa's work explores principles of Japanese design through material, form, and surface. Complex surfaces and patterns are contrasted with simple forms to create balance. Color, pattern, and texture are key elements in his jewelry. He combines steel with precious metals, enamel, and gemstones to create wearable objects that are both inviting and contemplative. A 2019 graduate of Indiana University's BFA program, Cooke-Akaiwa was selected for Talente 2020. This enamel brooch, part of his new body of work, Prismatic Playground, was created during his recent three-month residency at the Baltimore Jewelry Center.
GALLERY CHOICE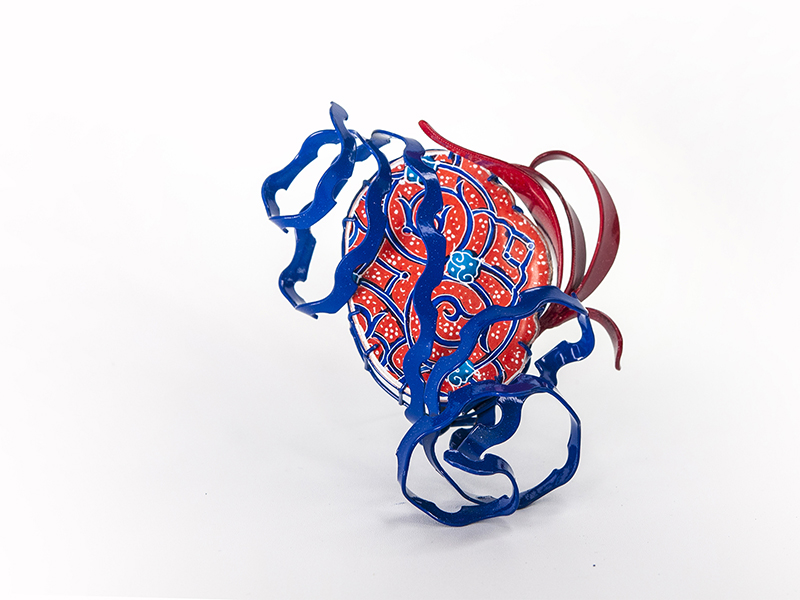 Artist: Amir Sheikhvand
Gallery: Galerie Noel Guyomarc'h, bijoux et objets contemporains
Contact: Noel Guyomarc'h
Retail: CAN$700
Amir Sheikhvand incorporates his past research in Iranian handicrafts, such as the malileh-kary filigree work and minakary miniature enameling techniques, providing a strong Eastern influence within cubic and organic forms, industrial shapes, solid colors, and neutral surfaces. His conceptual art installations have been exhibited both nationally and internationally, propelling his sculptural jewelry inspirations into a fine art realm that unifies the world of contemporary fine art, design, and craft.
GALLERY CHOICE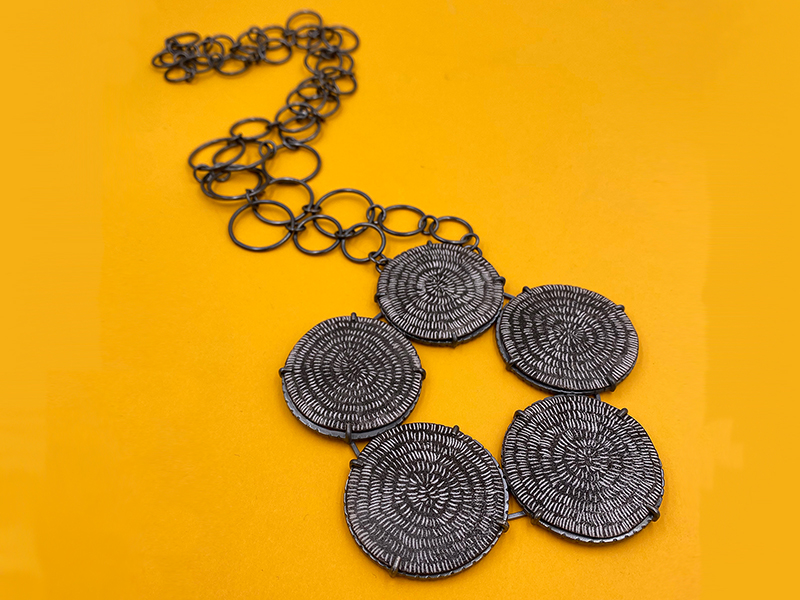 Artist: Tanya Crane
Gallery: Gallery 2052
Contact: Nora McCarthy
Retail: US$2,800
Tanya Crane is a California native living and working in Boston, Massachusetts. Crane's work is framed within a dual existence of prejudice and privilege, as she adapted to life among family in both the white suburbs and the urban center of South Central Los Angeles. Her current body of work utilizes mark-making in enamels as a meditative act. Each mark reveals the layer beneath for an effect that invokes traditional African craft and contemporary urban graphics. This one-of-a-kind necklace, Lil' Pimp, is on display at the gallery as part of the Jewelry Edition V5 pop-up.
GALLERY CHOICE
Artist: Samuel Guillén
Gallery: In the Gallery at Brooklyn Metal Works
Contact: Brian Weissman
Retail: US$1,500
In these tumultuous times, Samuel Guillén has found some much-needed levity in creating uninhibited moments that evoke playful interactions. Letting these masks breathe with pops of color reminiscent of chewing gum, a human gesture is animated. Influenced by crafted, handmade toys from diverse origins, Guillén effectively brings emotion into these portable jewels. There is joy in blowing bubbles and this piece carries these happier feelings wherever you go.