Art Jewelry Forum's extensive network of international
gallery supporters
is dedicated to celebrating and showing art jewelry. On Offer is a monthly series that allows AJF galleries to showcase a piece that they've personally selected to tempt and inspire you. Please contact the gallery directly for inquiries. Enjoy!
MUSEUM WORTHY
Artist: Jiro Kamata
Gallery: Galerie Rob Koudijs
Contact: Rob Koudijs
Retail: €7,600
Jiro Kamata explore new terrain in the jewelry world. His lenses and mirrors feel fresh and exciting because they evoke a scientific wonderment that is only rivaled by actual magic. The wearer of Kamata's pieces can equally look or be looked at. The manner in which his pieces are displayed when not being worn invites onlookers to examine themselves when catching reflections in the mirrors or lenses hung on a wall.
ESTABLISHED ARTIST
Artist: Kiseno
Gallery: Tamagit
Contact: Marta Tamagit
Retail: €1,200
The statement, written in capital letters as graffiti on the object's side, reads: "Más petróleo, menos agua (More oil, less water)." Kiseno, through this arte povera object, asks himself: What do institutions and governments representing us do against threatening techniques such as fracking? Where are the limits? Is everything valid? Do we listen to Mother Earth? More oil, much more oil, please… more than water. "Ceci n'est pas une pipe." —René Magritte
ESTABLISHED ARTIST
Artist: Benedikt Fisher
Gallery: OHMYBLUE
Contact: Elena Rizzi
Retail: €666
Shelly found some baby teeth and tried them on for size. She is sassy and uncivilized, a loudmouth with no spine. Baring her pearly whites, she whispers, sighs, shouts, and grins. Evolution is contagious. Other shells are starting to speak back. Soft on the inside, hard on the outside—to open up they must sharpen their teeth. Each one has its own personality and style. Omnivores speak for themselves, and may bite if provoked. Feed them at your own risk.
ESTABLISHED ARTIST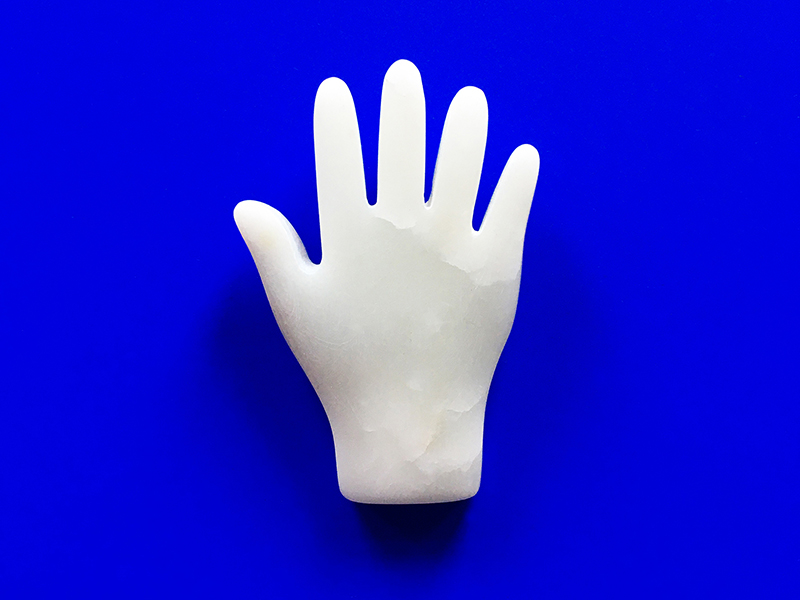 Artist: Julia Walter
Gallery: Platina Stockholm AB
Contact: Platina Stockholm AB
Retail: US$1,000
During 2020, we have learned to wash our hands, and that soap is the thing. We also have had many virtual meetings and used the power of art jewelry to get people to react. Some people work with backgrounds and lipsticks to get a more fun and attractive web image, but what works better than a well-chosen piece of jewelry, and what would fit better than a brooch made of soapstone in the shape of a hand? Julia Walter is a jewelry artist based in Amsterdam.
ESTABLISHED ARTIST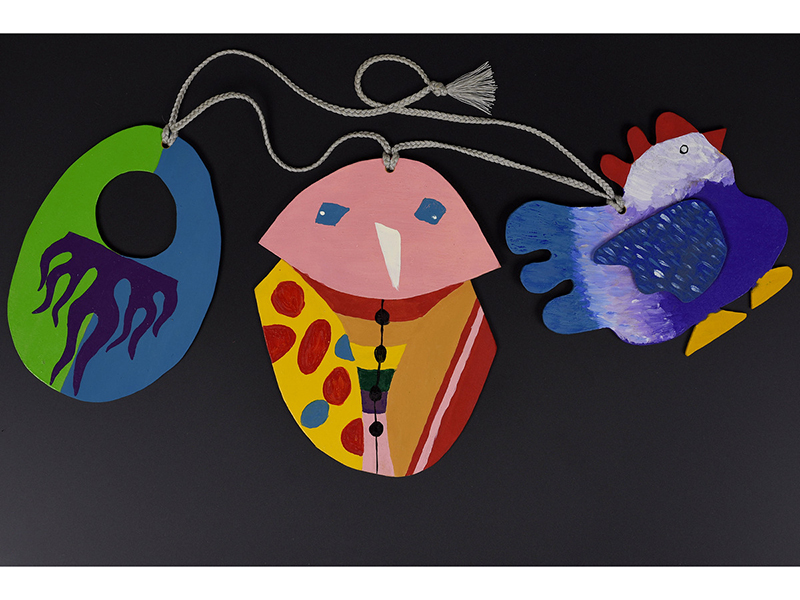 Artist: Lisa Walker
Gallery: Fingers Gallery
Contact: Lisa Higgins
Retail: NZ$3,670
"Dan Arps, the NZ artist, found this painted chicken on a farm gate and posted it on Instagram. The flames are from an element in one of the German painter Berthold Reiss's paintings. I think a child painted the third piece. When I first finished this necklace, four years ago, I hated it—too childlike and colorful, at a time perhaps when my colors were getting darker. I never exhibited it, and it's only now I think it's good. I saw a video by the musician Benee recently and her style, aesthetic, fashion reminded me of this necklace." —Lisa Walker, 2020
MID-CAREER ARTIST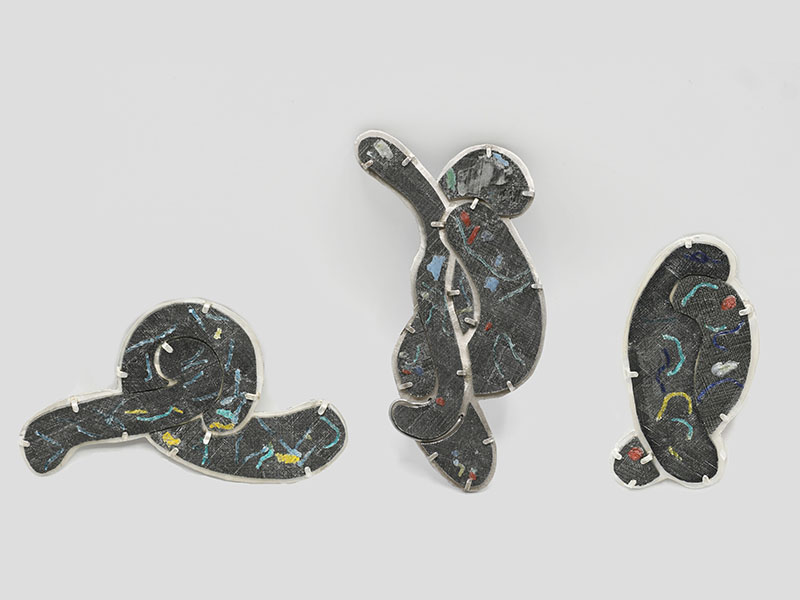 Artist: Annie Sibert
Gallery: Galerie Elsa Vanier
Contact: Elsa Vanier
Retail: From €960
Annie Sibert's jewels are born from a double necessity. A sensibility imbued with the universes of contemporary artists such as Franz West or Erwin Wurm on the one hand, and a workshop practice on the other, a place where she strives to divert traditional tools or to reinvent gestures in metalwork. Part of the exhibition Ocean 2050, which took place at Galerie Elsa Vanier during Parcours Bijoux 2020, the brooches are made using the South Korean ipsa technique with iron and plastic fragments, handpicked by Sibert herself on a beach in France. (Ipsa is a sort of damascene technique that consists of inlaying threads or thin wires of one metal into another one; Silber learned the technique from Ms. Hong Jung-Sil, a Korean Intangible Cultural Heritage artist.)
MID-CAREER ARTIST
Artist: Adriana Del Duca
Gallery: Sculpture To Wear
Contact: Lisa M. Berman
Retail: US$1,100
The Transparencia collection, by Adriana Del Duca—who is originally from Caracas, Venezuela, but now resides in Italy—is an in-depth international award-winning research project that depicts shape in constant movement and is an homage to Carlos Diez, Jesus Soto, and Alejandro Otero, all masters of kinetic Op Art. It traverses the artist's research into the behavior of the characteristic forms of the materials used: Plexiglas, iron, copper, bronze, silver, and brass. This unique piece is made with Plexiglas and white gold plated on sterling silver. Each element is hand finished through a laborious grinding and polishing process to ensure maximum shine. Featured in the Artistar Jewels exhibition and publications.
MID-CAREER ARTIST
Artist: Clarisa Menteguiaga
Gallery: Mydaybyday Gallery
Contact: Laura H Aureli
Retail: €350
Argentinian artist Clarisa Menteguiaga is featured this month at Mydaybyday Gallery, in Rome, with a beautiful brooch from her series Mudar Pelaje—Changing Skin, in reused paper and steel. A new start in 2021! "In this quarantine, many animals have been seen returning to places where they have not dwelled for a long time, either due to the silence, the absence of human activity, the lack of water, or just out of curiosity for a place that was taken from them some time ago. A gray wolf was seen for the first time in 100 years in the north of France; deer, otters, cougars, wild boars, crocodiles, and hundreds of other animals were spotted in usually human-dominated areas. This capsule collection project I worked on this year refers to the need for a change of our focus as a species, becoming more aware of the importance of other species and the need to preserve their resources and vital spaces." —Clarisa Menteguiaga
EMERGING ARTIST
Artist: Alejandra Ferrer
Gallery: Gallery Tereza Seabra
Contact: Tereza Seabra
Retail: €2,150
Alejandra Ferrer is a young Colombian jeweler freshly graduated from Ar.Co, in Lisbon. She is also a chef and brings the kitchen to the workbench, exploring all the possibilities an egg can give. From the egg yolk to the membrane or the eggshell, layer by layer, Alejandra transforms this material into beautiful and mysterious pieces of jewelry. "If the work is thorough and detailed, there I am. If the work is to transform matter, there I am. If the job is to follow steps, or ignore them, there I am. If the work is a ritual, there I am. If the work seems like a game, there I am. If the work is a memory, there I am. If the work can make someone happy, there I am. If the work is a love story, there I am. If the work creates anguish and goes with me everywhere, there I am. And there I am always in the workshop, always in the kitchen." —Alejandra Ferrer
EMERGING ARTIST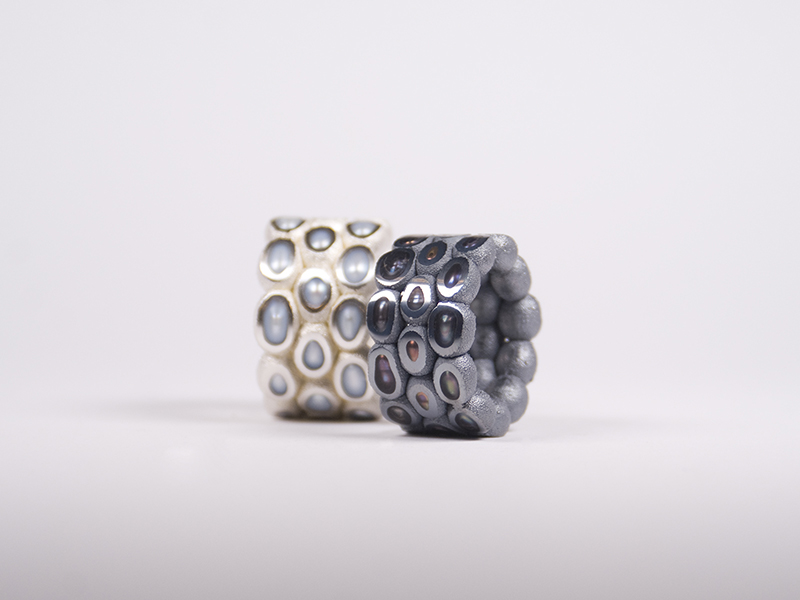 Artist: Ambroise Degenève
Gallery: Galerie Noel Guyomarc'h, bijoux et objets contemporains
Contact: Noel Guyomarc'h
Retail: CAN$2,350
Ambroise Degenève received a bachelor's degree in jewelry and accessory design from the Haute École d'art et design (HEAD) in Geneva, Switzerland, in 2010. He opened his own studio in 2011, after a year as an assistant at Jean Grisoni Studio in Paris. Since then, his work has been selected for many solo and collective exhibitions in Europe and the United States. Though resolutely contemporary, his work is known to revisit ancient techniques. Strong and present, with a unique and raw character, his jewelry is a real anachronism. In this most recent collection, he uses various techniques, among them electroforming. Accumulating copper around the pearls creates a solid and massive original setting. Degenève thus offers a notion of timelessness to his jewelry.
EMERGING ARTIST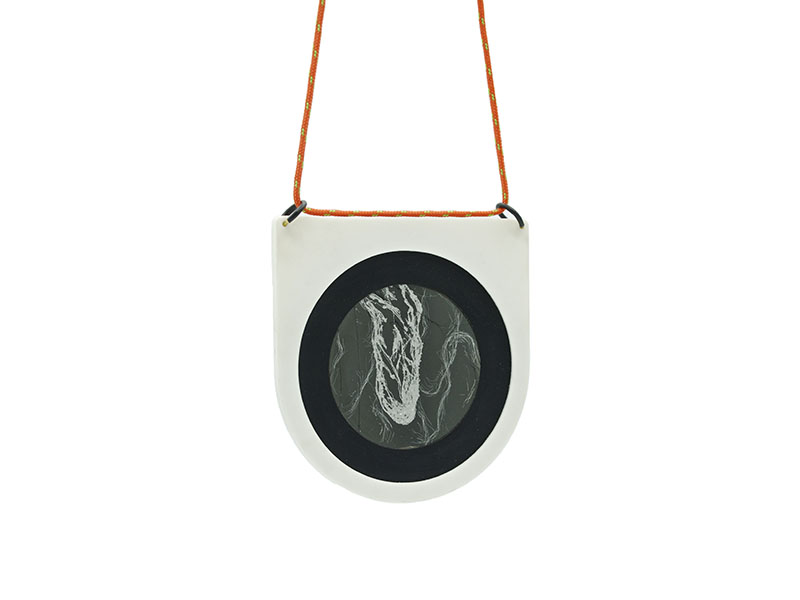 Artist: Sara Leme
Gallery: Galeria Reverso
Contact: Paula Crespo
Retail: €750
What would it be like to live with a face or inhabit a body that, without the help of the mirror, was known mainly through the eyes of others? Sara Leme's new body of work questions a relationship between the mirror and the present attachment to our digital identities. Are smartphones the mirrors of our days? By using broken and translucent phone screens as the main material, Leme's pieces reveal the beauty of a distorted reality, and provoke narcissist reflections, the same way that the specular image can be both a mentor and a deceiver.
EMERGING ARTIST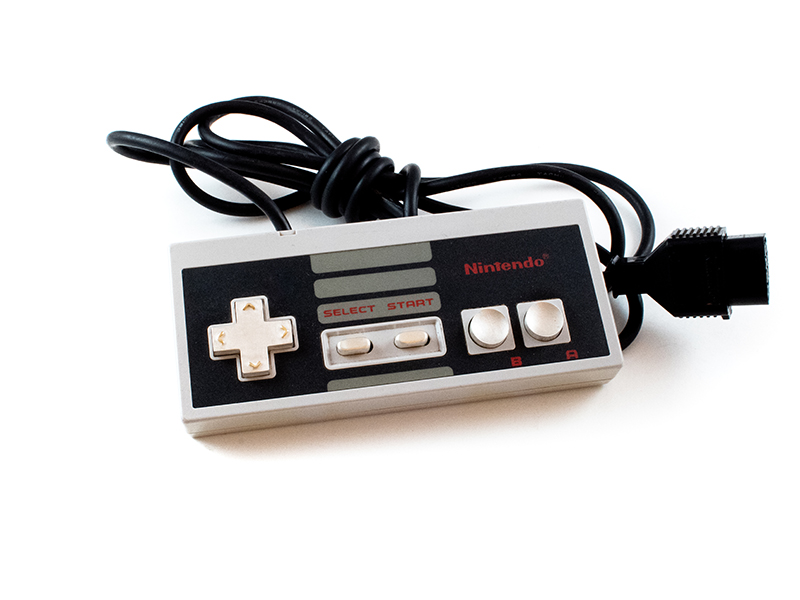 Artist: Kate Dannenberg
Gallery: Baltimore Jewelry Center
Contact: Shane Prada
Retail: US$565
Kate Dannenberg is a jewelry artist who lives and works in Philadelphia, PA. A graduate of the Rochester Institute of Technology, Dannenberg makes functional and decorate objects in addition to jewelry. All of her work is grounded in a firm belief in the importance of thoughtful craftsmanship. This piece, Buttons, explores the power of touch and tactile experiences while imparting a strong sense of memory and nostalgia. While maintaining her personal artistic practice, Dannenberg also helps run a jewelry cooperative, which she cofounded in 2018. She recently completed a residency as an emerging artist at the Baltimore Jewelry Center and was selected to be featured as an emerging artist at this year's Philadelphia Museum of Art Fine Craft Show.
GALLERY CHOICE
Artist: Linnéa Eriksson
Gallery: Four
Contact: Karin Roy Andersson
Retail: €780
Linnéa Eriksson's work is a reflection of her surroundings. Her creativity has its origin in the urban—the rough surfaces of the city—and in structured geometric shapes. She draws her inspiration from pieces of metal, from the feeling of a heavy beat, and from bursts of color from within spray cans. It's when fusing traditional goldsmith techniques with modern street expression that her jewelry finds its meaning.
GALLERY CHOICE
Artist: Jude Clarke
Gallery: Yun Gee Park Gallery
Contact: Scott Duerstock
Retail: US$1,275
Clouds over Rome, 1903 is from the Retrospectives series, by Jude Clarke. In this series, Clarke uses distressed rearview mirrors and antique stereographs to create dreamy pieces that reflect on the present while peering into the past, blurring the line between the two. This brooch/pendant was one of three of Clarke's to be featured in the Society of North American Goldsmith's Jewelry and Metals Survey, 2018.