There are so many reasons to purchase art jewelry: You got that hard-earned promotion—celebrate! You're experiencing a once-in-a-lifetime occasion and want to honor it. You wrapped up a major accomplishment and it's time to commemorate it, or you want to mark the beginning of a new relationship (or the end of one). Perhaps it's an investment, or the perfect piece to round out an aspect of your collection. Or maybe it's just to treat yourself—just because. Art Jewelry Forum's international gallery supporters celebrate and exhibit art jewelry. Our monthly On Offer series allows this extensive network of international galleries to showcase extraordinary pieces personally selected to tempt and inspire you. Take a look. You're bound to find a fantastic piece you simply have to add to your collection! (Please contact the gallery directly for inquiries.)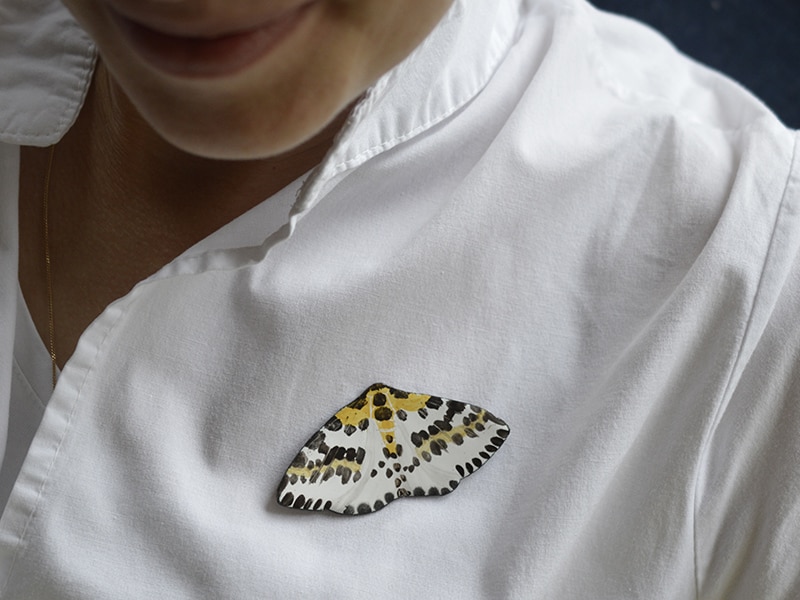 Artist: Jutta Klingebiel
Gallery: Ornamentum
Contact: Stefan Friedemann
Retail: US$1,500
The enamels of Jutta Klingebiel prove that scale isn't necessary to astound. Observations from a walk in the forest, Victorian-esque portraits, or details of an eye or a hand have found themselves the subjects of Klingebiel's jewelry. Unbelievable mastery and personal interpretation of a traditional and laborious technique rarely employed in our times, her enamels imbue us with solemn sentimentality. They reconnect us to fleeting memories of a moment, an encounter, an emotion. This moth brooch comes from her current exhibition, Flutter, which finds Jutta Klingebiel—whose enamels were first exhibited with Ornamentum in its second featured exhibition, 2003's Five Enamelists—enameling on stainless steel. She (mostly) forgoes the frames of a setting around the image. The painting creates the form, and the subjects are butterflies or moths. Using stainless steel as the underlying material creates a lightweight yet sturdy form for the works, which comprise a concise exhibition of only 10 brooches and two rings.
Artist: Andy Lowrie
Gallery: Baltimore Jewelry Center
Contact: Shane Prada
Retail: US$525
Andy Lowrie pursues contemporary expressions of jewelry-making that challenge hierarchies of material value and embrace a mindful exploitation of material and process. In acts of mark-making, surface manipulation, and erasure, he explores the potential of process as metaphor. Lowrie utilized his distinct technique of layering and removing paint in creating this brooch. His work has been exhibited in Australia, China, Italy, and North America, and has been professionally recognized with awards from Brooklyn Metal Works, in New York, and Mydaybyday Gallery, in Rome. He's currently a teaching fellow at the Baltimore Jewelry Center, in Maryland.
Artist: Sara Shahak
Gallery: Archivio Negroni
Contact: Eliana Negroni
Retail: €598
Sara Shahak took part in the recent editions of the Gioielli in Fermento Award, interpreting the metaphor of fermentation without departing from her medium and her working hypotheses, but rather finding new expressive ideas and the reinforced confirmation of her relationship with natural processes and artistic interventions in recovering and re-appropriating the meaning of objéts trouvés and production waste.
Artist: Karin Seufert
Gallery: Jewelers'werk Galerie
Contact: Ellen Reiben
Retail: US$1,580
Very bold and very red PVC earrings from Karin Seufert's 2016 body of work. A gallery favorite!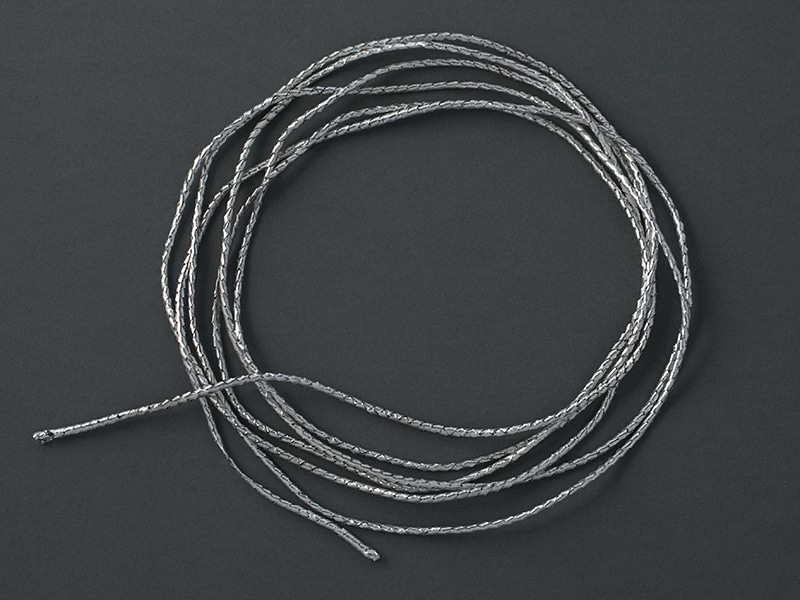 Artist: Ammeli Engström
Gallery: Four Gallery
Contact: Karin Roy Andersson
Retail: €1,800
Ropes, weaves, and baskets are made to carry and to be carried. They're made of interlaced bands that create strong materials. The techniques are often associated with traditional female crafts, but the hands that tie, braid, and bind are not gentle hands—they are tough, persistent, and strong. Ammeli Engström makes her weaves and ropes of fine silver. She investigates narratives of traditions and identity and the concept of function through jewelry. Thin metal bands are turned into a soft material with a shimmer that gives a hint about the origin and strength of the material.
Artist: Andrea Wippermann
Gallery: Galeria Tereza Seabra
Contact: Tereza Seabra
Retail: €7,700, plus shipping
Strange gardens … places of longing or usefulness. They're as diverse and unique as the people who live in them! Andrea Wippermann is a master metalsmith. Her work is strong, elegant, and exquisitely made.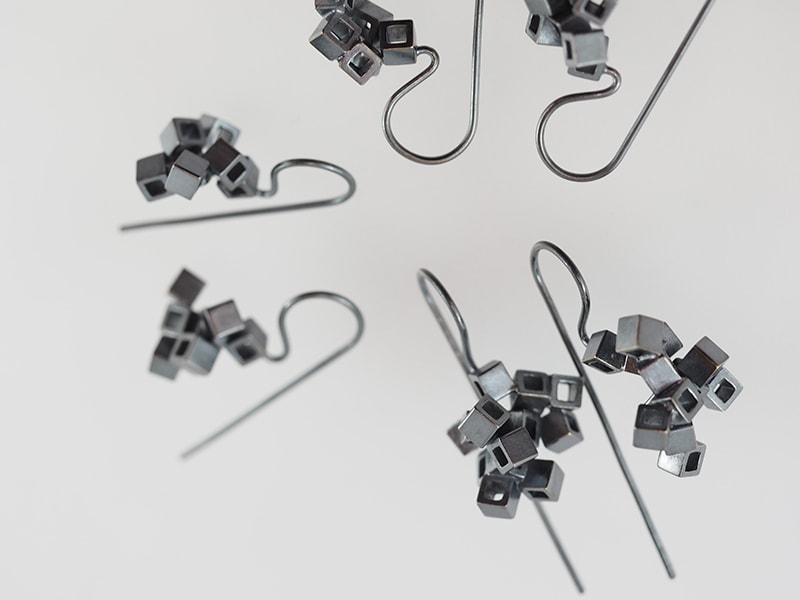 Artist: Angela Giuliani
Gallery: Zu design
Contact: Jane Bowden
Retail: Small, AUS$685; medium, AUS$810; large, AUS$925
Angela Giuliani is an emerging South Australia-based artist who studied visual art and contemporary design between 2009 and 2015 at TafeSA and The Jamfactory. During this time she also undertook a mentorship with us at Zu design. Giuliani explores her passion for architecture and design, taking simple geometric shapes seen in her daily life and creating mini wearable structures of precious metals and gemstones. She is passionate about hand making—quality not quantity—and as a result creates small runs of designs on request, basing her art practice on commissions and exhibition work. She is currently working from Zu design.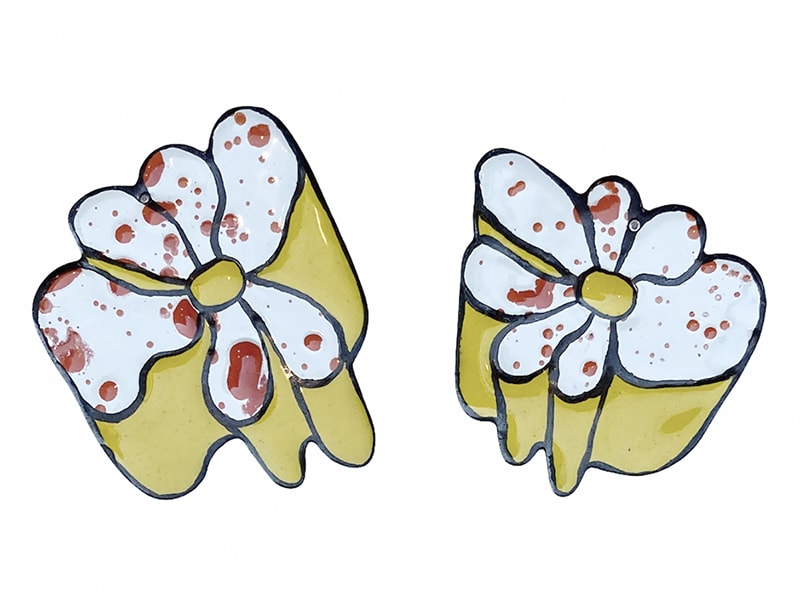 Artist: Aurélie Guillaume
Gallery: Galerie Noel Guyomarc'h, bijoux et objets contemporains
Contact: Noel Guyomarc'h
Retail: CAN$320
Joyful summer earrings by Aurélie Guillaume. She created a limited series of earrings, very cartoonish and irresistible!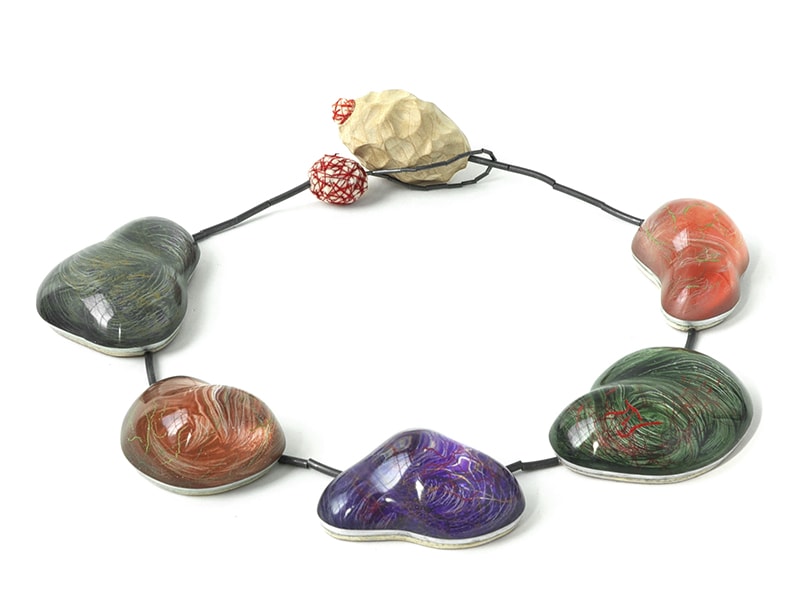 Artist: Beppe Kessler
Gallery: PLATINA Stockholm
Contact: Sofia Björkman
Retail: US$3,900
In Beppe Kessler's work, there is a strong interaction between drawings/paintings and jewelry. A painting can be the starting point of a brooch, and vice versa. She gives plain and low-value materials new meanings to enter a rhythmic line play together. There is a search for the most minimal form and at the same time a material feast that calls out for the viewer to touch. Kessler works in Amsterdam. She graduated from Gerrit Rietveld Academy in 1979. She has exhibited worldwide, has received awards for her excellent pieces, and a number of collections hold her work.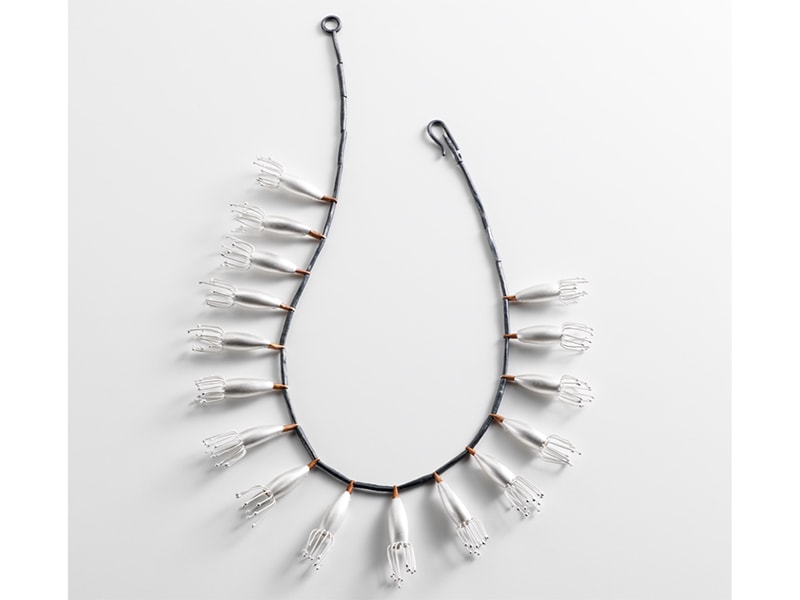 Artist: Julie Blyfield
Gallery: Funaki
Contact: Katie Scott
Retail: AUS$3,300
Julie Blyfield is one of Australia's most celebrated metalsmiths, with a career of over 40 years exploring the country's rich botanical heritage through highly crafted silver, most often chased and repousséd. Her work is found in major collections worldwide. The Bloodwood Flower necklace is a significant work from Blyfield's 2020 exhibition Embrace, responding to the famous Kimberley region in Australia's red center. The Desert Bloodwood tree (Corymbia opaca) produces a bright red sap used by Indigenous peoples for medicine, and the bark is used for wooden bowls. Blyfield has replicated the white flower of this important tree in a repeated series of silver elements that hang beautifully around the neck. The black and copper colors are reminiscent of the desert country this piece comes from. Both eminently wearable and worthy of a museum collection, this work is a stunning example of Blyfield's recent work.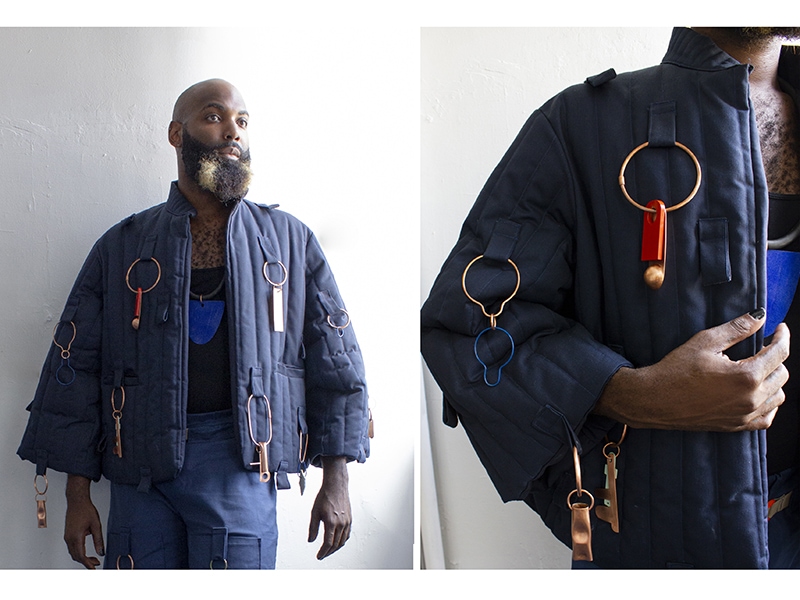 Artist: Naama Levit and Hilla Shapira
Gallery: In the Gallery at Brooklyn Metal Works
Contact: Brian Weissman
Retail: US$4,200
Site Non Specific is a collaborative project by Naama Levit and Hilla Shapira composed of jewelry and clothing. Examining notions of utilitarian objects, the jacket is designed with attachment loops that suggest interchange. The detachable copper pieces are part of the textile and can be reattached in different configurations. Shapira's work questions the design norms of functional mundane objects and the political aspects of everyday things in relationship to the body. Levit's multidisciplinary approach explores objects, materials, landscape, and memory relationships through jewelry and installation. This project was created during Levit's designer in residence at Emma Kreativezentrum, Pforzheim, Germany.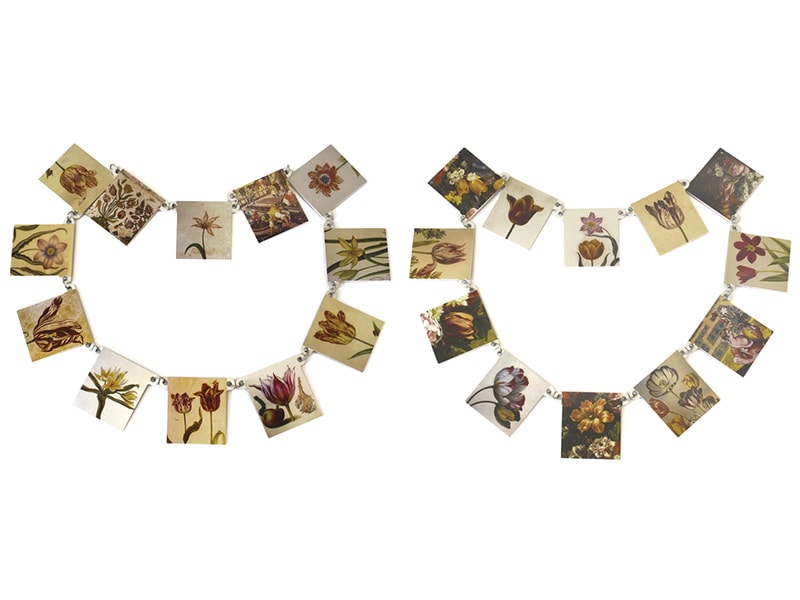 Artist: Herman Hermsen
Gallery: Galerie Spektrum
Contact: Jürgen Eickhoff
Retail: €850
This necklace is sooooo Dutch—just buy it!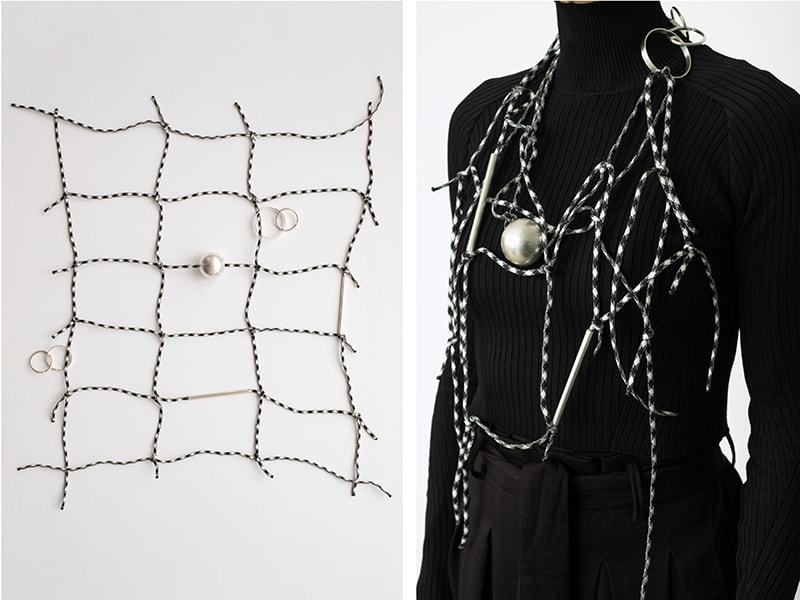 Artist: Leonor Hipólito
Gallery: Galeria Reverso
Contact: Paula Crespo
Retail: €2,100
"This work, a grid in black and white ribbon in which fragments of silver are thoughtfully placed to allow it to fold into a necklace, is one of a kind in the project While They Sleep They Dream," says Leonor Hipólito. "Having as focal point the sensible, animal-like quality of nature as being our life's propelling force, this jewel is in particular about playful interaction. The relevance of it lies also in the fact that it is an actual and unique gesture in my 22-year career, a long-established reflection on the nature of being human."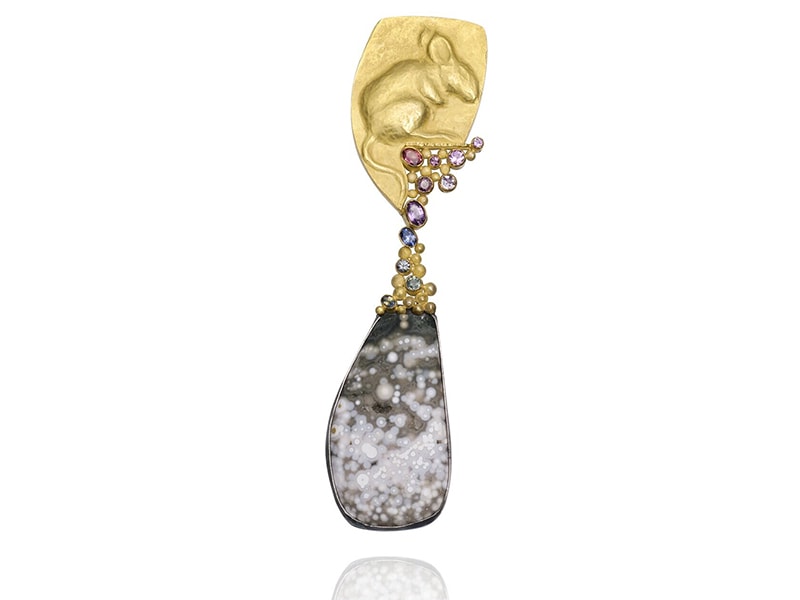 Artist: Linda K. Priest
Gallery: Metal Museum
Contact: Alicia George
Retail: US $4,970
Using the ancient technique of repoussé, Linda K. Priest pairs animal forms with minerals, crystals, and precious stones to create nature-inspired works of wearable art. A skilled lapidary, she hunts down the perfect crystals and stones to complement the repoussé elements in her jewelry. Priest's work has received awards in several craft jewelry shows and been featured in numerous publications, including Metalsmith, Ornament, and Art Jewelry magazines.
Artist: Pedro Sequeira
Gallery: Galerie Marzee
Contact: Marie-José van den Hout
Retail: €1,135, plus VAT
"In my practice as a jewelry artist," says Pedro Sequeira, "I am more interested in reviewing or commenting on the field itself: how can jewelry be understood? At a time when technology is gaining ground in all human activities, I have a tendency to fight against it, go back to the essential and think about a piece of jewelry by relating contents such as materials of everyday life and bringing them together in an archaic way or, in other words, a simple gesture."
Artist: Paul Mason
Gallery: Fingers Gallery
Contact: Lisa Higgins
Retail: NZ$1,100
Paul Mason began as a jeweler working with traditional Pacific materials—"bone, stone and shell"—in the 1970s. He has continued his career over some 40+ years in design, metal work, and photography, as well as both small- and large-scale sculptural work in bronze and stone.
Artist: Sébastien Carré
Gallery: Mydaybyday Gallery
Contact: Laura H Aureli
Retail: €1,550
This month, Mydaybyday Gallery, in Rome, features the beautiful artwork of French artist Sébastien Carré: his 2019 necklace, Factor Growth, in Japanese paper, pearls, beads, cotton, silk, nylon, jade thread. This necklace was made following research centered on the use of beads, around several numbers often used in his work but most of the time not really visible (1/3/5/7/13/15/21). Here this work allows him to create symmetry, a color gradient, and the creation of a mathematical rule for the growing of a side of the necklace, its change of color, and the use of pearls. Using mathematics (which tend to symbolize life) to fabricate this piece is a way to show us that once we forget all our differences, all living forms are connected through the way we grow (we all come from one single cell) and we are all made of the same primordial elements.
Artist: Ute Kolar
Gallery: Thereza Pedrosa Gallery
Contact: Thereza Pedrosa
Retail: €790, with free shipping
This ring by Ute Kolar is immediately striking for its strong sculptural impact, due to her use of voids and solids, light and shadow, which she plays with expertly. Her work is magnificent when admired from afar, but comes to life when worn and in motion.