Art Jewelry Forum's extensive network of international
gallery supporters
is dedicated to celebrating and showing art jewelry. On Offer is a monthly series that allows AJF galleries to showcase a piece that they've personally selected to tempt and inspire you. Please contact the gallery directly for inquiries. Enjoy!
MUSEUM WORTHY
Artist: Takashi Kojima
Gallery: Galerie Rob Koudijs
Contact: Rob Koudijs
Retail: €6,250
Takashi Kojima's jewelry pieces seem to originate from graphic novels—they appear to be some sort of versions of the frequently featured Transformer characters. And that's exactly what this jeweler's work is capable of: the pieces can merge into different functions. A piece is often composed of several parts that can be worn separately. Precisely that aspect is what's essential to Kojima: He makes his jewelry specifically to be worn. In that respect, he's a chip off the age-old block—blurring the boundaries between fine and applied art, between superior craftsmanship and the daily handling of an object, is essentially Japanese.
MUSEUM WORTHY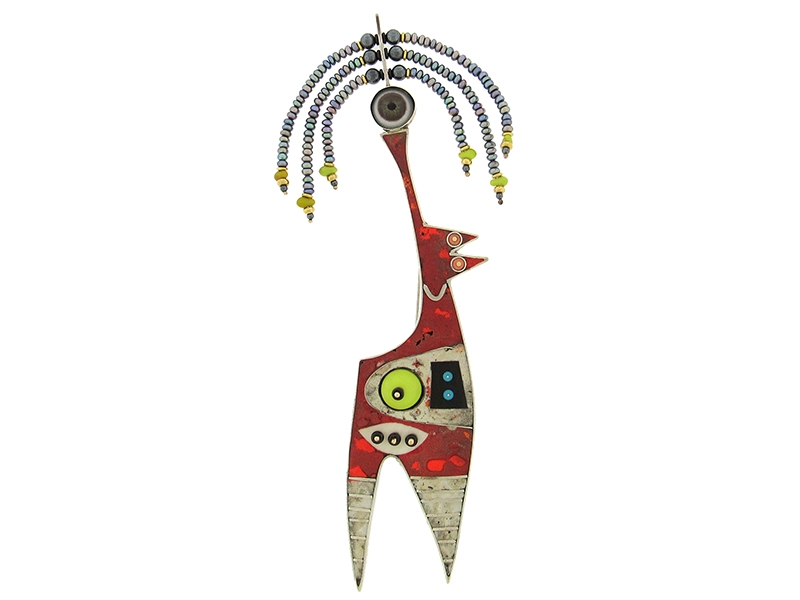 Artist: Tod Pardon
Gallery: Aaron Faber Gallery
Contact: Patricia Kiley Faber
Retail: US$2,400
Tod Pardon's iconic sculptures are, as he notes, "influenced by elements that are vast, varied, and personal … from trips through Africa and Mexico, as well as stories told to me by friends who were travelers throughout my life. I learned that life is an expression of inherent duality and instability. It holds contradictions of anxiety and humor, good and evil." Pardon's brooch-sculptures are the best known of his works, each unique and with a title, bold in color and scale, and accompanied by wooden stands to display them when they're not being worn.
MUSEUM WORTHY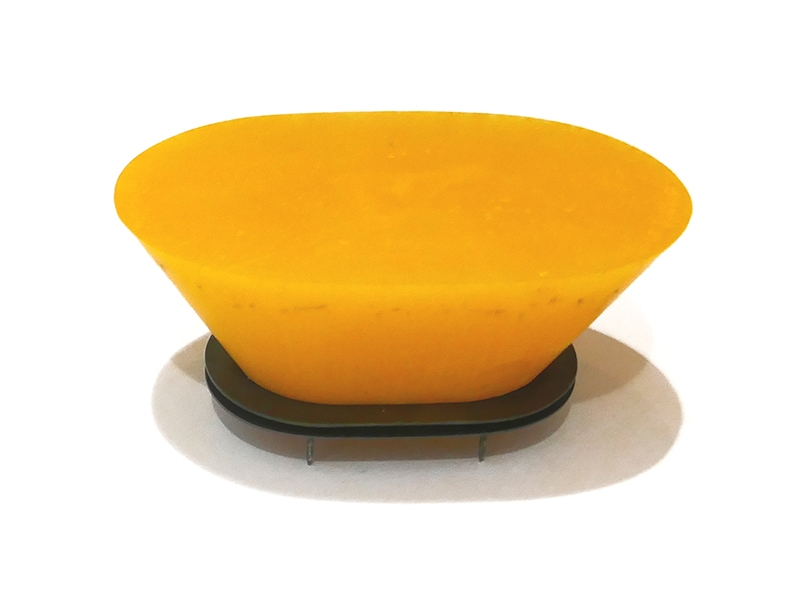 Artist: Ruudt Peters
Gallery: Galerie Spektrum
Contact: Jürgen Eickhoff
Retail: €3,000
This brooch is part of the new SUCTUS-serie by Ruudt Peters. It is perfect in form and proportion and would be a highlight in any collection.
MUSEUM WORTHY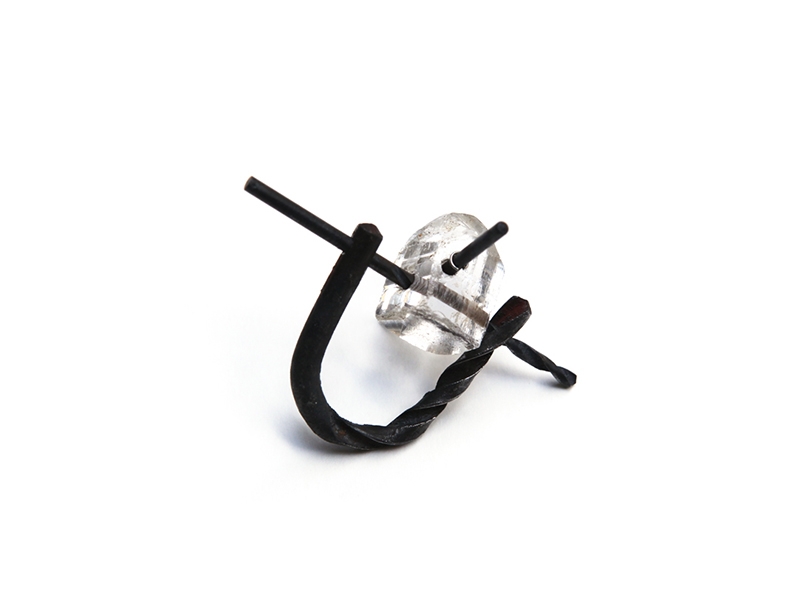 Artist: Bernhard Schobinger
Gallery: Gallery S O
Contact: Katharina Dettar
Retail: £9,000
"The gimbal, also called Cardan suspension, was first described by Gerolamo Cardano (1501–1576) and was already known in pre-Christian times, both in the East (China) and in the West. The use of the Cardan suspension in art as well as in contemporary jewelry isn't new. In this piece, a well-known classical principle is employed: a pair of hinges oriented at 90 degrees to each other allows the ring to pivot as in a ship's compass. However, it should be pointed out that the technical side of the work is secondary. On the contrary, the ring alludes to symbolic meanings, metaphors, and metaphysical sensibilities which evade rationality and codified language. The artwork hides a secret: the immaterial!" —Bernhard Schobinger, 2019
MUSEUM WORTHY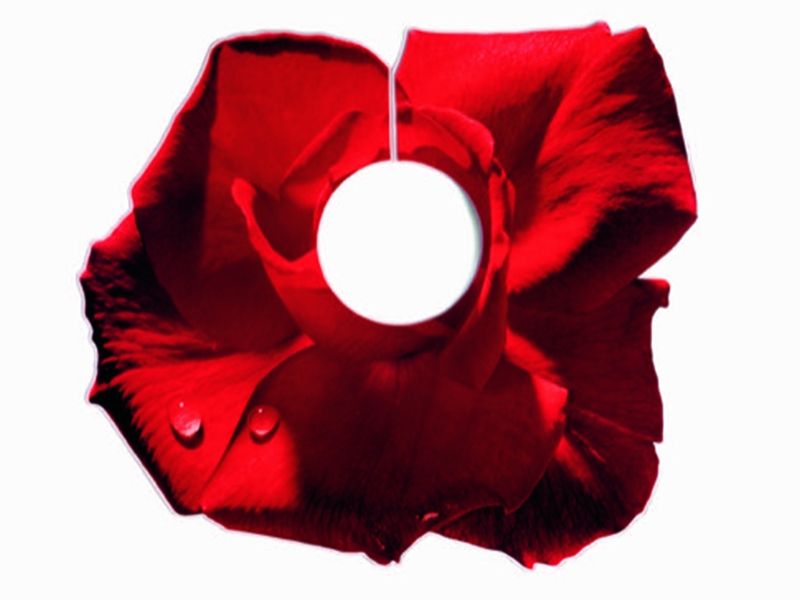 Artist: Gijs Bakker
Gallery: Helen Drutt: Philadelphia
Contact: Helen Drutt
Retail: €3,000 + shipping
An icon of contemporary jewelry, Dew Drop is one of Gijs Bakker's most expressive examples of adornment harmonized with the body. Due to a recent discovery of the original film, Dew Drop is now available. Edition number 39 is the piece listed here. Additional works in this edition can be ordered. Previous works in this edition have entered international public and private collections.
MUSEUM WORTHY
Artist: Annamaria Zanella
Gallery: Gallery Loupe
Contact: Eileen David
Retail: US$6,700
Italian artist Annamaria Zanella is best known for her research into materials and the inherent poetry of the design process. These inspirations are revealed in her Fortuny series, originally created for her 2012 exhibition at the Palazzo Fortuny—the original site of the workshop of fashion/textile designer Mariano Fortuny, who was well known for his iconic pleating technique. Through her meticulous craftsmanship, Zanella echoes the delicacy of the pleating in this trio of earrings.
ESTABLISHED ARTIST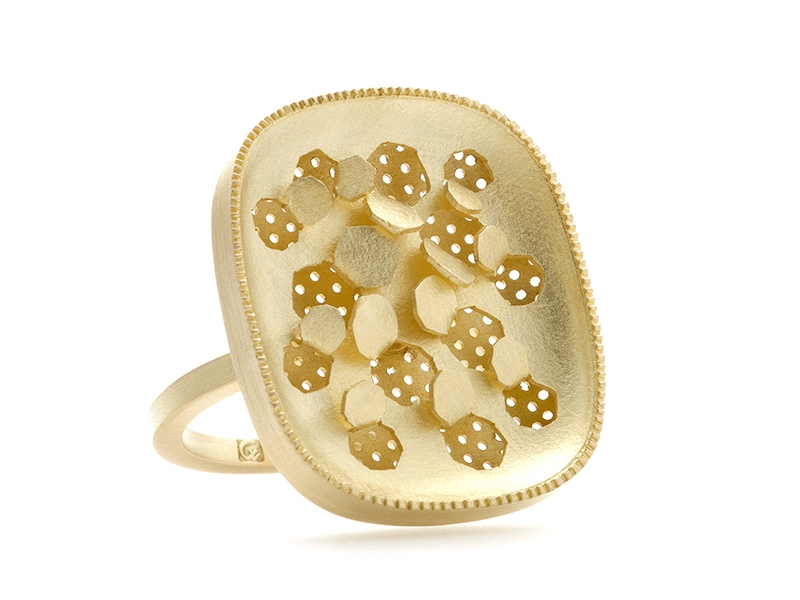 Artist: Christel van der Laan
Gallery: Irene Belfi
Contact: Irene Belfi
Retail: €2,400
Central to Christel van der Laan's practice is a love of materials and how they can be transformed into poetic jewelry objects. Since 2008, she has worked with ceramic honeycomb, a refractory material on the jeweler's workbench. A collector of all manner of things since childhood, she searches for carefully considered relationships between sometimes-disparate elements, with the intrinsic qualities of the materials as her starting point. Placed together, the mundane, the discarded, and the overlooked invite the viewer and wearer to discover and value jewelry in a new way. "I love the intimacy of making small-scale jewelry objects but I also enjoy creating beautiful interiors," says van der Laan. "When the elements of form, color, texture, scale, and contrast come together to create something that fills you with complete and utter joy every time you look at it, it is a special moment. For a perfectionist like me, I have to have this feeling in order to finish a piece."
ESTABLISHED ARTIST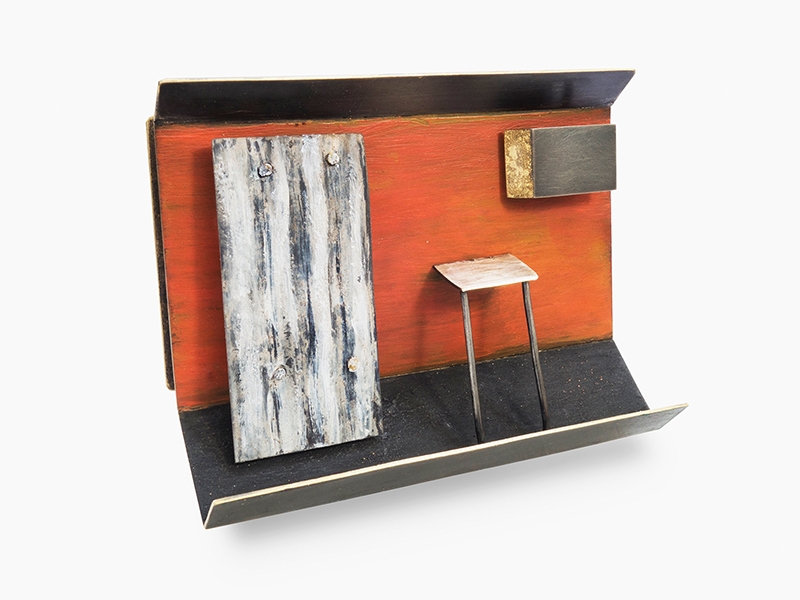 Artist: Judy McCaig
Gallery: Galerie LA Joaillerie par Mazlo
Contact: Céline Robin (curator)
Retail: €990
Judy McCaig's mixed media approach evokes the notion of environments or areas of interaction. Her work questions human vision, the way mankind contemplates the world and comes into contact with what surrounds her/him. This brooch is part of her latest series, A Room of One's Own, named after Virginia Woolf's book, and can be read as a miniature screen or window wide open onto the world and placed on the chest of its wearer. The volumes of a room moving like in a pop-up book suggest a continuum between the time and space of the representation and what could overflow or escape from this structure. McCaig is a Scottish art jeweler, printmaker, and painter who has lived and worked in Barcelona since 1991. She completed an MA at The Royal College of Art in London. She currently teaches at the Massana School of Art and gives workshops at Taller Perill, Barcelona, also acting as visiting lecturer in schools worldwide. Her work is part of many public and private collections and has been shown extensively around the globe. She has notably participated in some pioneering exhibitions, such as Jewellery Moves, at the National Museum of Scotland.
ESTABLISHED ARTIST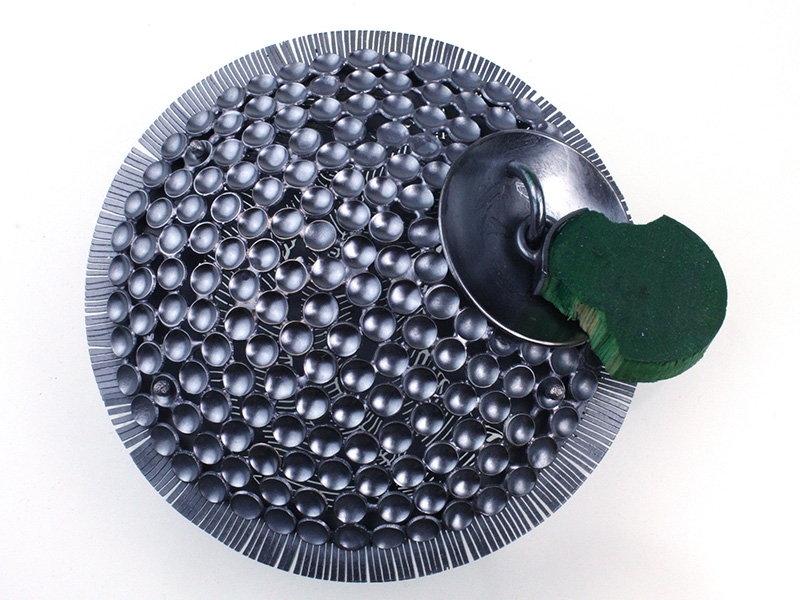 Artist: Teresa Faris
Gallery: Taboo Studio
Contact: Jane Groover
Retail: US$1,600
Artist Teresa Faris's series Collaboration with a Bird features pieces that explore human identity as it relates to our coexistence with animals. Faris uses cast-off materials, including perches and wood that have been altered and discarded by her captive bird. The work includes sterling silver and/or gold support structures.
ESTABLISHED ARTIST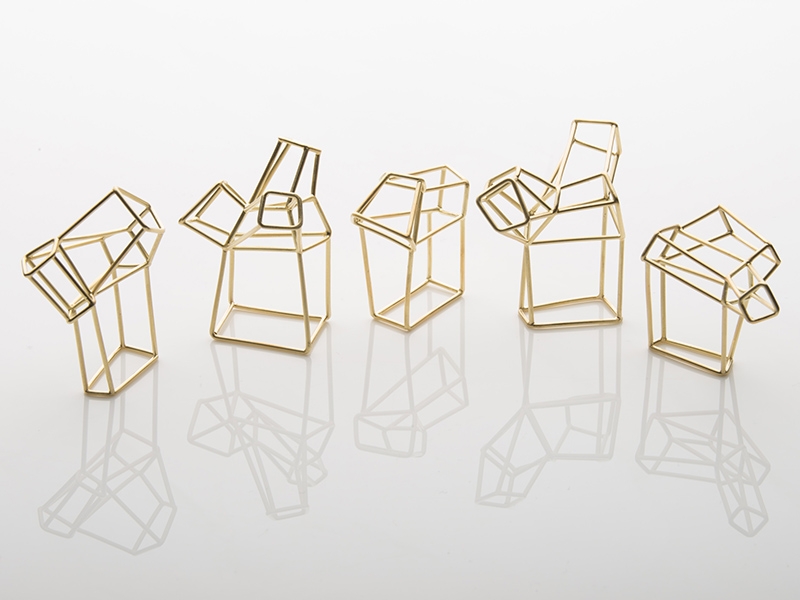 Artist: Carlier Makigawa
Gallery: Gallery Funaki
Contact: Katie Scott
Retail: AUS$1,600–$1,900
Since the early 1980s, Carlier Makigawa has been a name synonymous with Australian contemporary jewelry. Her effect on the field has been profound, both through her own practice and in her contribution to education here in Melbourne. Carlier's fine wire structures contain varied and complex evocations: the delicacy and intricacy of botanical specimens, the monumentality of rock formations, the microscopic wonder of crystal structures, even the planes and angles of modern architecture. On the body, they have a cool reserve and a paradoxical, peculiar generosity; their scale and wearability reveal an instinctive understanding of human form and of the ways we wear and love jewelry.
MID-CAREER ARTIST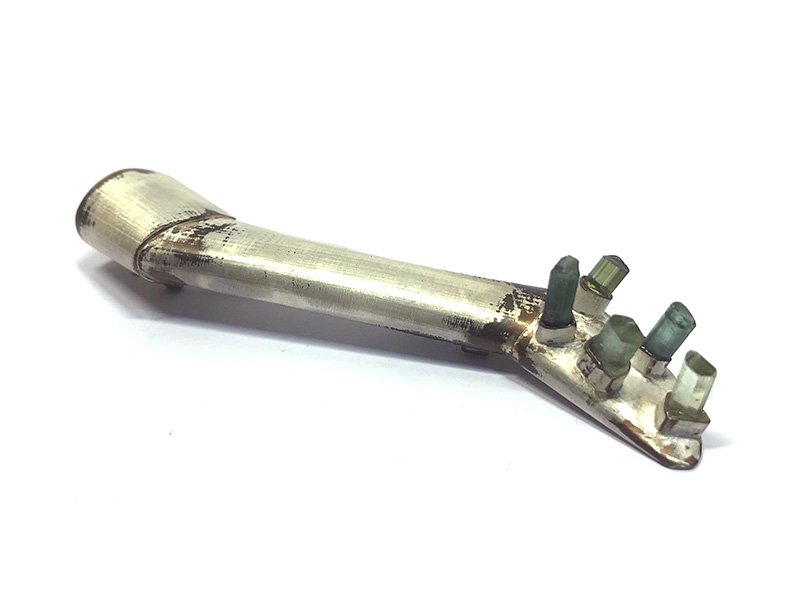 Artist: Estela Saez
Gallery: Ornamentum
Contact: Stefan Friedemann
Retail: US$1,900
Made during Estela Saez's years living and working in Cairo and textured from papyrus leaves native to Egypt, this brooch resembles an arm with tourmaline fingers. A unique and beautiful piece in form, texture, and finish, crafted in a striking but easily wearable scale.
MID-CAREER ARTIST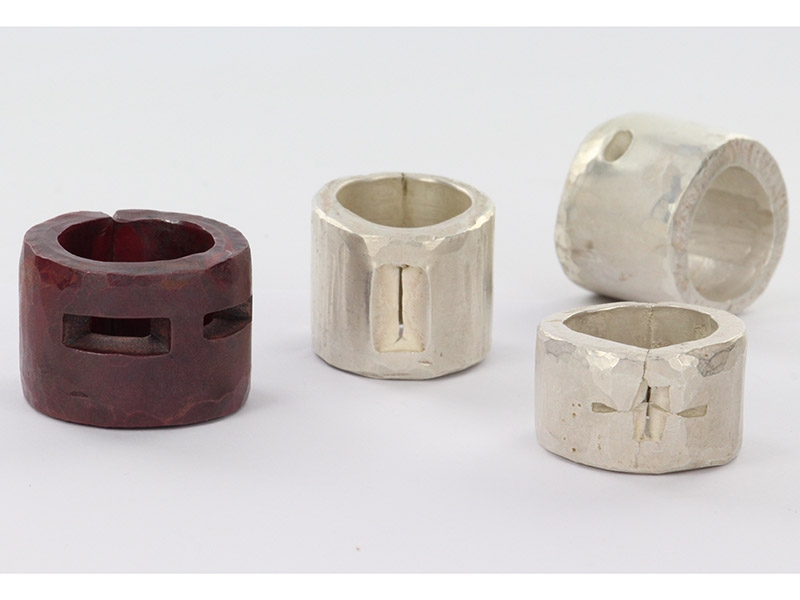 Artist: Annie Sibert
Gallery: Galerie Elsa Vanier
Contact: Elsa Vanier
Retail: From €940
Annie Sibert's jewels are born from a double necessity—a sensibility imbued with the universes of contemporary artists such as Franz West or Erwin Wurm on the one hand, and a workshop practice on the other, a place where she strives to divert traditional tools or to reinvent gestures in metalwork. Recently, her practice has been enriched by working with crystal makers during a residency at the Lalique factory in France and, since 2015, alongside Ms. Hong Jung-Sil, Korean living treasure, who accepted to teach her the South Korean technique of Ipsa, a kind of damascene.
MID-CAREER ARTIST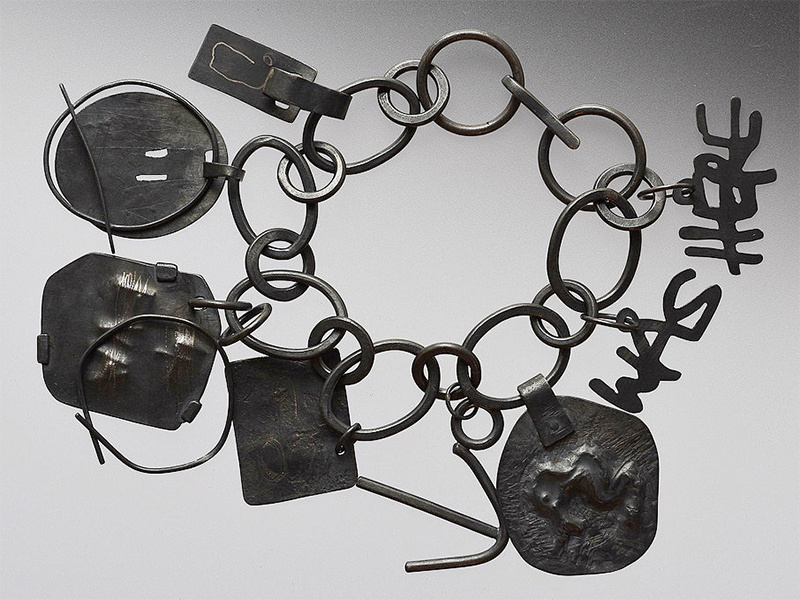 Artist: Vanessa Arthur
Gallery: Fingers Gallery
Contact: Lisa Higgins
Retail: NZ$690
"I excavate small moments in time, capturing these through the jewelry and objects I make. The often-overlooked elements within the streetscape are my muses: buffed walls, wet cement scrawling, fragments and objects left behind in the rush. An exploration of the marks we make. And the mark we make. The biography of these objects, materials, and spaces is what interests me. Uncovering and adding to the mostly anonymous and constantly evolving stories they collect." —Vanessa Arthur, 2017
MID-CAREER ARTIST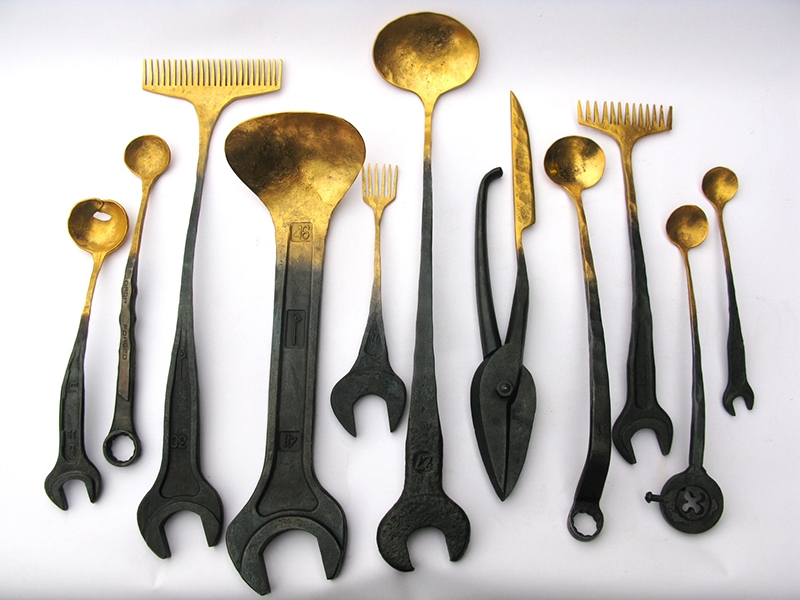 Artist: Nils Hint
Gallery: Baltimore Jewelry Center
Contact: Shane Prada
Retail: Each US$165
Nils Hint is a blacksmith and artist who lives and works in Estonia. An accomplished metalsmith, his work ranges from jewelry to sculpture and installation pieces. Working primarily in iron, he seeks to push the material beyond its practical applications and elevate it as conceptual source. Hint utilizes found iron objects in his work and he enjoys collecting old tools, which he uses both as instruments and materials for new work. These objects are made of forged steel that has been gold plated.
MID-CAREER ARTIST
Artist: Sarah Holden
Gallery: Gallery 2052
Contact: Nora McCarthy
Retail: US$2,000 for entire work, or $125–$300 for individual canvases
Sarah Holden creates sculpture, works on canvas, one-of-a-kind jewelry, and limited production jewelry. She uses traditional and nontraditional craft techniques in steel, silver, gold, and fiber in order to investigate gender associations in material. Her current series of image-based work is crafted by depositing carbon soot from an acetylene torch directly on canvas; it is then precisely removed with jewelry polishing tools, leaving a gray-scale image of her one-of-a-kind jewelry 10 to 25 times the original size. These are currently on display at Gallery 2052 for Holden's solo exhibition, Bit, Sliver, Curve.
EMERGING ARTIST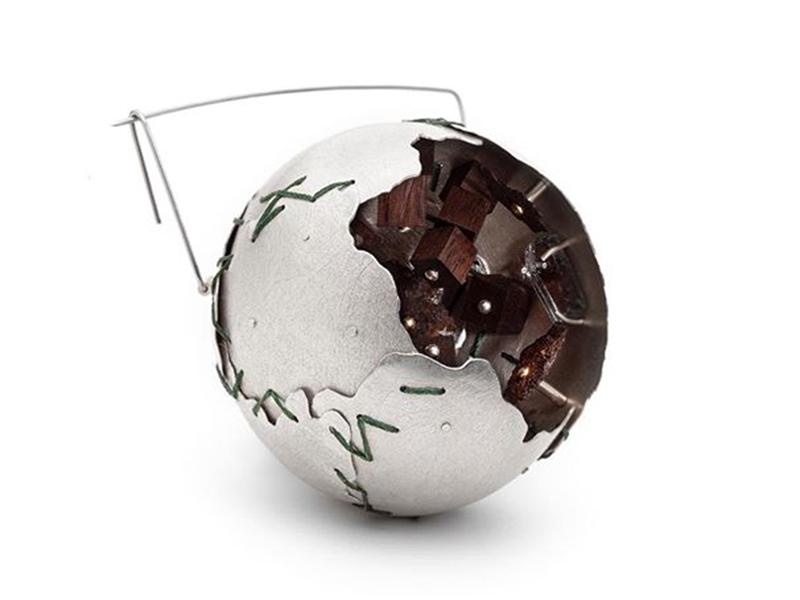 Artist: Justine Bonnin
Gallery: L. A. Pai Gallery
Contact: Lisa A. Pai
Retail: CAN$1,550
Originally from France, Justine Bonnin lives and works in Montréal. A graduate of the École de Joaillerie de Montréal, she won the L.A. Pai National Jewellery Student Competition. Marrying corroded objects with defined, smooth-surfaced forms, her highly intriguing work carries the complexity of her own story. This piece, from the collection Phases Iteratives, exemplifies her work.
EMERGING ARTIST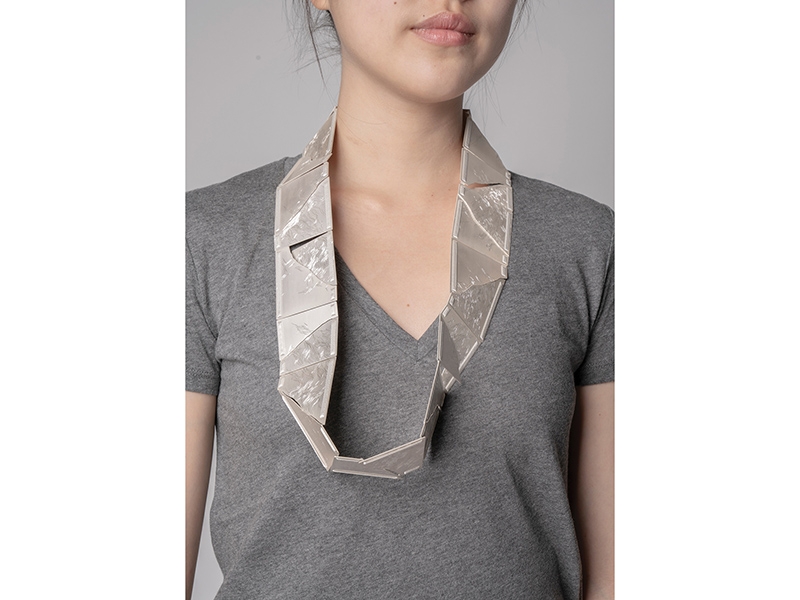 Artist: Valerie James
Gallery: In the Gallery at Brooklyn Metal Works
Contact: Brian Weissman
Retail: US$1,600
Valerie James's work conveys her interest in movement, mapping, and mark-making. James observes the patterns and pathways that a body takes in its everyday routines and finds parallels within her studio practice. Engraving a sheet of metal is a process of ritual much like the act of walking. By physically embedding her movements into the surfaces, James evidences a tangible relationship to the ephemeral. Through jewelry, she sees a connection to landscapes that are traversed by a body, conforming to existing pathways, and landscapes that are created by wearing, tracing the curves of our physical existence.
EMERGING ARTIST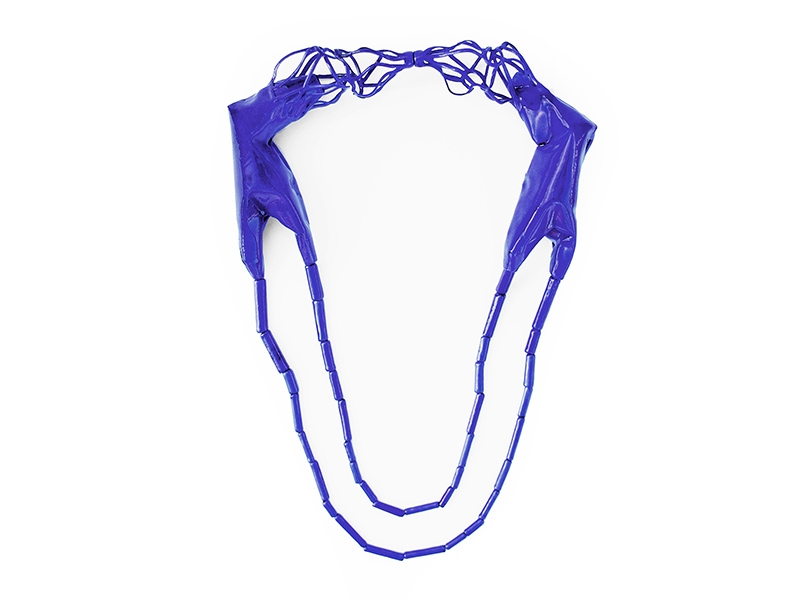 Artist: Carolina Gimeno
Gallery: PLATINA
Contact: Sofia Björkman
Retail: US$2,600
Carolina Gimeno allows conventional materials and techniques like enameling to attain a contemporary aesthetic. Mastering enamel requires knowledge, curiosity, and a certain dose of discipline. Gimeno is an artist from Chile but lives in Sweden. She obtained her MFA at Konstfack, University of Arts, Crafts and Design, in Stockholm, in 2014. Her work has since been shown in numerous international jewelry exhibitions in Europe, North and South America, and China. Her jewelry was recently exhibited in the show Schmuckismus, curated by Karen Pontoppidan, at Pinakothek Der Moderne, Die Neue Sammlung, in Munich.
GALLERY CHOICE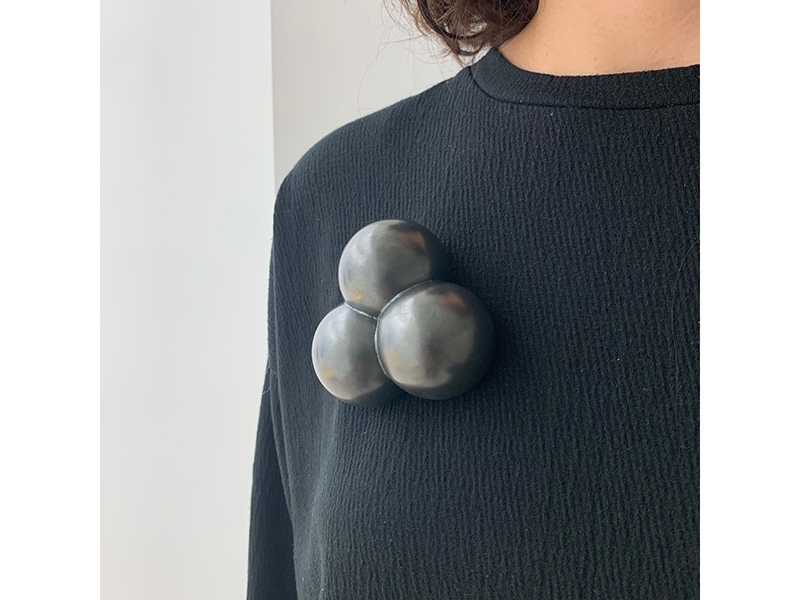 Artist: Noon Passama
Gallery: Galerie Beyond
Contact: René Darmont
Retail: €890
Extra Button is a series of form and material investigations starting from buttons (badges). In 2008, the project started with the idea of how people develop themselves to conform to the ideal images of a society or to be different from others. A button/badge, that mass-produced media pinned on clothing and carrying messages or images, is imagined as an individual whose appearance has been transformed in different ways. Extra Button is an ongoing project. Each series/edition is a new result by the way of constructing forms, the choice of materials, and any possible transformation derived from the basics of a button.
GALLERY CHOICE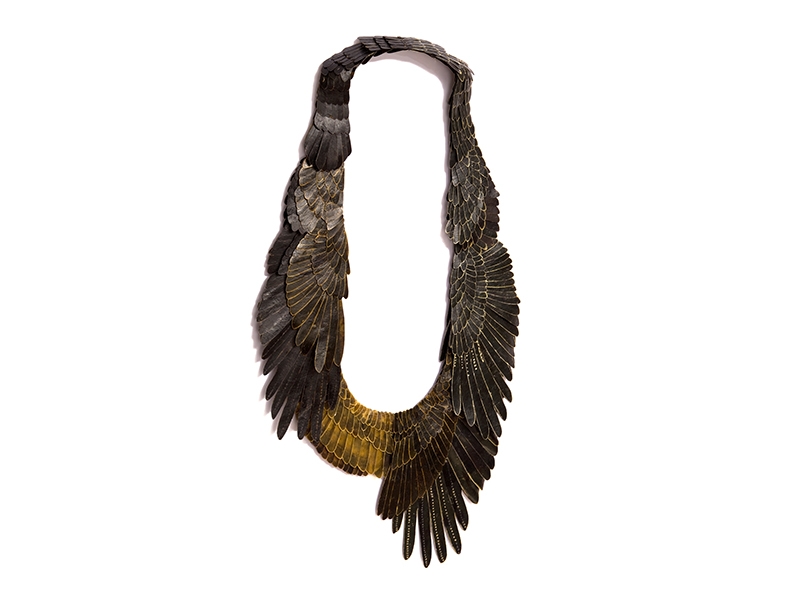 Artist: Eunmi Chun
Gallery: Galerie Noel Guyomarc'h
Contact: Noel Guyomarc'h
Retail: CAN$8,750
Wearing an impressive necklace in a dyed cow's intestine, cut into the shape of meticulously sewn bird feathers, imposes and changes our attitude and our appearance in front of others but also to ourselves. This representation of the bird is obviously not insignificant. The artist Eunmi Chun transforms the cow gut, a repulsive material, into an object of surprising beauty.
GALLERY CHOICE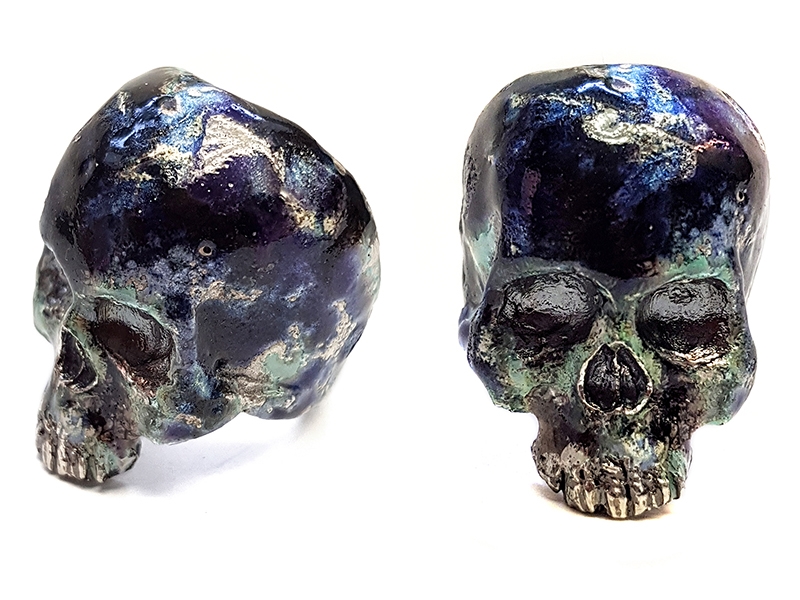 Artist: Tobias Andersson
Gallery: Four
Contact: Karin Roy Andersson
Retail: US$640
Rings can be very personal and intimate. You touch them, you move them around the finger, and they even affect the gestures and movement pattern of your hands. They are also highly social. They often work as conversation starters and radiate signals that sometimes tell stories about the wearer—not only whether they're married or engaged, but also about their personality. A ring could definitely give a hint that the person in the neat suit deep down has a rock 'n' roll heart.
GALLERY CHOICE
Artist: Esther Brinkmann
Gallery: Galerie Annick Zufferey
Contact: Annick Zufferey
Retail: 7,080 CHF (Swiss francs)
"Recently I have been living for nine years in China and India; that means living in very different cultures from ours. Those who travel in these countries are filled with images, human relationships, and experiences. And of course, when one is living there, this is even more true. What happens then is that you need to make space for the multiple impressions and the overwhelming waves of emotions. You need to leave something behind, and temporarily, you will not know quite well who you are. I started the work of the series Red Face and Double in China. These brooches reflect those doubts, the uncertainties that settle down in my awareness. By their visual means they could be seen as inspired by the art of the Sichuanese opera. The actor's challenge consists in changing his mask at such an incredible speed that the viewer cannot perceive the swing. All of a sudden, quite a different character is staring at you. In a less magical way, we all at certain moments show quite different faces. The question 'Who am I?' never gets a final answer. That's why I work again and again on new interpretations of the theme." —Esther Brinkmann
GALLERY CHOICE
Artist: Batho Gündra
Gallery: Patina Gallery
Contact: Allison Barnett
Retail: US$17,940
Precious stones in modern cuts are the foundation of maker Batho Gündra's extensive collection of one-of-a-kind adornment. Cylinder-shaped forms of high-karat gold caress inlaid pieces of rich coral. The matte surfaces of the coral are a lively and playful jest against the gleam of the textured precious metal. Delicately linked with strands of gold, they are adhered to the gold and coral elements from the inside, allowing their forms to move freely amongst each other in space. Gündra created a spring-loaded barrel clasp, an impressive mechanism that allows the necklace to elegantly close; the clasp then folds seamlessly into the rest of the piece when worn. Gündra composes a treasure created from adroit craftsmanship. A piece for one to behold and a marvel to admire.