Art Jewelry Forum's extensive network of international
gallery supporters
is dedicated to celebrating and showing art jewelry. On Offer is a monthly series that allows AJF galleries to showcase a piece that they've personally selected to tempt and inspire you. Please contact the gallery directly for inquiries. Enjoy!

MUSEUM WORTHY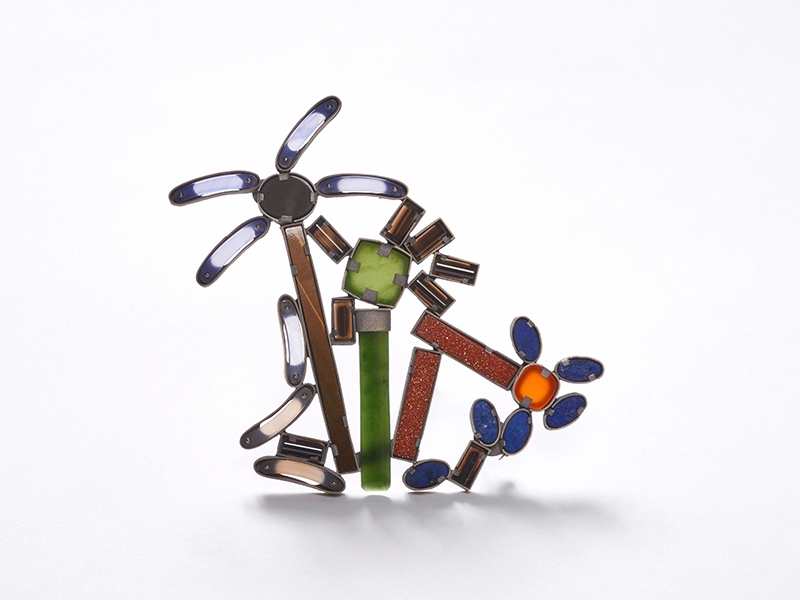 Galerie Rob Koudijs—"As we consume our planet, depleting the quota of resources earlier and earlier each year, it's difficult to justify the production of even more things. All I can do is carefully use up what I already have. These stones were collected over my lifetime, many surplus or seconds, cut by hands that can no longer be paid to do the work, in such masses that they still lie around in piles on tidelines of human activity, specific geographic locations resulting from trade shifts and economic failure. Some shapes meticulously formed by remarkable craftspeople, thin and fragile and delicate, a contradiction to the materials they are made from. Some cut long ago, in a world that no longer exists." —Helen Britton
CONTACT: Rob Koudijs
RETAIL: €3,950
MUSEUM WORTHY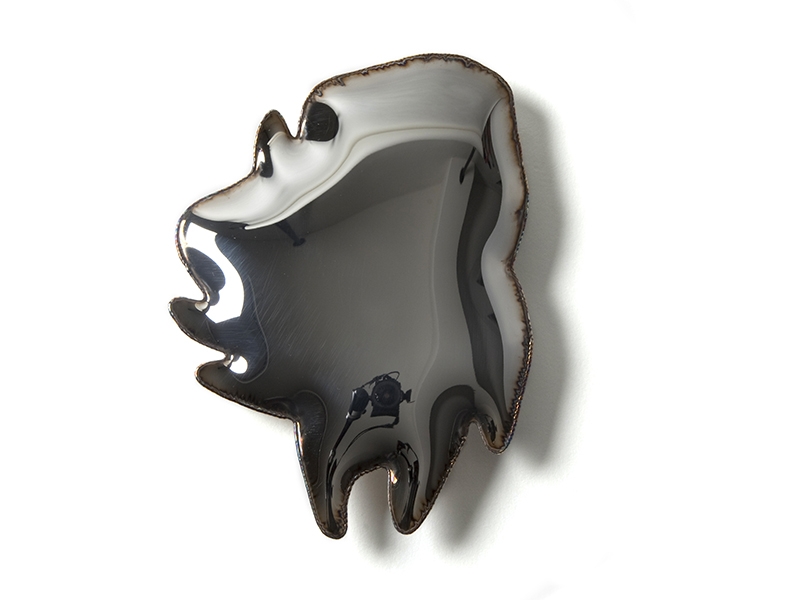 Four—These pieces by Shachar Cohen are time capsules that transport both old traditions and modern art expressions. Symbols, relics, or silhouettes with an unknown meaning are encased in a protective cover—a glossy surface that brings the ancient shapes into the future.
CONTACT: Karin Roy Andersson
RETAIL: €1,150
MUSEUM WORTHY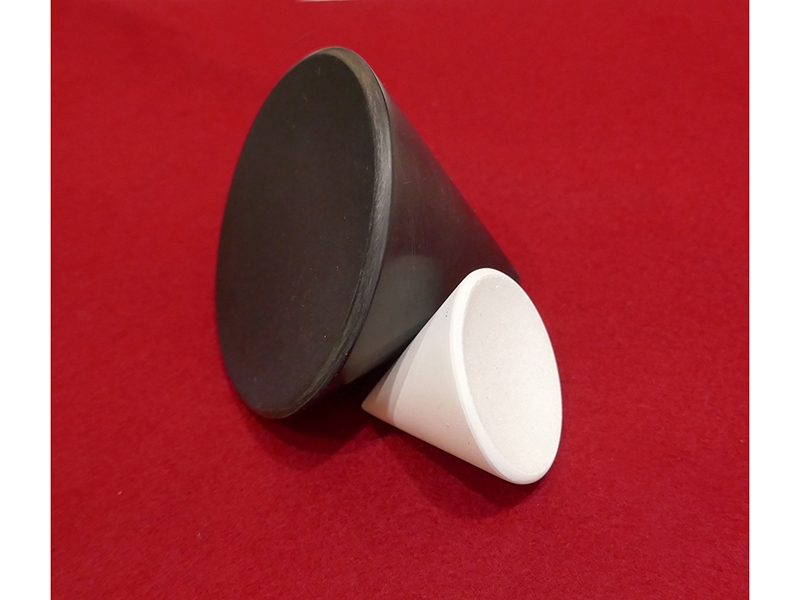 Galerie Spektrum—Florence Lehmann, born 1964 in Strasbourg, France, studied at the Ecole Municipal des Arts Décoratifs Strasbourg. She teaches contemporary jewelry with Sophie Hanagarth at ESAD, and has been a Strasbourg Founder Member of Corpus association since 1991. She was nominated to the Council of Métiers d'Art of the Ministry of Culture in 2002. Since 1987, she has designed and produced contemporary jewels and small sculptures for the body (unique models or small limited series) exhibited in galleries or museums, as well as small sketches and models for industrials. Lehmann is one of the most important French artists for modern, conceptual jewelry.
CONTACT: Jürgen Eickhoff
RETAIL: €2,400
MUSEUM WORTHY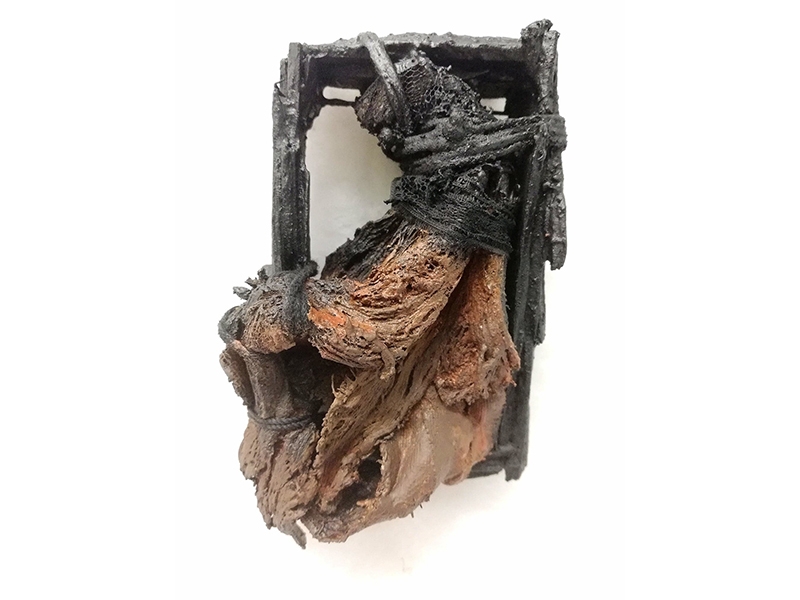 Ra Gallery—Jorge Manilla, on his new collection, Decomposition Dreams: "We humans usually run away from confronting our darkest fears and feelings. It is my aim to discuss them and, through my jewellery pieces, give others an opportunity to do the same. My series Decomposition Dreams represents the vulnerability of the human body in its raw beauty. For this collection, I used tree bark as the main material. Bark covers and protects the tree and meanwhile it absorbs, transforms, and preserves the marks of time in scars, beautiful and painful at the same time. To give it a new meaning, I transform the bark. By hammering it, tearing it, and vaporizing it, I create a new kind of skin, and then use small fragments of it in my work. The fragmented pieces of bark, turned into small objects, show the intimate things that happen to a body during life. I want to invite people to think about existential matters; about the thin line between growth and decay and the fragility of the human state of mind. My representations of pain and happiness emphasize what it means to exist, expressed very clearly 'in the flesh.'"
CONTACT: Paul Derrez
RETAIL: €700
MUSEUM WORTHY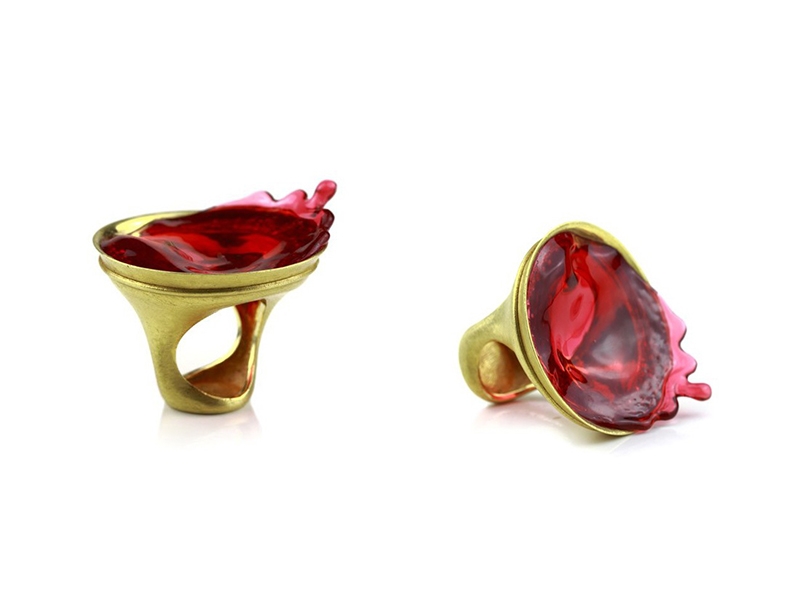 Galerie Elsa Vanier—Visual artist and jewelry designer Luisa Bruni began her career at the State Institute of Art, Roma 2, where she attended courses in goldsmithing, textiles, and fashion. Having always wanted to be an artist, she graduated in painting from the Academy of Fine Arts in Rome in 1994, but it was the following year that she found her true vocation. Listed in Scuola dell'Arte della Medaglia, Luisa discovered wax and jewelry. The three-dimensionality of the jewels opened up new horizons, allowing her to express herself more freely. Since then, inspired by nature and the notion of time, she has sculpted jewelry pieces full of emotion and poetry. Her Plink series was awarded Best of Bijoux prize, in the category Best Innovative Design, at Macef, in September 2010.
CONTACT: Elsa Vanier
RETAIL: €8,600
ESTABLISHED ARTIST
Galerie LA Joaillerie par Mazlo—Carina Shoshtary operates with the pragmatism of a modern hunter-gatherer. In perfect osmosis with her environment, she patiently gathers all the materials that she comes upon: husks of dried fruits or seashells, driftwood, paper, and especially fragments of urban graffiti. For several years, she's been collecting one of the main raw materials in her works, notably in Munich, on one of the few legal walls assigned by the city to street art. Not only does she have to wait for the fragments of these contemporary frescoes to fall but she also must deal with the necessary limits imposed by the color palettes used by the graffiti artists. In a pointillist manner, she reduces them into myriads of sequins, covering the surface of volumes she has shaped from wood or steel wires. Her work refers to a form of animal magic, to the intimacy of the body, to the eroticism of the unveiling, to the evocation of the matrix of forms. It suggests that under the apparent varnish of an urban and contemporary culture symbolized by the order of graffiti patterns hides an underground and chaotic strength, a source of life which is nothing but the essence to creation.
CONTACT: Céline Robin (Curator)
RETAIL: €4,000
ESTABLISHED ARTIST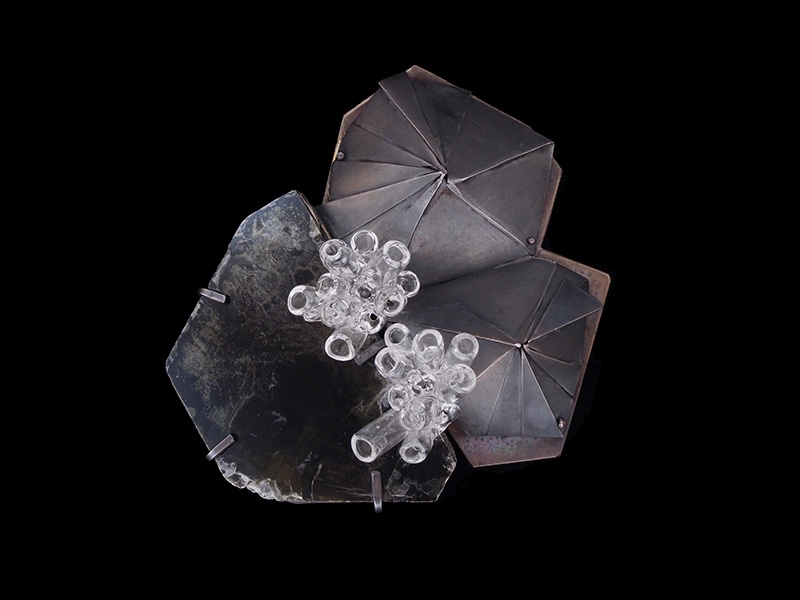 De Novo Fine Contemporary Jewelry—Karen Gilbert's pieces delight and surprise us. This sculptural brooch combines her hand-blown glass elements with a glistening slab of mica and an architectural structure created from sterling silver. The forms come together in a perfect composition. This substantial piece looks fabulous placed on a thick jacket or sweater.
CONTACT: Cherry LeBrun
RETAIL: US$900
ESTABLISHED ARTIST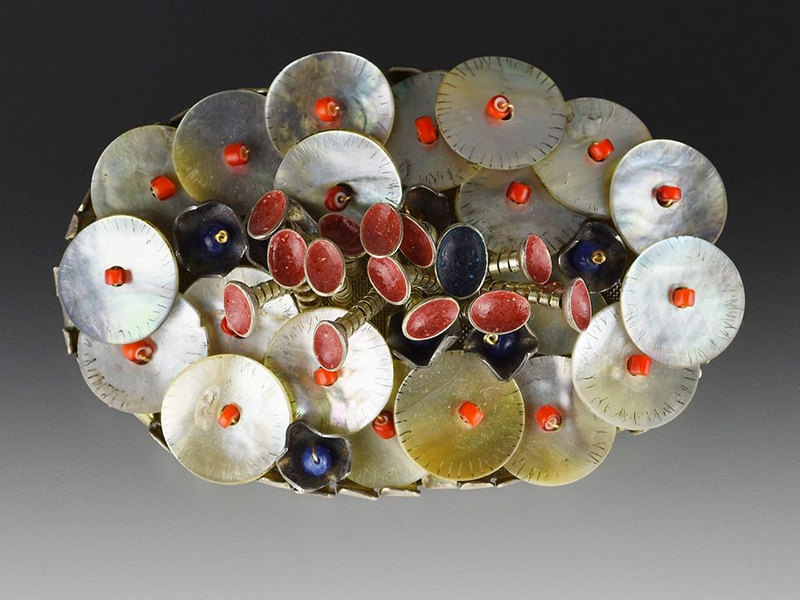 FINGERS GALLERY—Pauline Bern is a New Zealand-born jeweler who began her career in the United States in the 70s and has been exhibiting consistently in her native land since the mid 80s. In 1988 she became a lecturer in craft design, and was head of jewelry at Unitec Institute of Technology between 1992 and 2012, working with a number of students who became significant artists in their own right, including Areta Wilkinson, Octavia Cook, Jane Dodd, and Joe Sheehan. "I want the works to elicit curiosity, intrigue, surprise, humour, and perhaps nostalgia. I am not attempting to emulate botanical forms, rather to appropriate the extraordinary, unexpected, and often unnoticed details in nature into a contemporary jewellery context," she says.
CONTACT: Lisa Higgins
RETAIL: NZ$1,150
ESTABLISHED ARTIST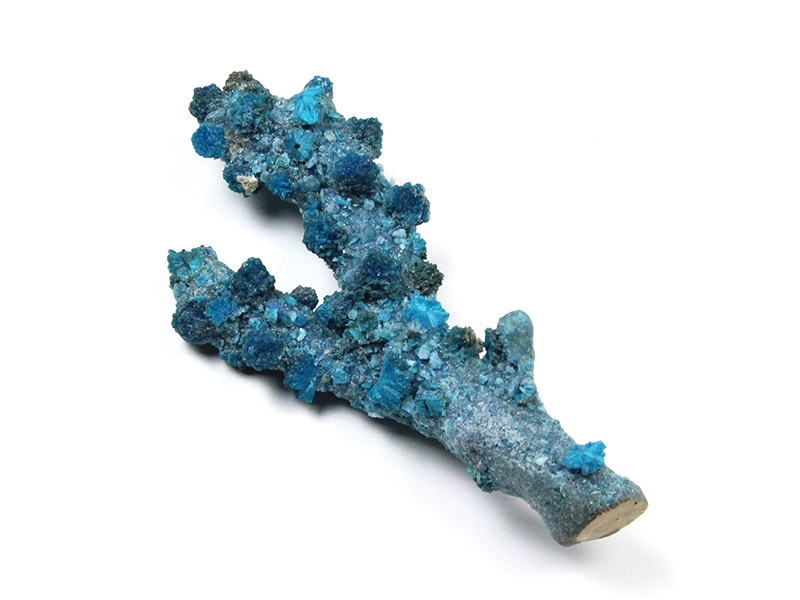 OHMYBLUE—Märta Mattsson is interested in the relationship between humans and the natural world. Working on the threshold between nature and culture, her work makes the viewer aware of the fact that art and nature are realms shaped by the choices of humans.
CONTACT: Elena Rizzi
RETAIL: €1,400
ESTABLISHED ARTIST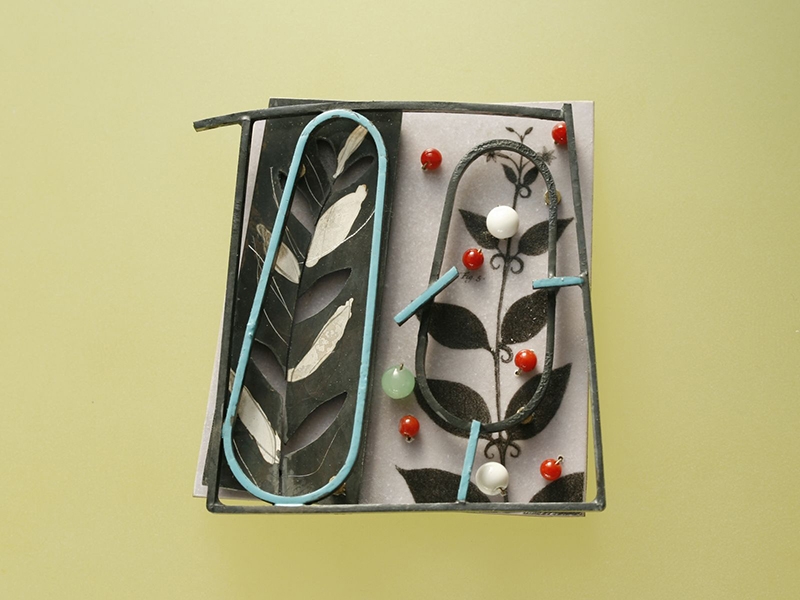 Slavik Gallery—"I try to create an order which is expressed as a metaphor, as a reflection of the invisible order of the cosmos, the invisible need of relationships and symmetries that can be found in both the microcosm and the macrocosm of the matter around us." —Ramon Puig Cuyas
CONTACT: Renate Slavik
RETAIL: €1,700
MID-CAREER ARTIST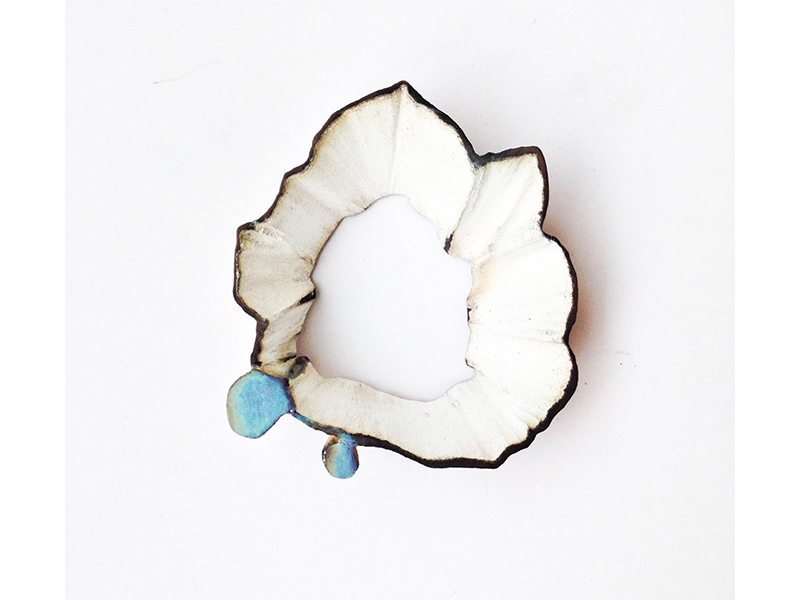 PLATINA Stockholm—This beautiful wooden brooch is very typical of Flora Vagi's work. She works in a language without words. Verbal explanations become secondary. She says that there are things difficult to describe as search, discover, transformation, surprises … things that she applies to her work and important for the receiver of the expressions. The aim is to trigger associations, distant memories, and emotions by shapes and colors. When the transformed and processed material speaks, the intimate whispers become beautiful and meaningful.
CONTACT: Sofia Björkman
RETAIL: US$1,250
EMERGING ARTIST
Galerie Door—Crimethoughts is the intriguing title under which Colombe d'Humieres has launched her latest works of art. In this series, d'Humieres explores how far ideas and obsessions can go, and discovers that they can go pretty far. She travels through the mind and shuns no taboos in using jewelry as a medium to portray the dark sides of private thoughts … or perhaps even our thoughts? The necklace shown here is a fun and easily wearable piece. Flowery and sparkling, made of silver and rubies, it refers to a very classical necklace. Part of the fun, however, is when you take a closer second look. This necklace is built from plastic pistol caps, the ones used in toys, but nonetheless a serious instrument to impress, submit, and rule the ones we point it at. This necklace is a wonderful, lovely, true power piece … tranquil seduction by force. You can find out more about this "criminal" work at Galerie Door. We'd love to welcome you with coffee, tea, or a good glass of wine—or any other weapon of your choice.
CONTACT: Doreen Timmers
RETAIL: €1,550
EMERGING ARTIST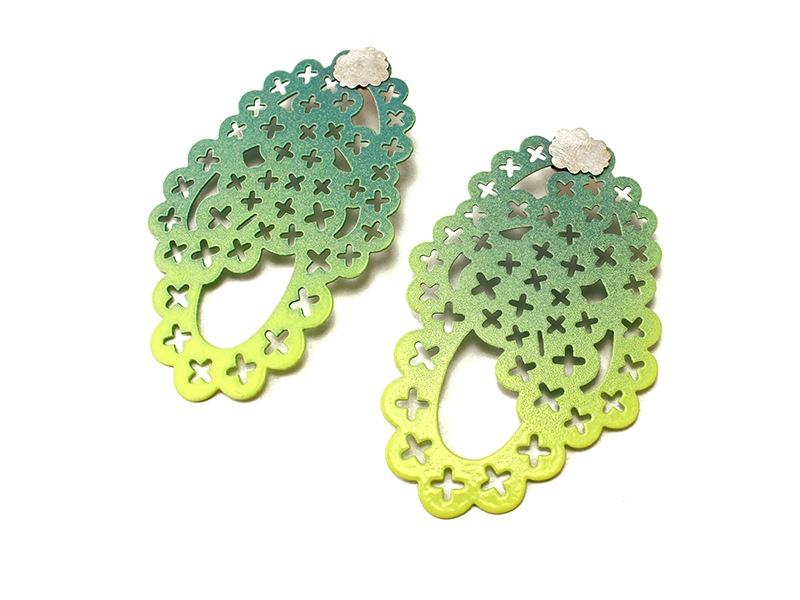 Baltimore Jewelry Center—Amanda Bartlett is an emerging artist originally from San Antonio, Texas, now residing in Baltimore, Maryland. The aesthetic is loud, bold, and irreverent. The wearables in this current body of work are plush with complex fabrication and ornamentation that draws on a Maximalist baroque aesthetic. Color is a focal point, often in bright, industrial, bold, and neon palettes that are influenced by candy wrappers, lottery tickets, and other discarded items found on walks through neighborhoods in Baltimore.
CONTACT: Shane Prada
RETAIL: US$280
GALLERY CHOICE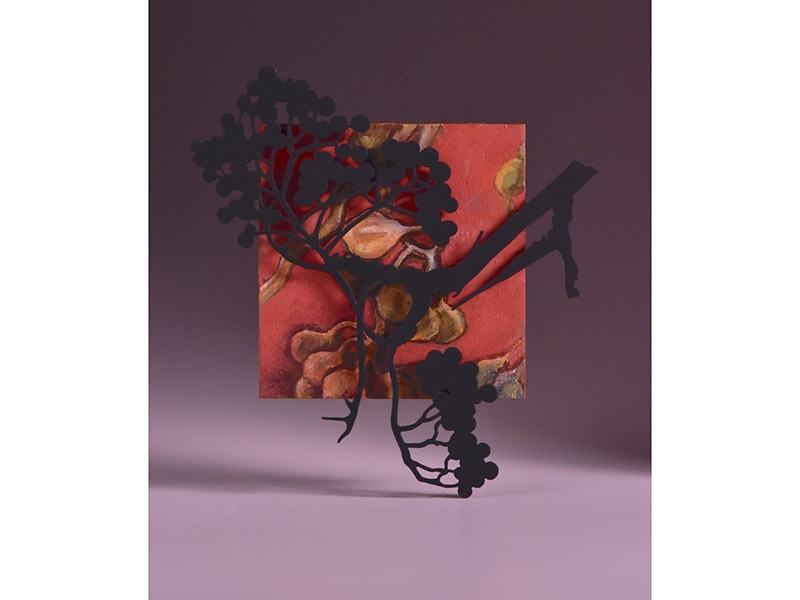 Galerie Noel Guyomarc'h—The designs in this new series of work by Bruce Metcalf come from his long-standing interest in the decorative arts. Many of the patterns are by women Arts & Crafts designers, most notably May Morris, William Morris's talented daughter, and Clara Driscoll, one of Tiffany's head designers. The geometric patterns are from Japanese wooden screens. This series represents an homage to their work. The layers engage viewers to have a closer look to the pieces.
Metcalf graduated from Syracuse University, in New York, with a double major in craft/metalsmithing and architecture in 1972, followed by a master's degree in metalsmithing and jewelry from Temple University, in Pennsylvania, in 1977. His pins and brooches have been exhibited internationally and can be seen in a number of books about contemporary art jewelry. Metcalf's work has been included in over 400 national and international jewelry exhibitions over the past 45 years, including Ornamenta 1 at the Schmuckmuseum, in Pforzheim, in 1989. His work is included in major institutions including the Metropolitan Museum of Art, the Philadelphia Museum of Art, and the Victoria and Albert Museum.
CONTACT: Noel Guyomarc'h
RETAIL: US$2,000
GALLERY CHOICE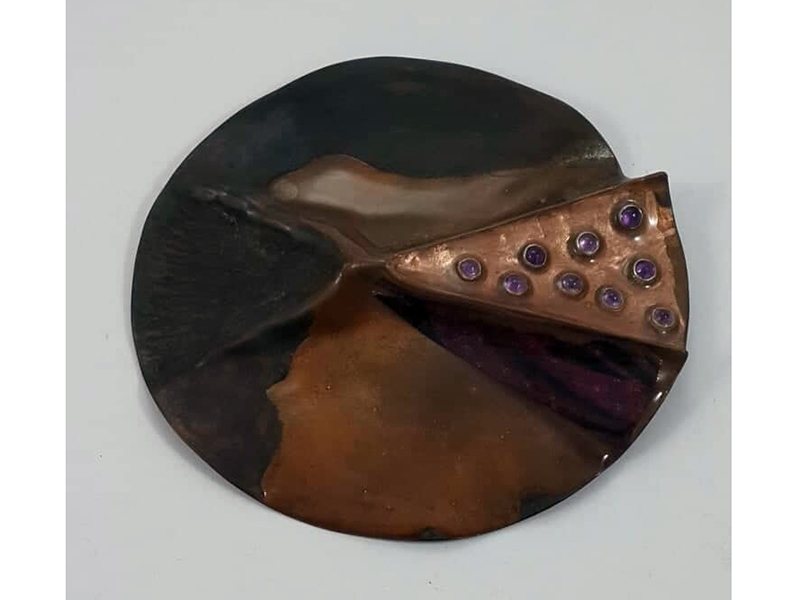 myday-byday—"I thought about a winter day, when snow is melting, and then suddenly it freezes again and everything is covered with ice, like glass." —Monika Yzchaki
CONTACT: Laura Helena Aureli
RETAIL: €250
GALLERY CHOICE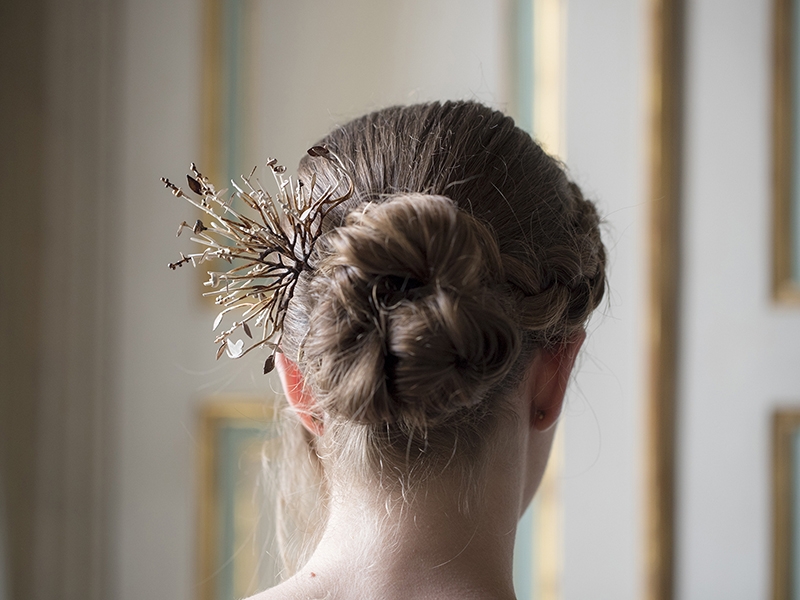 Gioielli in Fermento—This piece was presented during the year of the Universal Expo in Italy. The payoff of #Expo2015 was "Feeding the Planet. Energy for Life." We received a number of indications to improve or change our lifestyles. But ultimately, new behavior is always promoted by emotion. With this work, Clara Del Papa suggests her way to remind us of our roots, with the tree of life.
CONTACT: Eliana Negroni
RETAIL: €760
GALLERY CHOICE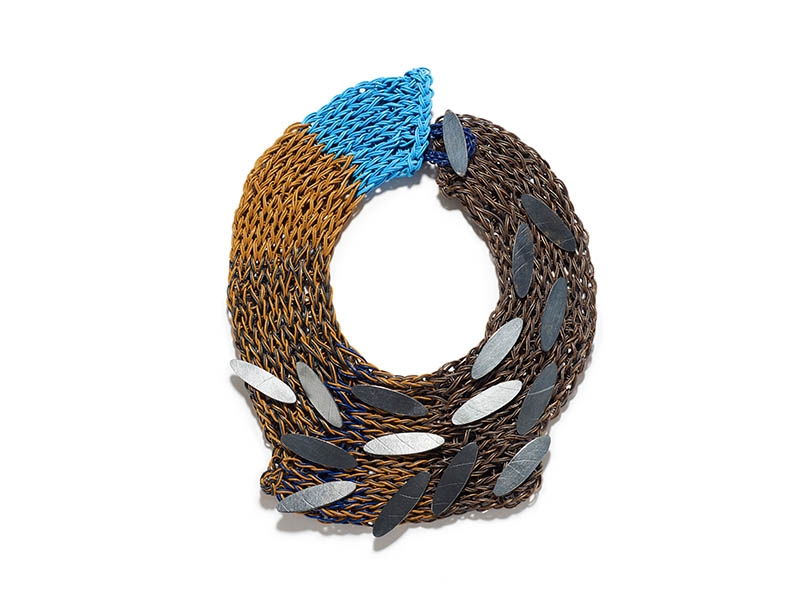 Patina Gallery—Embodying her Midwest roots through the language of textile and metal wearable art, Brooke Marks-Swanson seeks to construct the unusual in a combination of contrasts. Using the classic knit and purl stitches, she creates what she calls "tracings." Leather is knitted to create a soft yet playfully textured multidimensional lattice. Colors slowly progress from turquoise blue to ochre to earthy tones of umber, brilliantly accompanied by hues of navy blue and bronze. Incorporating pieces of oxidized sterling silver atop the leather surface, she adds a layer of movement to excite the fluid complexity in this piece, creating a landscape of innovative, contemporary wearable art.
CONTACT: Allison Barnett
RETAIL: US$1,560
GALLERY CHOICE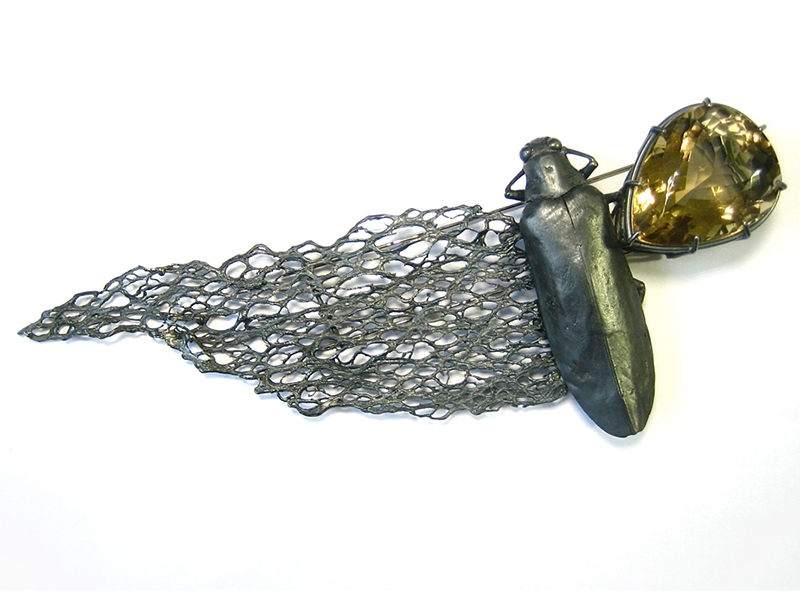 Gallery Loupe—Georg Dobler's poetic touch is evident in his works of naturalistic elements cast from nature. He derives inspiration from the organic, sometimes combining twigs, buds, or beetles, cast from actual flora and fauna, and then often incorporating the unexpected elegance of large, faceted gemstones. From an essay written about his work, art historian Barbara Maas explains: "Dobler's works also assert themselves with unequivocally formulated stances. In them, too, the polar opposites 'nature' and 'art' never vie with one another for dominance. On the contrary, they support, supplement, even inspire one another to a unity that is new each time, utterly astonishing and inimitably distinctive."
CONTACT: Eileen David
RETAIL: US$7,000
GALLERY CHOICE

Gallery 2052—Margaux Lange's Plastic Body Series art jewelry collection utilizes salvaged Barbie doll elements in combination with hand-fabricated sterling silver and pigmented resins. The series is an examination and celebration of our cultural relationship with the icon known simply as Barbie. Lange has been developing this series and exhibiting extensively since receiving her BFA from the Maryland Institute College of Art (2001), where the Plastic Body Series was first conceived. A fine arts education gave Lange the foundation necessary for conceptual exploration in her jewelry work, but Lange credits her childhood Barbie obsession with nurturing her creativity and dexterity from an early age. The Winged Arm Neckpiece is on show at Gallery 2052 as part of the upcoming exhibition Purposed, which will run from February 12–March 17, 2019.
CONTACT: Nora McCarthy
RETAIL: US$1,500