Art Jewelry Forum's extensive network of international
gallery supporters
is dedicated to celebrating and showing art jewelry. On Offer is a monthly series that allows AJF galleries to showcase a piece that they've personally selected to tempt and inspire you. Please contact the gallery directly for inquiries. Enjoy!
MUSEUM WORTHY
Gallery Loupe: The bracelet, "Rococo," belongs to "Cage" -a new series of bracelets and neckpieces by Evert Nijland. The starting point for this series is open cage construction, made of metal which is then combined with textile, ceramics and hand-blown glass. Nijland states: "I wanted to address the subject of the cage in a broad sense — fencing, aviaries, scaffolding etc. By doing so, the jewelry becomes a portable cage that expresses the contrast between captivity and freedom; beauty and decay; inside and outside, light and dark." For the development of his structures, Evert employed 3D printing techniques to create plastic models which are then cast in silver or gold. The hard cage is then adorned with the most fragile of materials.
CONTACT: Eileen David
RETAIL: €4,250
MUSEUM WORTHY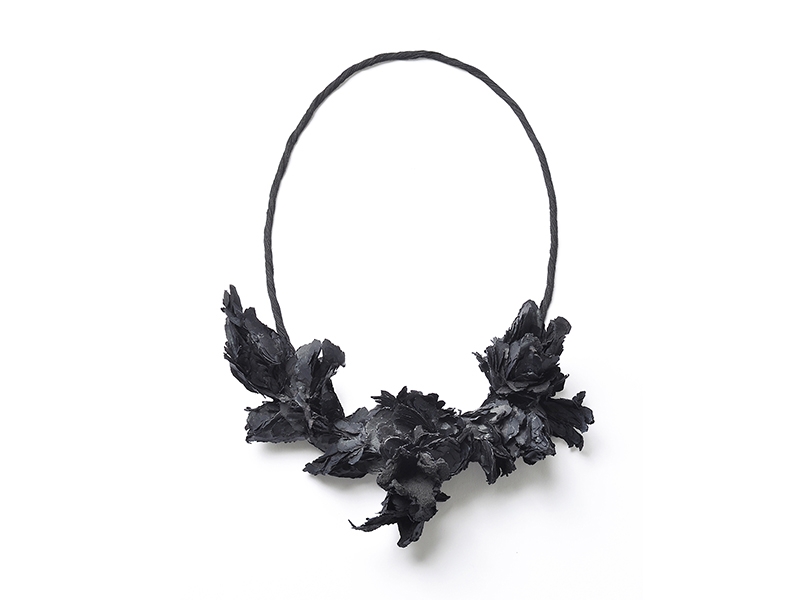 Galerie LA Joaillerie par Mazlo – Paris: From his very beginnings, Attai Chen has been aiming to capture the passage of time through a form, mostly by using paper. The use of this material in the field of art jewelry has been a long-time commonplace, but never had it found such a sculptural treatment as in the developments nurtured by Chen. For him, it is impossible to start working from a clean, new sheet of paper. The material must be used, studded with imprints, painting, stigmata, writings. For it is from the angle of temporality that Chen strives to capture nature and living matter, to grasp their forms and cycles through their signs of growth and decay. As an expressionist, he seeks less to seduce than to arouse emotion. For him, the material is not inert. On the contrary, the material seems to transform, to come to life right before our eyes in a constant play of decomposition and recomposition. Chen holds a graduate degree from the Academy of Fine Arts, Munich. He won the Herbert Hofmann Prize in 2010, and the Oberbayerischer Prize for Applied Art in 2011. His work is included in many prestigious private and public collections around the world.
CONTACT: Céline Robin
RETAIL: €3,600
MUSEUM WORTHY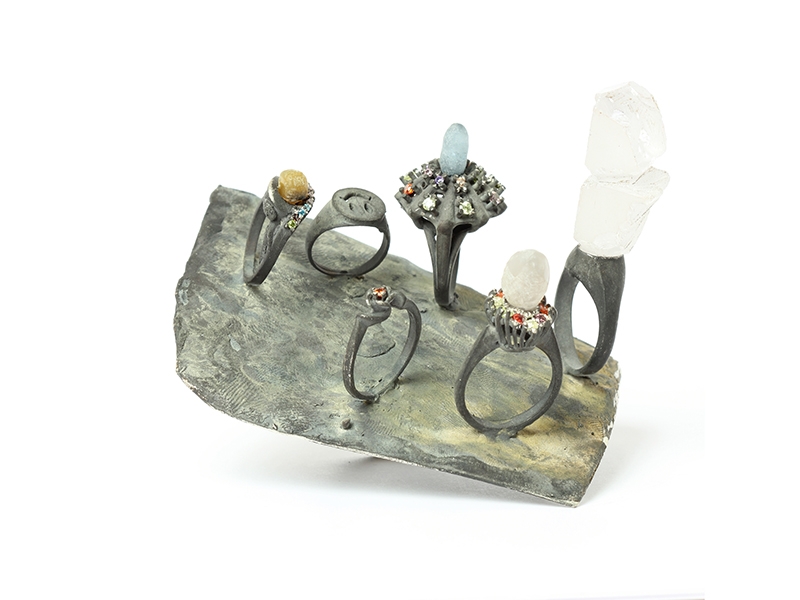 Ra Gallery: The first time Ra Gallery presented jewelry by Karl Fritsch, at the KunstRai Amsterdam in 1995, people pricked up their ears. Were the artist and Ra taking the public for a ride with these odd makings, assembled from bits of old jewelry and wax-cast shapeless shapes? Fritsch has a personal take on jewelry. The communicative properties of his jewelry are recognized both by regular jewelry connoisseurs and relative outsiders. His work is unorthodox, original, and has a playful sense of humor. His next exhibitions at Ra, in 2000, 2004, 2008, and 2015, were titled Refreshing Jewellery, Pleasantly Suspect, Long Live the Ring, and No Research. By then Fritsch had gained worldwide recognition as a talented jewelry maker. His newest work, especially this Table-ring, is spectacular, and adds a powerful chapter to an already impressive oeuvre.
CONTACT: Paul Derrez
RETAIL: €9,700
ESTABLISHED ARTIST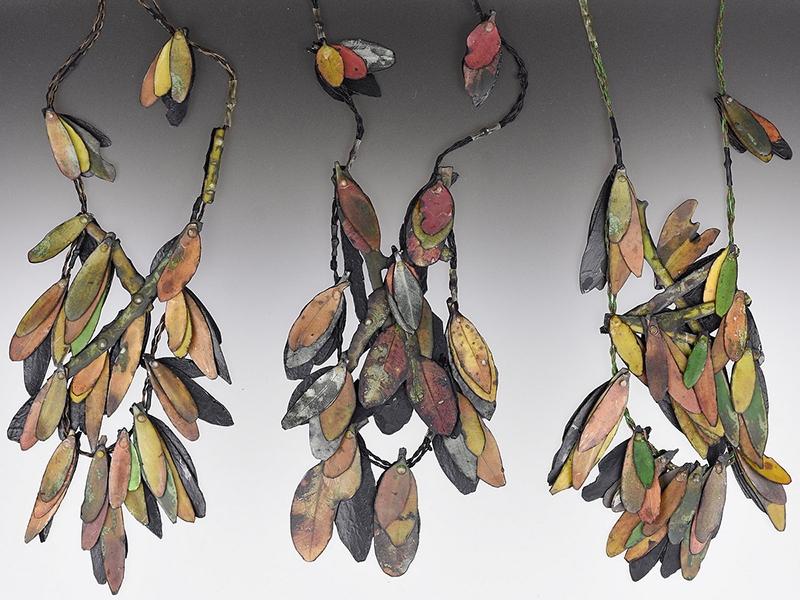 FINGERS GALLERY: Ross Malcolm's jewelry draws on his interest in ecology and sustainability. His works shows a continual experimentation with form and media worked in recycled and unconventional materials, most recently plastic, rubber, paper, and resin. "Nature offers me surprises!" he said in 2014. "Accidents like broken twigs following a storm, or the chance finding of a blue eggshell on a spring morning. My daily walks are a kind of treasure hunt and are reminiscent of childhood trance states … a finding of gifts. Making my work is a translation of what I've seen and how I feel."
CONTACT: Lisa Higgins
RETAIL: NZ$420 each
ESTABLISHED ARTIST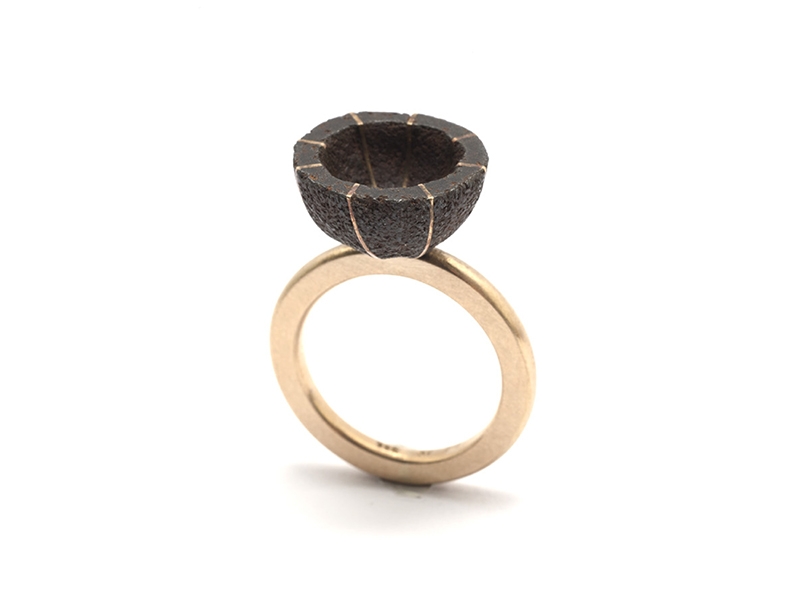 Irene Belfi Gallery: For the Swiss artist Fabrice Schaefer, rings are the essential jewel. The ring on your finger is a sign of belonging, the expression of a particular intimacy or a memory, a present, an alliance. The choice of ring highlights a personal message, as much for the creator as for the wearer. The artist works on mysterious combinations of metal and beauty. He seeks until he finds the perfect contrast between titanium and pure silver, white gold and niello, zinc and garnet powder.
CONTACT: Irene Belfi
RETAIL: €1,580
ESTABLISHED ARTIST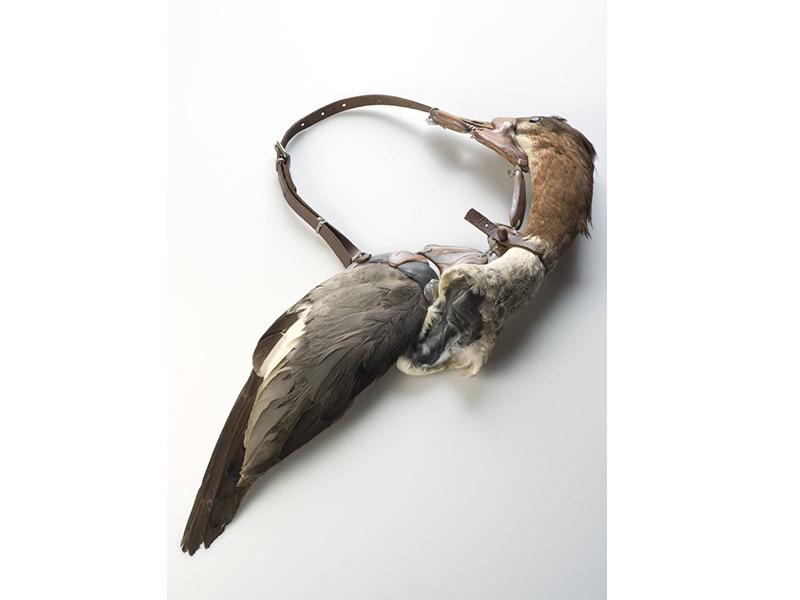 Galerie Door: This outstanding piece of work is one of many created by the Dutch duo Idiots. This couple—Afke Golsteijn and Floris Bakker—is a phenomenon when it comes to creating art in which the organic world (of animals) is combined with human culture through popular beliefs, rites, myths, fairy tales, and life lessons. In their artwork, Idiots strikingly monitor the beauty of nature combined with the intricateness of daily human life—the struggle between the natural versus cultivated life, between simple life and wisdom and wit. This is a piece of jewelry that portrays sheer beauty in the context of wonder and contemplation. You can find out more—much more—about the fabulous and inspiring work of Idiots at Galerie Door.
CONTACT: Doreen Timmers
RETAIL: €3,000
ESTABLISHED ARTIST
PLATINA Stockholm: Chains and enamel are materials that are recognized in Liana Pattihis's jewelry and she has developed her own unique method of sifting and fusing on a movable base. This necklace, Side by Side, belongs to her latest series, To Mend My Broken Heart. With inspiration from kintsugi, the Japanese art of repairing broken pottery with chains, she uses a selection of damaged objects collected over the years and mends them. The aim is to embrace the damaged and the imperfect, drawn to the philosophical interpretation of kintsugi, that the cracks are merely a symbol of an event that happened rather than the cause of the objects' destruction.
CONTACT: Sofia Björkman
RETAIL: US$2,800
MID-CAREER ARTIST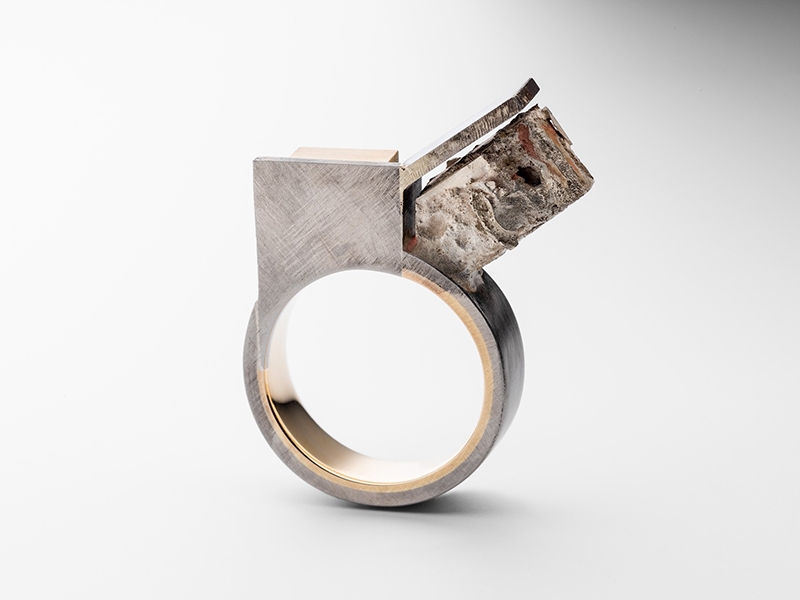 Zu design – jewellery + objects: Sabine Pagan draws on the principles of architecture in her jewelry. The ring Counterpoint showcases her fascination with forms and contrasting materials, the smoothness and precision in her gold and Monel components working beautifully to frame the rawness of the fine silver section, which appears eroded. When her rings are worn, the hand becomes the landscape for her pieces to rest on.
CONTACT: Jane Bowden
RETAIL: AUS$4,500
MID-CAREER ARTIST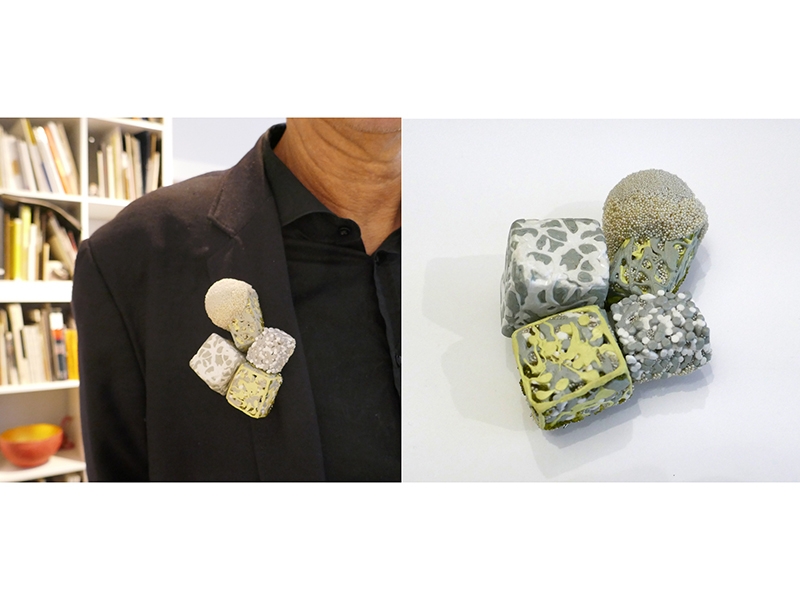 Galerie Spektrum: Andrea Wagner is a German/Canadian artist who was educated at the Gerrit Rietveld Academie in Amsterdam. She graduated in 1997. Her works are full of fantasy and stories. In this brooch she combines three-dimensional forms with surface structures coming from her technique. She works with broken glass, broken porcelain, and small pearls, which she combines into a unique and fantastic surface formed into a harmonic unit. This piece of art is worth having, a typical representative of these kinds of works, and as its owner you will enjoy it.
CONTACT: Jürgen Eickhoff
RETAIL: €2,280
MID-CAREER ARTIST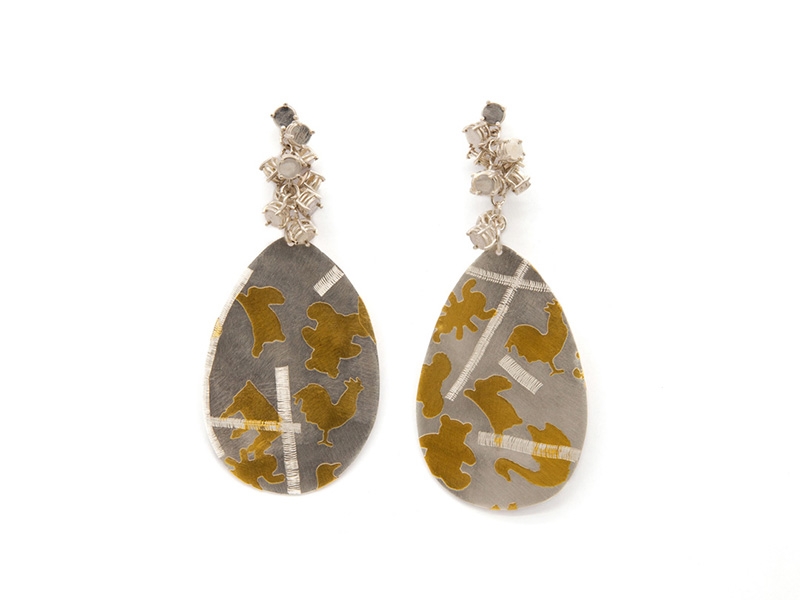 Tinsel Gallery: These earrings were made for Tinsel's annual group show, where we invite contemporary jewelers from around South Africa to submit one new work in response to our brief. This year's title is En Masse, and we challenged our artists to use a technique developed for mass-production to create an original one-of-a-kind piece. In these earrings, Eric Loubser used commercially available mass-produced collet studs which he set with polished silver discs instead of stones, and he used craft store paper punches to punch kitsch shapes out of 24-karat gold, which he fused to the silver using the keum boo technique. He's one of the most innovative and exciting young contemporary jewelers in the country, so his work is very collectible.
CONTACT: Geraldine Fenn
RETAIL: $650
MID-CAREER ARTIST
Galerie Elsa Vanier: The anachronistic is omnipresent in the work of young, talented, "HEAD" (Geneva)-educated jeweler Ambroise Degenève. The assumed treatment of his solid silver jewelry, often oxidized, evokes the raw, primeval crudeness of ancient civilizations. Avid in the exploration of ancient techniques and surface experimentation, Degenève dares to play with the jewelry code by visually deteriorating or obscuring precious metal and offering a sophisticated spotlight to the humblest material. Strong, surprising, one-off jewelry, hybrids of minimal design, this work's uniqueness appeals to those with an independent spirit who enjoy playfully mocking the code of jewelry.
CONTACT: Elsa Vanier
RETAIL: €3,600
EMERGING ARTIST
Baltimore Jewelry Center: Eli Arenas is a jewelry and installation artist currently living in Charlotte, NC. Her work has been exhibited throughout the United States and abroad. Arenas has participated in selected exhibitions such as SOFA, Thirteen Annual International Expositions of Sculpture and Functional Art, Touching Warms the Art, Discomfort and La Frontera. In this necklace, Arenas utilized powder coating in a unique way, making it appear like liquid enamel.
CONTACT: Shane Prada
RETAIL: $325
EMERGING ARTIST
OHMYBLUE: "What I like about candies, gummies, and lollipops are their amazing colors, their several shades, hues and textures," says Eva Burton. "But what captivates me the most is how those characteristics can evocate a sensation with only looking at them, like with the sour ones, which makes your mouth fill with saliva. In this piece, candies become precious. Carefully selected gemstones were carved to evocate flavors and spice up your neck with a tasty touch. On the first puzzle picture of the Stone Candies necklace you can see orange and mint agate, white mint cachalong, chrysoprase citron, and pineapple reconstructed stone. All these hand-carved gemstones combined with 18-karat gold-plated silver."
CONTACT: Elena Rizzi
RETAIL: €1,332
GALLERY CHOICE
Patina Gallery: The Pave Tail Nail Bracelet by Pat Flynn is wrapped in the handsome dichotomy of design. The piece was contrived from a blackened iron nail, fused with the subtle temper of high-karat gold. A full set of glistening diamonds are set in palladium on the tapered tail, radiating in contrast to the deep tones of the nail head and body. The tiny hinge sits quietly within the nail head, creating a perfect and completed fit. Flynn's exceptional craftsmanship lies in the balance of his technical mastery in hand forging and his sensibility to traditional metalsmithing technique. A rather disparate relationship between steel and iron with precious gems, silver, and gold beautifully translates to elegance of an unparalleled degree.
Contact: Patina Gallery
RETAIL: US$7,115
GALLERY CHOICE
In the Gallery at Brooklyn Metal Works: The series BANDHEJ, by Vershali Jain, is inspired by the traditional Indian textile tie-dye techniques of Rajasthan. In Bandhej Circles, Jain channels the dual identity she developed by living and traveling abroad while following her Indian inheritance. Drawing on her deep interest in these textile motifs and connecting them to memories of her mother's saris, Jain explores layered relationships in her enamel jewelry. Working from samples of delicate fabric saved from vibrantly patterned saris and utilizing labor-intensive processes similar to those used to create the textiles, Jain translates her inspiration. Wires and thin strips of sheet are wrapped and coiled into voluminous linear forms. Hot process liquid enamel binds metal elements together as a structural element as well as a color point to create a textural piece closely resembling the fibers of cloth.
Contact: Brian Weissman
RETAIL: US$1,250
GALLERY CHOICE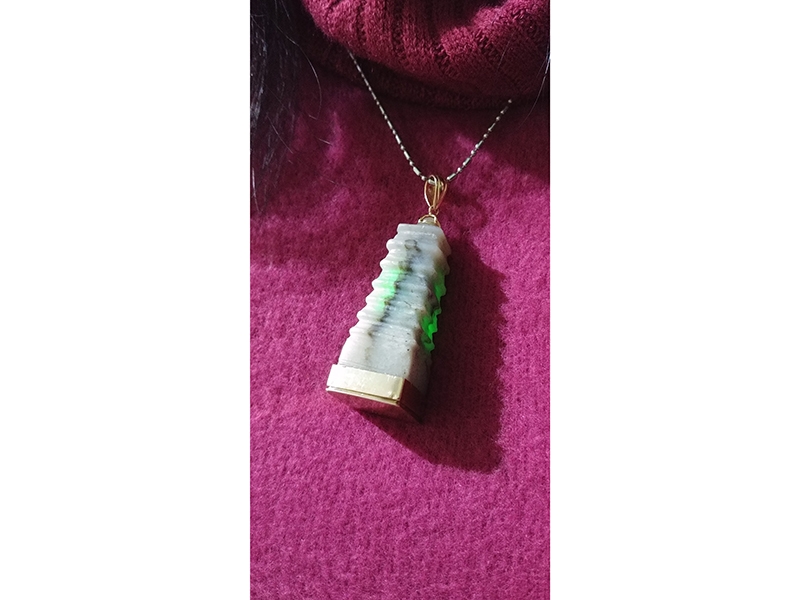 Koumei Art Gallery: This piece is inspired by a popular tourist attraction located on Sunset Hill south of the West Lake in Hangzhou, China, called Leifeng Pagoda (Chinese: 雷峰塔; pinyin: Léifēng Tǎ). A tower five stories tall with eight sides, the pagoda is popular due to its ties with an old Chinese legend, the Legend of the White Snake. The story tells about a white snake spirit who attains immortality and transforms herself into young woman called Bai Suzhen (Chinese: 白素貞; pinyin: Bái Sùzhēn; Jyutping: Baak6 Sou3-zing1, white-plain-chaste). She has a best friend and confidante, a green snake who also transforms into young woman called Xiaoqing (Chinese: 小青; pinyin: Xiǎoqīng; Jyutping: Siu2-cing1, little teal). It's said that when Bai Suzhen was locked for eternity inside Leifeng Pagoda, Xiaoqing was the one who freed her from imprisonment. Thus results the novel idea of the green color inside the white pagoda.
CONTACT: Eko Sukoco
RETAIL: 29,000,000 IDR (Indonesian rupiah)
GALLERY CHOICE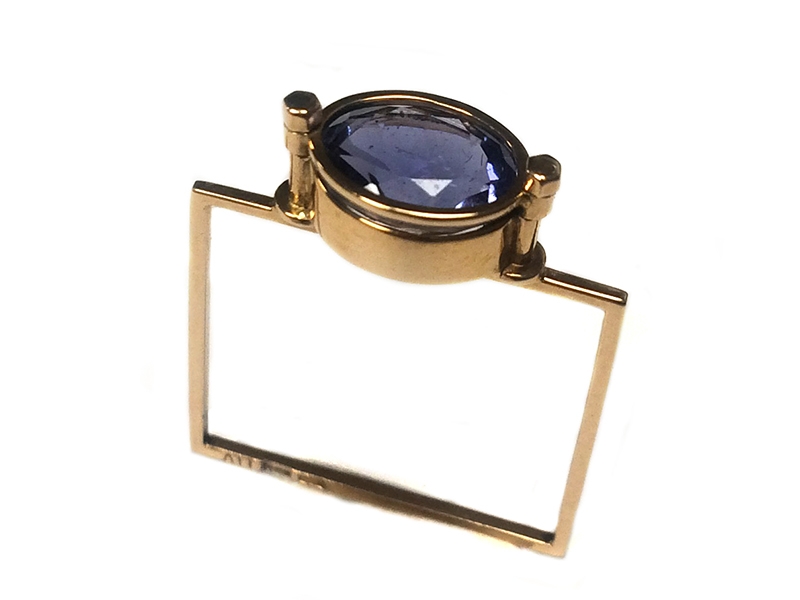 Four: When Anna Flogård had to make some repairs on her Volvo, she got her hands on the shaft seal. As a jeweler working a lot with stones, this immediately led to a moment of clarity—the perfect idea for a stone setting! This is Swedish design at its best.
CONTACT: Karin Roy Andersson
RETAIL: €600
GALLERY CHOICE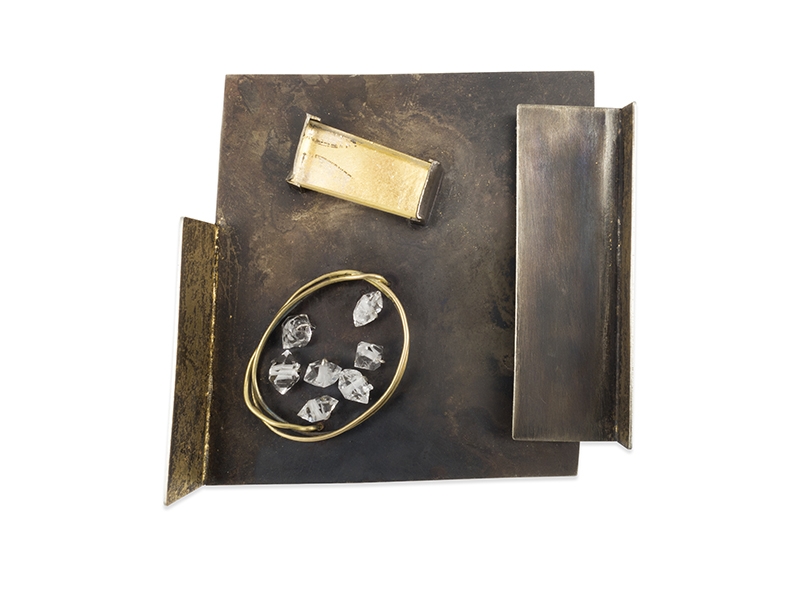 Galerie Noel Guyomarc'h: Judy McCaig is a Scottish jeweler, print maker, and painter. The Edinburg-born designer produces mixed-media designs inspired by her travels and her reactions to natural phenomena. Now a resident of Barcelona, McCaig studied in Dundee, Scotland, before completing an MA at the Royal College of Art in London. Recipient of many awards, McCaig's jewelry has been exhibited internationally at venues in Germany, France, Spain, the United States, and Canada. She currently teaches at Escola Massana, in Barcelona, and is often a visiting artist at different schools in Europe and abroad.
CONTACT: Noel Guyomarc'h
RETAIL: CAN$1,475
GALLERY CHOICE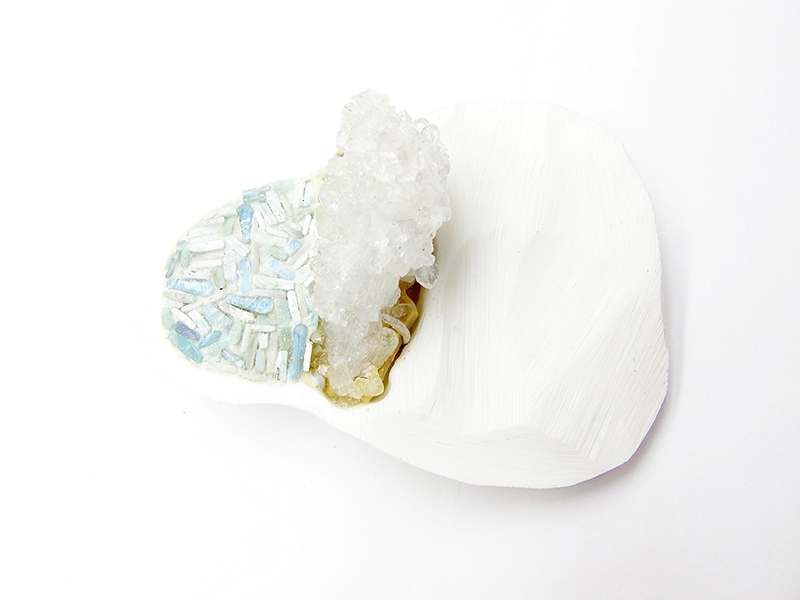 myday-byday: "My structures of abstract forms are similar to organic masses," says Isabelle Carpentier, "composed of a multitude of colored fragments, like a chaotic swarm that plunges us into the infinitely small, using materials in which the glass material integrates and reveals its intensity."
CONTACT: Laura Helena Aureli
RETAIL: €380
GALLERY CHOICE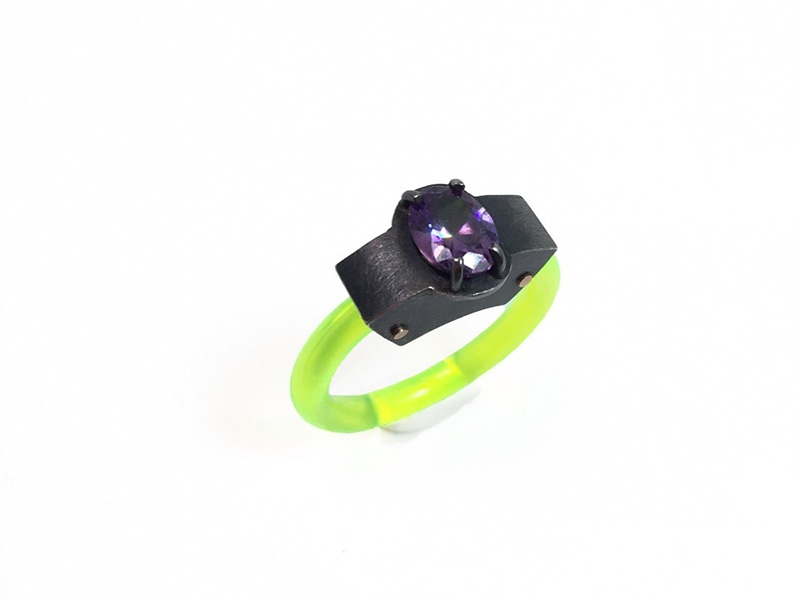 L. A. Pai Gallery: "My interest lies in unconventional tales of heroism, and (although often times misplaced), the spirit of optimism," says Anna Lindsay MacDonald. "Laika, Bars, Lisichka, Damka and Krasavka were Soviet cosmonaut dogs who unknowingly risked all for their country. They were taken from the streets and adopted into a war machine. Their nonhuman narratives provide an objective insight into a certain time and space. We are comfortable in knowing that this particular scenario will never happen again, and with that knowledge has come many interpretations of their story. My story is in neon and lab-created stone. Each piece evokes the optimism that mid-century designers and, by extension, consumers, held for the future."
CONTACT: Lisa A. Pai
RETAIL: CAN$380