In Lahore, Pakistan, there are thick, almost impenetrable alleys paved with breeds of hollowware shops where multiple narratives ensues—from colonial, post-partition to more intimate narratives: objects such as spice boxes, the preparation, protection, and ownership of which, in patriarchal households, traditionally defined and marked women's spaces in a distinct, symbolic way. A singular vessel raised by brass-smiths, starting from the bottom of the base and raised up to the neck, its narrow and wide rims become poetic factors for accessibility: functional accessibility as well as forming into a structure of historical accessibility.
In Britain, English silverware was more than a craft movement: The objects' styles represented and evolved with both dark and extravagant realities of economic, political, and social conditions, eluding and resisting as much to the puritanical as to luxury.
Hollowware pieces, as objects, are potent symbols and signifiers. At their most basic or most ornate, the mediums, techniques, structure, and functionality have been witness to various spheres: sociocultural, class hierarchies, political, and gender. Finally, there is a domestic life in which the objects have to participate.
David Clarke and Affan Baghpati, from the UK and from Pakistan respectively, both turn to the conventional format of hollowware and silversmithing in their work. We see the objects first through their formal orientations, by which the social lives of things are determined: handles, lids, hinges, rivets. From there begins an intriguing, alternate dialogue: Both makers almost enact their own identities into the materiality and forms, creating a third identity or third aesthetic in the pieces.
Clarke's objects have a behavioral quality. They are snapped out from the entrenched format of silversmithing and hollowware, appearing to us as fully blown, chased, added and subtracted critics of pure domestic objects. The symbolic order of English Silver, its classicism and orientations, are disrupted, and through this process, the tableware pieces begin to acquire a subjective status: where the personal attitude to craft meets the formal conventions and contexts of this craft.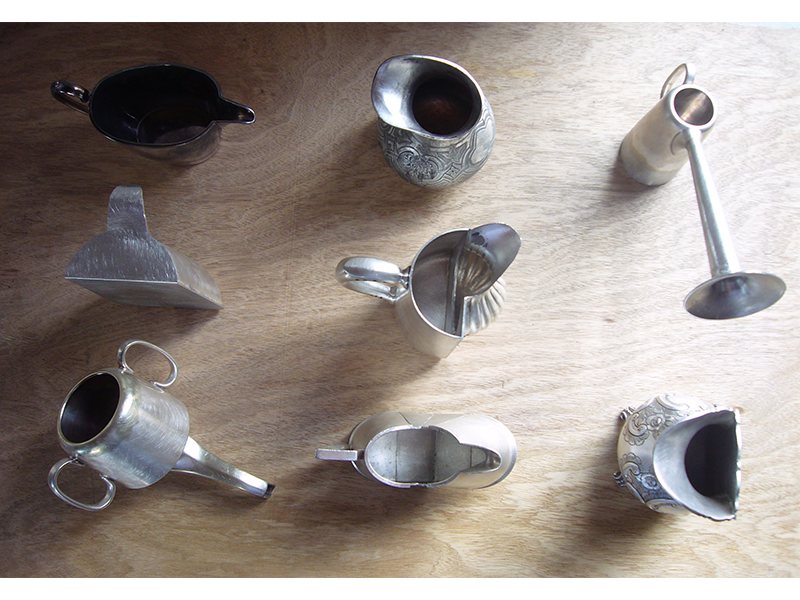 In the sense of both subjective critique and honoring the traditions of this craft, the utilitarian elements on which rest notions of functionality are removed from its key placements and disproportioned, elongated, foreshortened, and heightened in the manner that it reaches out to us, draws us inward. The decorations and functionality both subverted, we read the displaced patterns and parts as dissonances, like of our bodies as containers, as inhabitors of shifting experiences and contexts. Via closures where there should be openings and openings where there should be closures, Clarke explores friction between ornamentation and deconstruction, between delicate and extreme in the manner that they suggest function, then deny function, then desire something more than function. There lies an impossibility in separating one object from another: The grouped identities of objects, teapots, jugs, etc. read like cross-sectioned specimens of hollowware. Clarke does not make us look at the hollow or the void, but at the fullness or intimacy of the void; not the handles, but their handleness.
The urge to find one's borders, identity, and history becomes an underlying theme in the hollowware objects of Affan Baghpati. Where Clarke manipulates his forms with both humor and irony, almost "extracting" samplings through the galleries of history and periods of styles, Baghpati's work probes into the material culture of local and found objects, finding its source in Pakistani living rooms, antiquities shops, and flea markets.
His work Lota probes into deeper readings of cultural objects, his final hollowware a research on how active objects become archived and unused. He picks up a symbolic object, in this case, the lota, a vessel used for pouring water and washing, identifiable with Muslim cultures and households, and juxtaposes it with a distinctively foreign element. Reconstructed with a found Ken doll mounted at the pipe end, the vessel questions the act of how things are bought, consumed, sold away, then bought again. The symbolic copper object, chased and overlain with intricacies of patterns and combined alongside a Western, factory-produced rubber doll, becomes a commentary on how things and commodities move around in consumer culture and in households. Both the Ken doll and the traditional lota hold their own separate notion of archival timespans: Ken dolls are discarded more immediately, and traditional vessels only after a longer, "certain" period of time. These principles occupy a very relevant role in the way Baghpati collects and structures his making: i.e., through the deliberate act of "collecting," where collecting the objects also becomes a process itself, paving the way for a third aesthetic or third identity in his work. And in doing so, he takes out the existing meaning of the pipe and replaces it with a sociocultural meaning.
Both Clarke and Baghpati's objects embody an intellectual and historical relevance to hollowware. They both pick up and pay attention to the formal lexicons of hollowware, then break free from them toward understanding their new roles and relevance. Clarke's objects, whether resting on a flat plane, midway in the air, or even worn on the body, become simultaneously static yet carry a shifting energy. His pieces create an atmosphere and also become that ambience. Clarke's objects explore this blurry, in-between space when it comes to the relationship between humans and objects.
Baghpati's work is an "inner unfolding" of borders, of this place and that. His objects represent ambivalence and the complexities of two cultural passages while negotiating between two contradictory aesthetics.