Art Jewelry Forum's extensive network of international
gallery supporters
is dedicated to celebrating and showing art jewelry. On Offer is a monthly series that allows AJF galleries to showcase a piece that they've personally selected to tempt and inspire you. Please contact the gallery directly for inquiries. Enjoy!
MUSEUM WORTHY
Metal Museum—Michael Jerry has been creating significant works of metal for more than five decades. His hollowware and jewelry can be found in the permanent collections of the Metropolitan Museum of Art, the Museum of Arts and Design, and the Brooklyn Museum, in New York; the de Young Museum, in San Francisco; the Metal Museum, in Memphis; the Racine Art Museum; Yale University; and in many other public and private collections.
RETAIL: US$2,700
CONTACT: Eva Langsdon
MUSEUM WORTHY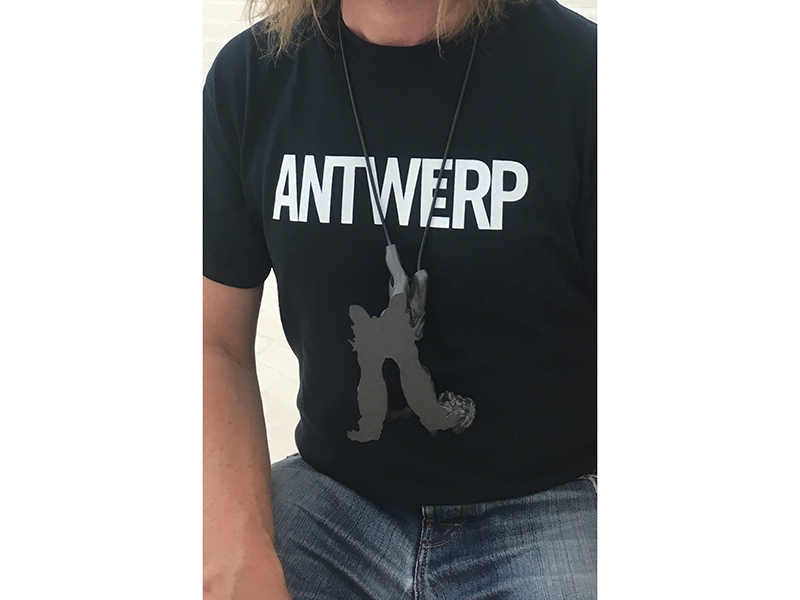 galerie beyond—You struggle to assign something recognizable to the indeterminate shapes. Some appear as Rorschach tests, others as corresponding outlines hovering close to one another. You realize that the forms are split, with emphasis placed on the shapes created by cutting, exposing something we normally don't acknowledge—that which lies quiet beneath the surface. Suddenly it becomes apparent you're looking at the crucified Christ. It arouses a spectrum of emotions, from comfort to hatred. The iconic figure which has been a part of the language of jewelry since the Middle Ages has been dissected and reconfigured to compose this unique neckpiece.
RETAIL: €3,080
CONTACT: Rene Darmont
MUSEUM WORTHY
Gallery Loupe – Robert Baines is both a jeweler and scholar. One of the most prominent contemporary goldsmiths in the world, he is the recipient of numerous international awards. This brooch is an astonishingly detailed example of Baines's metalwork, which reflects his studies in archeometallurgy and ancient European technique.
RETAIL: US$21,000
CONTACT: Eileen David
ESTABLISHED ARTIST
Galerie LA Joaillerie par Mazlo – Paris—Iris Nieuwenburg's narrative jewelry refers to the aesthetics of the Rococo. She creates layered assemblages from various materials, employing traditional goldsmithing techniques and new technologies like Mimaki digital printing. She often uses found objects such as vintage jewelry and dollhouse miniatures, and manipulates images to capture a certain state of mind and the spirit of the times. Recently, the questions of time and transformation have taken a more prominent place in her work. She aims to highlight the special occasions that punctuate an individual's life. Each piece conveys an impression of a frozen moment in an abstract yet poetic way.
RETAIL: €2,600
CONTACT: Céline Robin (curator)
ESTABLISHED ARTIST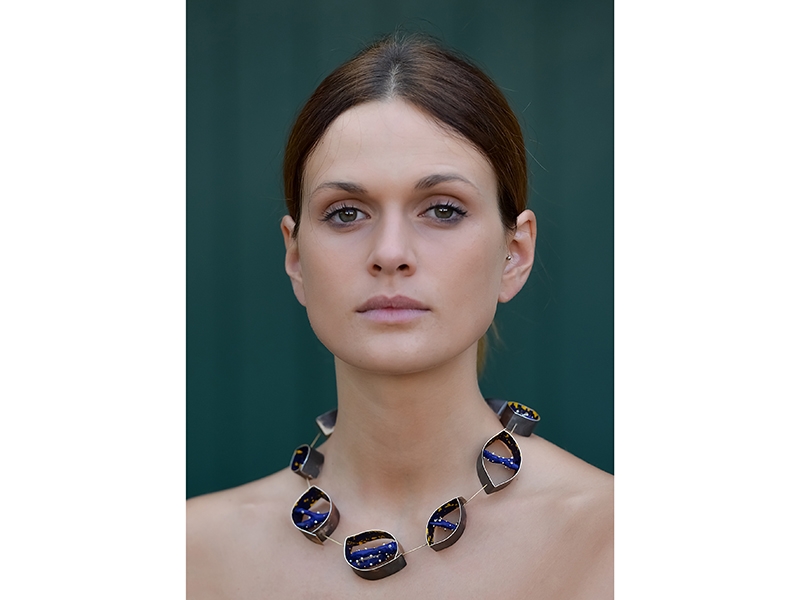 Four—The Padua School in Italy is known for its high-quality craft, often performed in precious metals. Maria Rosa Franzin is one of the artists who, with her sophisticated pieces of jewelry, passes on the tradition. Franzin has a background as a painter, which can be seen in the surfaces of her objects. Colors and structures bring life into the geometric shapes and absorb the eyes of the viewer. In this necklace, organic wood shapes are set in dark gray silver frames—calming the vivid colors and playful expression and giving the piece a balanced elegance.
RETAIL: €2,600
CONTACT: Karin Roy Andersson
ESTABLISHED ARTIST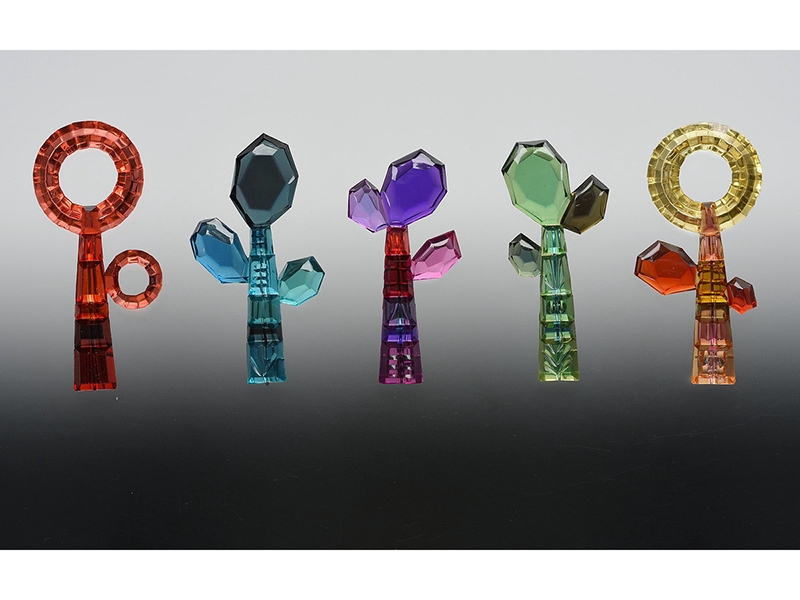 Fingers Gallery—Since 2001, Kath Inglis has developed an innovative contemporary jewelry practice by working with her signature material, PVC. The material is colored, cut, carved, and, more recently, heat fused. Small shards of material are removed from the surface through intricate hand-cut incisions, creating new surface textures for light and shadow to play. The hard cut edges and sharp glittering prisms of color recall glass. Touching the work dispels the illusion, as the material is flexible, supple, and light as air. Based in Adelaide, Australia, Inglis draws on observations, issues, and concerns to inspire a self-portrait of fun, wearable pieces.
RETAIL: NZ$250–$265
CONTACT: Lisa Higgins
ESTABLISHED ARTIST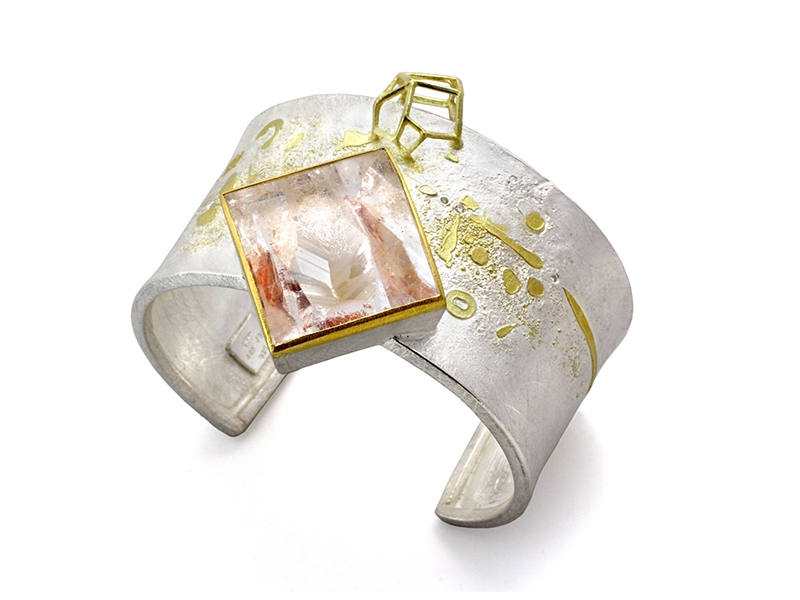 Taboo Studio—Liaung Chung Yen first selected the beautiful quartz when designing this cuff. He then added the gold forms and wire structures to create the feeling of traditional Chinese landscape painting. He says, "I carefully consider the arrangement of the elements in my own work in order to evoke the specific emotions I want someone to feel from a piece of my jewelry. I like to see my jewelry/work as expressions of art and capable of communicating on the level of a poem."
RETAIL: US$4,950
CONTACT: Jane Groover
ESTABLISHED ARTIST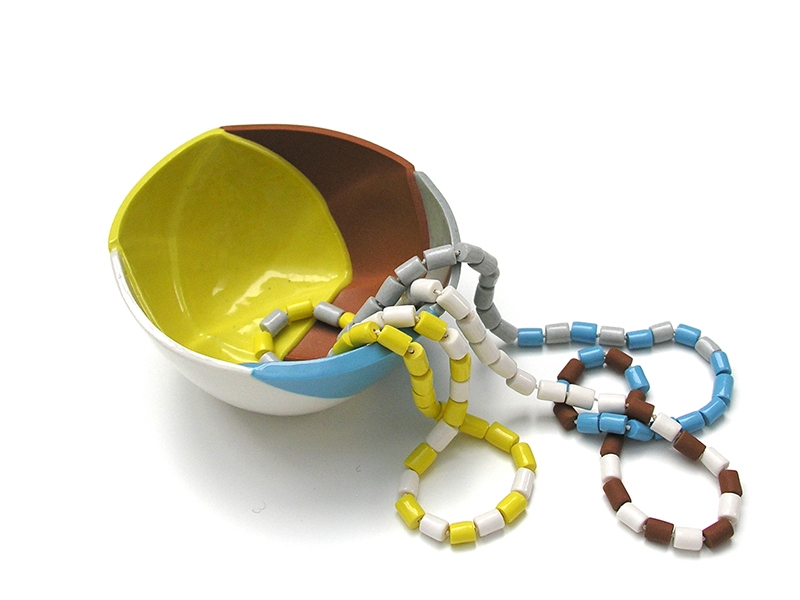 Gallery S O London—Think for a moment of the objects unearthed at ancient archaeological sites. Ceramics and jewelry appear at the top of the list. Manon van Kouswijk investigates the universal values of jewelry and objects in her pieces, often linked to archetypical shapes. With the bowl and necklace Beads & Pieces II, she not only plays with these themes but also pins down the versatile quality of porcelain, while at the same time creating a space where the jewel is kept. Her work is exhibited in galleries and museums around the world, as well as being part of private and public collections.
RETAIL: US$1,850
CONTACT: Katharina Dettar
ESTABLISHED ARTIST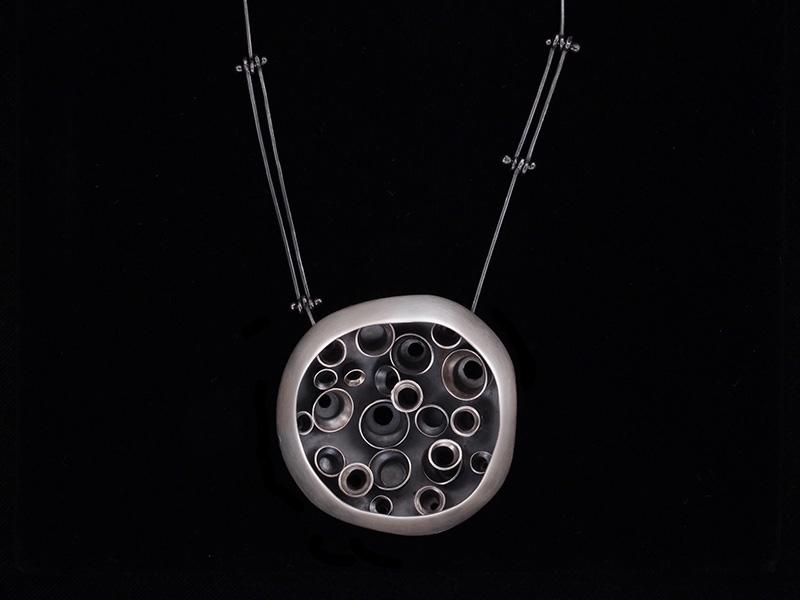 De Novo Fine Contemporary Jewelry—This three-dimensional pendant shows the adventurous spirit of Melissa Finelli's jewelry. Tapered rings set inside an organic pod form are unexpected and intriguing, and make you want to explore and take a closer look.
RETAIL: US$1,400
CONTACT: Cherry LeBrun
EMERGING ARTIST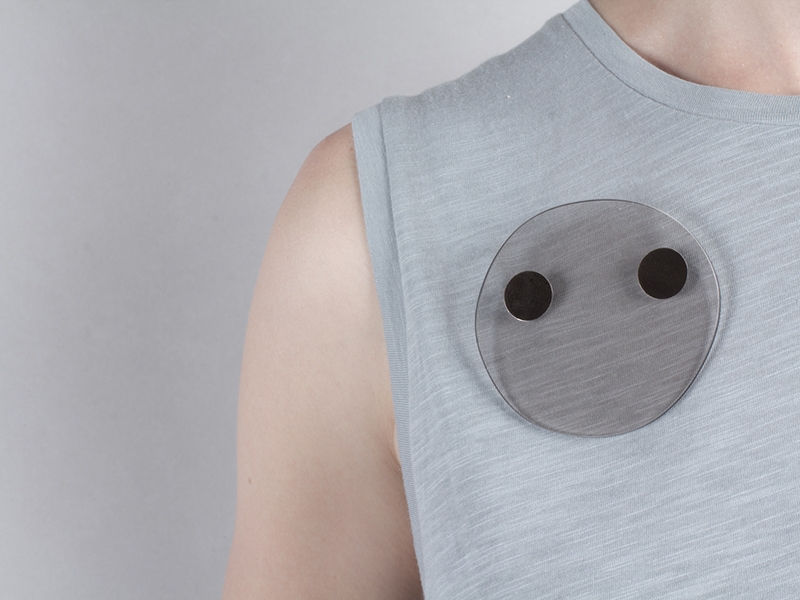 Galerie Noel Guyomarc'h, bijoux et objets contemporains—Selected at Schmuck 2018, the jewelry from Marcus Biesecke's Mina collection deals with symbols of neutrality and nonexistence and focuses the long historical tradition of using portraits in brooches. The interplay of materials like mirrors and glass with the need for functional parts gives the brooches their face. Brooches need two points for their function. Those two points are hidden behind mirroring circles. They look like eyes, eyes you can look through. Individuals are grown out with a strong presence, which appears like a silent observer.
RETAIL: CAN$495
CONTACT: Noel Guyomarc'h
EMERGING ARTIST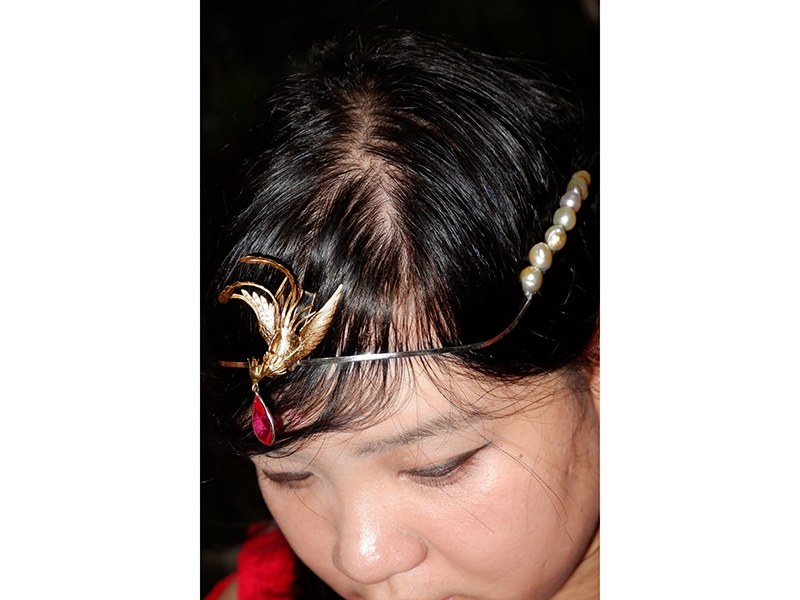 Koumei Art Gallery—While the Fenghuang (凤凰) design is similar to the Encounter piece, this jewelry has a different meaning but correlates with it. The tiara is titled Perfect (完美), and it's the last piece of the three-set jewelry. The three sets can be read as soul mates; they are something that can be found but cannot be sought.
RETAIL: 112,000,000 IDR (Indonesian rupiah)
CONTACT: Eko Sukoco
EMERGING ARTIST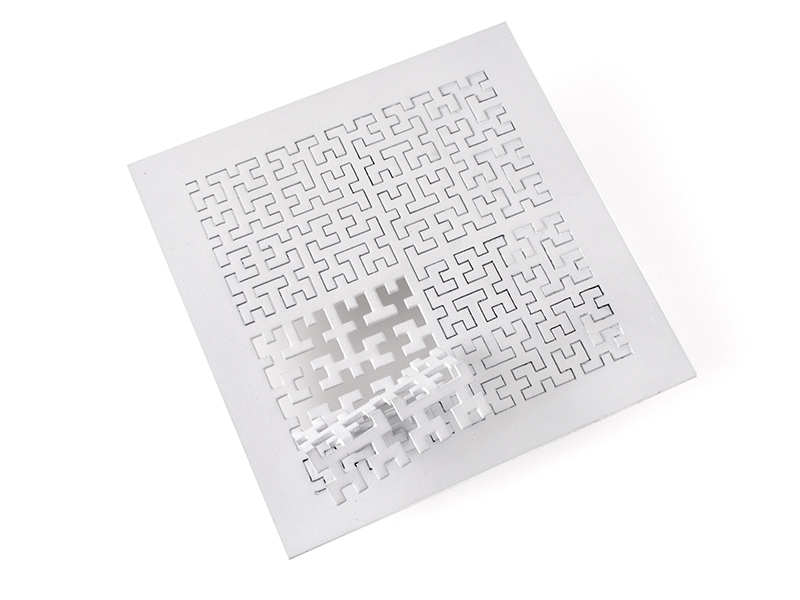 Baltimore Jewelry Center—Reed Fagan's practice reflects his fascination with math and theoretical science. He creates unique and beautiful forms by researching mathematical theorems and then abstracting them through the process of craft. The resulting pieces are both pleasing to the eye and intriguing to the mind. This brooch, which is part of a larger series, is based on the Hilbert Curve, which Reed has realized through algorithmically derived laser-cut drawings.
RETAIL: US$250
CONTACT: Shane Prada
EMERGING ARTIST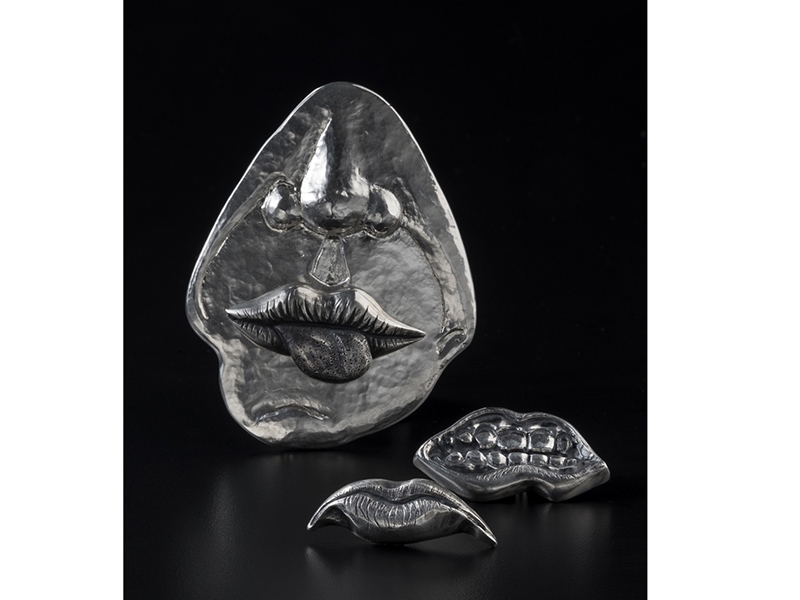 L. A. Pai Gallery—(De)Visage: D'Humeur Changeante is a brooch with exchangeable expressions. Emilie Bisson-Yassa, its maker, is a recent graduate of the Ecole de Joaillerie de Quebec and is one of five finalists for L. A. Pai Gallery's 15th annual National Jewellery Student Competition. The brooch will be shown in the exhibition for the competition, which runs until September 9, 2018.
RETAIL: CAN$800
CONTACT: Lisa Albuquerque
GALLERY CHOICE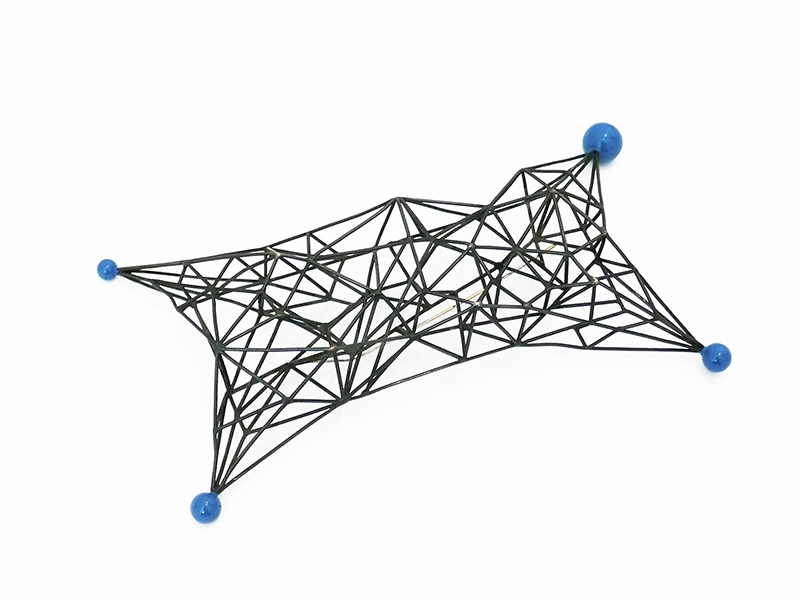 Galerie Spektrum—This brooch is from an early series of Georg Dobler's work. Constructive with tension. Here is a chance for a collector interested in Dobler's work to acquire an early, important, and typical piece by this artist.
RETAIL: US$3,450
CONTACT: Jürgen Eickhoff
GALLERY CHOICE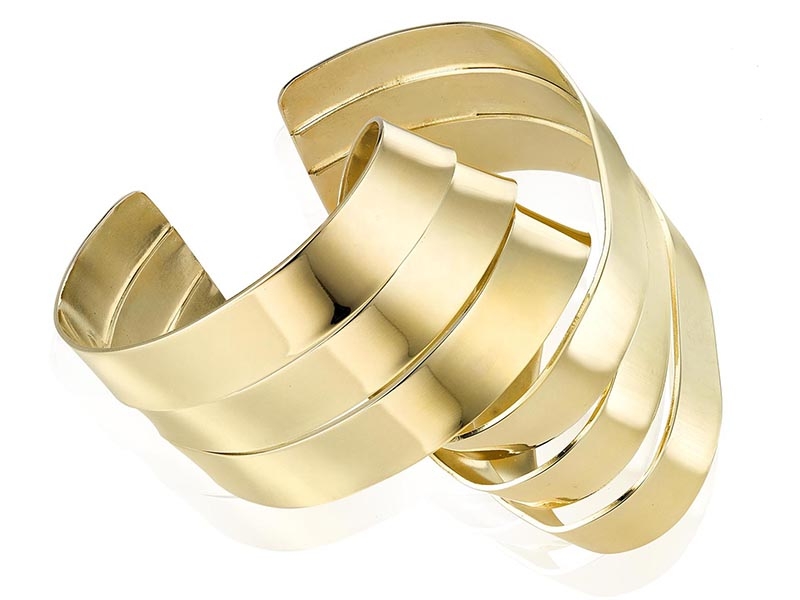 In the Gallery at Brooklyn Metal Works—Oblik Atelier is elevating jewelry from an ordinary accessory to an extraordinary wearable sculpture, an objet d'art. The creative force behind the studio is Mia Hebib, a classically trained metalsmith and accessory industry veteran whose desire is to forge conversations through her creative expression. Mia is in constant dialogue with the metal as she folds and forms it into miniature sculptures for the body. Ultimately, the jewelry provokes a conversation between a wearer and the observer, thus becoming a conversation piece. Oblik Atelier jewelry is bold and elegant, and embodies a design language that speaks to the confident, art-appreciating wearer.
RETAIL: US$450
CONTACT: Brian Weissman
GALLERY CHOICE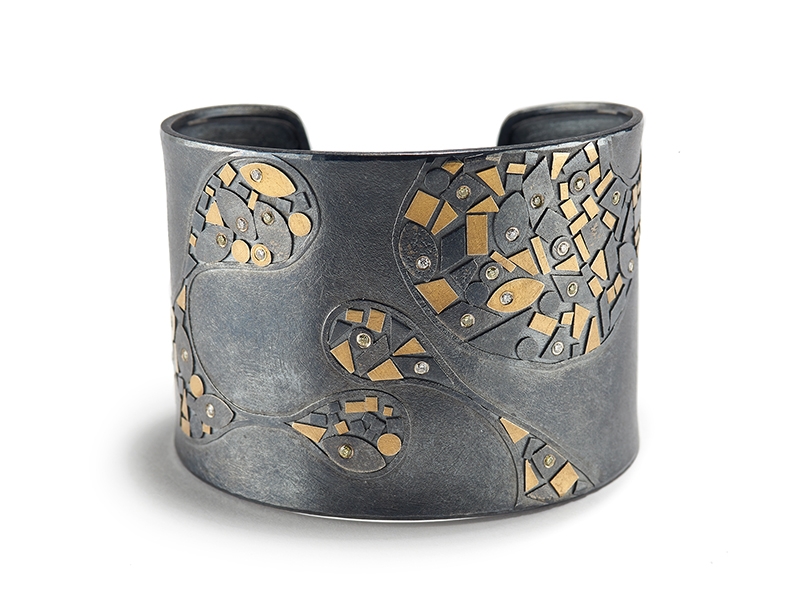 Patina Gallery —Peter Schmid, of Germany's Atelier Zobel, presents a new idea in abstraction. This mosaic cuff is reminiscent of Miro in its undulating forms; instead of being filled with color, it's filled with geometric forms of gold and silver. Studying various patterns, textures, and tastes, his appetite grows to explore the contrasts of arrangement and shape, allowing him to create a marvelous composition, which revels inquisitively in wonder. This piece is part of Patina's August 2018 exhibition, Captivating Brilliance. The work honors Puccini's operatic masterpiece, Madame Butterfly, and explores the artistic inspiration from the movements of orientalism and exoticism prevalent at the time of Madame Butterfly's debut in 1904.
RETAIL: US$5,190
CONTACT: Allison Barnett