Art Jewelry Forum's extensive network of international
gallery supporters
is dedicated to celebrating and showing art jewelry. On Offer is a monthly series that allows AJF galleries to showcase a piece that they've personally selected to tempt and inspire you. Please contact the gallery directly for inquiries. Enjoy!
MUSEUM WORTHY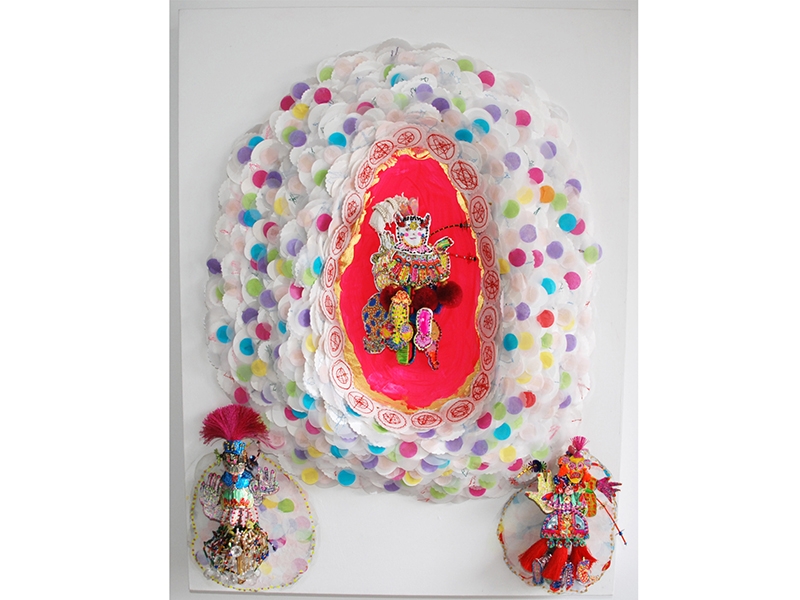 Galerie Door—For the exhibition Hide and Seek, at Galerie Door until September 15, 2018, Coco Sung (1979, Uslan, South Korea) has made great wall objects with fabulous brooches. The work resembles altars, images of saints, and ex-votos, and the brooches can be worn as intriguing amulets or talismans. The incredibly beautiful and lavishly decorated brooches are named after hormones and neurotransmitters that are linked to pleasant feelings. The wall objects that house the brooches are colorful shrines, reliquaries, wombs that protect from harm. Coco Sung tempts you to reflect and enjoy, and submerges you in a world of amazement and wonder.
CONTACT: Doreen Timmers
RETAIL: Price upon request
ESTABLISHED ARTIST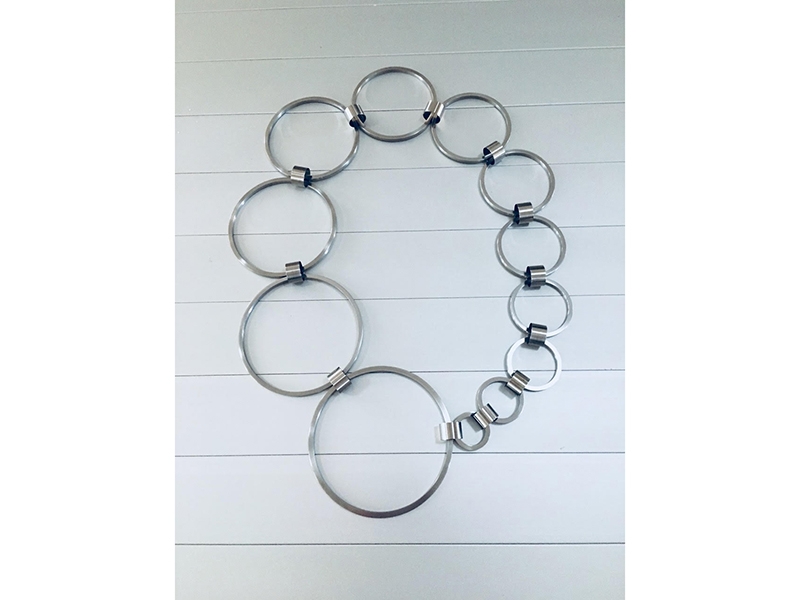 Gallery Loupe—A star of the Prague art world, Eva Eisler is an internationally recognized sculptor, furniture/product designer, and jeweler. Rooted in constructivist theory, her structurally-based objects project a unique spirituality by nature of their investment with "sacred geometry." In this new piece, Eisler invokes her reverence for perfect proportion with the Fibonacci math sequence as her reference point. Eisler is chairman of the metal and jewelry department at the Academy of Arts, Architecture and Design in Prague, where she heads the award-winning K.O.V. (concept-object-meaning) studio. Her work is in the collections of the Metropolitan Museum of Art, Brooklyn Museum, and Cooper-Hewitt, Smithsonian Design Museum, in New York; Museum of Fine Arts, Boston; Museum of Fine Arts, Houston; Renwick Gallery, Smithsonian American Art Museum, Washington, D.C.; Montreal Museum of Fine Arts in Canada; Pinakothek der Moderne, Munich; and Museum of Decorative Arts, Prague—among others.
CONTACT: Eileen David
RETAIL: US$6,400
ESTABLISHED ARTIST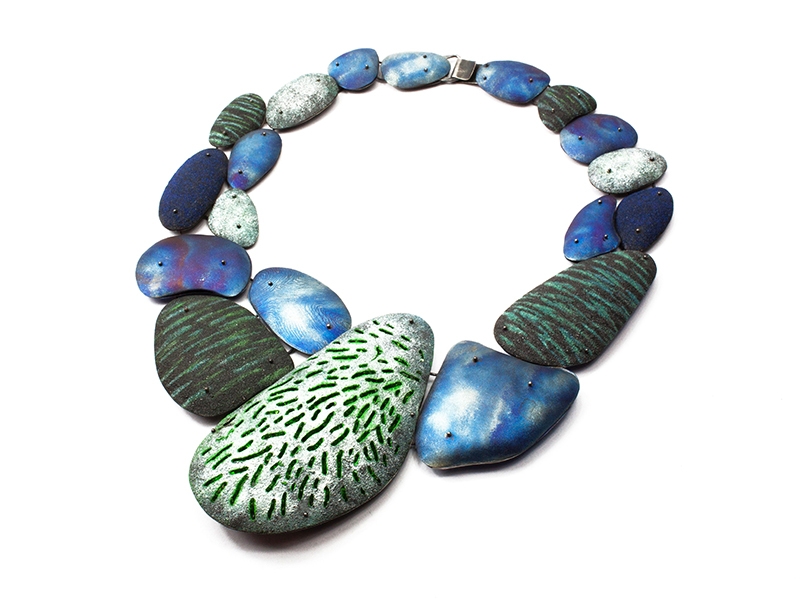 Slavik Gallery—About her work, Nicola Heidemann says, "I collect allusions, impressions, associations. A piece of wood can excite me, a shadow on a stone, or light glittering on water. It is the incomplete things that fascinate me. The not-disclosed mysteries. They give me and the beholders of my objects space for the imagination to start working. My pieces are able to awaken associations, and generate the awareness of our relation to nature. That is needed so deeply. A sense of being connected with everything."
CONTACT: Renate Slavik
RETAIL: €4,800
ESTABLISHED ARTIST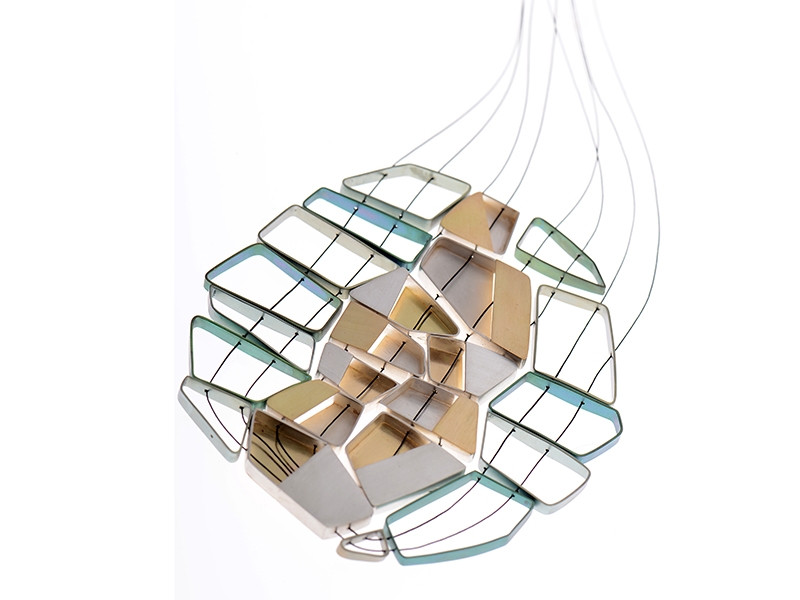 Galerie Elsa Vanier—Florence Croisier studied jewelry at the School of Arts-Décoratifs of Geneva before creating her own brand, designing jewelry with a sculptural approach. Croisier's designs are often pure, utilizing materials such as anodized titanium that add subtle colors while creating an interesting contrast with precious metals. The lightness of the materials allows the jewelry to be worn liberally whilst retaining complete freedom of movement. For this necklace, Tisser des Liens (Building Relationships), Croisier was inspired by the relationship between a man and a woman and their complementarity as a couple. The gold in this piece symbolizes masculinity, while silver represents femininity. The necklace, worn on the heart chakra, which is symbolized by titanium's green color, is made of 10 gold/silver and 13 titanium elements that can come together in harmony or go their separate ways.
CONTACT: Elsa Vanier
RETAIL: €6,250
ESTABLISHED ARTIST
Taboo Studio—Joanna Gollberg is not only a renowned jeweler but also a teacher and author of several books on jewelry design and construction. This brooch embodies the characteristics her work is most noted for: texture, color, and a masterful use of unique stone choices in unusual settings. It is a dramatic and highly wearable piece using a subtle monochromatic palette.
CONTACT: Jane Groover
RETAIL: US$740
ESTABLISHED ARTIST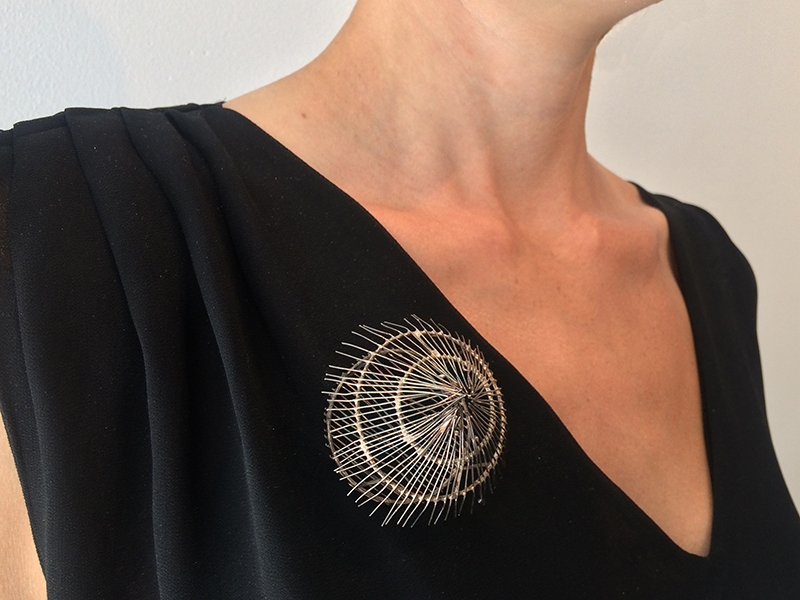 Four—The theme of Jürgen Eickhoff's work is chaos and order and the interplay between them. The two principles depend on themselves but also need each other. Chaos and order is the beginning of thinking and the beginning of life. It builds up the basis of social structures. In this piece, you'll find the structured, exact work of a goldsmith together with the humor, creativity, thoughts, and emotions of an artist.
CONTACT: Karin Roy Andersson
RETAIL: €1,100
MID-CAREER ARTIST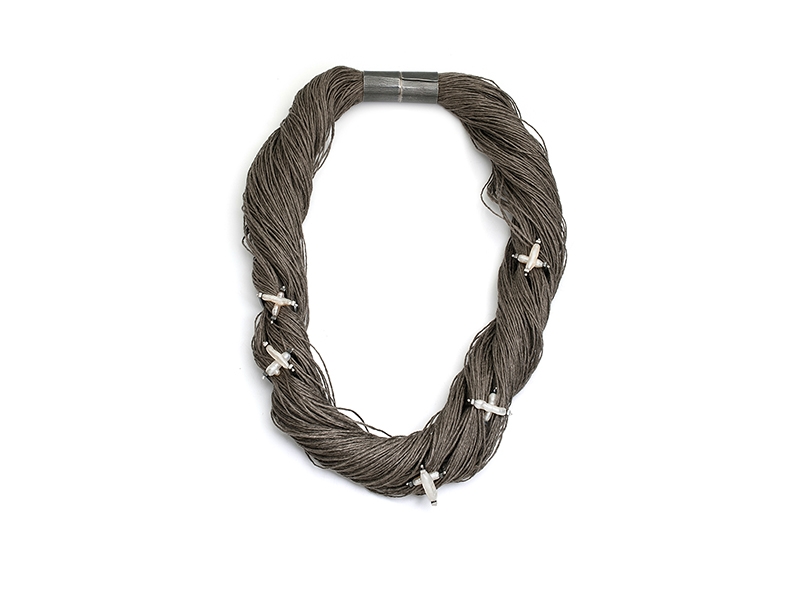 L. A. Pai Gallery—In this piece by Lydia Buxton, the combination of an overabundance of linen strands, pearls, and silver offers a surprising, harmonious marriage of materials. The softness of the linen juxtaposed with the harsh oxidized silver work together to create this show-stopping, unique neckpiece.
CONTACT: Lisa A. Pai
RETAIL: CAN$1,580
MID-CAREER ARTIST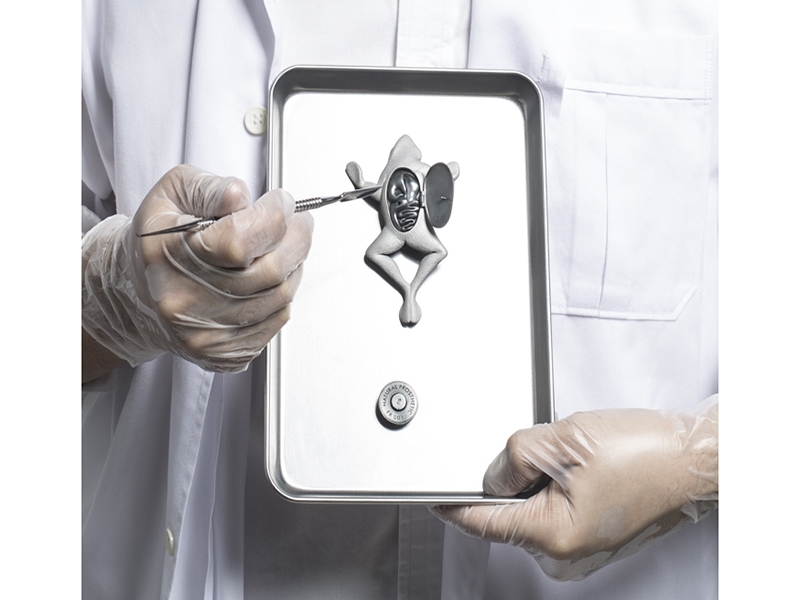 ATTA Gallery—Frog (FR001) is one of the latest pieces by Thai artist Tithi Kutchamuch, in the series Natural Prosthetic. The artist was once asked to decide on a material used for someone's replacement heart valve. Since then, she has been curious about what is considered natural and what is not. In this piece, the heart of the frog is a single baroque Tahitian pearl, while the intestines and the "locket" cover are made with oxidized silver and the main body is of cast aluminum. This is a one-of-a-kind piece displayed on a metal tray when not worn as a magnetic brooch.
CONTACT: Atty Tantivit
RETAIL: €2,500
MID-CAREER ARTIST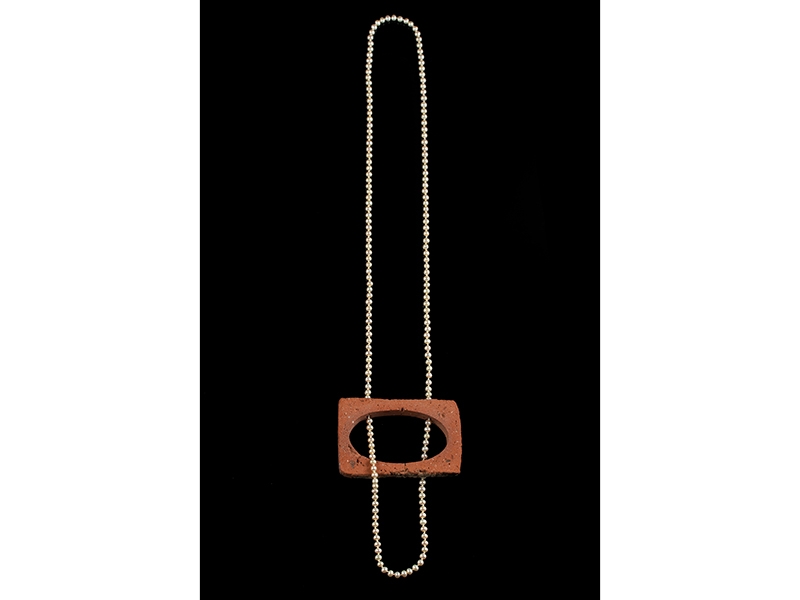 In the Gallery at Brooklyn Metal Works—Kerianne Quick describes her series thus: "The bricks used in the series Transmutations—dating from the early to mid 20th century—were foraged out of the river at Kingston Point and along the Rondout Creek in New York State. They were hand-cut and carved, and combined with heirloom pearls, shell, silk, silver, and gold. Through stringing and pearl-knotting techniques, the work draws from both the adornment ideals of the Dutch Golden Age and the ceremonial adornment of the native Lenape Tribes of the Hudson River Valley. Like the act of colonization, Transmutations mashes together disparate cultures using native materials. Each piece references an uncomfortable combination of European and Native American adornments to create something unique to the Mid-Hudson River Valley." Transmutations, by Kerianne Quick, will be on view through September 8. An artist talk will be held on September 7.
CONTACT: Brian Weissman
RETAIL: US$1,800
EMERGING ARTIST
Galerie Rob Koudijs—In this society where images seem to win out over words, it is of course a treat for an artist to choose contemporary imagery as his subject. In the past years, Shachar Cohen has already ventured into customary—at least in our part of the world—Christian iconography. This time he has broadened his field of interest to the realm of life and death, such as their depictions developed for video games and manga comics or as in the more traditional vanitas symbols. Cohen decided on cheerfully adding to the pandemonium with his jewelry pieces. He based them on two simple principles: only using the outlines of the icons he selected, and employing purely high-gloss stainless steel. To reinforce the thin sheet metal, it was processed in a hydraulic press machine, shaping it like a slightly inflated balloon. The distortion of the reflection in the mirroring surface makes the recognition of the sign even harder, not to mention the fact that the surrounding world becomes part of the overall picture. The strength of these jewelry pieces is their multi-interpretable visual language: both the wearer and the observer can project their ideas on them to their hearts' content; Cohen will be contented with whatever they make of it.
CONTACT: Rob Koudijs
RETAIL: €3,250
EMERGING ARTIST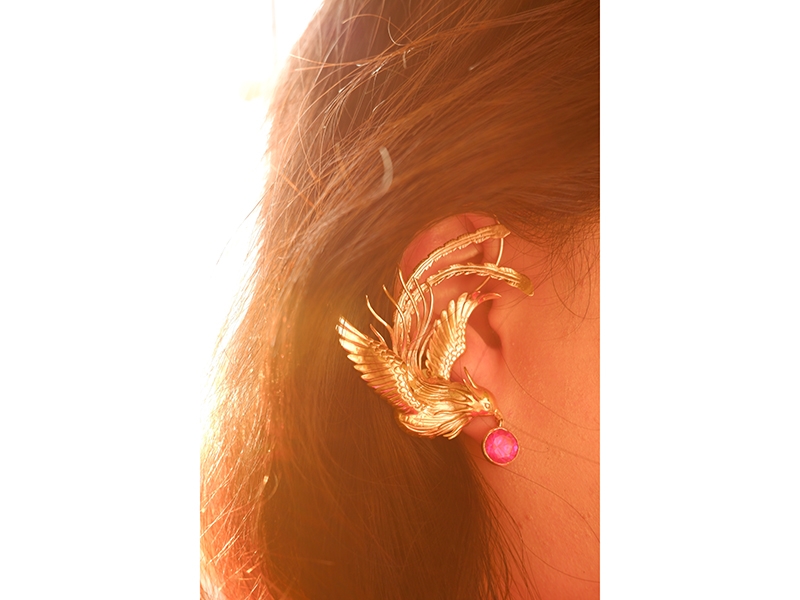 Koumei Art Gallery—The other earring of the encounter. The piece describes the continuation tale after the encounter. A happy match after the encounter is a rare occurrence in life. Sometimes we won't find it even when we seek it, but other times we stumble upon it even when we don't realize it. The design is taken from Fenghuang (凤凰), a symbol of union, grace, and harmony.
CONTACT: Eko Sukoco
RETAIL: 93,000,000 IDR (Indonesian rupiah)
EMERGING ARTIST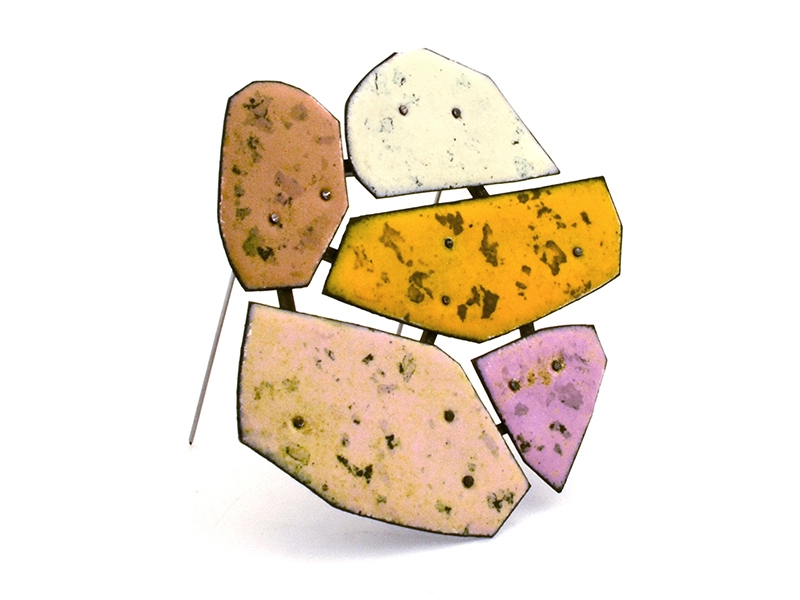 Baltimore Jewelry Center—Hannah Oatman is an emerging artist creating elegant and playful jewelry that utilizes a unique enameling technique. Oatman creates a paper model of each of her enamel collage brooches to explore the dimensionality and composition of her designs before created her enameled elements. Hannah is inspired by the intimacy that jewelry allows and the potential jewelry has to connect to its audience. Her unique approach to the traditional practice of enameling yields pieces that are both evocative and precious.
CONTACT: Shane Prada
RETAIL: US$450
EMERGING ARTIST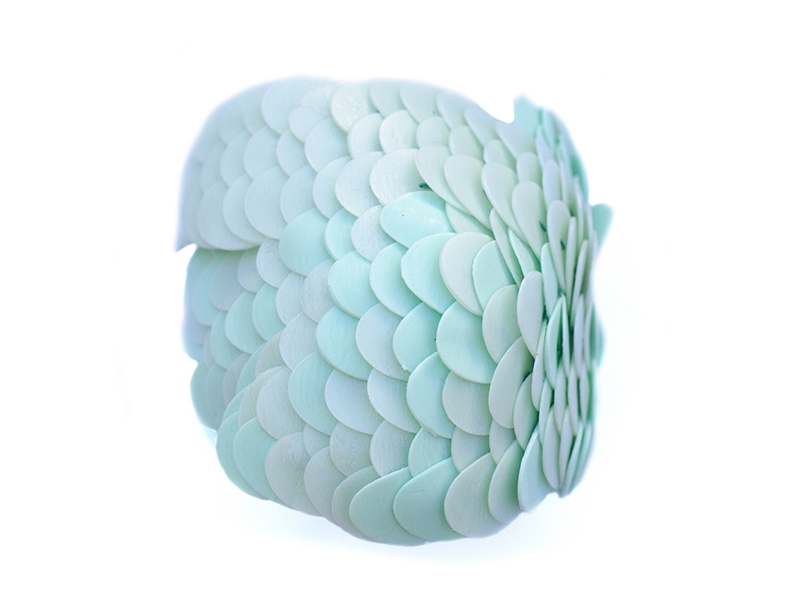 Galerie Noel Guyomarc'h, bijoux et objets contemporains—2018 AJF Artist Award finalist Karin Roy Andersson received her MFA from HKD, the Academy of Art and Craft in Gothenburg. Her work is particularly impressive because of the clever use of everyday plastic materials. Beyond the idea of recycling, her work is composed of sewn scales, to evoke fishes and the world of the oceans, a world that can be at the same time beautiful, attractive, frightening, and secret. Multiplicity, repetition, and recurrence are part of her artistic process, creating structures with movements and fluidity.
CONTACT: Noel Guyomarc'h
RETAIL: US$960
GALLERY CHOICE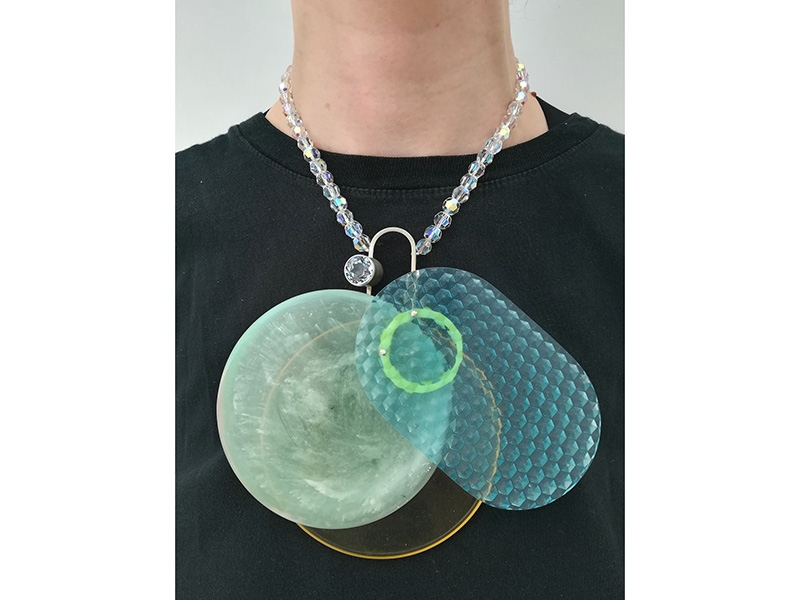 galerie beyond—Just love it, just wear it!
CONTACT: René Darmont
RETAIL: €2,100
GALLERY CHOICE
Galerie LA Joaillerie par Mazlo—Arata Fuchi graduated in industrial design from Tokyo Zokei University and after a few years of working in a watch manufacture, he decided to move to Florence, Italy, and study at le Arti Orafe school to become a jewelry designer. Over the years, Fuchi has become a recognized master of various traditional goldsmithing techniques, such as shibuishi and keum-boo. He invented a technique of his own, called pulverization, to fulfill his expressive needs and developed a unique artistic approach based on the Japanese sense of beauty, which to him means beauty as a form that only nature can create. His works are included in various private and public jewelry collections all over the world. This double ring, entitled My Adored Slave, is emblematic of Fuchi's work, combining different metal alloys with contrasted colors. Conceived as jewelry-as-sculpture, this ring includes minuscule gold granules set up on a fantastical organic form, and copper patterns evoking the wedge-shaped marks of cuneiform script. This unique work is currently featured in the group show Sign of the Times.
CONTACT: Céline Robin
RETAIL: Price upon request
GALLERY CHOICE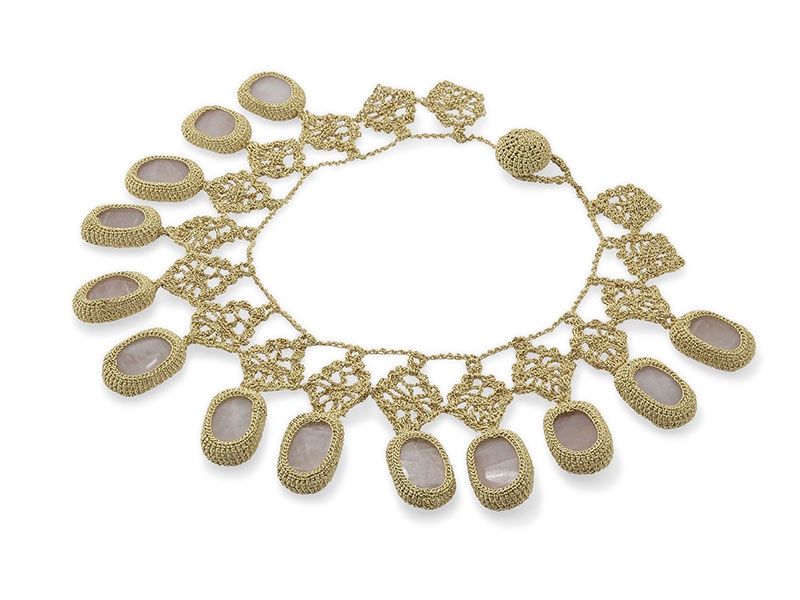 Myday-Byday—Shenhav Offer Russo crochets jewelry. She has always loved crocheting, ever since her childhood. Taught by her mother to crochet ornamental mats at a tender age, Shenhav quickly took pride in crocheting the tightest of stitches, lending her creations a captivating, almost machined precision. Her natural curiosity and inventiveness took things further, bringing her to passionately explore crochet techniques in adulthood, and ultimately transform, refresh, and adapt an ancient craft to the design sensibilities of modern times. She now uses crochet to create statement jewelry pieces. The detail, intricacy, delicateness, and splendor of her creations are only part of the story. She finds the true hidden beauty of her art form to lie in her ability to create anywhere and everywhere. A reel of thread, some gleaming natural stones or crystals, a crochet needle, and her imagination are all she needs. Her work is inspired by nature and urban landscapes alike, so being able to forge her creations right there, wherever she may happen to be, can be extremely gratifying … beauty and diversity of life.
The thread in this necklace is a cotton core coated with a gold-colored polymer; it has no metal content and will not tarnish. It can be made longer if you wish to order a custom piece.
CONTACT: Laura Helena Aureli
RETAIL: US$1,125
GALLERY CHOICE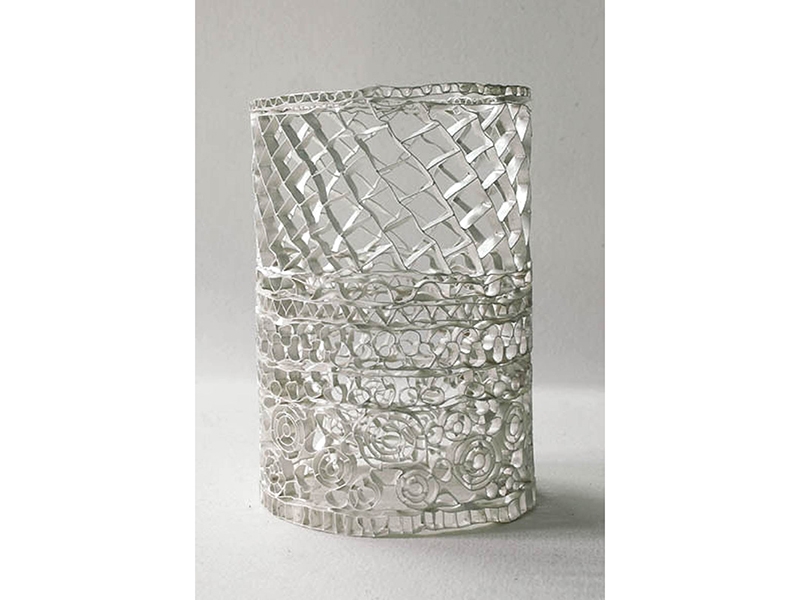 Galerie Spektrum—Detlef Thomas, born in 1959 in Germany, studied from 1983–1988 at the Akademie der Bildenden Künste Munich under Prof. Herman Jünger. He received the Herbert Hofmann award in 1989 and the award of the city of Munich in 1992. He also worked as director-assistant at the theater in Bochum, Germany. Thomas is very quiet, but one of the most remarkable artists in the jewelry scene. His sense for form and ornament is unique.
CONTACT: Jürgen Eickhoff
RETAIL: $12,000
GALLERY CHOICE
Gallery Funaki—Craig McIntosh uses metamorphic argillite, locally known as pakohe, from Colac Bay, on the south coast of New Zealand's south island. It's a distinctive material with a paradoxical provenance: to Maori it was "taonga," a highly prized natural resource, used for making tools and adzes. Now, it is also quarried for road backfill and sea walls. It's a tough stone, strong and supple, and, in Craig's hands, transformed into beautifully balanced, considered jewelry.⠀
CONTACT: Katie Scott
RETAIL: AUS$1,290
GALLERY CHOICE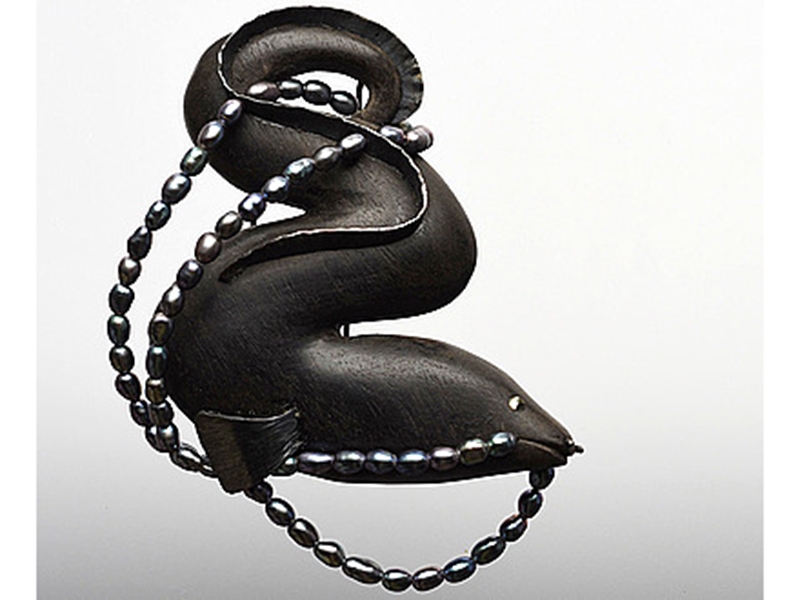 Fingers Gallery—Much of Jane Dodd's current work is inspired by European decorative traditions and the cultures from which they sprang. Gothic combinations of sculpted animal and human forms, horn and antler shapes, and heraldic devices suggest myth, folklore, and fairy tales—concerns identifiable in Dodd's work for some time. However, the mix of materials, especially the use of wood, shell, stone, and pearl, is new to her work and has pushed it in innovative directions. "I work in a largely figurative style," says Dodd, "negotiating a few separate but overlapping lines of enquiry. Often my work has a story-telling aspect. I consider myself a metalsmith but have recently used wood, shell, and stone to bring more scale, texture, color, and plasticity to my work."
Dodd was born in Dunedin, New Zealand, in 1962. She has a BA from the University of Otago and studied jewelry at Unitec, Auckland, graduating in 1994 with a diploma in design. After 15 years at Workshop 6, a shared jewelry workshop in Auckland, Jane has recently returned to live in her hometown. Since the early '90s, Jane has exhibited widely in solo and group exhibitions in New Zealand and overseas. Her work is widely sought-after and is held in a number of public and private collections worldwide.
CONTACT: Lisa Higgins
RETAIL: NZ$1,220
GALLERY CHOICE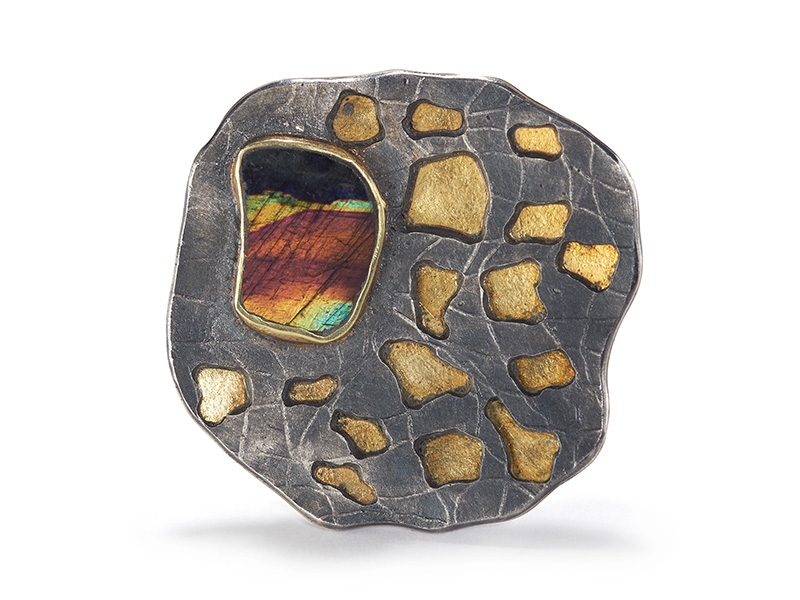 Patina Gallery—Harold O'Connor unleashes a bold new view in his Geode Ring. Revealed between two layers of oxidized silver is 18-karat-gold peeking through and adorned with a gleaming spectrolite stone. Inspired by the glorious landscapes of the west, primarily Colorado, his pieces echo the purple mountains majesty and the rushing rivers amidst vast valleys and plains. In turn, the work is impactful and unique, making a statement that truly resonates.
CONTACT: Allison Barnett
RETAIL: US$2,445
GALLERY CHOICE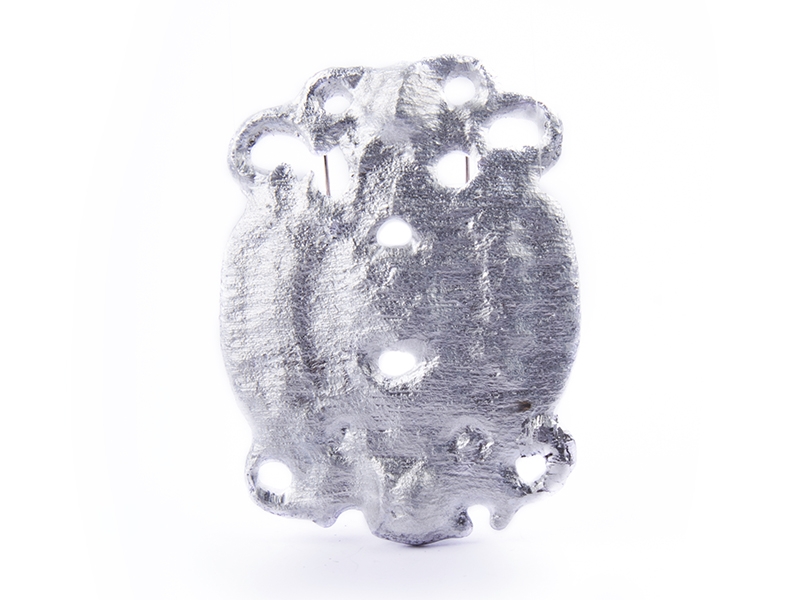 ohmyblue—This piece by Annika Pettersson is part of the project called Glitch in the Copy. The artist here uses the power of digital and the concept of copying as a creative gesture to reinterpret and transform a brooch into a sequence of brooches based on the erosion of the concept of uniqueness of the initial one. A known thing enters the realm of abstraction, bringing into being seemingly identical copies of itself. For this reason the sequence could be experienced cinematographically: as we proceed slowly, we notice that every piece has slight differences between one another. Each copy of the brooch differs as each has been "photocopied" individually, and we start to experience every brooch as an image: the erosion of uniqueness in fact refers back to the duplicative nature of photography. Glitch in the Copy is composed by objects of beauty characterized by a rigor that invites us to wonder if the disruption in it will (hopefully) happen in our heads too.
CONTACT: Elena Rizzi
RETAIL: Price upon request