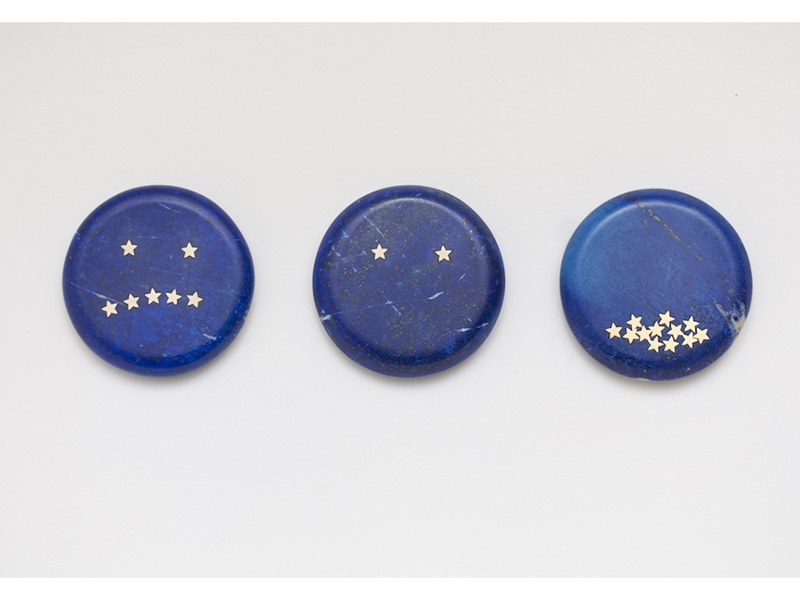 Lin Cheung's work is certain to spark discussions. From her Friend or Foe necklace, the Room Temperature object, her published books, and installations to her latest Delayed Reactions brooches and Keep series, Lin's work is a commentary on the human condition, a conveyer of the maker's thoughts and feelings, a constant exploration into the meanings of jewelry.
Lin has been the recipient of numerous awards, more recently the 2018 Françoise van den Bosch Award and the 2018 Herbert Hofmann Prize. In 2017, she was one of 12 finalists selected from 1,500 applicants for the UK's BBC Radio 4 Woman's Hour Craft Prize.
Adriana G. Radulescu: Congratulations, Lin, you are the recipient of this year's prestigious Françoise van den Bosch Award, in recognition of your body of work and your thought-provoking and inspiring role in promoting contemporary art jewelry internationally. Can you tell us how it all started? When did you realize you want to make jewelry? Where did you study?
Lin Cheung: Thank you! It's been an amazing year so far, so grateful to the Françoise van den Bosch Foundation. They do good things enthusiastically, independently, voluntarily, and unexpectedly, which is rare these days, so I feel especially honored.
I grew up in a very practical household, making and mending all sorts of things, sewing, knitting, stitching, taking things apart, curious about how objects functioned and what they were made of, but I can't remember making jewelry. I wore a lot of jewelry in my childhood, as a teenager and through to adulthood, gifts or items I bought myself, but the making of it came much later.
I specialized in ceramics and metalwork for my BA at Brighton University (WMCP: BA Wood Metal Ceramics Plastic) and happened upon a copy of The New Jewelry, by Ralph Turner, and I never looked back. Even after all these years, it feels like every situation, place I've been in, and person I've met over the years is somehow linked to that book like a jewelry family tree of once- or twice-removed cousins, so it's had a profound effect on my outlook. I remember poring over the pages, wondering what the materials were, how pieces were made, and thinking, "this is exciting."
Also this year, at Schmuck, you were awarded the 2018 Herbert Hofmann Prize for your Delayed Reactions series of carved brooches. This is a very impressive start of the year!
The Herbert Hofmann Prize jury described your work as "a political statement, exemplary for the issues of today and the relationship to their values." You conceived this series as your personal reaction to the Brexit vote and to the current state of world politics. The Delayed Reactions brooches are shaped as spring-pin buttons with emoji-like faces or symbols. But they're not made of pressed metal or plastic, as traditional spring-pin buttons are; they're impeccably carved out of semiprecious stones and dotted with gold. What was your concept in juxtaposing the representation of a traditional, inexpensive, one could say humble form of wearable communication device traditionally associated with political campaigns, with the use of precious materials? And what is the meaning of "Delayed" in the series' title?
Lin Cheung: I chose to carve these brooches out of stone—a material perceived as hard, unforgiving, everlasting—to contrast the throwaway, easy, quick-to-make metal pin badges. Ironically, even though pin badges are considered one-use and throw away, I've always treasured and kept mine from even the most mundane message to the most profound; they serve as a reminder of a very real sentiment, belief, event, mood, so this is partly why I've used semiprecious stones, to sort of say that some things, once said or done, can't be undone, that no matter how fleeting and momentary events might seem, they can live long in our psyche.
The meaning of "Delayed" in the title refers to the opposite of an immediate reaction to something. In the lead-up to, and after the EU Referendum, I distinctly remember feeling sad as events unfolded, but not knowing how to express this, least of all know at the time I would make the work I have done. A delayed action is something stored up and deployed at a later date. I had pent-up emotions, a mind swimming with confused thoughts, and stone carving released these emotions a very long time after the events.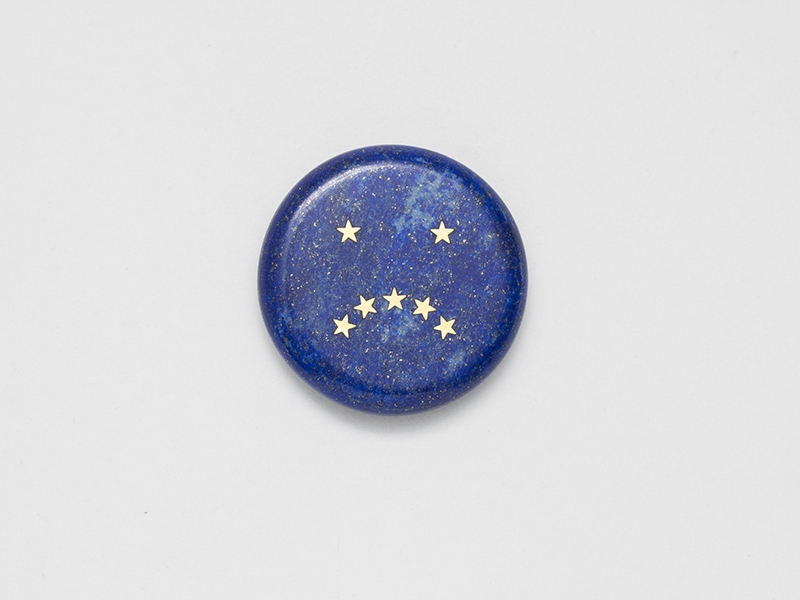 "Delayed" also refers to the laboriousness of making in stone and the metaphoric meaning we associate with stone and stone carving. Grinding, honing, whittling can also mean wearing away, ruminating, brooding, perfecting, reducing—the slow, physical acts of making sense of my thoughts, buying time before committing to resolutions like delayed gratification, deliberately having to wait. I have mostly taught myself stone carving (initially under the expert tuition of Charlotte De Syllas during a five-day master class), so the process has been extra laborious as is often the case when you first start out with a new material. However, naiveté gave me an advantage: what I didn't know couldn't hinder me, so with a new sense of freedom I had nothing to lose, I just went right ahead and made them.
Do you think conceptual jewelry can be persuasive in raising the public's political awareness?
Lin Cheung: Yes, I believe it can. I'm also interested in how we can measure this effectively above and beyond what someone already knows and believes in. I don't necessarily think the "Delayed Reactions" series is "raising the public's political awareness," it's more in the thick of it, part of the conversation, a timely comment rather than trying to raise awareness, as it's already well in the consciousness of everyone. I still believe we must not forget the damage done, and the future is more uncertain because of the events of the EU Referendum, so, yes, I hope jewelry continues to stir people's thoughts on what's going on around us in the world. If I think of the work of Esna Su, she is increasing the public's awareness of political and social implications of the Syrian refugee crisis—she encourages us to not forget, to invest time and energy in an act of not forgetting by taking part in her artworks.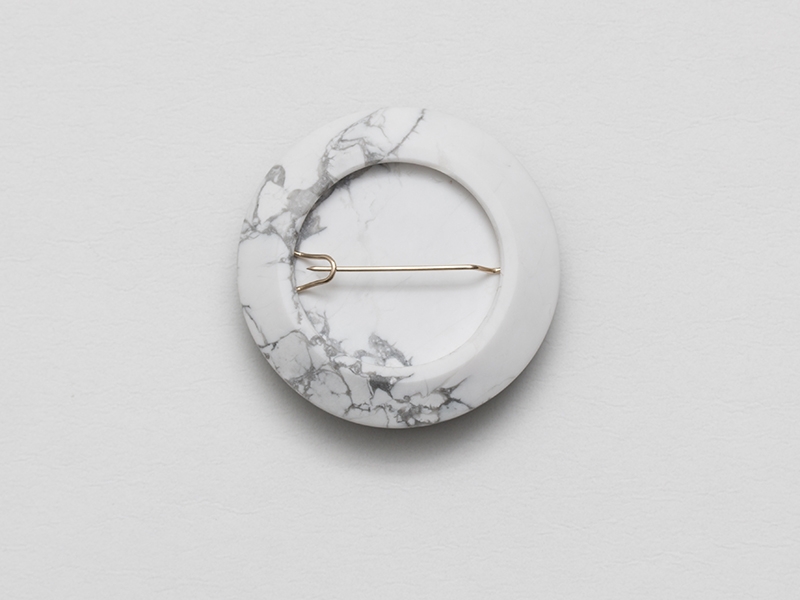 Does it matter to you if the owners of your pieces are people empathetic to your ideas or not?
Lin Cheung: It's always nice when people do empathize with my ideas and viewpoints, and I usually find this out when I meet them, so the shared conversations, the recognition of things in common are always a bonus—I spend as much time as I can being a hermit in the shell that is my workshop, so it's refreshing to come out and engage with the work from another perspective, but it also doesn't matter to me if people don't empathize. Despite my controlling the material, the size, the form, and attempting to communicate my thoughts via the piece, it's also an object in its own right. Once it leaves me, it's free, free to attract other kinds of meaning, other values, be worn or not worn, loved or loathed, etc., things that I have no control over. Nor do I want that control—this is important and vital: knowing I've had a good go at expressing my ideas, opinions, in the best way I can is what I find challenging and exciting—thinking I have the answers is not.
On your website you state, "The inspiration for the series Pearl Necklace started with a pearl necklace my mother gave me that I never wear. I felt it did not suit me and I do not believe in only one kind of femininity." A man models your piece, which is made of carved freshwater pearls, with each carved pearl creating a Whitby jet type of chain link. Is this series a part of your exploration of jewelry as adornment, of its role in the formation of personal identity? Do you see jewelry as an effective means of pushing new forms of gender representation? What are your messages and intentions here?
Lin Cheung: Thinking back on this piece, I realize it's quite complex. On the one hand, it looks so simple, and the act of picking up the original necklace and carving into it was just as easy as that: let's just see what happens, if it's possible to do. After experimenting and finishing the full chain, I've had time to contemplate what it perhaps means, why I did it, and what it's become. I kept the necklace for a very long time and never wore it because I thought it was a bit twee.
Pearls are loaded with connotations—perhaps the last of the jewelry materials to go through a revolution like diamonds and gold have, where they enjoy a much wider possibility of jewelry forms and function. In this sense, the pearl has a bit of catching up, most probably because of its form. Its "jewelryness" is already predefined from birth as a round pearl, and somehow we assign this as female. I realized having carved it that I'd made a chain first and foremost and it was no longer a pearl necklace, so it felt like it had shed these connotations somewhat and suited my own sensibilities and aesthetics for jewelry; that I wear jewelry just because I want to, and long gone are the days of dressing up, decorating and accessorizing with jewelry.
For me, I'm interested in what femininity is, and it's not necessarily associated with gender; I guess I see femininity more broadly and associate it with intellectual strength and thinking, a compassionate power and away from the physical. Photographing it on a man was an experiment in presentation, to see if it was an effective way to say I'd broken the narrow perception of a pearl necklace as female, and if what remained—a delicate strength, ambiguous contrasts—could express another kind of femininity, one that I would feel closer too, that didn't also abandon my gender, that of a woman. Hmm, even now it's hard to pin down, but then again it's been quite interesting to think on the impact of this piece since making it!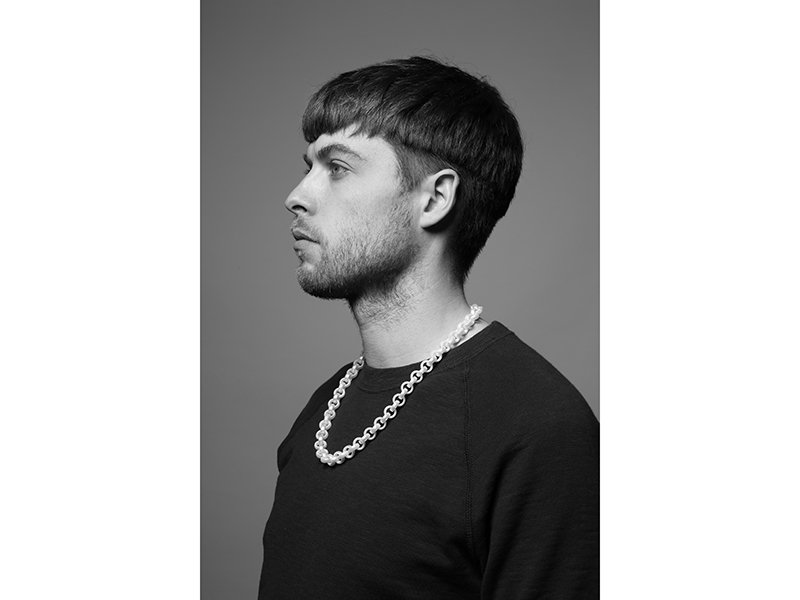 Some of the Pearl Necklace pieces come with their own reconditioned, vintage pearl necklace cases. What's the meaning of refurbishing and reusing the antique pearl cases?
Lin Cheung: Reusing the antique cases lends a bit of history to the narrative, pre-owned, belonged to, etc., as the original necklace and box both belonged to my mother, and subsequent necklaces and boxes I've made are echoes of this.
How important is it to you that your pieces be worn?
Lin Cheung: I don't mind one way or the other! They're quite wearable, but whether people do is their own choice and another matter altogether. I can appreciate it from both sides: I own lots of jewelry I don't wear and it doesn't affect my appreciation of the pieces. I like picking pieces up and looking at them, and then putting them away. I sometimes wear lots of impractical jewelry that needs attention, tending to all the time when wearing it, huge holes have appeared in blouses and T-shirts due to unsharp pins, but it's all worth it because they're fantastic pieces of jewelry. And weeks have gone by where I've worn the same thing. To wear or not to wear: It's all part of the joy of jewelry.
Your Keep series is about, well, keeping—your keeping and storing jewelry. This series is very unceremonious, if I may say so. It depicts ordinary objects such as the brooch piece titled Paper and an Elastic Band. In this piece, you use an artificial stone, gold, and a real rubber band, a combination of enduring materials and ones with a short life span. I'm curious about what was kept in the bag and what is the concept of this piece. What is the meaning of this combination of materials?
Lin Cheung: I often just keep the jewelry I own in whatever I have at hand. It can be a tissue, kitchen paper, toilet paper, old plastic grip seal bags, a piece of paper. I travel a lot so I tend to take pieces out of their original box or case (if they had one) and stow them in a more practical way. Paper and an Elastic Band brooch simply refers to any number of possible pieces, probably all brooches that I've wrapped up in this way. I've always done this with the jewelry I wear (mostly jewelry made by other people; I rarely wear my own work) so whilst it's unremarkable and unceremonious, the habit of storing items this way curiously makes it special to me. Carving this piece in white recon stone simulates the quality of paper, and using a real rubber band adds to the exploration of ordinariness—I guess here I'm inviting you in to glimpse the personal life of jewelry, to witness how value and meaning are made manifest through objects, to look again. By using precious or unexpected materials and processes to describe ordinary details, it might encourage you to contemplate aspects of jewelry I find interesting beyond the artifact.
The Keep series meditates around the private and public life of jewelry, my own in particular, and how the same piece can have a hierarchy of care. It might seem boring to use paper, bubble wrap, a plastic bag to store my jewelry, but to me it's highly practical, safe, and also made personal this way. I'm caring for and looking after what the object means to me after living with it, rather than what it was when I first bought it. The maker's or brand's original packaging considers jewelry as a commodity through presentation, allure, enticement, an extension of the piece's concept, the maker's creativity and care—my keeping of it thereafter signifies ownership, that it belongs to me and it's absorbed into my daily life.
Other pieces from the Keep series, titled Old Pearl Necklace and Benita's Brooch, have in fact no such visible pieces of jewelry in them; instead, the translucent bag (actually carved rock crystal) that may hold them takes central place in the piece. Is this a way of preserving the memory of the jewelry that isn't seen, but implied to exist or to have existed? What are the stories behind these pieces?
Lin Cheung: Yes, that's right, both pieces exist, so I do own an old pearl necklace and a brooch made by Benita. I observed the space both items take up inside their little plastic bags and carved it. The pendants look empty and full at the same time, and they observe a contrast between the ordinariness and extraordinariness of things—this is something I really like about jewelry: an object that can at once be both.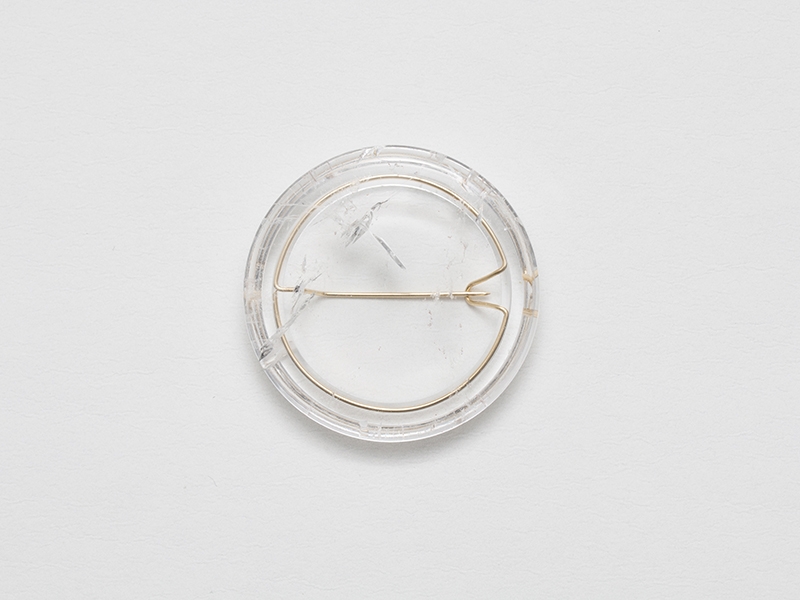 Your work includes several public projects; you designed the medals for the London 2012 Paralympic Games, and in 2014 you were one of the 10 finalists selected for the design of the Tang Prize medals. Two years ago you were commissioned by the Tang Prize Foundation to design and produce the 2016 Tang Prize Diplomas. In what ways does the process of public work commission differ from your studio work? What were the challenges?
Lin Cheung: Commissions are often extremely pressured, especially public ones. Budgets are very high, and the huge responsibility to deliver on time with tight deadlines is always hanging over you. It might seem intimidating to work with teams of people from all perspectives, e.g., stakeholders, funders, project managers, marketing, CEOs, interns, but it's actually a fantastic way to learn about how to work with people. Being an artist in a big project is a unique position of being in all places at all times—the all-seeing eye. I happen to enjoy seeing a project from all perspectives, how something gets off the ground and into reality, and being a part of it is very rewarding.
Despite all the useful learning, each commission often feels like problem solving, prototyping, and making the final thing all at the same time, with no breathing space in between. You learn very quickly to think ahead, to try to anticipate all eventualities and become good at project management, delegating and getting the best out of other people that work with you, including yourself—I constantly surprise myself by what's possible! My studio work is less complicated for the obvious reason that it's just me. The pressure is less intense, but often very similar processes are in operation. I still juggle the same concerns and have similar conversations with myself, there are conflicts too, but because there isn't a set brief from the outset and the need for signing off designs by committee before proceeding to the next stage, I can do U-turns, cut a corner, or impose challenges at will and take risks, which are all things you can't so easily do when it requires the "say so" of others.
What's the sequence of your design process? Do you start with a sketch, a model, a mock-up? How important is the choice of material to sustain your concept?
Lin Cheung: Up until recently, it almost always started with a concept, a thought, a notion I have in my mind, and then I just head straight into making. I don't try to visualize it on paper, anything beyond a very loose sketch, outline even, maybe even just a word or two or a sentence, and it's enough for me to start making. So, in this sense, I think I differ from most makers in that I don't really have a straightforward design process.
The material choice is quite important. From an idea, I'll then be searching out material to "match" my thoughts and feelings. I think through possible options to test out my hypothesis: "I wonder if this would give the feeling I'm after?" Or "I wonder if that will?" Working in stone, I have found myself thinking the opposite way around, and very much with the material in hand first, before concepts. Starting ideas from a specific material and technique first is something I've never really practiced before, so I have a renewed sense of enthusiasm for making, almost obsessive, feeling my way through to ideas and concepts based on what's happening to the materials in my hands and what I'm actually seeing.
For most commissioned work, especially public commissions, there's a strict process of concept, development, prototyping, production, documenting, delivering the project—and the order rarely gets reshuffled.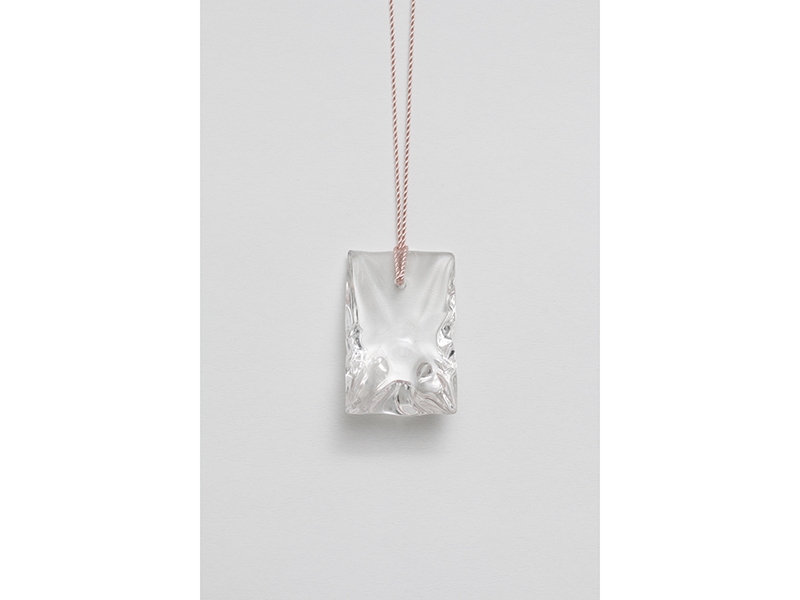 Besides being a successful working artist, you've been teaching at Central Saint Martins – University of the Arts, London, UK, where you've been senior lecturer on BA jewelry design since 2009. And you give lectures, teach workshops, write books, articles—how do you balance your time, what keeps you determined to do it all?
Lin Cheung: Yes, it looks like a lot when you write it all out on paper! I can't deny that it gets super hectic at times, to the point I don't know if I'm coming or going, as they say, but my curiosity about jewelry—in all its glorious forms—is what keeps me going.
Don't forget that some projects have been developed over years, where the seeds of ideas were sown a long time ago, that have been tended to from time to time, and nurtured into grand projects. Some are collaborations and some are a labor of love. I enjoy very much all kinds of teaching, whether at Central Saint Martins, with large cohorts of lively, enthusiastic, eager students allowing me a privileged glimpse into the future landscape of jewelry, perhaps, or working with other creatives who have no prior experience of contemporary jewelry, such as workshops I've held for the Salzburg International Summer Academy of Fine Arts and an upcoming workshop in Colombia, En Construcción III, that I'm really looking forward to.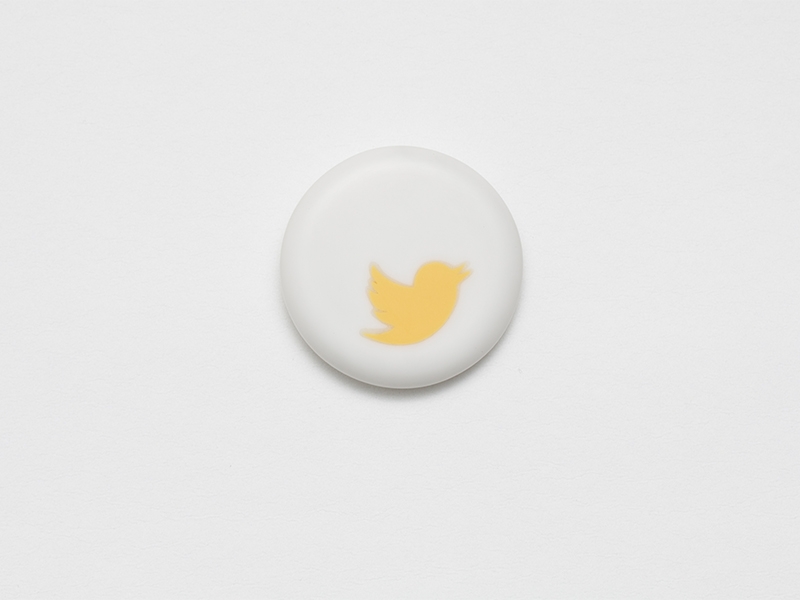 I do all I can to preserve the unique, rare, and privileged situation of being able to spend time with the subject of jewelry alone in my studio or workshop, with my own thoughts, just to see what surfaces, what needs attention, and what I'd like to do without the pressures or distractions that everyday life demands. I don't always achieve this, but I always look forward to the possibility of it!
Are there any films, music, books, exhibitions, news, or travels that recently inspired you, are relevant to your work, or triggered your interest?
Lin Cheung: I have a brooch from the Delayed Reactions series, Frowning Face, that's in this year's selection at The Royal Academy of Arts Summer Exhibition, and I've gone back to the show several times, marveling at the diversity of artwork to see there. The show is famous for exhibiting the good and the great alongside the aspiring and unknown, or "Joe Bloggs," as Grayson Perry affectionately calls us, and whilst trying hard to not only see the highlights, I spotted a work that really touched me, by a young artist called Lee Cutter.
His submission is a case full of carved soap, all neatly displayed in a frame, row upon row entitled Prison Culture. I enjoy work that makes you reassess ordinary materials, rethink things and situations taken for granted, or the unknowable—only what one can imagine. Not only are they skillfully carved in an un-self-conscious way, they evoke thoughts like that of seeing scrimshaw, carved trees, carved monuments, and street furniture, the humor and pathos of life all in one.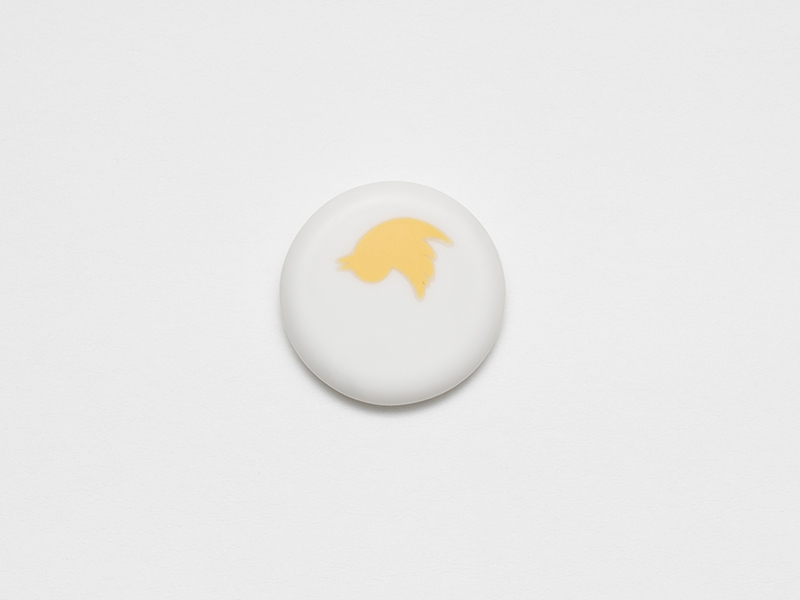 What projects are you currently working on? What should we expect to see next?
Lin Cheung: I'm joining Marc Monzó, Seth Papac, and Teresa Estapé in Colombia to run a week-long workshop as part of the contemporary jewelry symposium En Construcción III. I'll also be working on a solo show opening at Micheko Galerie during Munich Jewelry Week 2019. And, as always, it's ongoing with some commissions, researching, developing, and making work with support from the Françoise van den Bosch Award to realize a solo show in the Netherlands, opening sometime at the end of 2019/beginning 2020. Exciting times! Look forward to sharing it all with you again soon!
Thank you!