Art Jewelry Forum's extensive network of international
gallery supporters
is dedicated to celebrating and showing art jewelry. On Offer is a monthly series that allows AJF galleries to showcase a piece that they've personally selected to tempt and inspire you. Please contact the gallery directly for inquiries. Enjoy!
MUSEUM WORTHY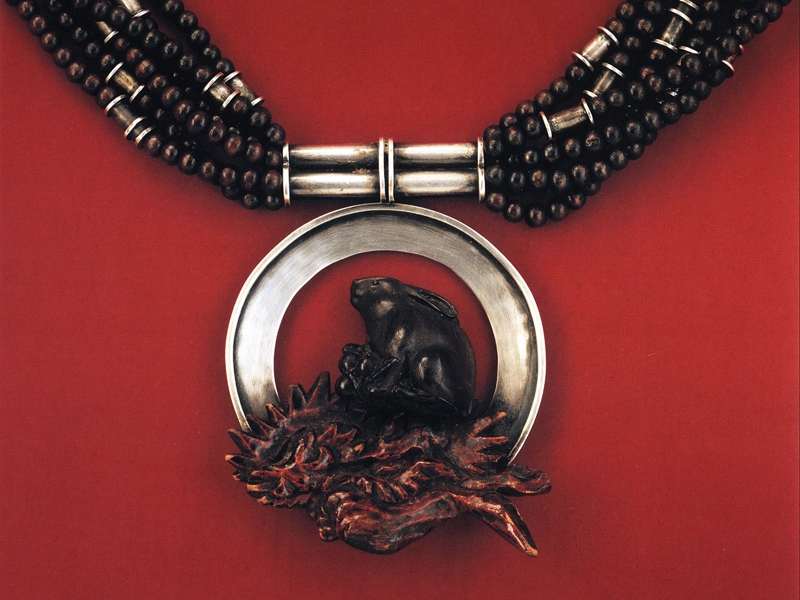 Facèré Jewelry Art Gallery—This is a rare opportunity to purchase the work of Ron Ho (1936–2017). Ho's work is included in the collections of the Museum of Fine Arts, Boston; the Museum of Fine Arts, Houston; and the Tacoma Art Museum, as well as in numerous private collections around the world. Year of the Hare was exhibited in Dim Sum at the On-On Tea Room: The Jewelry of Ron Ho, a retrospective of Ho's work at the Bellevue Arts Museum, 2006–2007, and is included in the exhibition catalog. Ho is one of the most important Northwest jewelry artists of the last 50 years. His skillfully constructed, meaningful, and poetic designs incorporate carefully chosen objects. Each element he uses has either historic, mythological, or personal meaning. This necklace incorporates a beautiful old wooden carved hare. In Chinese folklore, the hare is often presented as the companion of the Moon goddess Change'e, and is constantly pounding the elixir of life for her.
RETAIL: US$8,600
CONTACT: Madeline Courtney
---
Ra Gallery—This necklace by Georg Dobler has strong composition in form, in color, and in pattern.
RETAIL: €3,860
CONTACT: Ra Gallery/Paul Derrez
---
Galerie beyond—Cynthia Jacobs is a Belgian jewelry artist. She creates stories that have their own vocabulary and that can be read with the eyes as well as the soul.
RETAIL: €2,890
CONTACT: René Darmont
---
Gallery S O—In the work of Bernhard Schobinger, who trained as a goldsmith before revolutionizing his craft in the 70s, there is no hierarchy between gold and a broken bottle. What interests the artist is not preciousness but the intrinsic qualities of the materials he collects. His works present an unrivaled balance between valuable and found materials, technical skills, and formal qualities.
The piece is made of empty perfume bottles dug out of a waste depot near what was once a luxury hotel on the edge of the wood at Melide (Ticino, Switzerland), which the artist happened to find while planting trees. The transparent perfume bottles are delicately connected by copper wires, which go through them and are sealed by an ingenious brass clasp. These empty bottles contain the ghost of a perfume that was once worn on a body, imbuing this bracelet with nostalgic potential and at the same time with a graceful sculptural dimension. What was once considered waste becomes an elegant and timeless object, both adornment and sculpture.
RETAIL: Price upon request
CONTACT: Felix Flury
---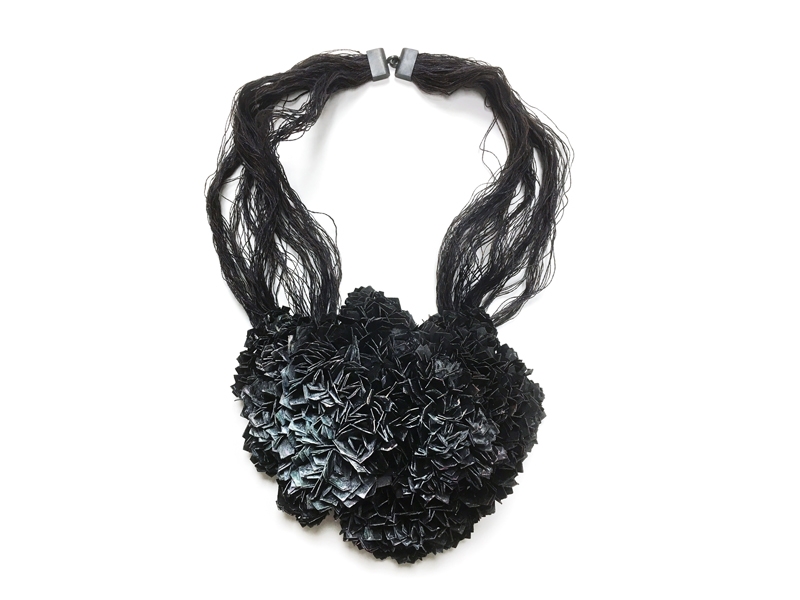 Four—Hanna Liljenberg grew up on the Swedish west coast, where the barren landscape is characterized by lichen and barnacles—tenacious vegetation that weathers ice, salt, and storms. Paper is a material often associated with fragility. Liljenberg's paper necklace has a touch of elegant lightness, but the base is a black colored construction composed of hundreds of paper modules, making the piece strong and giving it a visual weight.
RETAIL: €1,780
CONTACT: Karin Roy Andersson
---
Galerie Biro—The artist Petra Zimmermann lives and works in Vienna, Austria. She has a major collection of historic jewelry from the early 20th century, such as little handbags, which she reshapes and gives new meaning to. In this brooch, you see the historical frame of a handbag with its hinge and closure.
RETAIL: €2,900
CONTACT: Olga Zobel
---
ESTABLISHED ARTIST
PLATINA Stockholm—Sari Liimatta focuses on the environment and human relationships with wildlife. She says she intends to touch the viewer emotionally, so that people will give more attention to the problems we have around us.
Liimatta is a Finnish artist living and working in Lappeenranta. She graduated from the South Carelia Polytechnic, with an exchange year abroad studying at the Gerrit Rietveld Academie. Since then, she has been working as a jewelry artist, exhibiting around the world. She has been recognized with prizes including the Prize for Young Artist from Arts Council of Southeast Finland, in 2005, and Arts & Crafts Design Award in Croatia, in 2015. Her work can be found in several collections, including CODA museum, in the Netherlands; the National Gallery of Victoria, Australia; and the Finnish Glass Museum, in Finland.
RETAIL: US$4,800
CONTACT: Sofia Björkman
---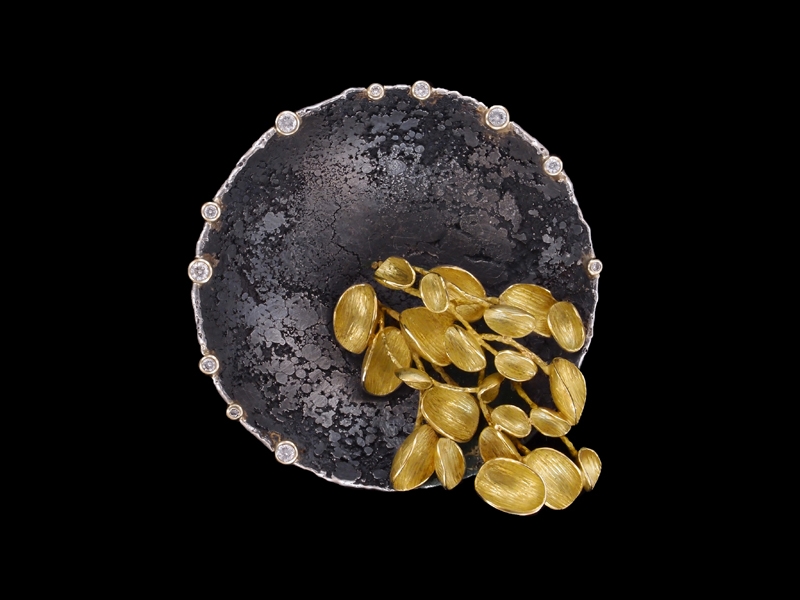 De Novo—So Young Park's work is characterized by organic forms in elegant compositions with rich textural surfaces. This pin/pendant is a perfect example of the sensitivity to nature that she portrays in her pieces.
RETAIL: US$7,700
CONTACT: Cherry LeBrun
---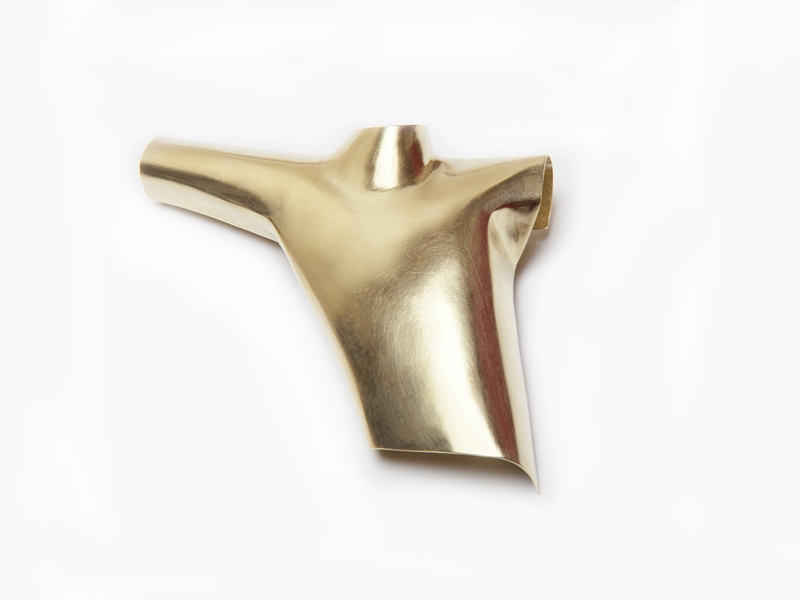 Galerie Marzee—This brooch afforded Antje Bräuer the freedom to work sculpturally. Her feeling for composition and her instinctive approach to her materials determine the shape of each of her pieces and imbue them with an organic spontaneity.
RETAIL: €9,000
CONTACT: Galerie Marzee
---
EMERGING ARTIST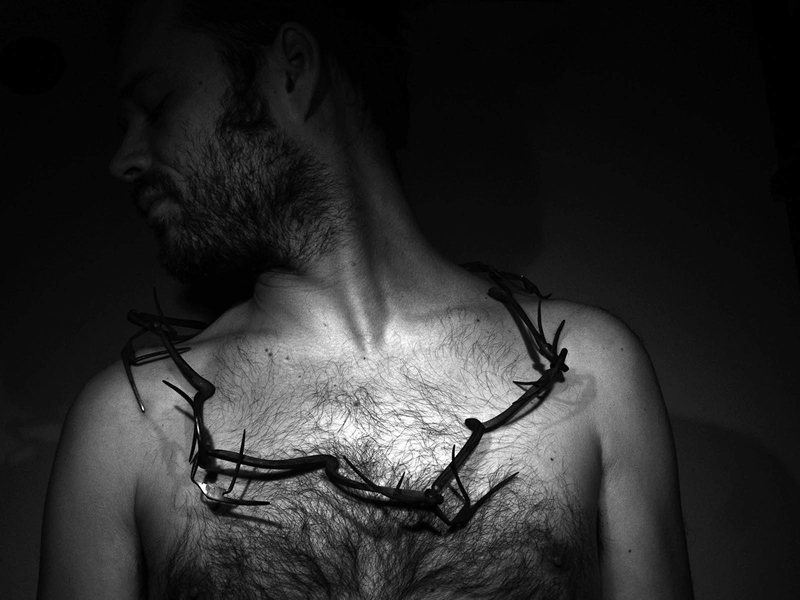 In the Gallery at Brooklyn Metal Works—This necklace by artist Nils Hint embodies the ironwork that he is known for in its sculptural and functional aspects. Working with found objects that performed utilitarian service as tools and cutlery, Hint repurposes these items into new wearable formats.
His latest focus is on the kinetic relationship between static material and human force. The malleability of iron is evidenced in the gestural qualities present in this bold neckpiece. Hint's mastery elevates these once humble objects and pays homage to a noble material worthy of wearing and preserving as jewelry. Brooklyn Metal Works is pleased to present Nowhere, by Nils Hint, opening January 20 and on view through February 25.
RETAIL: US$1,700
CONTACT: Brian Weissman
---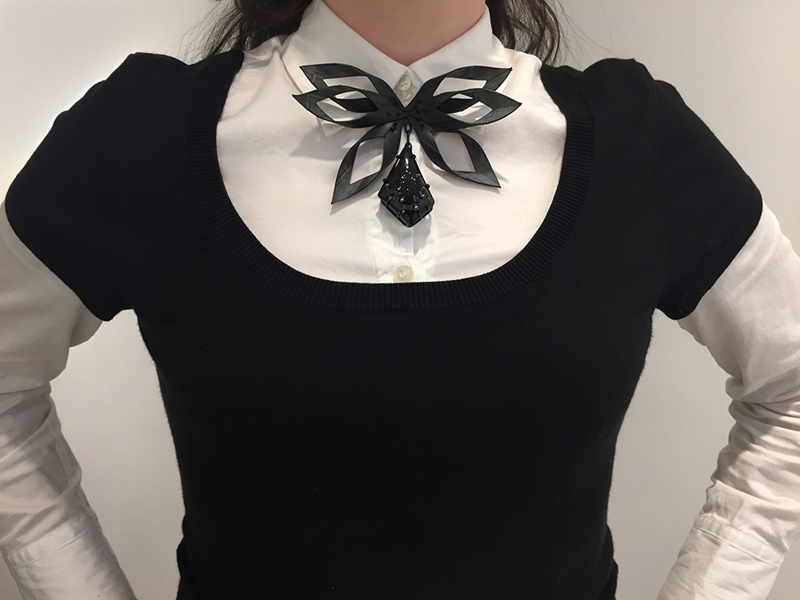 Lillstreet Gallery—Conversations about mourning, rebirth, redemption, and the darkness of the void are explored in this new art jewelry series by Kelly Novak. Novak investigates the peculiarities and references the curiosities of her own lived experiences through the use of alternative materials. In the series Intervals: Deflated Potential Transformed, exhausted and deflated inner tubes are reconfigured as a means to elevate a functional object to the role of adornment.
Kelly Marie Novak received her master's in metalsmithing and jewelry design from Indiana University, a bachelor's in art education from Northeastern Illinois University, and a BFA in graphic design from The American Academy of Art. Novak has presented as a visiting artist at Colorado State University in Fort Collins, and the University of Wisconsin at Whitewater. She continues to exhibit her work nationally, while teaching art full time for Chicago Public Schools and several art centers in the Chicagoland area. She's an avid cyclist who commutes to work by bicycle, a cycling endurance rider, and three-time participant in the Ride for Aids Chicago 200-mile charitable event.
RETAIL: US$300
CONTACT: Nora McCarthy
---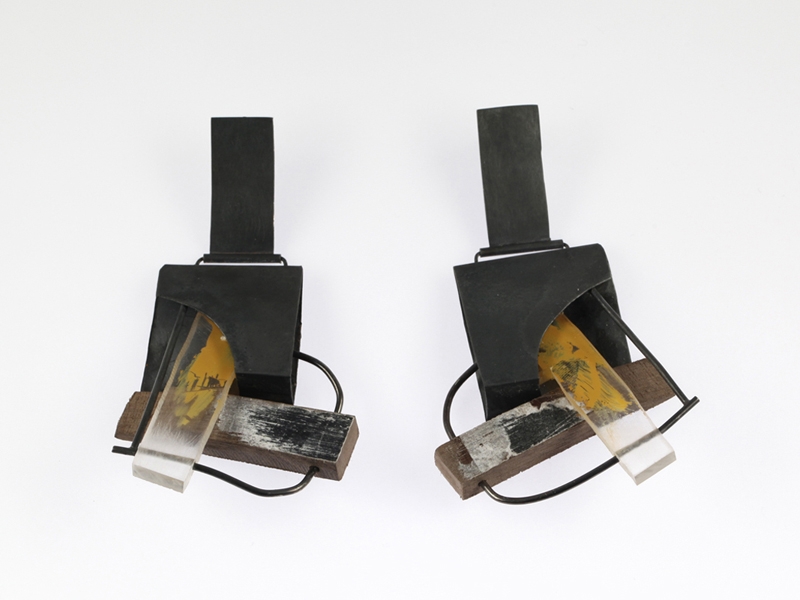 Galerie LA Joaillerie par Mazlo—"I blame the time It obscures the images of our memory, Leaving only the crumbs of the past. Miserable fragments of a reality That doubts its own existence. Maybe it's me, Who decide to abandon them Immerse myself between voids Now, full of possibilities. Freedom calls me And I only hear doubts. Do I want to accept the oblivion Or rebuild my memories?" —Carla Garcia Durlan, Voids, 2017
Carla Garcia Durlan began her studies in graphic design in 2005 at BAU University, Barcelona, having a clear devotion for painting, illustration, and objects. A set of coincidences led her to jewelry design and she completed an advanced degree in this discipline at Massana School, Barcelona. Over the past years, she has participated in different exhibition projects. She has been a member of the Joyas Sensacionales group since 2012 and is a co-founder of the Quars d'una collective. This pair of earrings, specially created for the group show Débris Fertiles—Resilient Jewels, is characteristic of Carla's style: graphic, poetic, and lyrical, associating strong lines, bold structures, and an innate sense of color.
RETAIL: €500
CONTACT: Céline Robin
---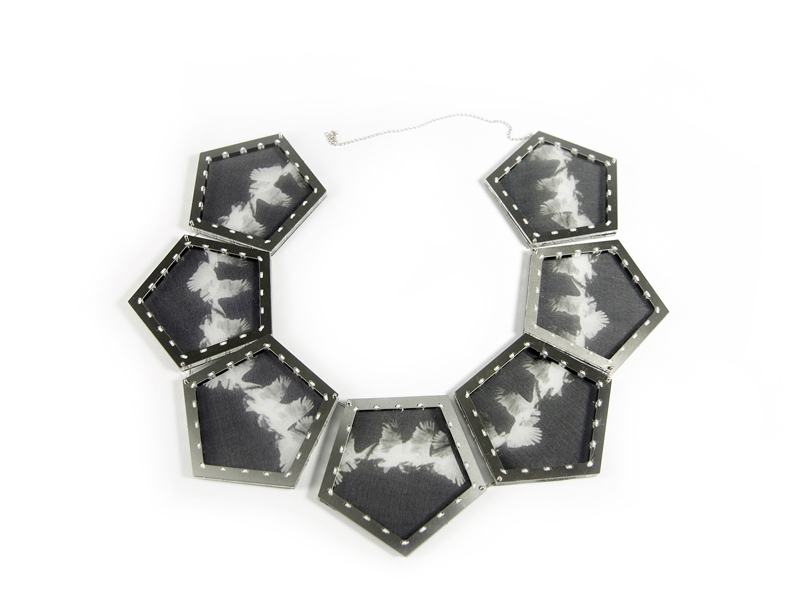 The Gallery at Reinstein|Ross—Chiara Scarpitti mines antique photos, books on entomology, and scientific data for the unusual visuals that make her work so engaging and beautiful. Work from this series, called Phylogenesis (from the Greek word for "species") indicates the "growing form" and its development in a three-dimensional space. The pictures used in this collection come from the work of the photographer Eadweard Muybridge and from little fractals and geometrical patterns, like polytopes, which reveal dynamic movement and transformation. The artist is creating a new material dimension that hybridizes traditional techniques with contemporary processes. A statement necklace that is attention-grabbing and easy to wear, the piece is meant to sit close to the collar bone. Please contact us for a photo of the piece on the body.
RETAIL: US$780
CONTACT: Bella Neyman
---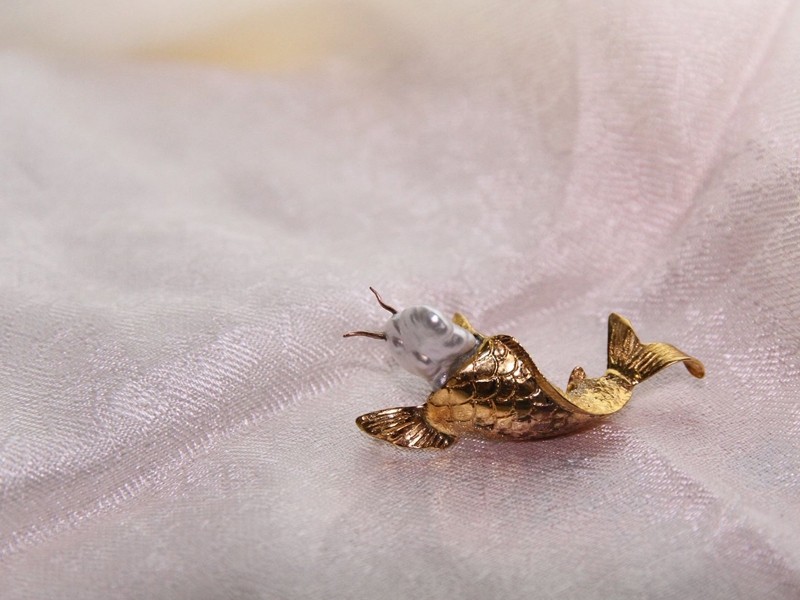 Koumei Art Gallery—Even though in the world of art jewelry he can be considered an emerging artist, Totok Gievohn is already a veteran gold artisan in the world of fine jewelry. He began crafting his first pieces at an early age and continues to work in the industry today. His work is always meticulous and shows the elegance of the gold and the gemstones in the jewelry piece. The leaping carp is one of the Koumei Art Gallery's unique collections.
In Indonesia, keshi pearls are considered as inferior products, but the designer Emily Zhu and the artisan Totok Gievohn see it differently. The unique shape of the pearl, which cannot be replicated artificially, with the added detailed work of the artist gives a new values to the jewelry piece.
In Chinese popular culture and literature, it is said that when a carp can climb and leap through a waterfall it will transform into a dragon. This is why a leaping carp is associated as a symbol of success in China. In the spirit of the end of the year, we want to show art jewelry aficionados this collection and wish them more success in the year to come.
RETAIL: Price upon request
CONTACT: Eko Sukoco
---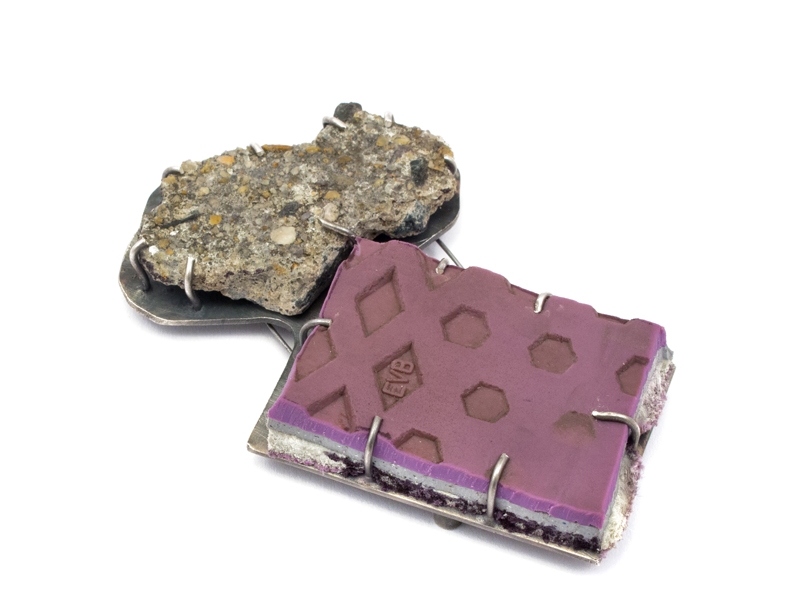 Baltimore Jewelry Center—This brooch is made by Craig Howarth, a recent Baltimore Jewelry Center resident artist. In his current body of work, Howarth explores the visual representation of where we go and what we acquire from the places we visit. By using rubber shoe soling and found objects, Craig considers the relationship between wearer and place. His work elevates everyday objects that might be discarded, challenging the viewer to see these objects as precious.
RETAIL: US$175
CONTACT: [email protected]
---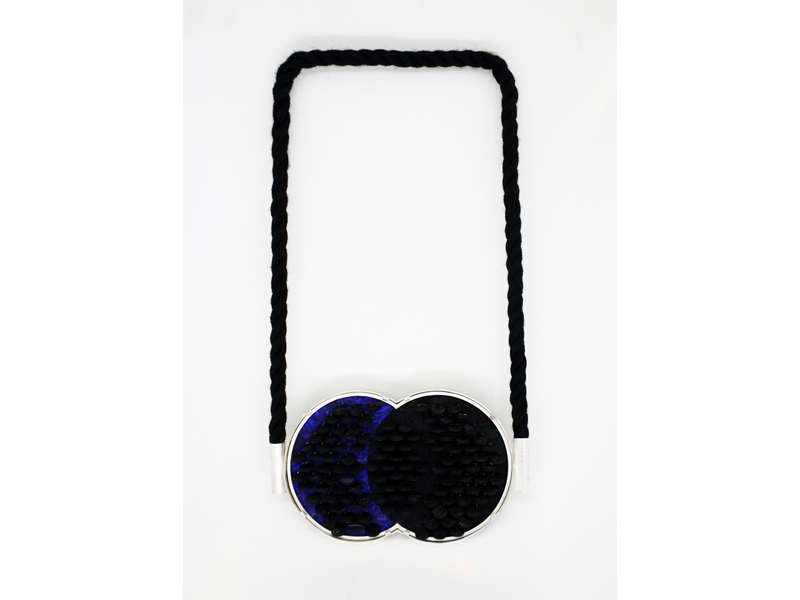 L.A. Pai Gallery—The gallery is proud to introduce Marie-Eve Castonguay. Her Eclipse neckpiece features multiple mobile paper tabs that create waves of motion when worn. Castonguay is an active member of the metalsmithing community and is one of the founding members of the online platform Metalaid, which can be found at www.metalaid.net.
RETAIL: CAN$800
CONTACT: Lisa A. Pai
---
GALLERY CHOICE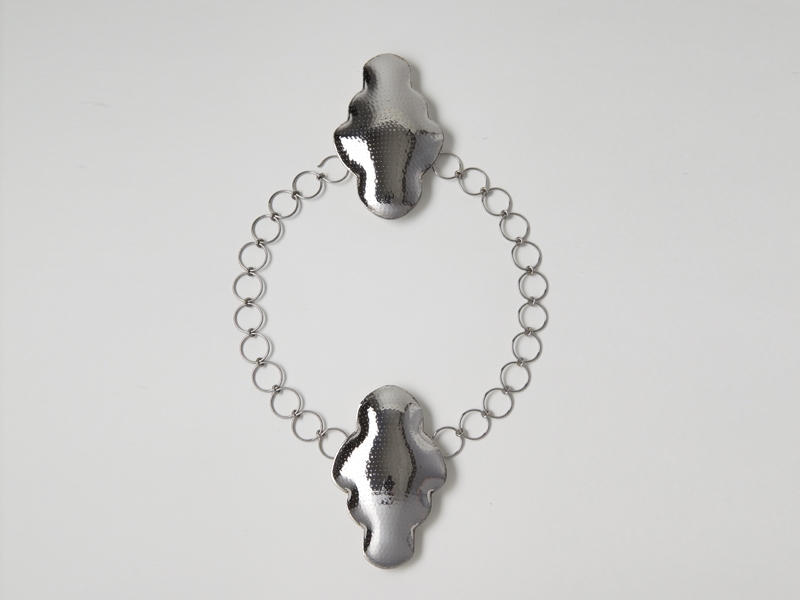 Gallery Loupe—Israeli jeweler Shachar Cohen's works are as evocative as they are beautiful. Reminiscent of primordial forms, they stimulate visions of prehistoric sculptures or vessels. Titled Reflective Idols, the sensual talismans that comprise Cohen's necklaces, pendants, and brooches are informed by silhouettes of ancient amphorae and archaic fertility figures. By employing a process in which he welds mirror images of hollow, pressure-molded stainless steel shapes, Cohen achieves three-dimensional objects that may be perceived as futuristic versions of the time-honored votives they recall. Highly polished surfaces reflect the surrounding environment, distorting the faces of those who seek a closer look. Cohen believes that such deformation is a metaphor for contemporary society's self-absorption, typified by its obsession with selfies. Accepting of human imperfection, Cohen often leaves the welded edges dark and jagged, symbolically juxtaposing our accidental foibles with our hard-won pride. It's his hope that Reflective Idols may provide a transition between the spiritual idols of the past and the shallow idols of the present, thereby offering something transcendent to literally hold onto.
RETAIL: US$2,450
CONTACT: Eileen David
---
Galerie Noel Guyomarc'h—Maria Phillips's creative process takes domestic spaces as its point of departure and constant focus. Systematically looking for patterns in random encounters or habitual rhythms within homes and intimate places, she strives to capture these ordinary moments through jewelry, sculpture, drawing, and photography. Phillips's pieces are not about precious stones or precious materials. They're about looking differently, shifting perceptions of the overlooked and expendable material of daily existence.
In her latest works, Phillips has been combining plywood, crafting, Popsicle sticks, and various metals, using "home" as both a source and a material. Her pieces explore elements of architecture, its language, but also aims at reflecting on what the preciousness of a home means. As residential building keeps flourishing in Seattle, her town of residence, the parallel rise of the homeless population uneases and troubles her, a thought she is trying to convey in her current jewelry.
Born in St. Louis, MO, Maria holds degrees from Loyola University, New Orleans, and University of Washington, Seattle. In addition to her studio practice, Maria lectures widely, serves as a guest critic, and teaches workshops at various programs throughout the country. Her work can be found in the collections of the Museum of Art and Design, New York; the Renwick Gallery of the Smithsonian American Art Museum; Tacoma Art Museum; Rotasa Foundation; and numerous private collections. She recently was awarded the John and Joyce Price Award of Excellence for Mapping Monotony, her work in the Bellevue Arts Museum Biennial.
RETAIL: US$2,600
CONTACT: Noel Guyomarc'h
---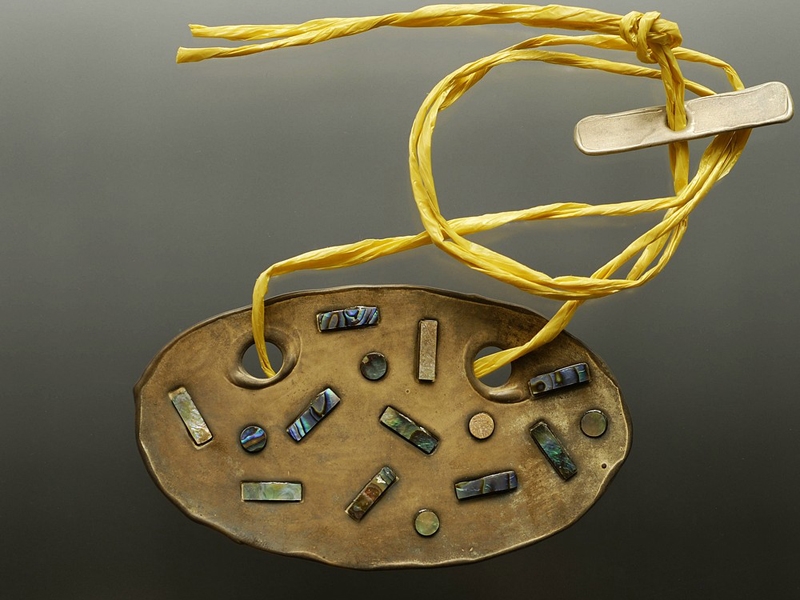 Fingers Jewellery—This is a work by Areta Wilkinson, who is currently represented in the exhibition Jewellery: Made By. Worn By, at Volkenkunde Museum in Leiden, Holland.
RETAIL: NZ$1,800
CONTACT: Alan Preston
---
Patina Gallery—The goldsmith performs stagecraft. For this one-of-a-kind brooch, Nancy Michel sets the stage with a canopy of golden palms. It's a beautiful setting appropriate for these rare stone Ecuadorian figures. Michel discovered the extraordinary stones while on one of her exotic excursions to collect unusual gems. Often inspired by nature, she uses the twin stones to achieve her trademark look: sensuous, exquisitely crafted, and stunningly flattering.
RETAIL: US$3,445
CONTACT: Linda Childers
---