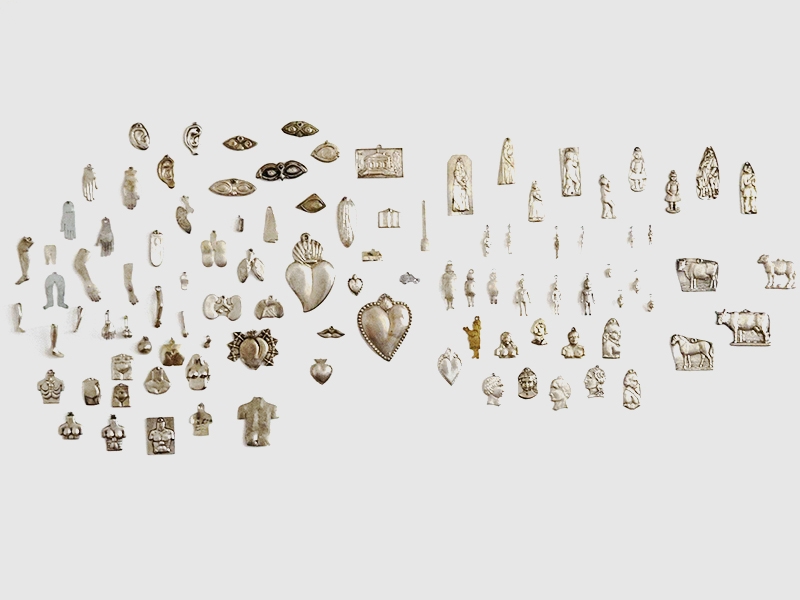 Traditional ex-votos and contemporary jewelry both raise similar questions and concerns for viewers: What do they mean? What are they telling us? Their social purposes are different, and they belong to different worlds, but both are the product of materialized wishes: ex-votos and contemporary jewels are made with the techniques of the same trade, and both have things to say.
Ex-votos are not jewels per se, yet their materials, size, concept, and symbolic value make them precious, inviting us to view them as jewelry. "Jewelry" can be defined as any metal ornament designed to be worn on the body, but the term "contemporary jewelry" is also the name of a discipline that uses jewelry as a form of artistic expression, subordinating the techniques of the trade to the message the artist wants to convey. Contemporary jewels are not little art objects; their value is not determined by scale. Contemporary jewelry amounts to art because it is conceived as such, and the human body is entailed in the concept as much as it supports it.
Behind a traditional ex-voto, on the other hand, there is a votary who pleaded to a divinity, a granted favor, and, as a token of gratitude, a silversmith making an object, offered in turn to the saint who worked the miracle. Jewelers are intermediaries between a divinity and a devotee, and they have the opportunity to materialize the devotee's gratitude. The Argentinian jewelers mentioned later in this essay were asked to make a contemporary ex-voto for an exhibition called True Is What Has Been at PLATINA in Stockholm, inspired by this process, rather than by the aesthetic features of the popular ex-voto.
As the Argentinian anthropologist Cesar Ceriani says, "The maker of the ex-voto is a specialist in handling the materials and forms that compose the gift offered to the divinity for the conceded grace—a key player in the realm of the relationships, symbols, and emotions that encompass this practice, and an artist of translation and intercession derived from the materiality of the votive object. The craftsman or artist materializes the votary's religious wish, translating it into another language: that of textures, hard surfaces, pliancy and color, techniques, tools, and a patient work on matter."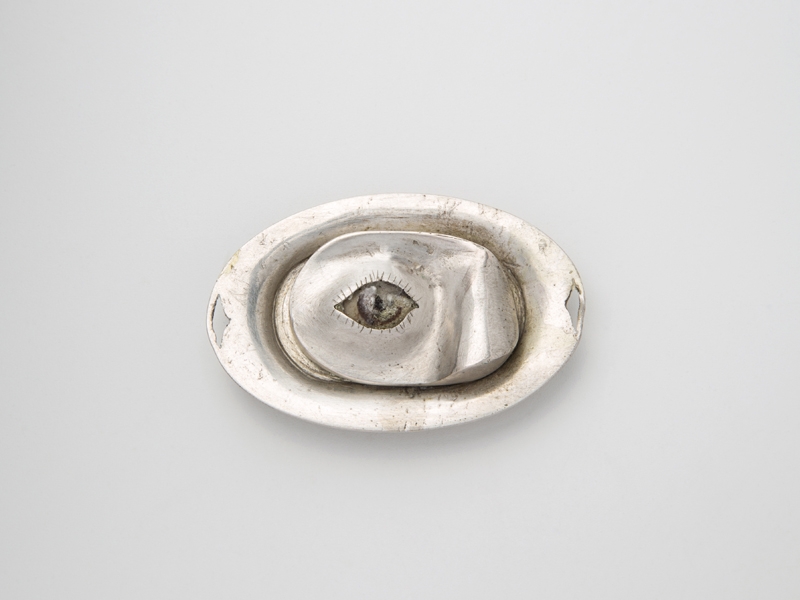 Unlike its traditional counterpart, contemporary jewelry is based on a concept that materializes; thus, contemporary jewels can be regarded as a medium to start a conversation. Just like with ex-votos, the dialogue starts with someone expressing their gratitude, although, in this case, the votary and the jeweler are the same person. It is the longing behind this materiality that makes the ex-voto a rich object, both in its contemporary and traditional forms. Symbolic power is the link between these two worlds.
Since, as a discipline, contemporary jewelry is relatively new to Argentina, formal training in this field can only be received abroad or at schools dedicated exclusively to the trade. This means that the jewelers I will mention come from different disciplines—i.e., the works depicted are not part of a shared tradition. By definition, Argentine contemporary jewelry is the product of a sum of identities, so the works that we will see are the result of both personal gratitude and the craftsmanship and materials each artist is most familiar with, so that the dialogue flows as smoothly as possible.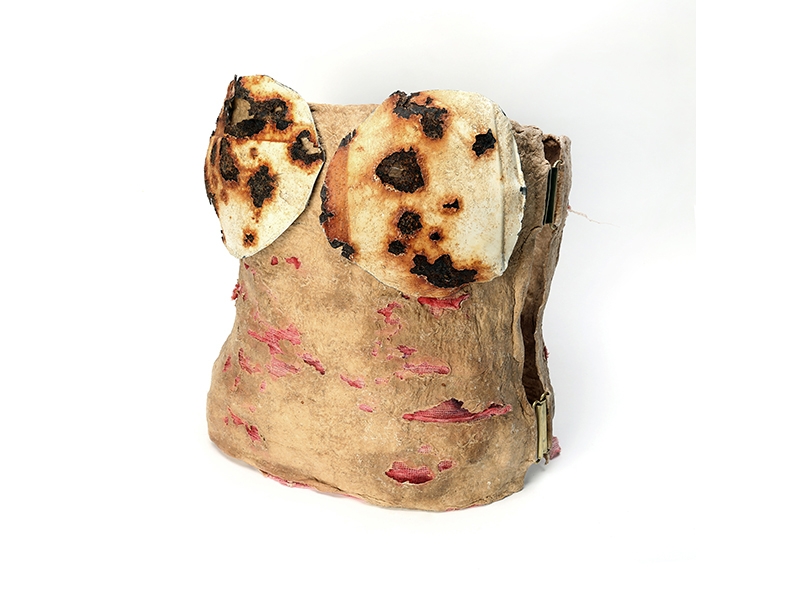 Mónica Lecouna's corset is fastened by brass hinges that were made using jewelry techniques. Although it can actually support the body, that's not the point. Mónica's artistic background shows in her treatment of other materials and the piece's formal construction.
Patricia Tewel is an illustrator who works on her jewels and illustrations in a similar fashion: her pieces have a narrative and a characteristic stroke. Her copper ex-votos for this book are not part of the illustrations, but they interact with them. Jewelry techniques are added to her drawings like an additional brushstroke, and her metal pieces are chiseled like a pen on paper.
Lourdes Chicco Ruiz feels at ease with the materials she uses for shoemaking, her original trade. In this project, her work—focused on a cougar claw—and thanks-giving text are associated with the strength of nature.
Carolina Luzardo and her father carved a wooden bowl with a counterweight of gold-plated iron nails, a piece that can only be appreciated when held with both hands: wood, iron, and lead are shaped in a way that has little to do with jewelry, but still needs the human body to make sense.
Rita Bamidele Hampton's piece is a silver brooch—a classical type combined with a noble material, shaped as a metaphor of gratitude for the joy of breastfeeding.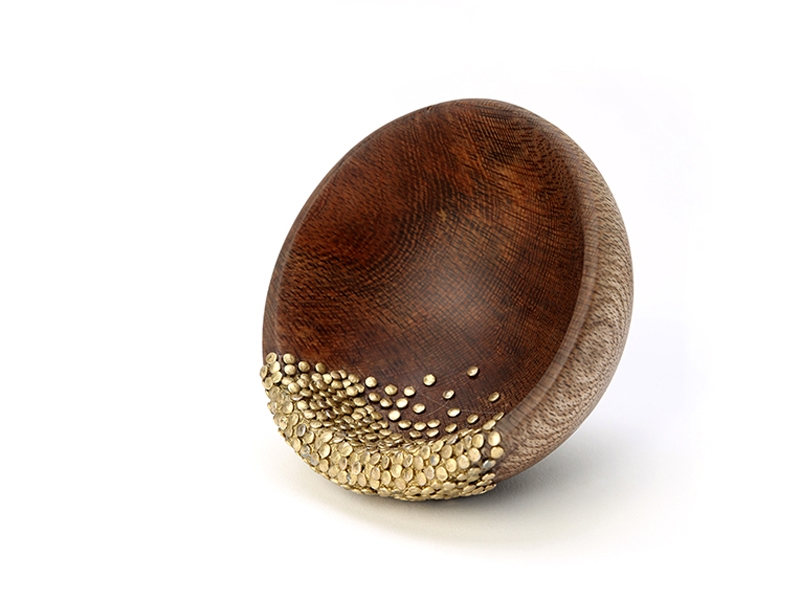 Paula Gallardo's piece needs a shoulder and a hand to be carried. Her clay vegetables are an acknowledgment to her grandmother's cares. In this case, the jewel must be worn by adopting a gesture that communicates gratitude.
As with all works of art, by looking at these jewels we can see decisions made by an artist with a specific aim—in this case, expressing thanks for something tangible. These pieces are not created after clichés or conventions, and neither are traditional ex-votos: the noble feeling of gratitude cannot be represented in a serialized, generic manner, even with ex-votos sharing the same grace or in pieces from the same mold. Each marking the jeweler makes results in a unique piece; the emotional investment of each commission transforms its material.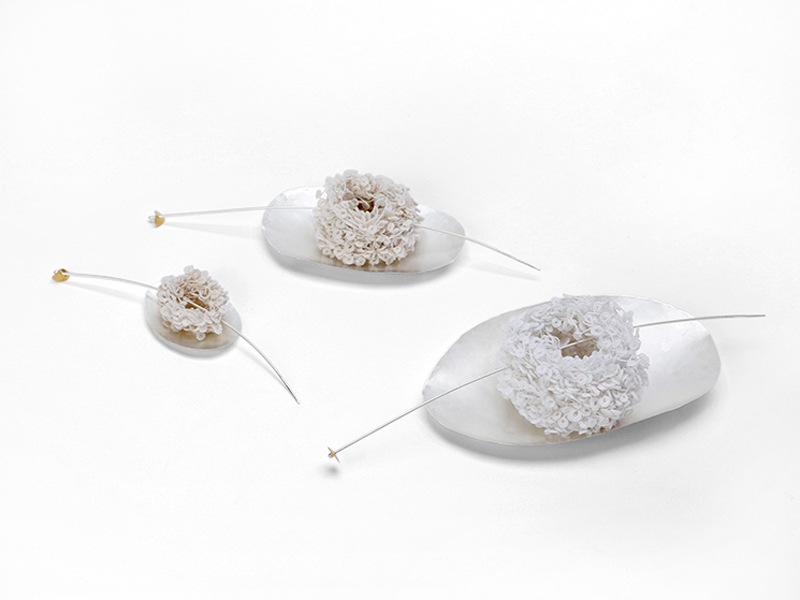 Through her work, jeweler Laura Licandro expresses gratitude for being aware of her breathing and for the technique that, just like her mountain hikes, helps her perceive the present moment more actively. Nothing was left to chance, neither the technique chosen nor the number of circles in her three brooches. Counting knots and yarn balls is essential in tatting—a certain number of knots translated into a specific number of minutes, a tempo like the rhythm in her hikes.
The dickey Corina Mascotti made to celebrate her relationship with her son is charged with symbols—many of them universal—that, due to her knowledge of astrology, become keenly personal and individual. In this case, we are witnesses to a private dialogue, but far from feeling excluded, we are welcome to attend this ceremony of sorts. We do not need to learn about the origin of the fabrics or the reason behind each embroidered constellation to enter this world and feel the honesty of her gratitude.
These pieces of contemporary jewelry will not be placed at a church, nor were they made to return a favor from a saint, but they share that intention. In the past, when crafting an ex-voto, the silversmith translated a votary's wish into metal. Nowadays, jewels are the materialization of each jeweler's gratitude. The grace has been received.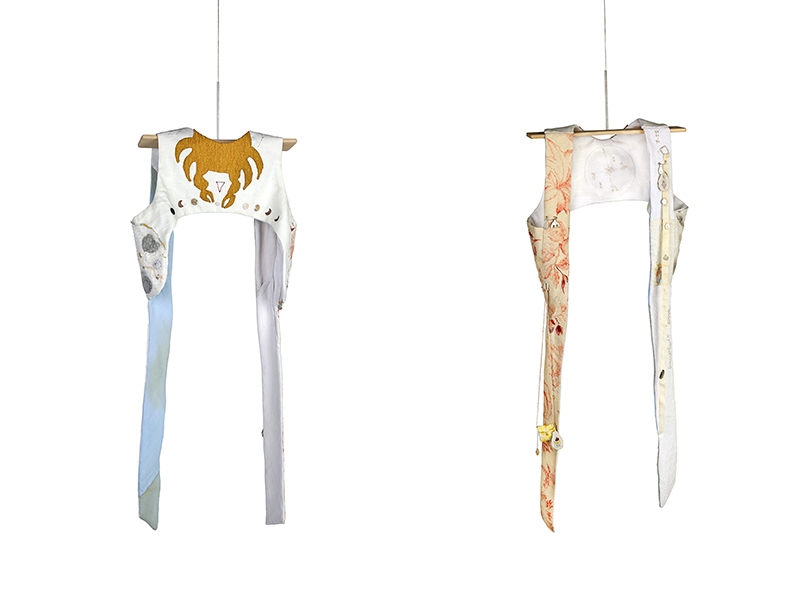 Editor's note: This essay was adapted from Jimena Ríos's book "Por gracias recibidas, exvotos by contemporary jewellers" for publication on Art Jewelry Forum. You can purchase the full book by sending an email to [email protected].
***
Exvotos y joyeros contemporáneos
Los exvotos tradicionales y las joyas contemporáneas plantean preguntas y preocupaciones similares a los espectadores: ¿Qué significan? ¿Qué nos están diciendo? Sus fines sociales son diferentes y pertenecen a mundos diferentes, pero ambos son producto de deseos materializados: los exvotos y las joyas contemporáneas están hechas con las técnicas del mismo oficio, y ambas tienen cosas que decir.
Los exvotos no son joyas per se, pero sus materiales, tamaño, concepto y valor simbólico los hacen preciosos, invitándonos a verlos como joyas. La "joyería" se puede definir como cualquier ornamento de metal diseñado para ser usado en el cuerpo, pero el término "joyería contemporánea" es también el nombre de una disciplina que usa la joyería como una forma de expresión artística, subordinando las técnicas del oficio al mensaje que el artista quiere transmitir. Las joyas contemporáneas no son pequeños objetos de arte; su valor no está determinado por la escala. La joyería contemporánea equivale a arte porque se concibe como tal, y el cuerpo humano se vincula en el concepto tanto como en su apoyo.
Detrás de un exvoto tradicional, por otro lado, hay un devoto que abogó por una divinidad, un favor concedido y, como muestra de gratitud, un orfebre haciendo un objeto, ofrecido a su vez al santo que hizo el milagro. Los joyeros son intermediarios entre una divinidad y un devoto, y tienen la oportunidad de materializar la gratitud del devoto. A los joyeros argentinos mencionados más adelante en este ensayo se les pidió que hicieran un exvoto contemporáneo para una exposición llamada True Is What Have Been ("Verdadero es lo que ha sido") en PLATINA, Estocolmo, inspirada por este proceso más que por las características estéticas del popular exvoto.
Como dice el antropólogo argentino Cesar Ceriani, "el creador del exvoto es un especialista en el manejo de los materiales y las formas que componen el regalo ofrecido a la divinidad por la gracia concedida, un jugador clave en el ámbito de las relaciones, los símbolos, y las emociones que abarcan esta práctica, y un artista de traducción e intercesión derivado de la materialidad del objeto votivo. El artesano o artista materializa el deseo religioso del devoto, traduciéndolo a otro idioma: el de texturas, superficies duras, pliegues y color, técnicas, herramientas y un paciente trabajo sobre la materia".
A diferencia de su homólogo tradicional, la joyería contemporánea se basa en un concepto que se materializa; por lo tanto, las joyas contemporáneas pueden considerarse como un medio para iniciar una conversación. Al igual que con los exvotos, el diálogo comienza con alguien que expresa su gratitud, aunque, en este caso, el devoto y el joyero son la misma persona. Es el anhelo de esta materialidad lo que hace que el exvoto sea un objeto rico, tanto en sus formas contemporáneas como tradicionales. El poder simbólico es el vínculo entre estos dos mundos.
Dado que, como disciplina, la joyería contemporánea es relativamente nueva en Argentina, la capacitación formal en este campo solo se puede recibir en el extranjero o en escuelas dedicadas exclusivamente al comercio. Esto significa que los joyeros que mencionaré provienen de diferentes disciplinas, es decir, las obras representadas no son parte de una tradición compartida. Por definición, la joyería contemporánea argentina es el producto de una suma de identidades, por lo que las obras que veremos son el resultado de la gratitud personal y la artesanía y los materiales con los que cada artista está más familiarizado, para que el diálogo fluya lo mejor posible.
El corset de Mónica Lecouna está abrochado con bisagras de latón hechas con técnicas de joyería. Aunque en realidad puede apoyar al cuerpo, ese no es el punto. Los antecedentes artísticos de Mónica se muestran en su tratamiento de otros materiales y la construcción formal de la pieza.
Patricia Tewel es una ilustradora que trabaja en sus joyas e ilustraciones de manera similar: sus piezas tienen una narración y un trazo característico. Sus exvotos de cobre para este libro no son parte de las ilustraciones, pero interactúan con ellos. Las técnicas de joyería se agregan a sus dibujos como una pincelada adicional, y sus piezas de metal se cincelan como un bolígrafo sobre papel.
Lourdes Chicco Ruiz se siente a gusto con los materiales que usa para la fabricación de calzado, su oficio original. En este proyecto, su trabajo centrado en una garra de puma y el texto de agradecimiento están asociados con la fuerza de la naturaleza.
Carolina Luzardo y su padre esculpieron un cuenco de madera con un contrapeso de clavos de hierro chapados en oro, una pieza que sólo puede apreciarse cuando se sostiene con ambas manos: la madera, el hierro y el plomo tienen una forma que poco tiene que ver con la joyería, pero aún necesita del cuerpo humano para que tenga sentido.
La pieza de Rita Bamidele Hampton es un broche de plata, de tipo clásico combinado con un material noble, modelado como una metáfora de gratitud por la alegría de amamantar.
La pieza de Paula Gallardo necesita un hombro y una mano para ser llevada. Sus vegetales de arcilla son un reconocimiento a los cuidados de su abuela. En este caso, la joya se debe usar adoptando un gesto que comunica gratitud.
Al igual que con todas las obras de arte, al mirar estas joyas podemos ver las decisiones tomadas por un artista con un objetivo específico, en este caso, expresar agradecimiento por algo tangible. Estas piezas no se crean después de clichés o convenciones, ni tampoco son exvotos tradicionales: el noble sentimiento de gratitud no se puede representar de manera serializada y genérica, incluso con exvotos que comparten la misma gracia o en piezas del mismo molde. Cada marca del joyero hace que los resultados en una pieza única; la inversión emocional de cada comisión transforma su material.
A través de su trabajo, la joyera Laura Licandro expresa gratitud por ser consciente de su respiración y por la técnica que, al igual que sus caminatas en la montaña, le ayuda a percibir el momento presente más activamente. No se dejó nada al azar, ni la técnica elegida ni la cantidad de círculos en sus tres broches. Contar nudos y bolas de hilo es esencial para hacer tatuajes: una cierta cantidad de nudos traducidos en un número específico de minutos, un ritmo como el ritmo en sus caminatas.
La pechera que Corina Mascotti hizo para celebrar su relación con su hijo está cargada de símbolos, muchos de ellos universales, que, debido a su conocimiento de la astrología, se vuelven muy personales e individuales. En este caso, somos testigos de un diálogo privado, pero lejos de sentirnos excluidos, podemos asistir a esta ceremonia. No necesitamos aprender sobre el origen de las telas o la razón detrás de cada constelación bordada para entrar en este mundo y sentir la honestidad de su gratitud.
Estas piezas de joyería contemporánea no se colocarán en una iglesia, ni se hicieron para devolver un favor de un santo, pero comparten esa intención. En el pasado, al crear un exvoto, el orfebre tradujo el deseo de un votante en metal. Hoy en día, las joyas son la materialización de la gratitud de cada joyero. La gracia ha sido recibida.
Nota del editor: Este ensayo fue adaptado del libro de Jimena Ríos "Por gracias recibidas, exvotos por joyeros contemporáneos" para su publicación en Art Jewelry Forum. Puede comprar el libro completo enviando un correo electrónico a [email protected].
Jimena Ríos creció en Mendoza, Argentina, y vive en Buenos Aires. Estudió joyería en la Escuela de Arte y Diseño Escola Massana en Barcelona, España, y la Escuela de Joyería Contemporánea Alchimia en Florencia, Italia. Ella amplió su educación asistiendo a talleres de artistas conocidos, como Iris Eichenberg. En 2013 fundó Taller Eloi en Buenos Aires, Argentina, para enseñar y organizar talleres. Ha impartido conferencias sobre la historia de la joyería contemporánea y seminarios sobre joyería narrativa en Argentina y en el extranjero.