Art Jewelry Forum's network of gallery supporters has increased to more than 60 international galleries focused on featuring art jewelry. On Offer is a monthly series that allows AJF galleries to showcase a piece that they've personally selected to tempt and inspire you. Please contact the gallery directly for inquiries. Enjoy!
MUSEUM WORTHY
Alternatives Gallery—Seulgi Kwon has attracted much attention in the last few years and has won numerous awards, including the prestigious BKV Prize, Munich; the Cominelli Foundation Award, Fondazione Cominelli, Italy; the Excellence Achievement of MFA, Kookmin University, Seoul, South Korea; the International Craft Exhibition ITAMI Prize, Hyogo, Japan; the Talente Award, Kunstoff Prize, Munich; Graduate Metal XI, Adelaide, Australia; and, of course, the Art Jewelry Forum Artist Award in 2014, thanks to her innovative techniques.
Kwon has truly mastered the use of silicone and has found many interesting ways of working with it. Her sculptural works often mimic the translucence of glass and show the artist's ability to use silicone in many diverse ways.
This is definitely a piece that any museum would want in their collection!
RETAIL: €1,425
CONTACT: Rita Marcangelo
---
The Gallery at Reinstein Ross—A young artist, Aurélie Guillaume has an expertise with cloisonné enamel that belies her age. Hoping to become an illustrator but disillusioned by the digital age, she found a métier that allowed her to draw in wire and bring her ideas to life in 3D form. With her witty take on life, Guillaume has breathed new life into an ancient metalsmithing technique. Her first US solo show is called Mauricette, the Giants, and Other Frivolous Tales.
The iconography of this piece, Pouet Pouet, inspired several pieces in the show. Having had to live in cold climates for so long now, Guillaume dreams of a place so warm that cowboys run around naked. Of course, such places only exist in our thoughts. Pouet Pouet presents a fantasy on one side, and something closer to reality on the other. Embarrassed by the naughty behavior of the cowboys, he pulls his hat over his face and closes his eyes with his hands.
Each piece is large and complex both in technique and the decoration on the front and back. The brooches are inspired by a moment, a story, a saying that is close to the artist's heart. When not worn, each piece deserves to be displayed and admired for its beauty.
RETAIL: $2,900
CONTACT: Bella Neyman
---
GALLERY CHOICE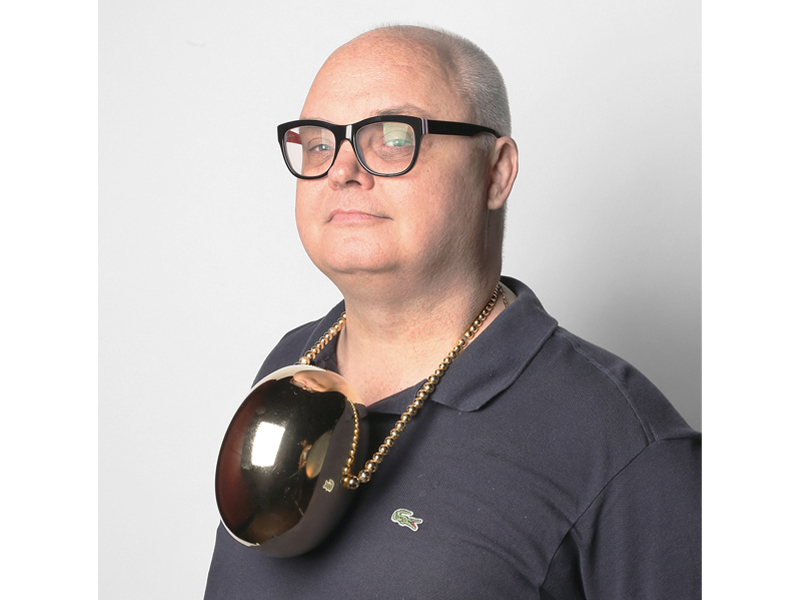 Brooklyn Metal Works—Edgar Mosa's work is grounded in material and method while exploring temporal symbolism, his environment, and fashion. His interest in jewelry lies in its ability to invoke emotions, create dialogues, and build relationships. These connections are created collaboratively with friends and loved ones who become part of and live with the work. Mosa's exhibition, Highlights, at Brooklyn Metal Works, brings together pieces from the past 10 years that represent milestones in the making. Atlas was originally conceived of for Mosa's first solo show, Indentations, at Jewelers'Werk in Washington, DC. This all-metal piece signaled a break from his past work with wood and went on to be exhibited at Collective Affection, at Hotel Particulier, NYC; at adj.Derma, which took place at Galeria Reverso, Lisbon; at (in)Organic: Labs, together with Wendy Wallin Malinow, at the Racine Art Museum, Racine, Wisconsin; and at the Koru 5 triennial exhibition in Finland.
Atlas was also part of a collaborative jewelry portraiture project with photographer Joseph McShea for Pop Souk at Webster Hall in NYC. Pictured is Micky Boardman, editorial director and advice columnist for PAPER magazine, with Atlas.
RETAIL: $2,100
CONTACT: Brian Weissman
---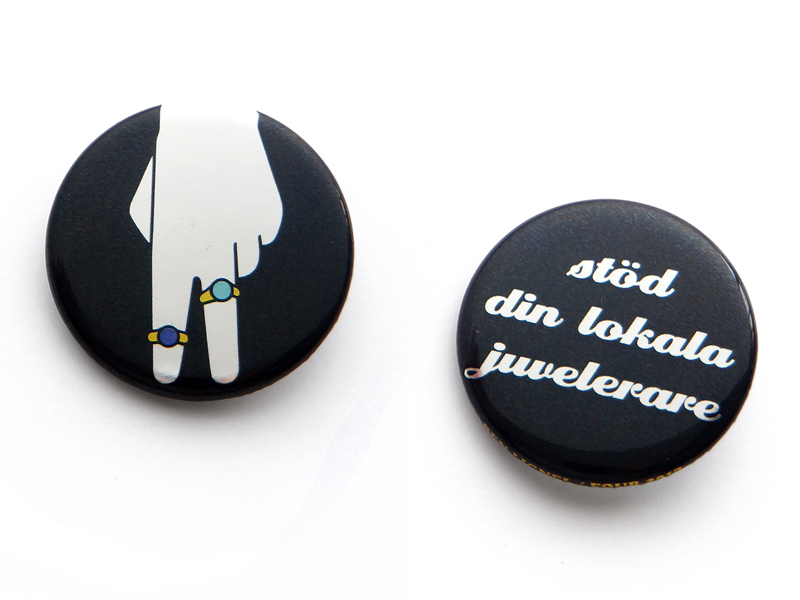 Four—The majority of Four's artists would probably say that the hands are their most important tools, but in Benjamin Lignel's case, the head plays a more prominent role. With an intermittently sharp—but often also affectionate—humor, Lignel comments on appearance, body image, jewelry, and what it symbolizes. Between 2013 and 2016, Lignel was the editor of Art Jewelry Forum, and he is well known on the contemporary jewelry scene as artist, curator, and writer. This badge will be given away for free to the visitors of his solo show at Four. It's a unique opportunity for even those with the smallest wallets to both support Four and upgrade their jewelry collection with a piece from a master of contemporary jewelry (no email or telephone reservations accepted: be there or be square-shaped). Support your local jeweler!
RETAIL: Free
CONTACT: Karin Roy Andersson
---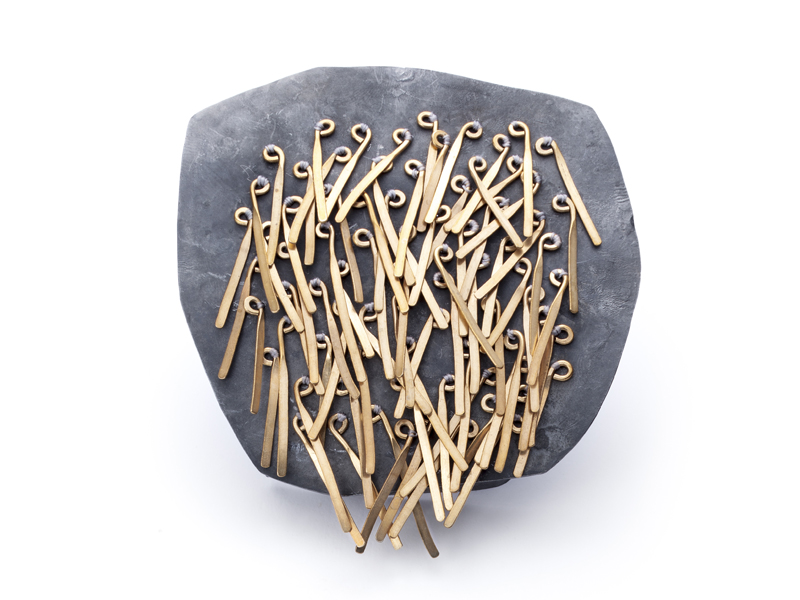 Galerie Noel Guyomarc'h—Acknowledging the essence and origins of goldsmithing workmanship, Gabrielle Desmarais's work defies conformity by integrating "alternative" and precious materials to traditional "craft" techniques. Embroidery, in many forms, became an integral part of the fabrication process, expressly in the surface treatment as embellishment, but mainly as clear decision to commit, as an ode to slowness, a reclaiming process of time. The imposing formats of the artist's work reveal jewelry objects as sculptures, meant to be read in the realm of visual history codes and references. Formal investigations lead her to experiment with unexpected color combinations through stones, metals, and textiles, which are then integrated in the most instinctive manner to create pieces that evoke contemplation and recollection.
RETAIL: US$630
CONTACT: Noel Guyomarc'h
---
Hedone Gallery—Kyoto Water Lily, Don Friedlich's new floral brooch, represents a new direction in his work, a departure from his abstract and usually geometric work to a more representational form. Friedlich became intrigued with a process that enabled him to fuse this image he took of a water lily in a Kyoto Zen garden onto blown glass. The resulting work, uniquely and delicately textured, is his interpretation of a corsage, albeit in a much less ephemeral form.
Friedlich is a sought-after teacher, lecturer, and visiting artist-in-residence at universities and conferences all over the world. His work, collected internationally, can be found in the permanent collections of the Victoria and Albert Museum, in London; the Smithsonian's Renwick Gallery; the Los Angeles County Museum; the Museum of Fine Arts, Boston; the Corning Museum; the Schmuckmuseum in Germany; and the Museum of Fine Arts Houston, to name a few. In 2016, he was invited to participate in Schmuck, the world's preeminent annual contemporary jewelry exhibition in Munich, Germany.
RETAIL: $3,600
CONTACT: Bonnie Levine
---
Lillstreet Gallery—Joanna Nealey is a studio jeweler working in Baltimore, Maryland. She designs and hand fabricates each of her pieces in her Charm City studio. Her current work is inspired by her urban surroundings, city gardens, shattered windshields, and construction sites.
RETAIL: $830
CONTACT: Nora McCarthy
---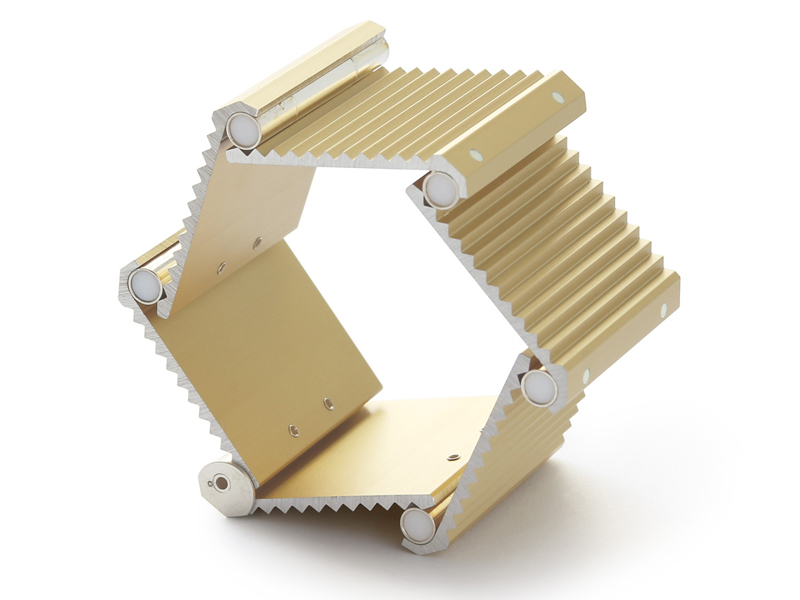 OONA Gallery—This bracelet's beauty is based on the well-calculated balance between technical clearness and ornamental decoration. Felix Lindner connects parts of ready-made aluminum profiles with delicately made hinges and an invisible clasp, so the piece surrounds the wrist in a smooth way. The highly technical effort makes the value of this unique piece.
RETAIL: €4,000
CONTACT: Anna Schetelich
---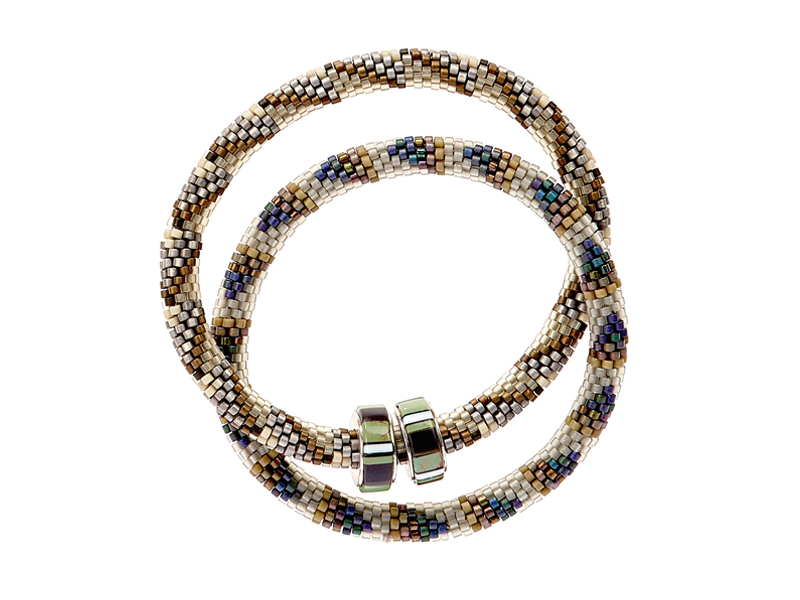 Patina Gallery—Claire Kahn created Double Rings in her dream studio, which she fondly calls the "Peaceable Kingdom." It sits amid the natural beauty of Northern New Mexico, where a blue heron visits regularly, the tall grass sways in the breeze, and light streams down the ravines of the Jemez Mountains. For Kahn, a master of beadwork jewelry, the colors and beauty of the place have inspired a remarkable new collection. Double Rings is one of those pieces. One of a kind, it features twin strands of cylindrical glass beads with points in gray, blue, white, bronze, and silver. The two bands of sterling silver feature inlaid turquoise, onyx, and agate.
RETAIL: US$890
CONTACT: Rob Dean
---
ESTABLISHED ARTIST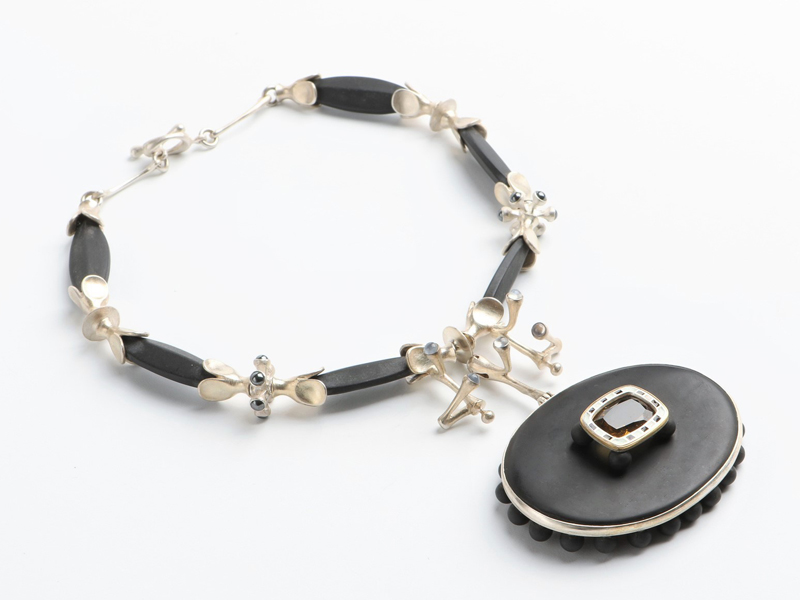 Art Gallery Putti—This necklace by Latvian contemporary jewelry artist Valdis Brože has something very organic, and it simultaneously contains many unexpected and quirky details. Smooth jet, which is very pleasant to the touch, is held by small black balls, which are reminiscent of black peppers.
Brože works with gold, silver, and different precious and semiprecious stones. Enamel has also been constantly present in Brože's art. His design aesthetic can be characterized as surrealistic. "I don't create similar items. I like to come up with new ideas all the time."
RETAIL: €925
CONTACT: Zane Putane
---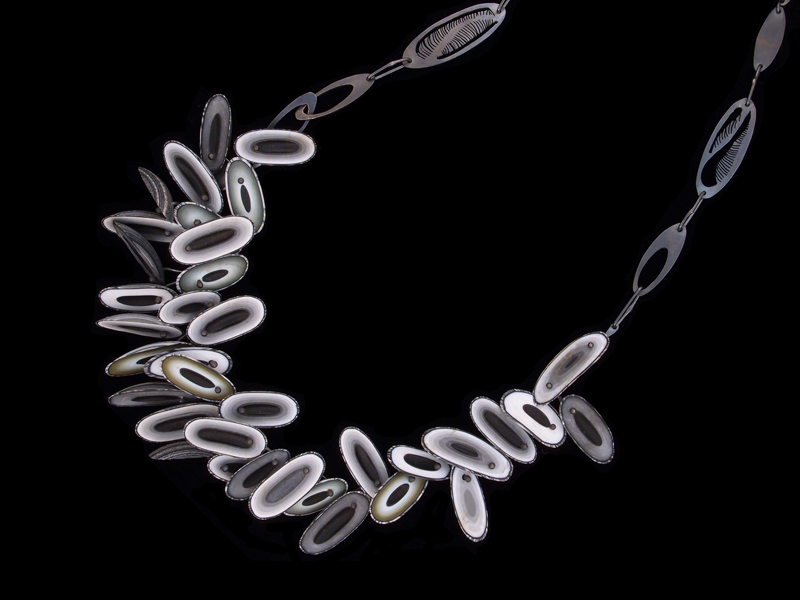 De Novo—In this necklace, David Forlano and Steve Ford, who are masters in taking a painterly approach to working with polymer clay, have created subtle variations of grays and greens combined with black and white. The elements in this piece are smaller than those of most of their work. These smaller elements create a rich visual texture and allow gentle movement when the piece is worn. Both sides of the elements are patterned, so it is intriguing when viewed from any angle.
RETAIL: $1,900
CONTACT: Cherry LeBrun
---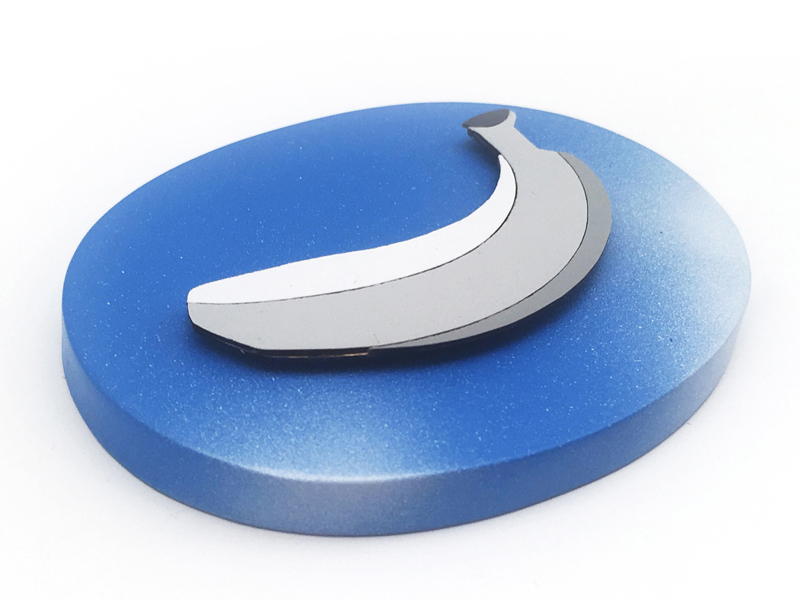 Gallery S O—Clouds are nothing but a distinguishable piece of the atmosphere. It takes a puff of wind to brush off the silver lining, and we can only see them from far away. In Mah Rana's new solo show at Gallery S O, Cloudy (until March 26), she displays a series of brooches as visual and material compositions related to the transient nature of our moods and perceptions. This piece is both a development from the cloud studies and an anticipation of her future series of works. We love it because it combines the representation of an everyday recognizable shape with the idea of clouds as an abstract entity, like when we spot images of animals, faces, or bananas in formations. It brings a smile to your face and makes you wonder that if even clouds aren't neutral, there is really no limit to your fantasy.
Rana is a London-based artist, a Fellow of the Royal Society of Arts, and the program director and curator for Tandemize, an international experiential learning and teaching progam of events funded through the British Council.
RETAIL: £1,200
CONTACT: Valentina Bin
---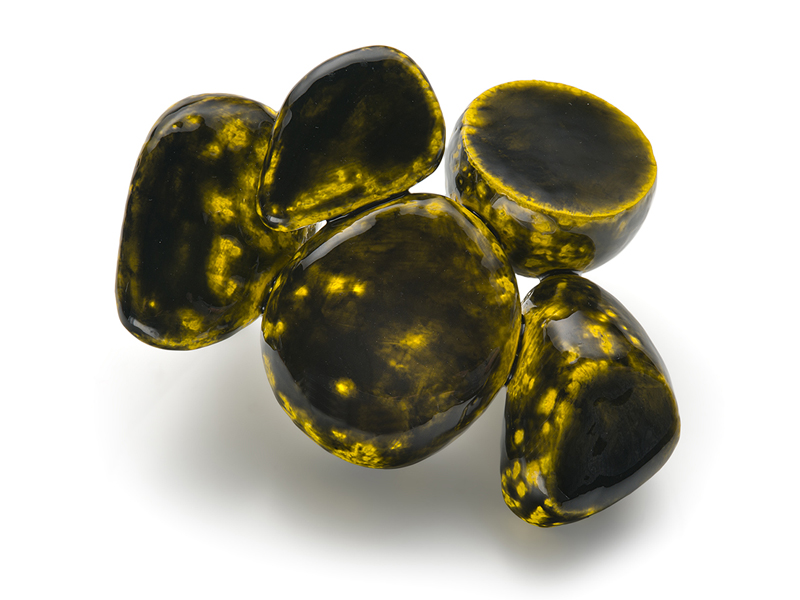 Gioielli in Fermento—The basis of Corrado De Meo's work consists of the research of lightness, showing all the ambiguity of volumes and shapes between how they are perceived and what they actually are.
This brooch, named The Back Side, is the clear expression of his research in transformation of volumes: In less than 25 grams for roughly 152 mm of width, the materials, with their basic structural elements, follow their rules in balancing entropy while assuming a new shape, inverted in its final appearance. Indeed, in his work the artist tries to "crystallize a moment on its transformation and make it symbolic," underlining conceptually how every new transformation in nature corresponds to a new aesthetic harmony. He reflects on what happens with life itself and how, apart from a superficial glance, each transition maintains a kind of poetic beauty.
The wearer should overcome any hidden "back side" discovering fatal and fascinating aspects in a lifelong path. This brooch is pure Zen.
RETAIL: €1,590
CONTACT: Eliana Negroni
---
MID-CAREER ARTIST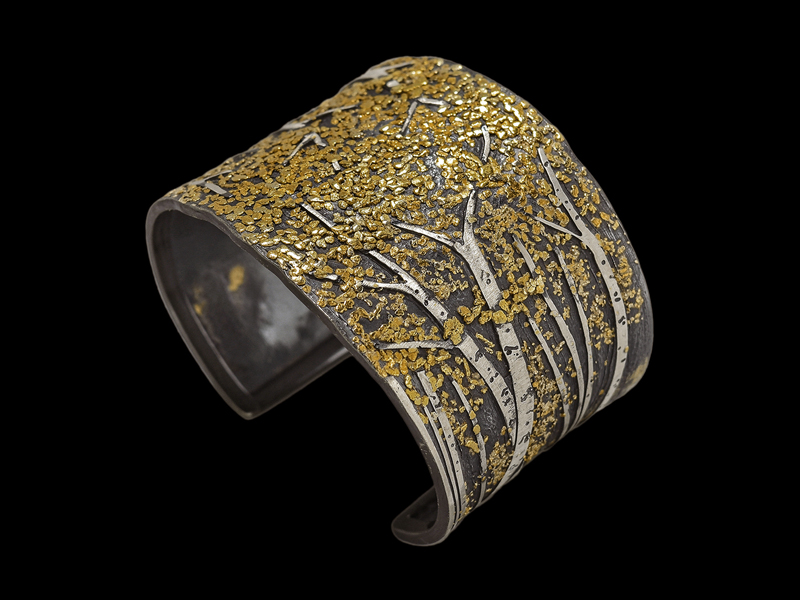 Facere Jewelry Art Gallery—Wolfgang Vaatz is a 2016 Saul Bell Award winner and Niche Award finalist. His work is a response to the natural landscape, with miniature carved scenes of mountains, hill country, desert, and ocean. A minute study of patterns in nature, the actions of wind, water, and sun are translated into detailed carved and hammered surfaces.
RETAIL: UD$2,990
CONTACT: Madeline Courtney
---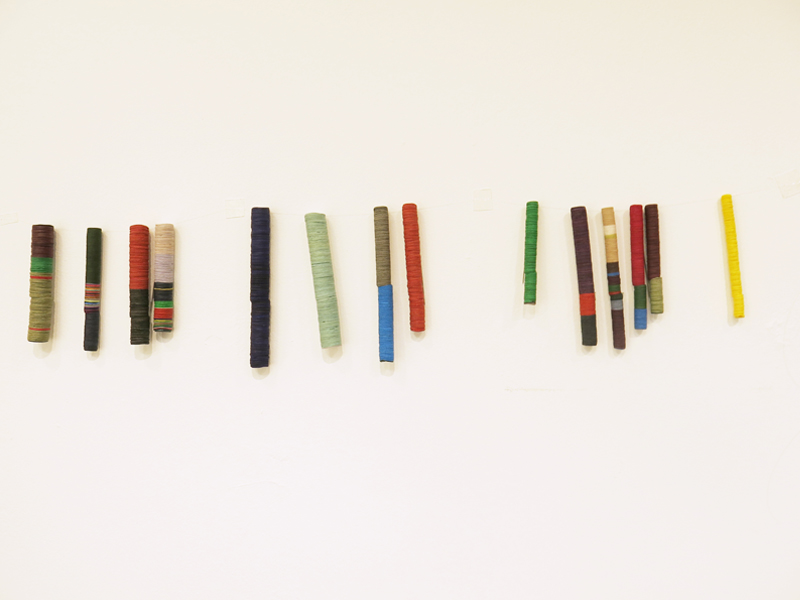 Gallery Sowyen—Hea Lim Shin's rods are the layers of stratums, creating new texture and color variation. Those works are exhibited in many important international museums such as the Bayerisches Nationalmuseum, Munich, and the Musée des Arts Décoratifs, Paris. In 2015, Shin won the Asia Pacific Art Grand Prize awarded by the Korea Crafts & Design Foundation.
RETAIL: US$150 to $300, each brooch
CONTACT: Maro Park
---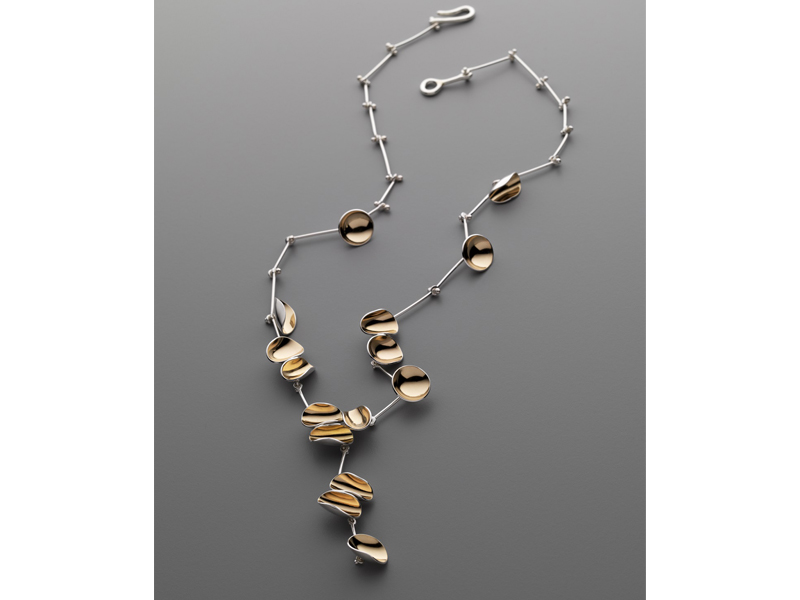 Zu design – jewellery + objects—Michelle Kelly is inspired by years of studying mushrooms. This neckpiece is a perfect combination of her passion and aesthetics. The Cookeina mushroom has a delicacy and symmetry that is reflected in this piece.
RETAIL: AU$1,800
CONTACT: Jane Bowden
---
EMERGING ARTIST
Gallery Loupe—Tradition and nostalgia play major roles in Naama Bergman's aesthetic. As an Israeli of east European heritage, she regards her work as tropes for the dichotomy between familial roots and present-day reality. In her current series, Saturation Point, Bergman allows salt to grow slowly upon vessels, pendants, and brooches made from iron mesh. The openwork armatures are hard but delicately crafted, while the salt—a natural preservative—both helps to maintain the rigid support but also breaks it down. Although constantly altering, these pristine objects and jewels are simultaneously frozen in time—intestines that have been treated in a salt solution, meant to be viewed as reminders of their former natural life.
RETAIL: $1,800
CONTACT: Eileen David
---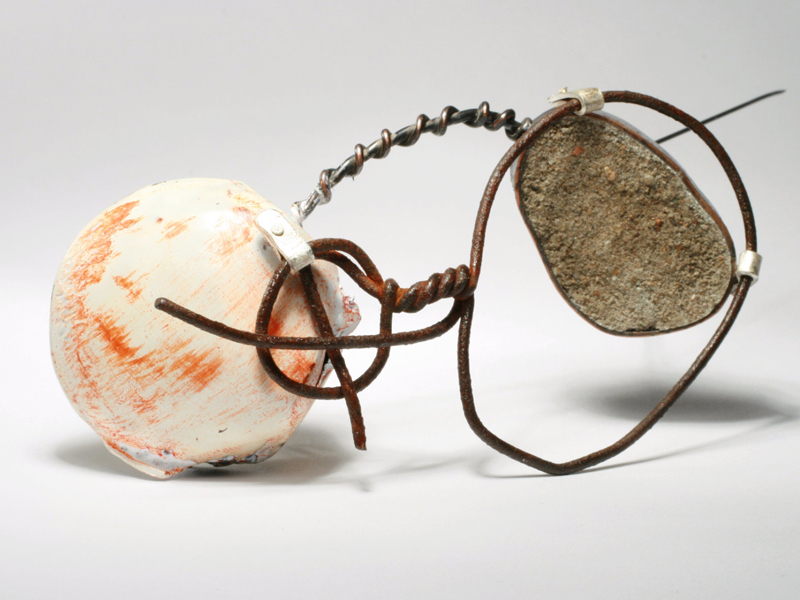 L.A. Pai Gallery—Meris Mosher specializes in handcrafted wearable sculpture and art jewelry. She has created designs under the name Point of Departure Jewellery Designs since 2008. She fabricates her works from precious and nonprecious metals, combined with traditional as well as reclaimed objects. Her unique and innovative designs are guided by her engagement with the physical history and narratives of spaces, places, and objects. Her series Forerunner examines the influence of her maritime heritage and combines themes of hunting, fishing, and agriculture.
RETAIL: CAD$550
CONTACT: Lisa Pai or Brenda Dunn
---
OHMYBLUE—Anna Norrgrann, in her most recent interview on AJF, says, "I was interested in repetition and what it would add to my work. To me, craft has a lot to do with repetition and I also enjoyed working in this monotone process; there was something about the rhythm and pulse that captured me. In some way I wanted to create spaces that you as a contemplator could rest in, in the same way I was resting while making them."
RETAIL: €348
CONTACT: Elena Rizzi
---