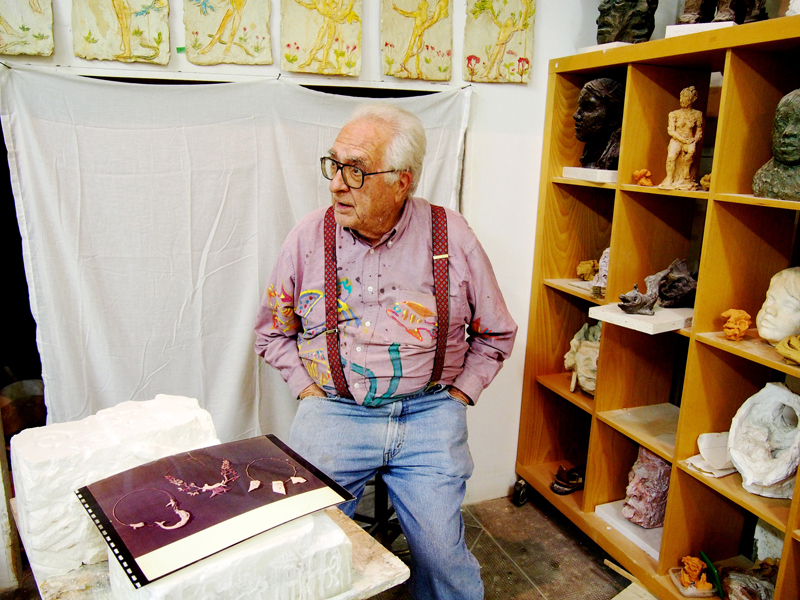 Sculptor Peter Rockwell in his studio in Monteverde, Rome, with a photo of jewelry he had made in the 1960s.
The first piece by Peter Rockwell that I had seen in person was a necklace. More specifically, the part that he had sculpted was a pendant: a ghoulish dark green face, silly and grotesque. It hung from a long, shiny gold chain. It was exhibited in the Tiny Biennale, a big group show of work no larger than a few inches squared. Each artist could only submit three works, but I heard a rumor that Rockwell found a loophole by having some of his friends wear a few more necklaces to the opening. Clever, I thought. I later visited his studio to talk more about the jewelry that he has made periodically throughout his career. I asked how he considered the jewelry amongst his other work, if they're equal in his view. "Yeah, why not?" he said. "I mean, they are sculptures, you know." He elaborated about the necklaces with acrobatic figures and peculiar faces pictured beside him, one of which was featured in an exhibition of jewelry by contemporary artists in the 1960s. This, he supplied, was "the only thing I've ever had in a New York museum."
Lessons tracks a small roster of AJF contributors as they look, shoot, and reflect on what they see. Our first guest reporter is Kellie Riggs, who finds inspiration in meeting artists, hearing them talk, and, in one instance, discussing the watch of their dreams.